Andrey Andreev has been a regular at the annual 10 Day race in Flushing Meadow.  For 10 straight years he has participated and his performances culminated last year in 2016 when he set his personal best of 629 miles.  The kind of miles that clearly demonstrated that he had the capacity to take the large step up to the Self-Transcendence 3100 mile race.
So far he has put in 7 days and is getting ever closer to going longer and further than he has ever run before.  He likes to keep the mood light and is quick to find humor and make a joke.  This morning when we talked he told me his race was amazing so far.  Particularly after yesterday.  When questioned further he says, "I got some sleep." (laugh)
Andrey says that in the 10 Day race there are more options to take breaks and sleep.  But during this race the allowance for rest is very very tight.  Too much time off your feet and the goal of 3100 miles will disappear.  Andrey has 388 miles so far 7 days.  He ran 46 miles yesterday.
Asked what has surprised him about the race so far, "I was surprised by the seriousness.  But now it has just become normal.  I can't even tell what the seriousness is all about."  Lyalya who is helping with translation interjects, "he is a philosopher."
"Yesterday I got a feeling that I can overcome this distance in a happy way.  This particular way I am very interested in.  I hope that I can always remain happy during the race."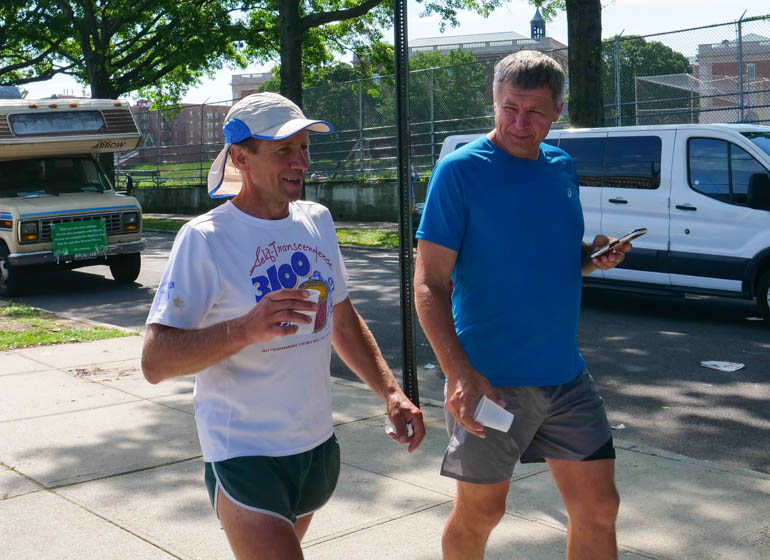 I ask him, of such qualities as physical, mental, emotional, and spiritual, what is his view on how they should work for him.  "They are all important.  But of course the most important is spiritual.  Because we have to be able to become more spiritual."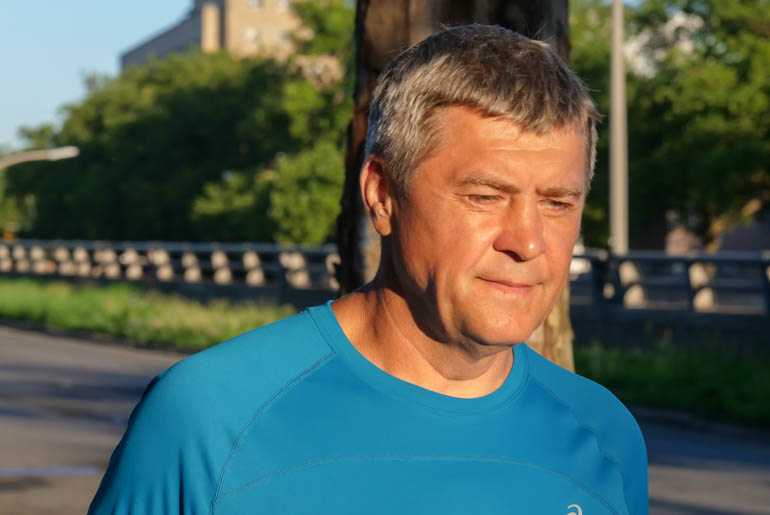 "This spiritual aspect I am trying to get to know better.  I hope that it comes to the fore.  Because there is no other way here.  You learn new things, and discover new things, and I try and live by all those new spiritual discoveries."
"Every time you have a new spiritual discovery, or illumination, or awakening.  This is something that we have always wanted.  This is something that we have always needed it."
Newness and fullness
Do not have to be invented;
They can be discovered
In our inner life
Everywhere.
The board after 7 days
All quiet
Wet shoes and a wet bunny still drying from yesterday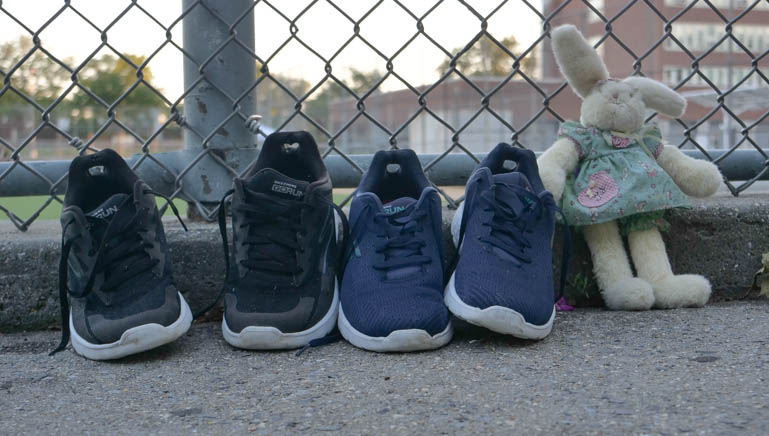 Nisanga arrives for his last shift at the race
Medur adjusting the webcam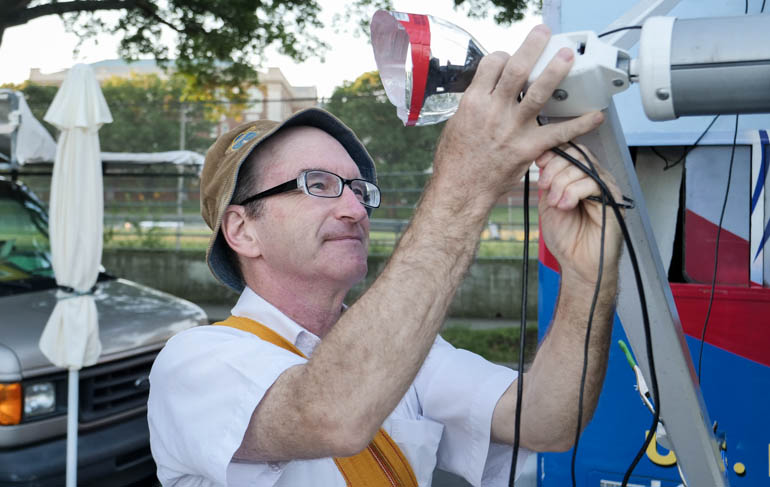 Alan delivering the daily race reports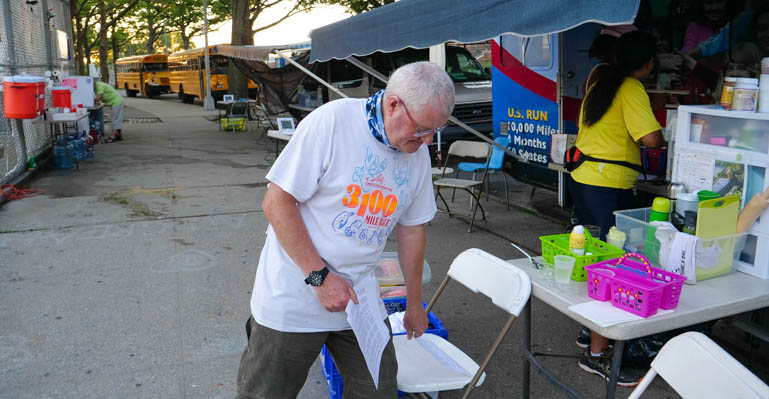 Yolanda's bunny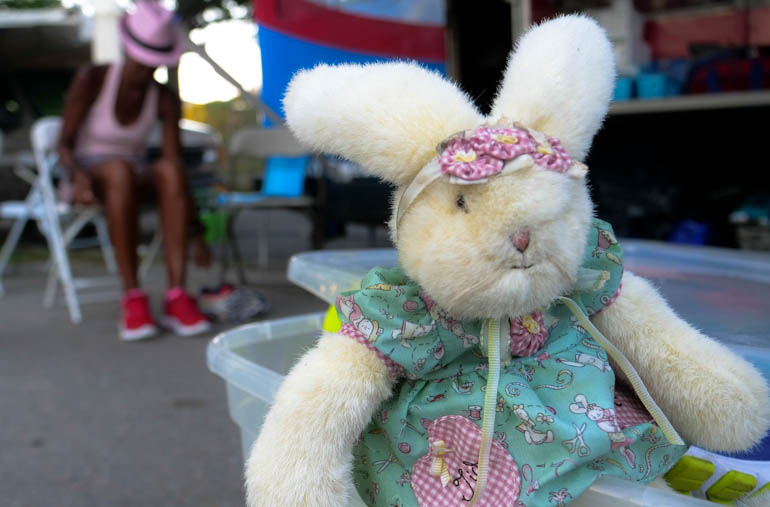 Kaneenika and Harita arrives
Stutisheel updates the board
Alan gets some help from Vajra for his shoulder which he hurt this morning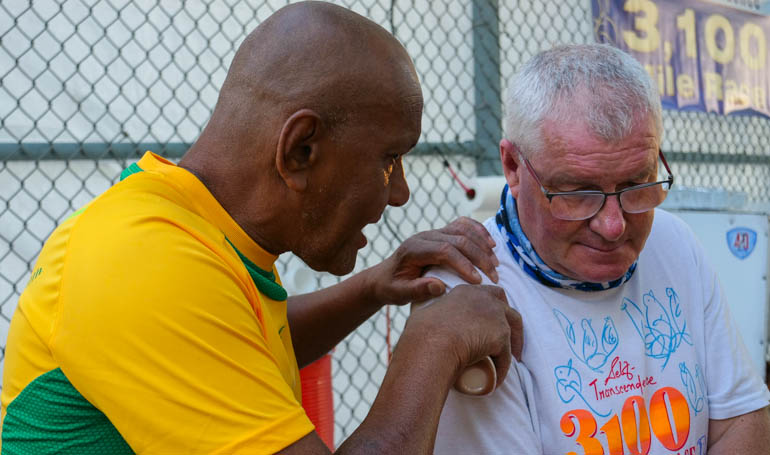 Yolanda taking her daily start picture of the board.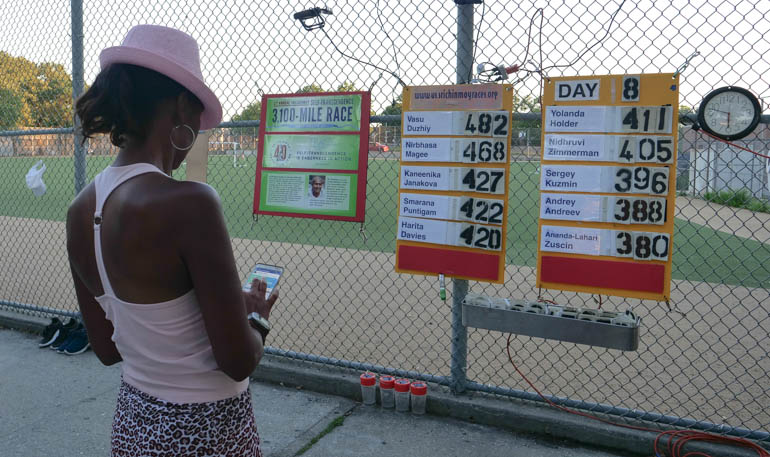 Alan giving some advice to Nirbhasa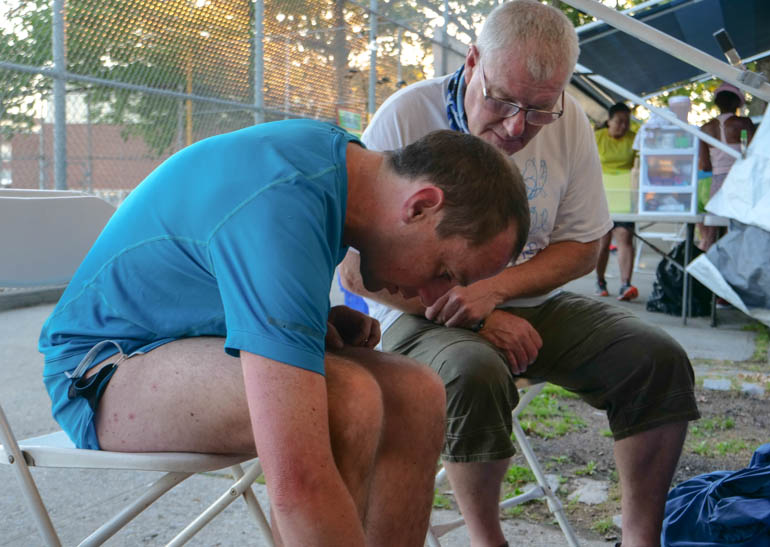 The girls
Checking out the results
Andre and Sergey
Databir giving some affection to Nirbhasa before he goes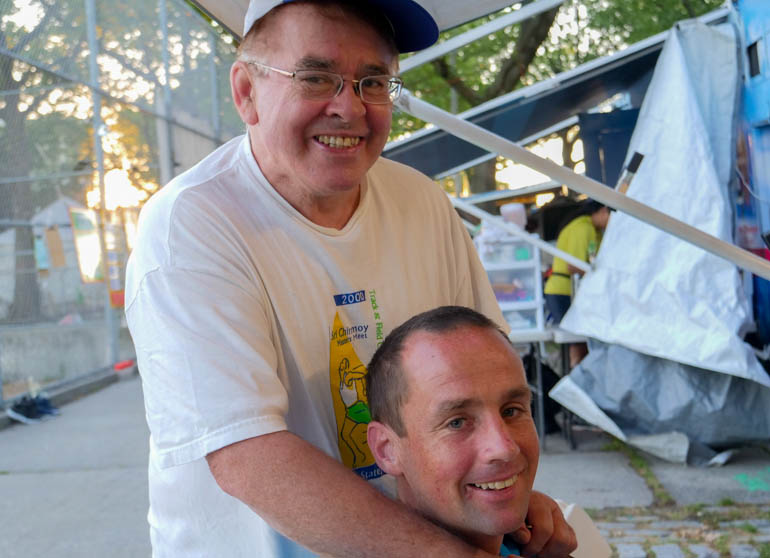 Start Day 8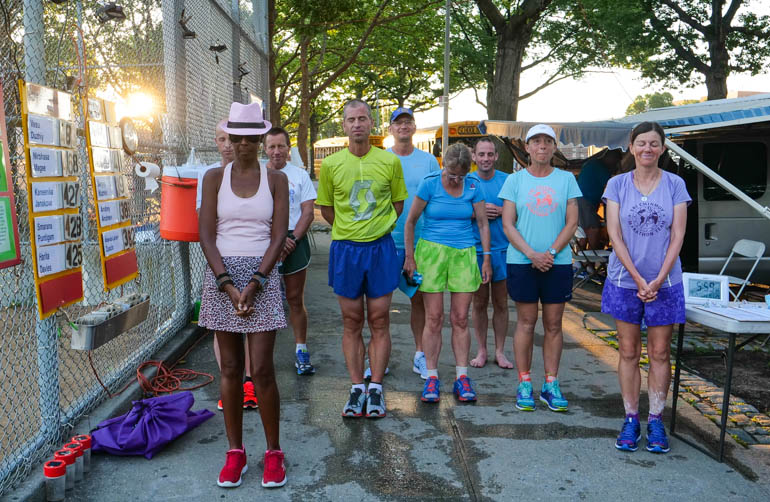 For the time being it is a quiet and beautiful Sunday morning
Pradeep is visiting the race this week and starts his morning with sun gazing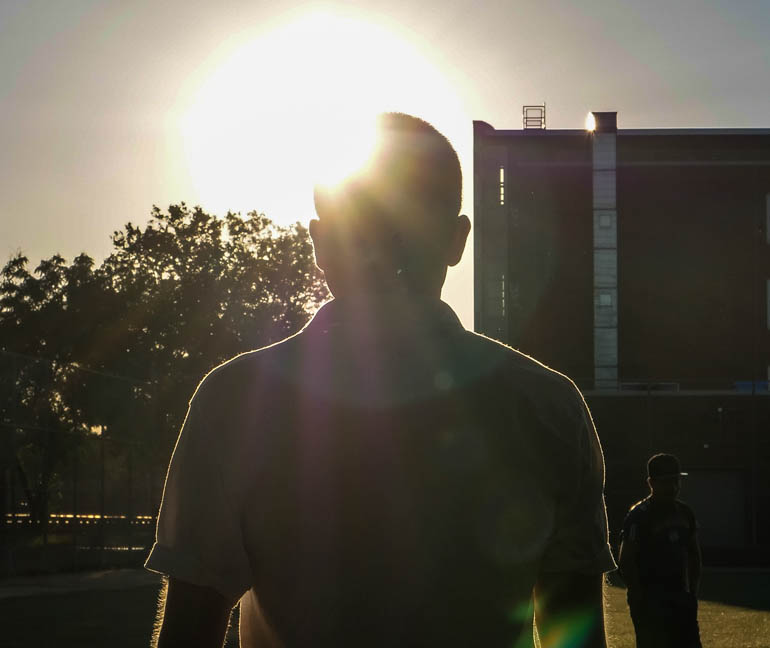 Vasu leads after 7 days with 483 miles
He ran 64 miles yesterday.
Not too long into the morning it becomes hectic on the course as the field inside is being used to celebrate the Muslim Eid Mubarak
A bit of green
Nirbhasa did a terrific day, considering the rain with 65 miles
He has 468 miles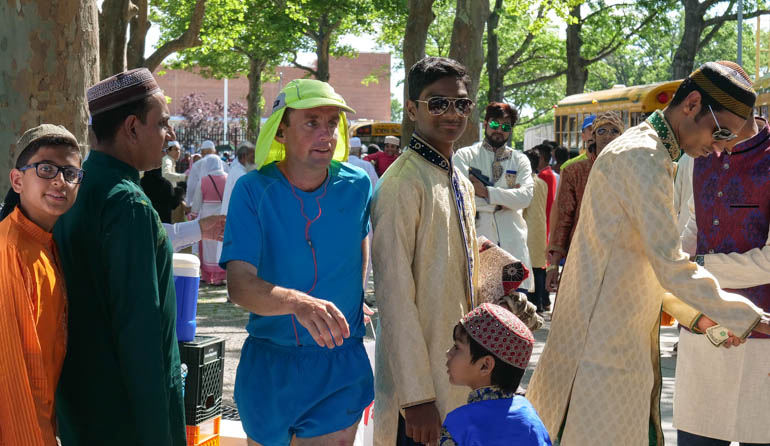 He is in 2nd place
Running with Smarana
Pradeep will be helping Nirbhasa for the rest of the week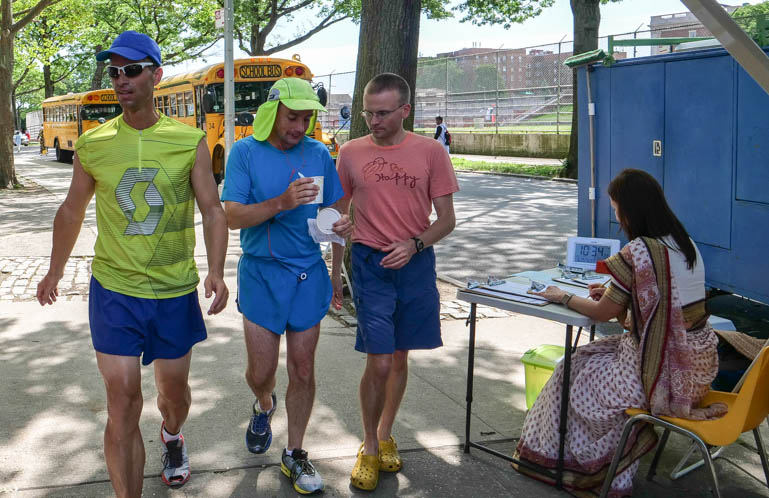 Smarana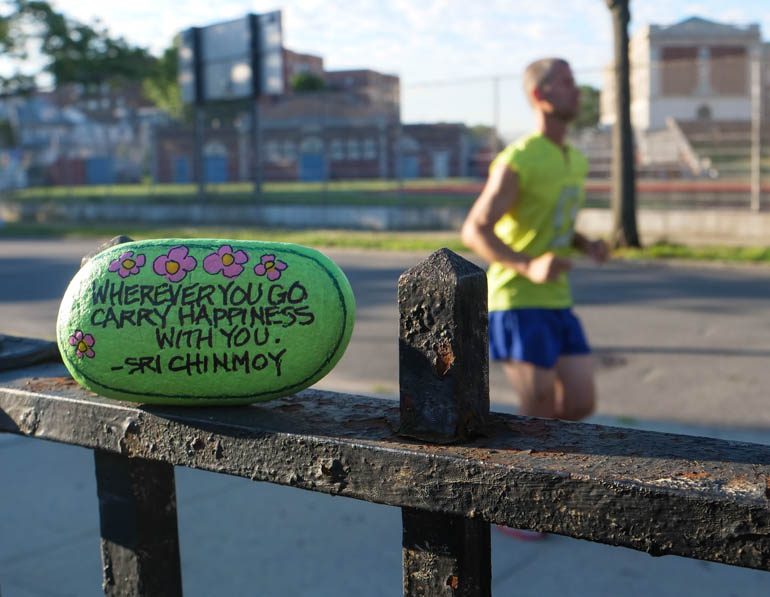 Smarana did the most miles yesterday with 66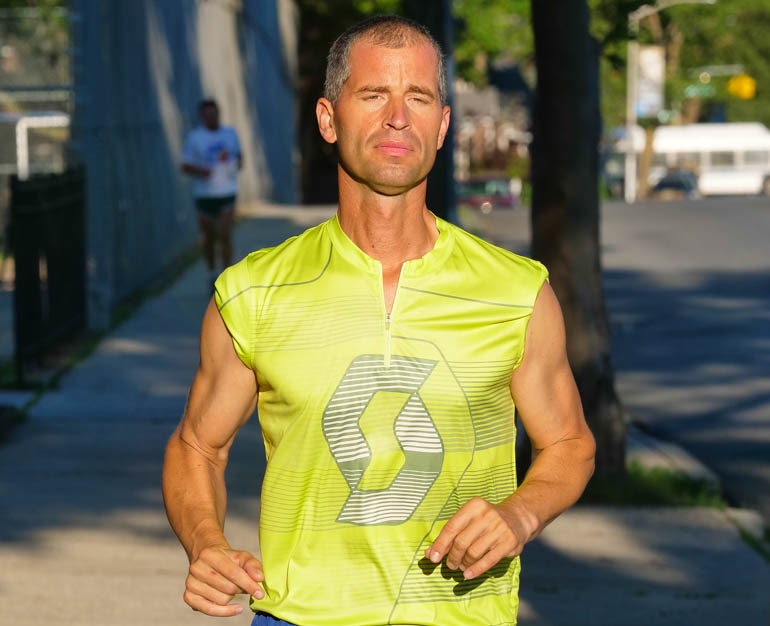 He is in 3rd place with 428 miles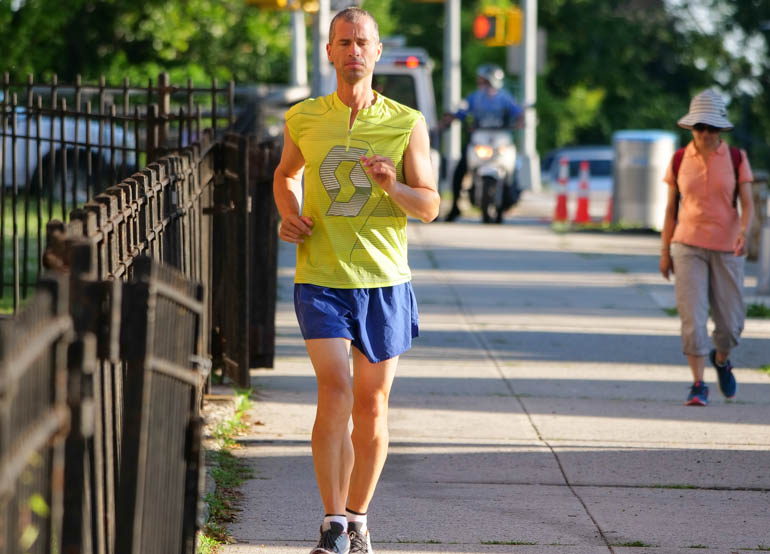 Flower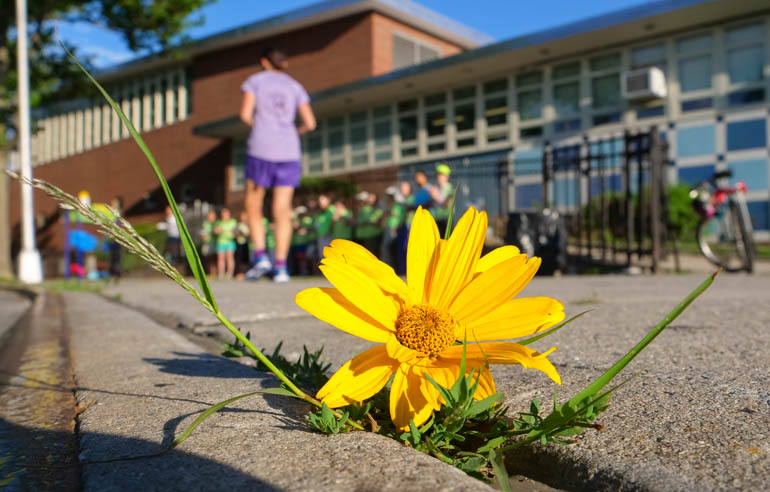 Kaneenika ran 60 miles yesterday
She leads the girls with 427 miles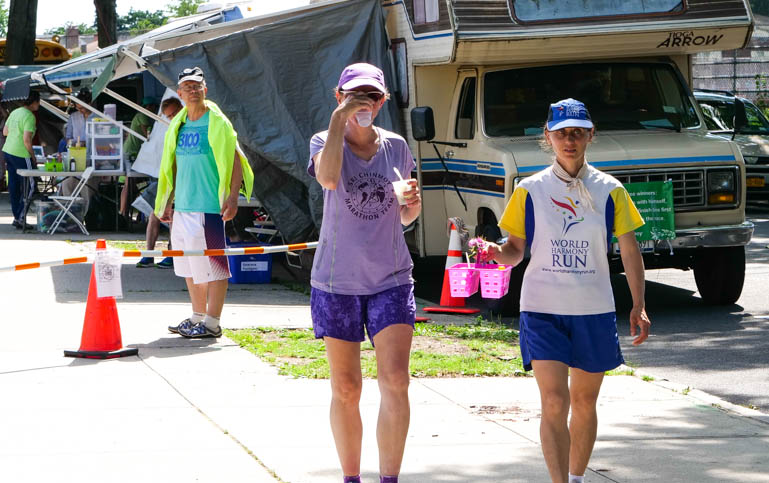 Clover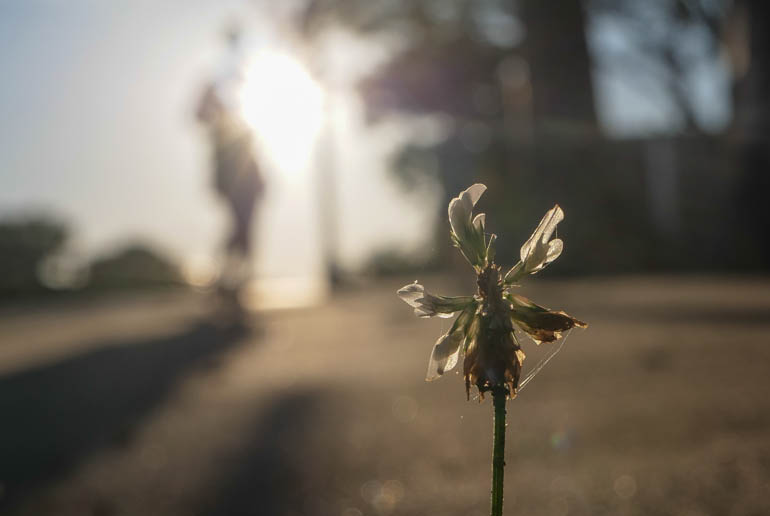 Harita also ran 60 miles
She is 2nd girl with 425 miles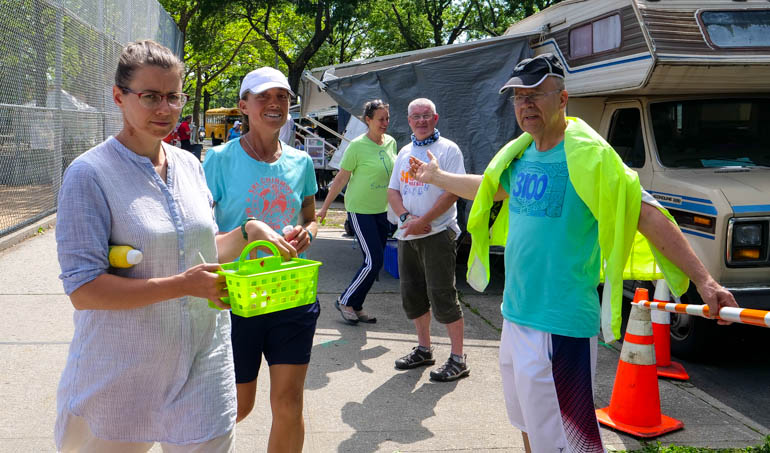 At the start of the day she is 2 miles behind Kaneenika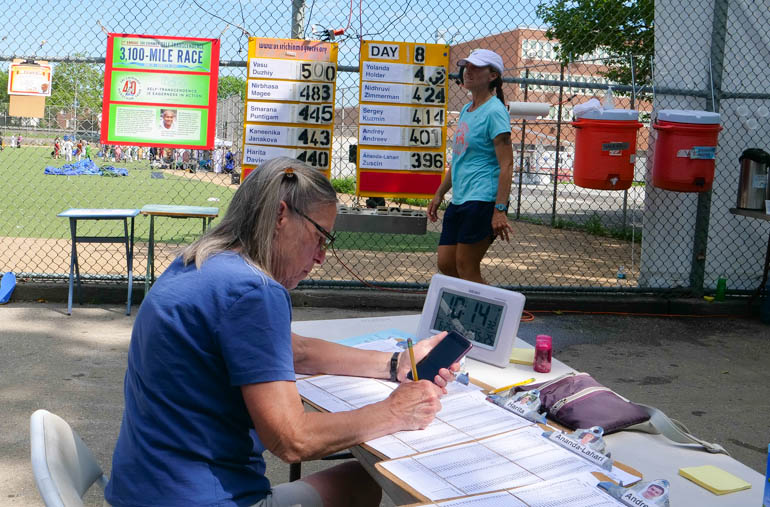 Flower
Yolanda did 58 miles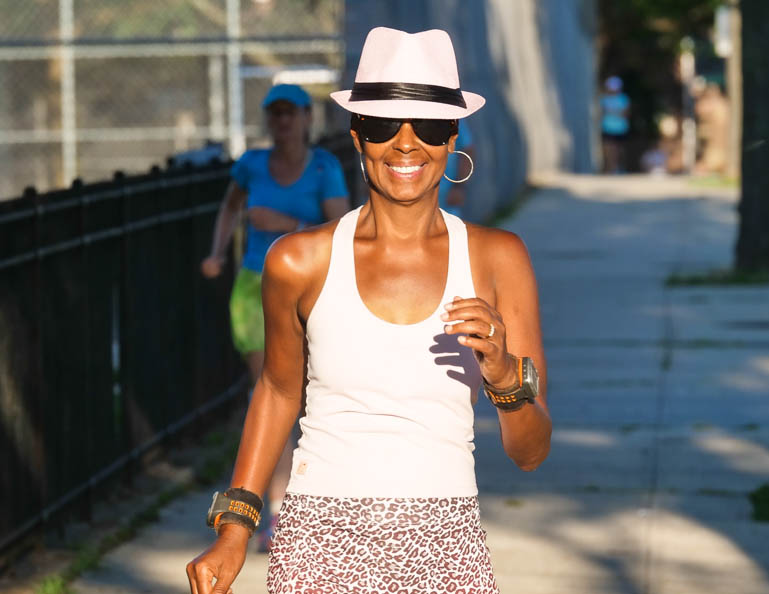 She has 417 miles
Flower
Nidhruvi did 55 miles
She has 409 miles
She is doing well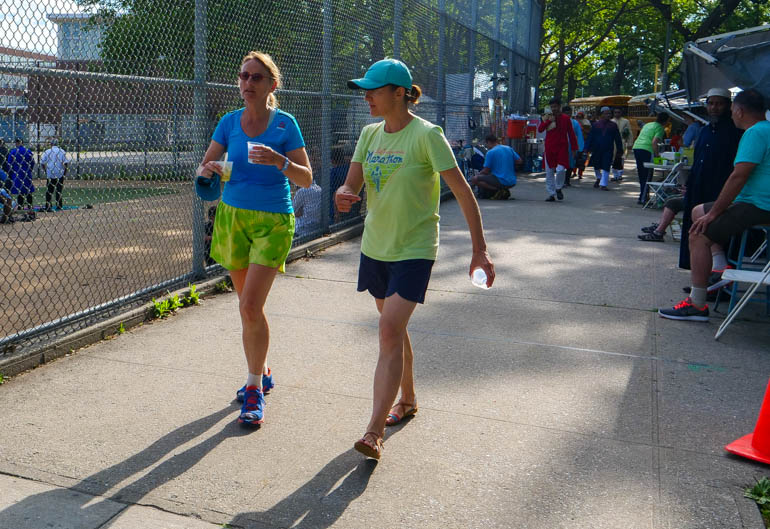 A bit of green
Always cheerful Pradeep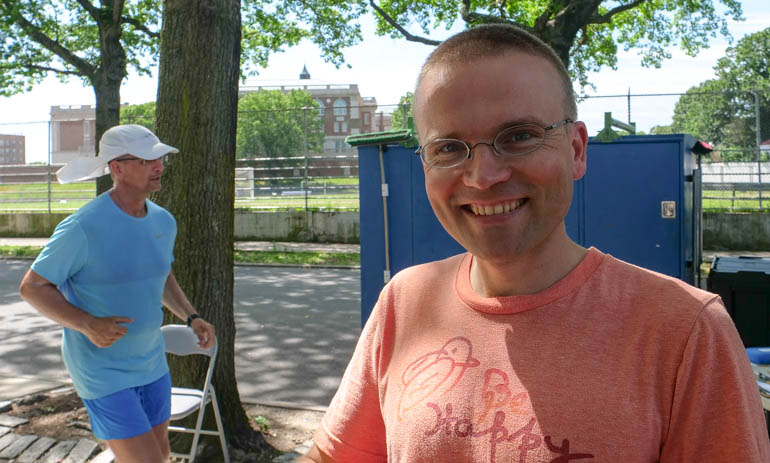 Flower
Sergey did his most mileage so far, 63 miles
He now has 396 miles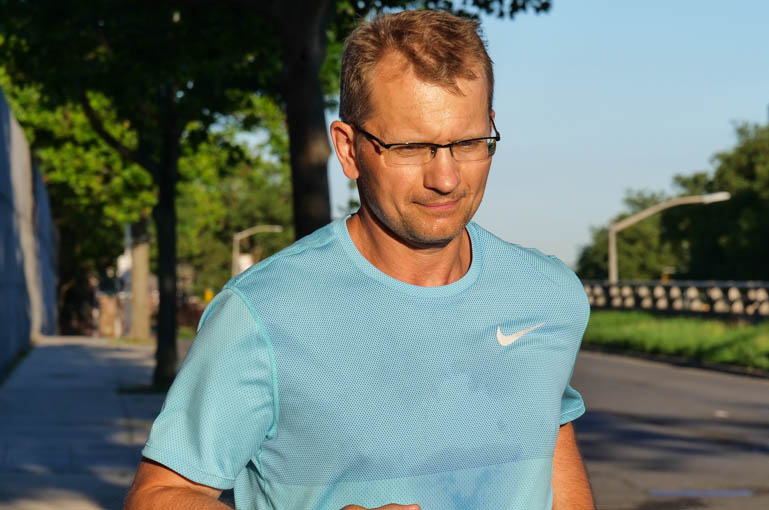 Putting on some sun screen
Utsahi and Alan manning the barricade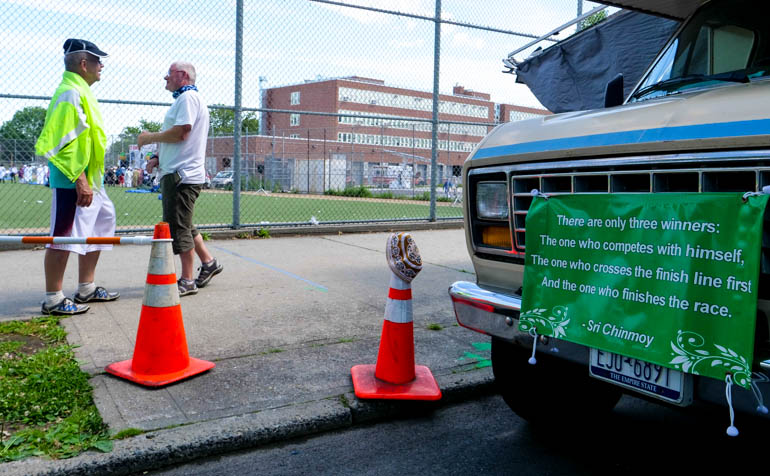 Ripening green
Ananda-Lahari did 48 miles
He now has 382 miles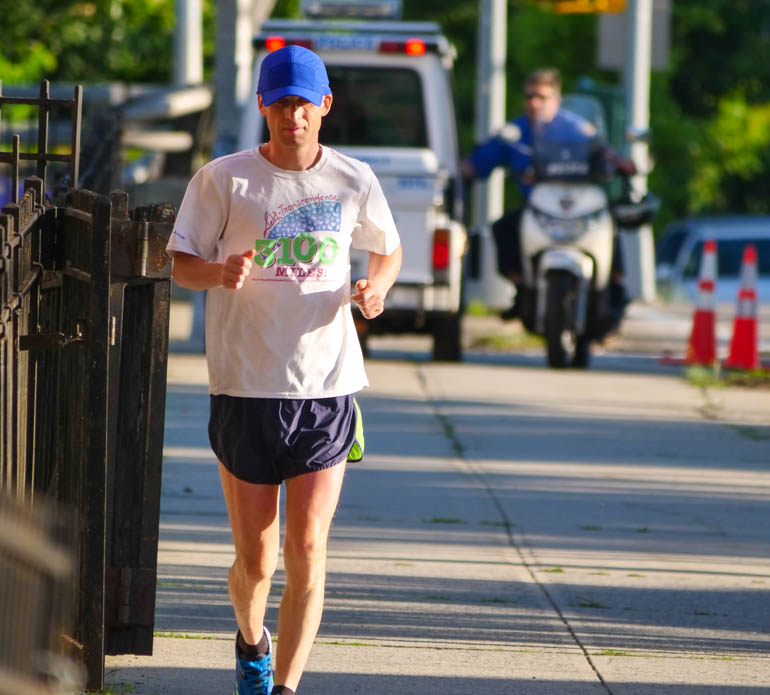 Getting some help in camp
"Some like to watch the race from the tops of trees and some like to watch down around the toes of shoes.  Me, I like it right here at eye level.  Look em in the eye as they go by."
Sahishnu updating the board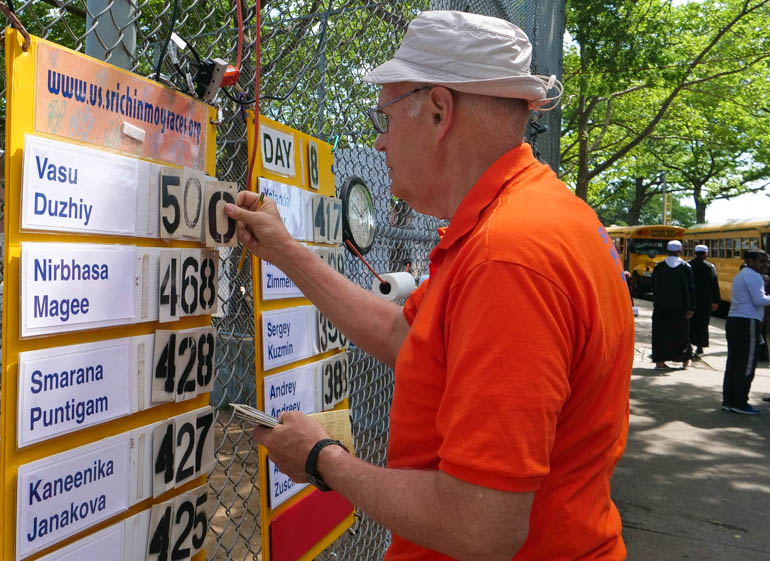 Click Below to Hear his weekly update: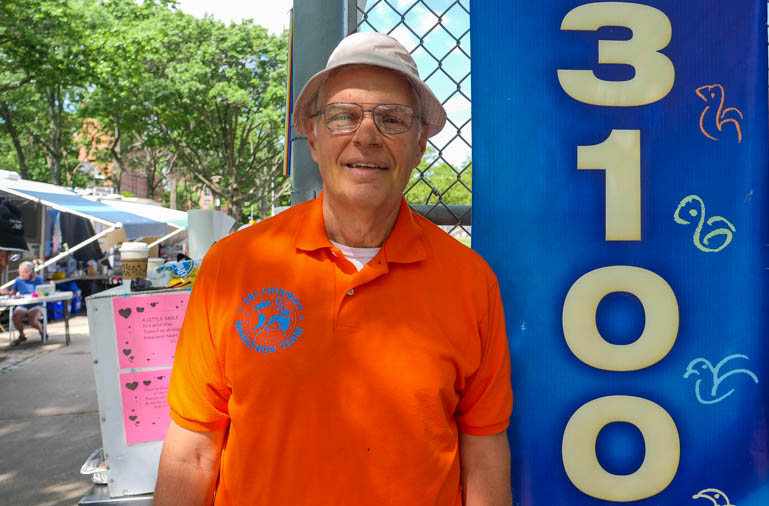 Suhasini Reads the Daily Prayer:
Suhasini, an always cheerful presence has been coming to help at the race every year since 2011.  "Since 7 years."
"For me helping is another way to be able to get divine qualities.  You get humility, you get eagerness, you get enthusiasm, you get power….to get up early.  You get the peaceful start here too.  You try and gain good qualities each day you come."
"I look forward for the race to start.  It was a beautiful day and it was Father's Day.  It is like your offering to Guru.  Then I look forward to it ending.  But I do enjoy all the things happening every day.  You see the runners progress and everything."
"It is beautiful.  It is a beautiful experience to observe everything.  And I take it for granted.  I know not too many people have the privilege to come and spend the whole 2 months and be able to serve the race. I am Happy."
Enthusiasm Awakeners
Click To Play:
The happiness of the heart
Always paves a sunlit way
To arrive at the Goal.