Of the 10 runners attempting the Self Transcendence 3100 Race this year, 4 are doing so for the first time.  It is such an imposing challenge for even the most experienced runner that for one who has never run that long and that far the courage and commitment to do it has to be unparalleled.  Sergey Kuzmin is one of them.  He is just 44 years old and is from Novgorod Russia.  He has run a number of multi days but entering this race is by far the most difficult thing he has ever attempted.
*translation courtesy of Lyalya*
"Fate and destiny have brought me together with a lot of people that have run this race and when I saw their spirit and will power I wanted to do this race as well."
I joke with Sergey that he could get almost as much satisfaction from running the 10 day race as he has done before.  "These are 2 completely different races.  True the 10 day race has had an impact on me forever.  But this 3100 mile race is a totally different race."
"Besides my goal of running the 3100 miles I want to have the inner experiences that give you new life.  Ones that give you new inspiration and new energy inside.  Sergey did 59 miles yesterday and has 271 miles.
For Sergey as for many others who not familiar with a New York summer, getting used to the heat and humidity is a whole new challenging factor.  "For me this is a completely new environment.  For me to overcome these conditions is also self-transcendence."
"The race has touched my heart already.  Especially the organizers who are doing so much.  I am running and they are doing so many limitless things.  They do this just so that we can run.  It is such selfless service on their part."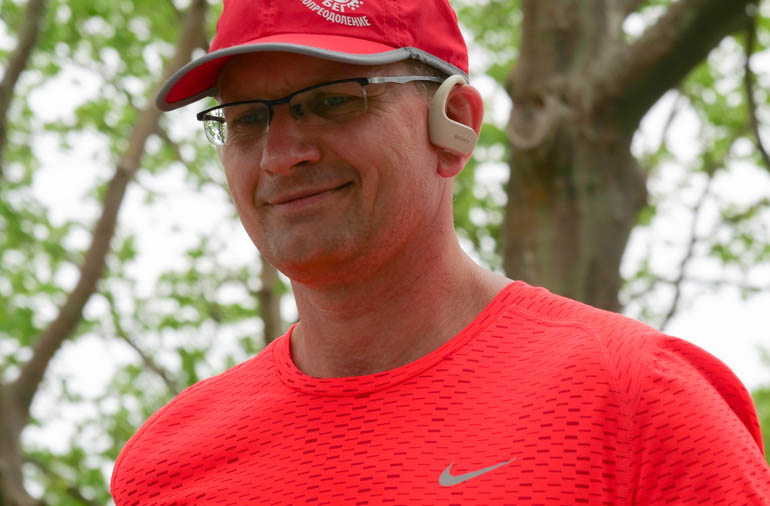 "This race has a name, Self-Transcendence.  For me this is the main goal of mine to make even small steps of self-transcendence.  So this means that I really want to do that extra lap, that extra mile each day.  In that is my self-transcendence.
May my life long for
A new beginning,
A new hope
And a new promise!
The Board for the start of Day 6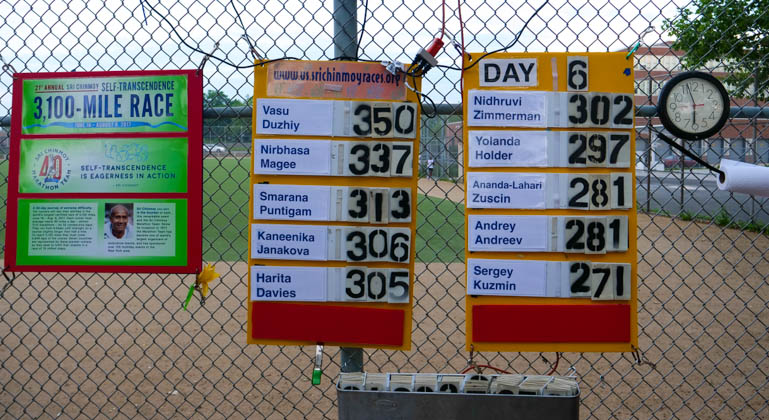 It will be a humid day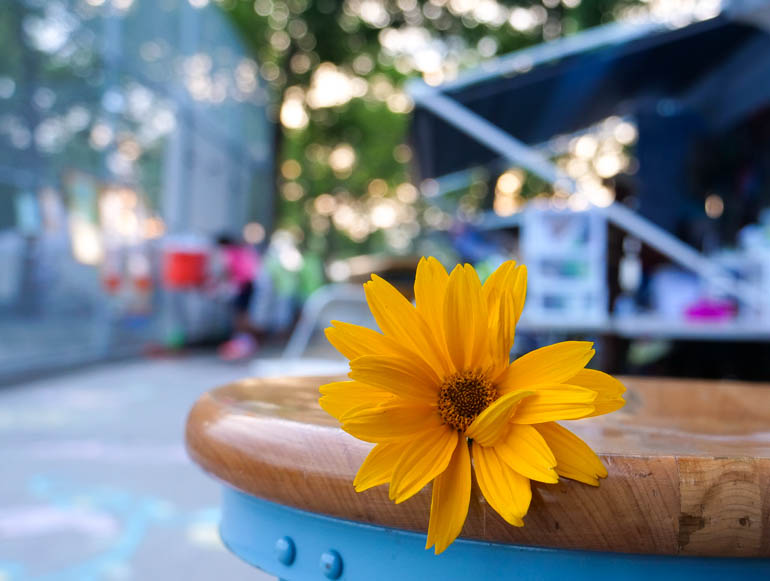 All quiet with 20 minutes to go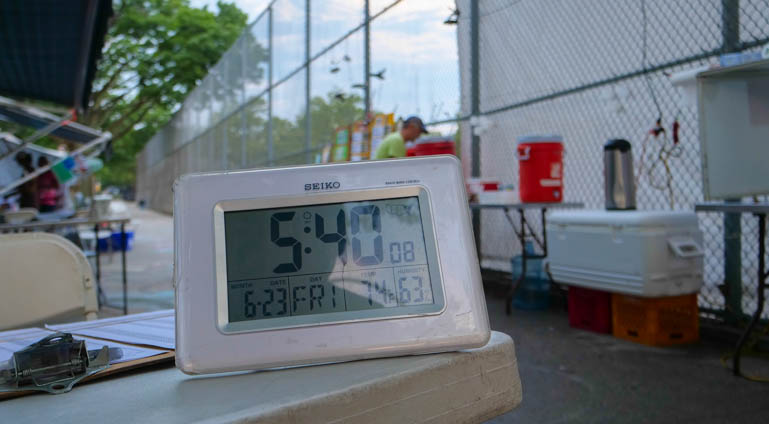 Up till now Yolanda is the first runner to come
Vajra checking his phone
Clip boards
Nidhruvi arrives
Andre and Sergey getting ready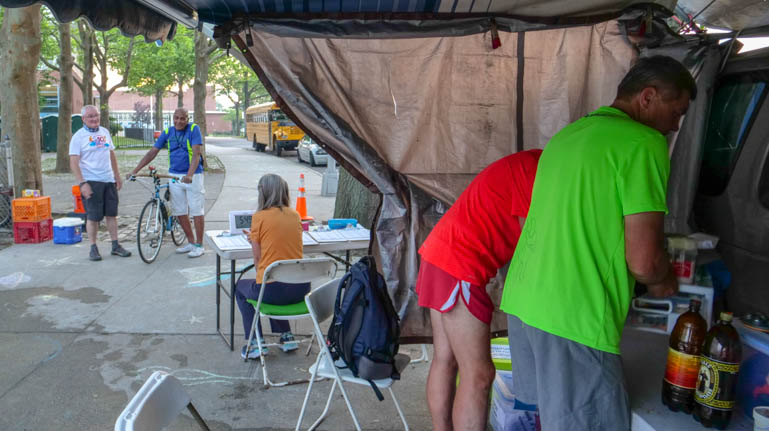 Yolanda thanks Suhashini for all her help and support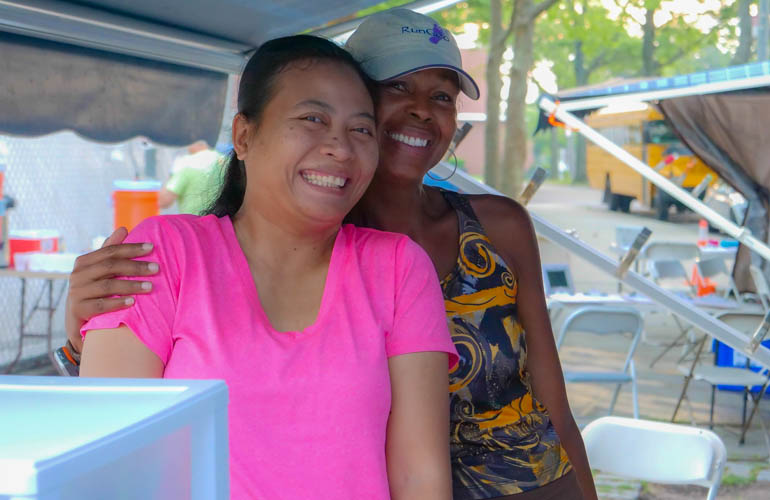 Rupantar doing his report
Kaneenika and Harita
Start Day 6
A beautiful sky this morning
Swamiji running this morning on the course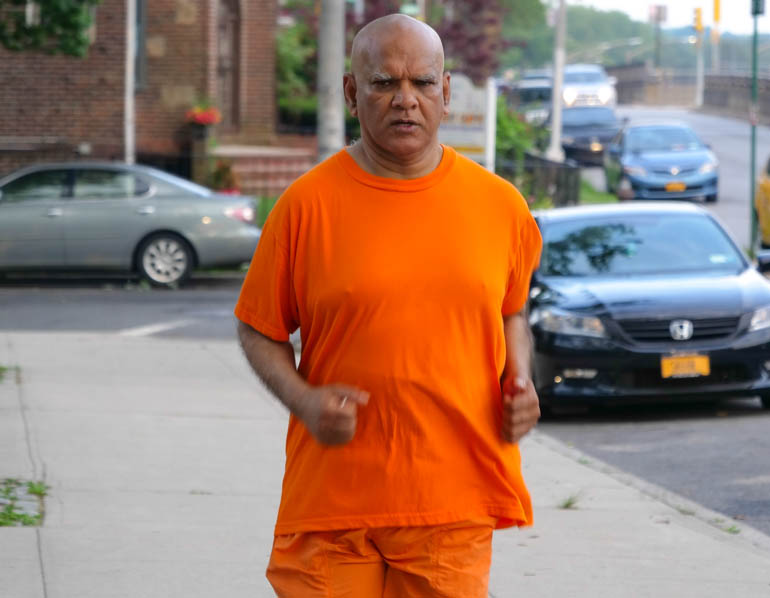 Grass is greener
Vasu once again ran the most miles yesterday with 68
He is getting help from Sasha
He has 350 miles
Flower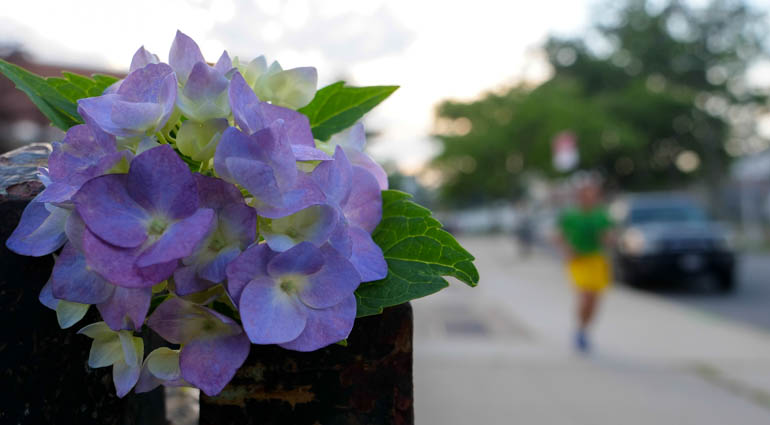 Table
Nirbhasa did 66 miles
He is in 2nd place with 337 miles
He is running very well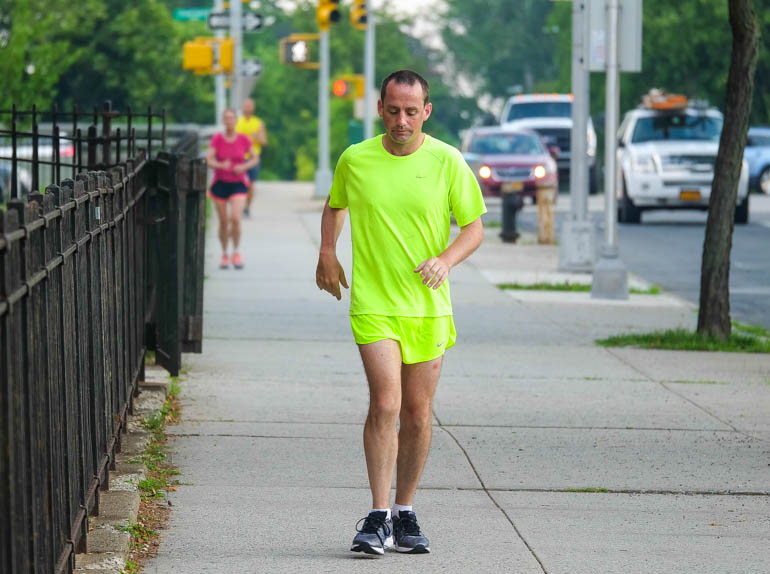 Flower
Smarana did 59 miles
Getting some help with his feet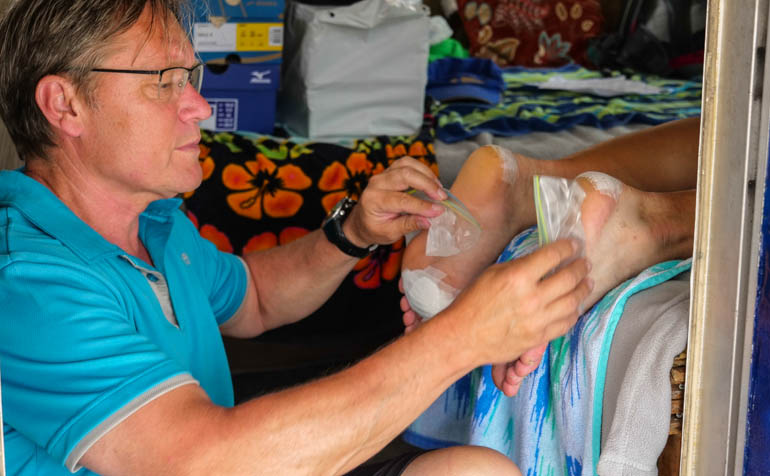 Flower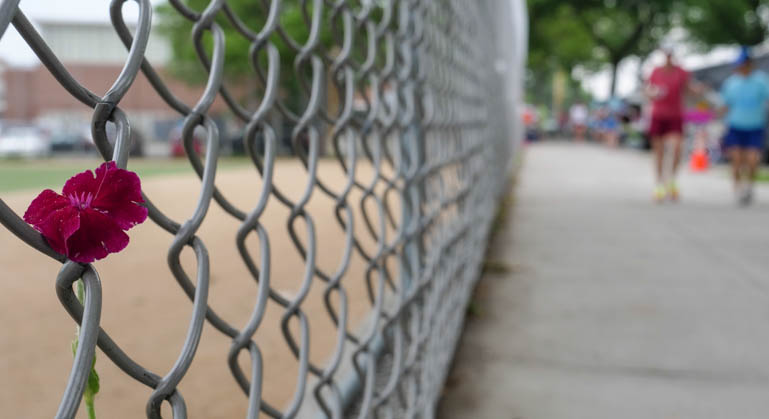 Kaneenika did 59 miles
She leads the women with 306 miles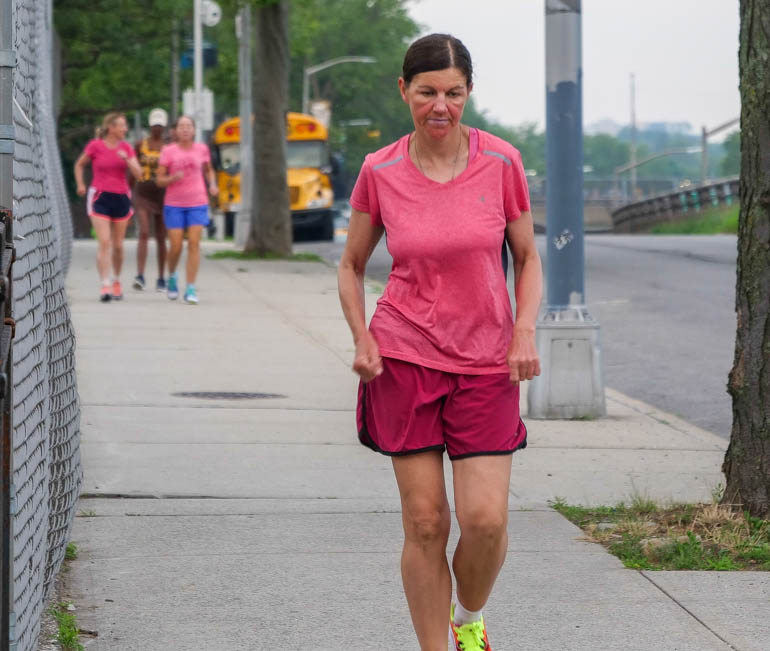 Flower
Harita did 60 miles
Harita has 305 miles
Coming through camp
No end
idhruvi did 57 miles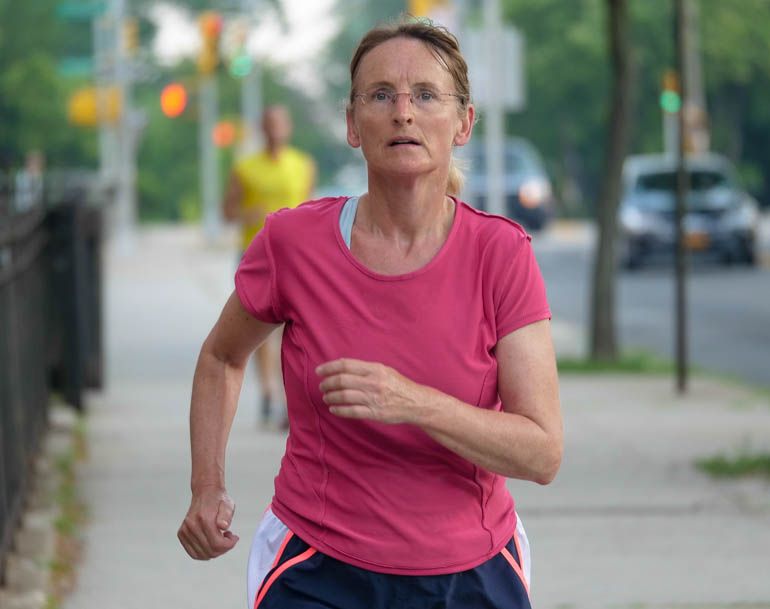 She has 302 miles
Alan and Medur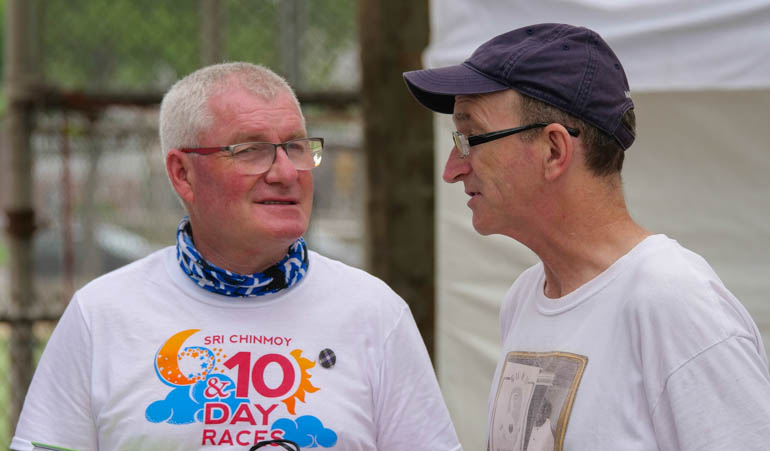 Flower
Yolanda did 60 miles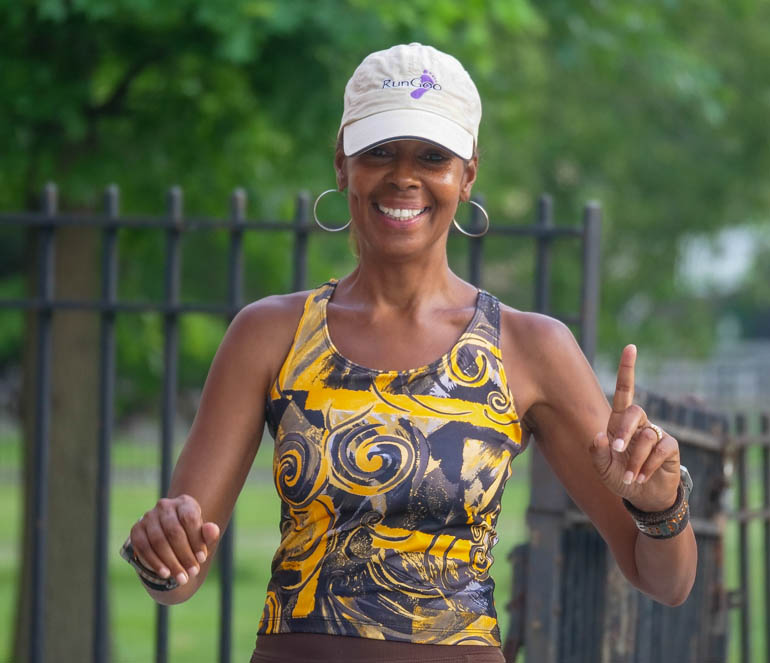 It was the most of all the girls
She started the day with 297 miles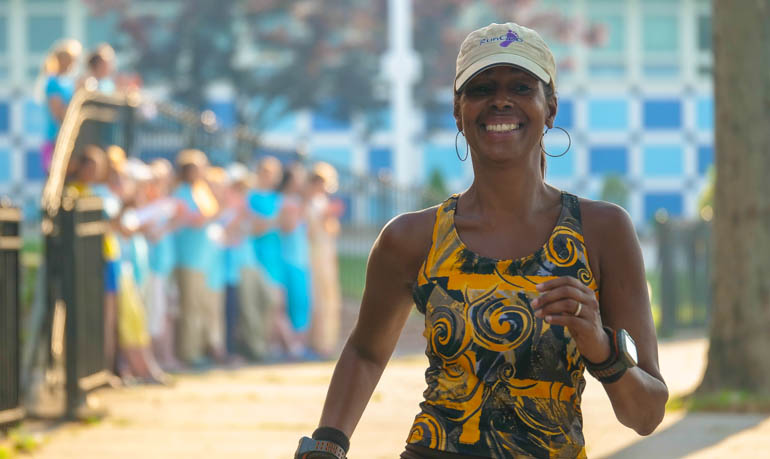 Flower
Ananda-Lahari did 54 miles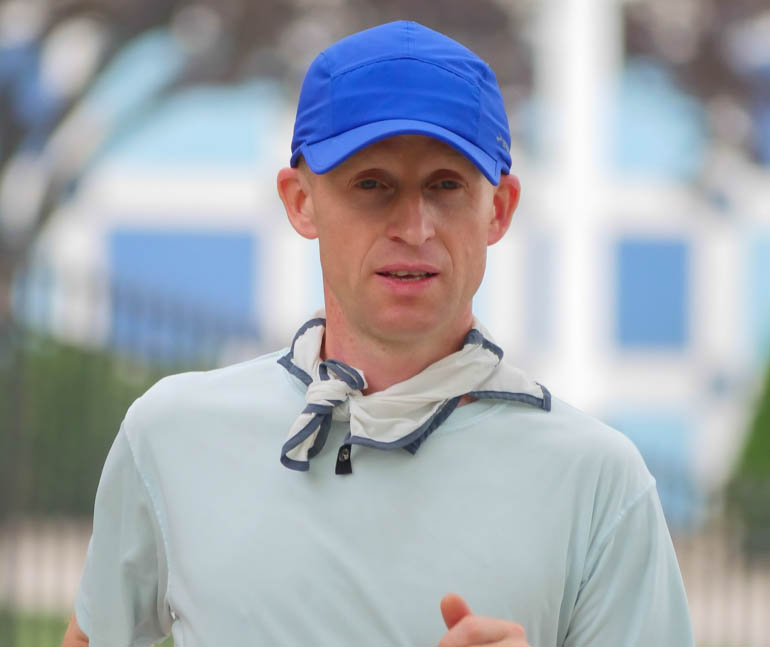 Coming through camp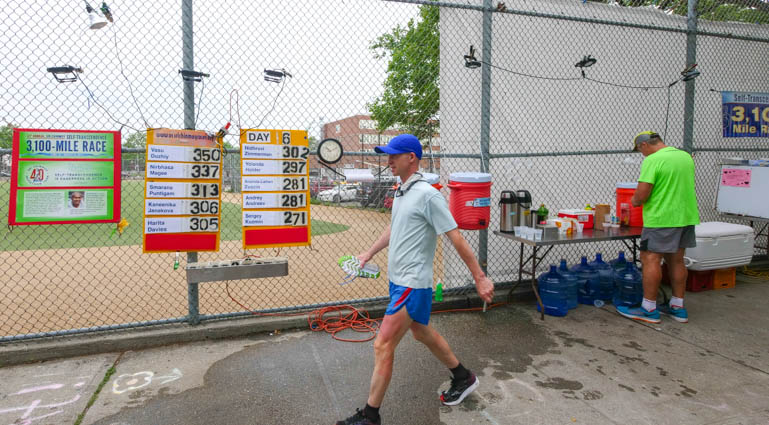 He has 280 miles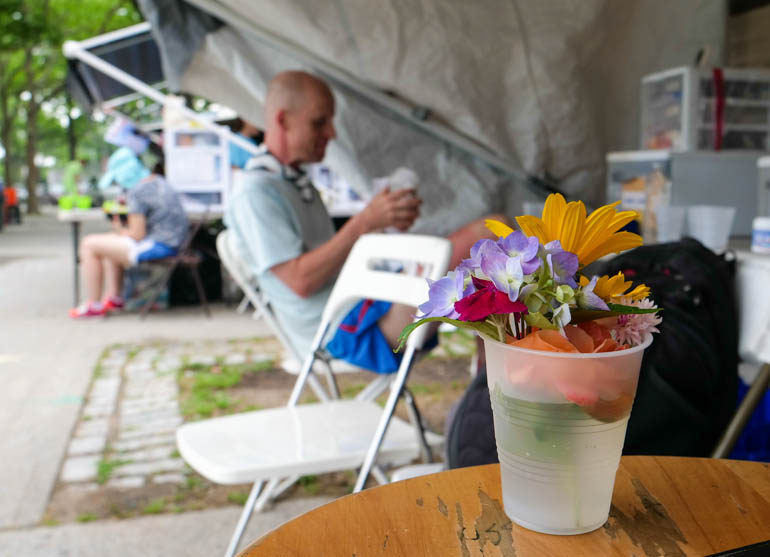 Andrey did 57 miles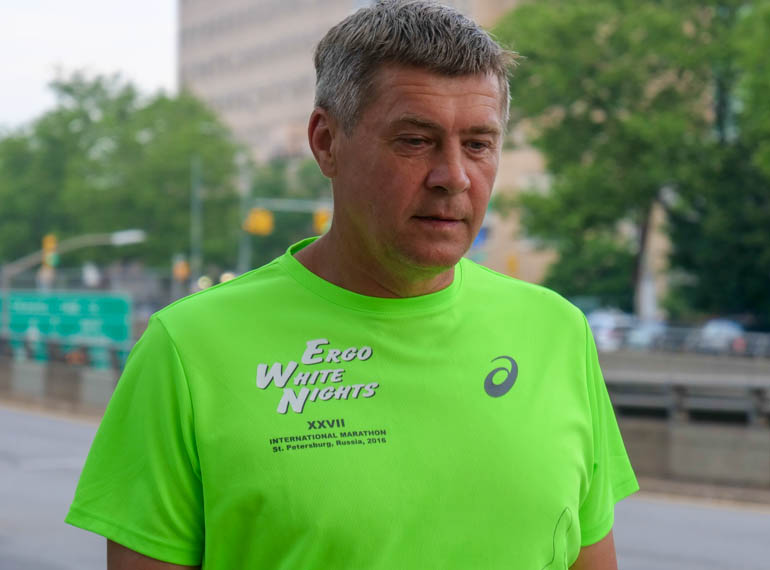 Getting some help with his feet
Flower
Nirjharini
At 10 there was a birthday party for Alan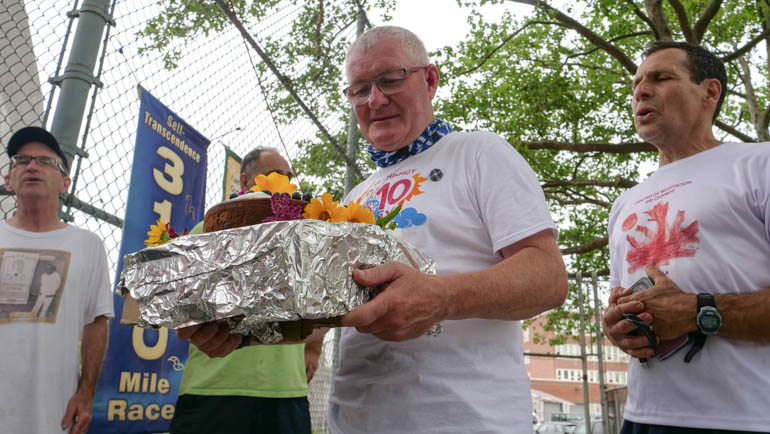 He is much appreciated here for all his service and good cheer.  He had originally planned to crew for William Sichel who was unable to attend.
Lyalya reads the Daily Prayer
Click to Play:
"I have to say that when I am here I can't leave.  It is like a good addiction.  It feels so natural for me to be here.  It is like time stops and you are just in the moment.  When I am not here I still feel inwardly as though I am still here.  There is a pull and I want to be here."
"You feel the race in the air.  It is everywhere.  When the race starts I feel as though something changes.  A new life begins.  When it stops it feels as though something tremendous has just taken place.  It is a feeling of everybody's victory."
Enthusiasm Awakeners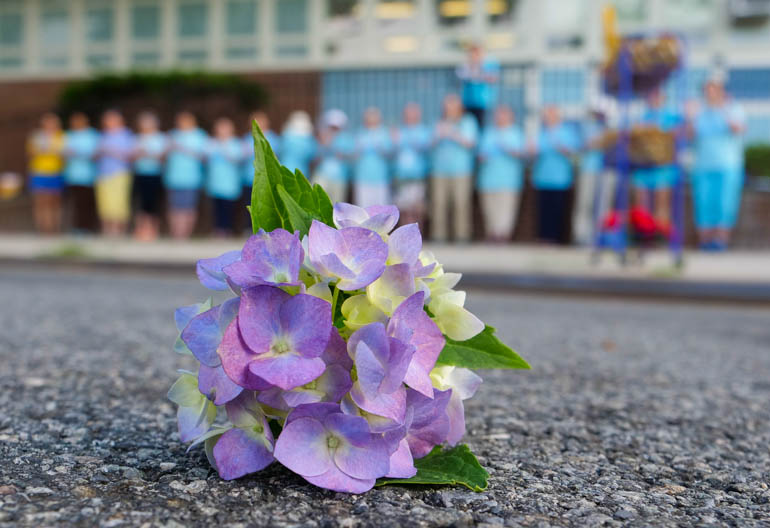 Click to Play:
Each mind has something
New to say.
Each heart has something
New to give.
Each life has something
New to become.