"Everybody says that each race is different.  This race is absolutely different for me.  What can I say.  I had a wonderful easy first half and then this came."
.
"The thing is that I accepted it and it is like it is."
We cannot know entirely the dimensions and depth of Surasa's ordeal, which is now well into its interminable 17th day.  Up until that day, July 14th, when her body, or perhaps it is just her legs went into a tailspin.
She was speeding along at another world record pace.  Then her world suddenly shifted and the trail in front of her suddenly has grown steeper and steeper.
On this her 43rd day on the course there is not one caring person whose heart does not go out to her now as she struggles to make it to the finish line.  If you have been saying prayers for her recently I know you are not alone.  For I certainly have.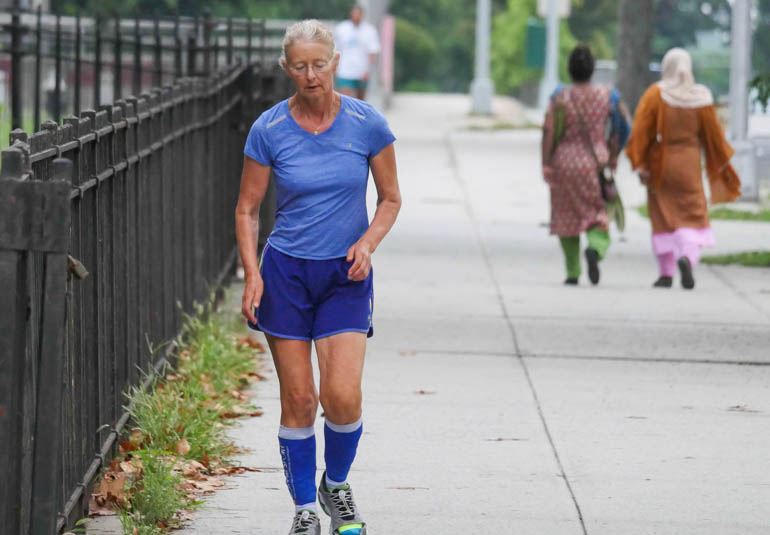 Yesterday was a pretty good day for her.  She did 53 miles and this morning she is optimistic that she is moving faster.  She needs however to move a lot faster and it has to happen now.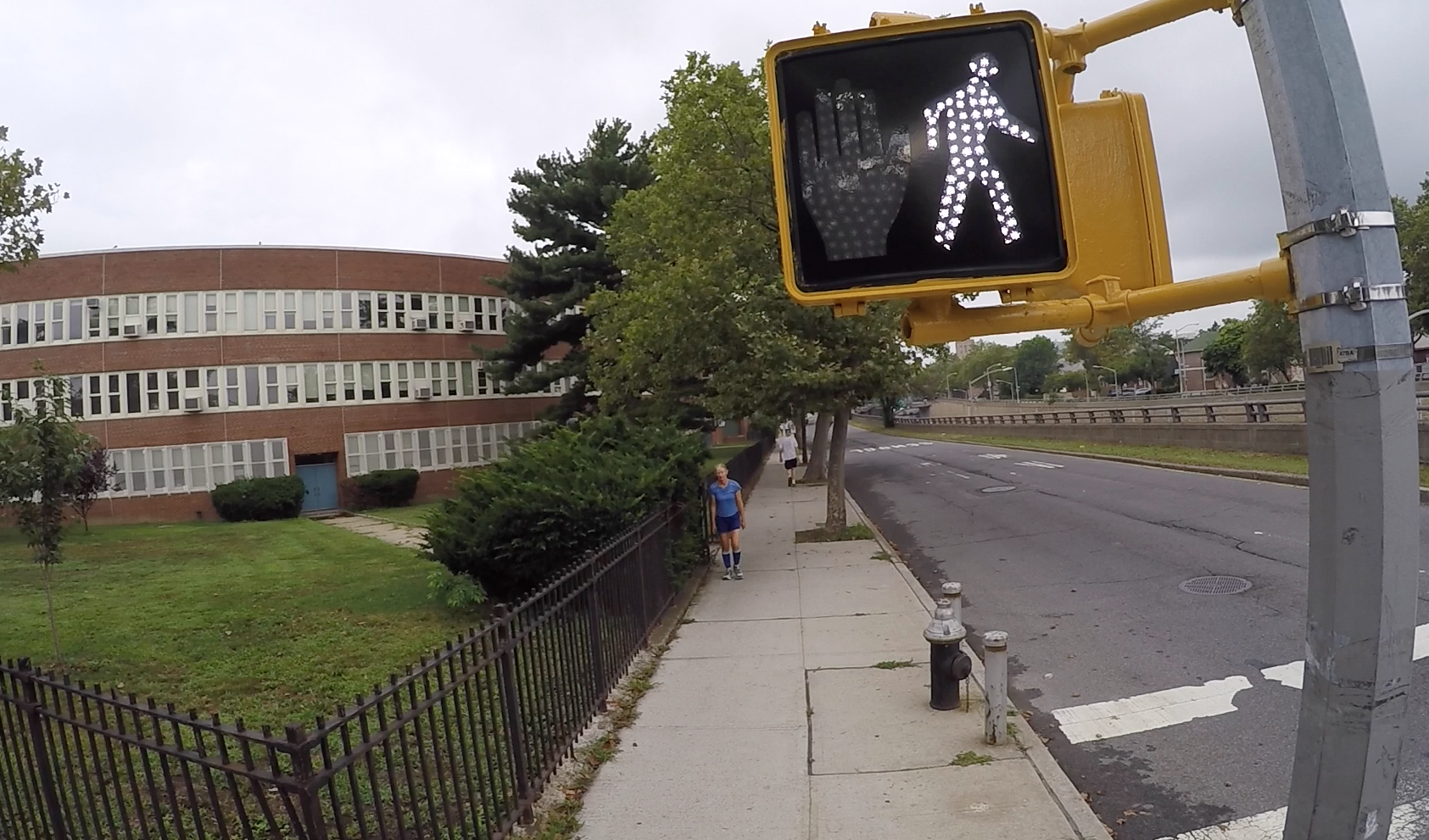 With 608 miles to go and 10 days in which to do it the calculation is clear now even for the most math challenged person.  It is 60 plus miles per day now or it will mean the finish line will be just precariously out of reach when midnight comes in 10 days time.
As we jog rhythmically along past the school, she questions if she could have not accomplished more in the last few weeks.  Answering her own question, she says, "I tried my best."
Recently it was suggested that she stay longer and this she has now done.  "I have stayed until 12 o'clock for the past 3 days."
"But I am very close to the finish line.  I have to do a little bit less than 61 miles.  Today at least I am running."
"But I am getting tired quite fast.  The heat absolutely.  The heat is really difficult.  When the sun comes up my energy goes down.  But in the evening I can run.  But the sun stays up until half past 7 and then it is too short."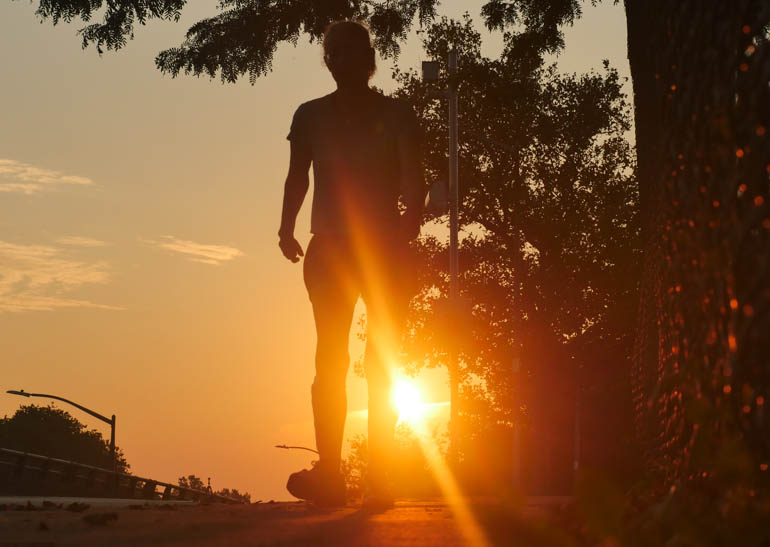 "So it is like it is.  I am not sad………..Maybe I can do this?………….and maybe not."
"I don't think what happens is up to me.  I have tried my best."
"If you can stay until the end of the race, no matter the result, it is still really something.  You have to be grateful about this."
"I want to thank all the people for their support.  What they are giving to me helps me and inspires me.  It encourages me.  I think it is real progress that I can run today."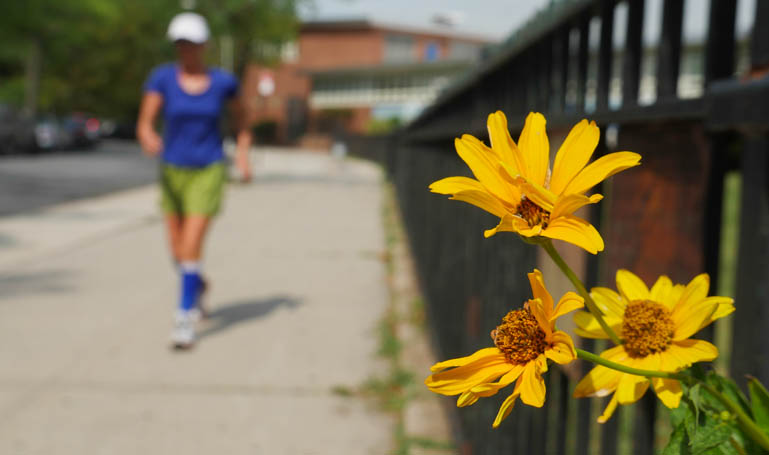 In my life of surrender,
Each step of my inner running
And each step of my outer running
I am offering, offering, offering
To my Lord Supreme.
Click below to see Dipali's latest Race Tips:
The board
It will not be hot but it will be humid today
Misha pouring water
Kaneenika arrives
The van arrives
The bee problem is so bad that now lids are being used on every cup
Rupantar does his video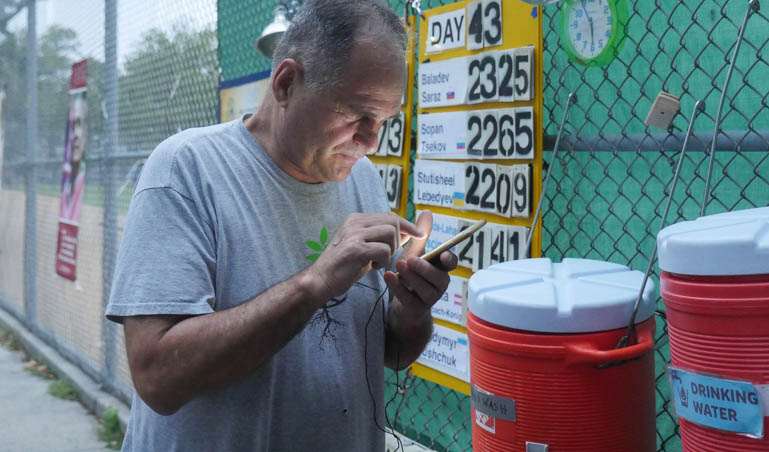 Baladev arrives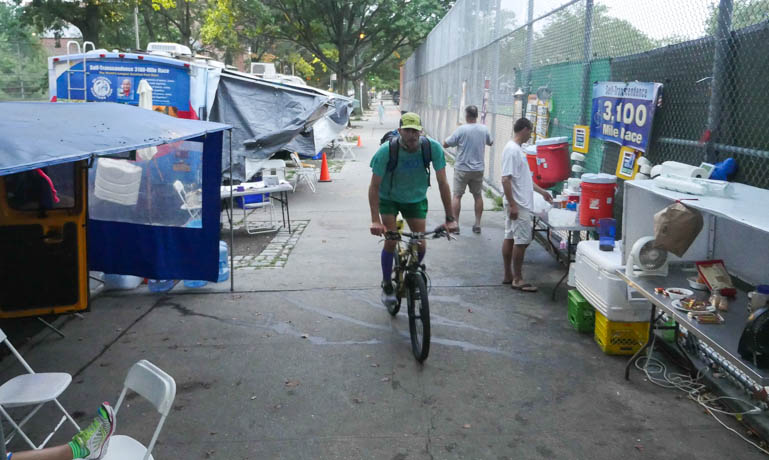 Ashprihanal taking care of a few things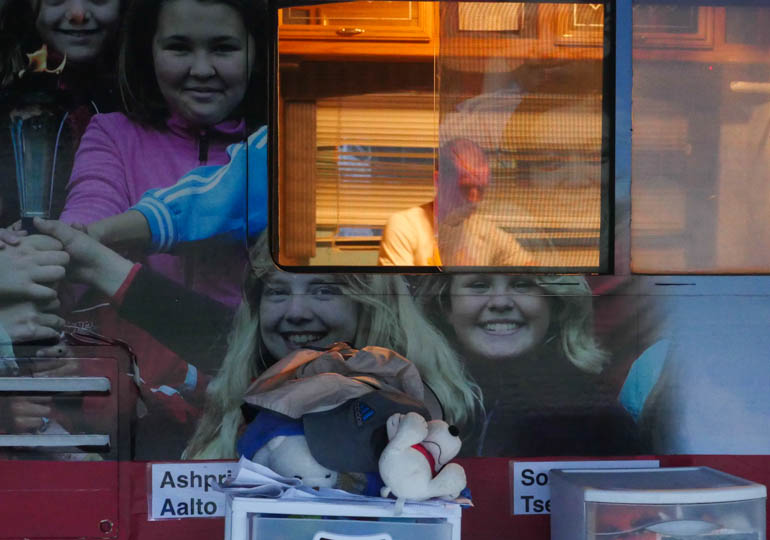 The girls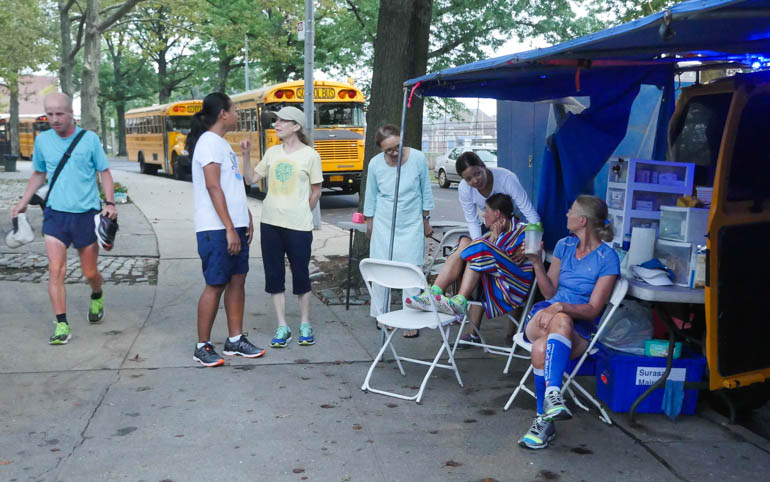 Start Day 43
First steps
Yuri had a magnificent day yesterday.  He did 70 miles
This is his first 70 mile days since day 3 of the race.  He now has 2800 miles.  Just 300 more miles to go.
He has stretched his lead over Ashprihanal to 27 miles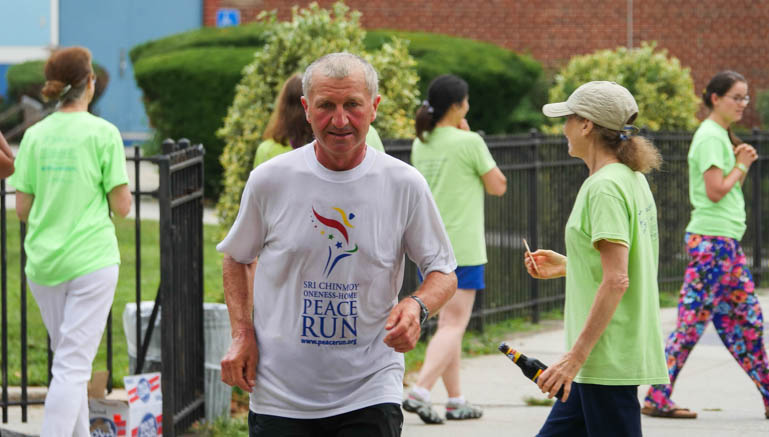 Happiness rock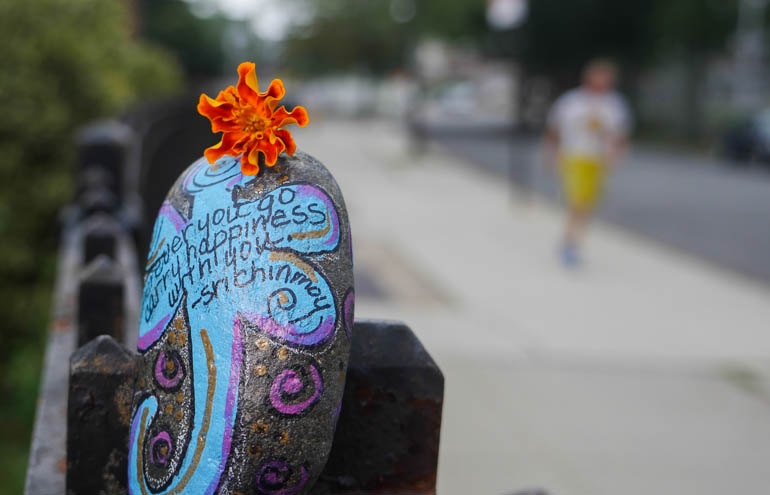 Ashprihanal did 65 miles
He now has 2773 miles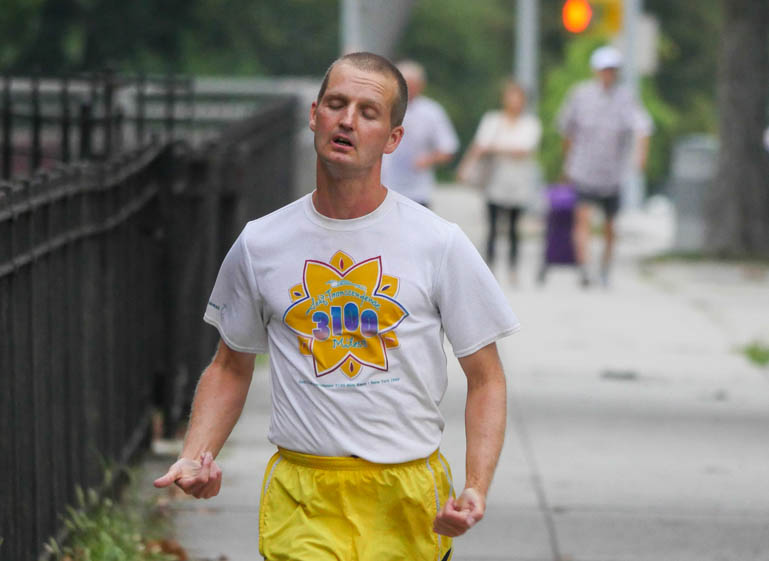 He seems content
A little light
Atmavir had 63 miles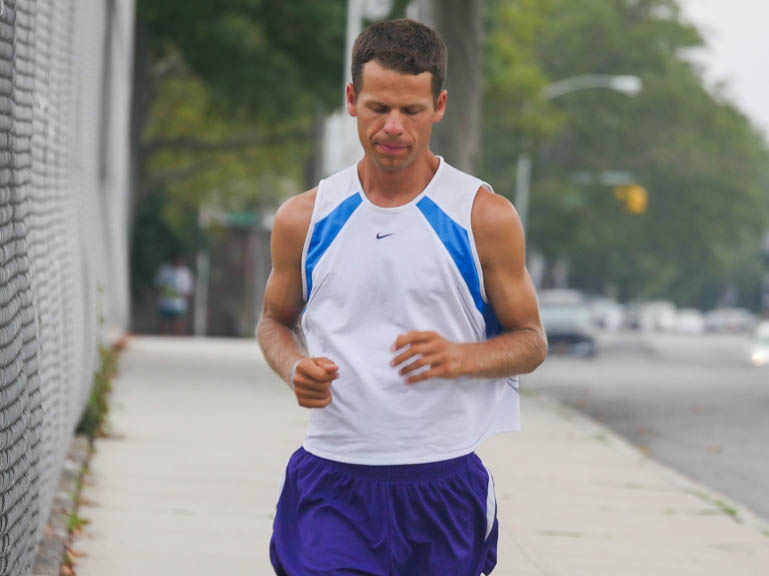 He now has 2713 miles.  He is 83 miles ahead of last year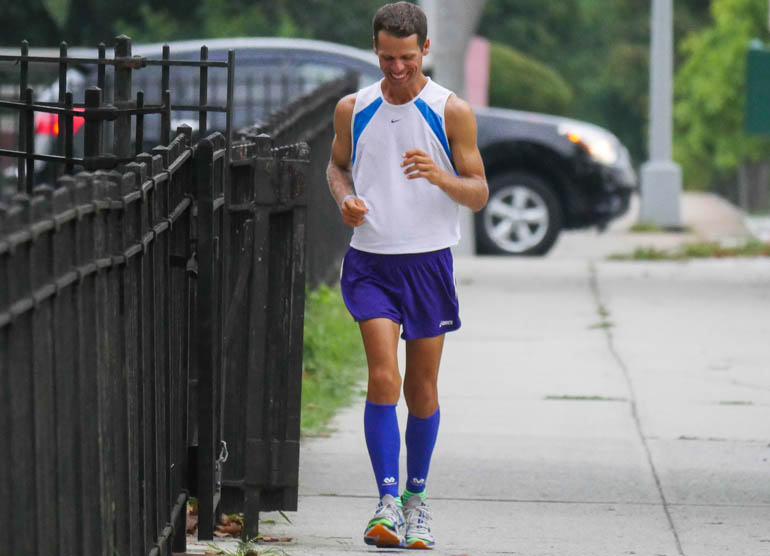 Vasu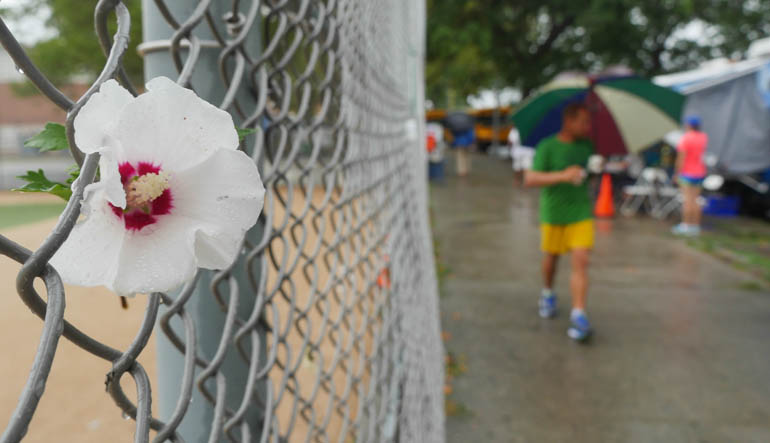 Vasu had 64 miles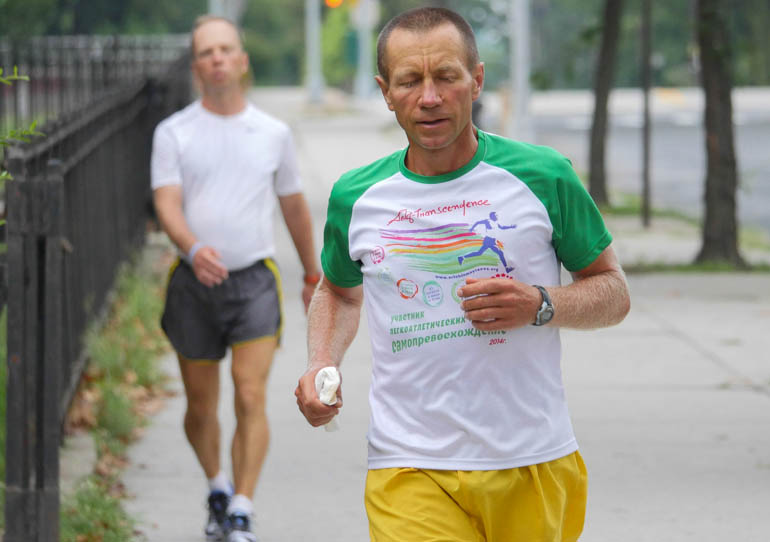 Vasu in camp
He now has 2676 miles
Delicate but strong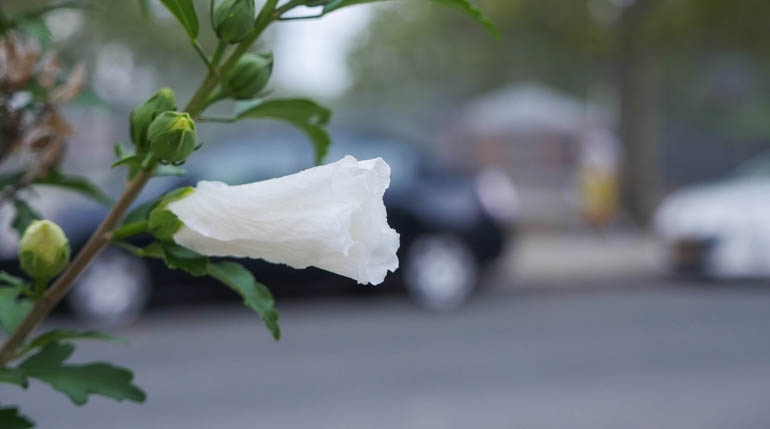 Kaneenika did 55 miles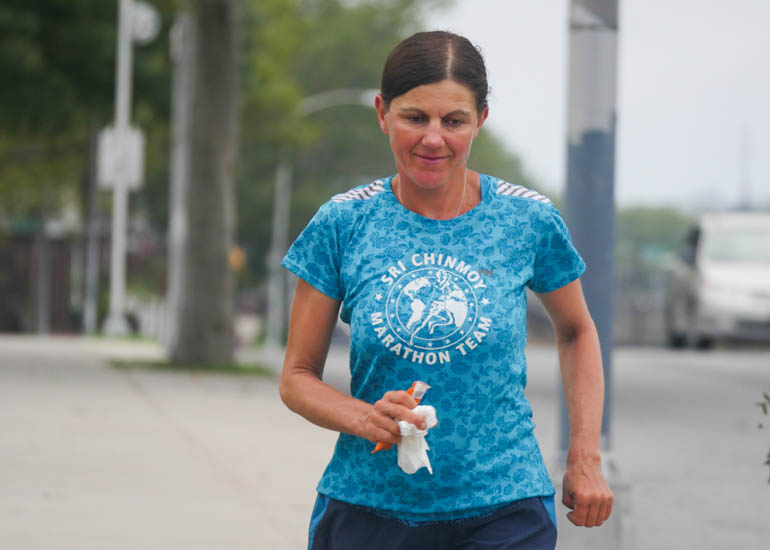 She now has 2568 miles.  Meaning she has 532 miles to do in 10 days.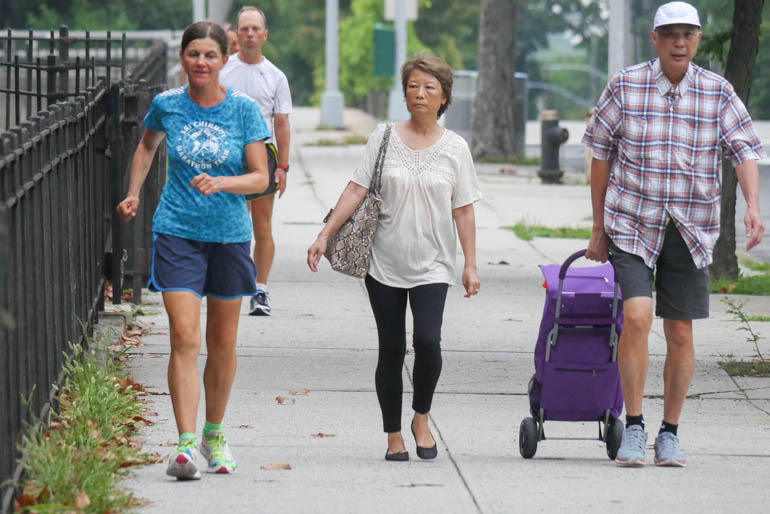 She is moving well today
With support
Still glad
Raining
Very delicate
Surasa did 53 miles.  She has 2492 miles
By midnight tonight we will know more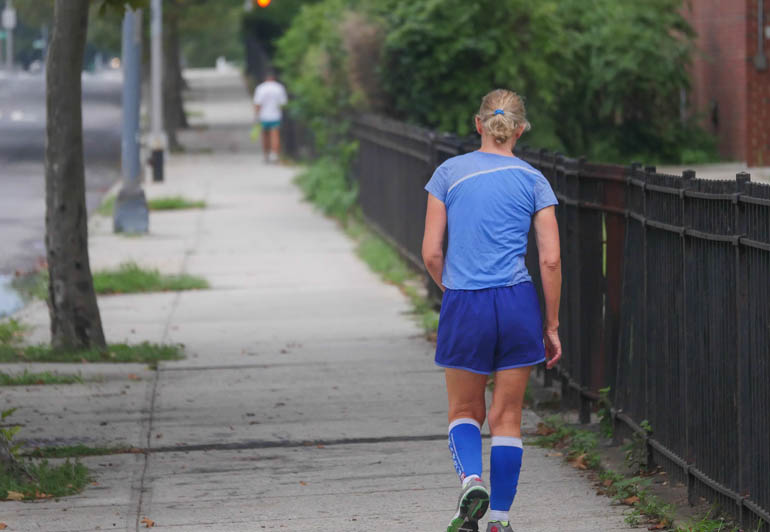 Hidden treasure
Baladev did 47 miles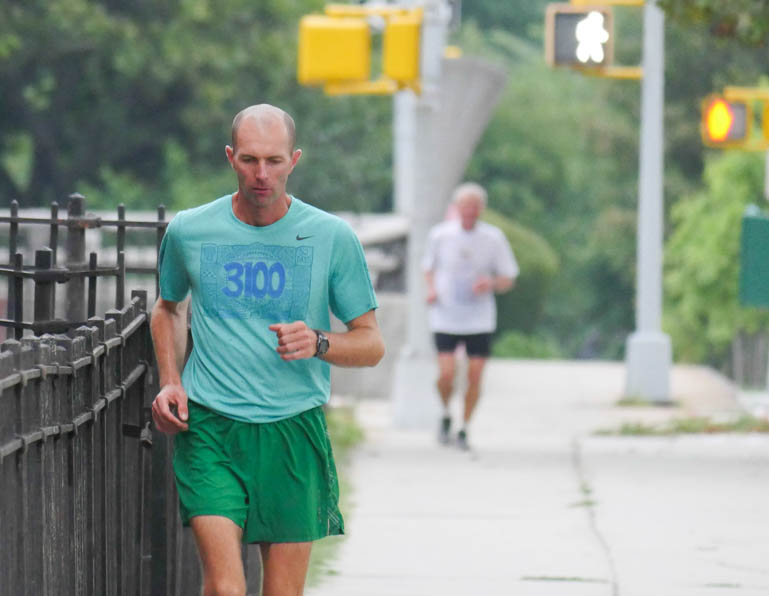 He now has 2325 miles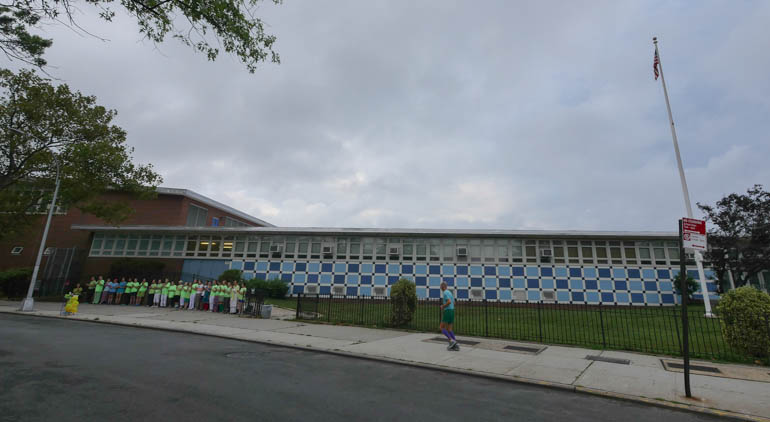 By the fence
Sopan did 45 miles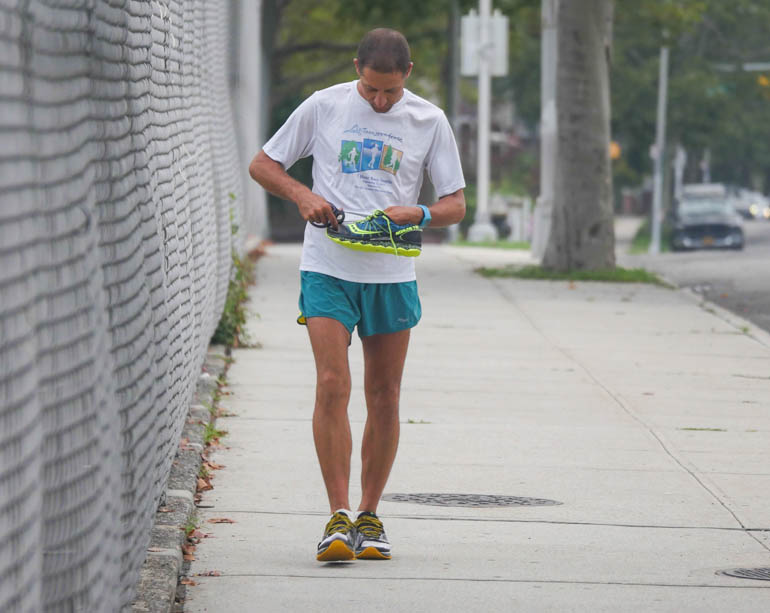 He now has 2265 miles
Just a little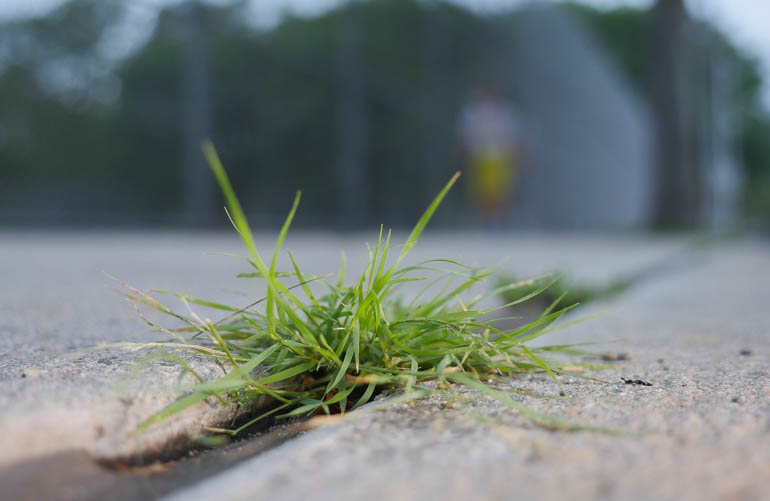 Stutisheel did 36 miles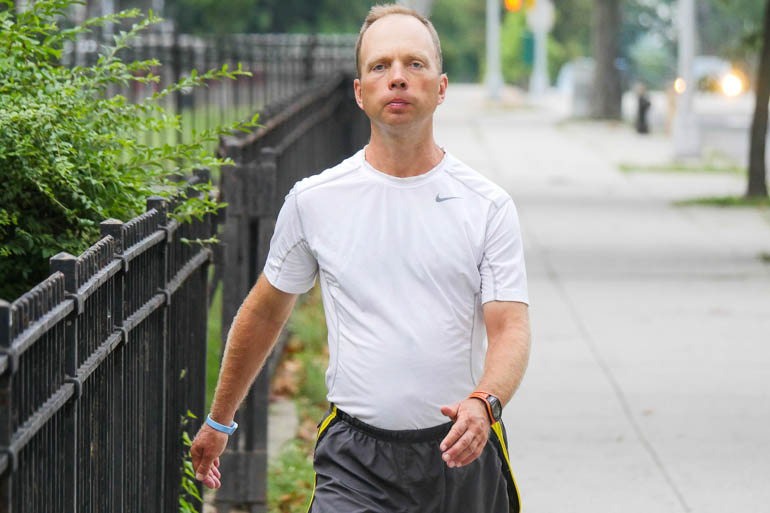 He now has 2209 miles
Not a balloon
Ananda-Lahari had 49 miles.  He now has 2141 miles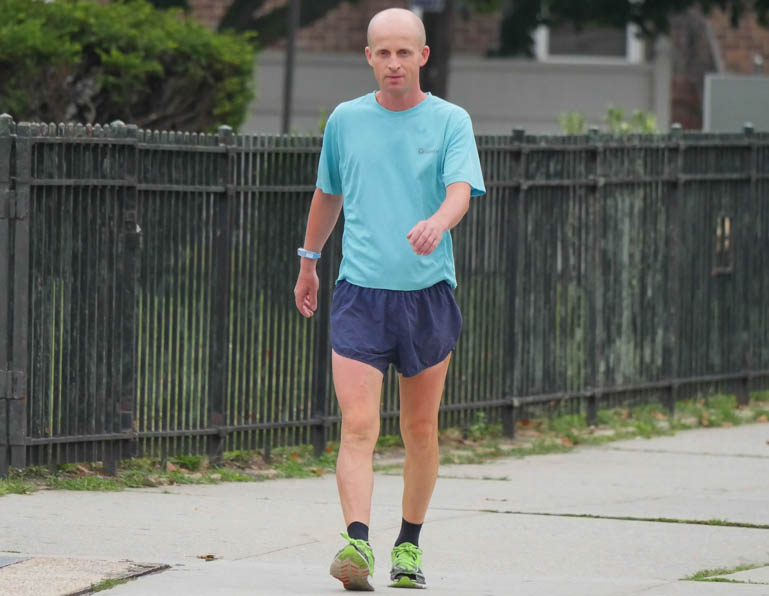 Quiet Sunday morning on the service road
On the edge
Sahishnu gives his end of the week report
Click to Play:
At 8pm tonight Sahishnu updates the board.  Kaneenika has done 41 miles and needs to do 12 miles in the next 4 hours.
Surasa has done 44 miles and needs to do 16 plus miles before midnight.
When you just need a smiley face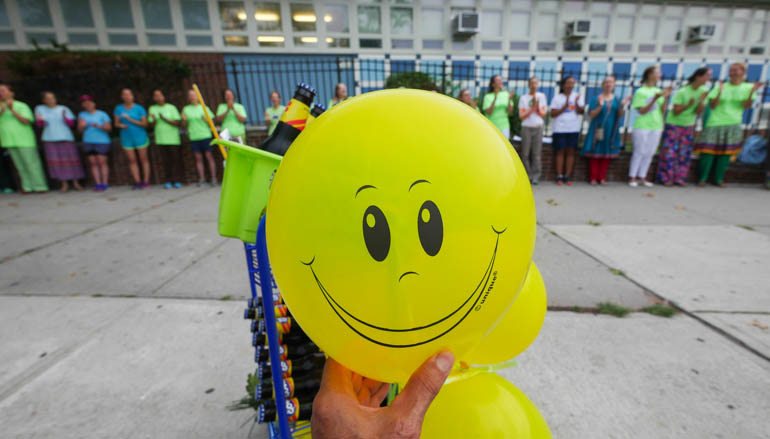 "I actually do like the ending of the race.  I have to say.  I like the finishes."  Today is Tajini's birthday and I ask her about her feelings for the race.
"I like the peaceful atmosphere.  Everything is going towards the celebration which makes it exciting."
Tajini has been singing with the Enthusiasm Awakeners and I ask her how she thinks the music affects the runners.
"I am sure definitely from the singing because the singing is an instrument of a higher source."
"If the runners did not have inner experiences they would not be able to do what they do.  Of course the singing helps.  We try to support them give them some energy."
"We make them smile from time to time which is nice.  Then if they don't have the energy I totally understand.  I think they feel the encouragement inwardly.
Click to Play:
Tajini reads the Daily Poem
Click to Play:
Enthusiasm Awakeners
Click to Play:
There is no finish line
In the perfection-race.
Perfection is an eternal run.