"I am alive and happy."
Speaking with Yuri this morning he somehow makes what he has just done look deceptively easy.  Late yesterday evening he completed 2000 miles.  For the few who were there to witness it. Some bells were rung and he slowed for just a moment and then quickly kept going.  He still has a long long way to go.
Today it is day 31, which will mean he has spent a full month circling Thomas Edison High school.  His 2009 miles (3,233km) would take him just about to the coast of Portugal from his home in Vinnitsa in Ukraine
"My body is not used to the heat.  That is why I have to put in a lot of effort in order to overcome it."
Of course it has been hot and humid for the past few days but today is a delightful break for Yuri and all the runners.
As a comparison, the temperature today in Vinnitsa is 68 F (20 C).  Where as the typical temperature here is in the high 80's F ( near 30C)
"There are many ways to overcome it.  Dr Kumar recommends salt water with lemon.  I also take special pills that protect me from the heat.  I put ice underneath my hat and when that doesn't help I take ice into my hands.  The most important thing though is your inner state."
"I begin to pray and this prayer makes me whole.  Then nothing from the outer world can harm me.  It is a very strong method."
*translation by Lyalya*
"I have already said that the first half of the race is very hard.  But in the second half of the race you open up.  You are very receptive.  I had an experience in the evening just as everything was starting to cool down.  All the confusion and noise was gone."
"I was very relaxed but at the same time very focused.  In one moment I felt as though I was expanding.  At the same time I became more subtle.  It lasted for what seemed a long time."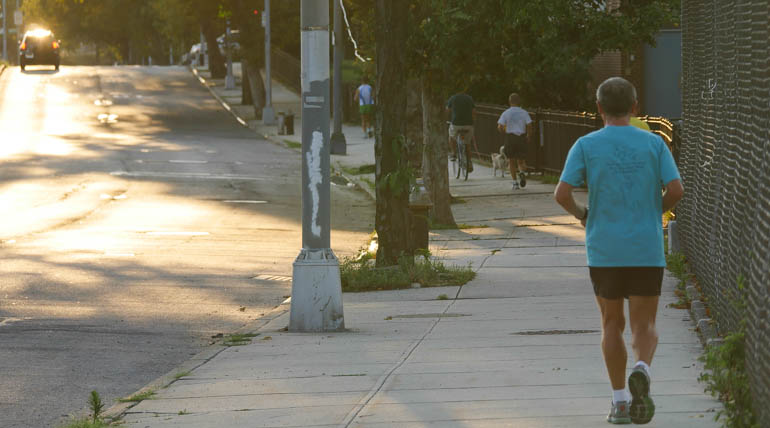 "I felt as though I became the size of the whole universe.  I was in every dot of the universe.  I was everywhere and everything was in me.  At the same time I was very subtle.  I felt as though I was almost invisible.  I was very receptive.  I could still feel everything."
"This was a very strong inner experience.  I have never had anything like this before.  It comes again and again when you immerse yourself in this state of being."
"It is an amazing experience."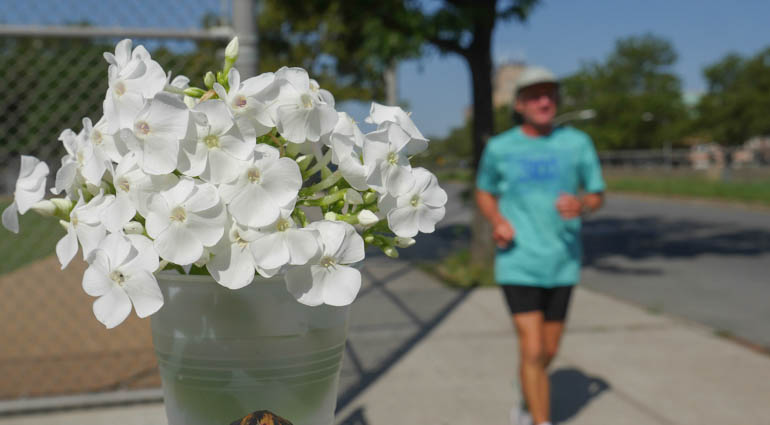 Morning begins.
I begin to pray.
God begins to give.
In silence supreme
He gives me His All.
*Click below for Dipali's Race Tips*
The Board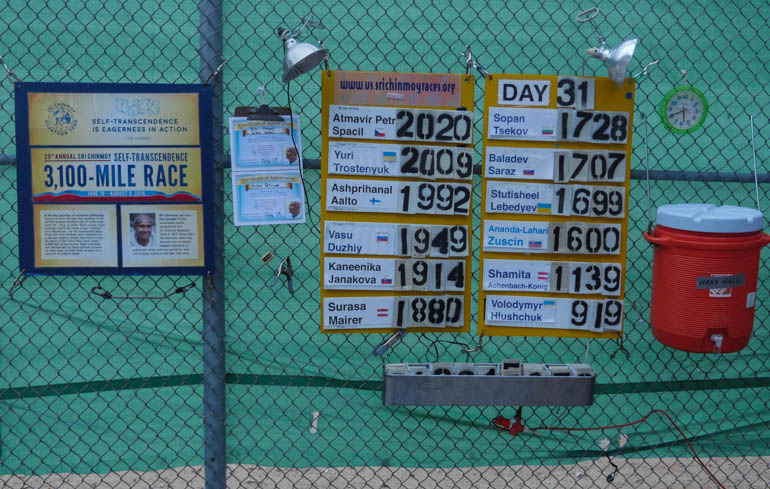 Empty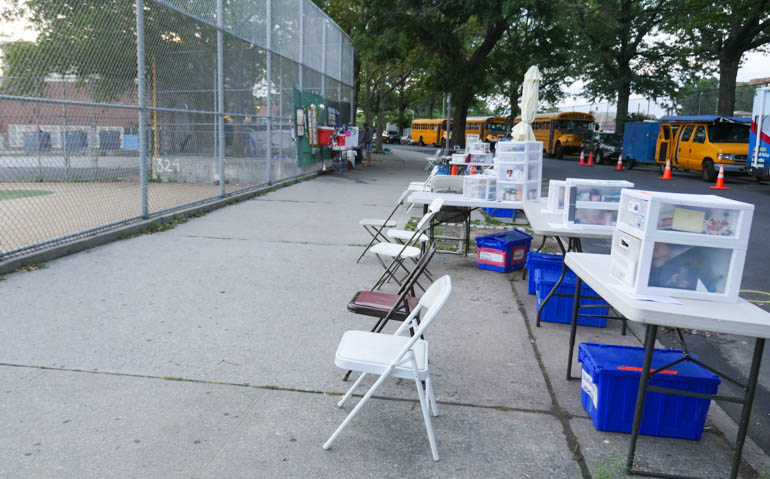 How it looks a little later
The van comes
Vajra leaves
Kaneenika comes
Misha reading
Stutisheel had the best day yesterday 64 miles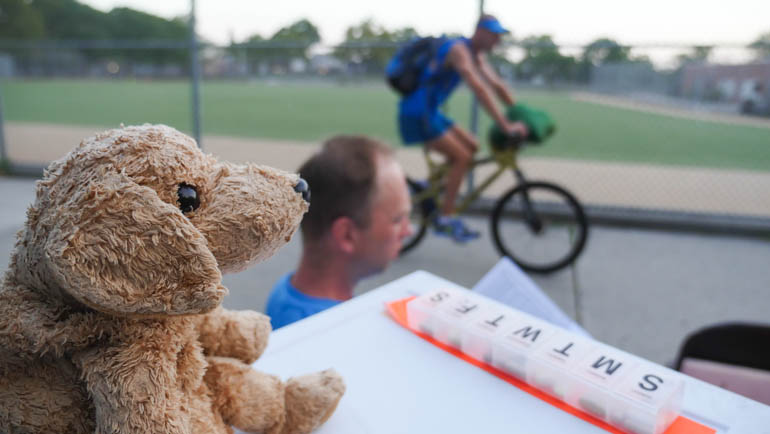 Surasa checking the sheet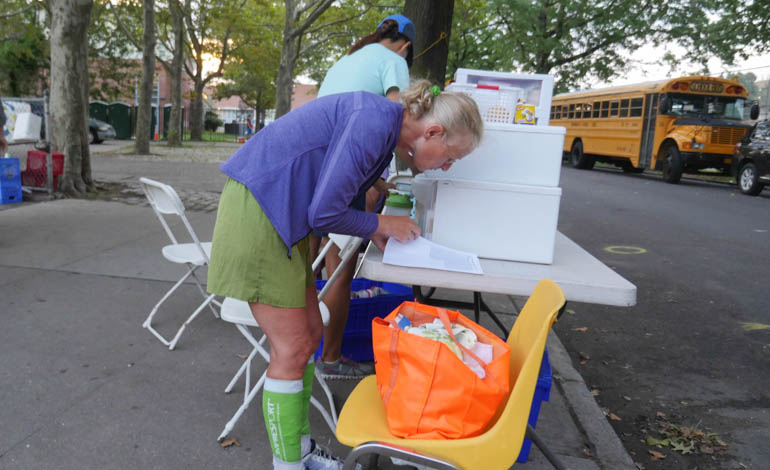 Some drink from last night
Ananda-Lahari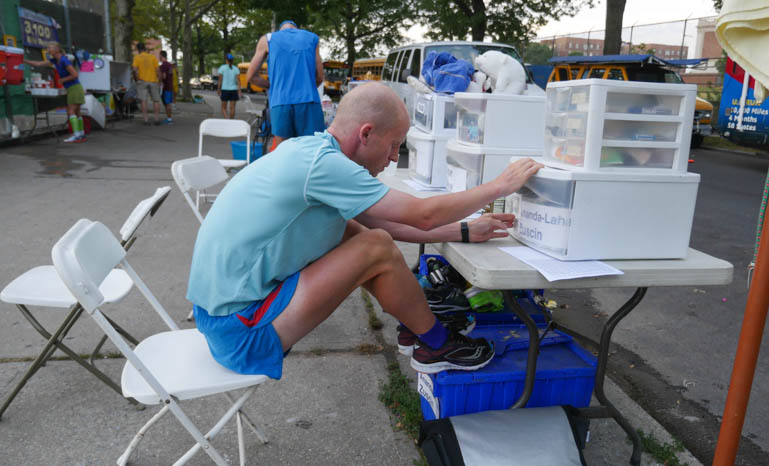 Dirty laundry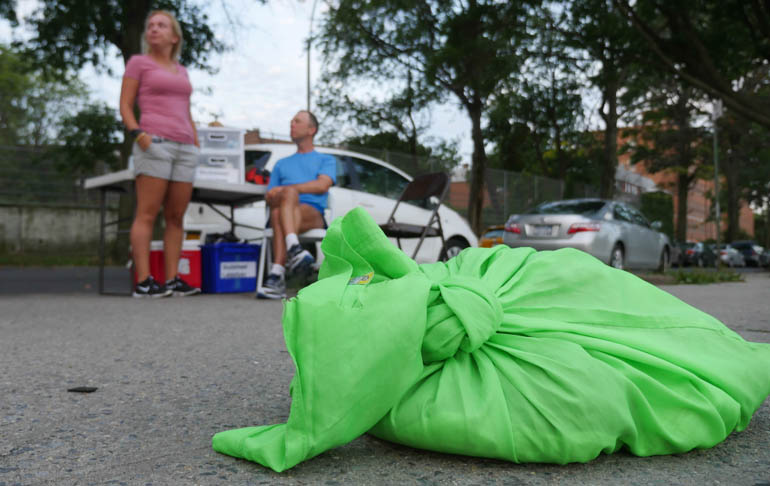 Start Day 31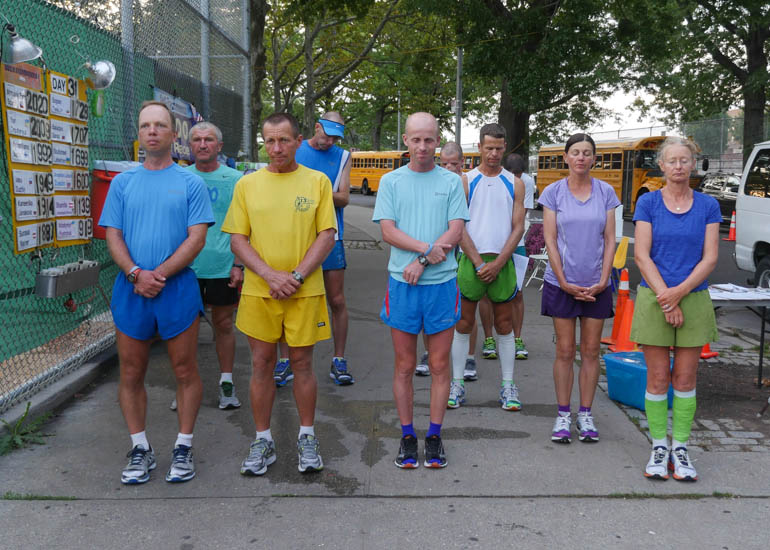 First steps
It will be a great day on the course
168st
Atmavir had 43 miles yesterday
He now has 2020 miles and is 60 miles ahead of last year
Today is cooler and he is moving better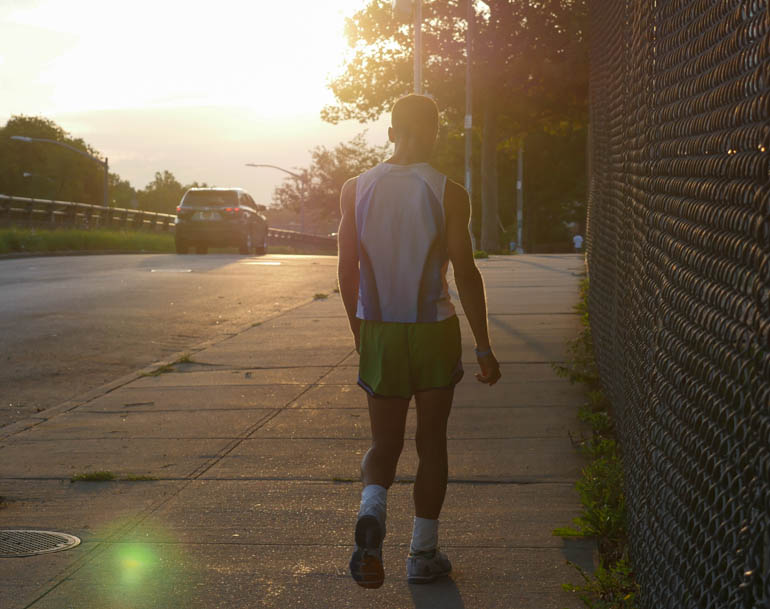 Cosmos
Yuri did 63 miles yesterday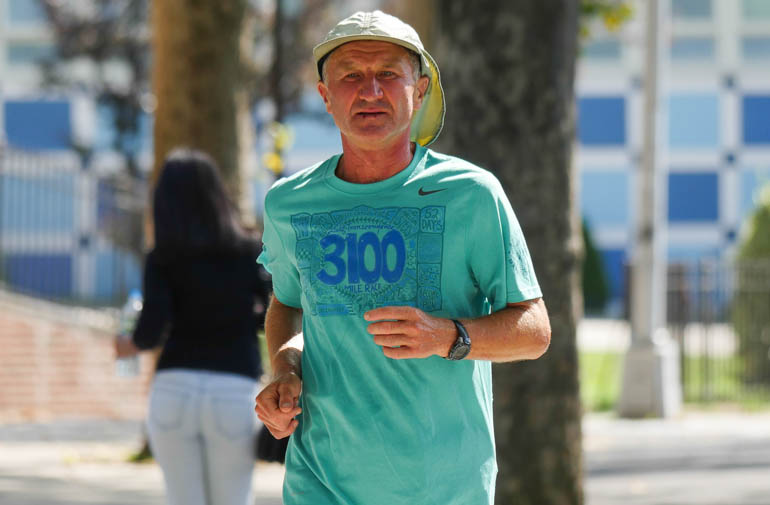 He has 2009 miles.  Staying cool
By the fence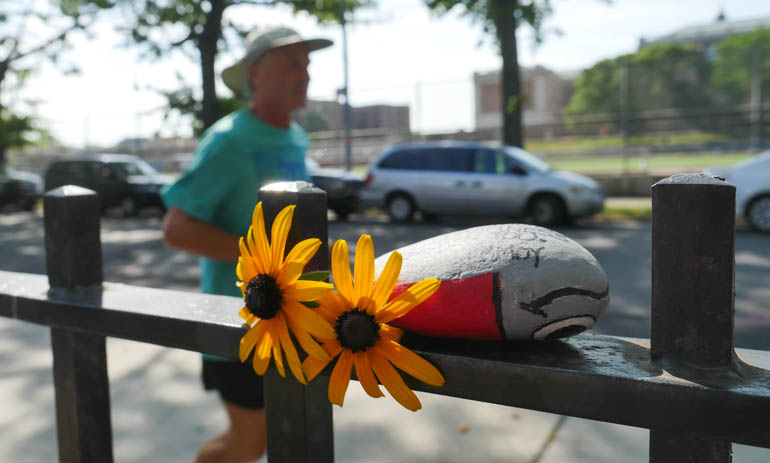 "Yah, I thought I was going to Rio this year.  But in the trials I hit the last hurdle.  Don't count me out for 2020 in Tokyo.  I am only 2 years old after all."
Tech talk
Almost unnoticed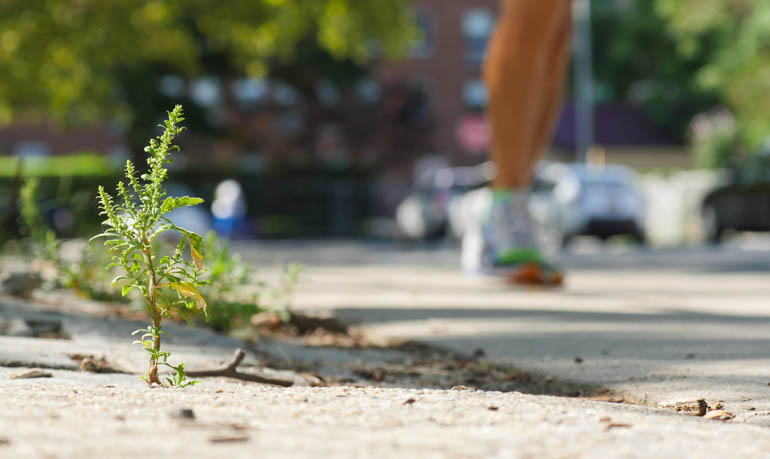 No squirrels and no obstacles
Coming into camp
Ashprihanal did 60 miles.  Still not feeling 100%
He has 1992 miles
Working on a play with Stutisheel
These are my golden children
When they run,
every breath of theirs enters into my heart-
affection, love, sweetness, and fondness for them.
Sri Chinmoy
Morning glory
Vasu continues to improve a little each day.  He also had 60 miles
He has 1949 miles
Past the trees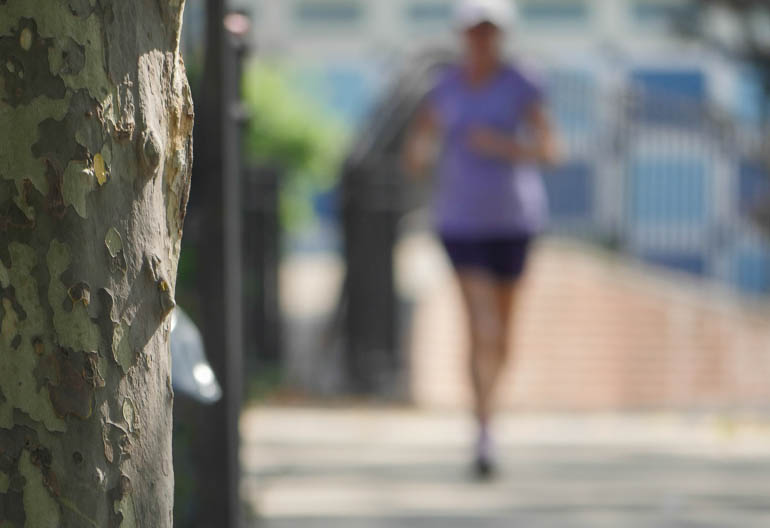 Kaneenika had 63 miles
She now has 1914 miles and is 114 miles ahead of last year
orange
Surasa had 46 miles
She now has 1880 miles.  Still 21 miles ahead of last year
She is confident and cheerful
Service road
Sopan did 44 miles
He has 1728 miles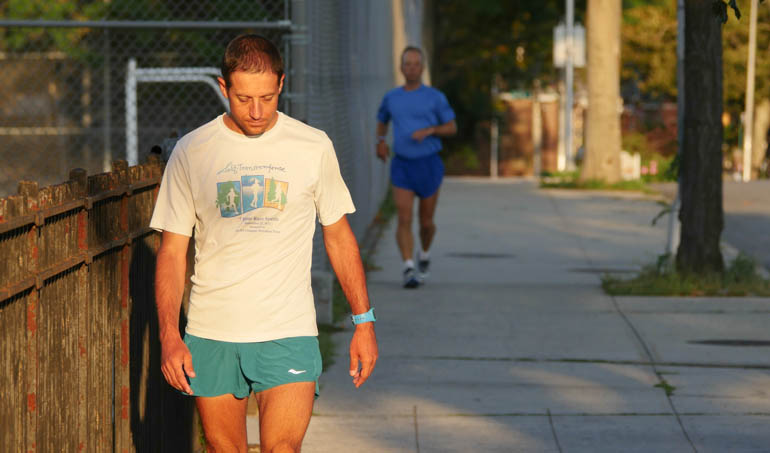 Heading out past a gladiola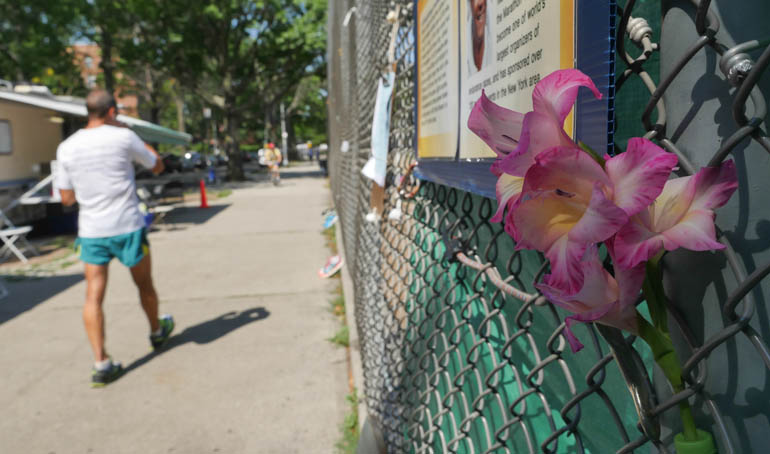 Wide camp
Baladev did 51 miles
He has 1707 miles
Blue
Stutisheel did the most miles of anybody yesterday, 64.
He has 1699 miles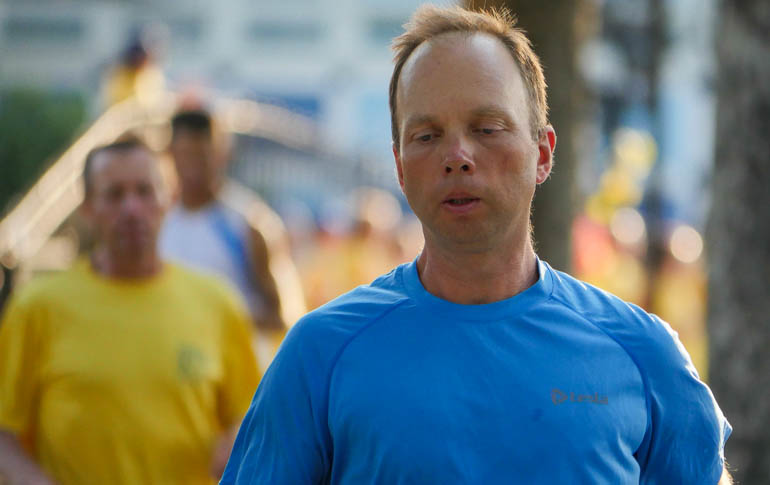 Nirjharini and the cooks have come
Fixing shoes
Ananda-Lahari did 45 miles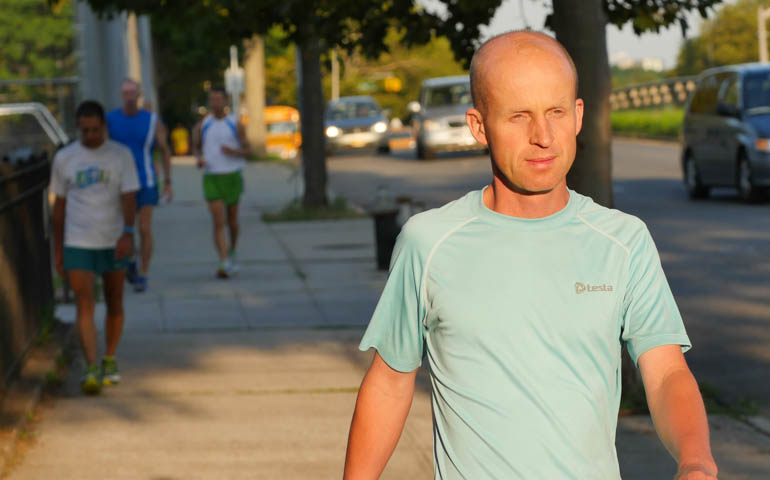 Conversation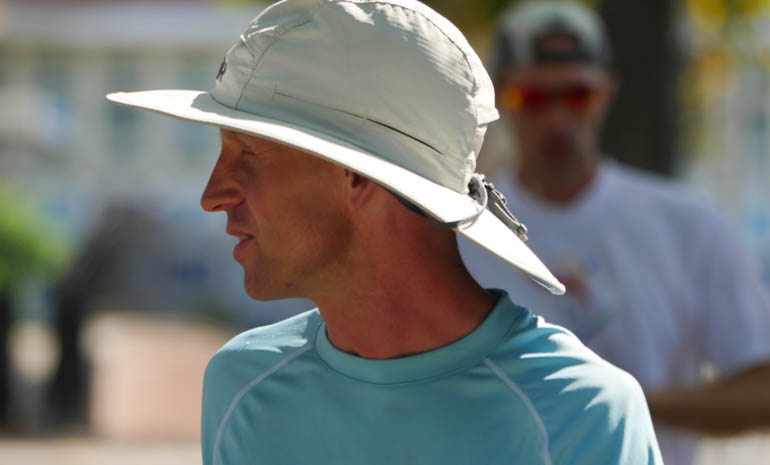 He has 1600 miles
Past the fence
"I like everything."  Udbhasita has been working with the kitchen crew since the beginning of the race as well as singing with the Enthusiasm Awakeners.
"For me singing is a very very important part of my spiritual life.  Very often it works better for me than meditation itself.  Singing for me is a very good form of meditation.  It is something that can really take me within myself."
Special attention
"I am trying to do this same thing when I work in the kitchen as well.  I try and really dedicate my work to the highest, and also try and work with love."
"But of course when you get busy, you have to concentrate.  Sometimes it is easy and then again sometimes it can be on the mental level.  But when I sing I can always just dive deep within.  It is like a flow of meditation."
Click to Play:
Alakananda Reads the Daily Poem
Click to Play:
Enthusiasm Awakeners
Click to Play:
On earth my experience is helplessness, utter helplessness.
In Heaven my experience is satisfaction, constant satisfaction.
In God my experience is perfection, total perfection.