"Sometimes it seems to go slow and sometimes time seems to go fast."
For all of us unhurried observers of the race, the passing of 3 full weeks seems like a significant milestone.  It is also a convenient handle in order to somehow grasp the unwielding dimensions of the race.
On the other hand, for the runners there is precious little to hold onto as they push relentlessly and as hard as they possibly can every single day.
Kaneenika says though, "I was surprised we had started week 4."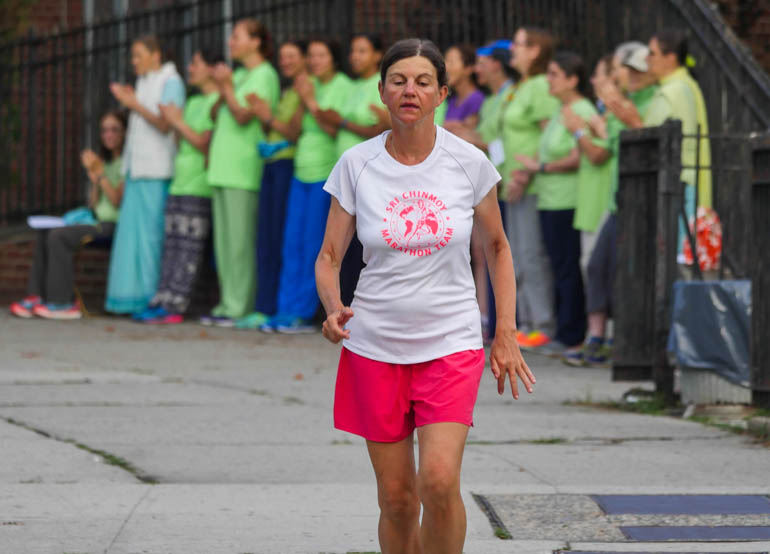 Over the past 21 days she has run 1337 miles and she is averaging a really good 63 miles a day.  In a little less than 4 days she will be at the half way point.  "I think it feels that you are going down the hill once you reach half way."
This year she says the race is different for her, "I have more experience.  I am trying to take things differently."
"At the beginning of the race I said to myself, I want to stay happy.  I am trying to work on that and I think it really helps."
"I don't think we are here to enjoy ourselves.  What I learned after the last race is that we are not here to do the race for ourselves."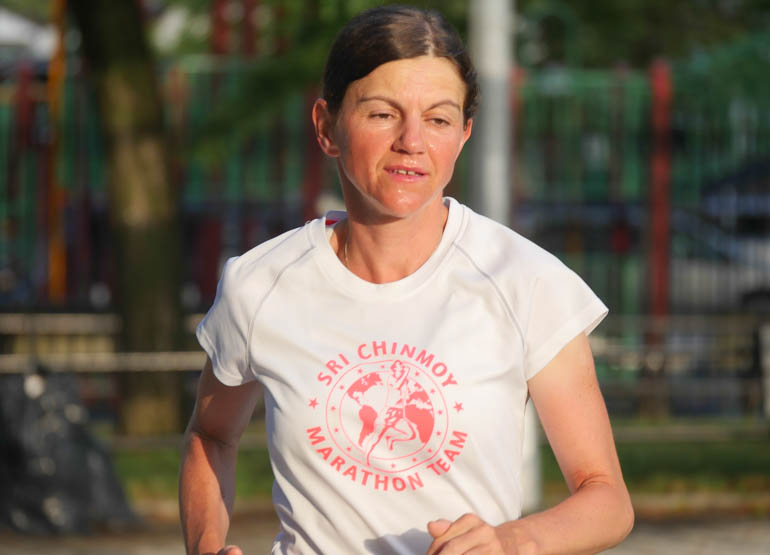 Kaneenika said that she came to that understanding after she finished last year and people came up to her and told her how much she had inspired them.  "Thank you for the inspiration."
"It is definitely not just about our own progress.  This is why Sri Chinmoy created this race, to help humanity inspire each other."
To inspire others
Is to be immediately rich
In the inner world.
The board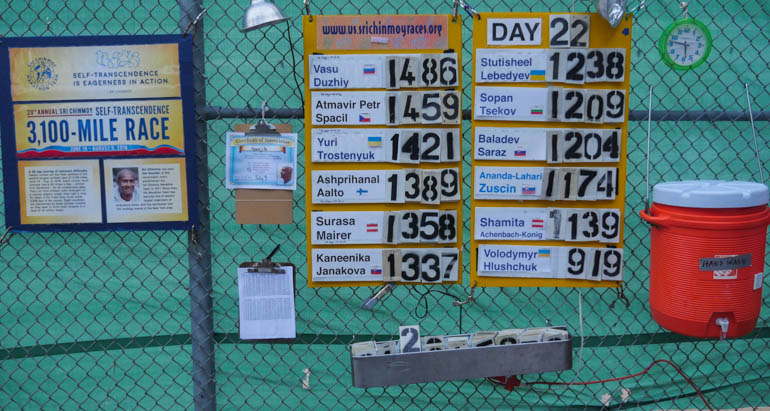 The camp before the runners arrive
Vajra has made a beverage that he wants everyone to sample
The van
Baladev with laundry
The short wait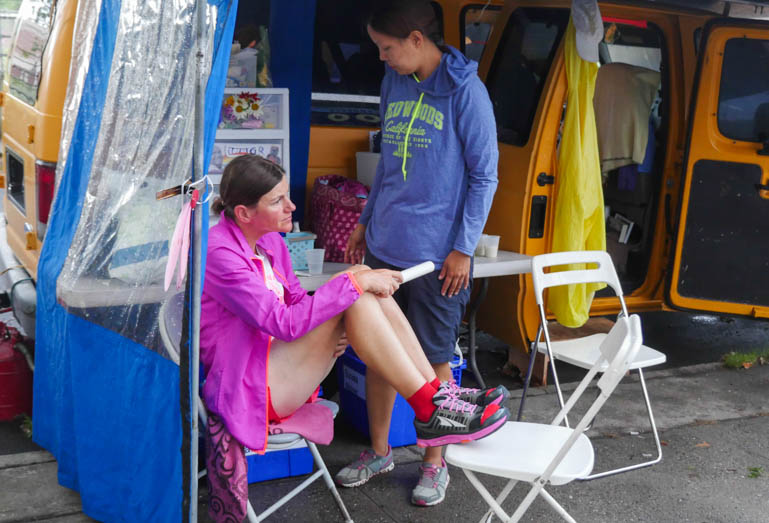 Vasu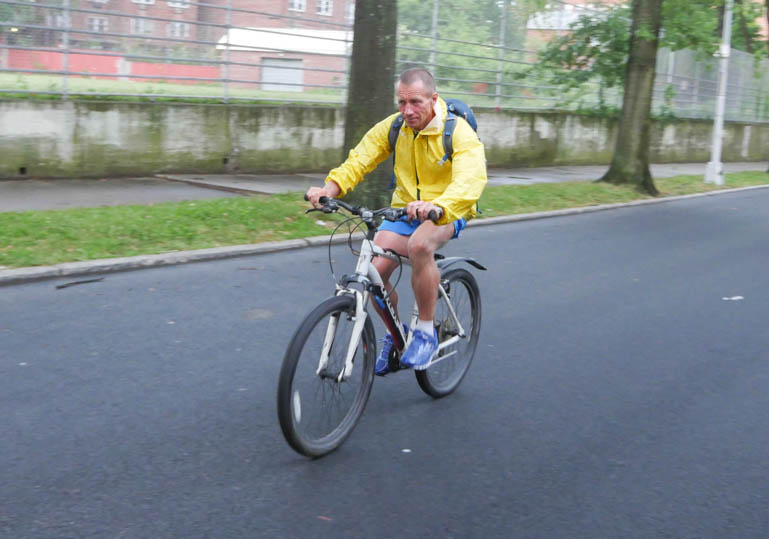 Last minute
Start Day 22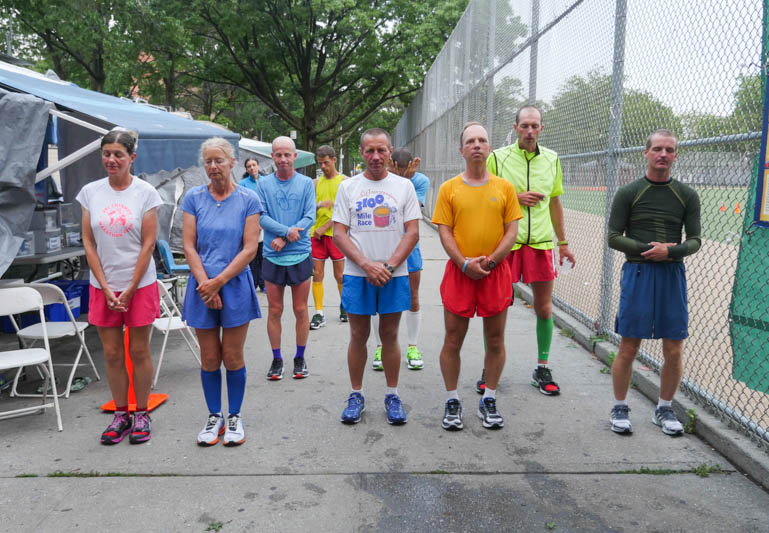 Once again Ananda-Lahari speeds away at the start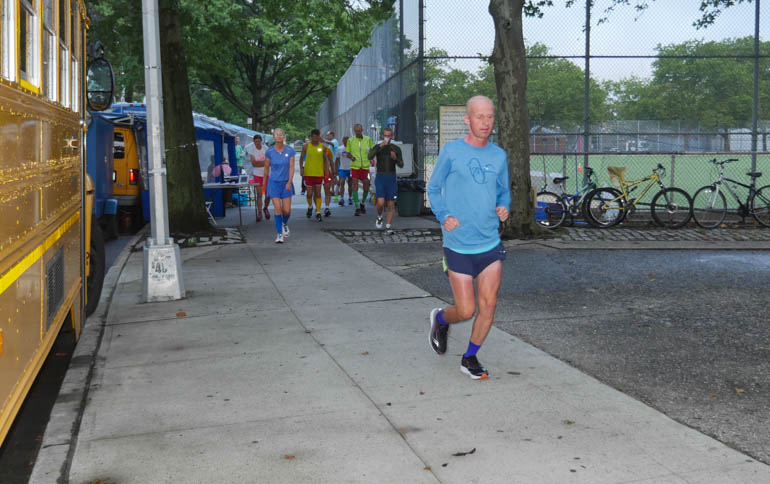 Yuri gets a massage before he does his first lap.
Vasu
Vasu did 68 miles
He has 1486 miles
Knowing the right people
Service road
Atmavir also did 125 laps, 68 miles
He has 1459 miles
Camp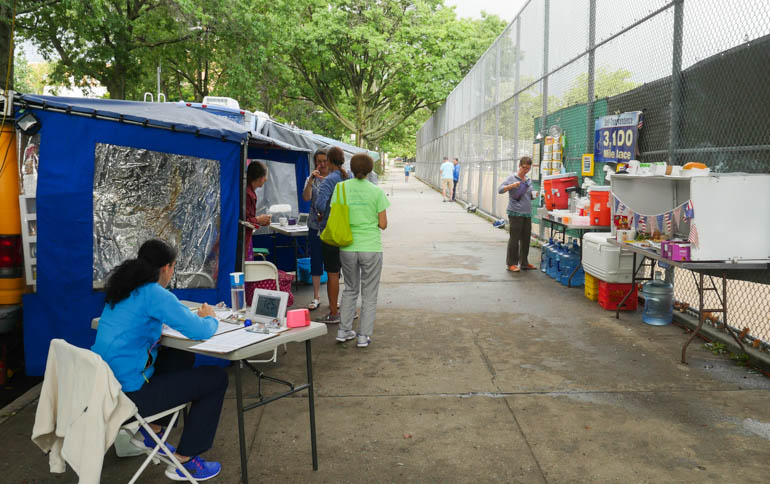 Not quite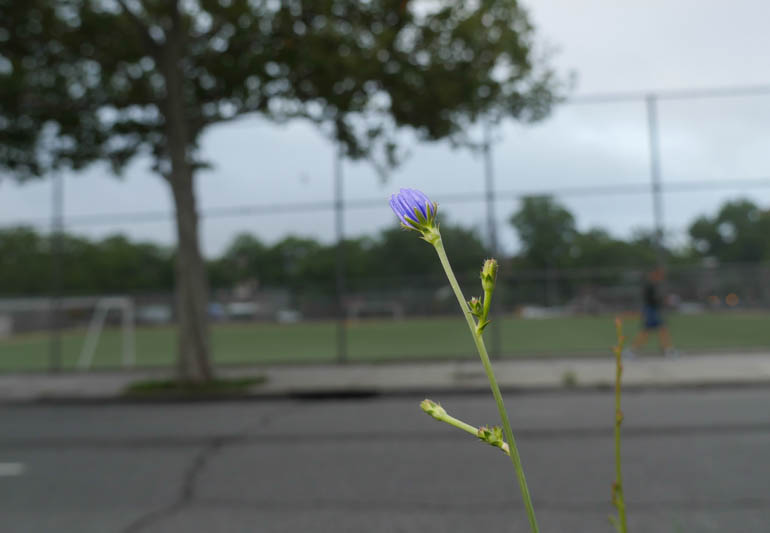 Yuri did 63 miles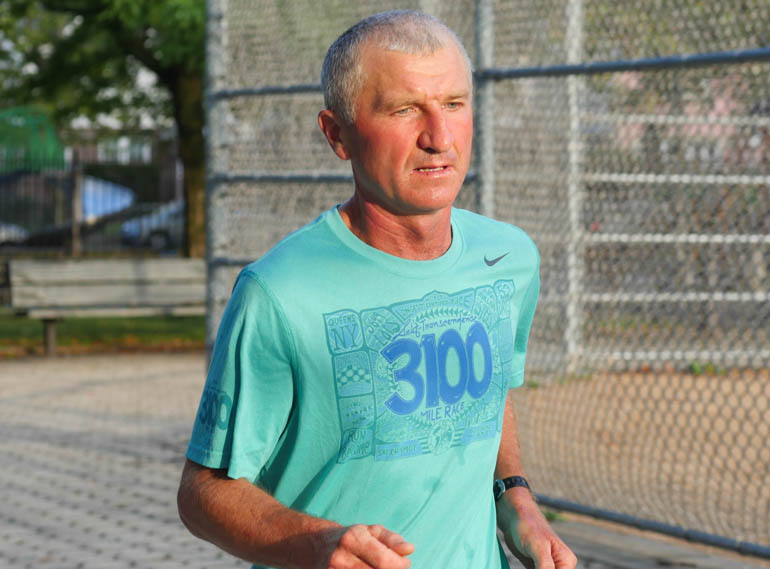 He has 1421 miles
Service road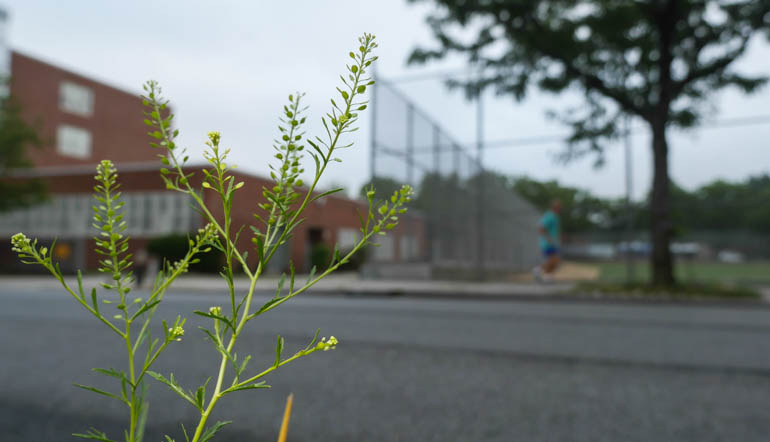 Ashprihanal did 67 miles.  He has 1389 miles
This morning he asked Parvati for a song about friendship.  He sings it with Stutisheel.
Service road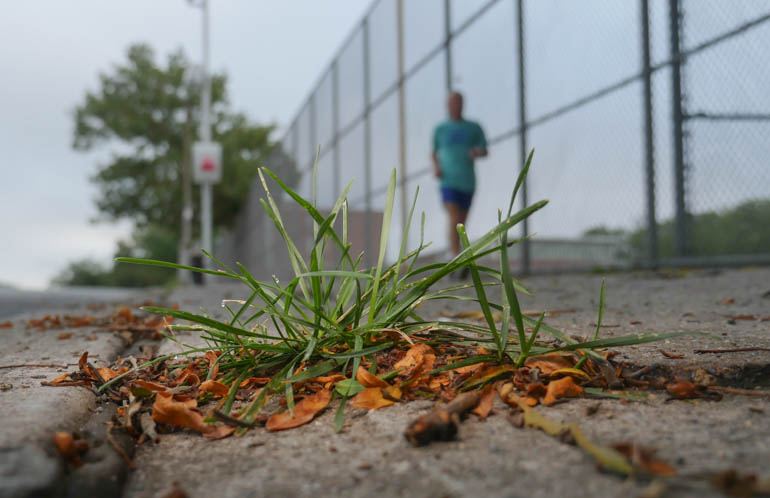 Surasa did 64 miles
She has 1358 miles.  A quiet Sunday morning.
Delicate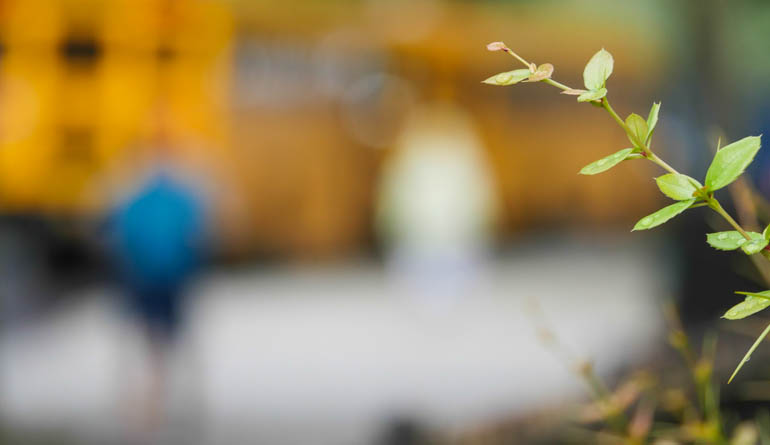 Kaneenika also did 64 miles (117 laps) 1337 miles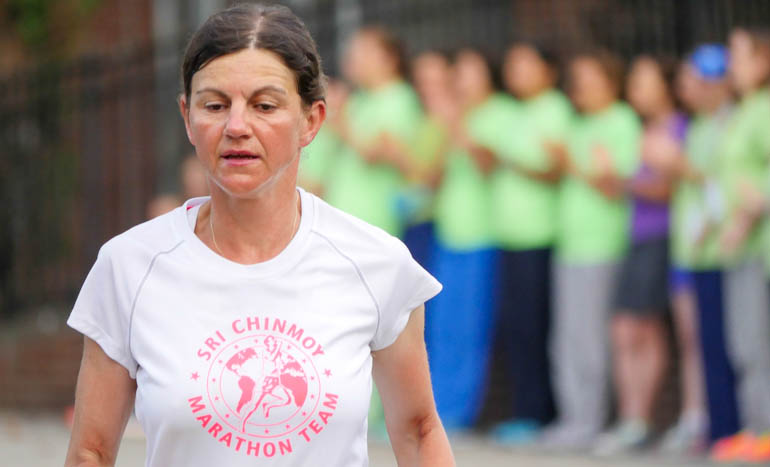 Pranika has brought her a mat in honor of finishing her 3rd week.  She thinks it will be good for her feet.
Play Video to hear Dipali's comments on Kaneenika's race:
"Last year I was out here with her for most of the race.  I saw all the ups and downs of a first timer doing a new event."
"Kaneenika has learned a lot of valuable information from last years race."
"She would have made it last year but there was a bit of a problem when she fell and hurt herself.  She had to get over that hump."
"This year she has got it right down to the second what to do.  She has learned more about shoes.  She has learned more about timing."
"She told me a few days ago that this race was all about patience.  All about surrender, and all about gratitude."
"She has got all 3 of those incredible spiritual values in place this year.  It is really motivating her."
"I know she is going to finish.  I predict that now.  And I actually predicted on a piece of paper, on the night before the race started.  I know her so well.  We are such good friends.  She has such discipline and she has such a love of running for Guru."
"I see it in her.  In her preparation.  I felt it.  She is so focused, and I am so proud of her."
Stutisheel did 58 miles.
He has 1238 miles and is not quite sure why he isn't back in top gear yet.
There was a squirrel problem yesterday that involved the stealing of Stutisheel's sandwich.  A polite warning was issued on the spot.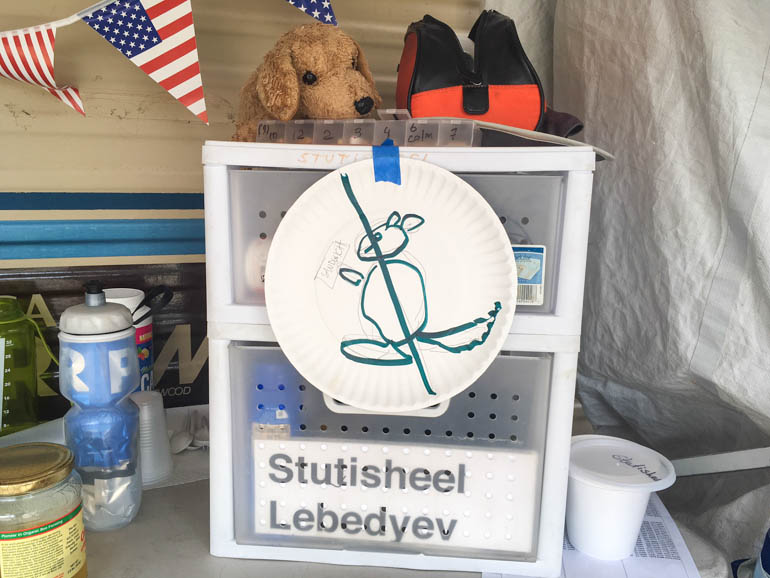 "I did not eat that sandwich.  My cardiologist says I have to cut back on wheat and dairy."
Sopan had another great day of 66 miles and has 1209 miles
Sanjay's crew is here
Baladev did 57 miles yesterday
He has 1204 miles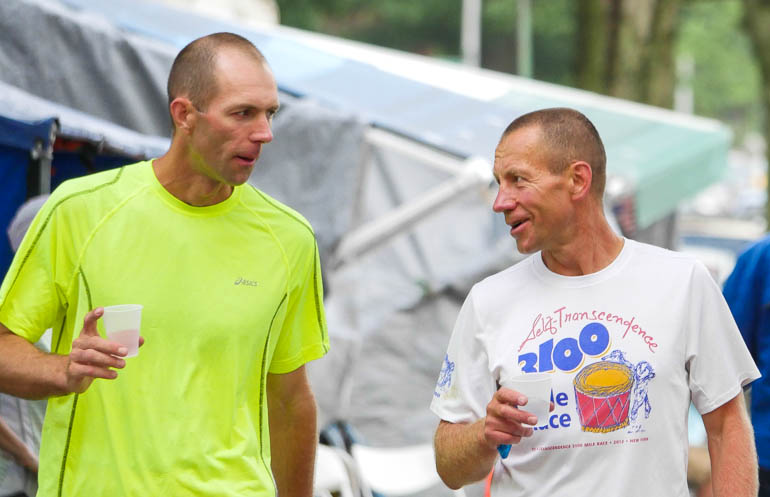 Ananda-Lahari did 43 miles and has 1174 miles
Late morning now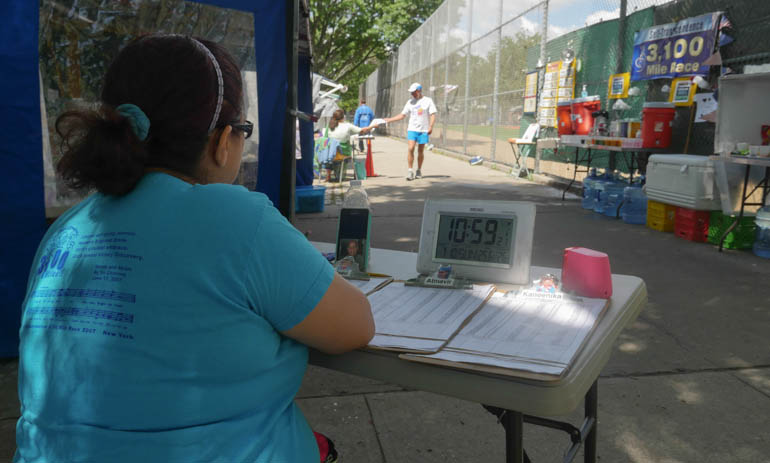 Sahishnu gives a weekly wrap up.
Click to Play:
Camp
"It is not a running race.  It is a kind of experience, for the runners and for all those who come and help.  You just immediately sense that it is a whole different world happening here."
Prapti who just arrived this morning, reads the daily prayer.
Click to Play:
Enthusiasm Awakeners
Click to Play:
A life of inspiration
Does not need preparation.
It has to be immediate.