"I spoke with Shamita yesterday and she did not even know what day it was."
Atmavir is now running the race for the 9th time.  Today is his 8th day on the course and with such an incredibly long road ahead for all the runners, it is very easy to loose track of time. The direction each is going is of course a given…..straight ahead.
The obvious simple strategy that Atmavir and nearly everyone else who is running here tries to follow, is to inhabit the moment as much as they possibly can. There is only the precious now.
https://vimeo.com/172326388
"Somehow a day can feel like a week.  Sometimes late in the day I don't even remember what happened in the morning."
"I have to say that this year I have more of a connection with nature than last year.  Because last year there was a lot of construction.  2/3rd's of the course was covered by scaffolding.  I feel this year the course is more natural."
"I was kind of lucky preparing for the race this year.  3 weeks ago I went to British Columbia.  I had a great time over there.  I was running trails on my own."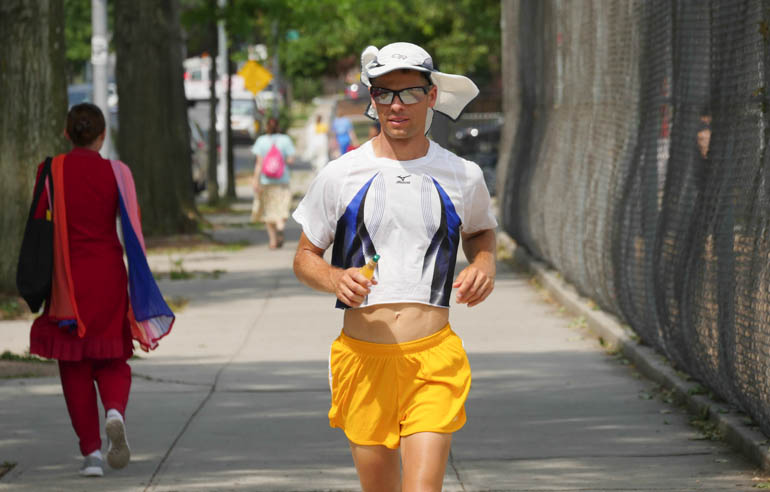 Atmavir feels that the quarter mile block he  has now run more than 24,800 miles on is like its own little world.  A very tiny world.  If you look at the details than you can see beauty here.  "You can see in one tree much more beauty than you ever would normally."
"I really love the trees here.  I feel a connection with them.  I have watched the shape of them change over the years."
We run by the little brick alcove where the Enthusiasm Awakeners stand and sing every morning.  It looks to Atmavir like a Zen garden.
"I take each race as an opportunity to come here."  He says you just never know when this very special opportunity could be snatched away by injury or something else.  "For each race I am grateful that I am here."  Atmavir describes the great honor he feels that he was able to be here in particular last year when so many great performances took place.  "There was so much focus here."
"The race changes everybody here.  I would say that the race always gives me a direction, especially the last few years.  I always feel that Guru is showing me the next step when the race is over."
"I feel more confident.  I have more trust in myself.  I am trying to listen to my soul's voice no matter what happens."
My soul does not use
A loud voice.
It always speaks
In whispers.
Nearly all the runners had a good day yesterday.  Volodymyr however started to have back problems yesterday and was unable to come to the race this morning.  Later in the day he went to see Dr. Kumar who helped in so that he returned to the race once again this afternoon.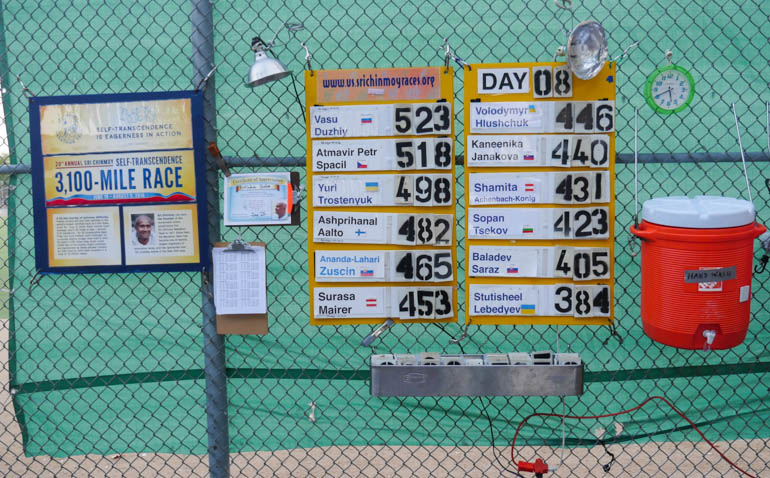 Misha readies himself for the arriving runners
He has set out his best snacks
Sympathize with others
In their mind-burden-pain
And you will also be able to share
In their heart-kite-joy.
Vajra has beautified the course for the arrival of the runners.
Before the crowds
Atmavir gets ready
The van comes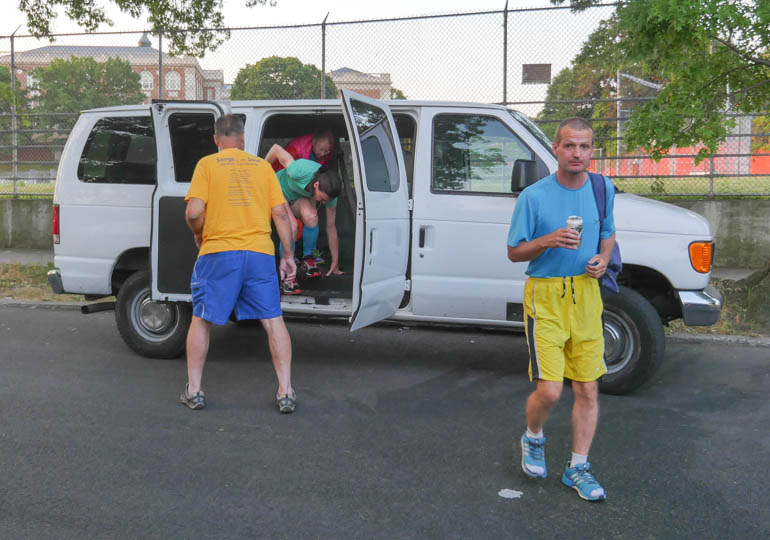 The sun sneaks into the camp
The girls
Vasu tells Rupantar that Volodymyr is unable to come this morning.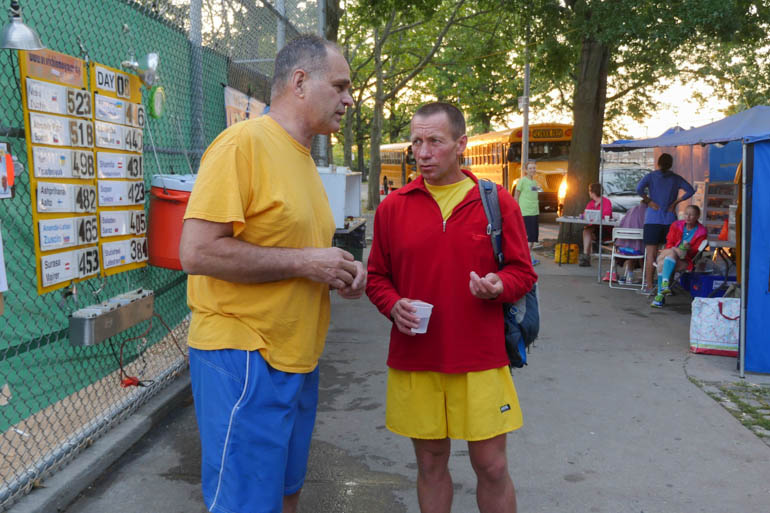 Ashprihanal telling a dog joke
Baladev comes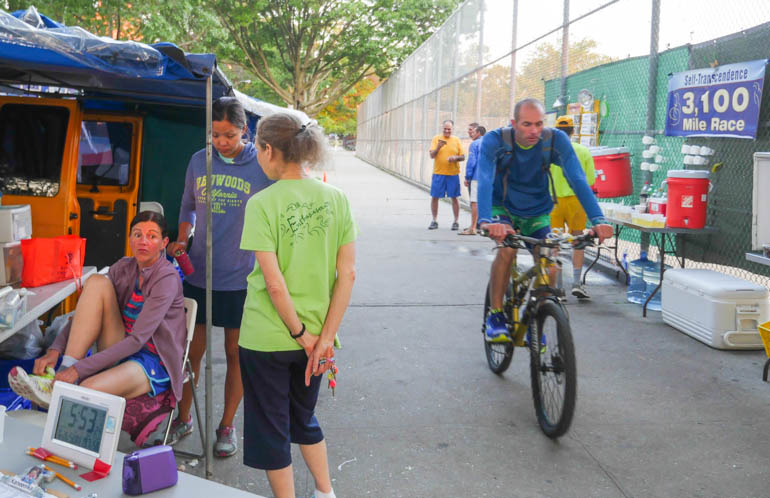 Rupantar showing off the live webcam to Mahasatya
Yuri having his yogurt
Start Day 8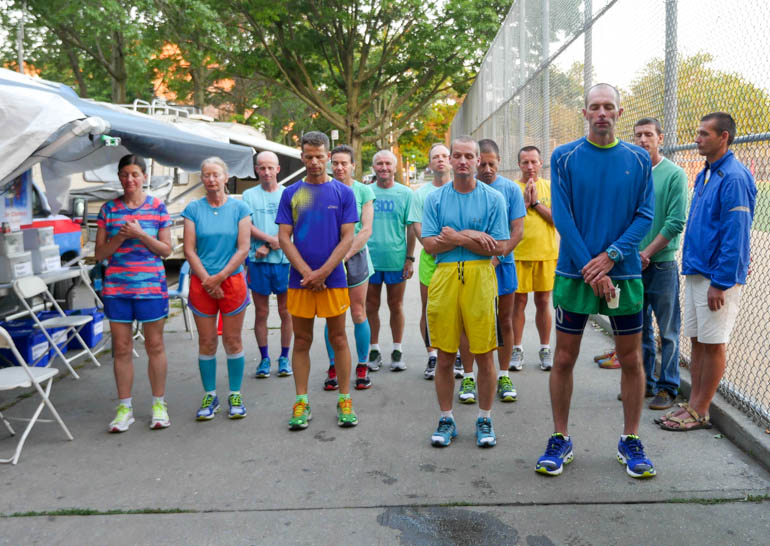 It is a glorious Sunday morning
Pradeep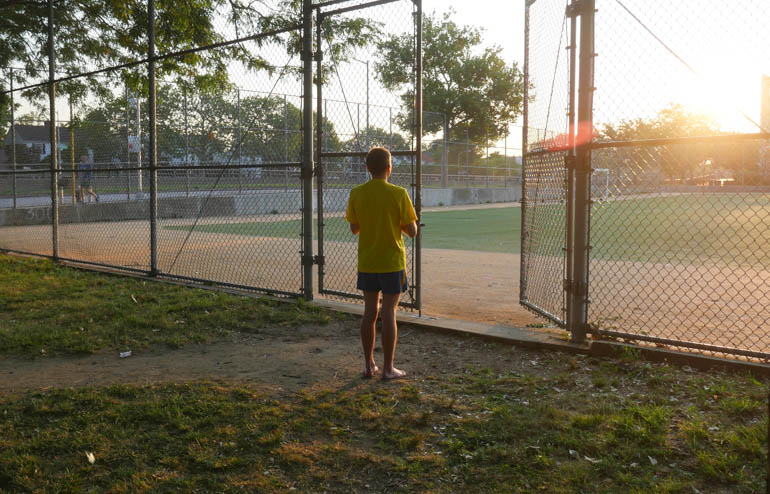 Vasu ran 76 miles yesterday. He now has 523 miles and is ahead of Atmavir by 5 miles.
Kodanda playing on a Russian piccolo
Click to Play:
Atmavir
Signing up to count
Yuri ran 68 miles.
He has 498 miles
Coming through camp
Ashprihanal coming by the fence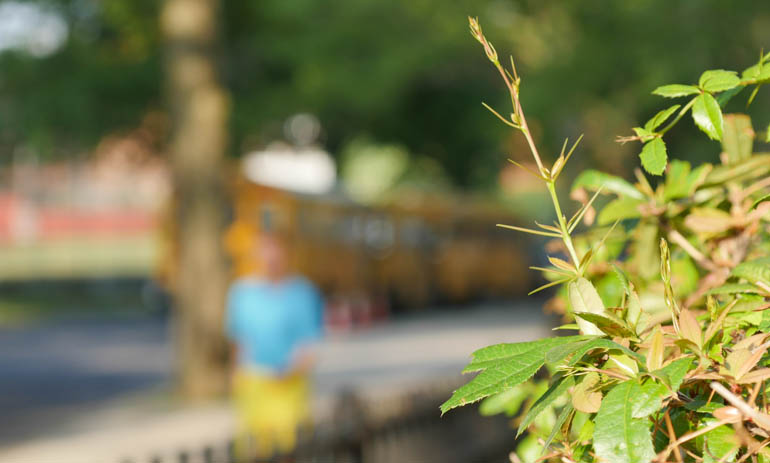 Ashprihanal ran 66 miles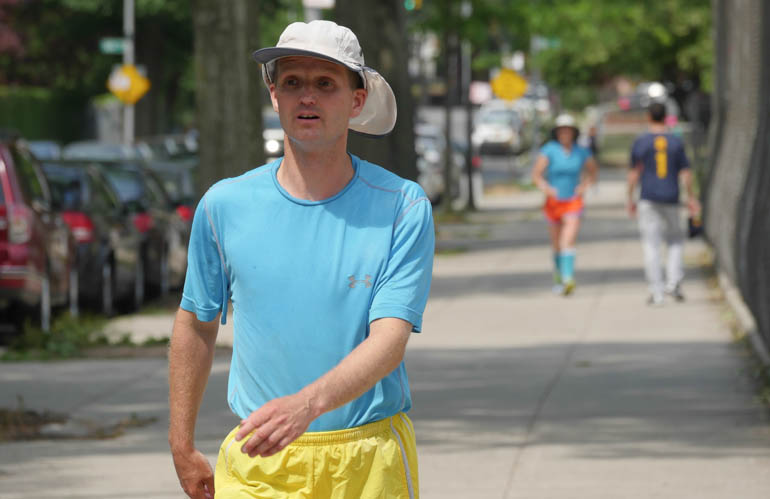 He discusses doing a play with Vasu this morning.  Something he has never done before.
They perform the skit in honor of the anniversary of Sri Chinmoy's weight lifting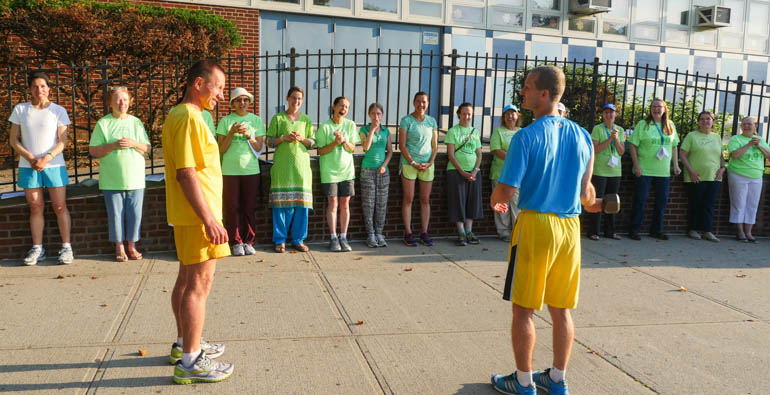 A quiet Sunday morning along the service road
On June 26th 1985 Sri Chinmoy at age 54 first started his weight lifting by raising a 40 lb dumbbell over his head.  By November 18 of that year he had increased the weight to 155 lbs.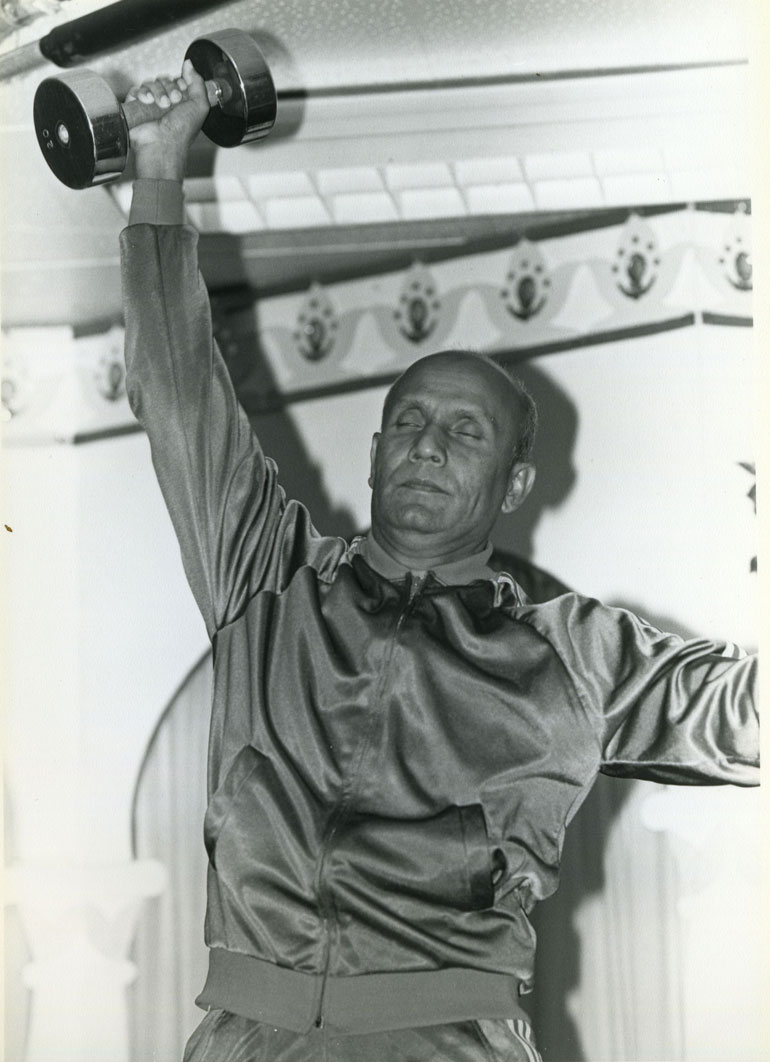 Ananda-Lahari ran 54 miles yesterday
He has 465 miles
The precious and the small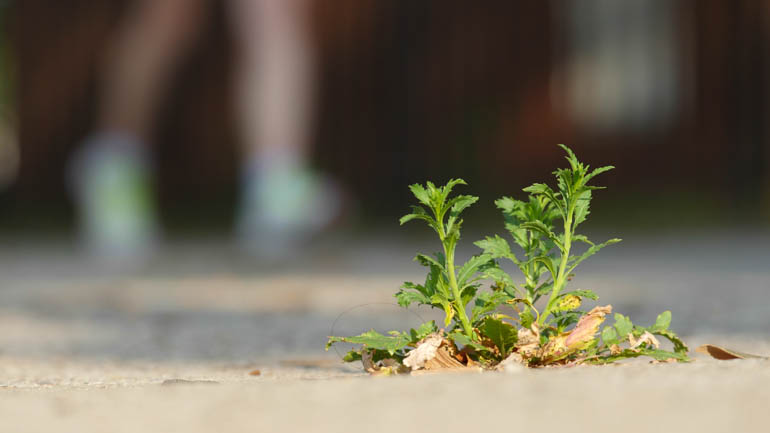 Surasa did 64 miles
She has 453 miles
Kaneenika did 63 miles
Taking a break
She now has 440 miles
Past the school
Taking pictures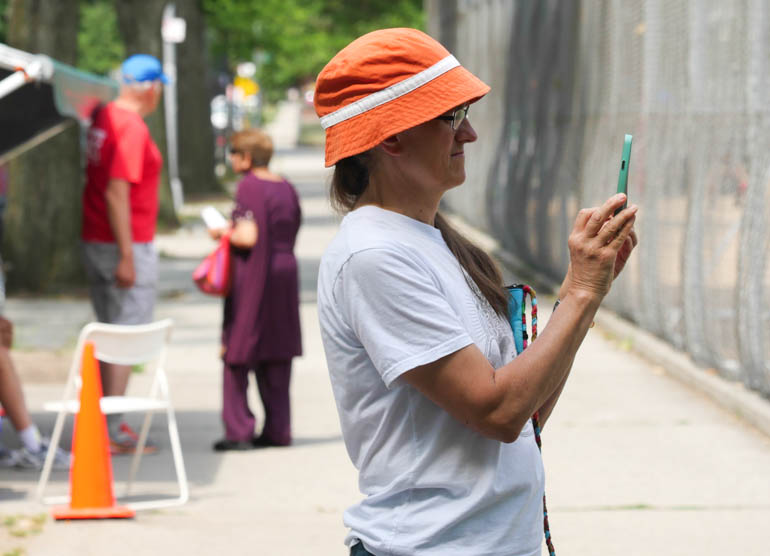 "Now seriously buddy, the park is reserved for squirrels and birds only until 7am.  Don't believe me, check the rules over by the gate"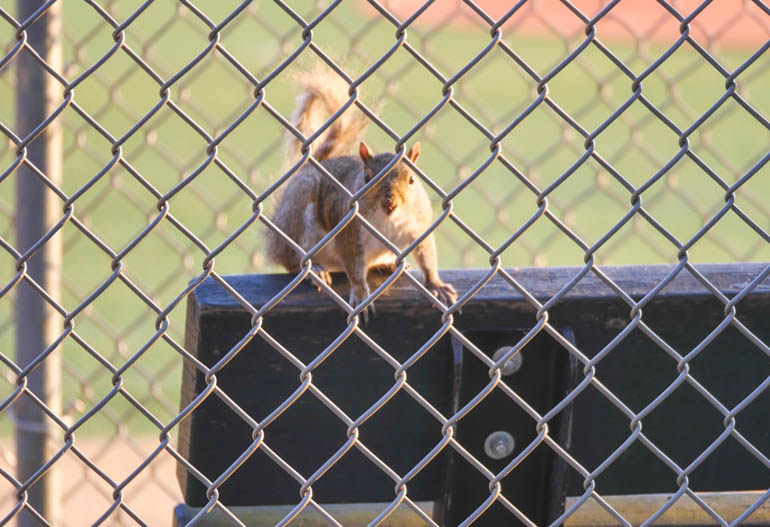 Shamita did 62 miles.  She has 431 miles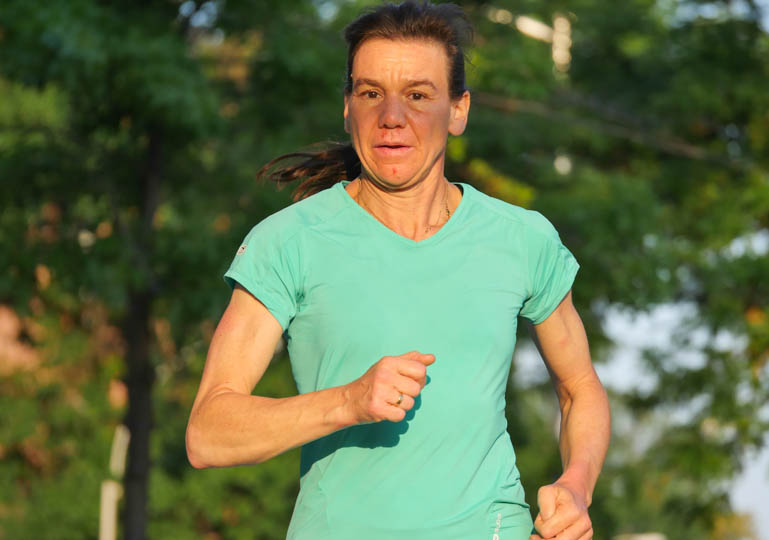 With Dohai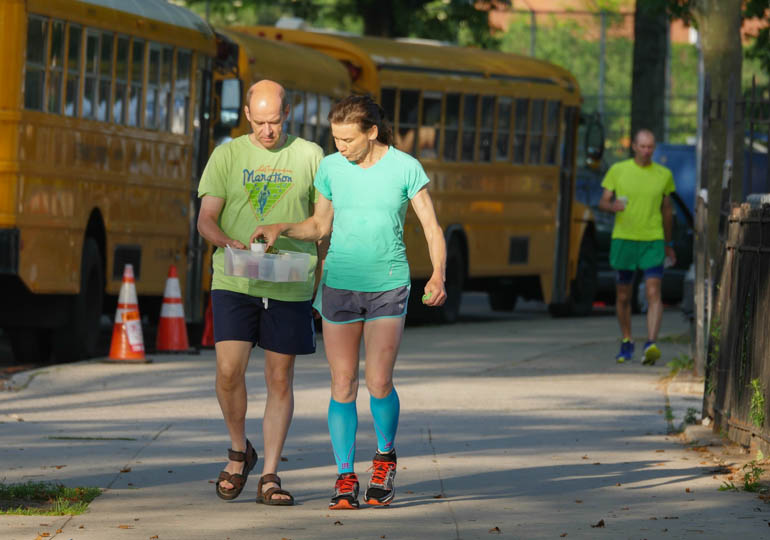 Getting some advice from Mario
Shamita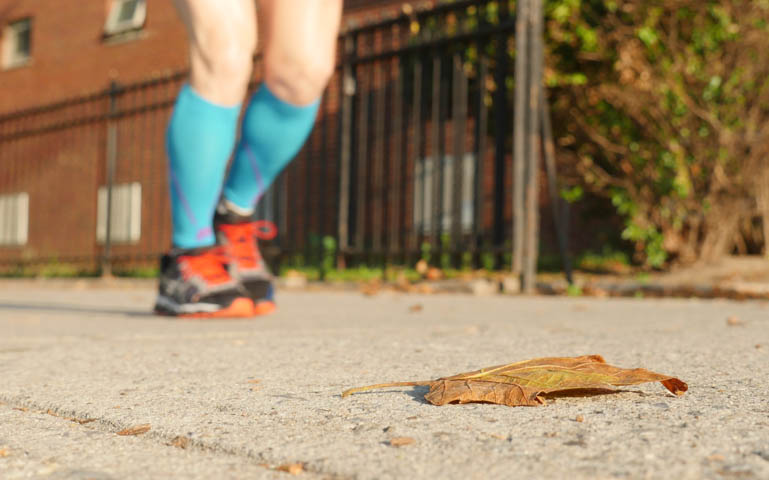 If you scratch my back…..
Sopan did 60 miles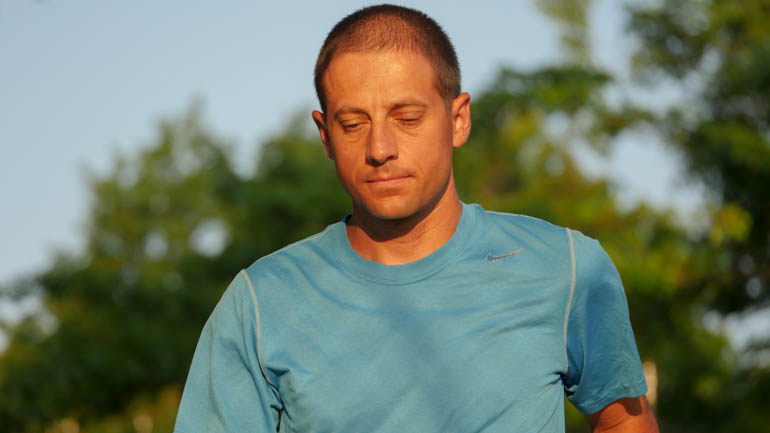 He has 423 miles
Baladev did 55 and has 405 miles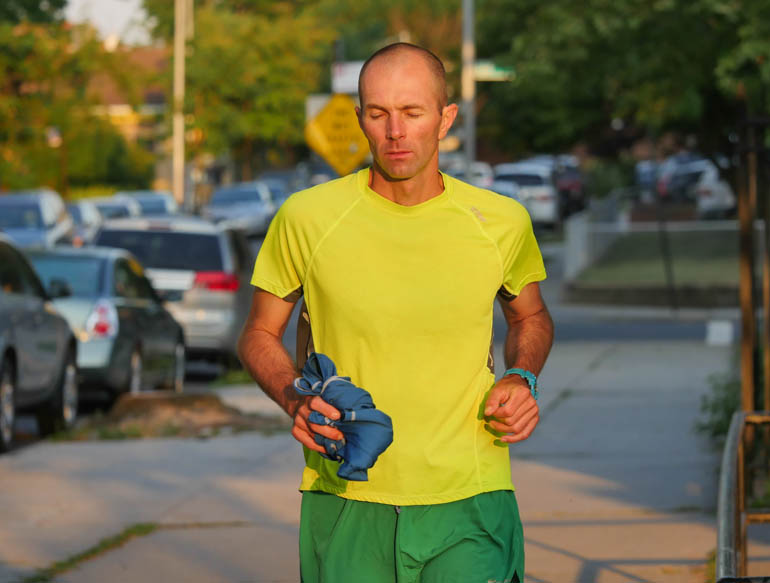 Kaneenika's roller is getting some additional and surprising use
Stutisheel did 57 miles and has 384 miles
Someone's snack
Patricia from Germany is in New York helping out and is here to witness the 3100 mile race for the first time.  She says she has been following the race from afar for some time.  "I heard about the race first about 3 years ago."
"It was always really one of my big dreams to come here.  For years I could only watch it online and I was really following it every day.  Now I am finally here and I still can't believe it."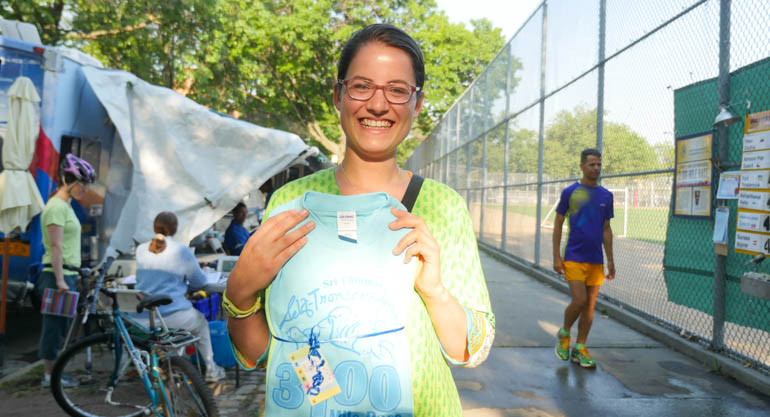 When asked if there is a difference between being at home and following it in person.  "It is truly different.  You really feel the runners energy.  Actually the runners give you energy….It is the other way around."
"They are such an inspiration.  They are running every day, all day.  Every temperature and every kind of weather.  It is amazing."
Patricia feels inspired in many ways.  "I am now trying to sing every day 10 new songs.  I started to do little projects because the runners inspire me so much.  They go to their limits, and I am also trying to transcend myself."
Click to Play:
Poem of the day read by Kshema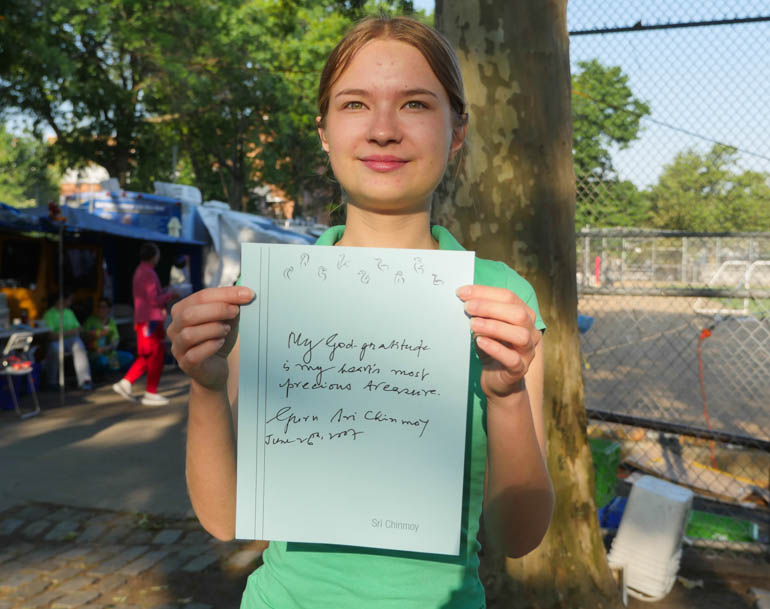 Click to Play:
Enthusiasm Awakeners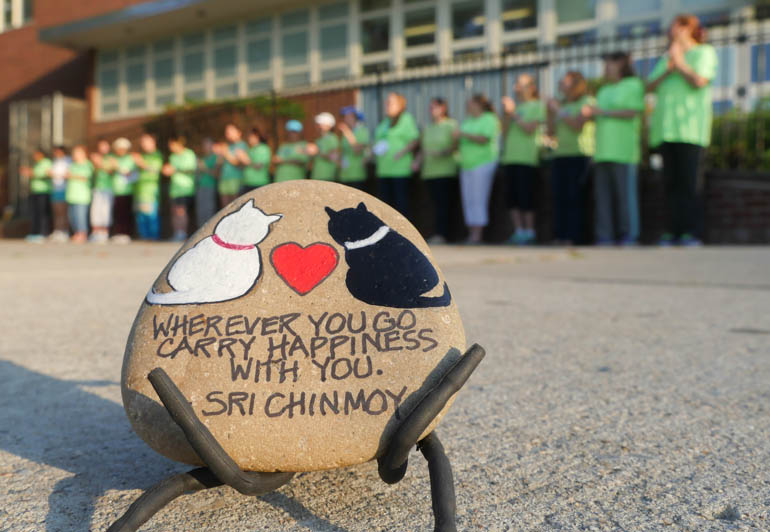 Click to Play:
The voice of my soul
Is always energizing.
The voice of my heart
Is always encouraging.
The voice of my mind
Is always discouraging.
The voice of my vital
Is always challenging.
The voice of my body
Is always trembling.