"I have come every year since 2007, so this is my 10th year."
Of all the runners attending the race Fred Davis 111 may be the one who has attended more of these events back to back than anyone else.
He confesses that over the years he has never felt that he has performed as well as he is capable of doing.  His personal best over 10 days he set in 2010 when he did 505 miles.  Still at age 68 he is tirelessly enthusiastic.  Fred has completed 325 ultras over the past 34 years.
Fred says that the thing he likes most about the 6 and 10 day race here in Flushing Meadow is the contributions of all those who help and the other runners who like himself enjoy attending.
Sitting with Fred as we speak is a newcomer to the 10 day race Yolanda Holder.  She has previously completed 6 day races where her best performance has been 403 miles in the Across the Years race in Arizona.  She says that Fred has been very helpful.  "He has been telling me to take it easy.  Don't go out too fast, because we have 4 extra days."
Fred who has come here from his home in Cleveland even picked Yolanda up at the airport.  "He is wonderful.  He is a blessing."
Admitting to some pre race jitters she says her left foot has been bothering her but says that Fred tells her it is all in her head.  "I am very nervous because I haven't gone past 6 days, 403 miles.  I don't know what is going to happen.  Normally this is kind of normal for me.  I am kind of anxious."
When asked what brought her here to the East coast from her home in Corona California.  "I like a challenge.  The race director invited me.  He has been following me in my 6 day race in Arizona.  He was amazed that I can power walk."
Link to Yolanda's website:
http://www.yolandaholder.com/#!about/c66t
"This is challenging.  Even doing 6 days is challenging.  10 days…..we will see."
As for a goal.  "I do see a number.  I want to break the American Women's record which is 510.  So I definitely see 511."  The previous mark was set in 1997 at the race here in Flushing Meadow.
Yolanda says that she has developed several plans in order to be able to do this.  "I have it on a little card because when you get tired sometimes you can't add and you can't think.  You can't think properly when you are doing 6 day races.  So I wrote down every day what number I should be on."
I tell her that Fred is the master of the pre race charts.  "I have one this year but it is a little different," he says. "Before I used to break it down into 24 hours.  This time I have broken it down into 18 hours.  If I get behind I have 6 hours left.  My goal this year is to just stay out here.  But as you know sometimes I can disappear for a whole day."
"This year I am not so much worried about mileage.  My goal is to be on my feet 18 hours a day."
Yolanda says, "he has a goal and I am going to keep on him."
"If I am on my feet for 18 hours I can do at least 54 miles a day.  Right now my minimum goal is 540 miles."
Click to Play:
Bipin and his crew are ahead of schedule with putting the camp together
The dorms will fill up when the 6 day race is closer.  Tomorrow the 10 day race starts.
Georges Jermolajevs is a 73 year old runner from Latvia.  He has a tremendous history of ultra distance running.  He won the first 10 day race in 1996 with 727 miles.
Last year was a kind of a return to the sport for him after a long absence.  He ran 508 miles.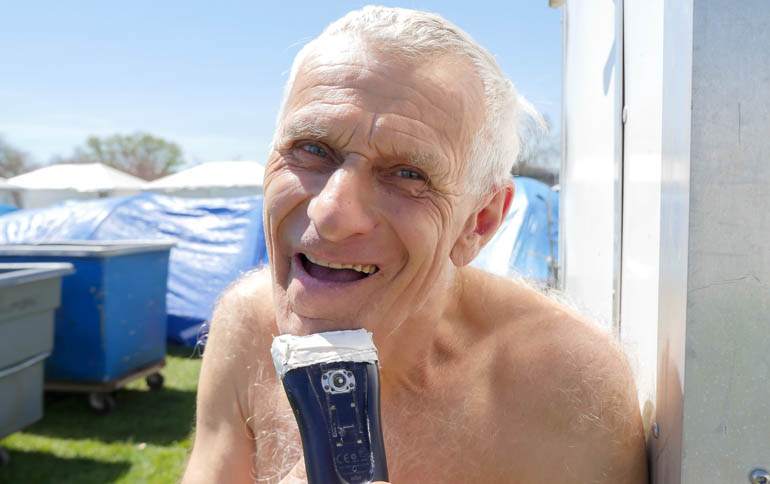 Georgs was very much a pioneer in the early days of distance running in the 1990's.  Just looking at his shoes you are reminded what sacrifices some runners have to go through just to be able to come here.
Unfailing upbeat and positive he will likely surprise many with what he is able to accomplish on the course this year.
A small mystery.
Nipura's cooking crew on their last calm day before the race starts tomorrow.
Everybody is looking forward to tomorrow.
There are still jobs to be done.
Finding dry cloths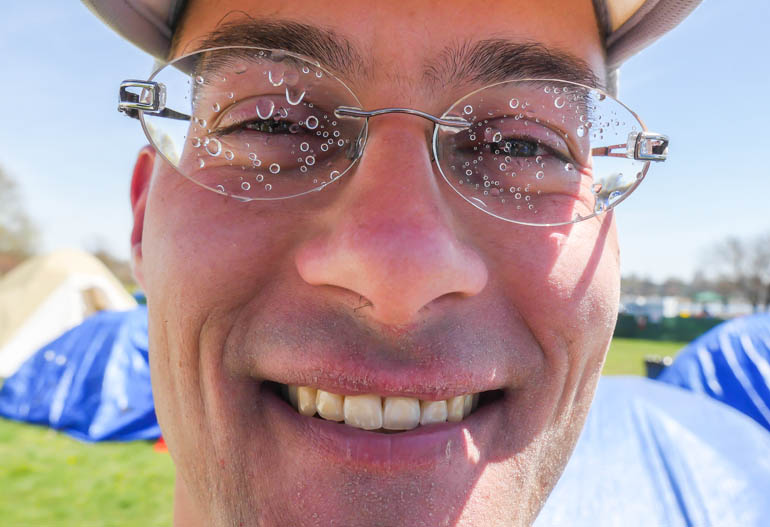 Untangling shoes
No tent construction today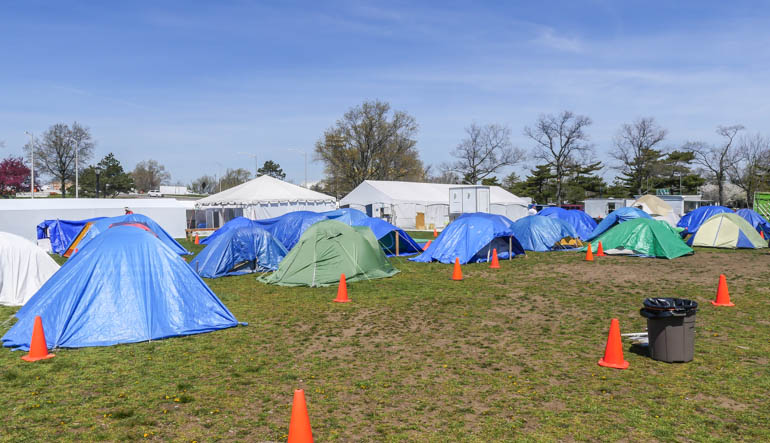 Setting the table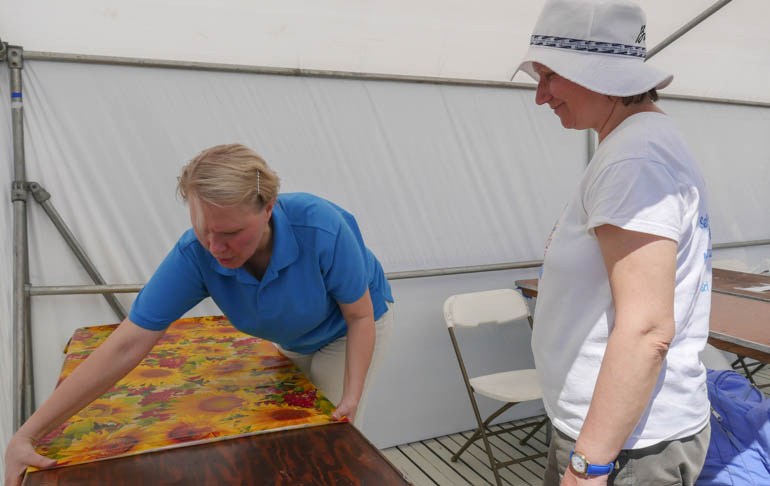 Taking a lunch break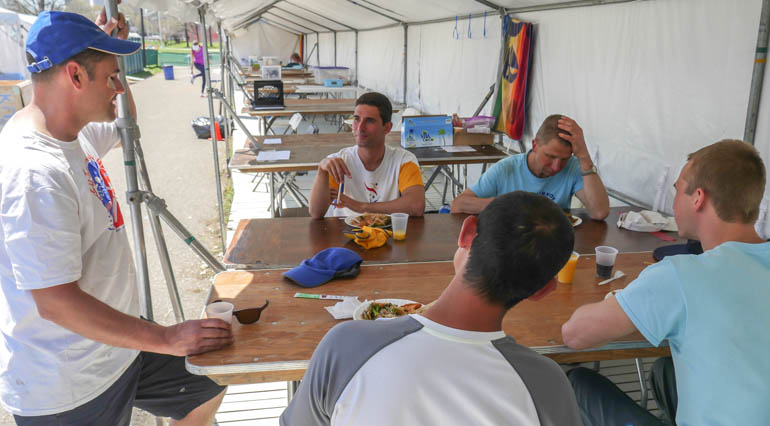 Taking a nap
Tomorrow it starts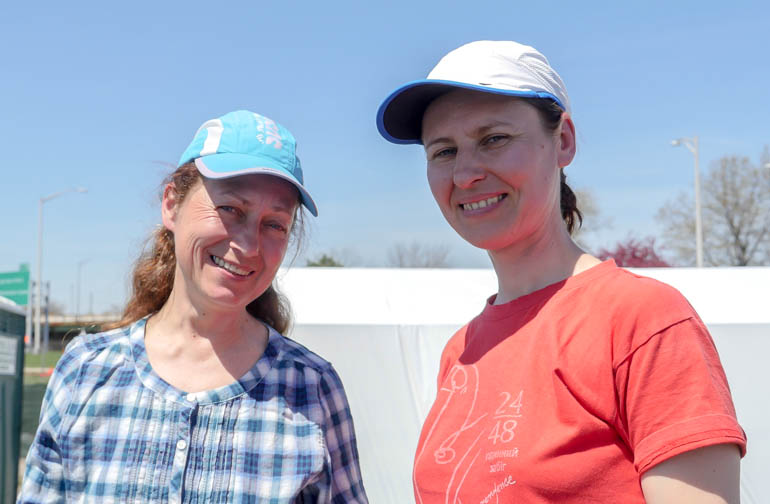 Getting out the cups.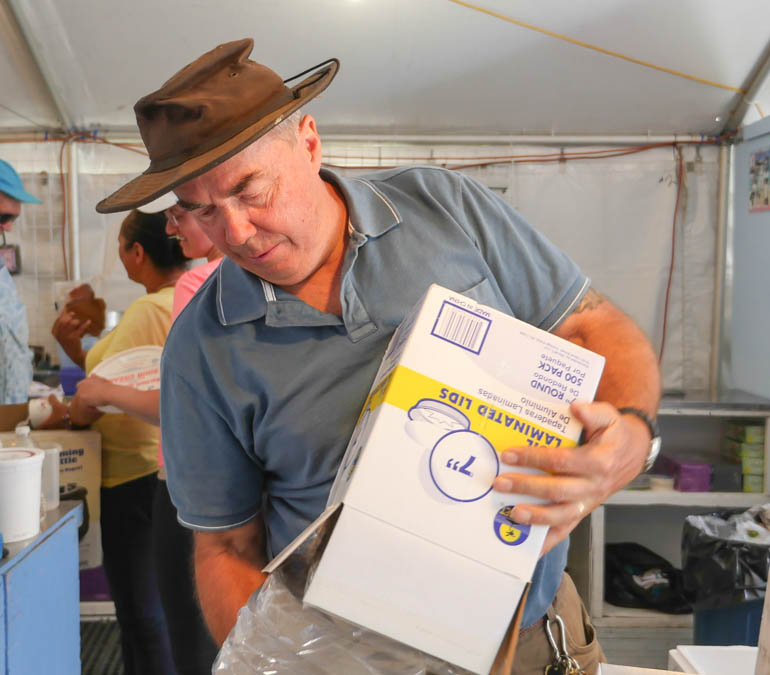 Finding a crocodile face.
"I like to run this race because I feel that when I am here I feel so much joy and happiness and also I have a feeling of self transcendence.  I like to have self transcendence for myself."
33 year old Budjargal Byambaa is here at the race for the 3rd time.  He is the Mongolian record holder for 24 hours having completed 120 miles.  2 years ago he ran 303 miles in the 6 day and last year he ran 487 miles over 10 days.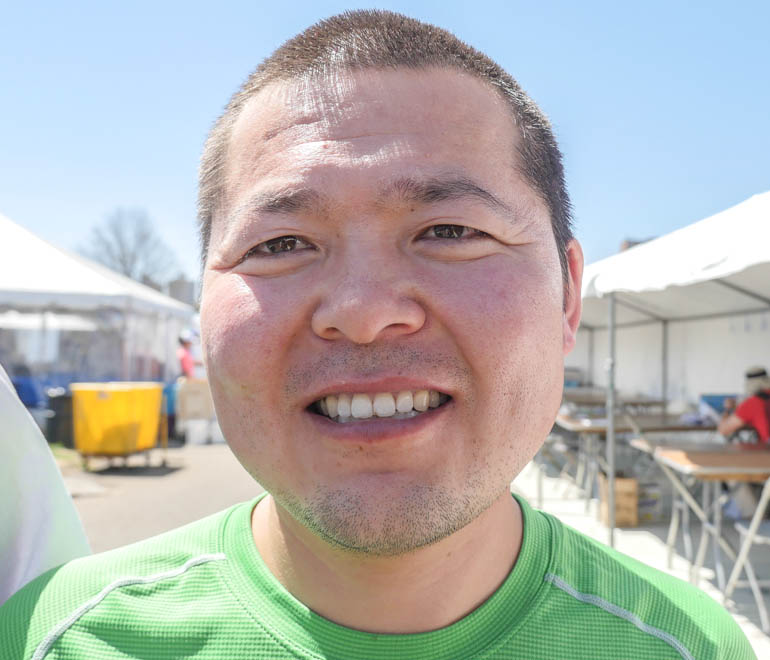 "The first time when I came here I was alone.  I enjoyed running even from my early childhood.  But when I ran this race for the first time I experienced satisfaction like I have never felt before.  I wanted to come again to feel this satisfaction and happiness."
"I feel how important is for me to participate in this race.  I also have a goal for myself.  I want to transcend what I have run previously here."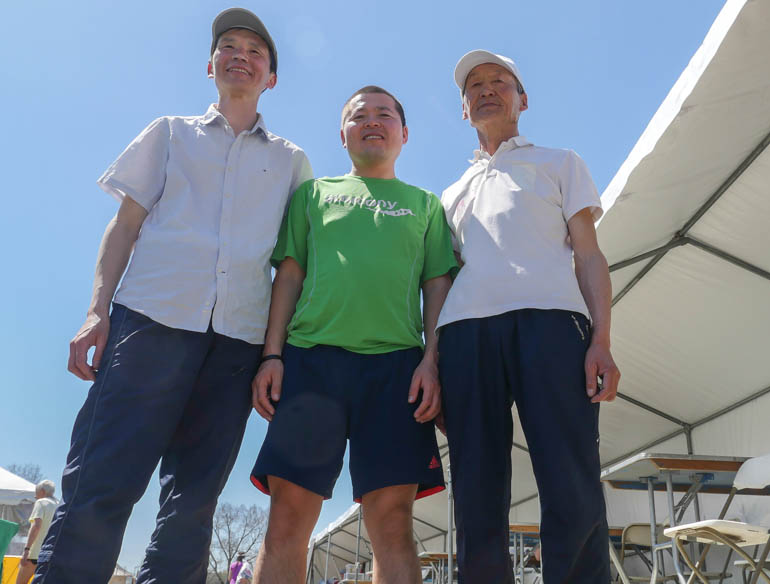 I ask Bujargal if he would like to someday run the 3100 mile race. "Yah…..when?" (laughs)
When I ask him if he would be scared. "Of course, no problem." (More laughter)
"Heart power, mind power, will power.  Body no problem."
"Everybody has the opportunity to experience transcendence.  I want to show this to others as well as other Mongolians, that participating in muli day races is a good opportunity to reach your potential."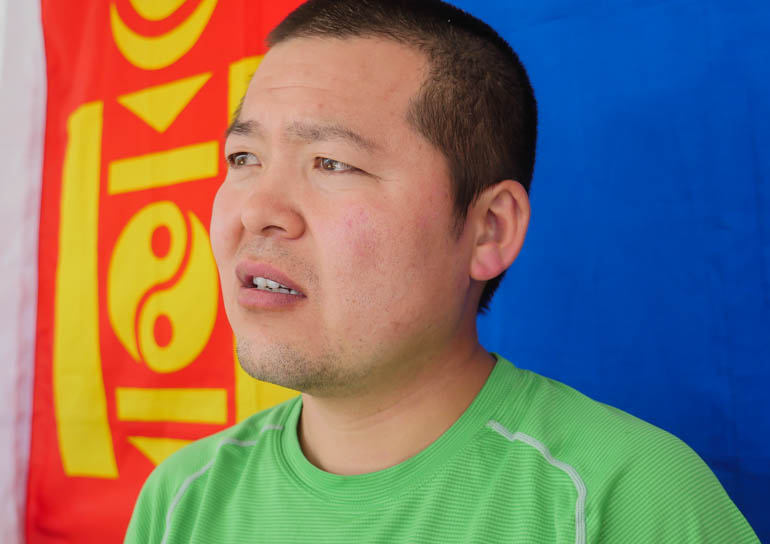 When I ask him if the more he runs that the more he sees that the real power comes from within.  He says, "yes."
His goal for 10 days is 700 miles. There is some laughter and I wish for him to do 770 miles.  Budjargal laughs.
Click to Play: (Translation by Satyavrata)
 
With a happy speed
I run and run,
To cheerfully feed
My human race,
To transform
My human face,
To begin
A new journey's course,
To salute
The sunlit Source.