Most days Sulochana still makes the long trek from her home to open up her small shop on 164th st.. She has been taking this same walk to and fro, up and down the steep hill along the way nearly every day for 30 years. Countless numbers of women from around Queens neighborhood and beyond have been grateful and glad that she has not stopped.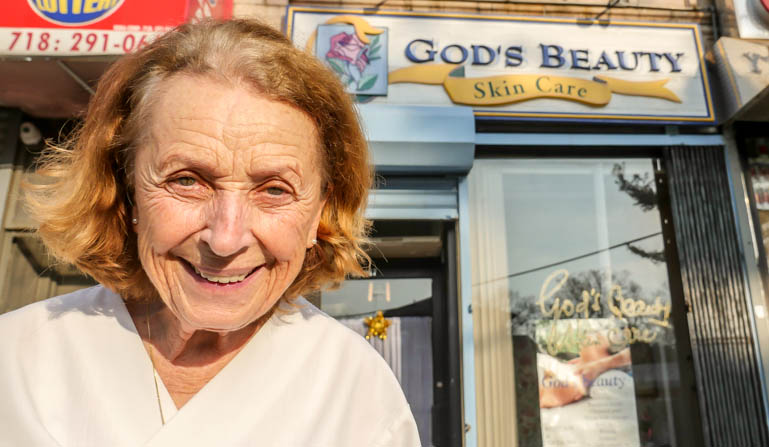 Now at age 85, the trip takes a little longer than it once did. But though she is slower these days in making the trip, it is unlikely she is going to stop opening her door to customers any time soon.
Her shop, God's Beauty is nestled amidst a long strip of stores. On either side of her are 2 big bright delis. Making a conspicuous contrast to her own tiny blue shop caught in between. But far from being eclipsed, her store, as well as the equally blue Annam Brhahma close by, stand out for reasons that become clear once you enter.
It is not just that God's beauty is painted bright blue, but perhaps as well because of just what it is, a divine enterprise.  There is also the fact that Sulochana is a remarkable person who has spent most of her life trying to bring out the beauty in others. What most find, when they leave her shop however, is that she has also enhanced and brought to the fore their inner beauty as well. Something that has no price tag.
The remarkable story of her early life as a refugee fleeing Hungary in 1957 is an epic adventure that can be best learned about by reading her book. Not knowing any English and actually taking several attempts before she and her husband succeeded is a compelling story.
Yet what is so inspiring about Sulochana these days is not just her history but her tireless devotion to Sri Chinmoy her late spiritual teacher. An all encompassing presence in her life that she continues to draw inspiration and fulfillment from.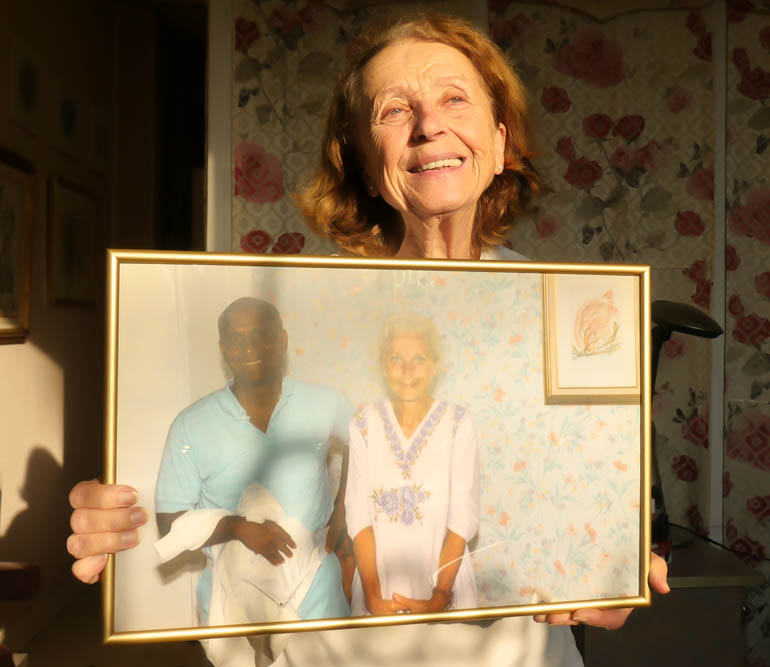 Click to Play Audio Part 1:
On the wall of her shop is a picture taken on the day, July 16 1984 when Sri Chinmoy first inaugurated the store and gave it its' name, God's Beauty.   On this momentous day she also received her spiritual name, Sulochana. It means, the aspiration-eye of supernatural beauty, to please the beloved Supreme in his own way.
The afternoon sun is flooding into her shop with its brightness as we talk. She easily points out to where Sri Chinmoy sat when this momentous day took place more then 31 years ago. Her face is all smiles. As she talks you can easily picture the floor around carpeted with other disciples.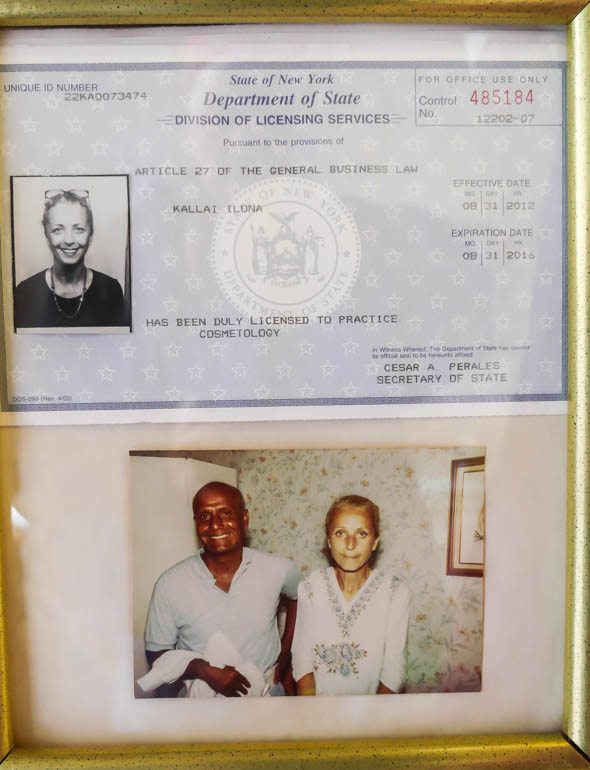 Yet at age 44 back then, and not a disciple that long, she was far from certain that her enterprise would be successful. It was a long way from the wealthy Manhattan clientele that she was most used to dealing with. Yet it would soon become clear to her over a short period of time the significance, as well as the appropriateness of taking the plunge, into opening her little shop on 164th st..
Yet the transition would not be instantaneous. When she first opened she would at first only be open 3 days a week. The other 4 days she worked in a shop in Manhattan in order to help financially support the little business. "For 10 years 7 days a week I used to work."
"Guru inspired me so much with his activities. His sports activities, especially the running. I wanted to do the same. Guru never asked me to run but he put me as an example for young girl disciples to run. But I wanted to do it."
"As a matter of fact in the first 1000 mile race (1986) I started but I was so much afraid. I did not have any experience for such a long race. I had not done that much training and then I got shin splints after a couple of days." A chiropractor she says bandaged her up and told her she should stop.
At this point Sulochana realized that she had taken time off from her job. Which she confesses that she had used a white lie to do. "I said my brother died. But since I had taken time off from my job then I figured out that I would not go back to the job."
Since she did not leave the race officially she slowly started to walk again. Ultimately she stayed competing until the race finish even though she was unable to complete the distance. "No running but at least walking a little bit."
The following year in 1987 the race was a trio, composed of a 700, 1000, and 1300 miles. She asked Sri Chinmoy which race she should entered and he suggested she attempt the 700 miles.
Once again she got shin splints, this time in one leg. "I couldn't finish the 700. The following year (1988 age 58) I was able to finish. I mean Guru did finish I do not mean me. I was just an instrument."
"What happened at the very end Suprabha gave me my garland. I was standing alone along with a few disciples and suddenly I saw Guru's car coming. That was everything for me."
Sulochana had been the final finisher and the presence of Sri Chinmoy at this moment was the best possible reward and prize for her. "I felt for me that Guru had just come out. I was the very last finisher."
At the time Sulochana was 58 years old, she says, "it was not easy." But in her training as much as in her racing she was able to constantly find meaning and purpose. "I had to train. That is why it was everything for me."
There were many benefits to training for ultra races she says. Besides making her feel better it gave her a strong focus inwardly. "I always used to run just by myself. I would have pain but I would be happy."
Not truly sure what her limits were she sent a note to Sri Chinmoy asking him what she should do if it hurt. "He said, continue until the pain is unbearable. So I said to myself. I still can make it until tomorrow. Then I said tomorrow, I can still make it one more day. So eventually I never stop. I finish the race. When I sign up for something I have to finish it. Always I compare running to my spiritual life."
Now she admits that she no longer trains like she once did. But at least she makes the walk back and forth to her shop, which is about one mile. "Then sometimes I go to the enterprises and etc."
Click to Play Audio Part 2:
"Beauty means to me in everything. Everything is in beauty. Why Guru gave me the name is my soul's quality." She says in her early years she saw beauty and how important it was in outer things. "But right now it is different. Because the beauty is actually in our hearts."
"It depends on how much you help another, how you live your every day life. That is the real beauty. Not the mind but the heart. It is inside."
Looking at her appointment book there is name after name listed carefully written out in pencil. I ask her if these people understand her meaning of true beauty. "All the time. The customers I am always talking to them." She says that talking to a client is unusual because usually you want them to relax with absolute quiet.
"But I am always talking about different things, definitely Guru, and about myself and my life. So they know me."
"Guru said you have determination. Because determination is when you put your mind on something you have to finish. That is about running also, and everything. That is why I make my running similar to my spiritual life."
Like us all, we have not had Sri Chinmoy with us for more than 8 years. Sulochana says, "I do not have to see Guru. I have to feel Guru. If I have a deep meditation deep from my heart then I can feel Guru there. The feeling. That is most important. Then you know he is there."
Sulochana describes that to have this feeling you have to work for it spiritually. At the same time all disciples have an opportunity to make progress in this lifetime. "We know him, we have been with him. That is why. We are very very lucky."
"When I go up (pass away), then definitely I will see him. All of his disciples Guru treated us in different ways. We are not the same. He knows how and when to give us. Because the vessel will be broken otherwise, because it is not capable of taking. Guru knows every single disciple of his and how he can best help them."
"What ever I learned in my life I learned from my Guru Sri Chinmoy." Sulochana says that practically any question she had could be answered by reading one of his books.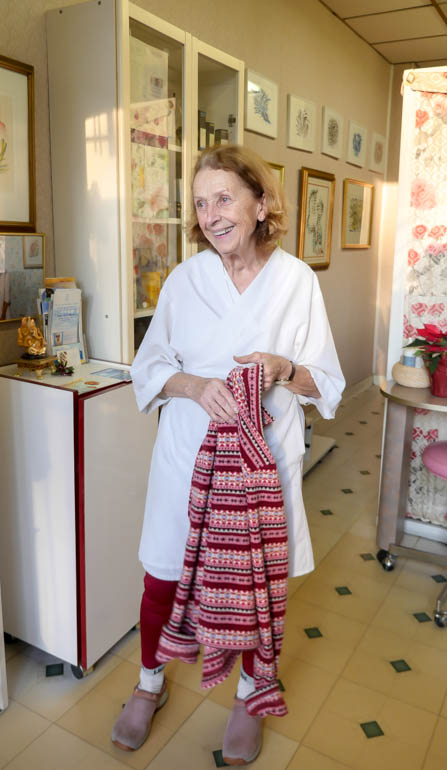 Sulochana remembers one time, after running the 2 mile race, when she felt such gratitude to Sri Chinmoy.
"I went down Indian style to Guru's feet. I said, Guru I love you. Inwardly I have said this a million times. Inwardly he opened my heart chakra for just a moment." Normally she says she would never have done such a thing. Now so many years later she feels such delight and gratitude for having been able to do in practice what she had felt in her heart for so long.
Guru said to her, "you are keeping up the spirit of my philosophy. My heart of infinite pride is blessing you.
"Age is not the real thing, because you live in the heart, you live in the heart. For you, age is unreal. I want my disciples to prove that age is unreal as long as you remain in the heart."
"You are proving the truth of my philosophy. With my heart of infinite joy and pride I am blessing you."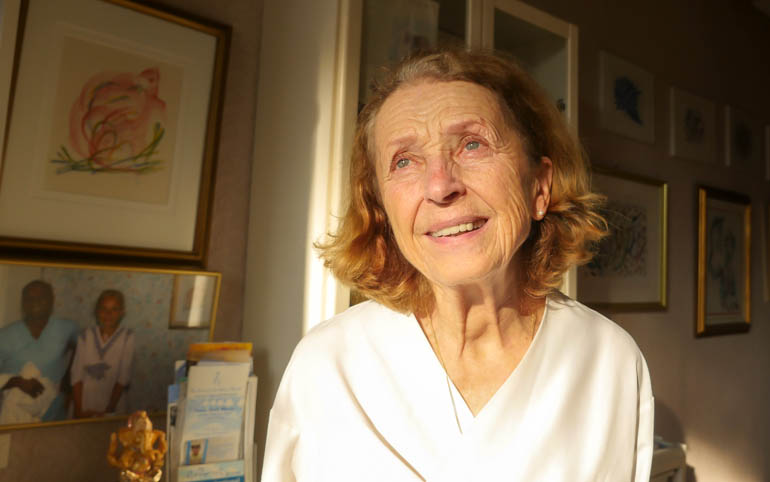 God's Beauty in my body
Fades at God's choice Hour.
God's Beauty in my heart
Remains permanent.
God's Beauty in my soul
At every moment increases
At a very high speed.