"I am extremely happy.  Right now I feel really really good.  After the last few days of tension I have got some special relaxation."
*Click On Picture below to play Day 46 movie……You will go to drop box, wait a moment and click on Open in upper right corner.*
This is the 3rd year in a row that 50 year old Yuri Trostenyuk from Vinnitsa Ukraine has dedicated himself to running the 3100 mile race.
When speaking with Yuri even for a few minutes you begin to immediately understand his absolute devotion to the 3100 miles race.  A monumental task that by itself is impossible to comprehend how it can even be done at all.
Yet on this half mile loop Yuri has found a purpose and fulfillment that most of us can scarcely imagine.  To gather up even a fraction of his soulful inspiration is an aid in reminding all of us just how much further we all need journey. He demonstrates so clearly what we can accomplish once we unburden ourselves of our doubts and our lethargy and dive deeper into our hearts instead.
"Happiness is filling me up.  I am living in this happiness.  I want to share it with everyone."
Yesterday Yuri ran 70 miles.  It is the most he has run in the past 43 days.  He is not just eager to complete the race, he is also committed to giving every part of his being to transcending himself.  When he started this morning he was 71 miles ahead of his pace from last year.  It is likely that by the time he crosses the finish line late tonight he will move up to the 14th fastest time.
"The day of the start was the happiest day of the race.  The runners the helpers, everyone was happy.  Happiness was spilling out all around.  The next day I gathered all my prayers and decided to go on a journey.  It was a journey inside my heart."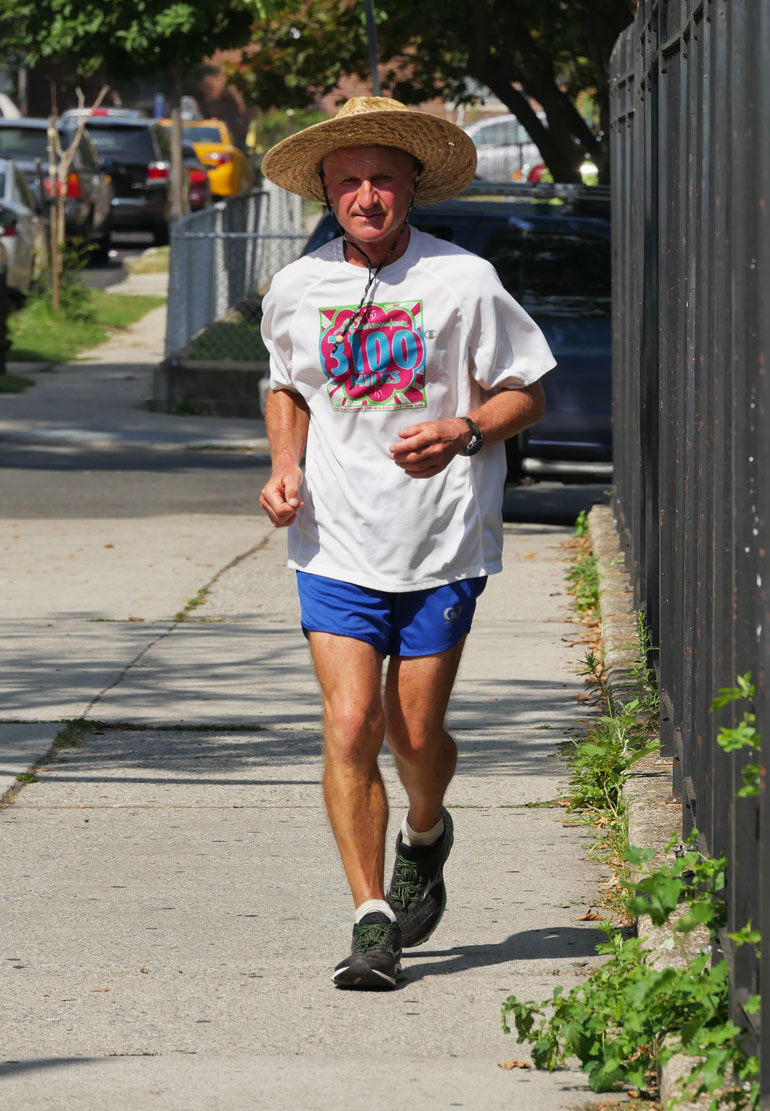 His race of course has not been without extreme difficulties and yet he always found the solution when he dove ever deeper into his own heart.  After one episode, "when later on I began to feel better.  I started to look at how I was running.  I was running like a strong normal runner."
"I asked myself.  Where did this strength come from, that was moving me?  I understood.  That was grace, Guru's grace.  These were the tears of Guru.  These were the hands of Guru they were carrying me.  He was with me."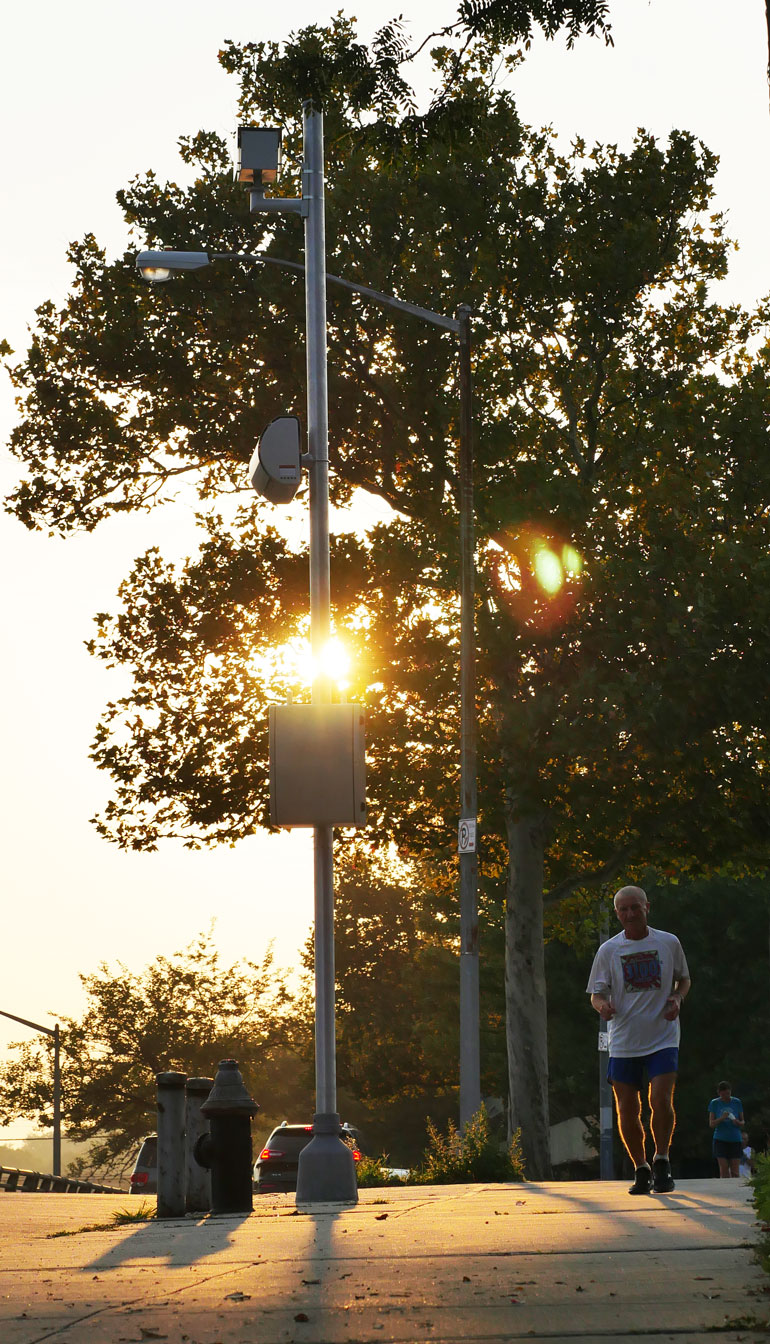 "This pain and these experiences really changed me.  I understood very important things.  What is considered to be the truth inside our hearts.  What we have to treasure.  What we have to value, and what we have to strive for."
"This race is unusual for me.  For the last few days I was running 70 miles a day.  This is just so that I can finish tonight.  I never during the race ran with that speed.  That happiness that I felt inside was giving me strength and energy.  I am happy."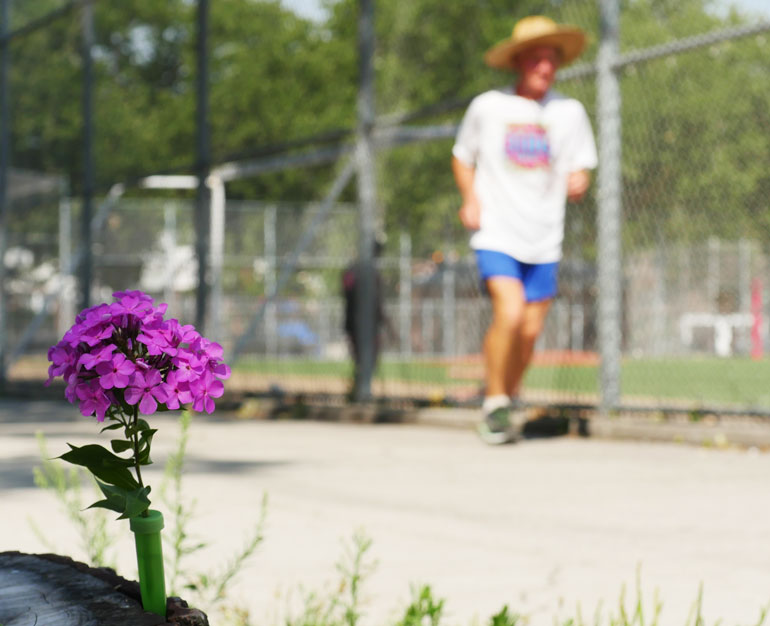 Click to Play Interview: (terrific translation by Lyalya)

When Yuri comes in the morning he tells Vajra that he hopes to finish at 10pm tonight.
It is going to be very hot today.
There are still many hours ahead for Yuri.  He has to run 61 miles.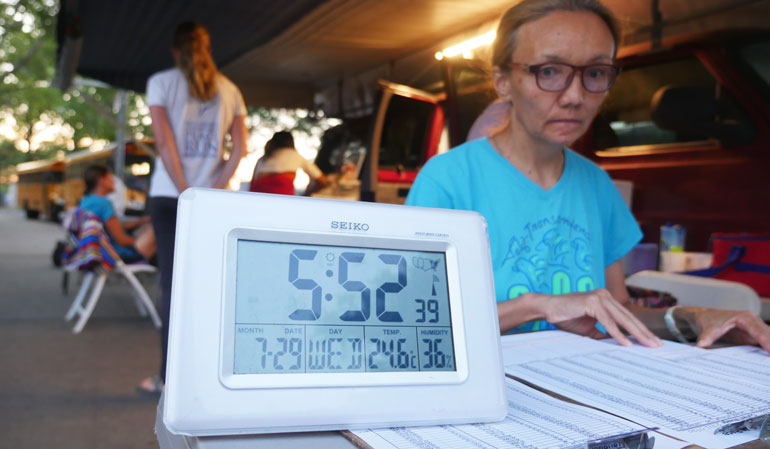 It will be a couple of days before there is another finisher.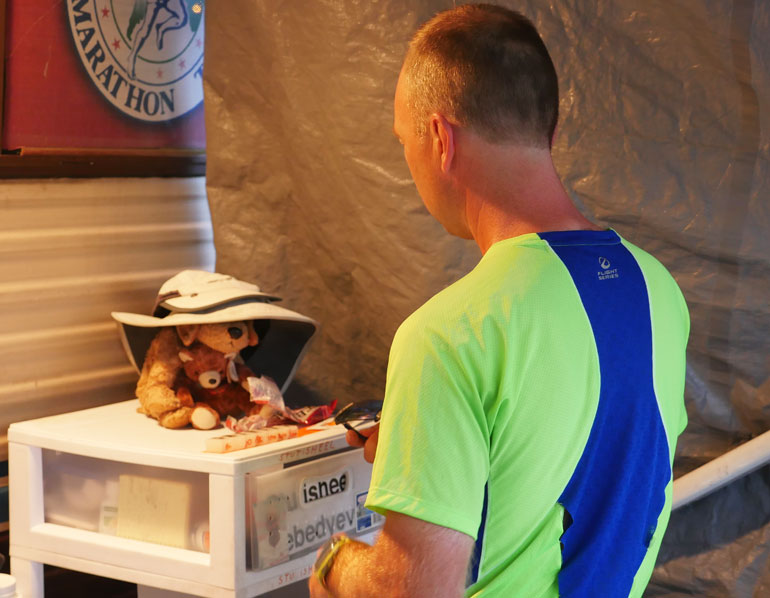 Start Day 46
Yuri on the starting line.
It will not be an easy day.  He still has 61 miles to complete.
This morning he takes a break so that Nicolai can help him with his blisters.
Coverage of his finish will appear tomorrow.
It is a hot New York day.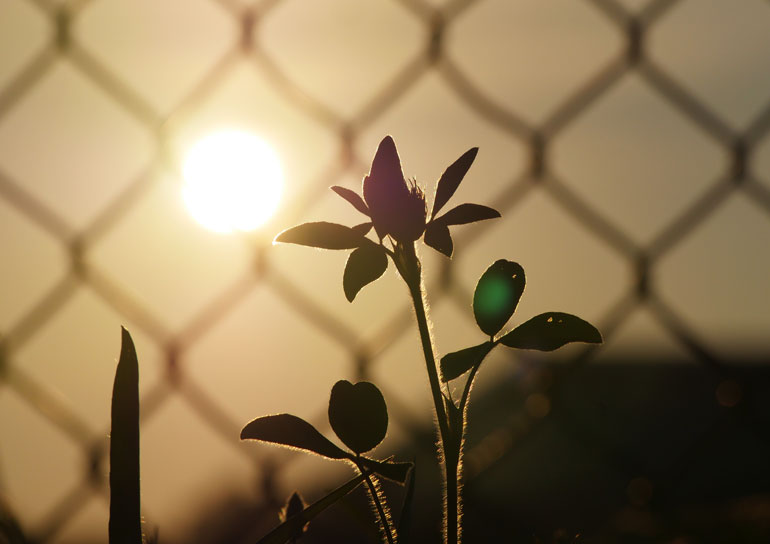 It will be very much a sunlit path today.
Zulma enjoying her counting shifts.
For somethings the goal has not yet been reached.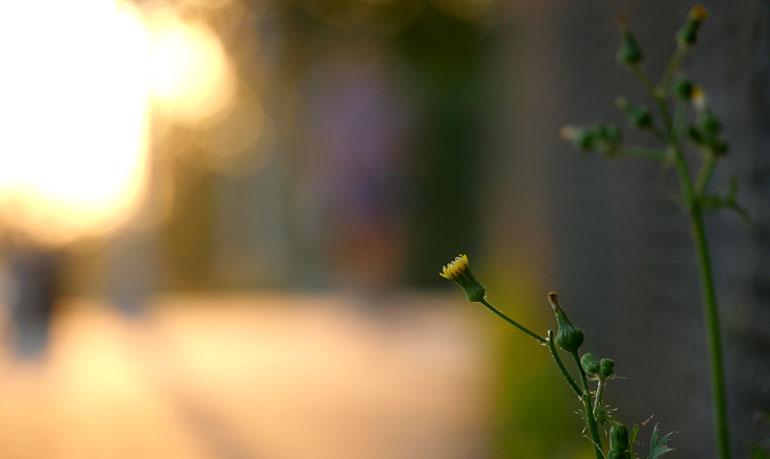 Atmavir did 71 miles yesterday.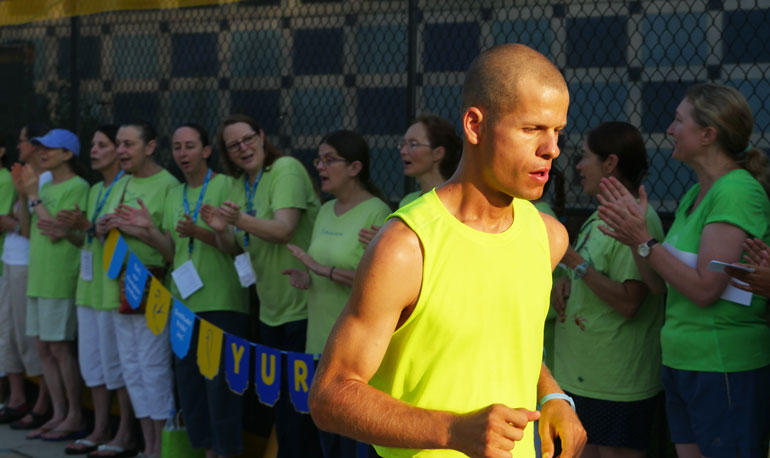 He now has 2847 miles.  253 more to go.
Some ripe perfection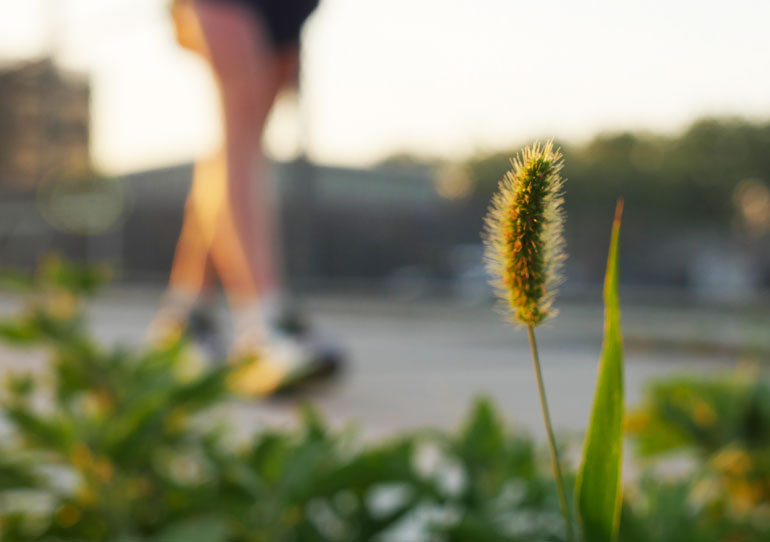 Surasa had another day of 63 miles.  Her average now is 62.62 miles per day.  Each day she creeps further past the record of 62.49
At one moment this morning as she passed by she told me that she didn't think she smiled enough.  This picture proves her wrong.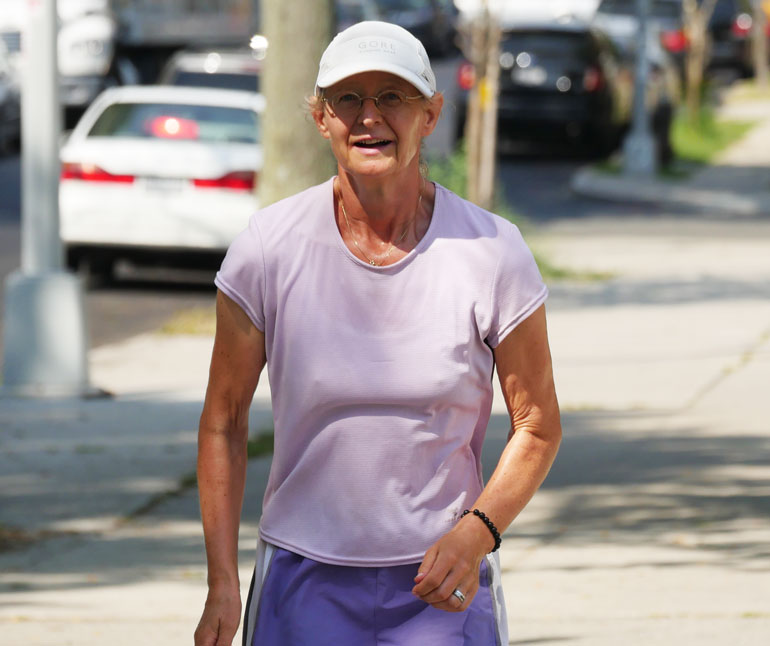 Surasa now has 2735 miles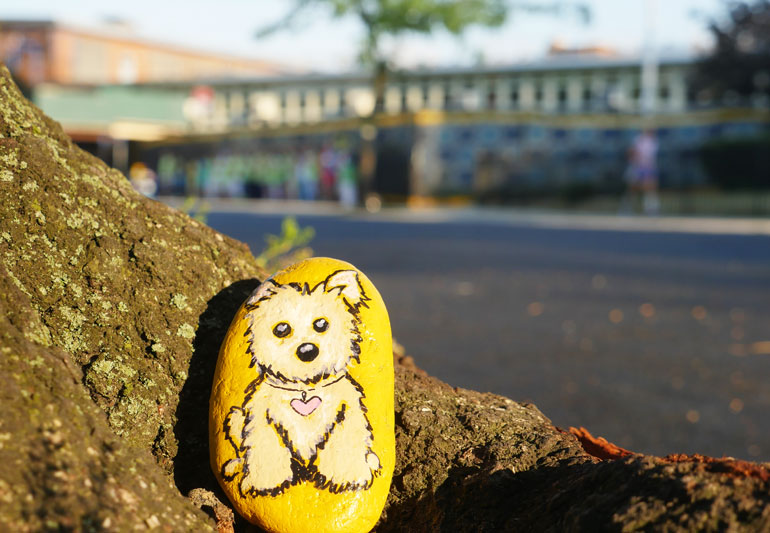 Stutisheel did 61 miles yesterday.
He now has 2735 miles.
It is still a long road yet for many of the runners.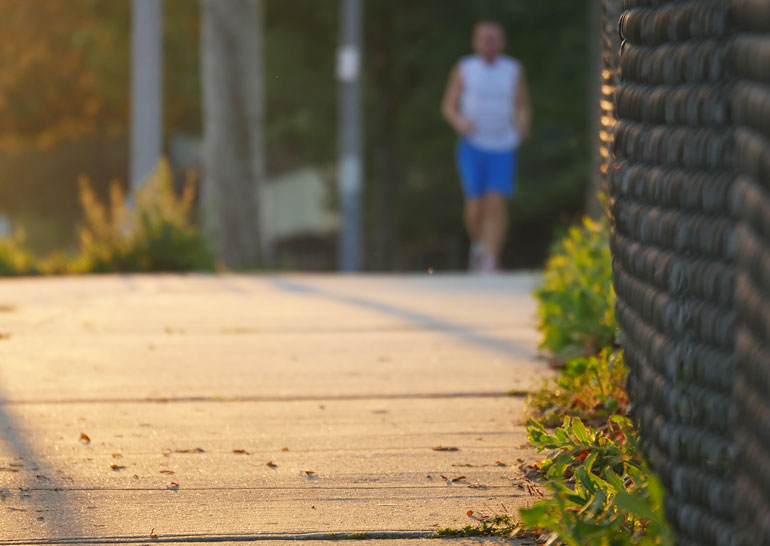 Nirbhasa had a good day with 61 miles
He now has 2711 miles.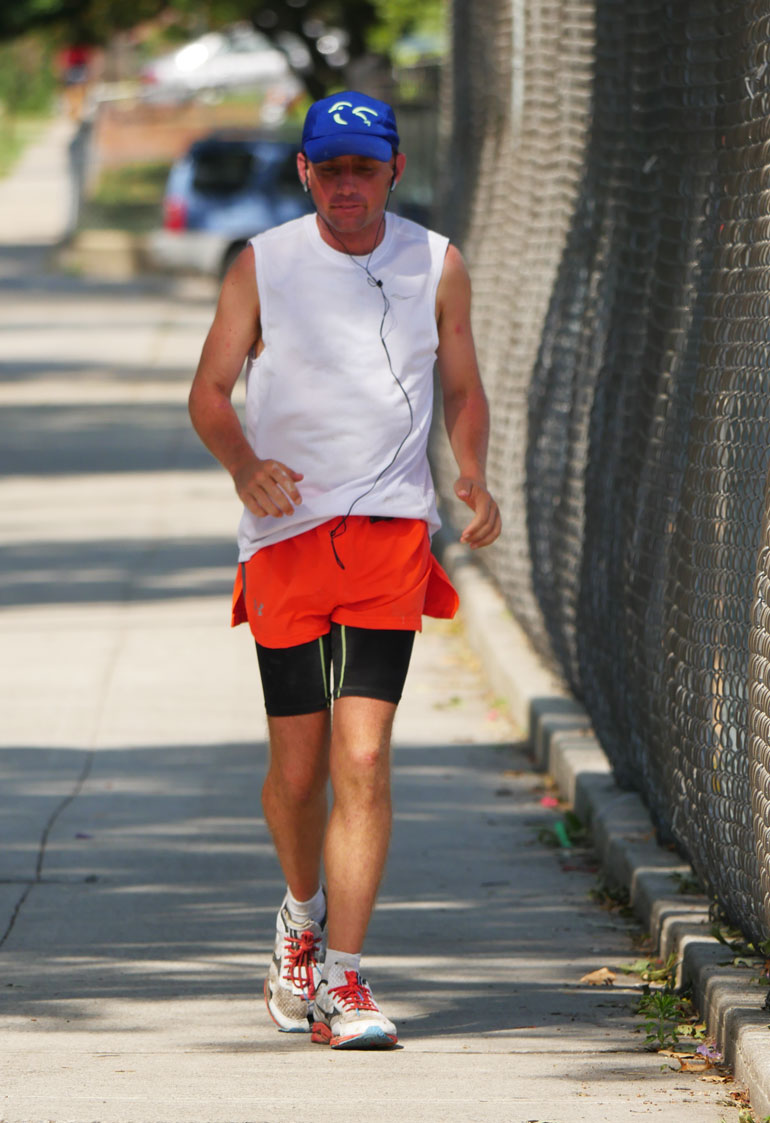 Hiding in plain sight.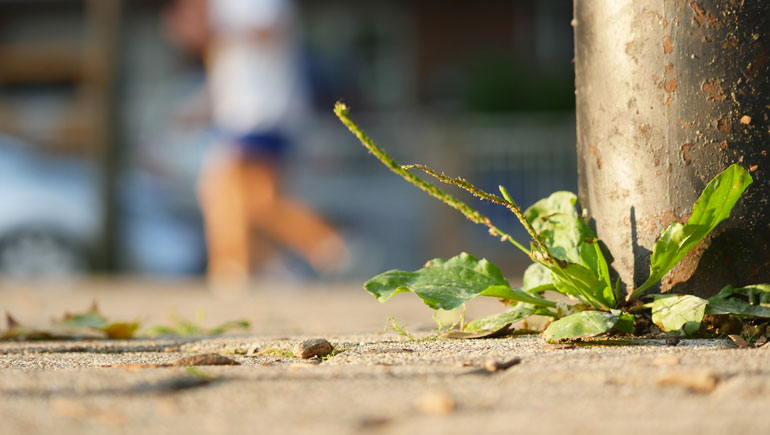 "I like the seat.  I am going to like the game, but the price of popcorn these days is ridiculous."
Still beauty is to be found without trying very hard.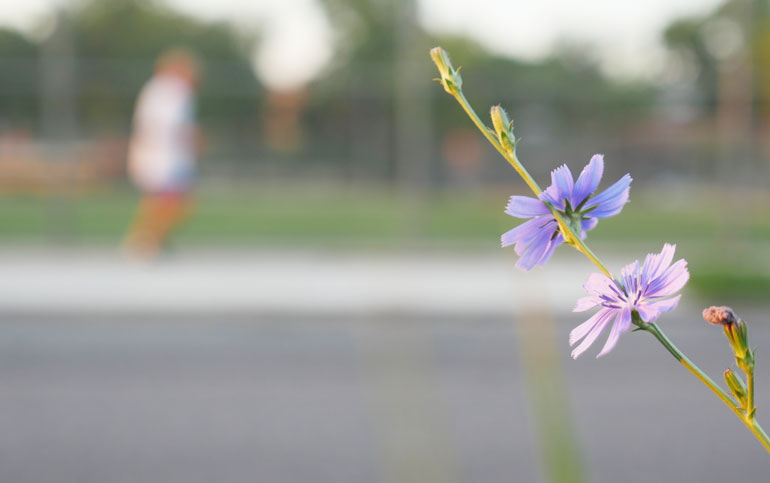 Kaneenika got some more miles in yesterday.  She did 51.
She is getting asked a lot how she is but there isn't much to say.  She continues to try her very best.
She has 2673 miles and 7 days to complete the distance.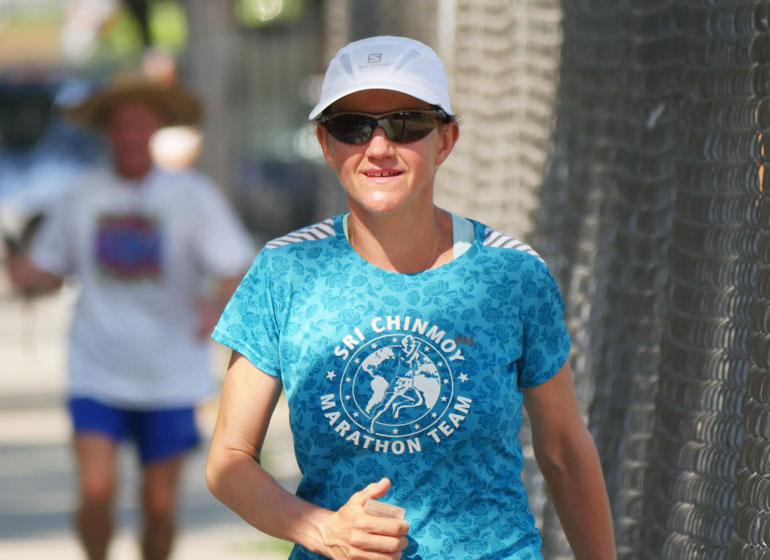 Bright, brighter, brightest.
Ananda-Lahari had 54 miles yesterday.
He now has 2373 miles.
Baladev had 46 miles yesterday.
He now has 2362 miles.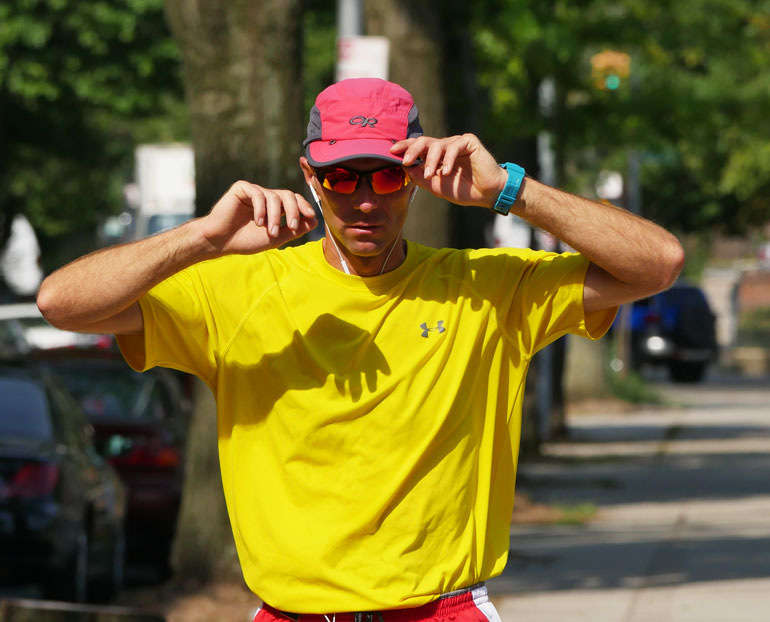 He will be here until the very last minute on day 52.
When asked what she will feel when the race is over, Vandya is given 2 choices, happy or sad.  She says, "both."
"I am looking forward to it because Surasa is setting a new record for women, and for her age group as well.  I am sad too because it is over."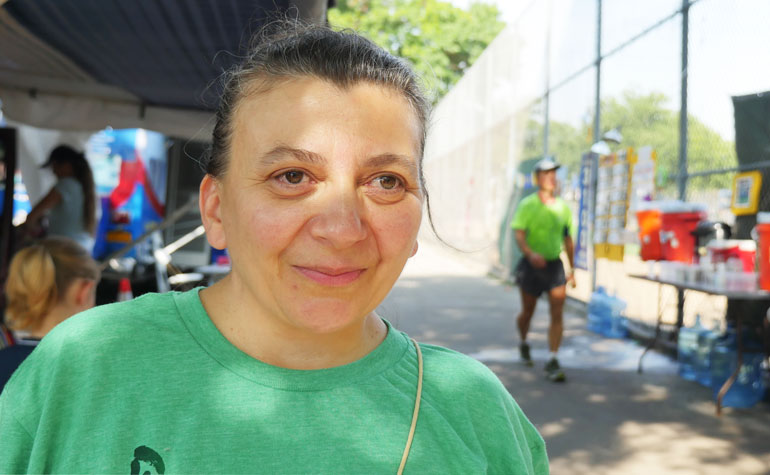 She has been helping Surasa since shortly after the start.  "I don't consider this a job.  Because it is so fulfilling and so satisfying, and so joyful.  That what ever you do here is not really a job.  No matter how physical it is."  Vandya describes how all the difficulties, like heat, and standing on your feet for hours just fades away.
"I lived in the US for quite a few years and I would come here to the race for a day or two.  Some times to attend the race and see what is going on.  Since I moved back home 3 years ago I was entirely feeding on your site (Perfection Journey).  For those of us not able to be here for the race.  Even for part of it.  It means so much to see what is going on."
"Than all of a sudden I got a chance to come here and be part of it every day.  I came here after the first week so I am pretty much here for the whole race."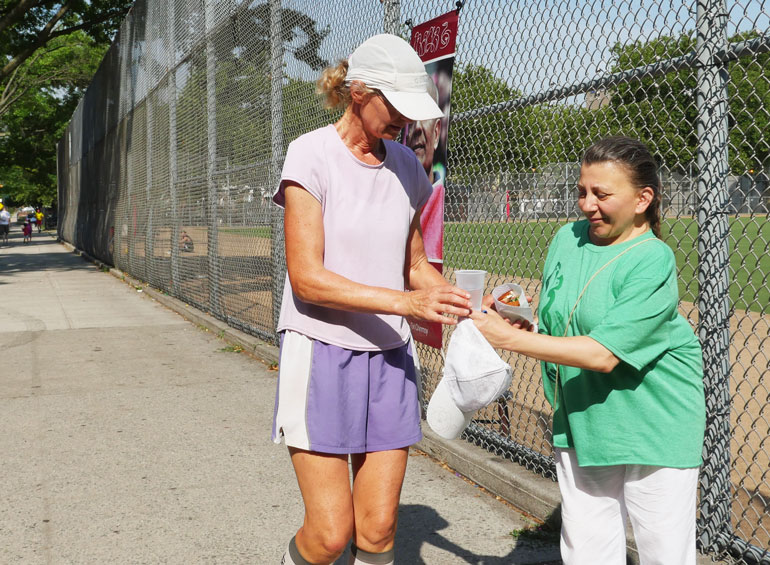 "It is just an unbelievable blessing to be able to be here, never mind working or helping.  I wasn't even supposed to help Surasa.  Even my coming here was set up from the heavens.  When something is destined to happen than the doors just open, and you just go through.  For me it was not about making decisions."
"I saw Surasa one morning wandering around the table.  I approached her table and asked her what she needed.  I offered to make it for her.  That is how it started.  So I really feel honored to be able to help her.  She is an amazing runner.  So cheerful despite all the physical burden that she has to endure every day."
"If I just sit down and think about lifting my arm up and down for 18 hours a day, it is like O God.  How they do it, I really don't know.  It is unbelievable."
Click to Play Interview:
I Remember  (Words by Sri Chinmoy music by Lyalya)
I remember …
My mother loved me, her world.
My father loved me, his dream.
My home loved me, its 'supreme'.
I remember …
I prayed with the blooming dawn,
I played with the glowing sun.
My life, the nectar fun.
I remember …
I sang with the twinkling stars,
I danced with the floating moon.
All lost, alas, too soon.
I remember, I remember, I remember.
Click to Play:
Lyalya recites the Daily Prayer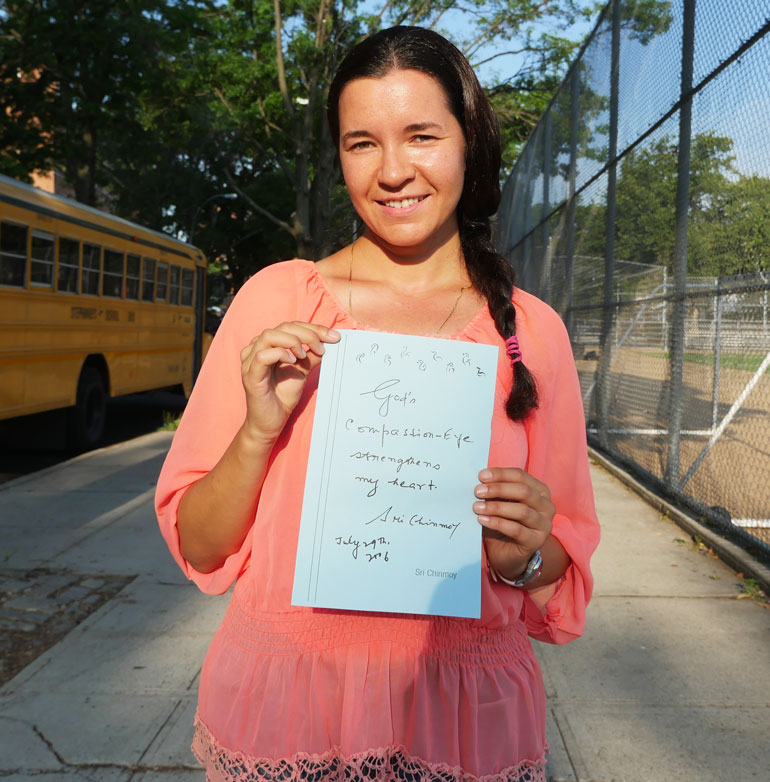 Click to Play:
Enthusiasm Awakeners
Click to Play:
I shall feed my sacred flame
Inside the living breath of my heart,
      Soulfully and devotedly.
Today I shall begin my journey's start.