"Of course I am happy to reach the half way point.  But on the other side, it is still a long way.  The second half is always easier."
Other than a short period near the beginning of the race Surasa has been performing incredibly well. And to arrive so comfortably at the half way mark on the 26th day is a very good sign indeed.  "If your running is good you are just grateful that you can run.  Everything is easier."
https://vimeo.com/133097726
At this moment we pass Nirbhasa who is going through a struggling phase. He agrees with her, "certainly, let me tell you.  It feels like you are dragging a bed behind you."
"It is so hard if you have no energy and cannot run.  You cannot compare."
Nirbhasa also had recently mentioned that he never knew it was possible to be so tired.  "Yes that is true.  When I had a bad stomach and some other things. I thought how can you be so tired, so exhausted, unimaginably. Normally you are just lying in bed when you are like this. You cannot go to work or do anything."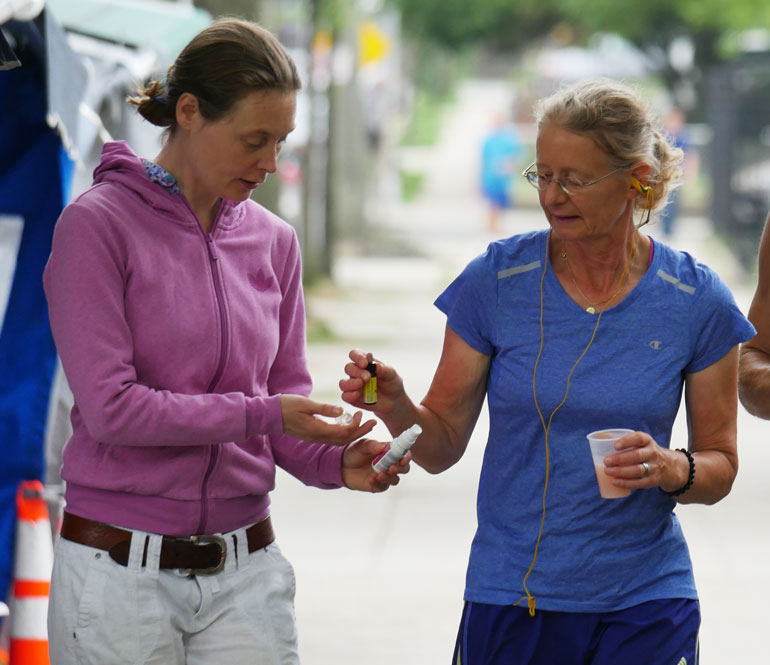 "It is really a miracle for me that you can run, with so little sleep.  This is what I was thinking all the time."  Surasa relates this experience in particular to the period when she was having some physical difficulties.  "How was it possible that I could do these miles.  Because I was so tired."
Surasa also explains the importance of eating.  "If you don't eat than you are so weak.  You feel it immediately if you don't eat enough.  In the morning you are weak.  You have to eat each lap."
On getting messages from her home in Vienna. "It is so nice when you see that people are thinking about you.  I feel such gratefulness.  It is very touching always."
The hardest part of the day for her is the middle part between 1 pm and 6pm.  "I always think I am nowhere with my miles.  But than in the evening I am somehow so surprised….it is not so bad."
"When midnight comes I am happy because now I can go home, and have a little bit of rest."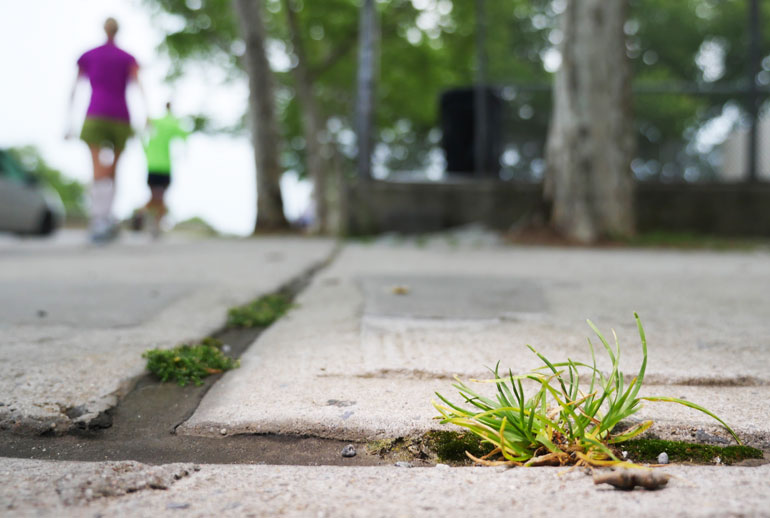 "You just see that nothing is impossible.  I also cannot believe it, what I am doing, and what everybody is doing here.  Sometimes I think, how is it possible that it works like this? But you have no time to think.  Each day you have to run."
Click to Play Interview:
It is pleasant day and it will not get humid until later in the day.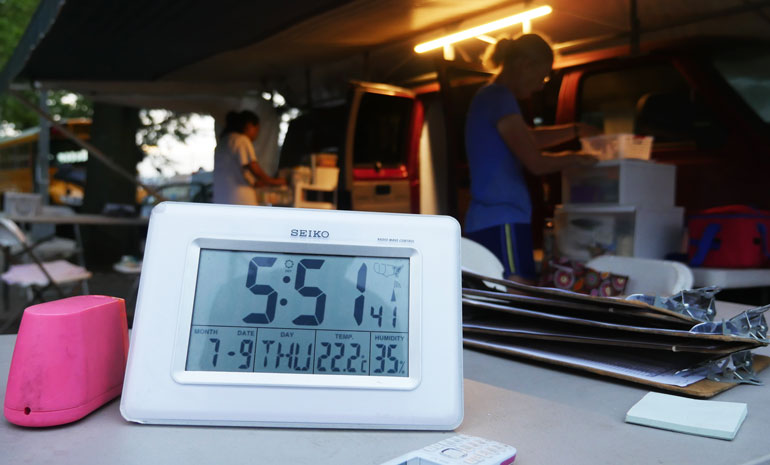 Yuri arrives.
Getting ready.
Last minute.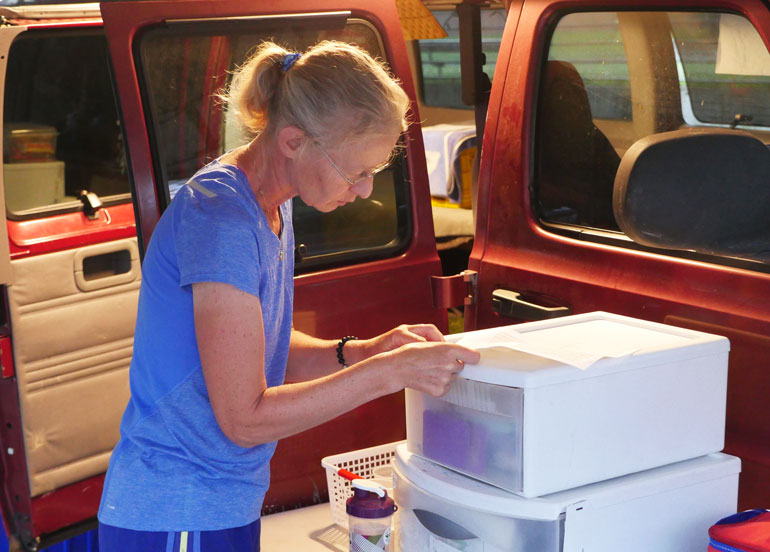 Surasa's 1550 miles would take her from Vienna to Kazakhstan
Start Day 26
Ashprihanal is 30 miles ahead of the record pace.  He has 1921 miles.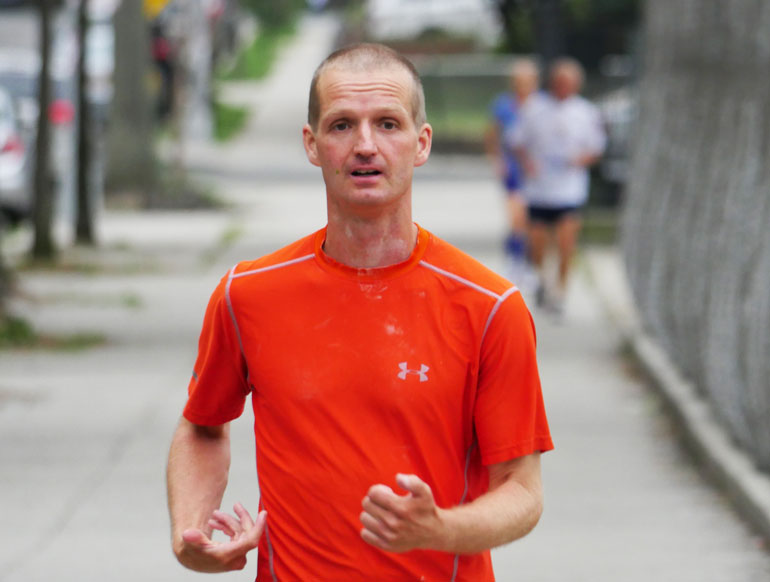 Many are cheering him on around the world.
Galya performed a remarkable achievement when he set a new record for the most consecutive 70 mile days.  He ran 71 miles yesterday making it the 25 day in a row of more than 70 miles.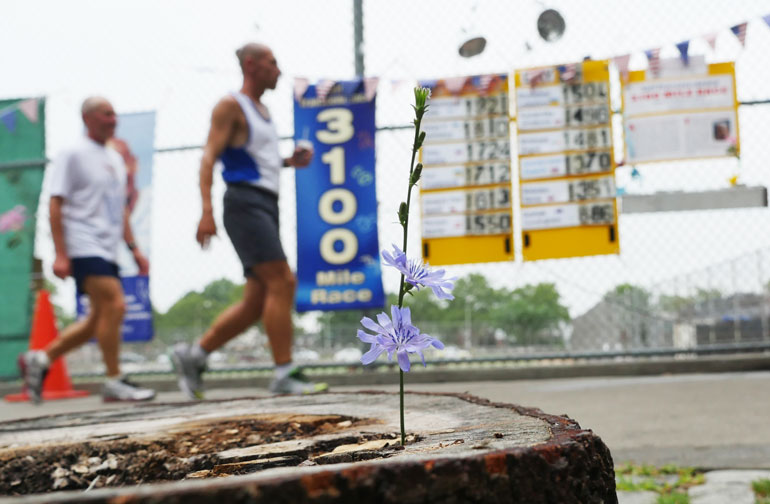 "It is not really a record.  I just did 25 days in a row of 70 miles."
"Actually I didn't plan this.  I set a goal for each day and than try and reach it."  As it happens 70 miles has been his goal for each day.
Galya says that after 10 days when he reached 738 miles he thought maybe he could just keep the pace up the whole way.  He adds that Sahishnu was the one who came up with the record numbers.  "He can always find something to keep you going."
When it comes to Ashprihanal  who is 110 miles ahead he can't even comprehend the kind of mileage that he is doing.  "This is a great race and I am happy. Galya is also inspired to see so many staying out until 12 every night.  "Right to the last minute."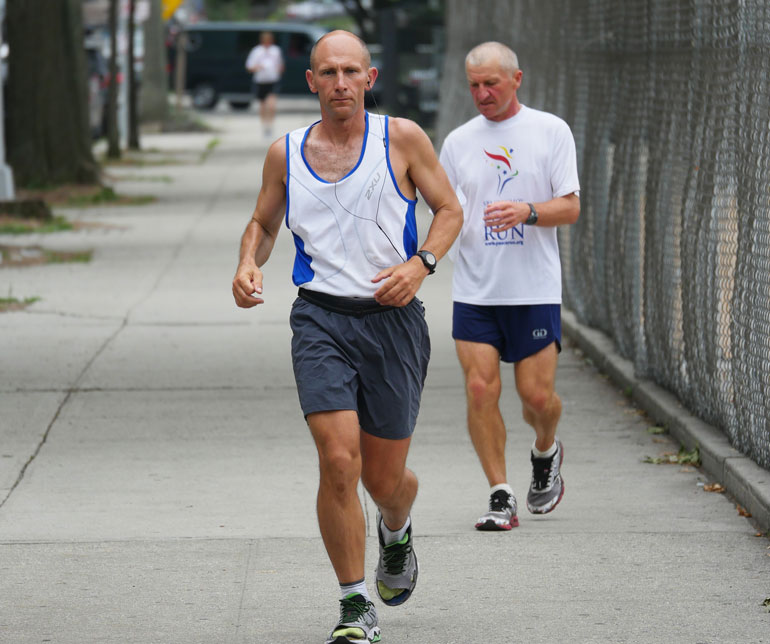 "Sometimes it looks as though I am missing 2 or 3 laps but than somehow at night I can speed up.  I don't know how.  You should try to the end, than it is possible."
Click to Play Interview:
Strength in so many ways.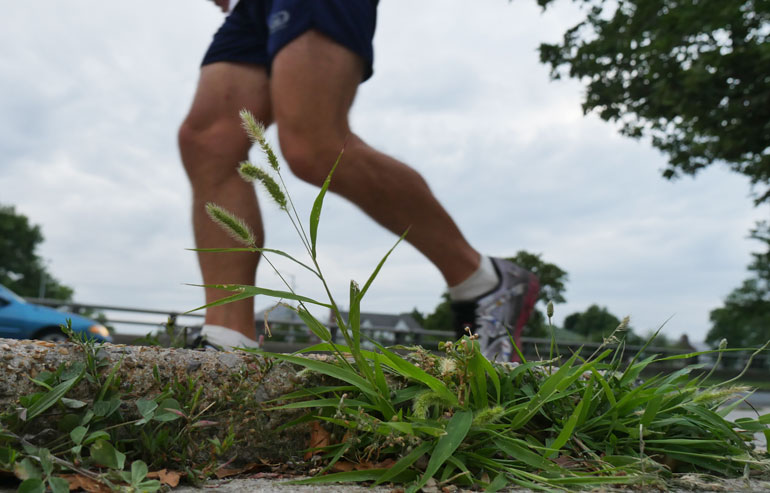 Vasu had some problems yesterday.  He did 63 miles and has 1i724 miles.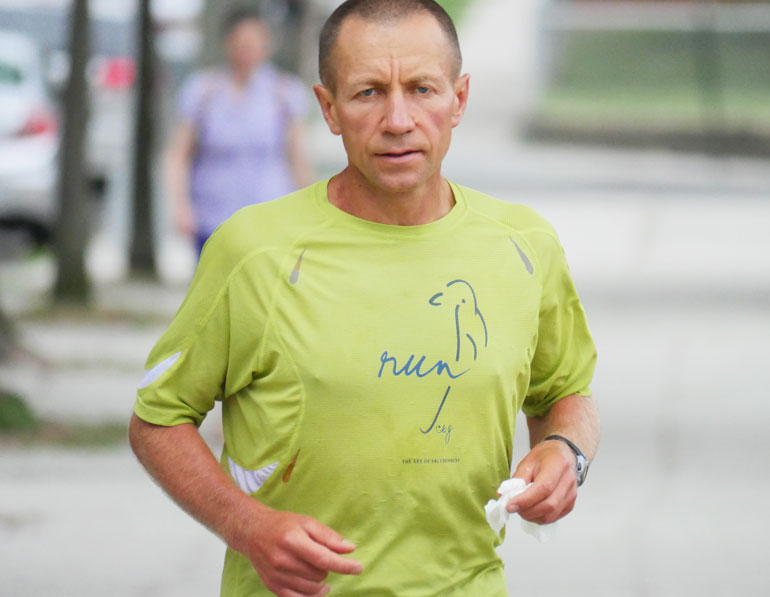 Yuri had 65 miles and now has 1712 miles.
He is running well.
Atmavir had his first 70 mile day in 8 days.
His 1613 miles puts him 99 miles behind Yuri.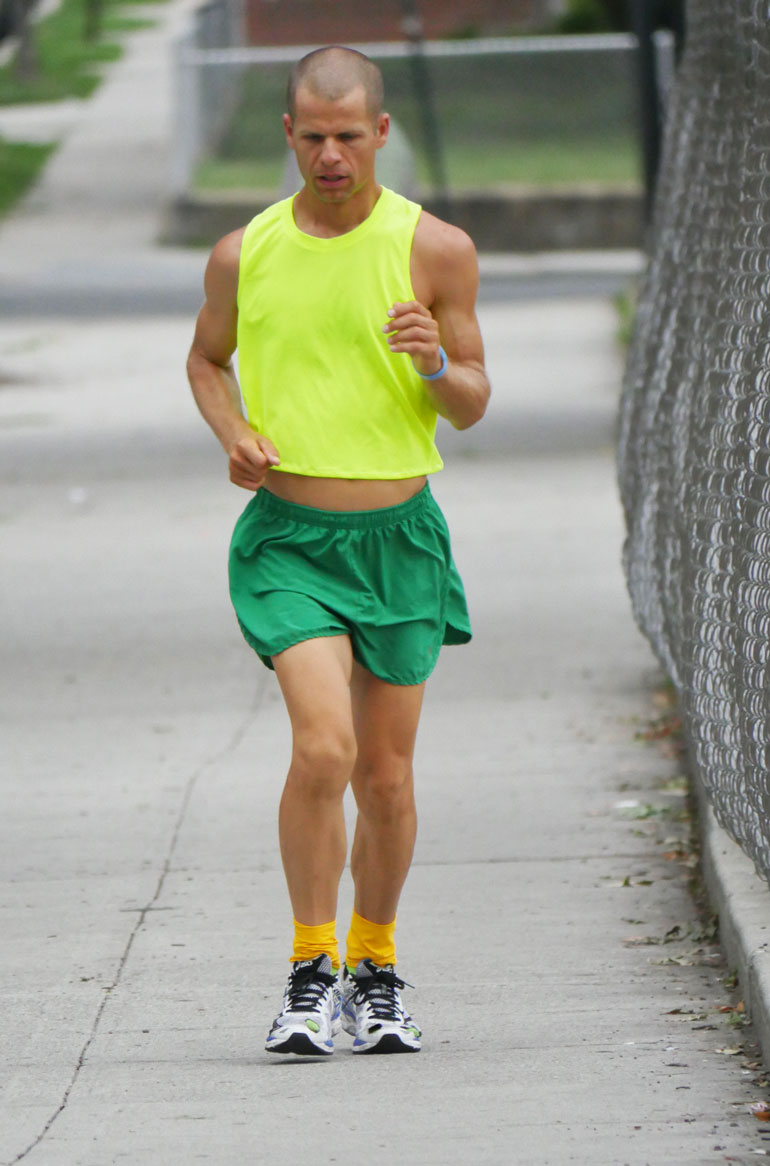 Kodanda playing his guitar.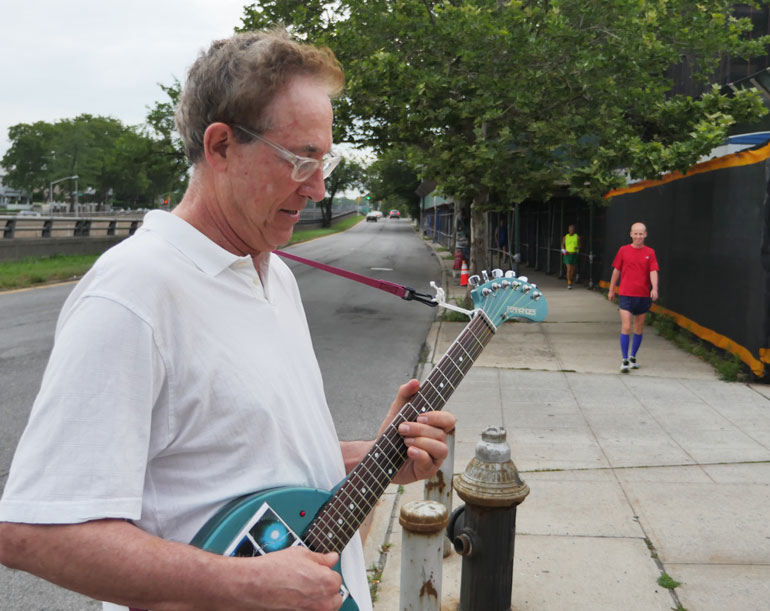 Messages left
Stutisheel had a low energy day yesterday. He did 39 miles.  He has 1504 miles and should reach the half way point today.
"Is it me or is it my sandwich?"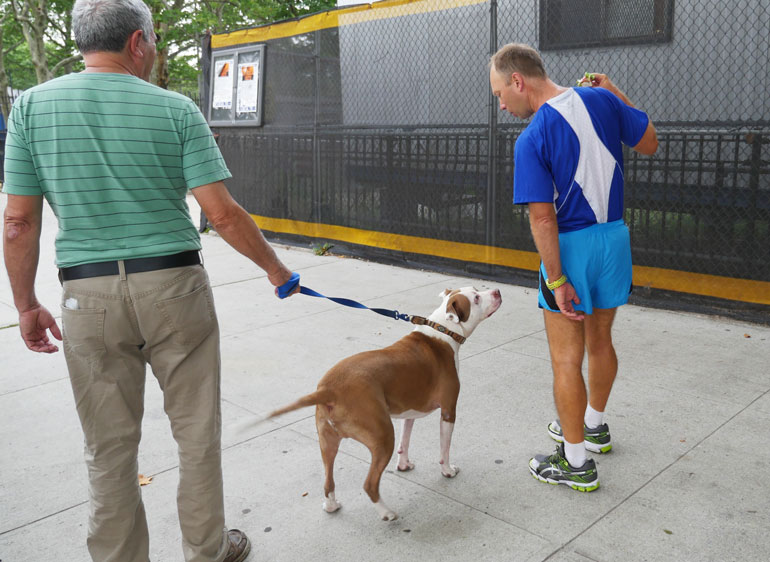 "I know what gives me more joy."
Kaneenika is on pace.  She ran 63 miles yesterday.
She starts her day with 1496 and should make half way by early evening.
Tanuja is her afternoon helper.
The girls have sewn a treat bag. When she passed 1500 miles she can take out a small surprise.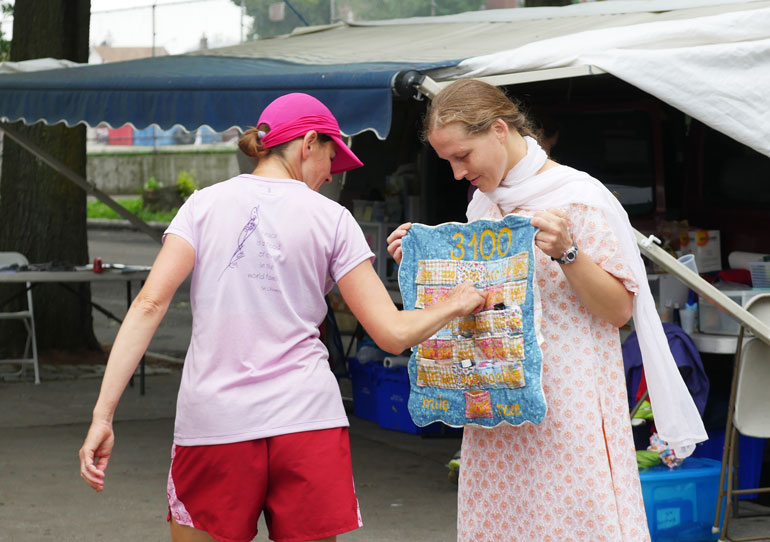 She was very pleased to find a hand made angel.
Nirbhasa needs 69 miles to make it to 1550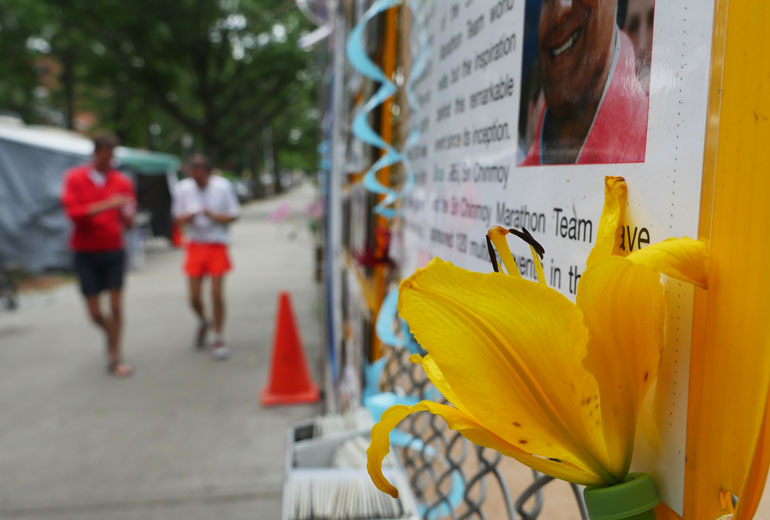 He ran 54 miles yesterday but had a treatment last night that helped him with his energy.  He is getting lots of encouragement and support.
Ananda-Lahari had 54 miles yesterday.
He has 1370 miles
Baladev had 47 miles yesterday.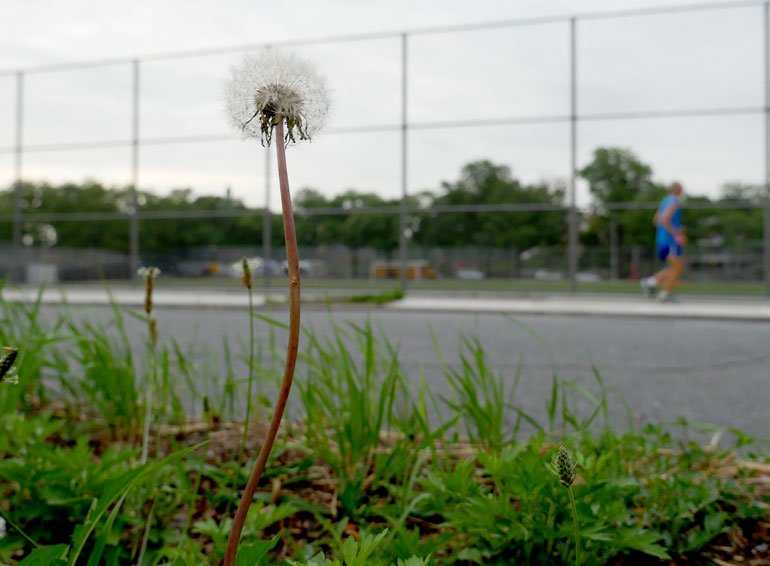 He has 1351 miles.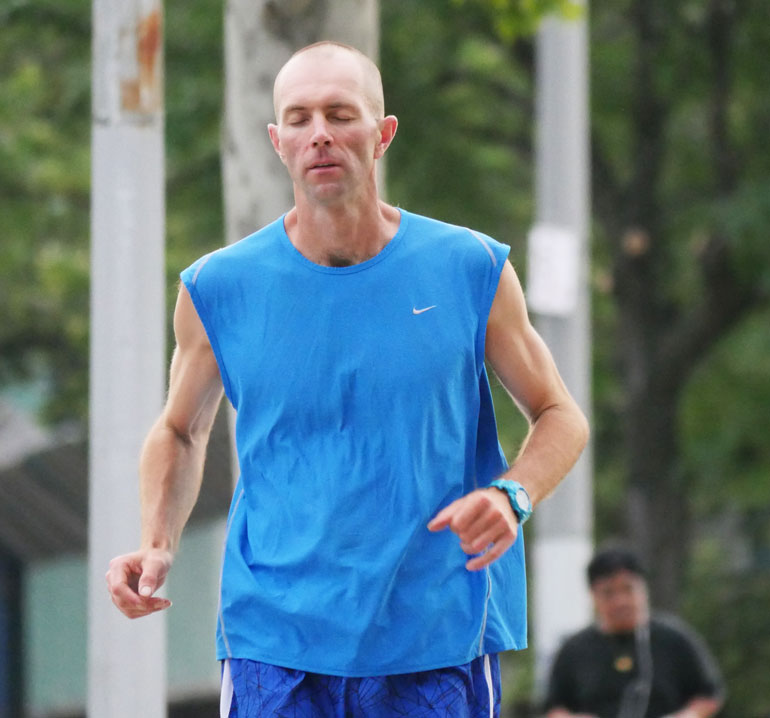 Beauty where ever you look
Rupantar recites the daily Prayer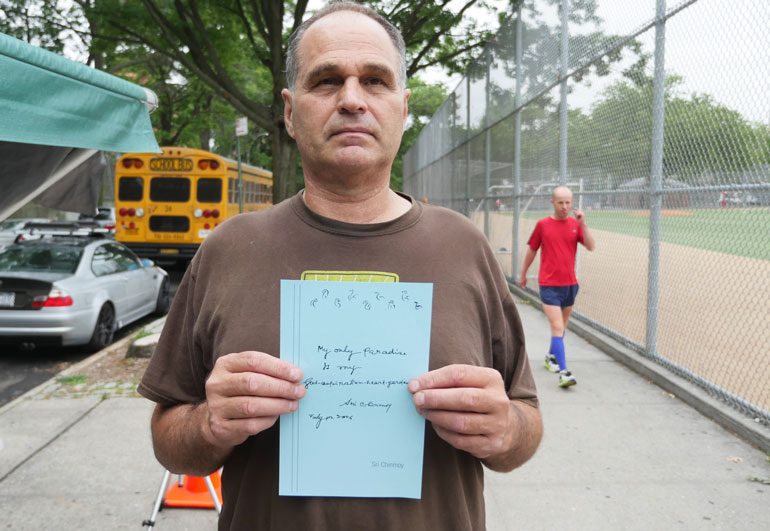 Click to Play:
Enthusiasm Awakeners
Click to Play:
Nothing is impossible
When
I have an iota of love for God.
Nothing is impossible
When
I have a fragment of sacrifice for man.
Nothing is impossible
When
I realise I am oneness-perfection.