"What a great day. I am having a soul's name anniversary."
5 years ago today, on July 7 2010, both Atmavir and Baladev received their spiritual names.  For spiritual seekers receiving a name is perhaps their most precious possession.  A way of defining themselves in the outer world with a tangible reminder of an inner identity trying always to come to the fore.
https://vimeo.com/132885512
"It was on a day when I was also having some problems like this.  I had to stop the race and they took me to see Dr. Kumar and than I came back."
When he arrived one of the race directors handed him an envelop and told him, "you have received a spiritual name." He stopped for a while to meditate and says, "I was so happy.  That I got my name here at the race.  For us runners it is a privilege to get it here.  Atmavir means hero's soul.  It is he who has a mighty soul and will attain the absolute."
He says that he chants his name often when he runs.  "It helps me a lot."
For nearly a week now Atmavir has seen his big mileage days vanish and his strong subtle stride diminish into a walk.  Almost over night his world shifted.  The ease of his relentless pace that he once seemed to have so readily mastered was reduced to another kind of more pedestrian experience.
But he did not give up and instead simply kept moving.  But with the prospects of 2000 km yet to go still inevitably laying in his way it had to have been hard for this 37 year Czech runner. He has already completed the distance 7 times before.
Atmavir says that he feels that the difficulties he has been experiencing of late have been a spiritual test.  "An inner lesson which I had to go through.  I really suffered physically.  I was walking 7 days straight.  It went so fast."  But as of last night something shifted and he was once again able to run.  For the last 2 hours of the day he ran, "it gave me so much joy."
Looking back at this period he feels that he was supposed to have a real experience of surrender. "Very often it is forced.  It is not spontaneous.  Or it is not cheerful.  But this time I felt during those 7 short days, that my soul was very pleased and very happy.  It was the first time that I overcame it with a sincere cheerfulness."
He says though that from the beginning of the race he has felt his soul intensely within him.
Click to Play Interview:
Ashprihanal arrives after once again running a phenomenal 76 miles yesterday.
Janos readies the board for the day to come.
It will be warm and humid today.
Yuri gets ready.
Kaneenika had her best day in nearly a week.
Start Day 24:
As the day begins there is still 1332 miles in front of Ashprihanal.  The direct distance to Oklahoma city.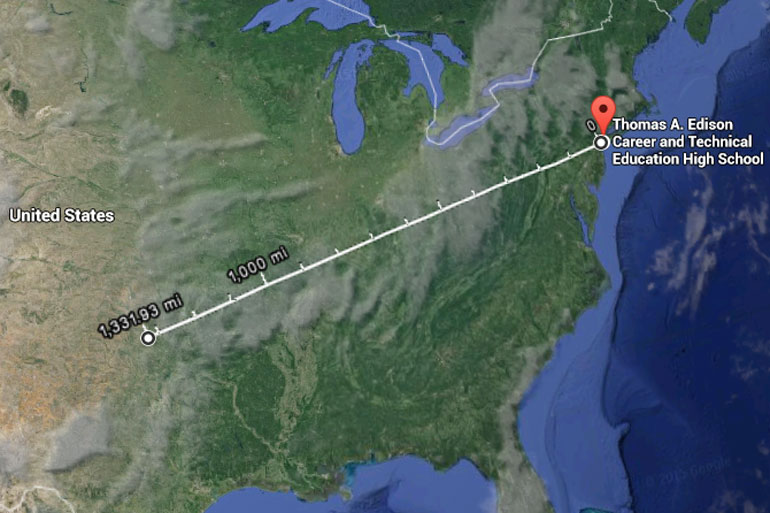 It does not seem possible for a human to try any harder than he already is.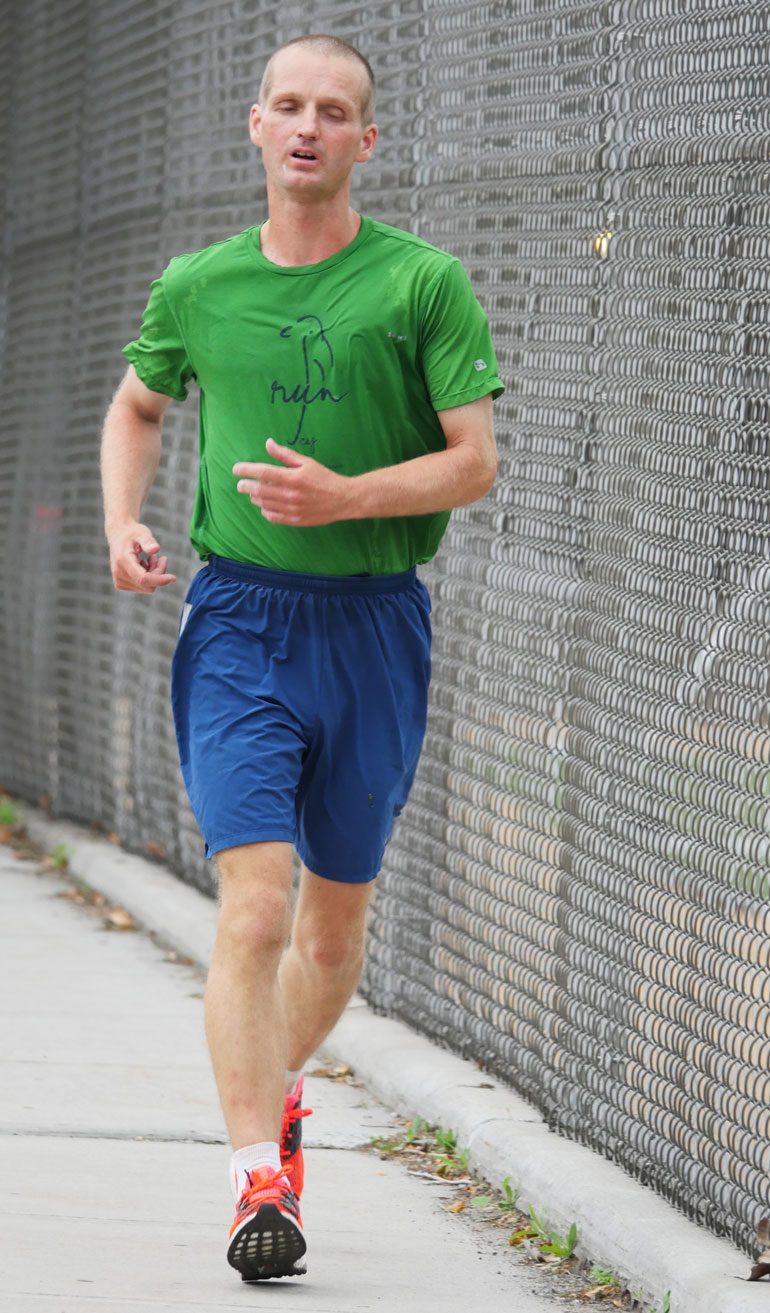 He runs until there is simply no more time left to run each night.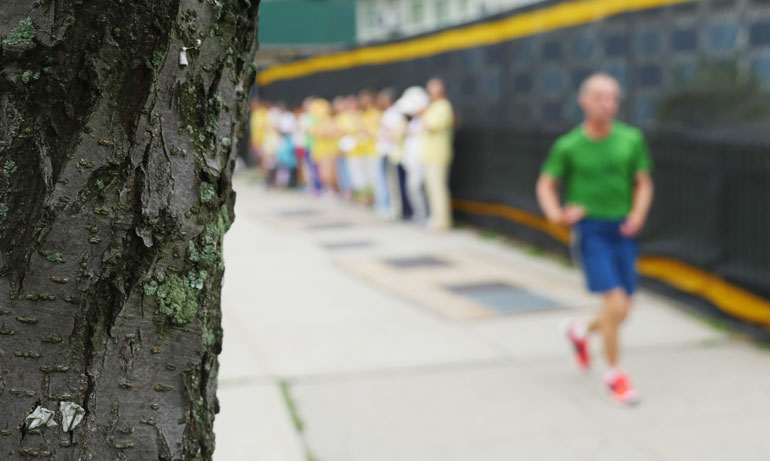 Grahak has been one of his best strengths to come to his aid at such a crucial time.
Little time is wasted.  It gets bright so he puts on sun screen. very quickly.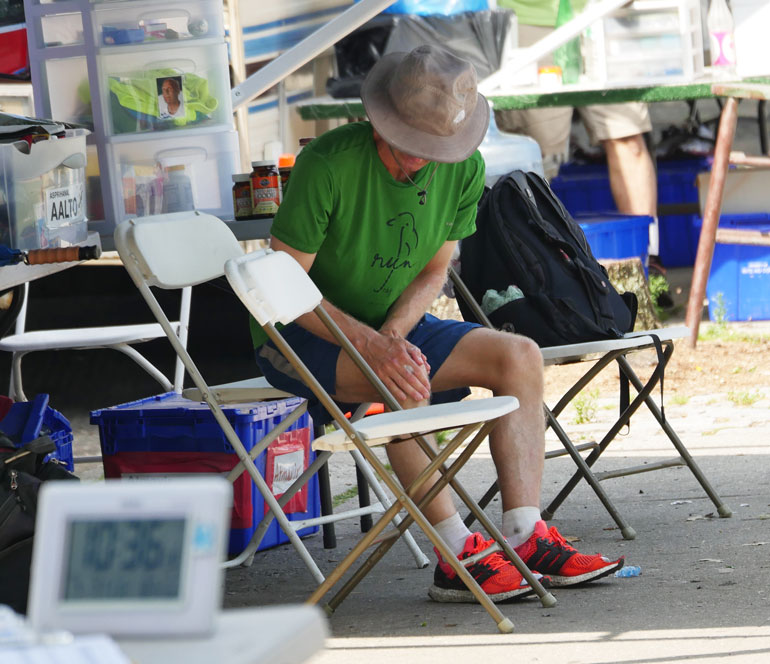 Than, simply to have a break, he walks about 100 meters with Sahishnu when he arrives.
But mostly he is simply relentless and incredibly beautiful to watch.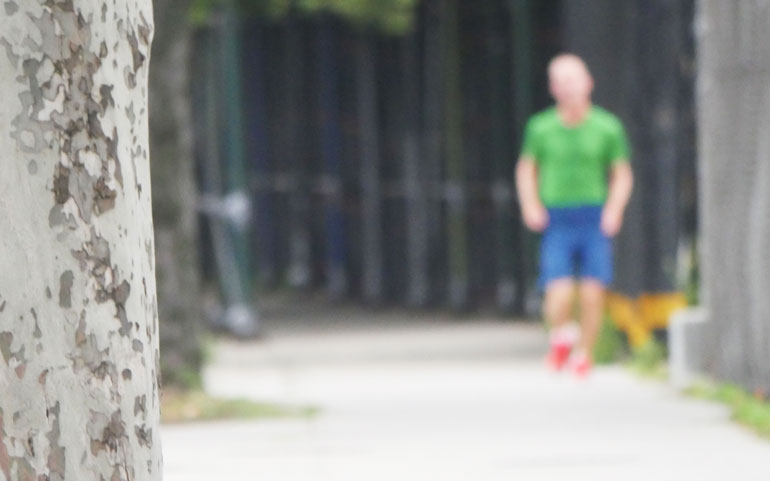 If Galya maintains his streak today he will tie the record of most consecutive days of running 70 miles, 24.
Galya is running well today. Than there is tomorrow and a new record.
The day will be mostly overcast and very muggy.
Vasu had 71 miles yesterday and now has 1589 miles.
Nicolai has been a great help.
Always little blossoms.
Yuri had 67 miles yesterday. He now has passed the half way point and has 1579 miles.
Yuri is looking very strong
No parking due to……..street cleaning?
"Certainly I would love to discuss the Euro zone financial crisis further with you but I would rather go look for nuts."
So many little flowers.
Surasa had a very good day with 64 miles.  She has 1413 miles.
Surasa is on schedule.
Stutisheel had 60 miles yesterday.
His ever present phone has been a very useful tool.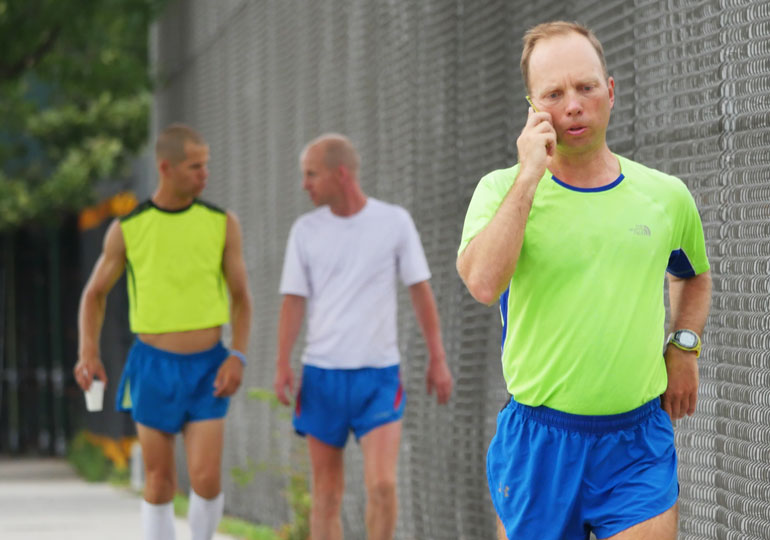 He does notice the scenery but probably enjoys the passing dogs more.
Nirbhasa had his hardest day yesterday.  He had 36 miles.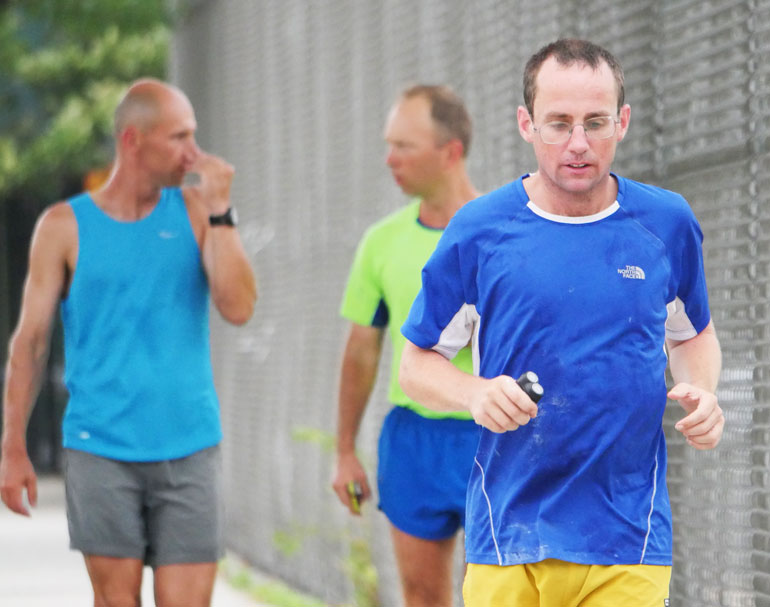 His total for 23 days is 1373 miles.  He is 177 miles from half way and 3 days in which to do it.
He is running today.
Kaneenika had a 63 mile day yesterday.  The most mileage in a week.
Kaneenika has 1371 miles and has 3 days to run 179 miles to make the half way mark on schedule.
Help is always there for her.
Kaneenika is very poised.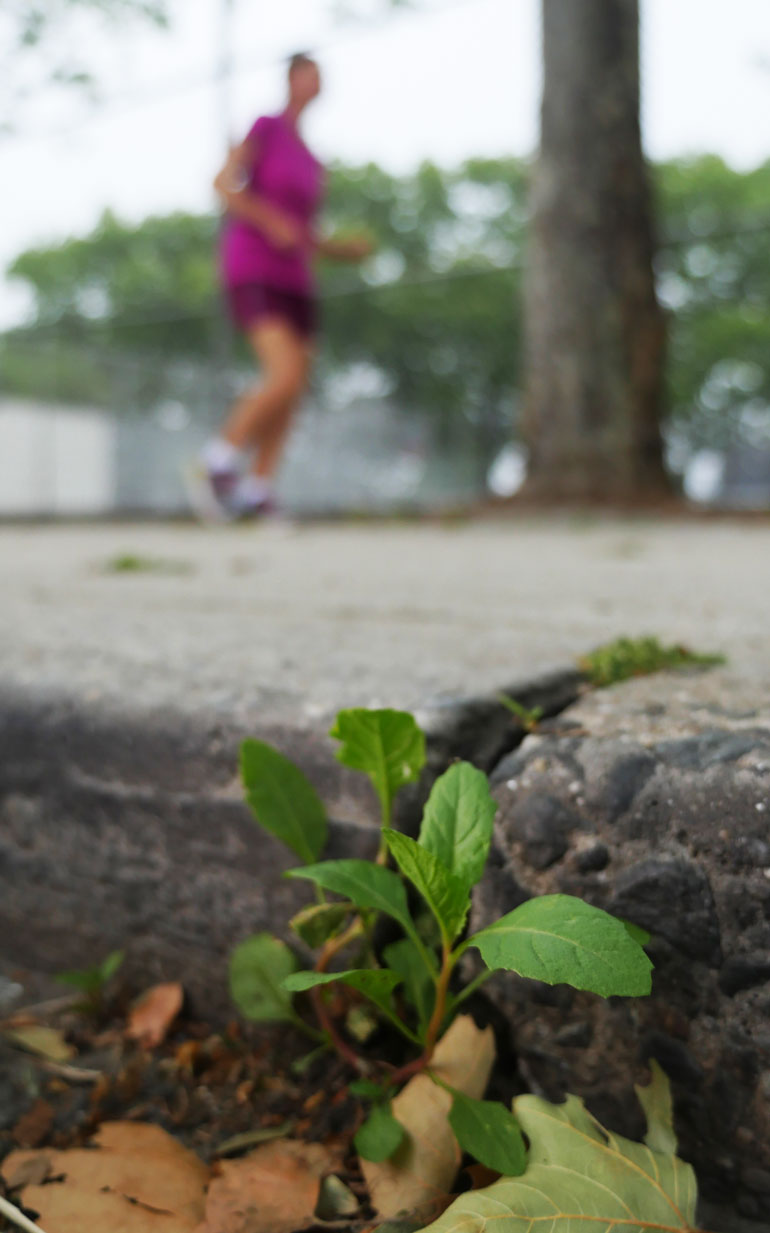 Janos the master fixer.
Ananda-Lahari had 49 miles.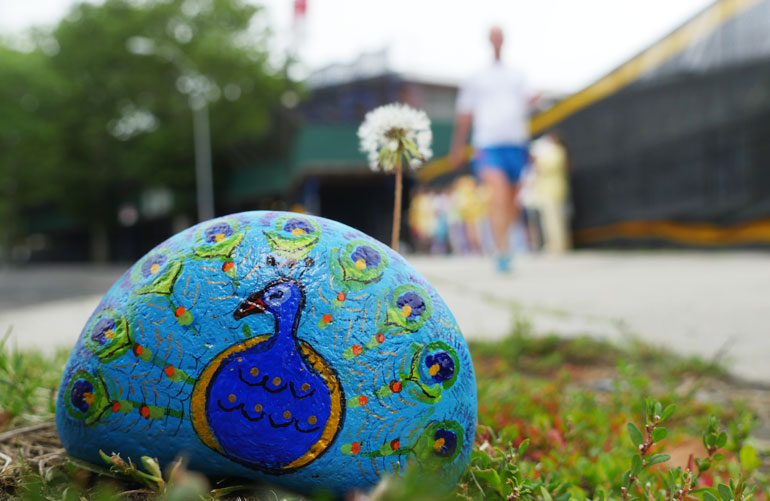 He has 1272 miles
Having a food discussion with Atmavir.
Not a food item….I think?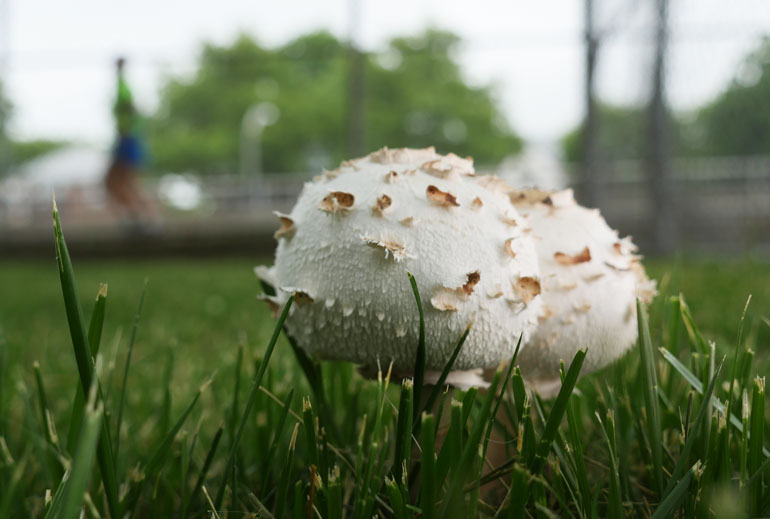 Baladev had 53 miles yesterday for 1250 miles.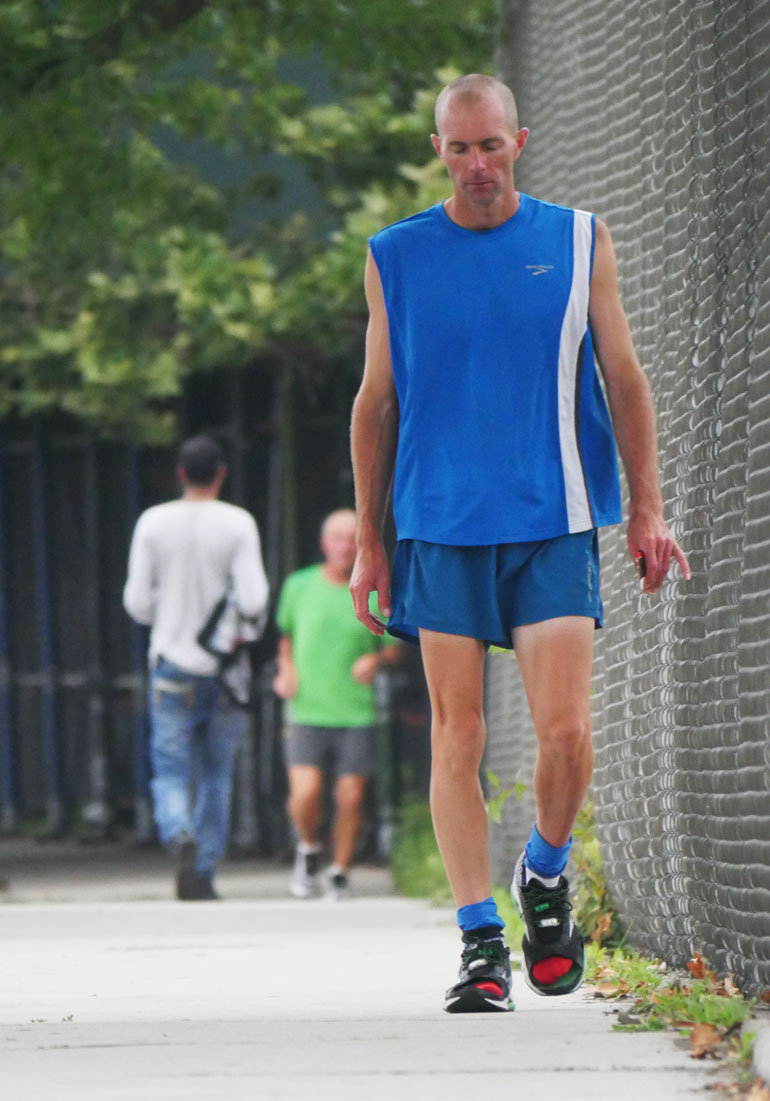 A little tree.
"It is interesting because basically for her first 2 weeks she was experiencing newness in the worst way you can imagine." Kanala has come to support her friend Kaneenika this morning.
Kanala says that for many years in many other races Kaneenika did not have any injuries at all.  She has had blisters but you can keep running with a blister.  When this race started it was like starting all over again." (like a rookie)
In her earlier races she did have these kind of problems but than they simply were no longer a problem for many years.  Kanala says that the hard concrete and the hills along the course have been the main cause for Kaneenika's persistent blisters.  Particularly there is a bad one on the bottom of her heel. "Even she does not know how she is doing it."
Kaneenika lives in New York and has often done miles along the same course she runs now.  But Kanala says there is a joke, "until you do it you don't know how it is going to be."
I ask Kanala if she and her friends were concerned for kaneenika when she had her rough patch after 1000 miles.  "You just never know," remembering how William Sichel was 150 miles off the pace and came back at the end last year. "It can always change."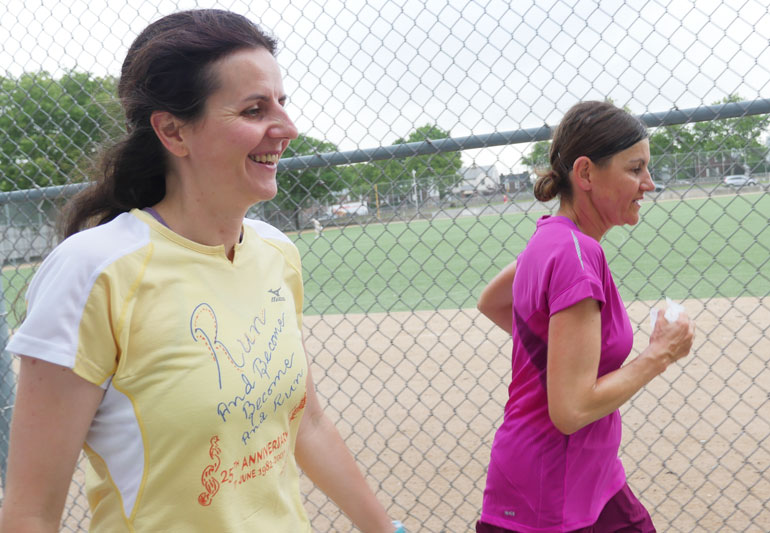 "Kaneenika is extremely experienced distance runner and also dedicated.  I think that her will power is huge and also you have to have surrender here. We don't know what the runner is going through and what the Supreme wants the runner to go through. So I am not putting any opinions on anybodies miles."
"Now you see how every minute counts.  That is where the discipline comes in.  You have to be so focused and move, move."
"I am sure that everybody wishes her to complete the race. I think that helps also. It would be great."
 Click to Play Interview:
Daulot reads the Daily Prayer
Click to Play:
Enthusiasm Awakeners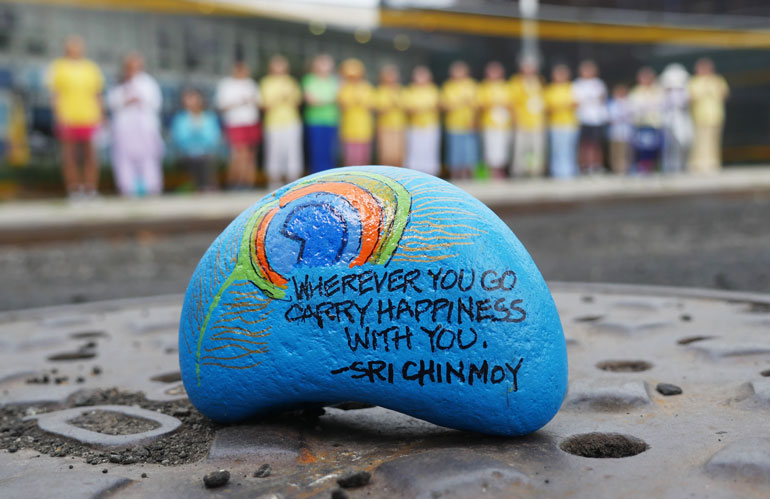 Click to Play:
My mind learns earthly lessons
Quickly.
My heart learns Heavenly lessons
Self-givingly.
My soul learns both earthly
And Heavenly lessons
Intuitively.