"I really would like to come back."
I had just joked with Suprabha that Ashprihanal is going to tie her record of completing the race 13 times.  She laughs as she says this, but her comment is not far from the range of the possible.
Suprabha has continually defied our notions of strength and determination.  A wisp of humanity that seems surcharged with boundless energy.  Its source, clearly not linked to her slim petite physique. Yet when you listen to her soft gentle words, as she speaks about her time spent so long upon this road you can begin to sense the origin of her unique and special gift.
Suprabha has always dedicated each of her steps, her laps, and her miles to the divinity within.  An inspiration and a source not lost on any of us who have watched and appreciated her running year after.  Clearly  Suprabha has forged a unique connection to some form of higher power for many many years.
In those 13 summers she ran the race she completed 40,300 miles circling the block.  When asked what kind of mileage she is putting in now she confesses, "it is really not enough."
Suprabha's running since she last participated here in 2009 has not been without challenges.  In March she went with some friends to run the Chico half marathon.  The place where her late spiritual teacher Sri Chinmoy ran his first marathon. By doing some extra loops they actually ran a full marathon.  "What a beautiful course.  I just loved it. I had a really nice experience.  That is sacred ground the way this is sacred ground to us."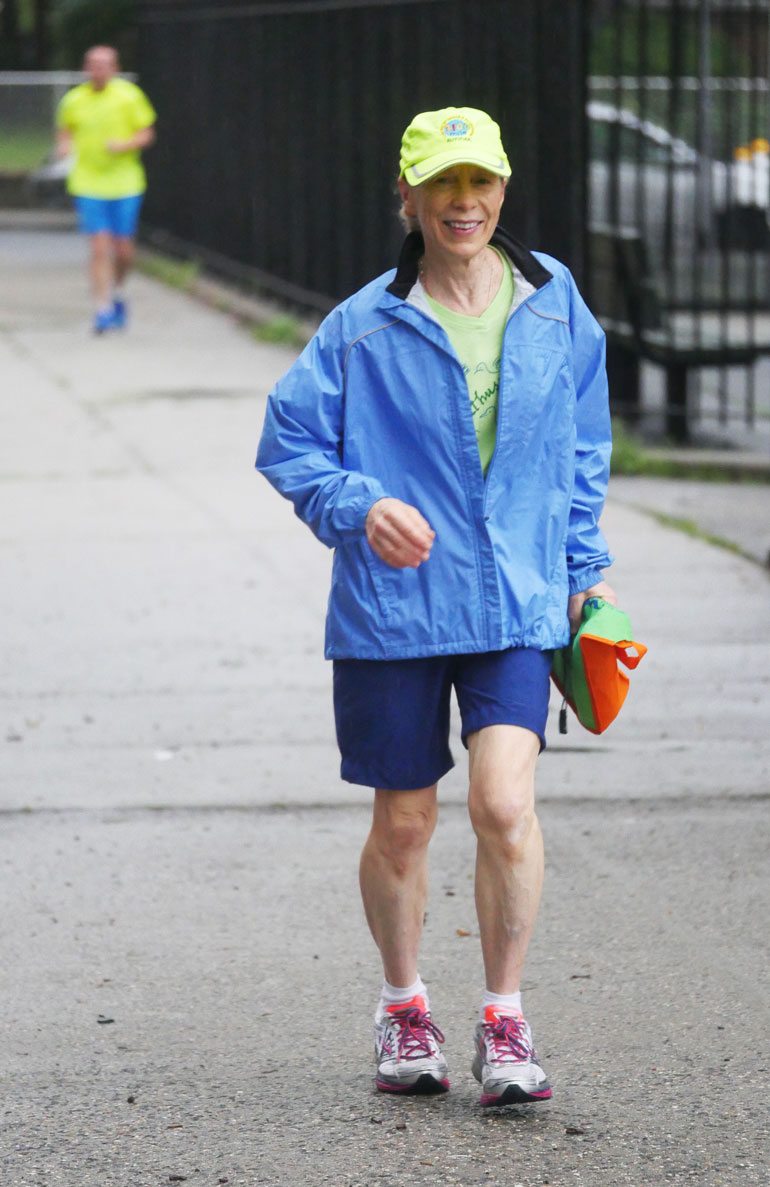 Suprabha lives in Washington but visits the New York area often.  "I always come around this way and do a few laps.  I think it will always be special to me this course."  As she says this she points at different spots that Sri Chinmoy had over the years stopped and encouraged the runners.  "He also walked it and ran it.  It is very special."
It seems now that Suprabha has been participating in ultra races for many many years.  She doesn't recall that she ever had to make the decision herself whether or not to be so closely involved with the sport.  She says she feels it was decided for her.
When asked about the suffering involved in being a part of something so hard.  "The amazing thing is that, and this is true for me and I imagine for other people. After the race is over.  I don't remember all the difficult things.  They all kind of fade away.  I only remember the good things.  The victory at the end." The struggles and pain she said are not what she took with her when she left the race course.
I ask Suprabha if she ever felt she could have run the race by herself.  "O no, it is a whole team effort.  You don't even have to talk to everybody.  There is a feeling of family.  We are all in it together."
She also feels that Self Transcendence is not really related to time and to numbers on the board.  "It is something else.  There are always new things to transcend.  Whether it is your time, or your consciousness or being happy. There are so many things we can transcend."
From last night
Many hours left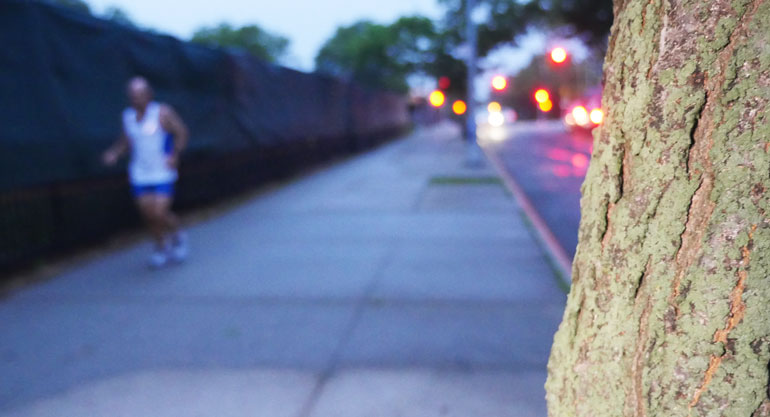 Again and again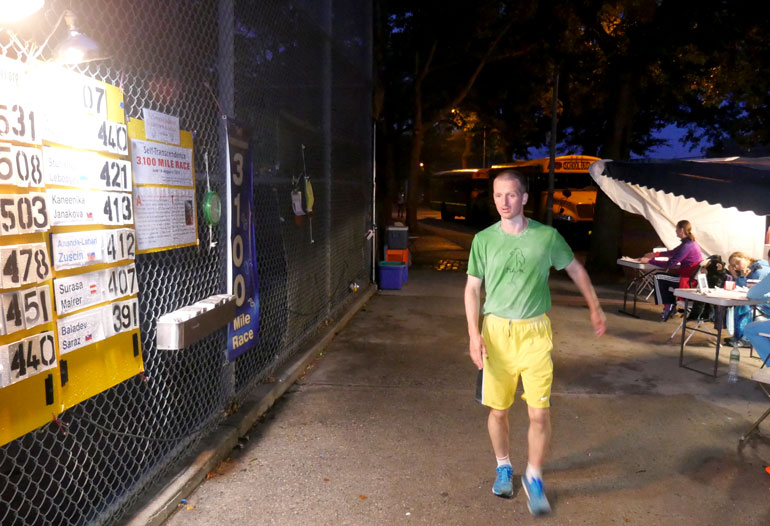 Many want to rest
Vera handing out hand written poems by Sri Chinmoy.
It is now Sunday morning, June 21st, the longest day of the year.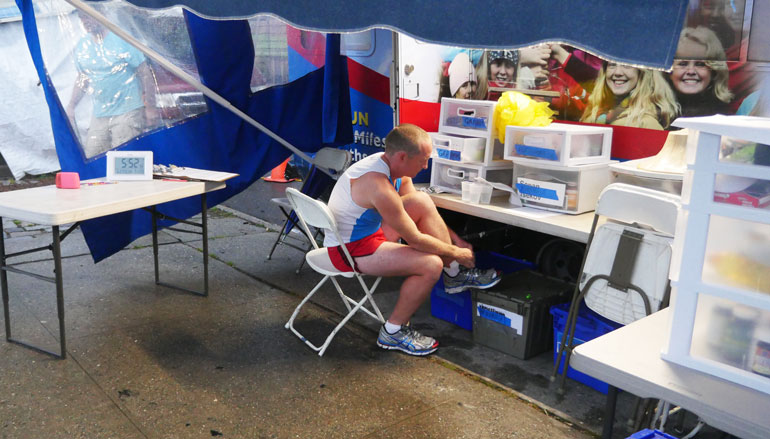 Start Day 8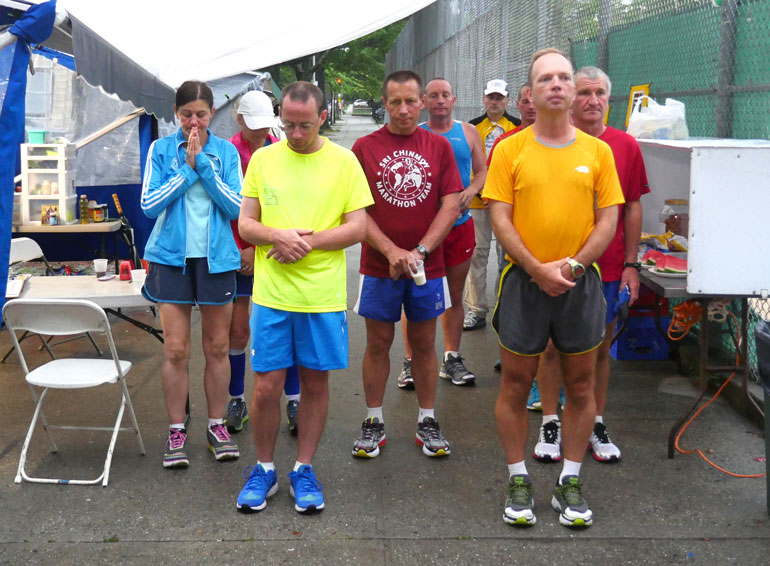 Ashprihanal ran 77 miles yesterday.  He now has 553 miles for 7 days
Atmavir also had a great day.  He ran 75 miles.
He looks very comfortable on the course.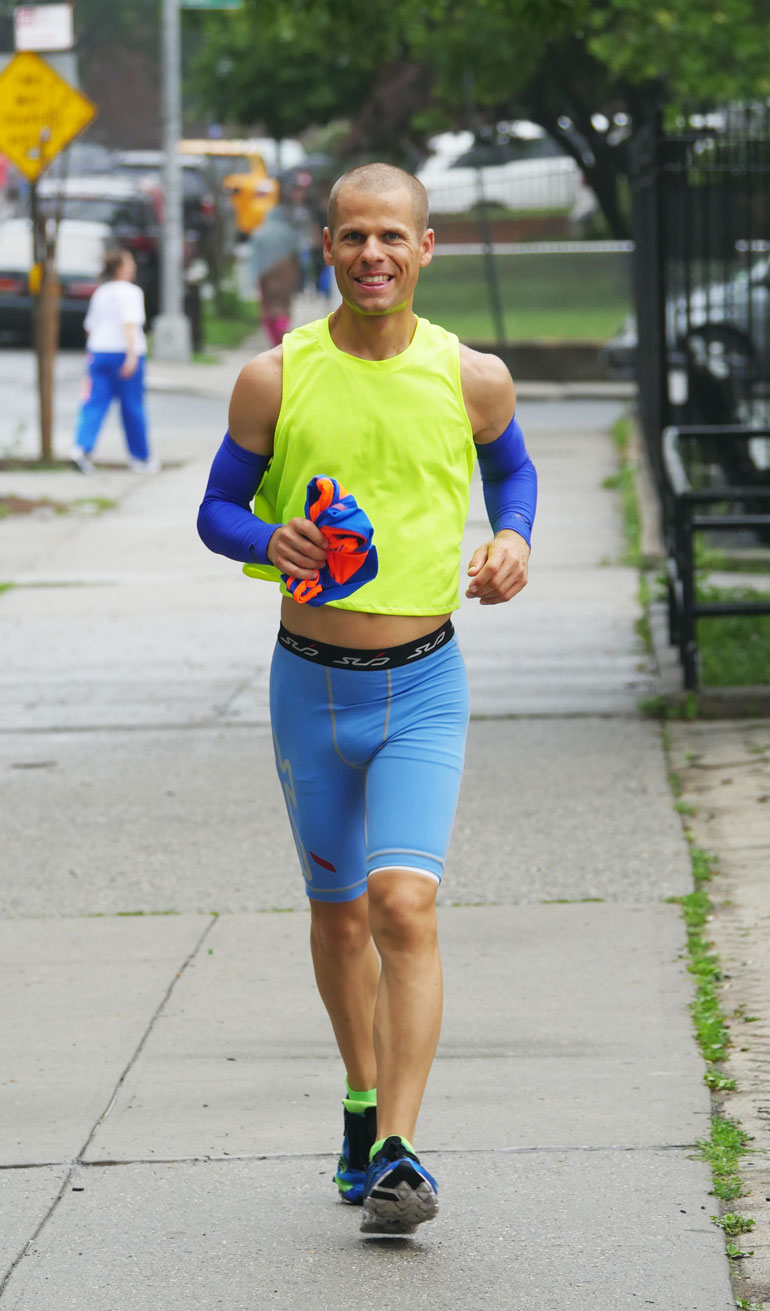 He is happy to be back.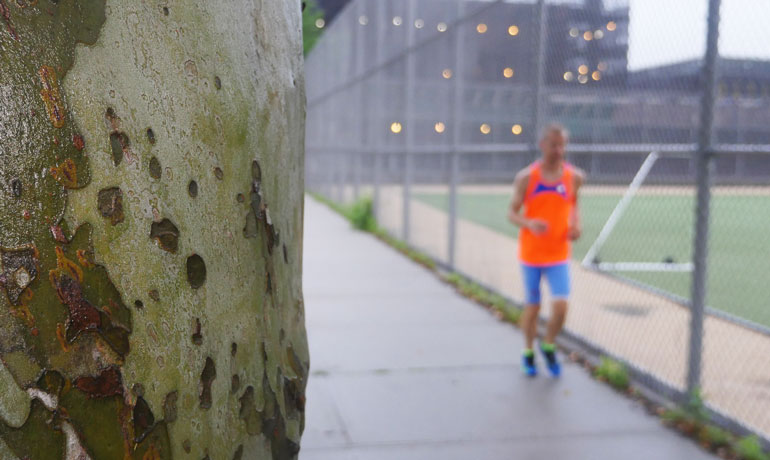 In the morning the rain comes and goes.
Galya ran 72 miles and has 524 miles.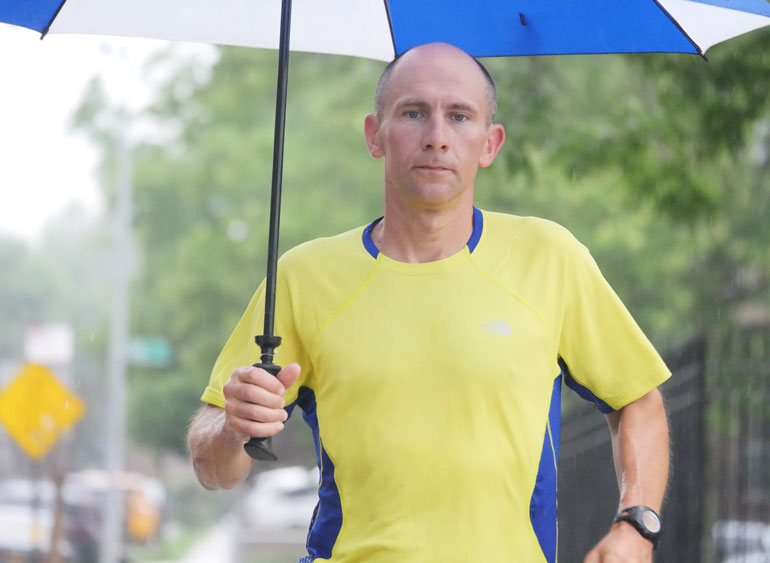 It becomes a very humid day.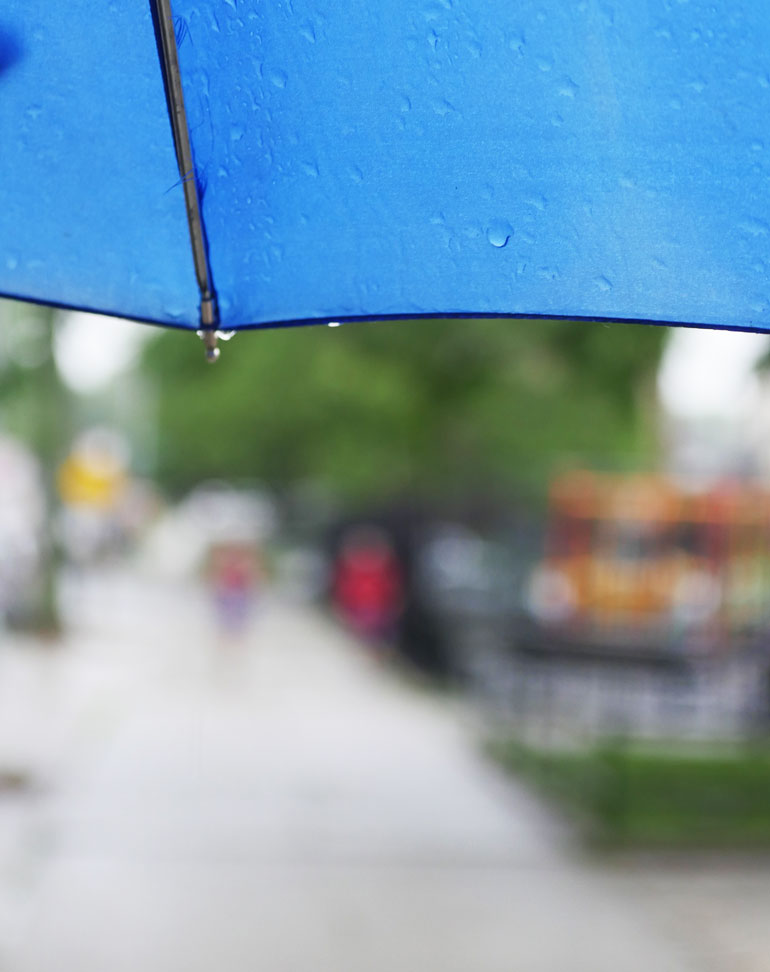 At one point this morning Yuri spots his old friend Volodymyr.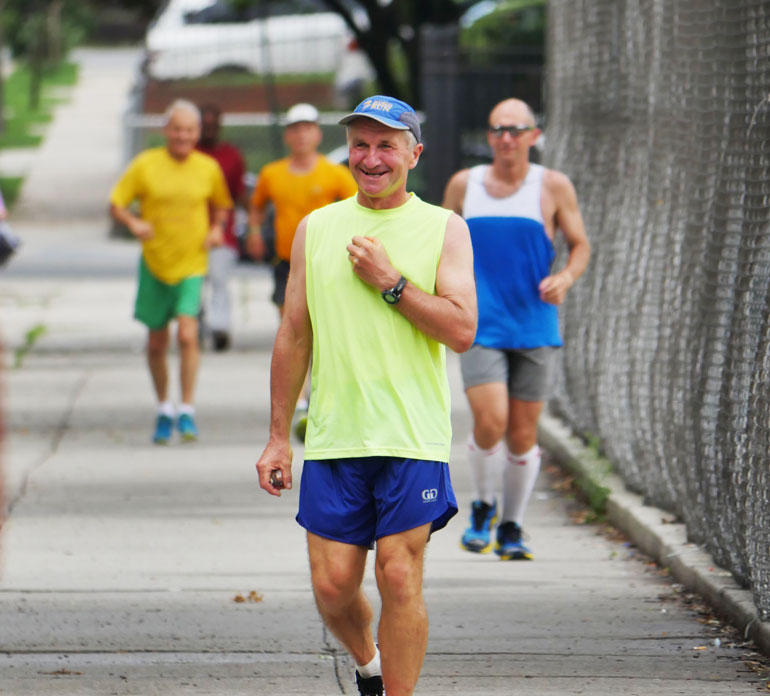 Yuri ran 65 miles and has 497 miles
"O no, it looks as though the fence is locked.  How will I get in now?"

By mid morning the sun returns. Vasu ran 58 miles yesterday and has 468 miles.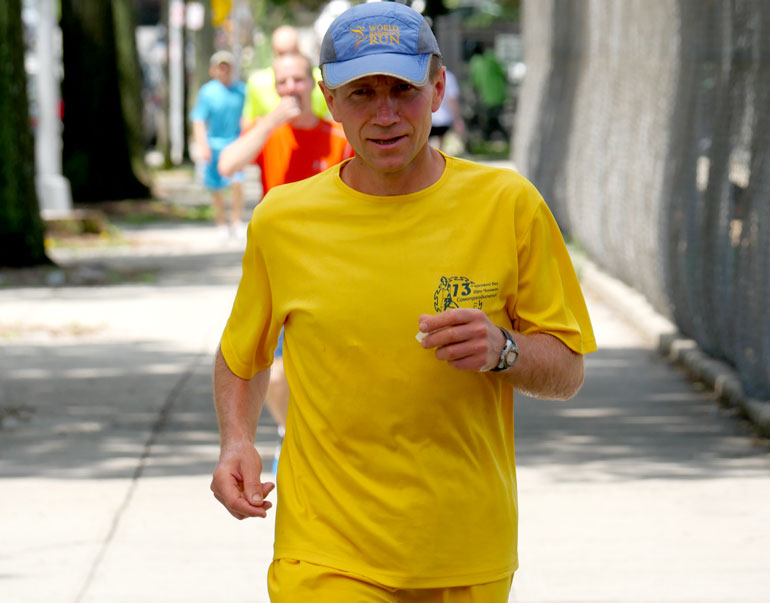 It helps to run with others.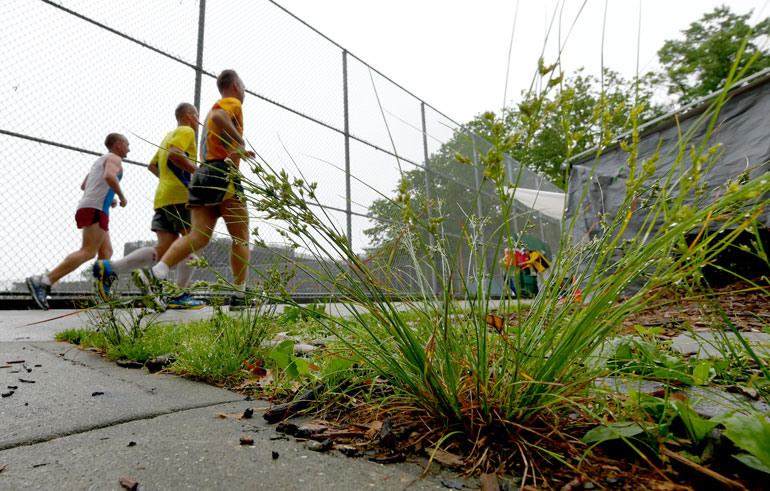 Grahak had another good day of 69 miles
At 7 am a Father's day marathon was held across the street.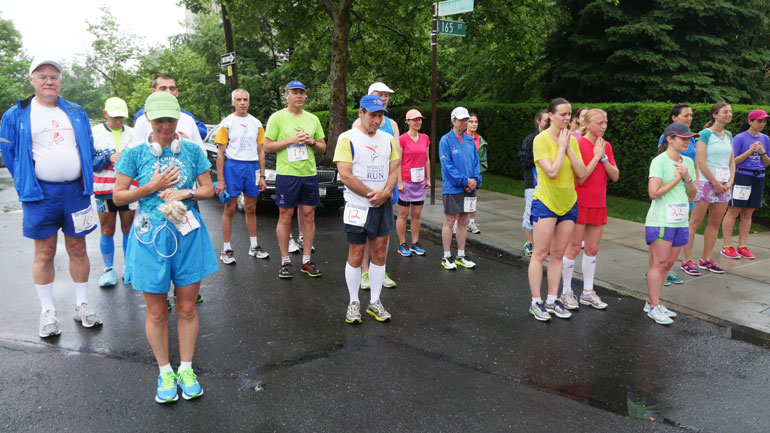 Quite a few have come to run on this rainy morning and there are also some who come to run a few miles to be inspired.
Pushparani is only running a few miles but she is no stranger to participating in longer events.  Just back in April she participated in a 12 hour walk on the 3100 mile loop and won in the Girls division with 55 miles.
"It is hard to describe.  The more I think about it, it is really the best experience of my life.  It was the hardest and the best.  I really felt that I could pull a lot out of myself, that I didn't realize was there before."
"I also felt so much oneness with everybody.  It takes everyone to have any kind of race.  All the helpers all the counters.  Sometimes I was just crying because it was such a beautiful experience.  People pull together so much.  It is such a nice feeling of oneness."
She has done the race a number of years.  "It is different every time.  When I first started it was a real pilgrimage for me.  I would walk slow and just try and focus inwardly.  At some point I started becoming a little more athletic.  I realized that I do have a little capacity athletically.  So I started to work on it a bit."
She won this year and has come in various positions over the years.  Pushparani says that, "the amount of joy I get from it isn't different from when I am strolling or when I come in first.  That was a new experience because I thought I would get so much more joy, if I placed first."
"I also noticed that I could pull a lot more out of myself.  I really felt like I was coming from my soul."
"The energy of the 3100 mile race is amazing."  Her group, Sangit Surabhi played music for the runners yesterday and again today.
"Just seeing them makes me want to do something more with my life.  It is absolutely mind blowing.  It helps us in every way, all of them who are running."
Click to Play Interview: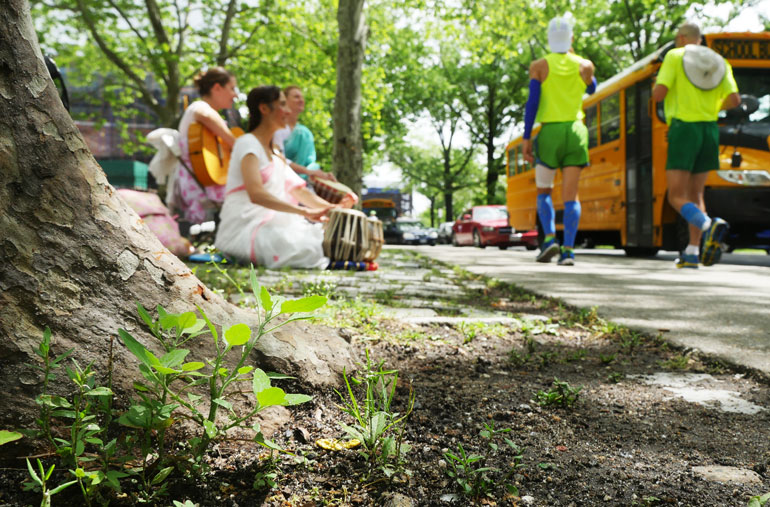 Click to Play Music:
The long line.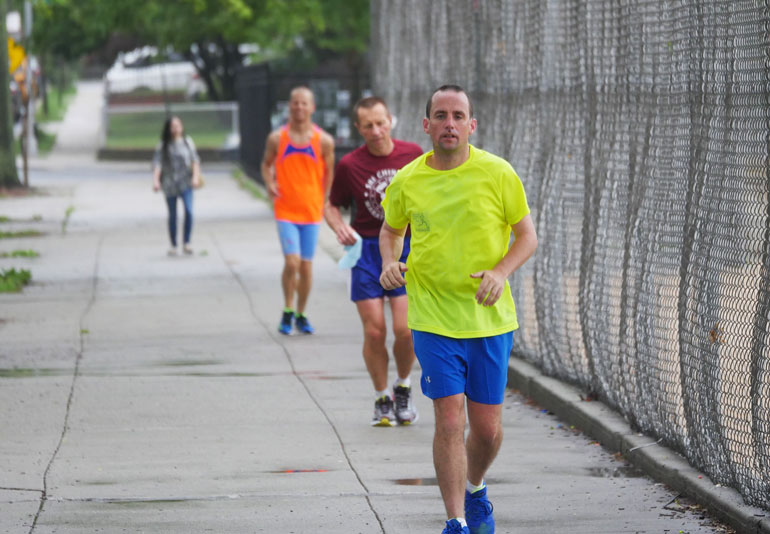 Nirbhasa ran 64 miles yesterday and has 456 miles.
Night life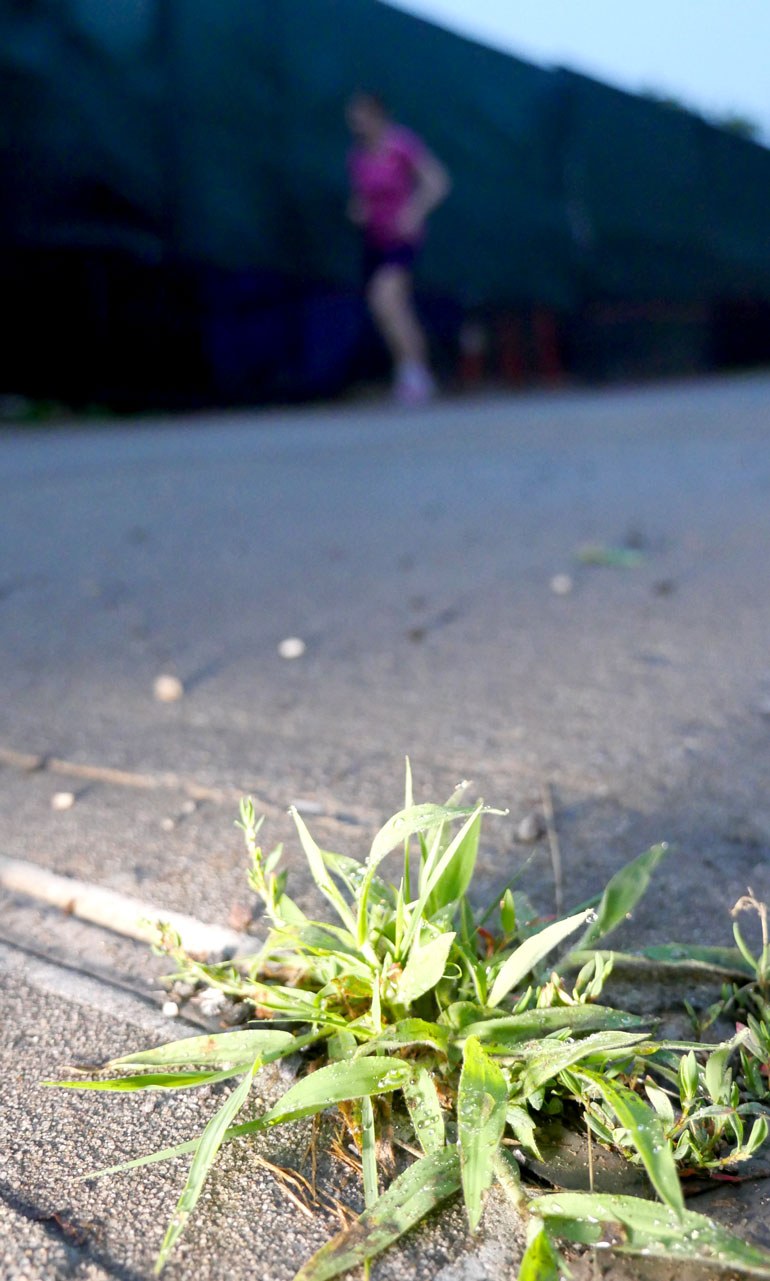 Stutisheel had his best day yesterday since day one.  He had 68 miles.
Canine visitor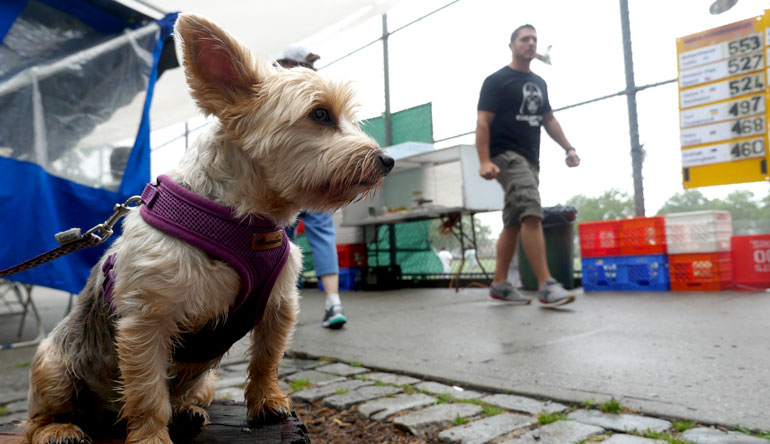 "Boy do I hate sticky elbows."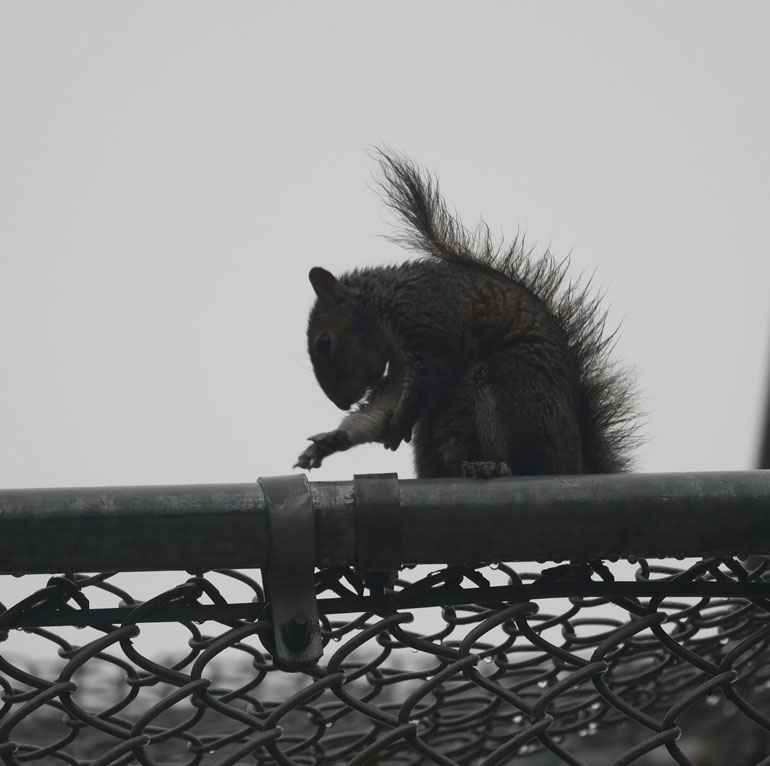 Empty cups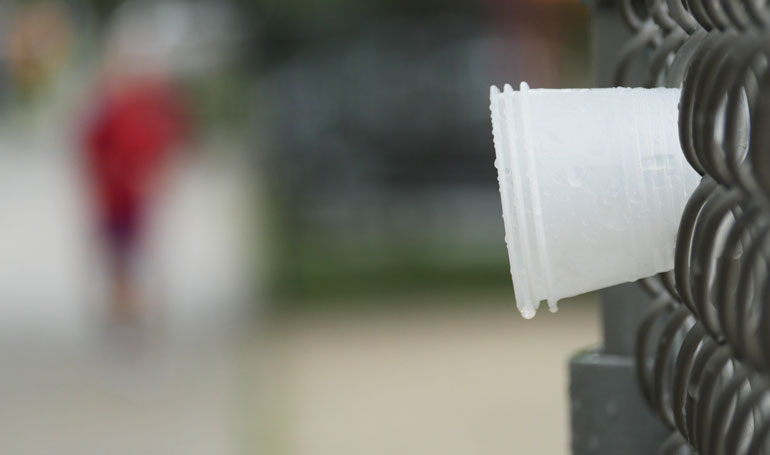 Kaneenika getting encouragement from Gautami who just finished running the marathon.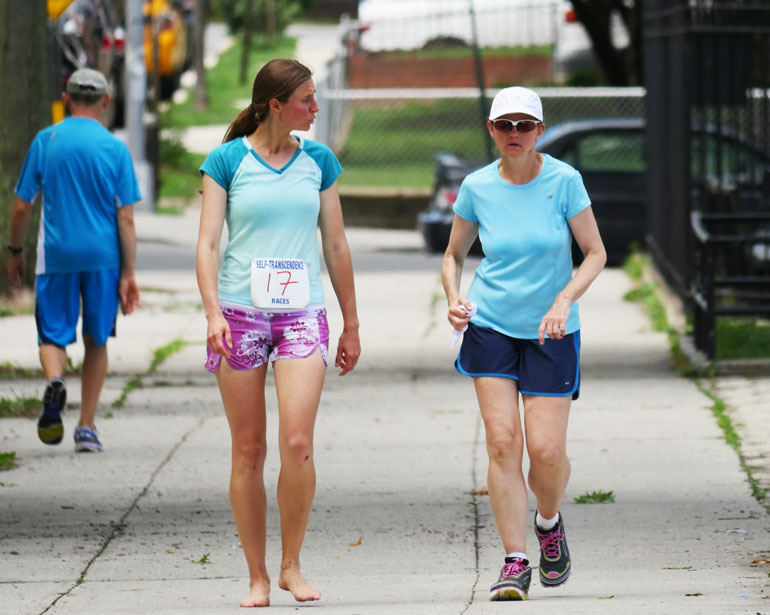 Someone calls out from across the street.  She did 59 miles yesterday.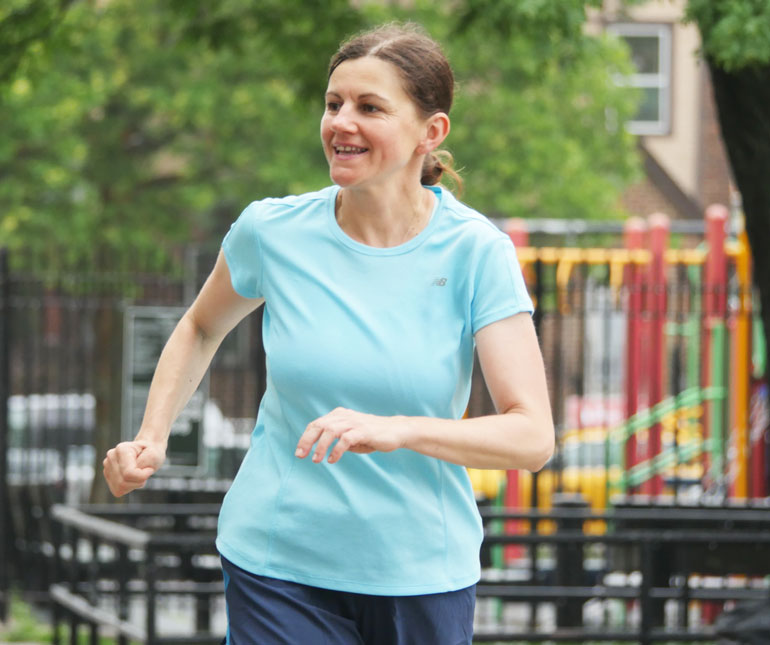 Martha supporting her during the rain.
Some flowers wait for the sun to come.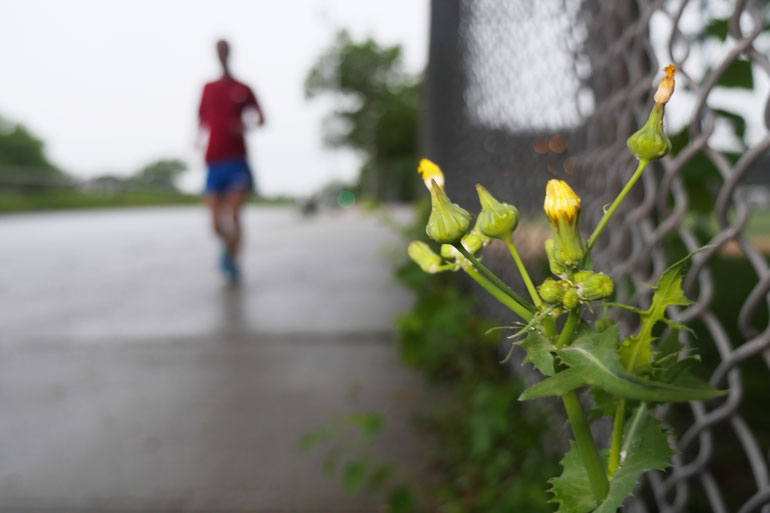 Ananda-Lahari ran 50 miles yesterday.  He has 425 miles
Surasa has had some tummy issues the past few days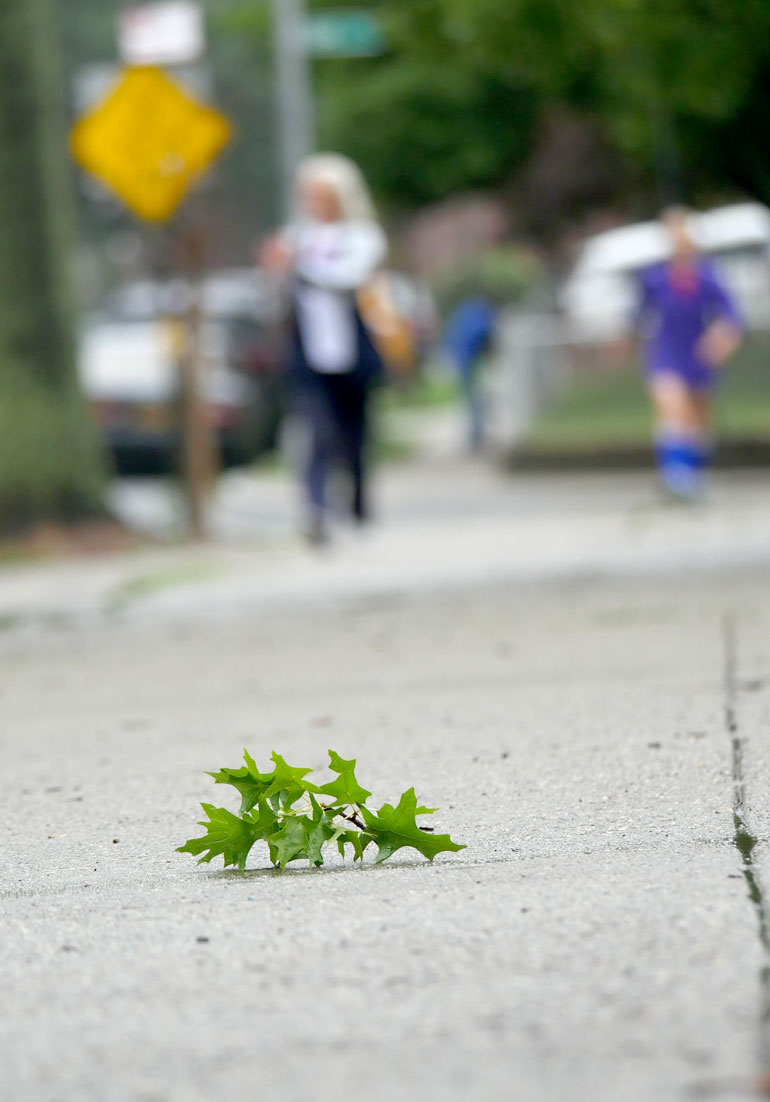 She ran 47 miles yesterday.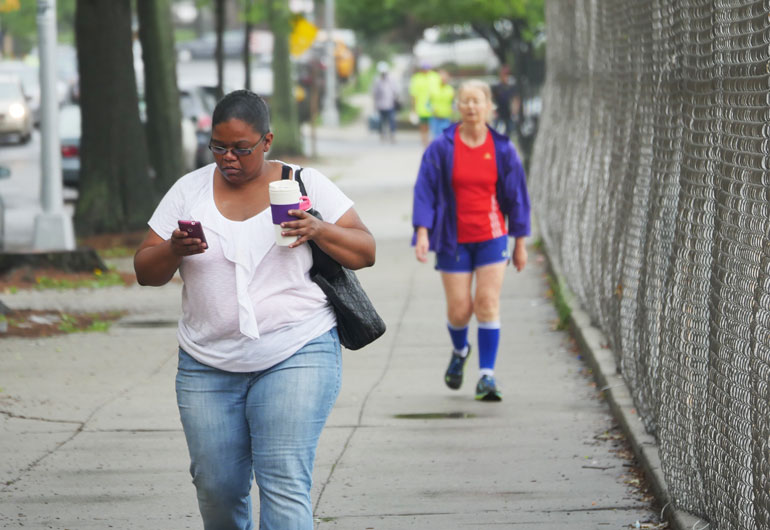 But always cheerful.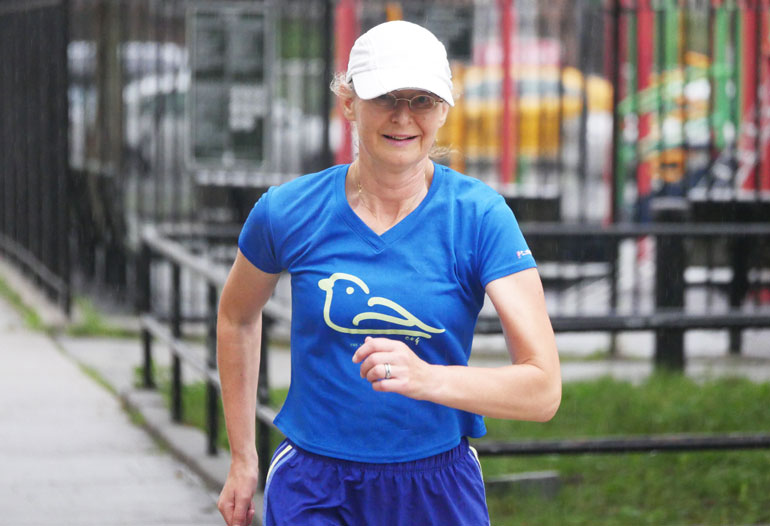 Baladev had a good day with 62 miles yesterday.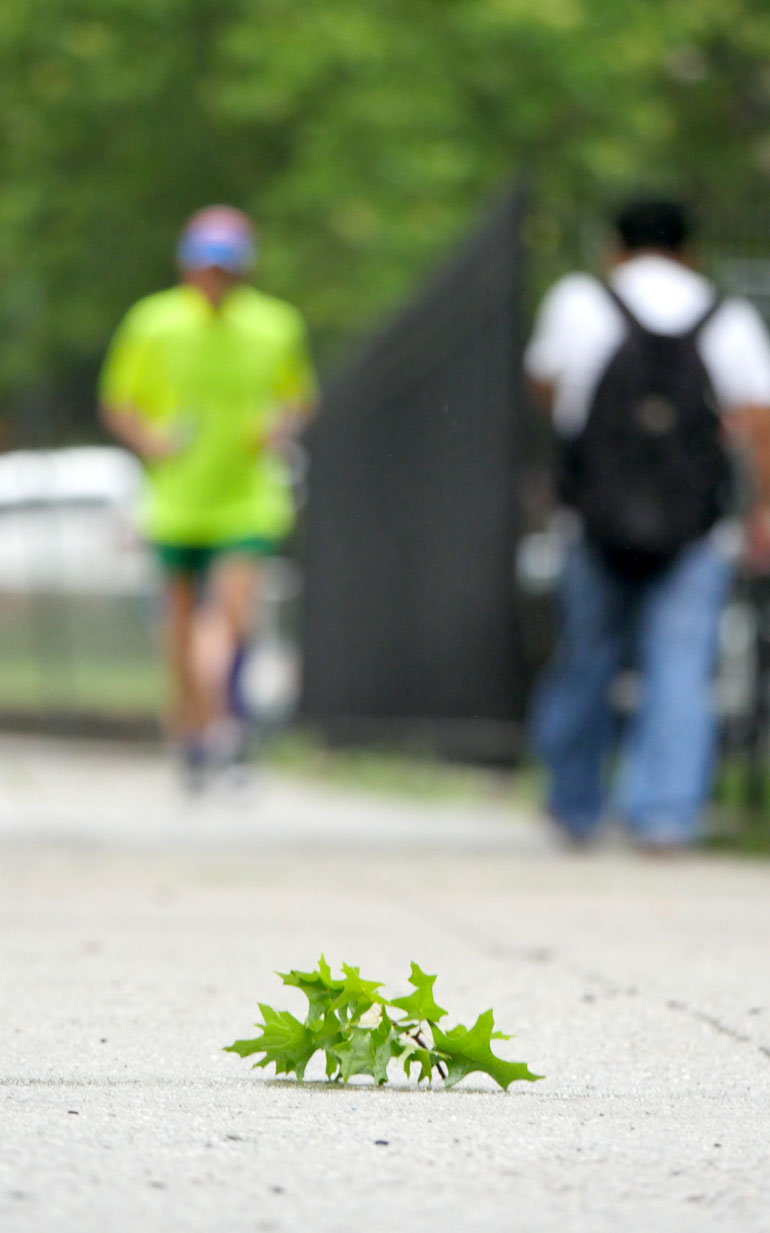 Baladev has 408 miles for 7 days.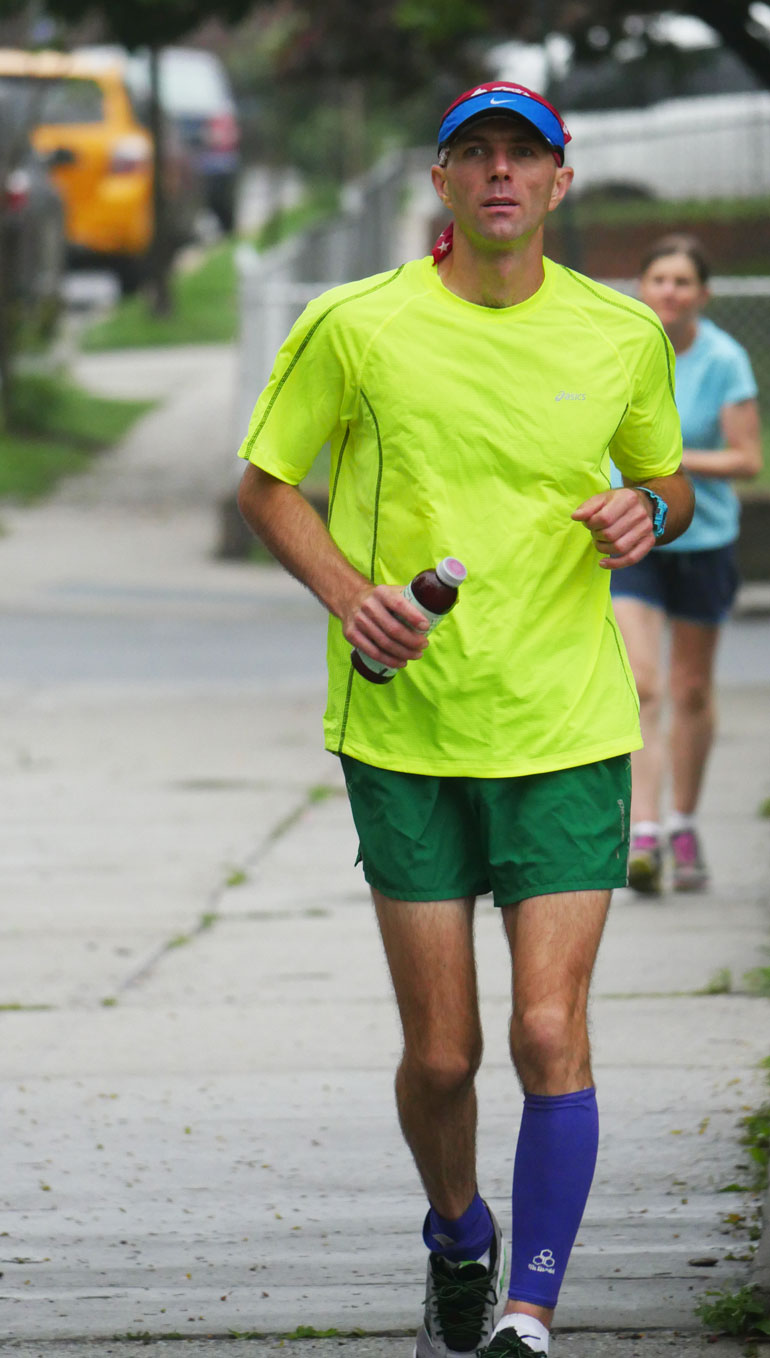 Antana with the poem of the day.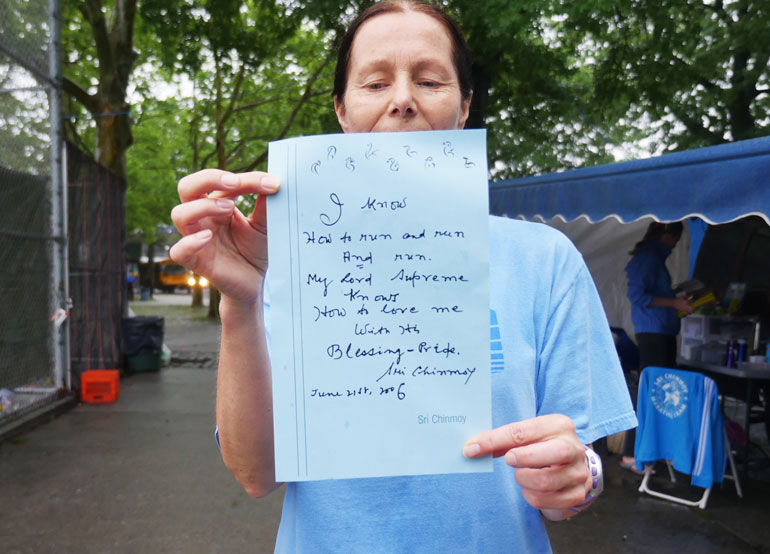 Click to Play: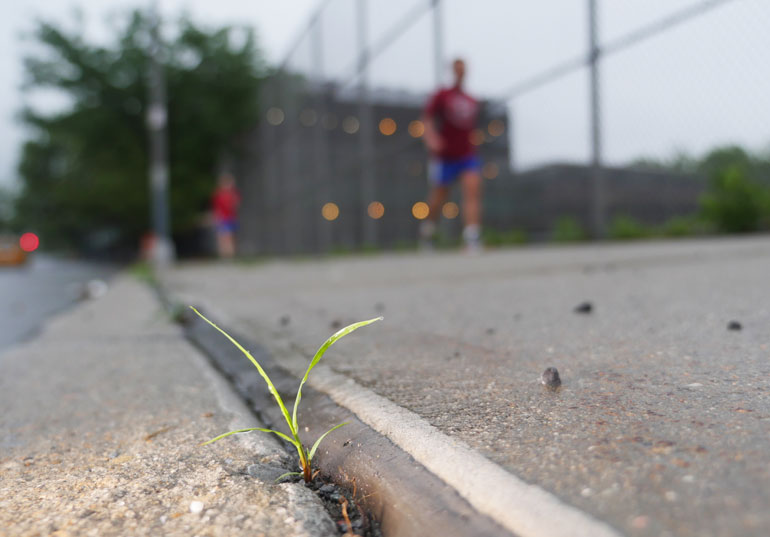 "I have done it for 30 something years." I got a chance to speak with Dipali not too long after she had just finished the Father's day marathon.  She was the first girl with a time of 3:41. "It is not Fathers day without the marathon for me."
With the marathon going on one side of the street and the 3100 on the other there is constant energy and aliveness to the day.  Dipali says, "we must be creating an incredible spirit here today."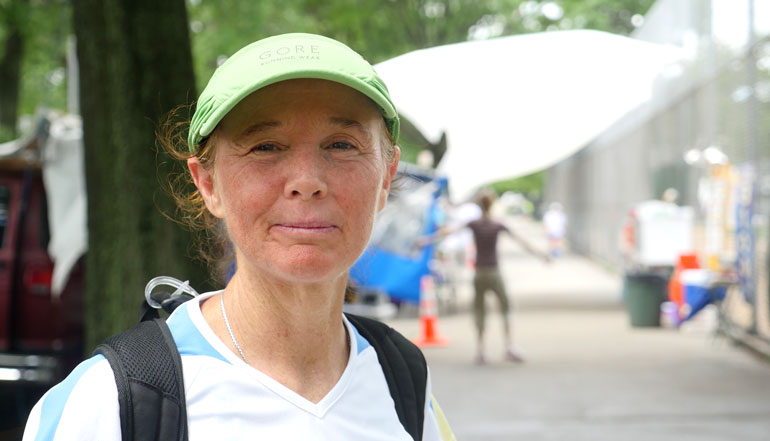 As for what this activity means beyond the neighborhood.  "We don't know what we create through running.  We may be people running around with human frames but the spirit inside of us I just feel it goes out into the atmosphere.  I feel it touches peoples hearts and souls.  They must receive it."
Comparing her own effort to those who across the street who are running more than 2 marathons a day.  "They must be feeling something tremendously beyond what we do. We go home, but what they are creating and what they are doing is beyond anybody's imagination.  They are going on and on and on."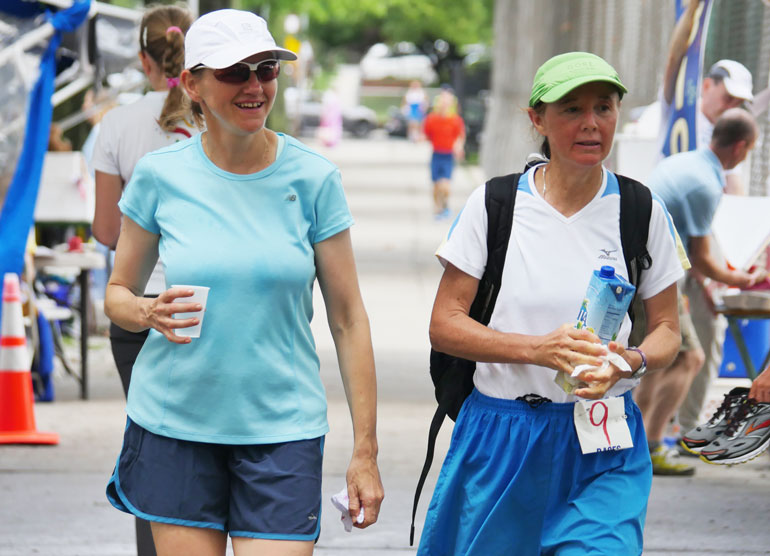 Click to Play Interview:
Enthusiasm Awakeners
Click To Play:
We must develop a new way
Of looking at things
To enjoy
  The beauty of newness
  And to become
  The fragrance of fulness.