Stutisheel and his wife spent much of last winter living in Florida. A Place that was ideal for training for this years race. This will be 11th time he will spend his summer here in New York.  A place, that in reality he has not seen that much of.  Considering all the days, weeks, and months he has visited.
What he is all too familiar with, and in fact has a great affection for, is this one block in Queens.  Just a tiny fragment of the great city that surrounds it. But still one he is lovingly devoted to for 18 hours each day.
https://vimeo.com/131142306
He came 2 weeks prior to the start of the 3100 mile race however and got a very good introduction to some of the less pleasant aspects of big city life.  He spared me details but I could well imagine a myriad of unpleasant potential possibilities.
However all this dramatically changed last Sunday.  "When the race started I immediately felt back home.  It was such a nice feeling……..and still is.(day5) So I am really enjoying being at home."
"It is my feeling that this race puts you back in your heart. Back to your source you can say.  To be what is natural for your to be.  So if you follow the current it is a pretty amazing journey."
Stutisheel believes that the experience he has here running can be found no where else.  "But to have something similar, or in the same category.  I believe any ultra event.  Or something very long can put you back into your heart.  Actually I would say putting you beyond your mind.  That is the key."
"Beyond the doubts in yourself.  Beyond your artificial weaknesses."
"I discovered with the help of my Guru, Sri Chinmoy, that extreme sports can take you back to your heart."
Stutisheel, including this year, has started the Self Transcendence 3100 mile race 11 times.  Of the previous 10 appearances he completed the entire race 8 of those times.  Last year he set a personal best of 48 days, 3 hours.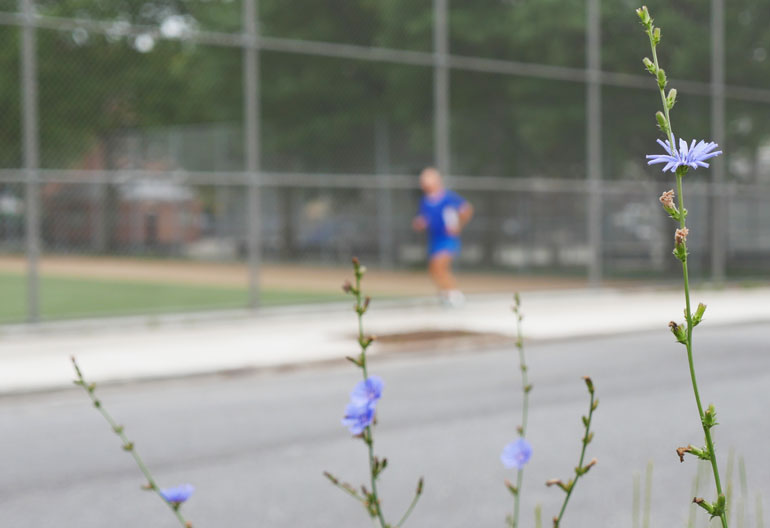 "2 times it was a different story."
"There are many things behind why I didn't finish those 2 races.  But if any time things do not go as you planned it in your life, ultimately the Supreme turns these things into your progress.  After these 2 experiences of not finishing, every time I was getting such a strong impulse.  ….Don't give up."
 Click to Play Interview:
The Loop
For the first time in 5 days Ashprihanal did not have the most mileage.  His 4 day total of 324 is spectacular.
Ashprihanal loves to stretch on the curb when he arrives.
Kaneenika getting some attention before her very long day.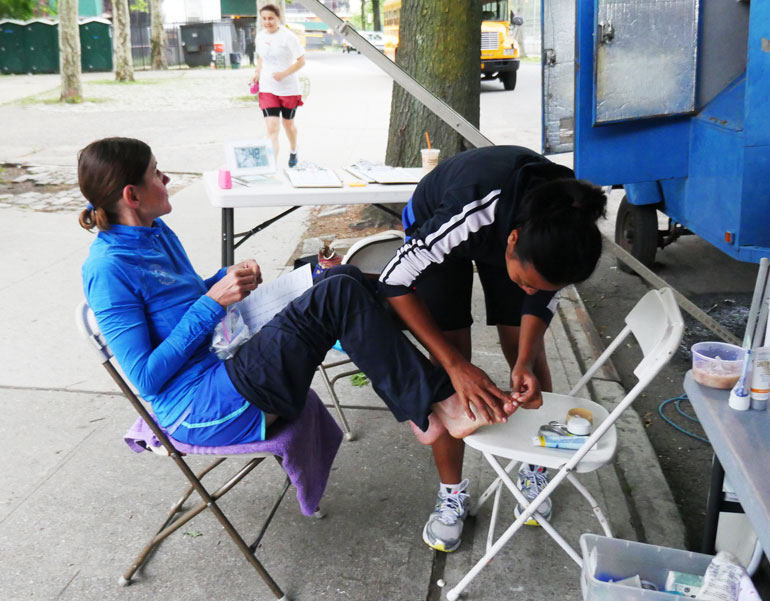 Rupantar shoots his morning video.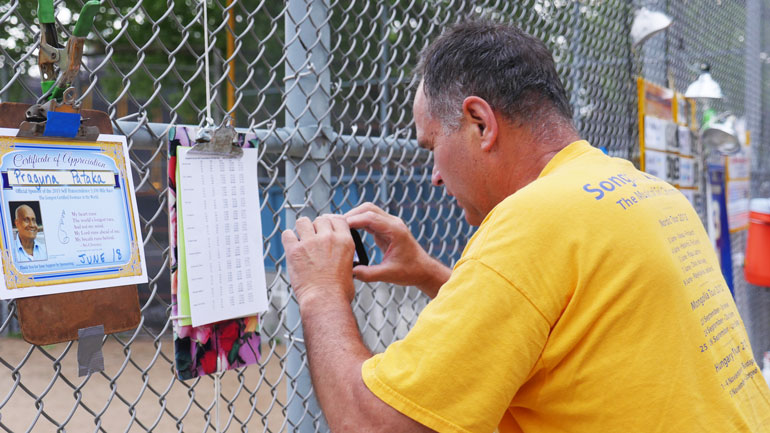 Grahak had a good day yesterday.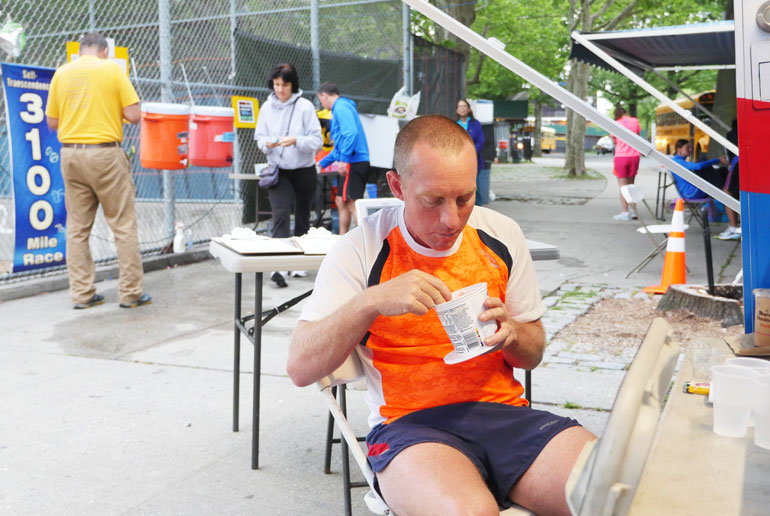 Start Day 5
First Lap.  It will overcast and mild all day.
Ananda-Lahari has had 4 solid days.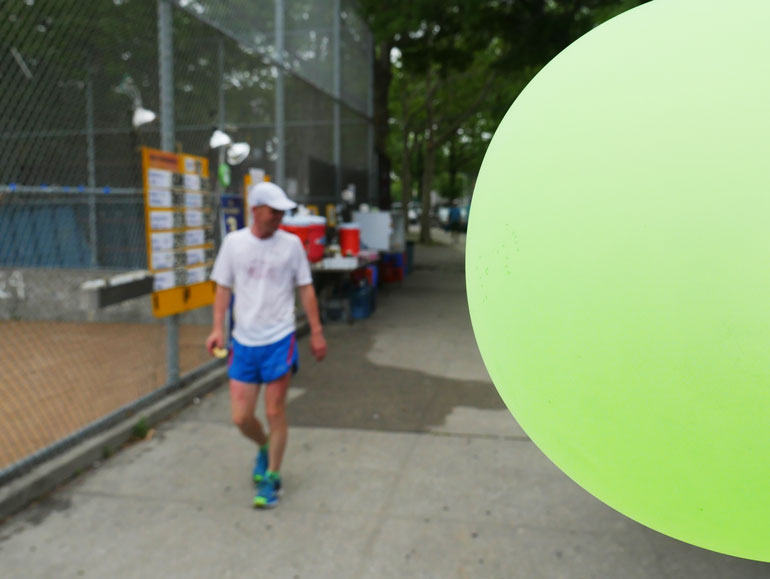 He has 256 miles for 4 days and ran 63 yesterday.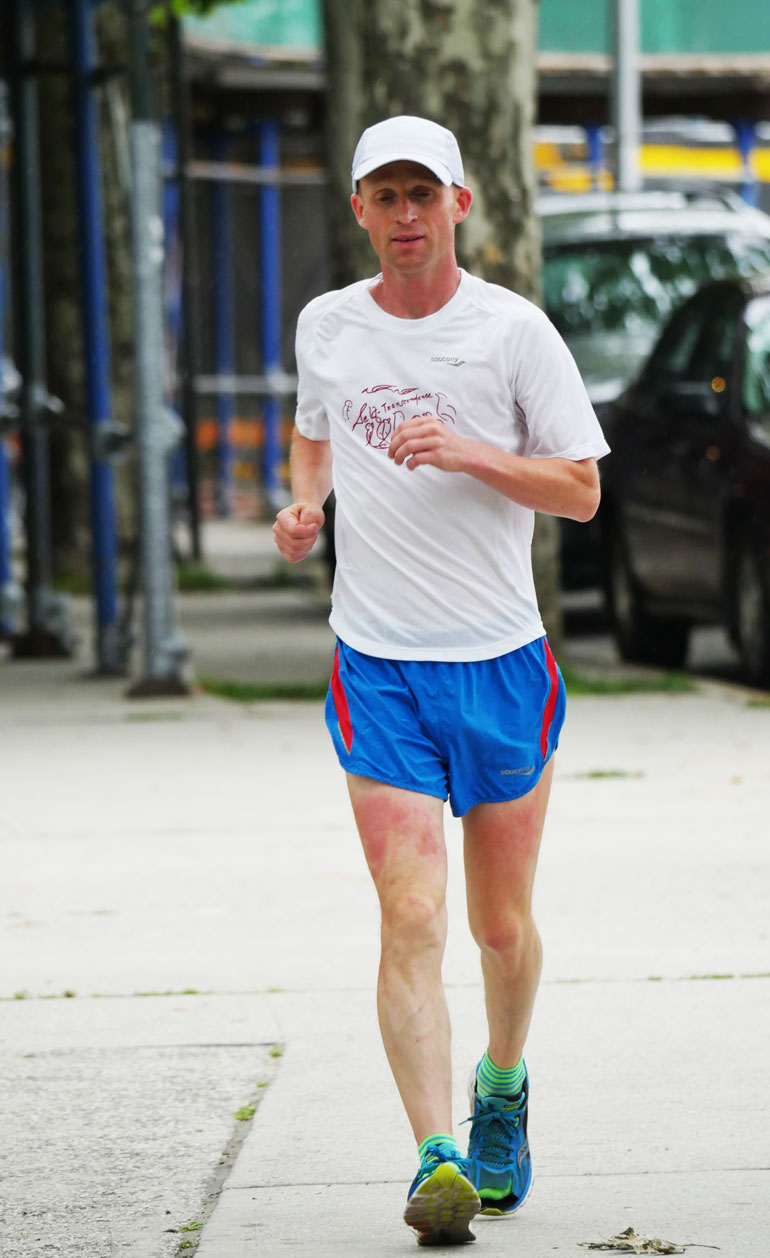 Galya ran the most miles yesterday with 73.5.
He is in 2nd place with 309 miles
Atmavir did 133 laps, one less than Galya.
He is 3rd overall with 305 miles
Ashprihanal had 122 laps or 66 miles
He has 324 miles and leads by 15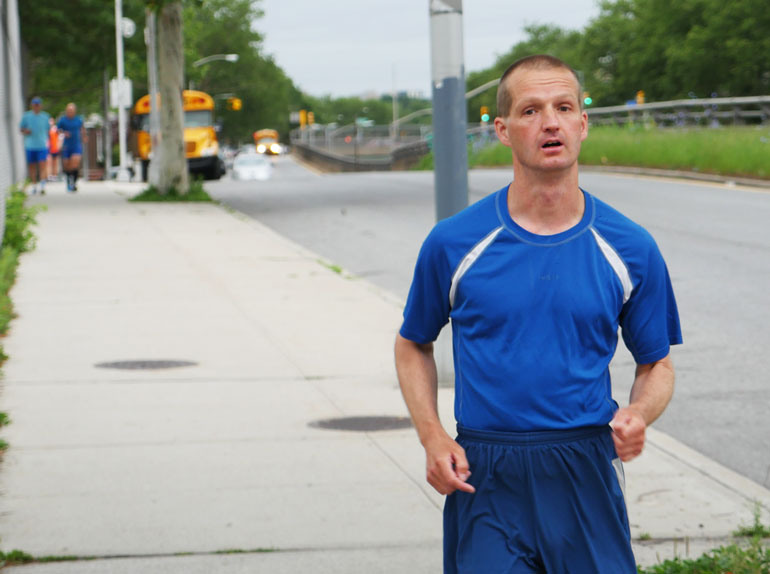 Counters keeping close watch
Vasu ran 62 miles yesterday. He is 4th with 295 miles.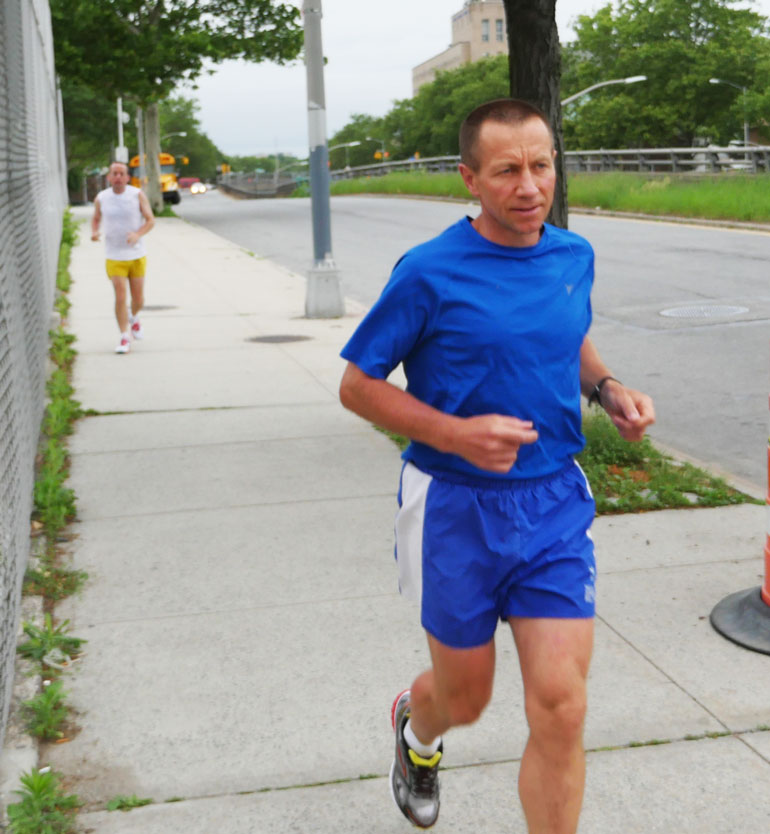 Yuri had a very strong day yesterday. 68 miles.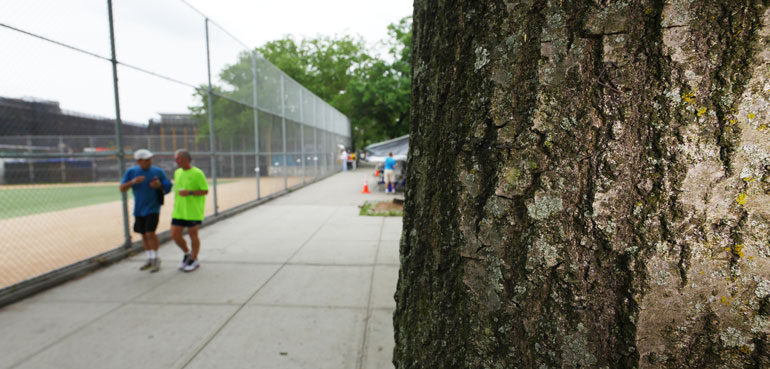 He is 5th with 293 miles.
Surasa had 62 miles yesterday
She is in 6th with 262 miles
She is almost as light on her feet……….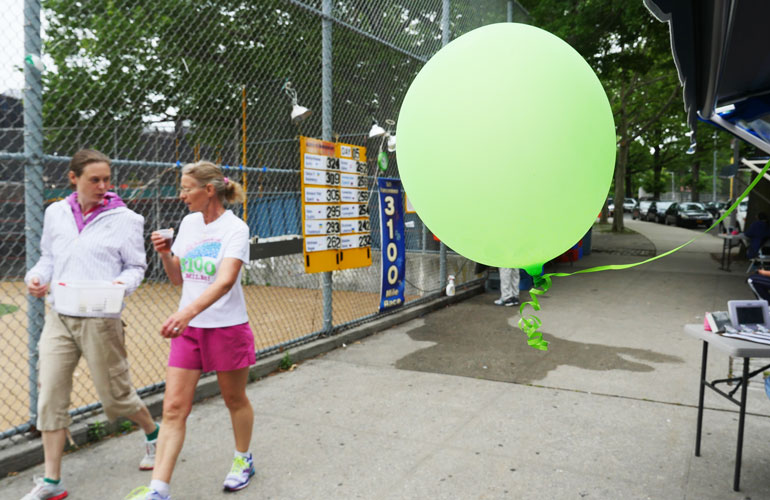 Nirbhasa is tied for 6th place with Surasa with 262 miles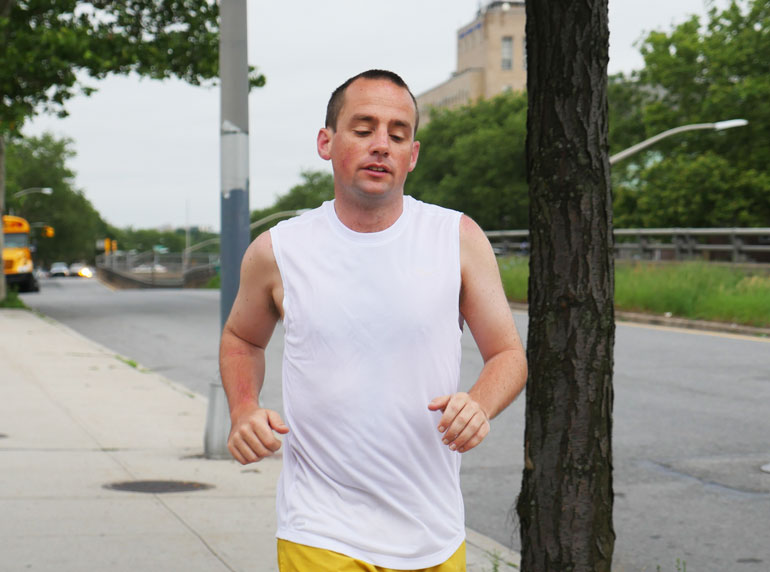 Getting great help from Pradeep.
The cool weather has made some plants jump.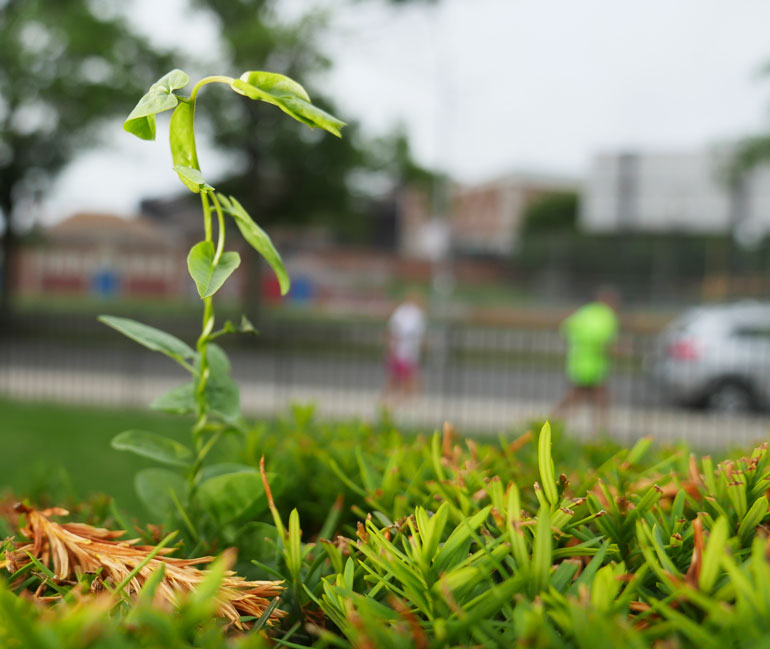 Kaneenika had 60 miles yesterday. She has 256 and is tied for 7th with Ananda-lahari.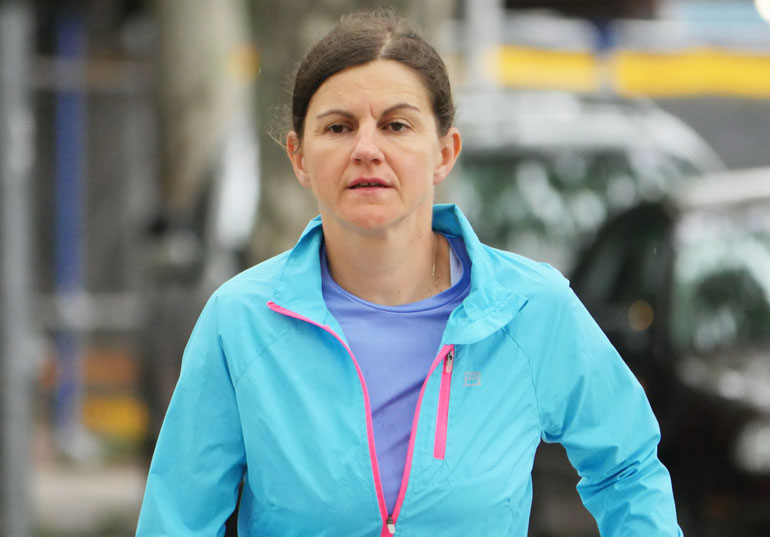 Try and try.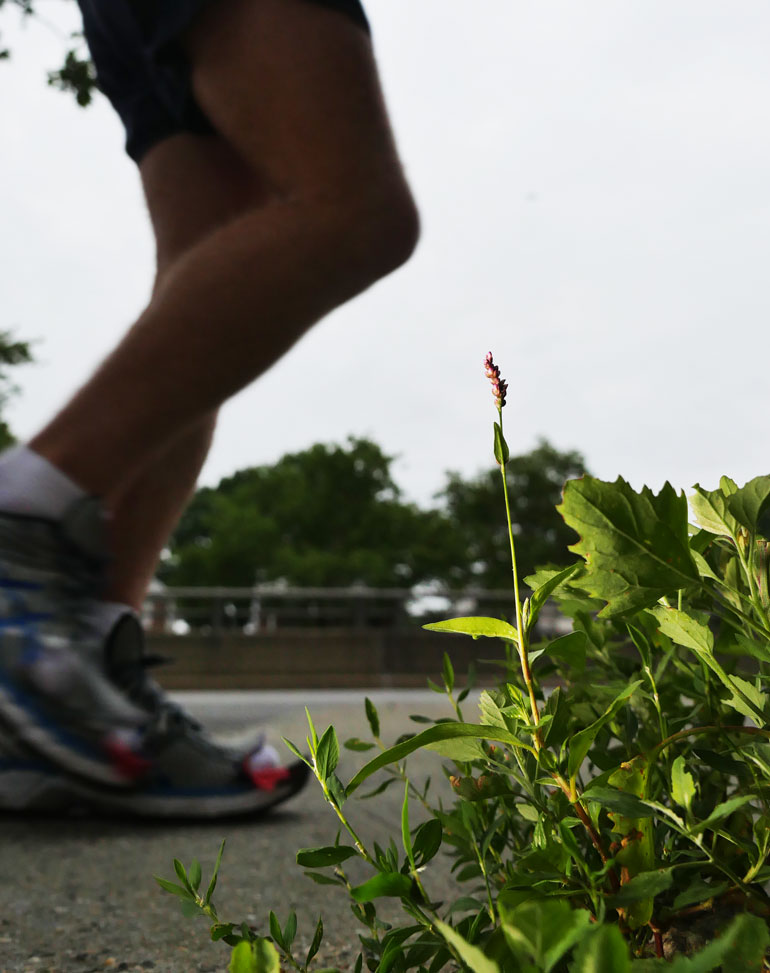 Grahak had 65 miles. He has 254 miles for 4 days.
The running poem offered today.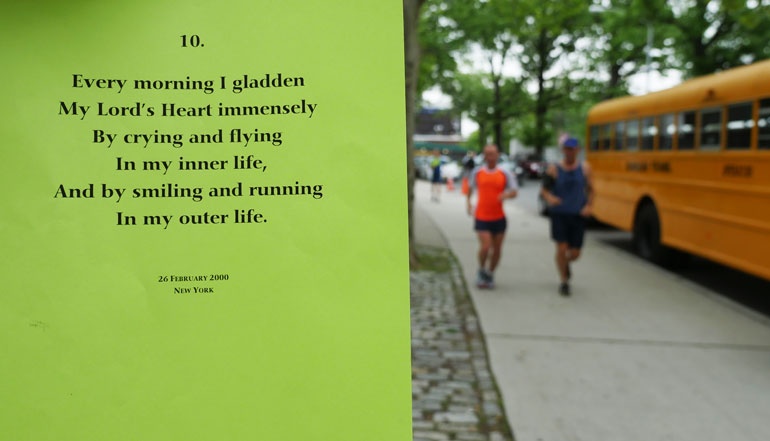 Baladev had 62 miles yesterday.
He has 232 miles.
Nisanga keeping the drink table full
Stutisheel receiving emails from Sahishnu
"When it first started I didn't understand it.  I didn't comprehend it, and I don't even know if I comprehend it now.  I definitely have more of an idea of what it is."
Salil is actually very much like a lot of members of the Sri Chinmoy Marathon team and the public in general who have seen the 3100 mile race spring to life each year, almost at their finger tips.  "I know that these people were running 2700 and then 3100 miles.  But I never really understood what that meant." He describes that over a period of time it gradually grew on him.  Helping out from time to time was a way of experiencing it up close.  "I would fill in on certain days."
"I used to love being here.  It was such a beautiful little paradise of consciousness, in a city block."
"I would feel remarkably like I was on endless summer vacation.  Somehow the worries of the world did not permeate this little oasis of spiritual consciousness.  It was such an enjoyable place to be. It was almost as though you were without a care."  He would do small odd jobs that he says, "were so simple and yet so fulfilling." He admits that there was still a gap between what he did and really identifying with the runners.
In 2013 he entered his first multi day race.  Running the 6 day race that year in Flushing Meadow. "It was only then that I got a glimpse into what it means to be a runner in these ultra races.  I always knew that there was a big gap between the experience of the helper and the experience of the runner. But I never knew how big that gap was until I was on the other side looking out." Then he feels he understood better the difference between these 2, so different perspectives.
Salil jokes about the great differences that separate the other multi day races from the 3100.  "You think you are doing something amazing running for 6 days and it is not even a week.  It is not even a 5th of what these guys do.  So it has been a gradual progression of comprehension, of what this race is."
"The only way to know, what it really is is to do it multiple times."
As for those who are aware of and appreciate the race, "I think it is up to each individual, how much it impacts them."
Salil then spoke about the runners, "these guys and girls are on the cutting edge of a certain aspect of human achievement.  They are right on the edge of the very best that humanity can do.  Any time someone is doing it there is always going to be tremendous inspiration that flows from that."
Click to Play Interview:
Enthusiasm Awakeners
Click to Play:
O my mind,
Do not wander any more through life.
Just turn, and be inside
Your own heart-home.
Happiness will be there for you
  In boundless measure.