During the 6 and 10 day race in May in Flushing Meadow Zulma showed up to help.  "I got there and I told them that I had never counted in my life.  So I went to one of the counting booths and I said, how do you do it?"
It can get pretty chaotic during the race because there were close to 80 runners going around the 1 mile loop 24 hours a day.  From the moment she sat down and looked at the steady stream of runners coming endlessly towards the counting booths, she says, "It was amazing."
From the beginning she found herself being inspired.  "To see all those people concentrating and having a smile on their face.  Doing this all with such beautiful hearts and with such grace from God." The first time she came she helped out for 2 hours but really wanted to come back and take a full counting shift.
Not really sure how it happened quite this way, but she came at 9 in the morning on the day she had signed up for and ended up staying until 9 that night.  She counted for 12 hours straight.
We are chatting casually and it is just a couple of hours into the race, but at the same time she is keeping really focused on her runners.  The clip boards in front of her all neatly stacked.  Once she has recorded a lap then that clipboard is placed back at the bottom.  William Sichel comes through the camp and she calls out, "William, got you."  When I ask her how is he doing she says good.  "He has 22 laps already."
Her help, like that of all of those who come to the race and offer some service whether it be big or small is really significant and important.  I am curious what she gets out of it.  "I am getting a lot of motivation and love.  Love like I have never felt before.  There are some special feelings that I just can't describe because it is something like a vision.  I never thought it could be happening in this world."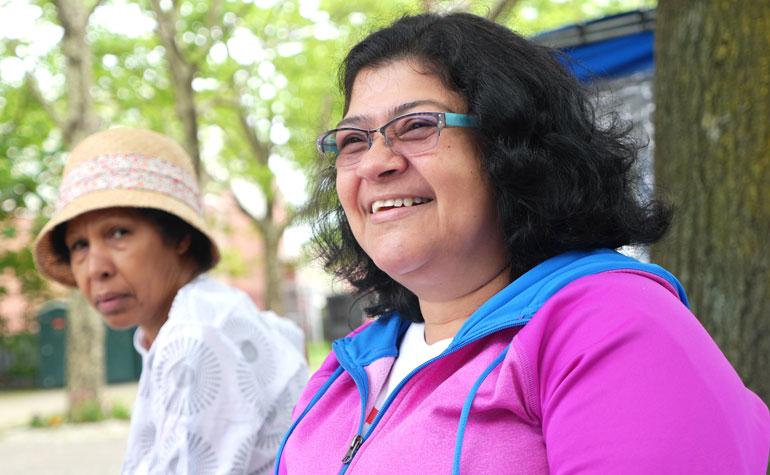 "A lot of people here are working for World harmony, for peace, to get bliss, to get light. I thought this is amazing.  I need to keep doing this."
Zulma has practiced silent meditation for some time now but describes her experience helping out at the races as, "another kind of meditation.  One kind of meditation is when you are silent in your mind and in your heart."  Being here the mediation is, "my heart, my mind, my vital, and the feeling that I am surrendering to God's will. I think that is the most important, surrendering to God's will."
When she signed the counting book she signed her name to the first empty line she could find.  At the time she didn't know exactly what time she had volunteered for, just the day.
When she asked one of the race directors what time she was supposed to come today they told her 6am.  When they told her this time she says she went, "OOOOOOh.  I said, O my God, that early." They told her that if she wanted to change the time it would not be a problem.  "I said no, that is God's will, I will do it."
I ask her to describe the difference between Flushing Meadow and here.  "This place is like a magnet for me.  Sometimes when there is not a race, like October, or January I like to pass by.  I love to come and pass by this place.  I can feel something around here."  Sometimes she just drives by and at other times she parks and likes to walk around the loop.  I just imagine everybody coming here and doing it."
"When I see all of these runners who come from far far away to do so many hours a day.  There surrender to this race is amazing.  It inspires me to just go on and on and on."
Click to Play Interview:
A sleepless surrender
To God's Will
I need
To brilliantly finish
In my Heavenward race.
Sri Chinmoy, Seventy-Seven Thousand Service-Trees, Part 33, Agni Press, 2003
Yesterday was the first hot day and the mileage also shows the wear and tear of every runner adjusting themselves to the tough job ahead.
Rupantar points to the number 5 and says that is the most important number on the board.
Zulma talks to some of the runners she met here last year.
Sarah looks at the lap sheet and says she has to pick up her pace.
Vajra was out early on the course cleaning up garbage.  He says it is taking a few more seconds to bend over now.
The boys in the motor home relaxing.
Nidhruvi checks out her mileage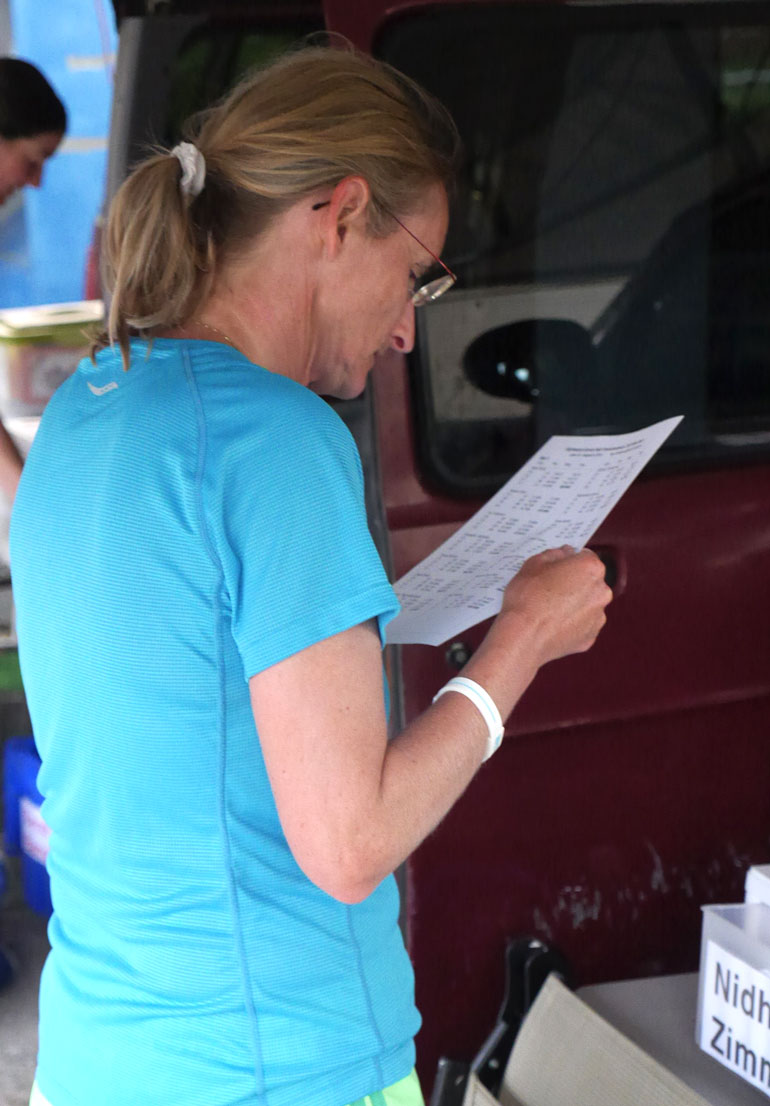 Someone has sent Stutisheel a picture of 2 dogs.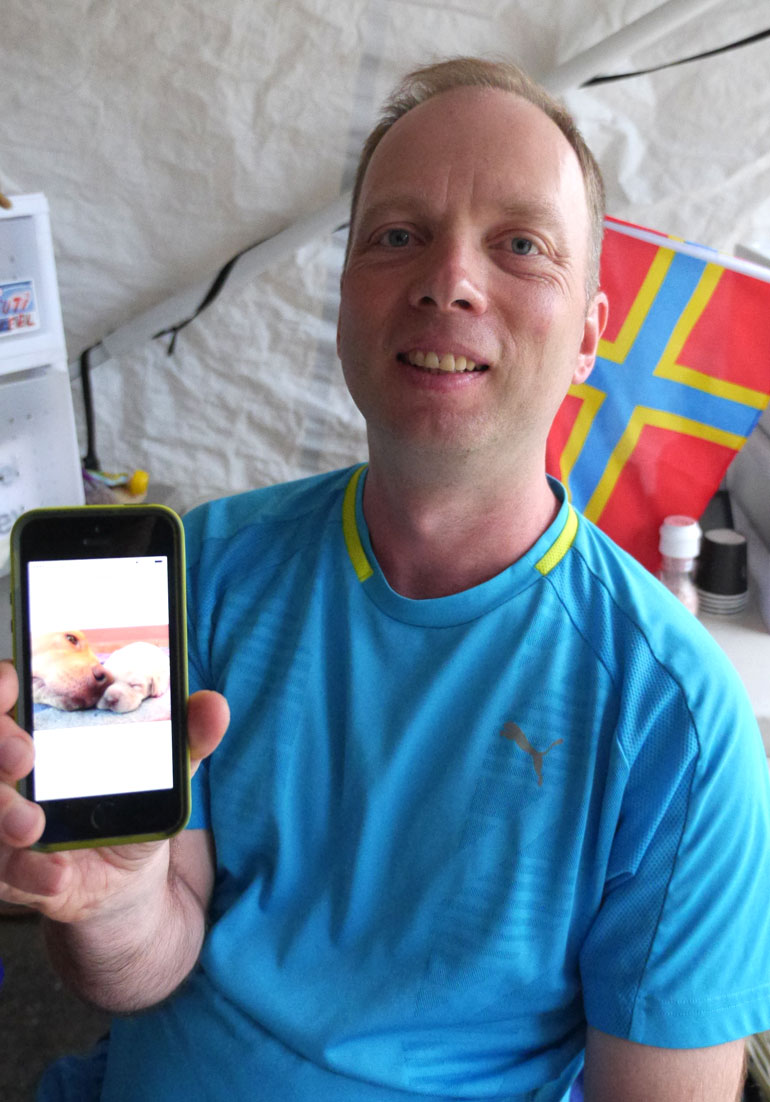 Vasu arrives just in time.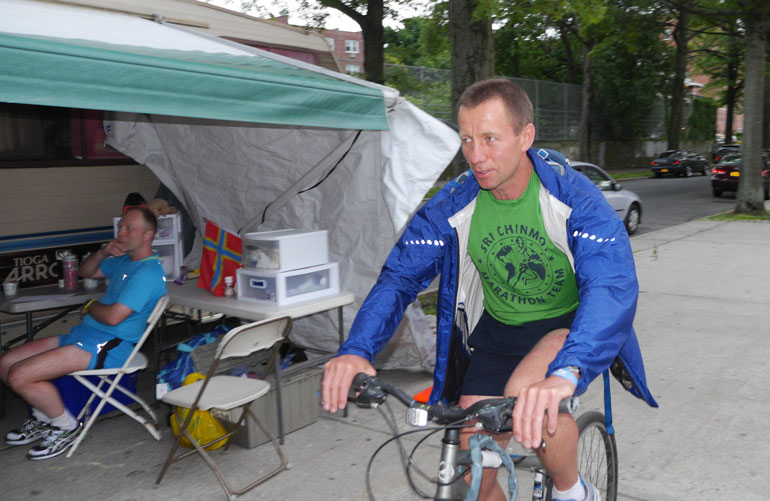 Start Day Five
The first steps of the day
The first lap with Sarvagata leading.
William had a better day yesterday.
He is a little disappointed in his first few days of running he had hoped for more mileage.  He has 239 after 4 days.
So little about the weather and the conditions here is he used to. He keeps himself organized as best he can.  He says without a handler he is losing some precious time each day.  This is a mild day and overcast the temperature is just 72 degrees F.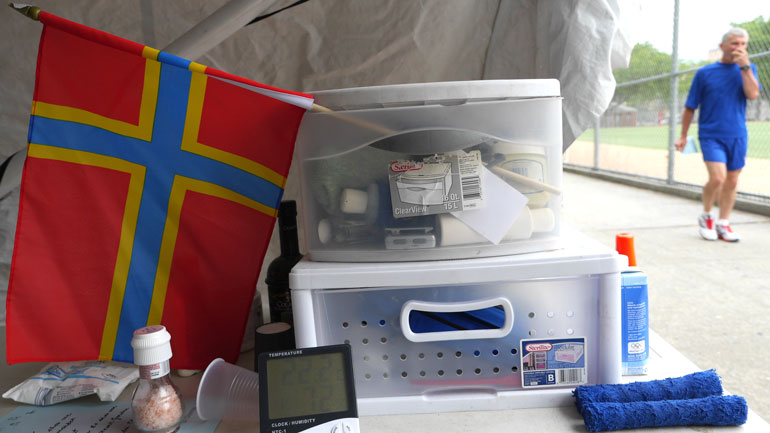 He is still though a very strong and discipline athlete.  He knows it may take him a couple of weeks to get into the rhythm of everything here.
Ray appears to be keeping in good communication.  He enjoys being by a school.  He passes the assistant principle of Thomas Edison and  happily shares with him the info that he is an educator from South Carolina.
He seems to definitely being enjoying himself.
There are lots of others who regularly take laps around the course all year long.
At one point I compliment Ananda-Lahari on his smile, which is an incredibly useful thing to have.
I tell him it seems as though he is always smiling.  "Not always," he says.  This is his 10th year at the race.  He describes that in the first couple of days he wasn't sure, but now he feels that things are going well.  He has 226 miles after 4 days.
Each time he says that he doesn't know whether or not he can come right up until the last moment.  "Somehow it always happens."
Asks how he likes the fact that much of the course has a temporary construction fence up and he says he likes it because it offers shade.
Over the years he often sang with other runners if he happened to be with one who liked to sing.  This year he says he has been mostly singing on his own.  He then sings, 'Never Say No.'
He says he didn't train very much this year up until April.  But he ran the 10 day race in Flushing Meadow where he ran 580 miles.  After that his training began in earnest, with quite a few 2 and 3 hour training runs.
After 4 days he has 226 miles.  "The miles are important but I cannot push.  I am trying to do my best but I am trying not to look at the miles.  If I want to do my very best performance here than I cannot watch the miles.  There has to be a flow."
Click to Play Interview:
There will some light sprinkles through the day.  It will not be hot and will be mostly overcast.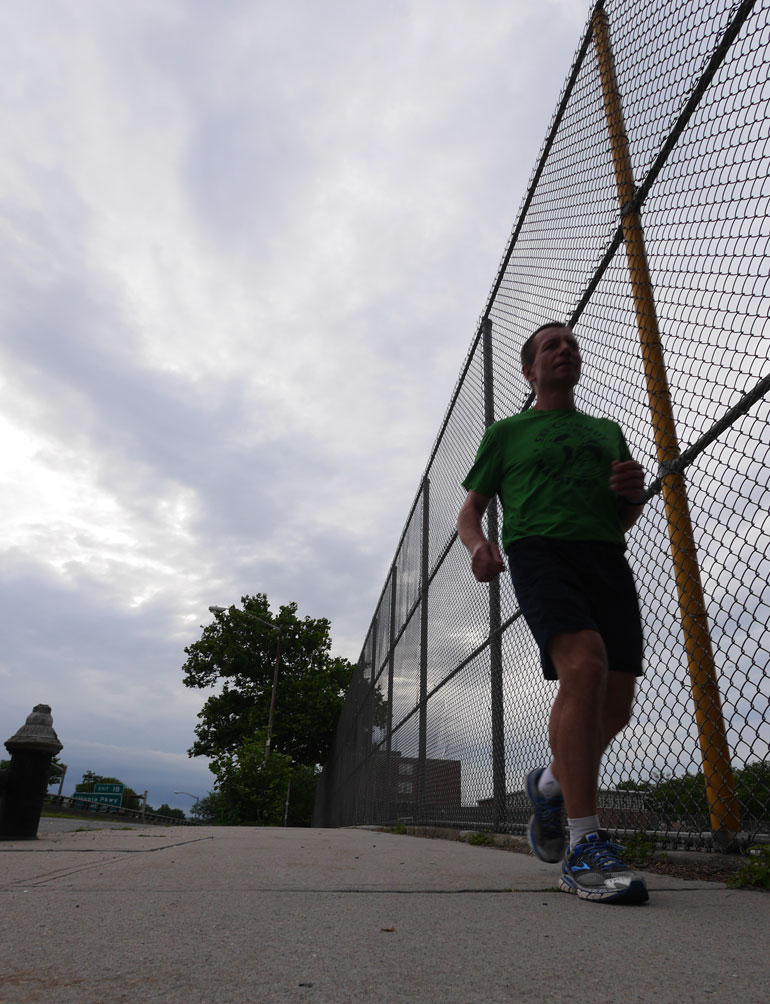 Vasu had 117 laps yesterday and still leads the race with 280 miles.
Vasu also knows the power of a smile.
There can be traffic on the course.
Baladev sporting a new haircut is not bothered by any of it.  He ran 118 laps yesterday and has 274 miles and is still in 2nd place.  16 more miles than last year.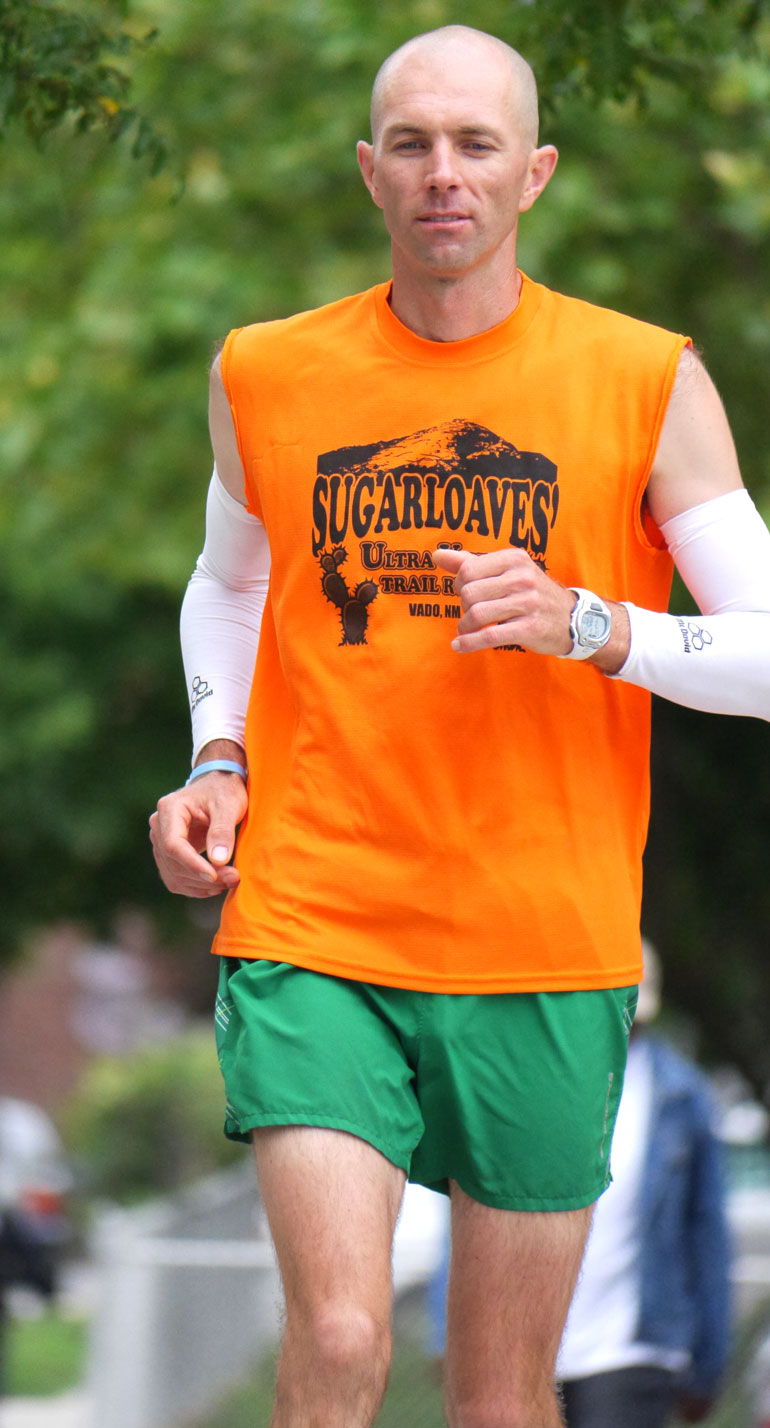 He wrote a poem yesterday.  He is often inspired when he sees expressions on people's t shirts who pass by the course.
Click to Play Poem:
Stutisheel had a better day yesterday, he ran 113 laps and has 239 miles.
He also performed a joke for the Enthusiasm-Awakeners.
Click to Play Joke:
No traffic in the camp just now .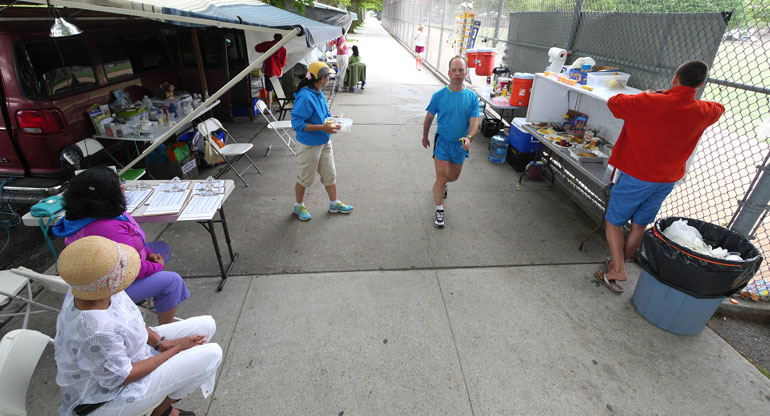 After I posted some pictures of Sarah yesterday some of her friends in Australia got quite concerned about her rash.  They thought it looked just awful.
The truth of the mater was that the poison ivy rash she has was not visible.  People, Sarah concluded, were getting concerned about a rather typical heat rash.  One which is not really a big deal to her.
Because of this confusion and concern she was sent a great number of Poison ivy jokes.  This is one.
Some scientists decided that they would try and figure out a brand new cure for poison ivy. At first they didn't know how to begin.
So they decided to start from scratch.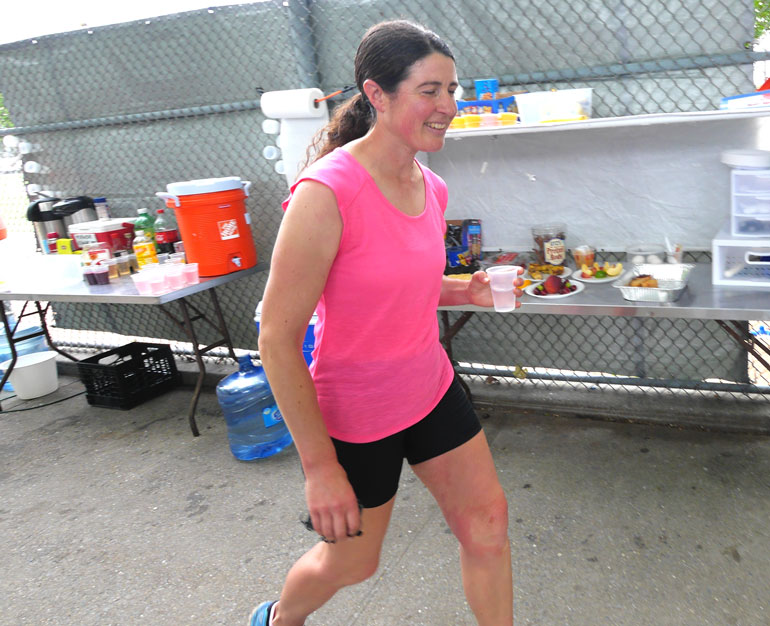 Legs with no rash.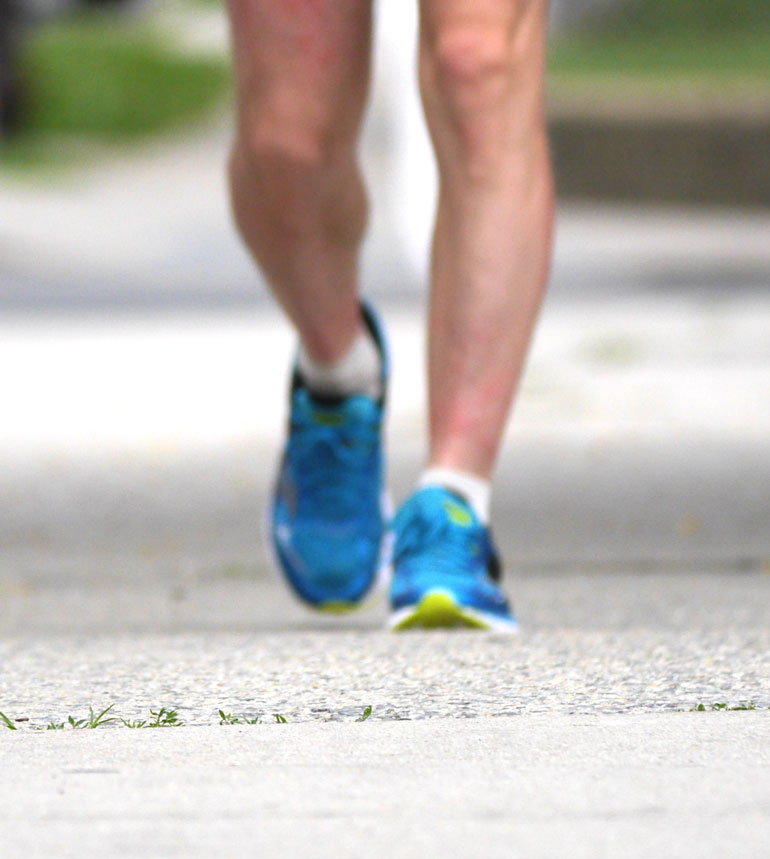 Teekshanam had 95 laps yesterday.  His 4 day total is 243 miles.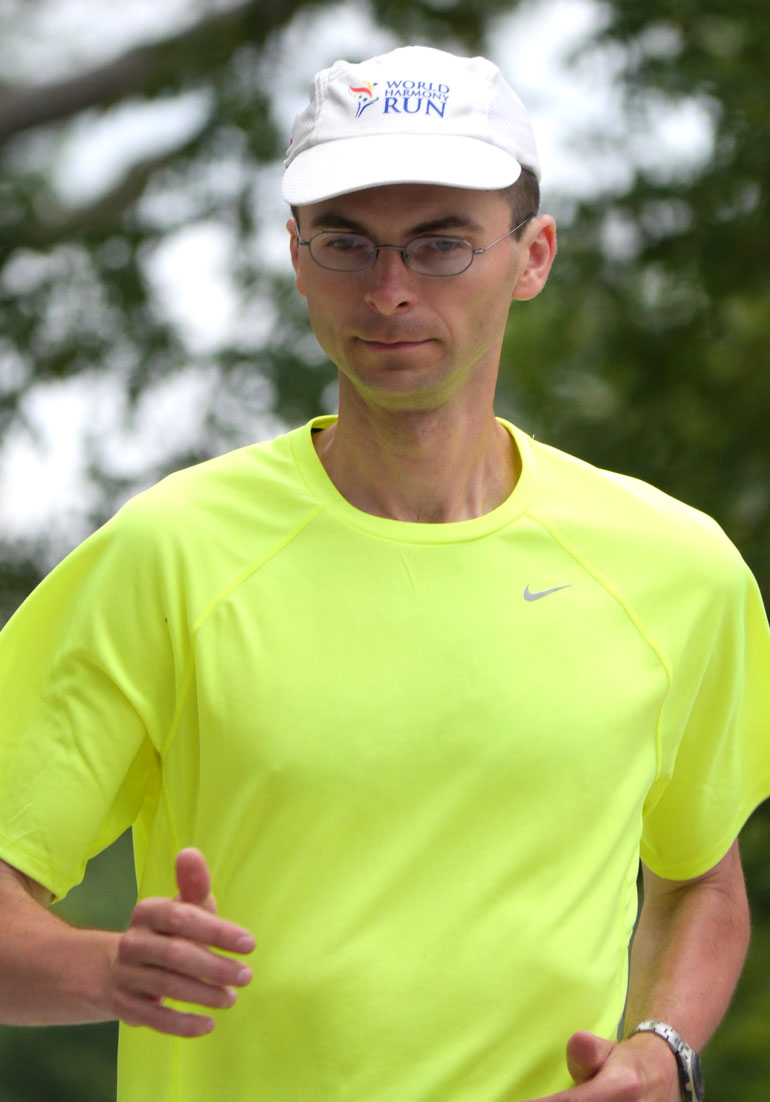 Nidhruvi talking to Samahita about some leg problems.
Nidhruvi had 106 laps yesterday.  She has 249 miles, about the same as last year.
For Sopan yesterday was a day of survival.
He describes it as the hottest so far.  It got up to 90 but not too humid. My stomach has been up side down since early morning running on fruit smoothies and soup cannot touch even my lunch super food shake, Heat Guard salts pills are saving me from dehydration taking extra today.
I talked to Ashprihanal this morning he is in Vienna getting ready to climb one of the Sri Chinmoy Peace Blossoms mountains.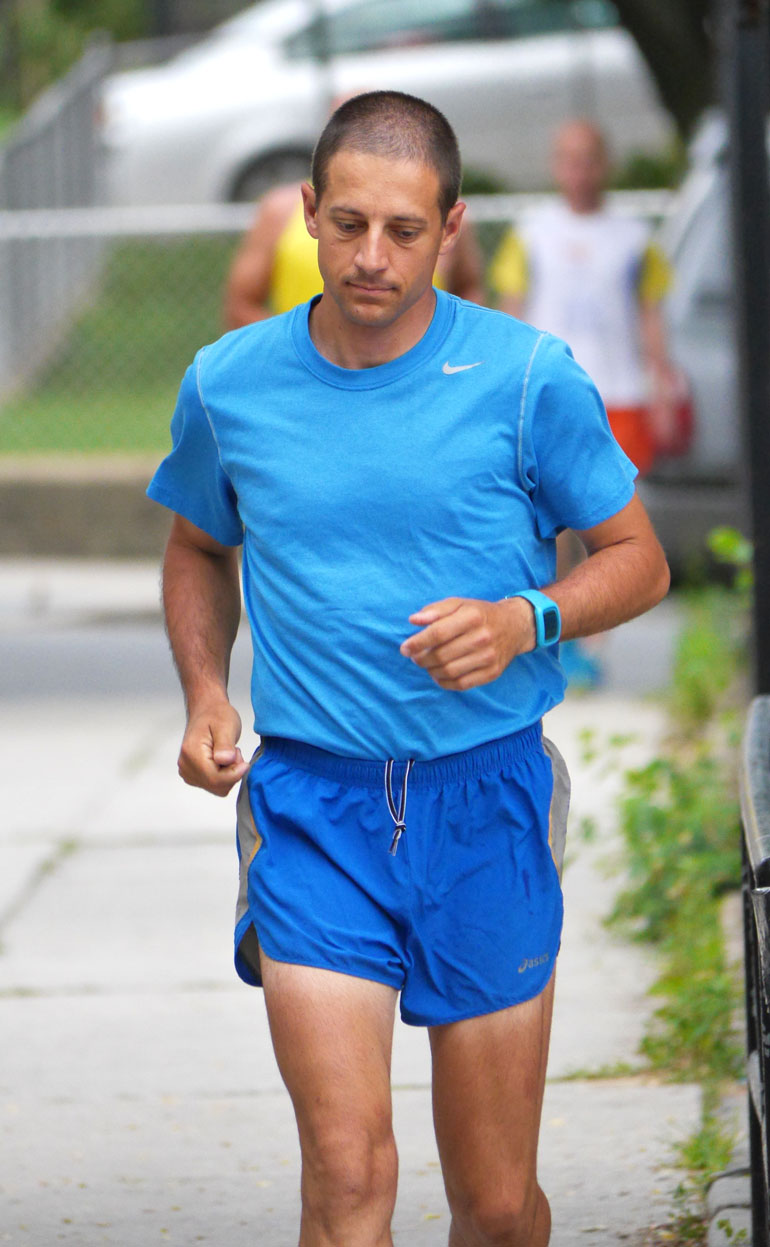 Sopan had 111 laps and has 262 miles for 4 days.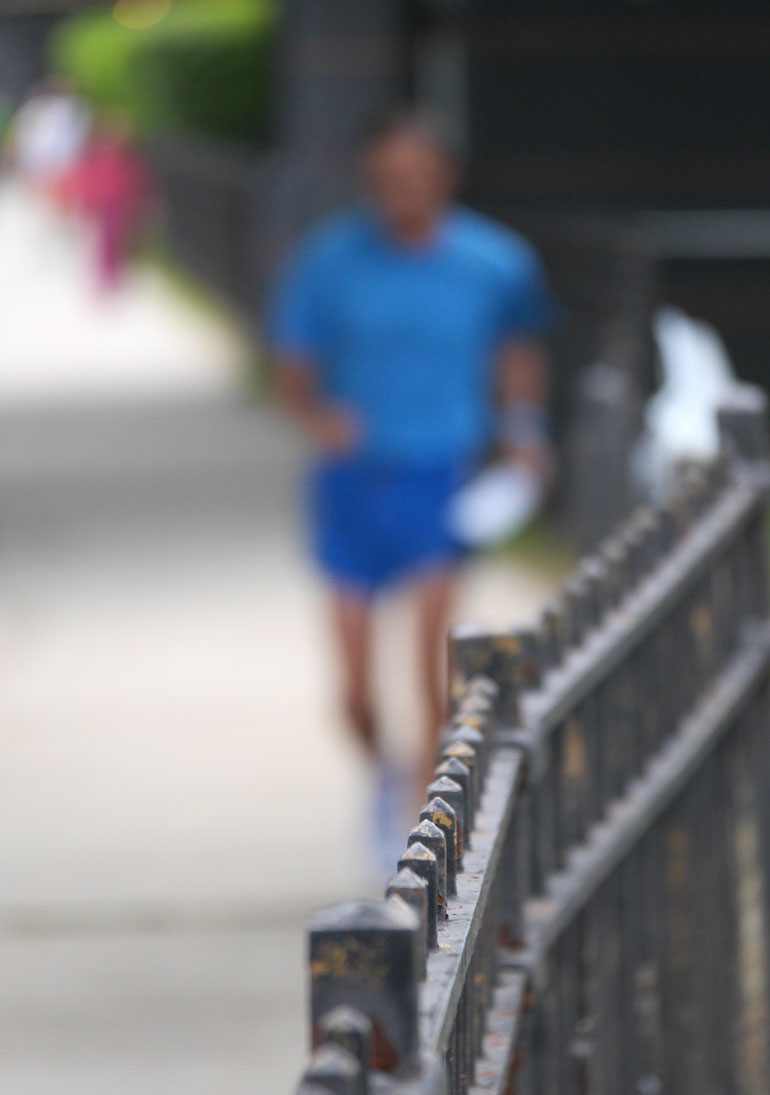 Pranjal had 114 laps yesterday and has 266 miles.  He is 9 miles ahead of last year.
He read the daily prayer.
Click to Play:
Prayer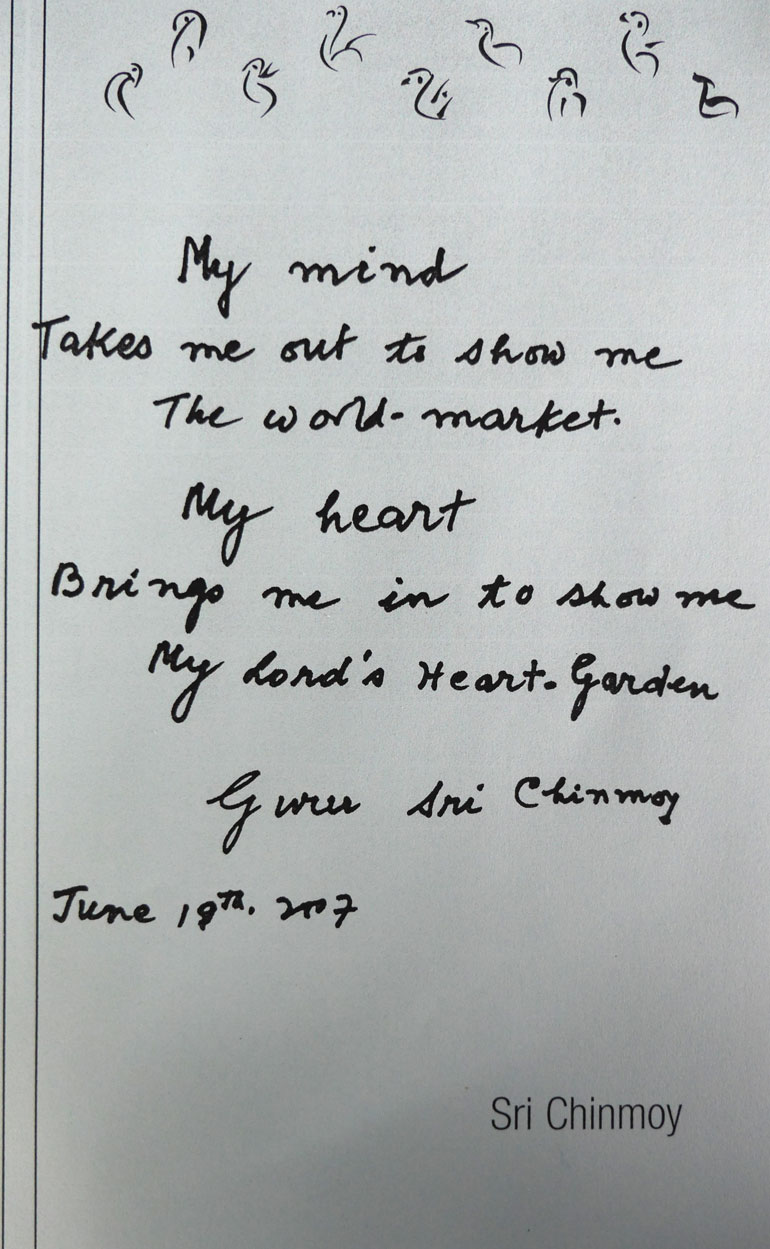 Yuri continues to be on a good pace.
He ran 120 laps yesterday and has the same mileage as last year, 273 miles.
Things always a little busy in the camp.  Today the storm sheets are up in case it really rains.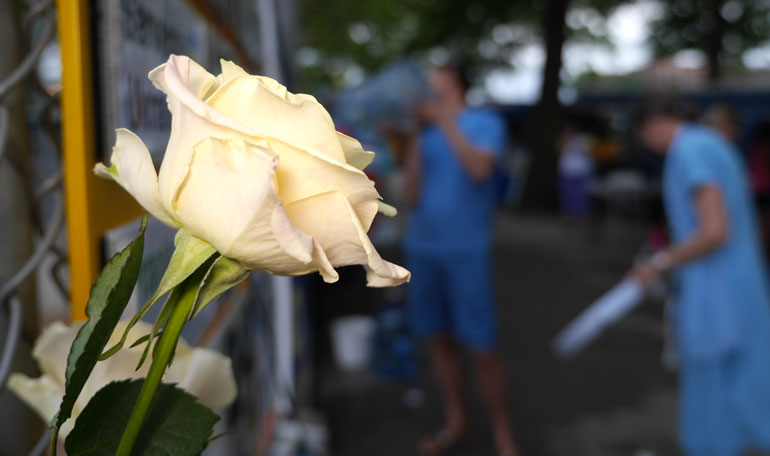 Jayasalini getting some foot work done.  Pati is her experienced morning helper.  She has run many multi days as well.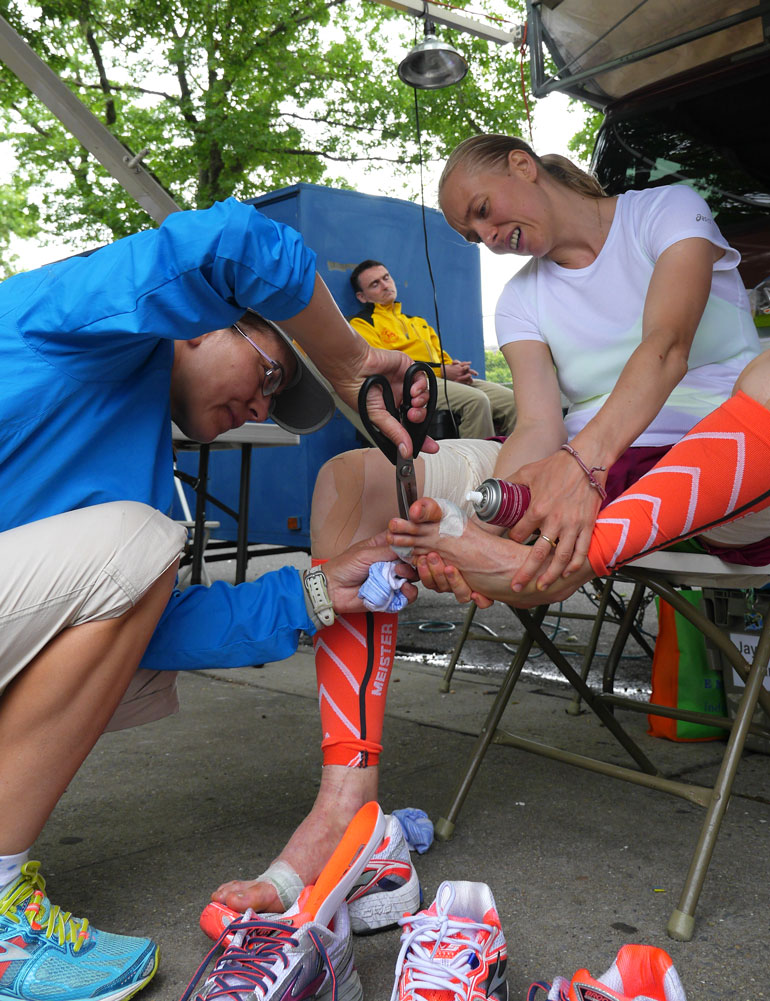 It is done carefully because it has to be done right.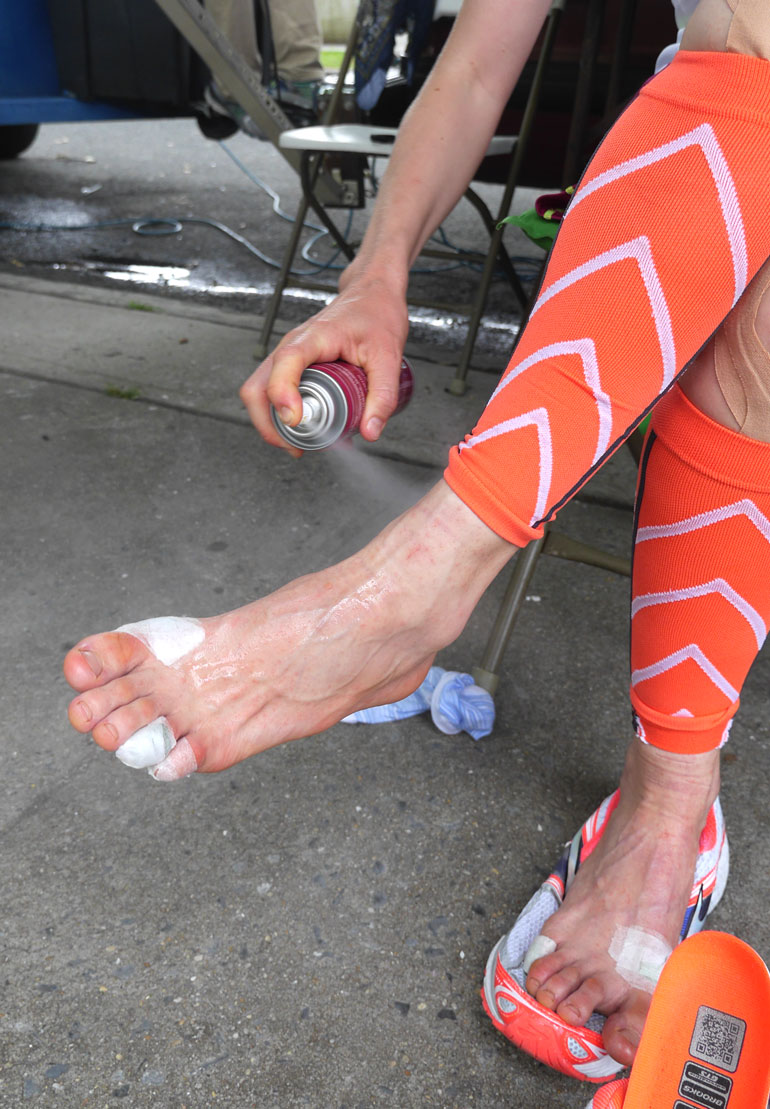 When she gets going again she looks like this.
Her well organized table looks like this.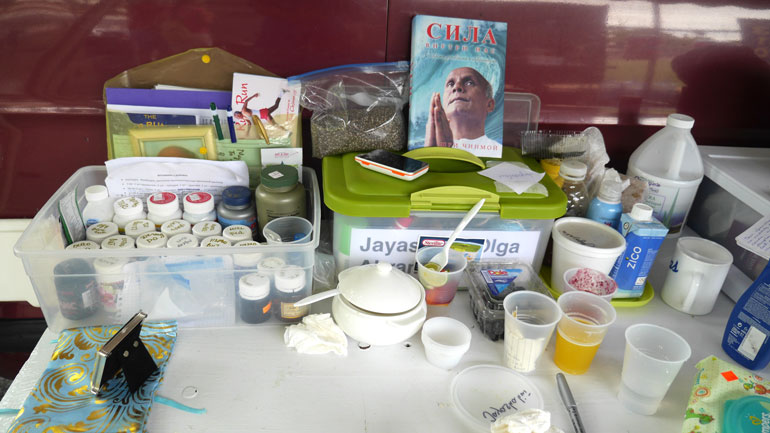 Jayasalini also intorduces me to a new friend.
Sarvagata for the 2nd day had the most laps of any runner.  He ran a very good 123 laps.
He has 272 miles which is 12 more than last year.  He is quickly getting back into top form.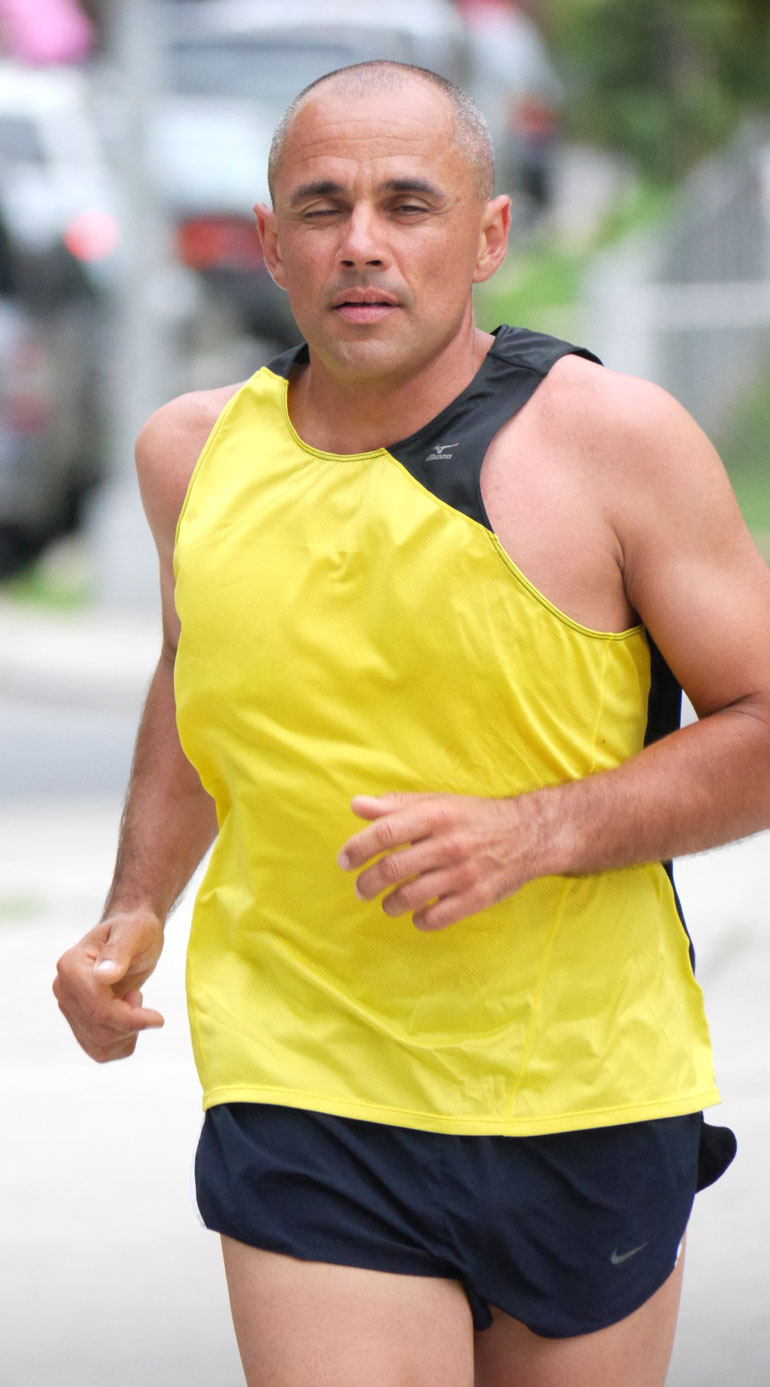 Enthusiasm-Awakeners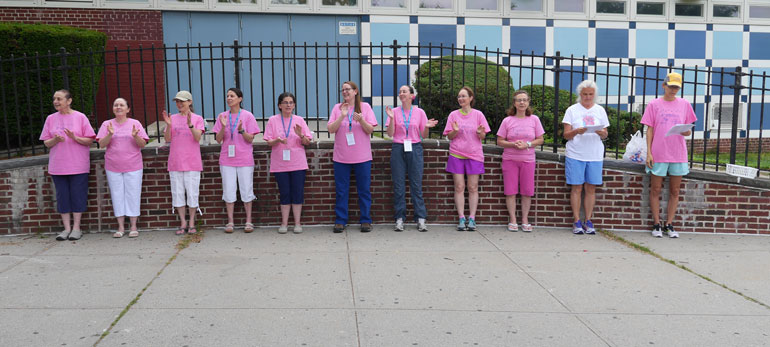 Click to Play:
Who has the capacity
To win the ultimate race?
Only a surrendered runner.
Sri Chinmoy, Seventy-Seven Thousand Service-Trees, Part 12, Agni Press, 1999