Hello everyone, my name is Lo, Wei Ming. It is my pleasure to come to New York to participate in this race. I've heard that there is no other runner from Asia except me. I hope my participation will bring more Asian runners in the future. I also hope to get inspiration for my life through the race.
Although it's only been 4 days, I feel that this experience is very worthwhile and I expect to enjoy the race more over the next few days. During the running, I have seen runners from all over the world showing their persistence, and perseverance. A lot of runners have set examples for us to follow.
During the event, I always experience moving feelings which are hard to describe. I am sorry my English is not good.  Although a race is a race, it's not just about "competing" or the pursuit of "perfection". You have to be there to discover it yourself. Being a runner, I feel proud to participate in a race, achieve my own goals, and feel life's inspiration.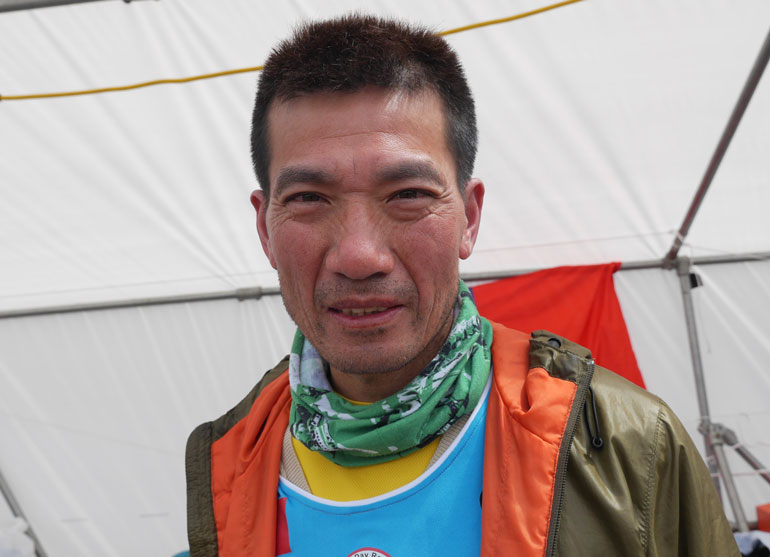 I've participated in marathons in Greece, Hungry, and other places. This is my fourth time competing internationally and it is my first time running in the United States. This park was built in 1964, the same year I was born.
I feel it's my destiny and I am going to make this another starting point in my life. I am thankful for the organization's invitation, in addition to the assistance and support I have received from many of my friends. I could not have made it without all your help. Thank you for interviewing me.
Yesterday I spoke for a little more than 5 minutes with Lo Wei Ming, a terrific 50 year old runner from Taiwan.  He speaks no English and yet it was clear he had something important to say.  At one point there were tears in his eyes. Today that conversation was translated for me by a team from the Culture Center of Taipei Economic and Cultural Office in New York.
As of noon today he has completed 5 days of running and has 310 miles.
If there is any better way of describing the true meaning of this race then using Lo Wei Ming's words than perhaps it may be the picture below.
These 2 have been running for 5 days and there are only 6 miles which separates them.  Last night they ran for miles together and once again they are doing so again.
Sarvagata's only goal here he says is to simply run 70 miles a day and get in shape for the 3100 mile race.  Nirbhasa wants to be happy, be peaceful, and improve upon his performance from last year.  On the board they may be looked upon as competitors.  But on the road something else finer, deeper, and more fulfilling is actually taking place.  They are experiencing what it means to be true brothers.
What it is to truly help another and experience oneness.  When this happens you do not just help yourself, you provide light and love to a world that wants to emerge from darkness.
It is another day in which the winds blow strong and long.
If you want to see a runner who gives her all than look at Dipali Cunningham.
What her helpers tell me is that she approaches this race with absolute focus and determination.  Despite the cold, despite the wind she ran non stop until midnight before taking a break.
I don't know exactly just how long her break was then but it wasn't very long.  Then she ran until 12 noon today.  As she crosses the line before taking her break she offers up her gratitude.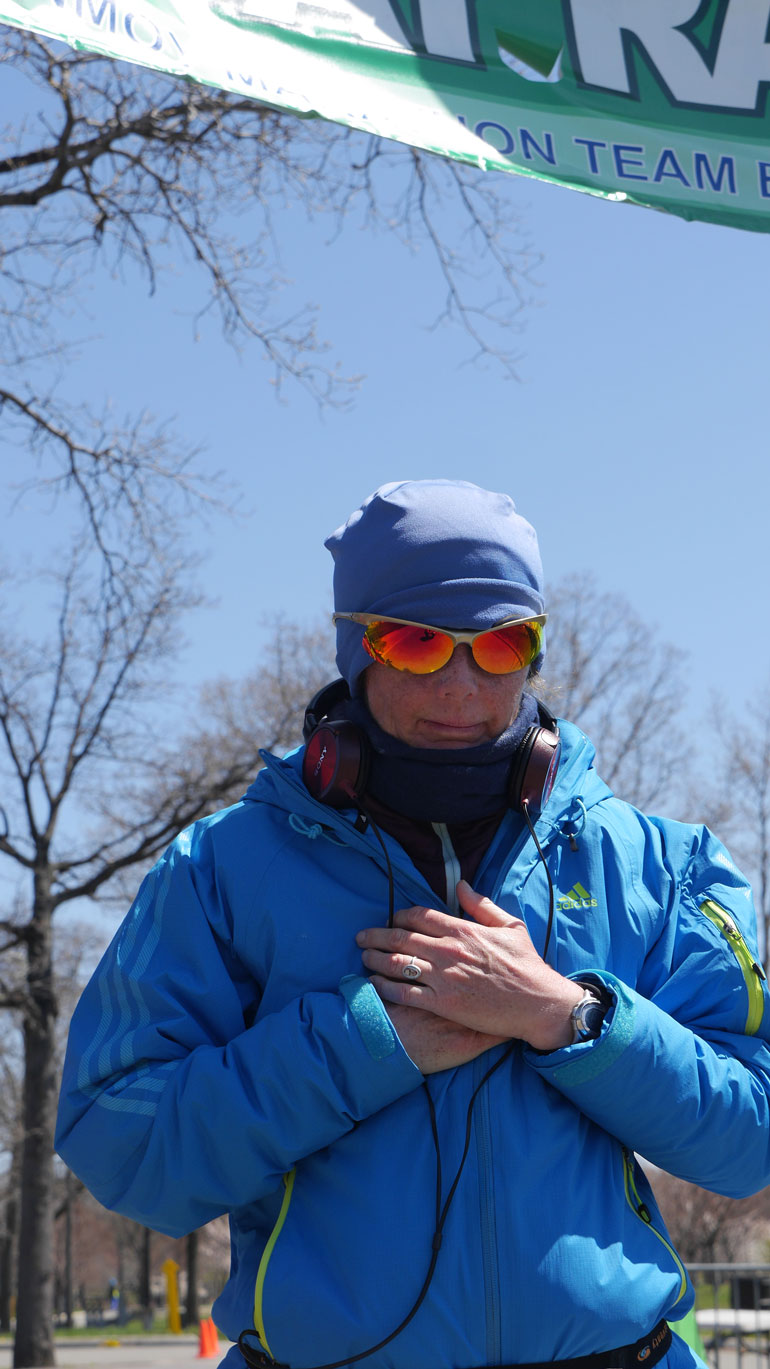 Her 102 miles she is incredibly happy with, considering the wind that rarely ceased to blow.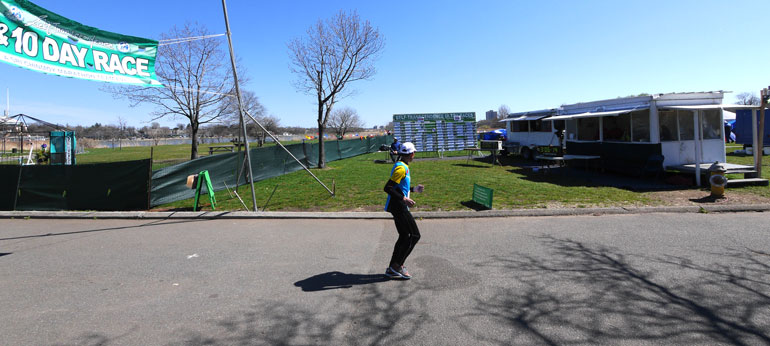 Her mileage was only surpassed by Eoin Keith,  Galya Balatsky, and John Geesler.
Eoin had 123 miles.  As he takes a break Budjargal tells him how impressed he is with his performance.  Budjargal had 68 miles for 24 hours.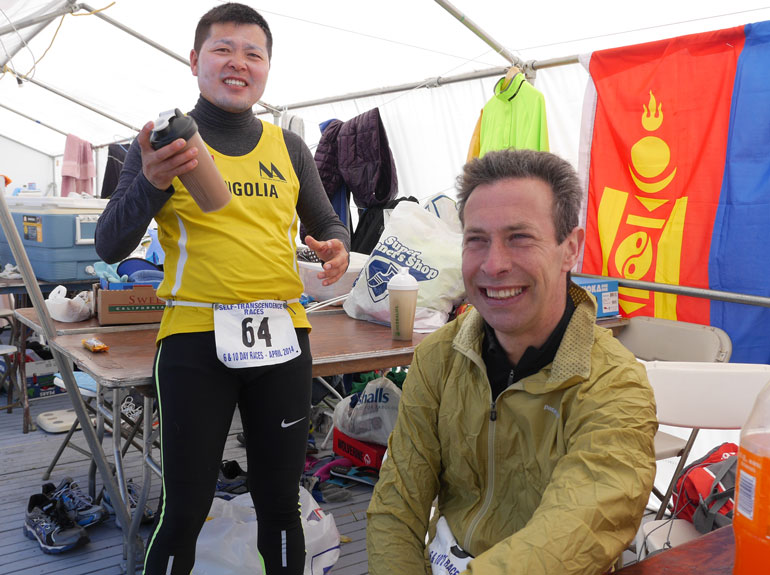 Galya ran 108 miles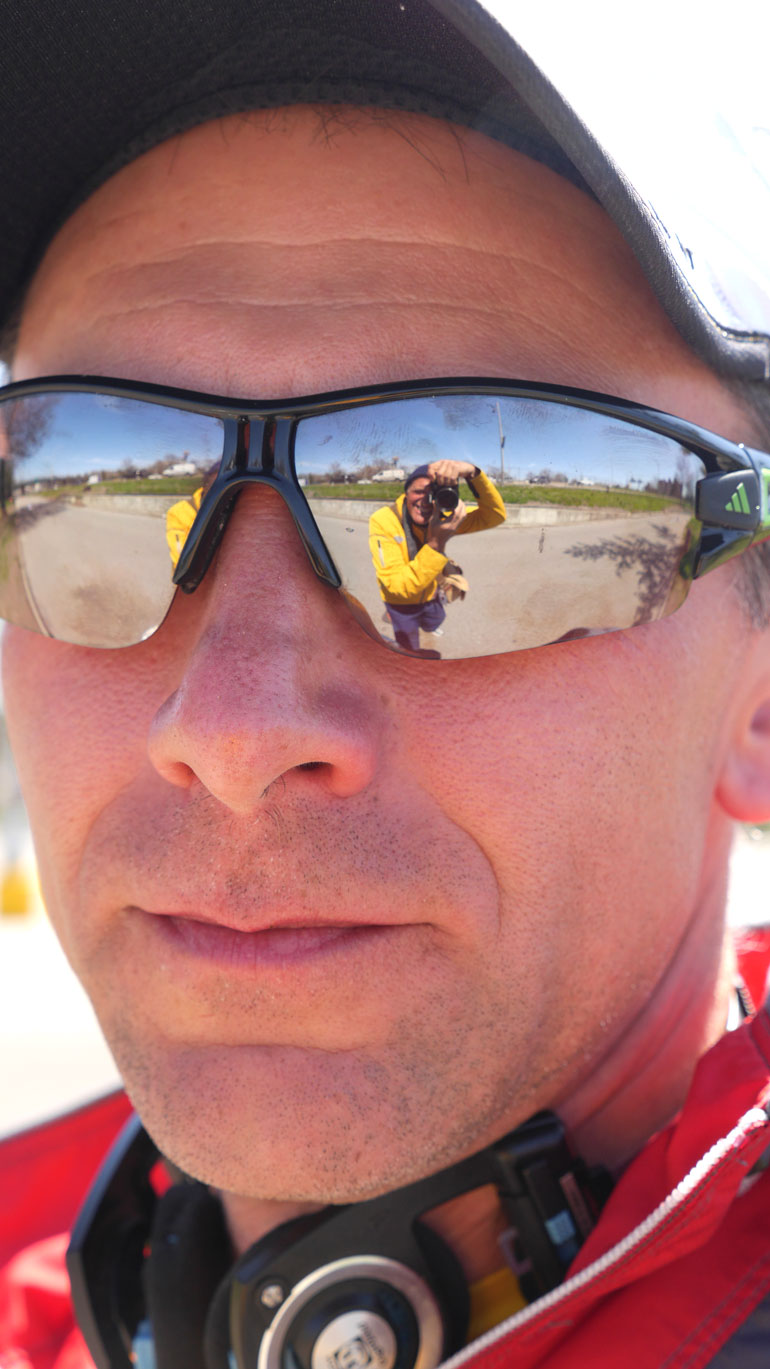 John Geesler ran 104 miles
In the 10 day race his 4th day was a hard one.  But Ashprihanal came back to life on day 5 with 71 miles.  The best performance for the day.   He has 415 miles.
Volodymyr had 62 miles yesterday and has 345.  Could he be happier than this
Trees along the course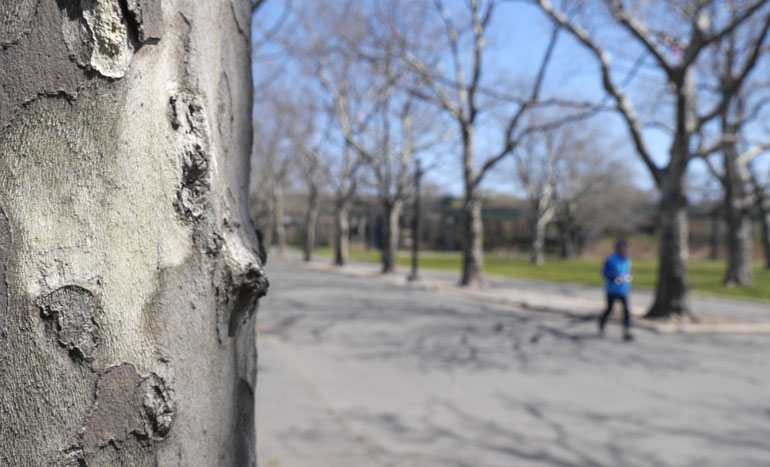 I finally interviewed Gabriela who only speaks Spanish.  Kalpita helped with translation.
Of the race, "I am enjoying it a whole lot."
"I have run more than 20 races in South America as well as Europe."
"This is the first time I have run in a 10 day race."  She has the South American record for 6 days with 390 miles.  After tomorrow she will be in a race longer that she has ever run before.
She has just come from medical where Dr. Mitch Proffman worked on her.  She is having some pains but is feeling fine mentally.  Her goal is to reach 1000km.
She is impressed with the organization of everything here.  She is also experiencing lots of peace here.  "This race I feel a lot of tranquility and peace."
Click to Play Interview:
Daffodils at night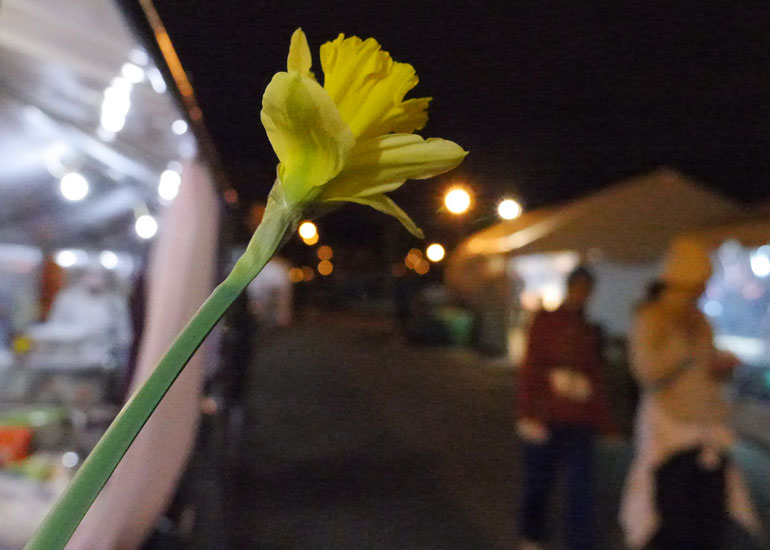 This is 43 year old Gerry Shea's first multi day race. He is here with his mom and his dad as his support crew.
Diana says that being here for her is motivational.  "Just seeing the endurance that these people have, and they do it with a big smile on their face.  It affects you and it affects me.  It is a real privilege for me to be here."
Gerry says he believes his neighbors thought he was crazy to come from Ancaster Ontario Canada to come here, "but I wanted to do this for a very long time, and this is the time I got to do it.  Here I am."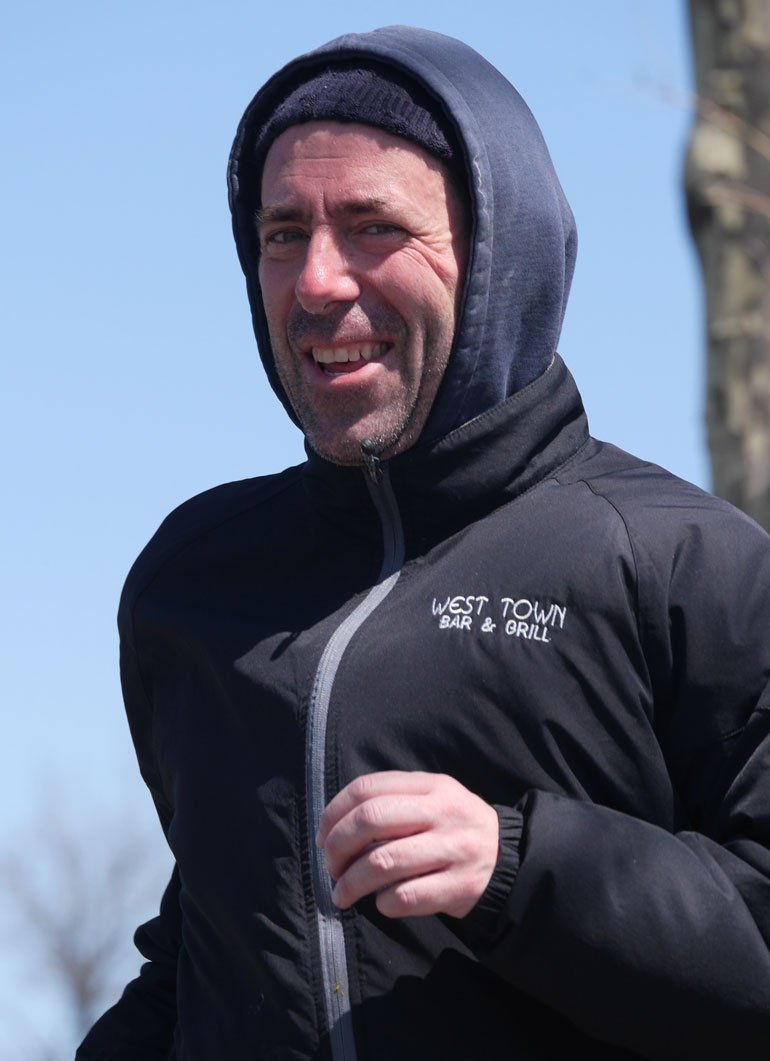 "I was hoping to have a spiritual experience, and so far it is working out.  In 24 hours he has run 55 miles.  "Not much, but good for me."
He believes that by being here he has a lot of time to think and reflect.  "Good things come into my mind and I learn how to overcome some of the other things that I don't like popping into my mind.  For me that qualifies as a good spiritual experience.  He says that it is long training runs is the thing he enjoys most in his life other than being home with his family.
Diana said that she never hesitated a moment when it came to deciding to come down and support Gerry.  "I have 4 children and I would do anything to support my kids."  She and her husband are hikers and are also going for walks while they are here as well.  "There is no better experience."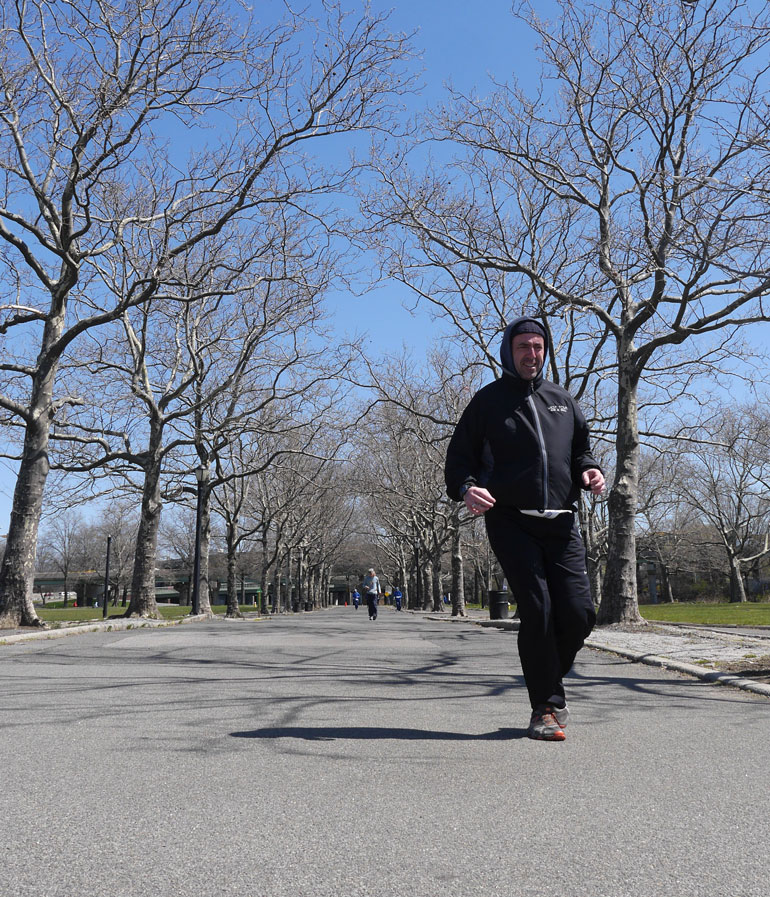 Also, "When we arrived here on Saturday we came to check it out before Gerry arrived by Plane.  I couldn't get over how calm and serene it was.  There is an aura about this place.  Everything is so peaceful at a slow moving pace here.  You can't help but have something happen to you here."
Gerry is looking forward to 5 more days of running.  "I am going to be sad when I have to go home."
Click to Play Interview:
For 10 time channel swimmer Karteek it has been great so far.  He has 57 miles for 24 hours
It probably doesn't hurt to have some chiropractic adjustments from Dr. Mitch Proffman.
"I have been here since about 11 and I have worked on about 30 men and women."  Mitch has come a lot to help out at the race over the years.  He says that for the 6 day runners like Karteek, who has just finished his first 24 hours, the 10 day runners have been out here for 5 days are of course more tired and sore.    "Much more muscle strain."
But for those who have run longer, "they are much more at peace now.  What I tell a lot of my patients about running, is that the first mile is for your body.  The 2n, 3rd and 4th mile are for your mind.  That is when you feel great."
"For the people who run 10 days, the first 3 or 4 days are literally feeling many different things.  Then they transcend that.   That is why they call this a self transcendence race.  The the runners really get into the higher spritual realms of running."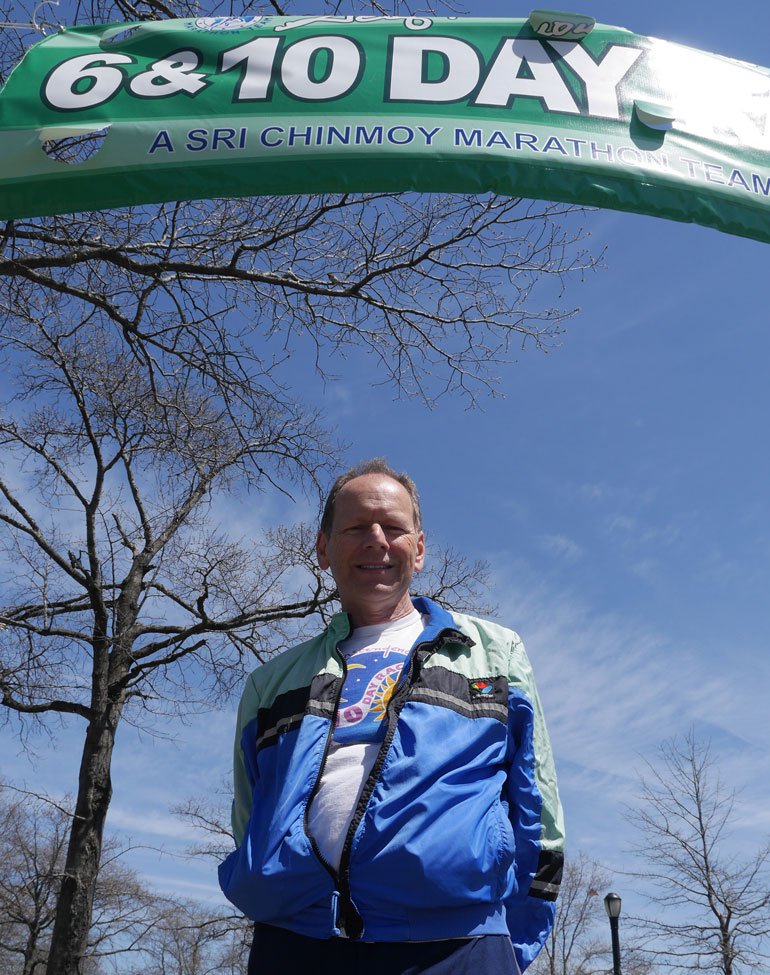 "Something else happens.  You transcend your body.  They actually become more in tune with a higher intelligence, a higher calling.  They become very peaceful.  They don't complain about discomfort.  It is truly an amazing experience to work on them."
"When I am here I am totally in awe of these super human people.  When I leave I am literally high and happy for many days.  When I tell people about this nobody really understands it.  Nobody can understand what it is like to run 60 or 70 miles for 10 days or 6 days.  It is truly a unique experience.  One that I cherish and love.  I love working on these amazing athletes and runners.  It is really a breath taking experience."
Click to Play Interview:
Lots of action now in medical
Hubert taking a break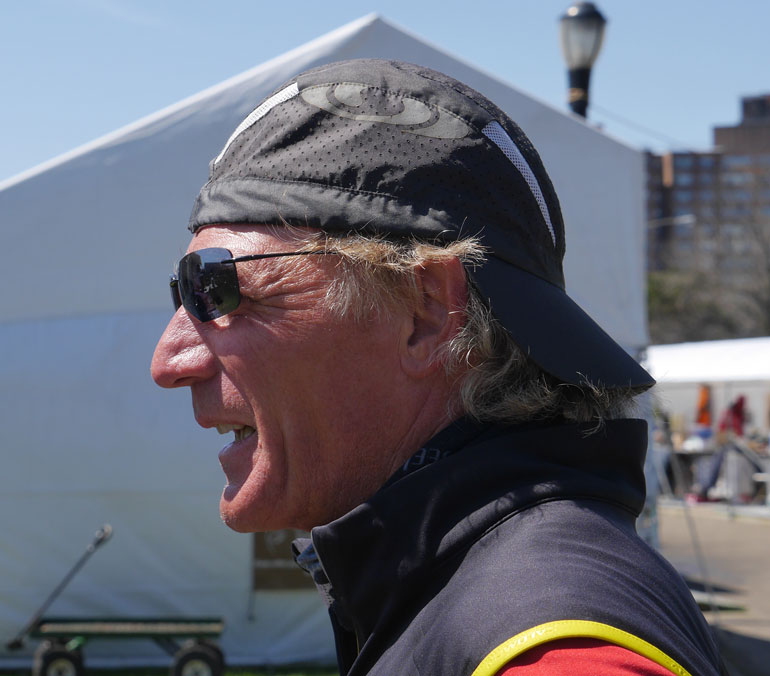 He has 315 miles after 5 days.
The road has a place for everyone who wants to travel on their way.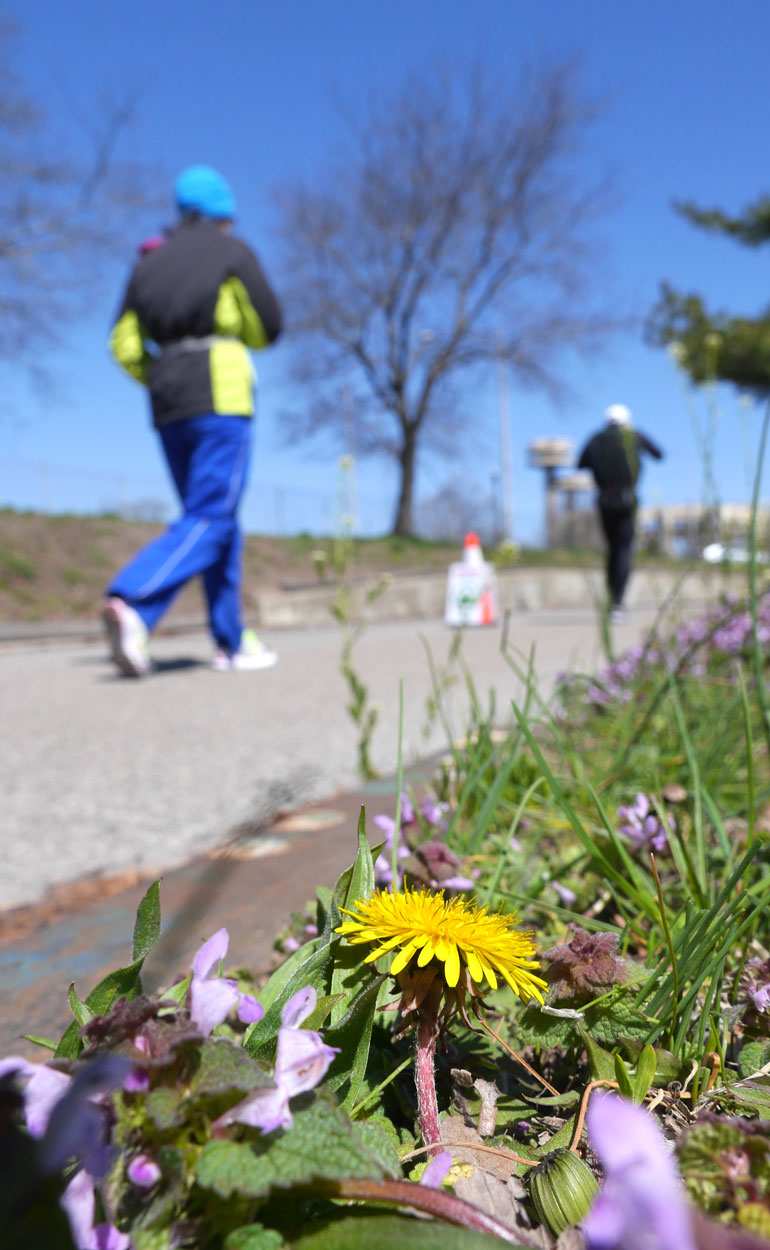 Girbhu with 223 miles
George Biondic had 77 miles for his first day.
Lots of life.
Don Winkley and Luis Rios old friends who also have lots of life and stories to be told over the next 5 days.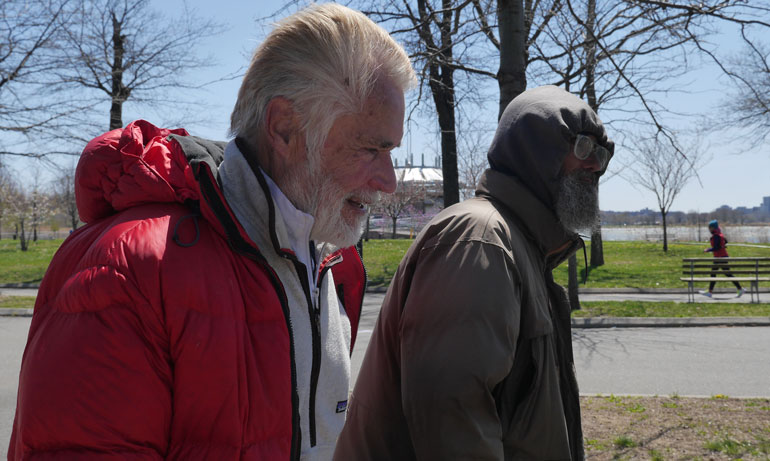 A little younger but 2 new friends make their way along the course.
Gino is happier than he looks with 268 miles
Karin happy to share a little of home.  She has 186 miles.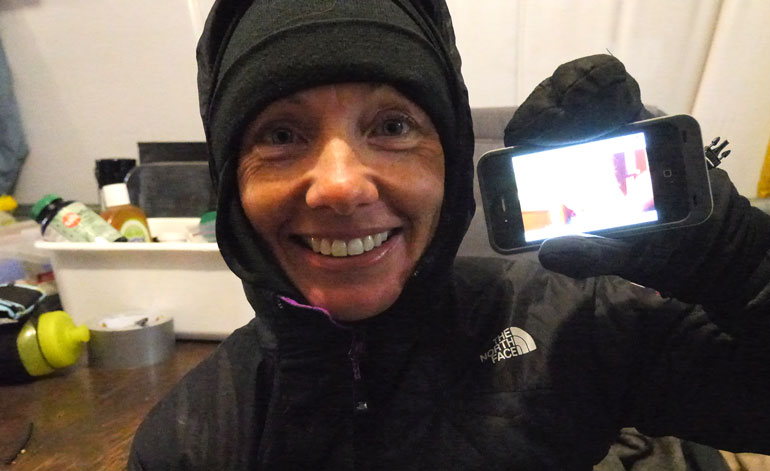 Niribilli enjoying a moment right now with her helper Helen.
Daffodils during the day.
It is hard to tell sometimes what story these faces tell.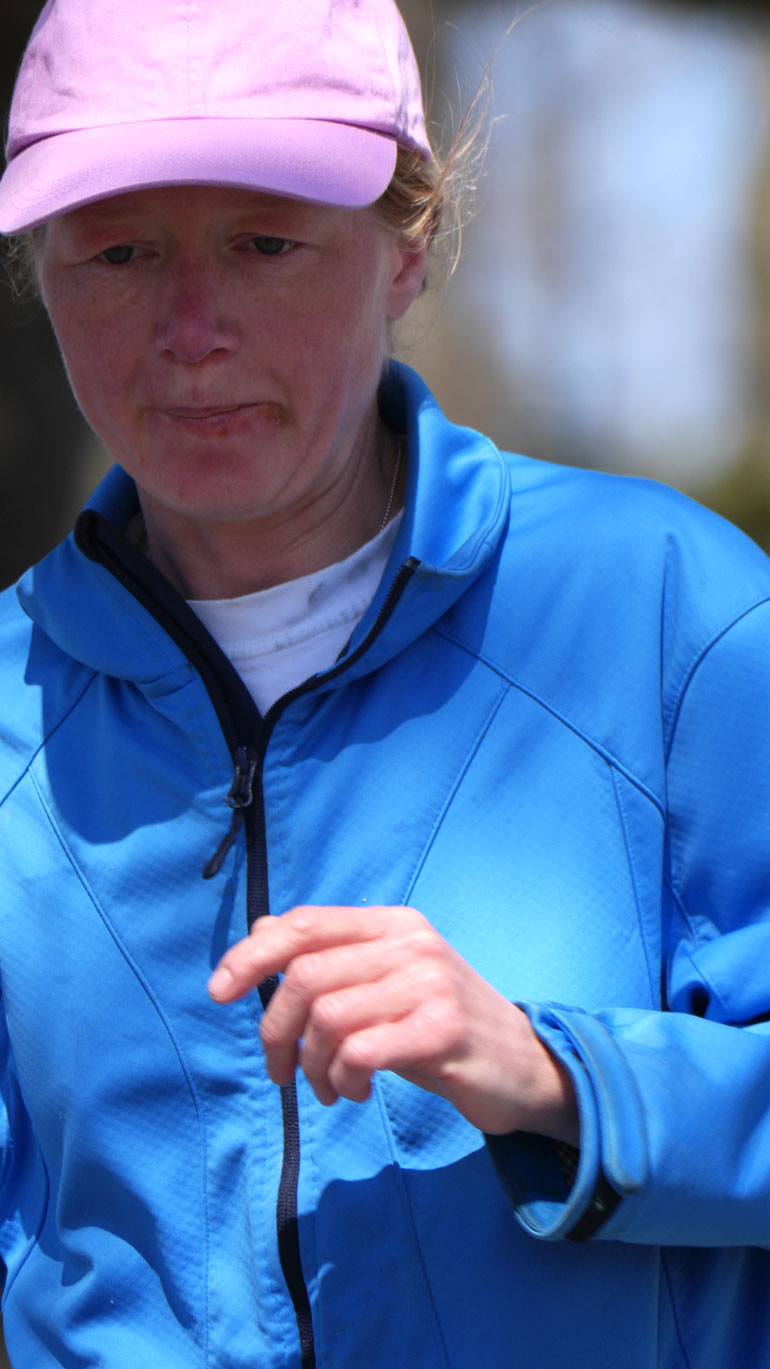 Lost in a world that is only their own.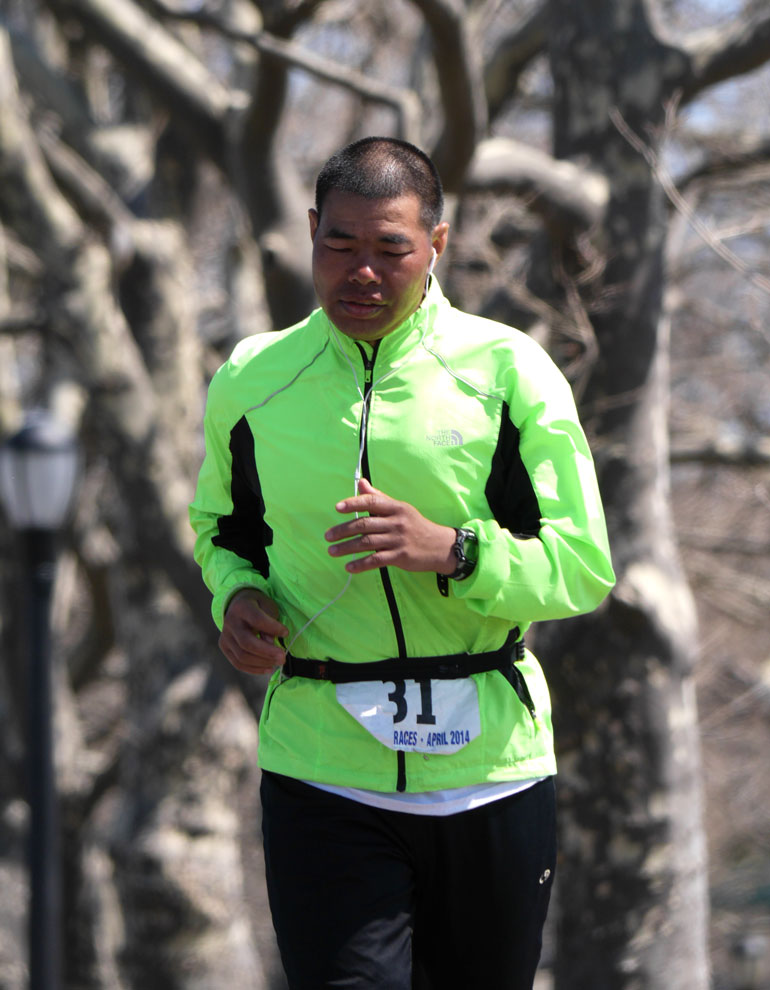 A Place that never sleeps.
Training long and hard for these very days.
A place where little and great things are revealed.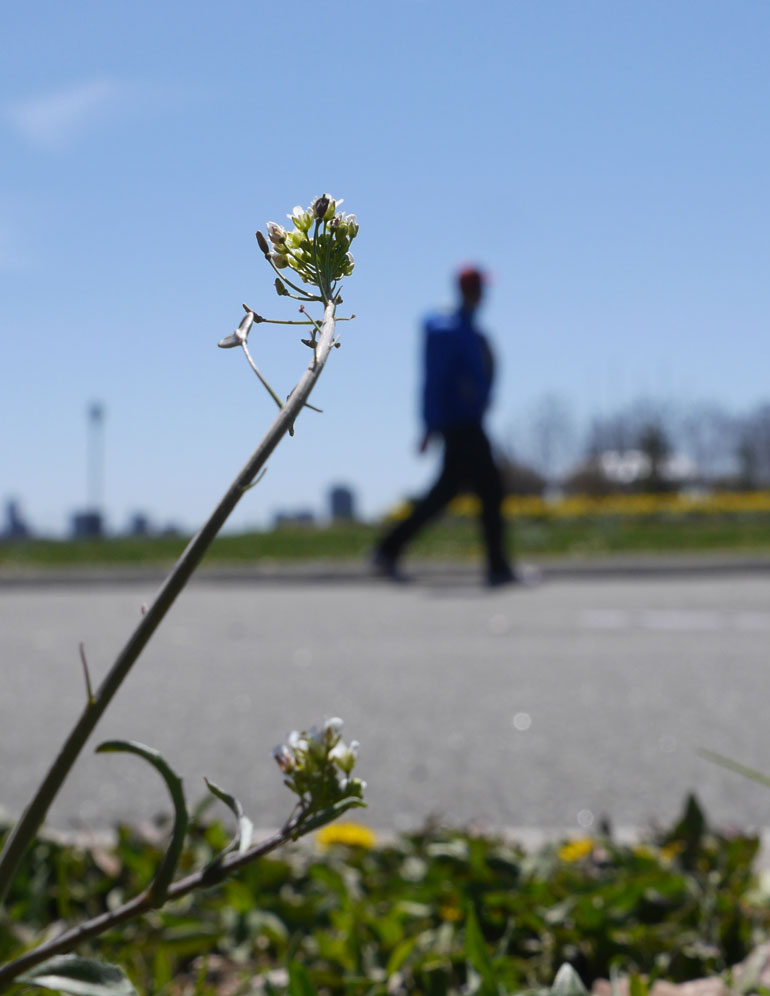 Giving so much of themselves.
The road ahead will always change but not the goal you seek.
Yet getting back so much more in return.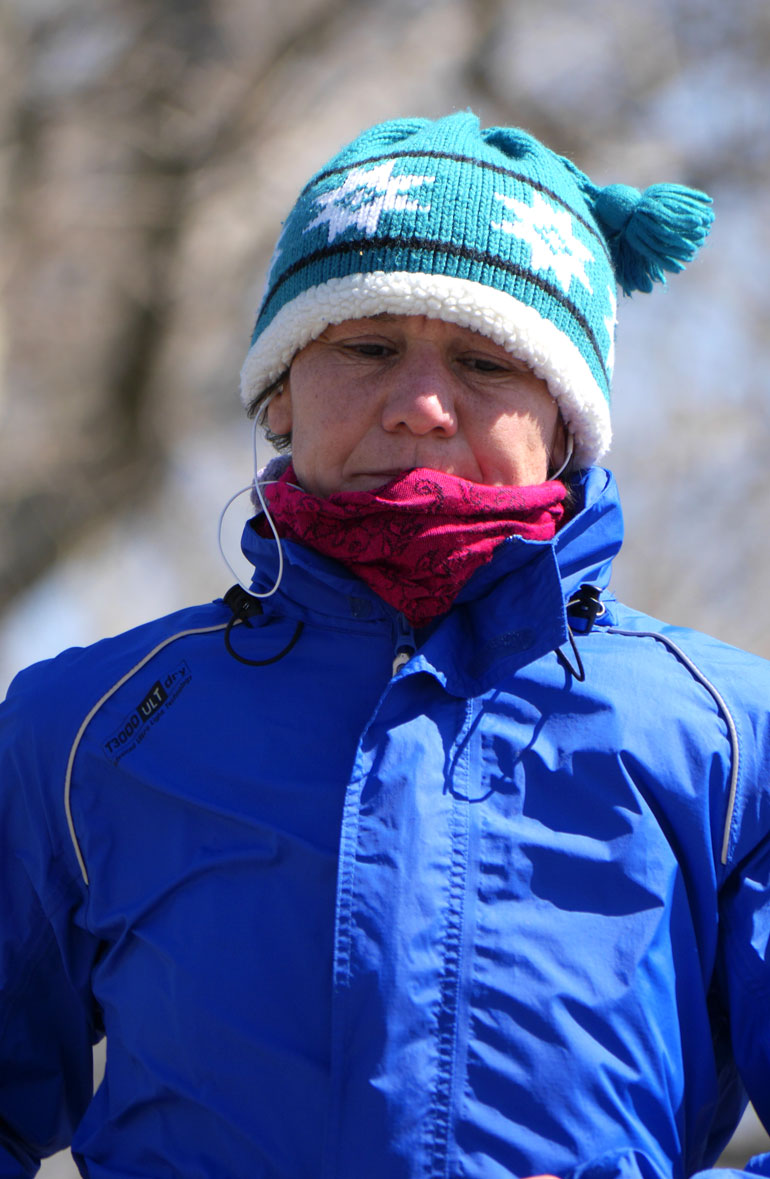 No time to rest just yet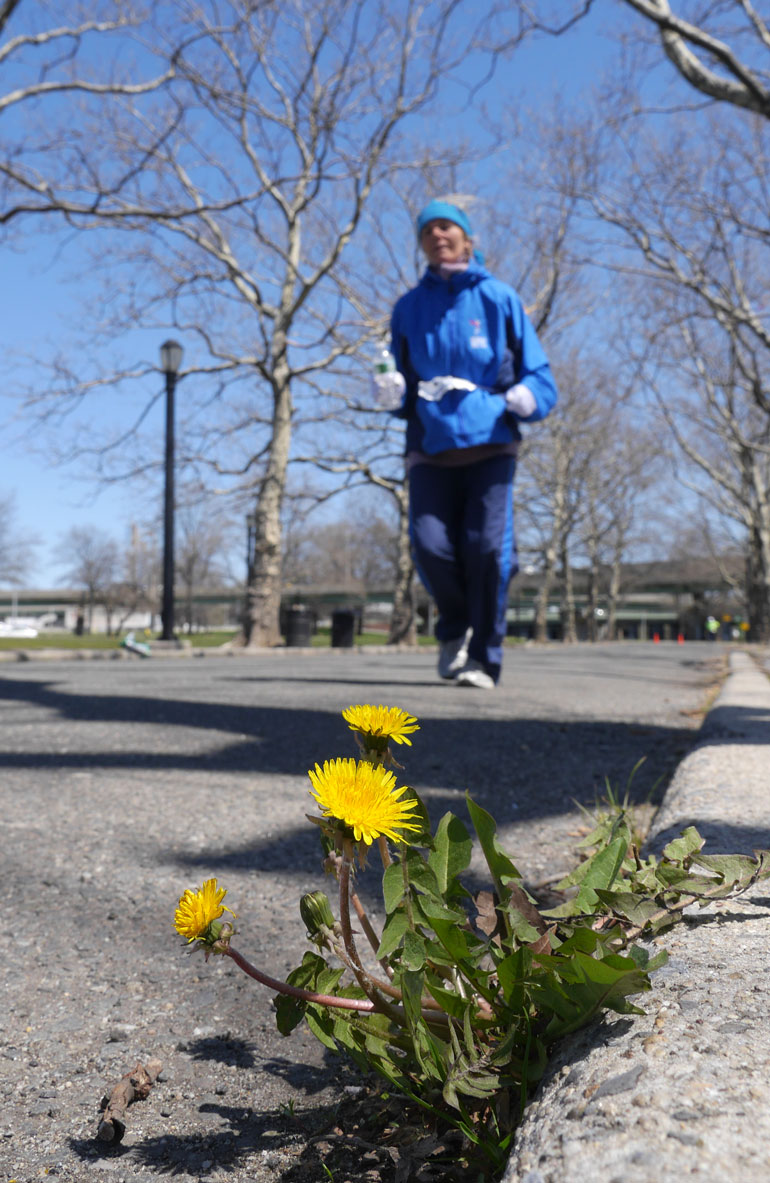 Some faces so completely open.
Your path clearly marked for you… No reason to be lost at any time.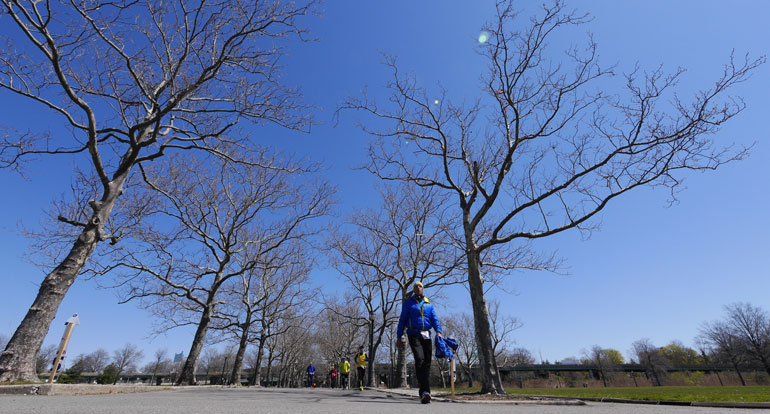 Radiant with the fire burning within.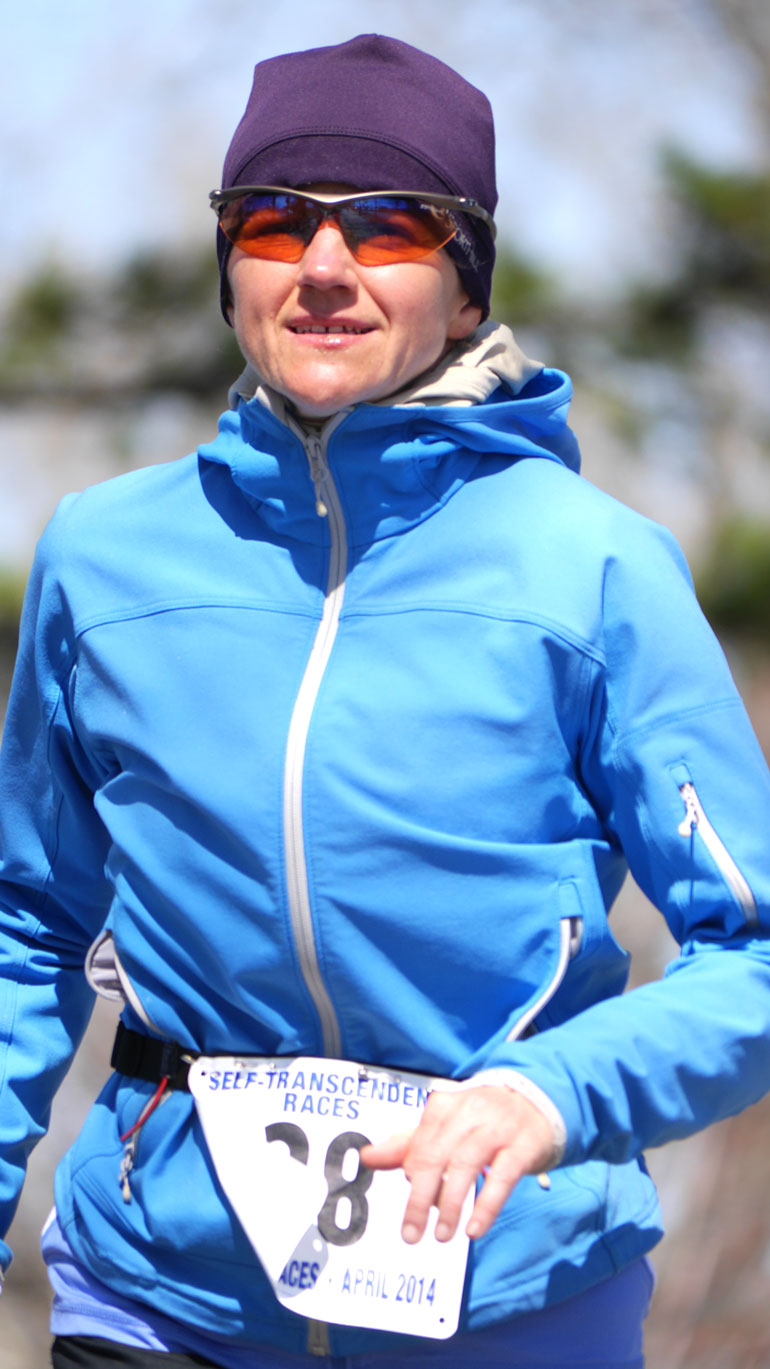 Dipali's crew work 6 hours on and 6 hours off, and consists of Prapti and Hridayinee.  She has just completed her first 24 hours of running, and has 102 miles.
Hridayinee says, "she did really well.  I think she was feeling quite strong and she has just got over a recent cold.  But the wind always knocks her around."
Prapti says, "I always so inspired by the running here last year."  She helped another runner last year.  "I have always been afraid of the multi day races.  I just didn't get it.  But last year I was here and it was the most inspiring thing.  I thought, it would be such an honor to help Dipali."
Hridayinee, "last year was my first one helping Dipali."  On other years she helped other and done a lot of counting shifts."  She says that Dipali's 102 miles is exactly the same as what she ran last year here.  "I think it is a good start."
Prapti, "A really good start considering she was quite sick for the 6 days prior to the race.  And just on the day of the race she started to feel like her cold was breaking.  She was coughing yesterday and a little bit today.  But it feels like here energy is coming to the fore."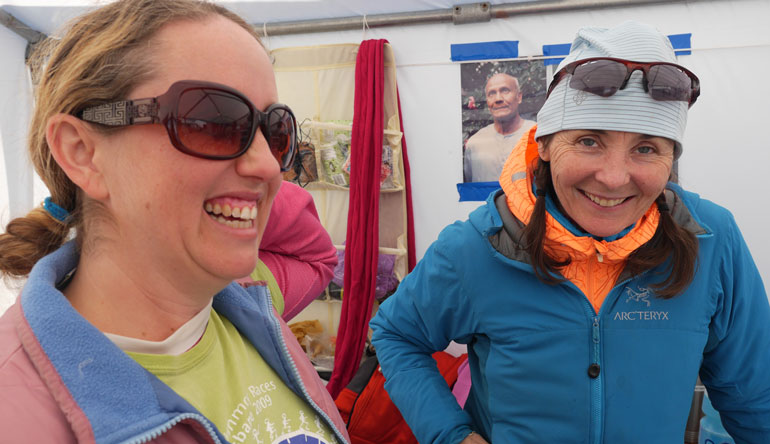 As for the 5 days ahead Hridayinne thinks, "they are going to be awesome.  We are not worried at all.  I think Dipali is going to have a great race.  She was on track to have a fantastic race last year but she fell.  That was only her 3rd or 4th day in.  Her mileage went right down. That was really difficult for her.  I think this year it is going to go a lot smoother."
Click to Play Interview: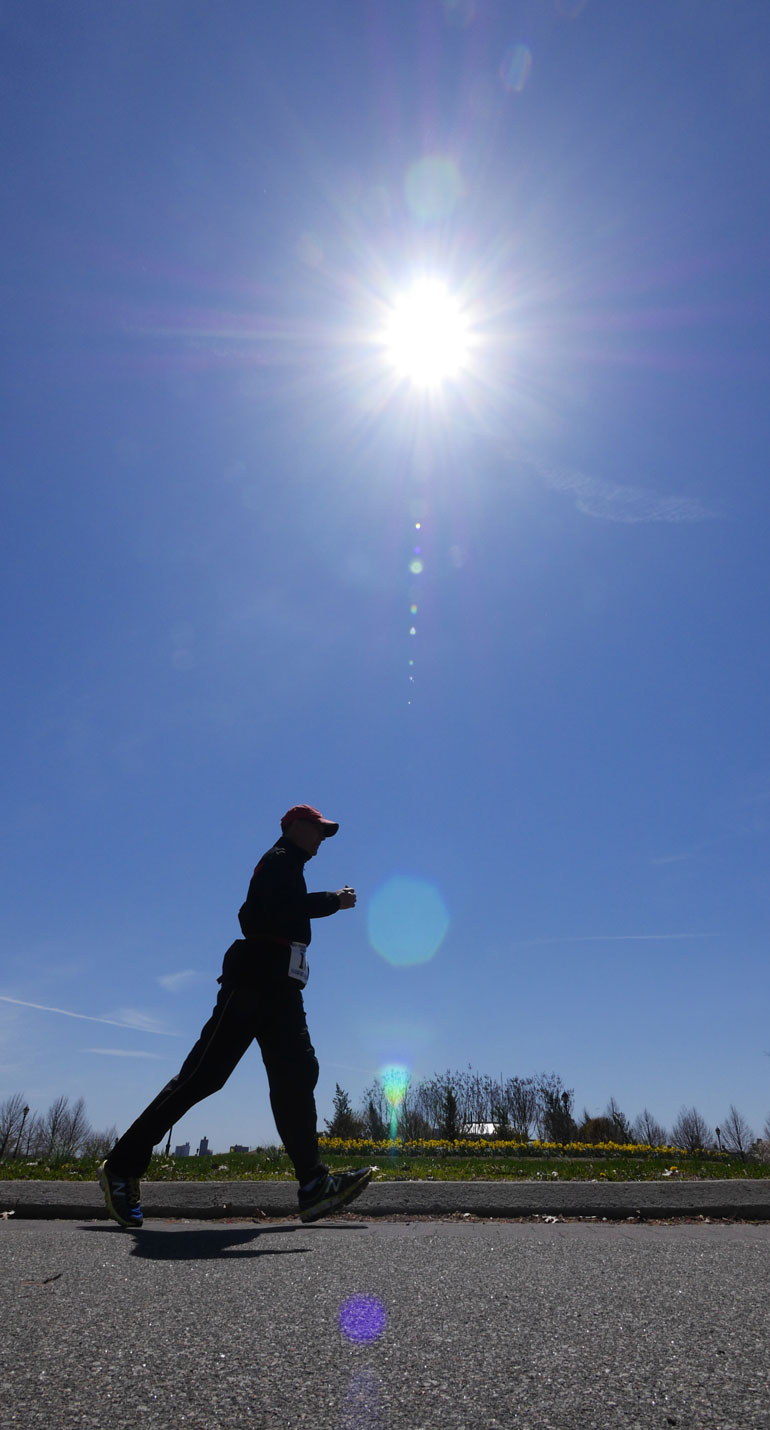 The outer running
Begins on the road
And ends on the road.
The inner running begins
Inside the silence-heart,
And it continues
Along Eternity's Road.
Sri Chinmoy, My Christmas-New Year-Vacation Aspiration-Prayers, Part 16, Agni Press, 2003