10 days from now these 53 people will have accomplished something momentous and truly great.  For now the space besides their names remains blank, for they have yet to set out upon their way, to take their first eager steps, to begin a journey that so few have taken and yet now lies unavoidably before each one of these courageous runners.
We all who support, encourage, and in any small way aid them hope that their journeys be fine, bright, and fulfilling.  But a 10 day race is not a sporting event that does not allow a runner not to be shaken, molded, or left untouched in ways both simple and profound.  Even if you are torn down while doing the task, be assured, that once again you will arise up anew.  To be rebuilt and transformed in some way that is all simply an unavoidable part of our personal growth and self transcendence.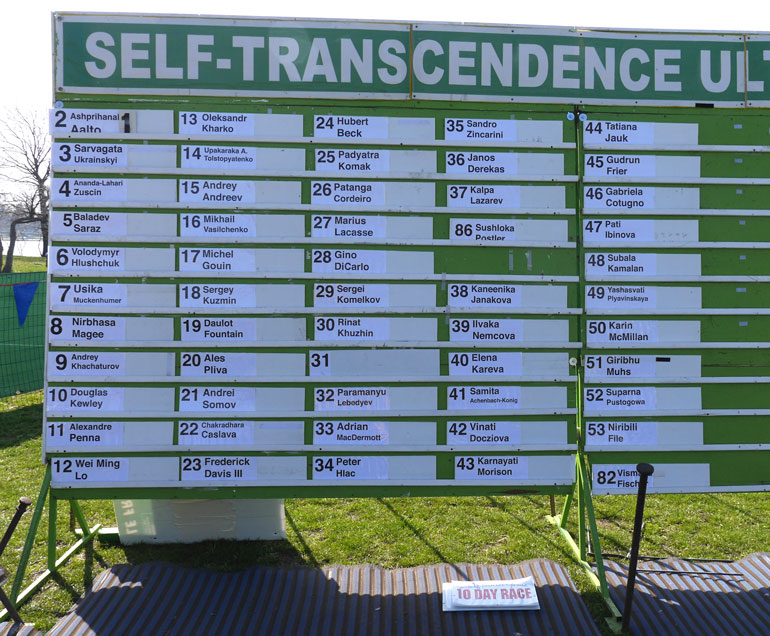 Not all will look upon the 10 days yet to come as a spiritual journey.  Nor each will feel that each step and mile is a test or battle.  Numbers will accumulate beside each name.  Some in abundant and glorious fashion and others struggled for each one.
No matter your training, no matter your fitness, and no matter the buoyant brightness of your dreams that compelled them all to come here.  Whatever the outcome,  it will all be worth it in the end.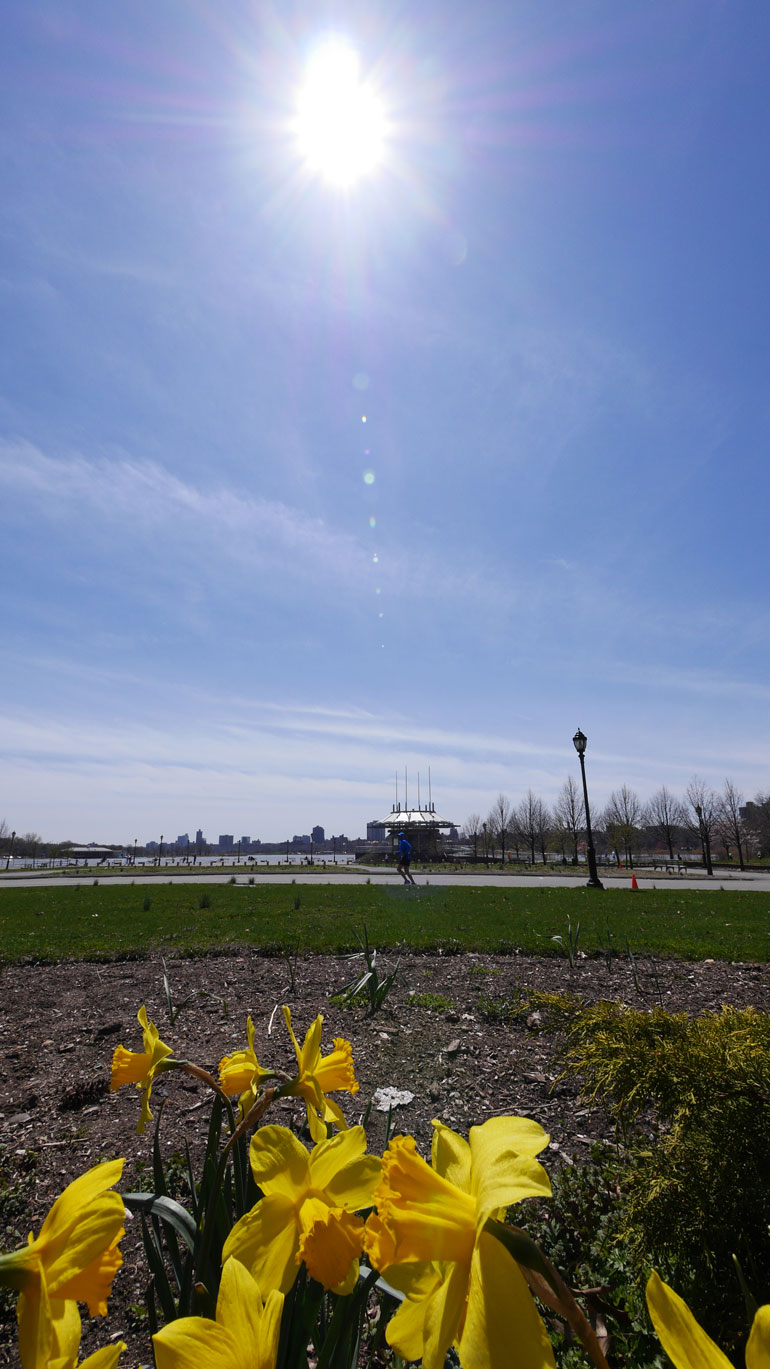 Pain, fatigue, and suffering with different faces will come calling and be dismissed, fought, and every once in a while surrendered to.
But there is already victory here.  Just to stand up and step forward even one step from the line is its own great achievement and reward.  The numbers by each name will come gradually and accumulate each and every day.  By this time, 10 days from now, they will be put aside though.  The great green board, the village, and all the trappings of this 10 day race will vanish.
What will remain in the hearts and minds, and within the very fiber of each and every runner, is something that is not so easily lost or found.  It will be the inner experience, the change, and transformation that will push and guide each one to the next great challenge in their lives beyond.
The final preparations continue up until minutes before the race.
Not too far away the cooks are readying the first great meal.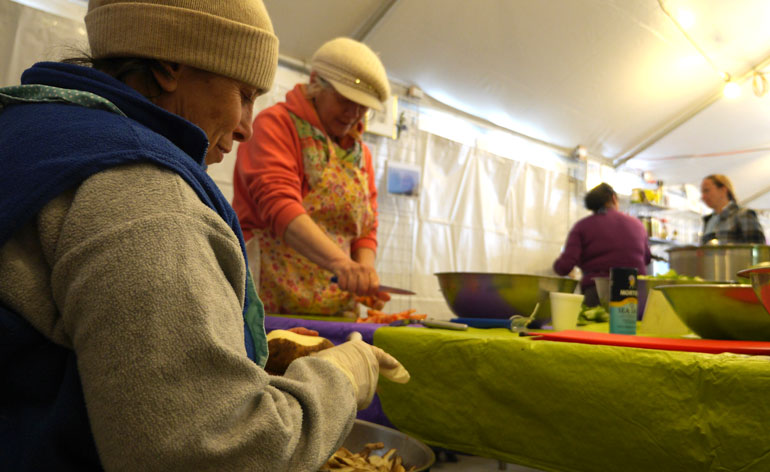 Runners are relaxing before the start.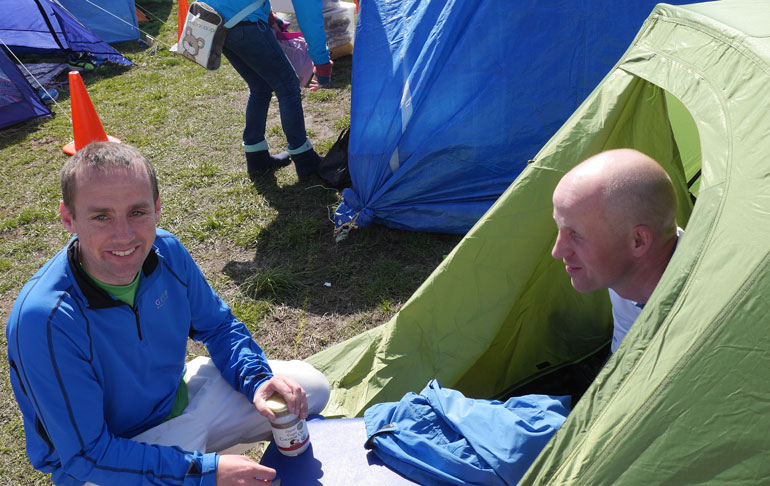 I have a chance to speak with Nirbhasa who is running this race for the 2nd year now.   Last year he had never run even 6 days when he took up the challenge of the 10 day.  His results were nothing short of spectacular.  He ran 1000 km in his first attempt.  A number that is something like the holy grail for even experience multi day runners.  Before we talk he is organizing his table.  "I think everything is in its right place."
"This year, you know, because I have done the race, you know before last year I didn't know what to expect.  Everything was kind of new.  Now one of the key things is to try and keep away that sense of expectation.  Actually I want to focus on the things I was focussing on in the 1st race.  Be happy and treating it as an inner adventure."
"It is an opportunity to find out what my boundaries really are, and go beyond them."
Last Year. "It was a really interesting experience.  These races really seem to be spiritual experiences.  You really feel connected to something very deep and very powerful.  And you develop and tremendous sense of faith in that. That no matter what happens it is all ultimately for my greater ultimate happiness."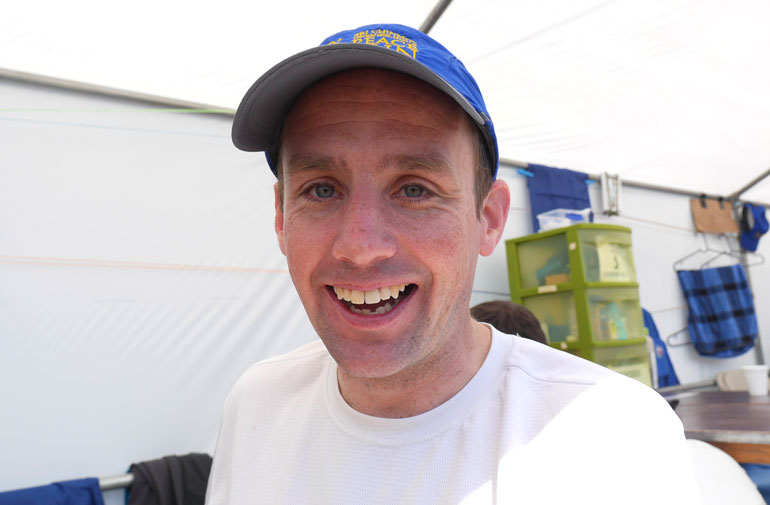 On his final day of the race last year Nirbhasa accomplished an extraordinary challenge by running 91 miles in the final 24 hours.  A distance that far surpassed any of the other runners in the final day.  I ask him if he took something away from that.  "It is hard to know because I think it stood out more because of this particular race." He suggests that in other multi day races it might not have appeared so shocking.
"Part of me thought it was kind of a done thing.  That everybody cracked out big miles in their last day." laughs "I thought it was the thing you do.  I didn't think that people went to bed on their last night."
This Year "I have different goals.  I have shoot the moon over the top.  Dream world kind of goal.  The important this is always to have a goal but if it doesn't work out then set yourself different goals.  At the same time even those goals are secondary goals.  The first goal really is to be happy.  Because if you can't be cheerful and if you can't be happy then you are scuppering (ruining) all the other goals.  It is just very difficult to run if you are not in a good frame of mind."
Click to Play Interview:
Wei Ming from Taipei, a very experienced runner is running the 10 day race here for the first time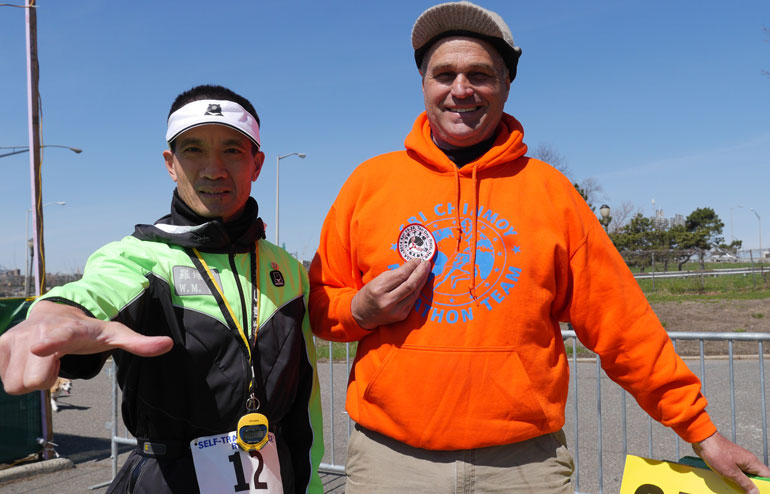 Sahishnu and Nipura check out the lunch list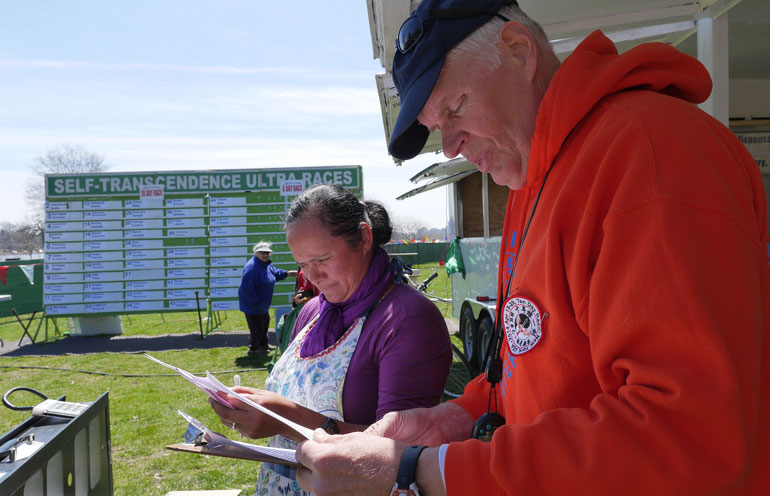 Runners and helpers ready themselves
The board is a point of interest to everyone.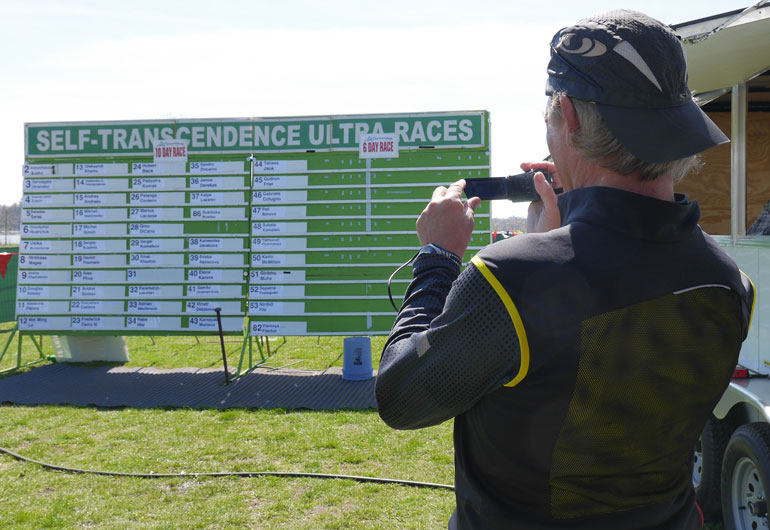 Gino and Karin are relaxing in chairs when I first meet them.  They are a couple from Windsor Ontario Canada and Gino is running his first multi day race while Karin first ran this race on Ward's Island 15 years ago.  Karin says, "I was 26 then and I am 42 now.  It was my first multi day and I did 515 miles.  It is quite an experience.  It is one of things that when in Rome….you just embrace what happens."  She hasn't run any serious multi days since then and suggests, that her big race in the time since, has been raising her daughter.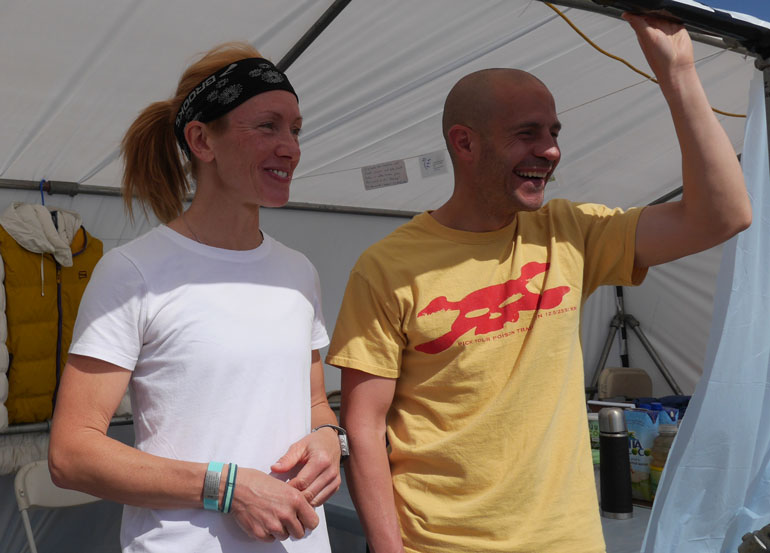 Gino says that when Karin suggested coming here for this race, "I was absolutely delighted."
Karin on coming here this year.  "It is kind of a surreal experience.  You don't really understand it until you are really there how well you are taken care of.  How much everybody is trying to constantly trying to help you reach your goal. It is different than any other experience that you will have.  But you will never forget it.  You just feel this support."
Gino says, "I definitely have some goals.  but anything can happen in 10 days.  We will see what happens."
"I tend not to think of myself as very esoteric."  Karin.  "But in order to really succeed.  You really have to embrace the culture of where you really are.  So as long as you leave your ego at the door you have to embrace what is here.  If you try and resist it I don't think you will be successful."
Gino says, "I do think it takes something special to do something like this, and where that comes from and how you obtain it, I will find out."
Marius poses with the couple.  He is also from Canada, and at 56 is running his first 10 day.
As I talk to Marius I ask if he knows Michel Guoin and he says that in fact he is waiting for him.  "For me it is a challenge.  I did one 48 hour race but had to stop at 30 hours because my feet were too sore.  But each year I said I had to go.  I wanted to go but never did it.  Now I had to go."  His goal he says is 500 miles.  The farthest he has run before is 138km.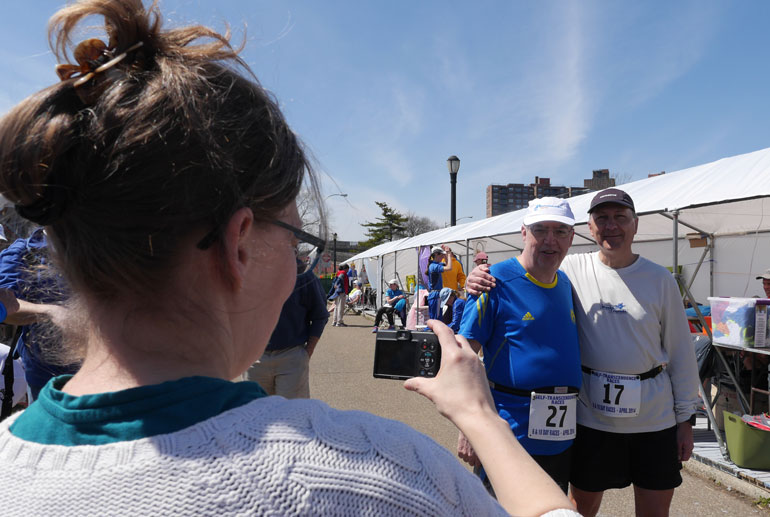 He is enjoying himself right now but jokes, "maybe it will be different after 10 days.  I know it is a big challenge for me."
Click to Play Interview:
Rimas puts up his tent
Niribili is competing in her 12 multi day.  At age 68 she simply does not believe in retirement.  She see herself competing much like Ted Corbitt at least until 80 like he did.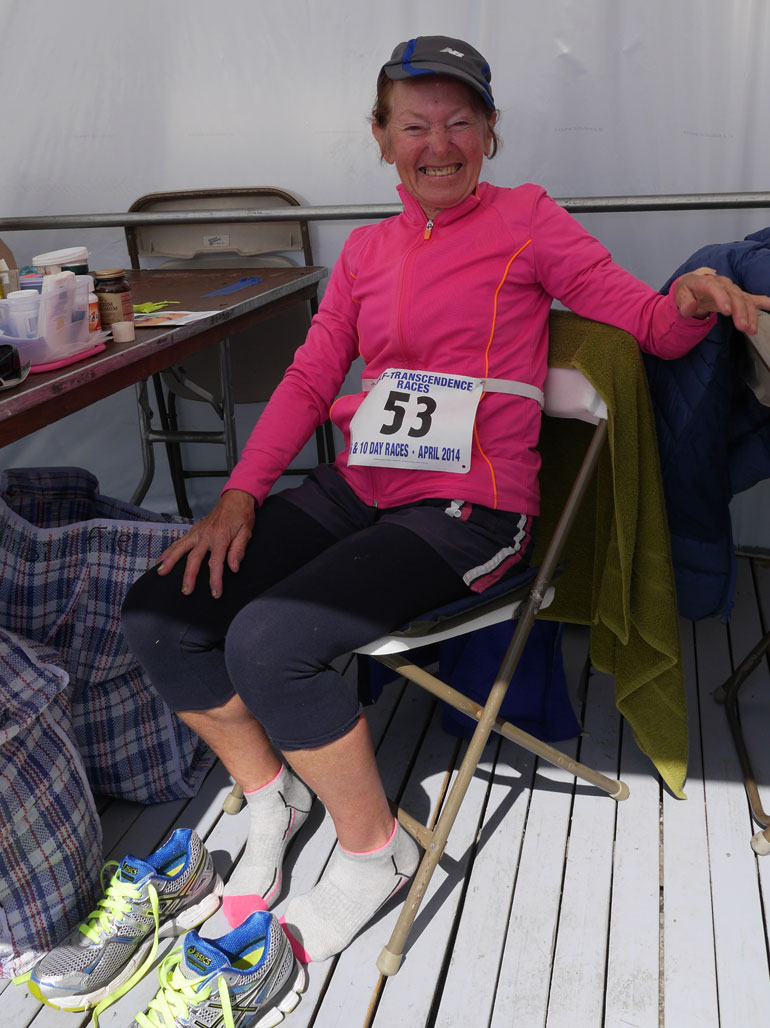 Just last year Shamita reemerged in the sport of multi day running.  After a gap of almost 20 years she ran 593 miles in the 10 day.  She describes that her earlier career as an ultra runner sometimes seems like years ago and sometimes feels like it was yesterday.
Last year. "I had a real goal in miles.  I also had a real goal in experiences and to progress.  The goal has not changed.  I want to make progress.  I want to make tremendous progress in 10 days."
I suggest that by running 593 miles she was very close to 600 miles.  "You know just this 7 miles takes one more hour, and I did not have that." She then gives great praise to her helper.  "She knows what the runner needs.  She thinks for the runner, and she is really tremendously experienced."
Signs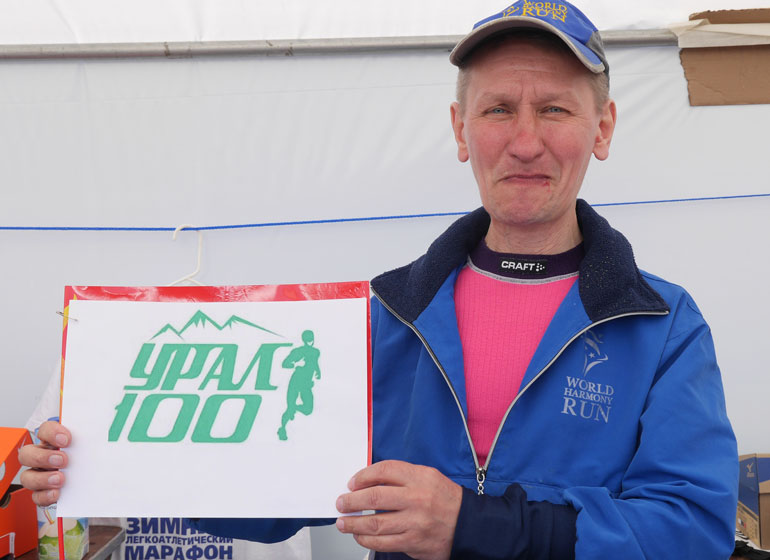 Sahishnu checking last minute details.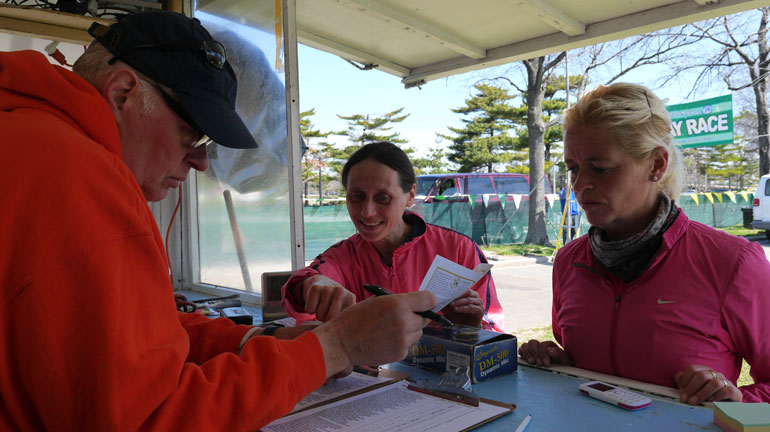 Putting on the number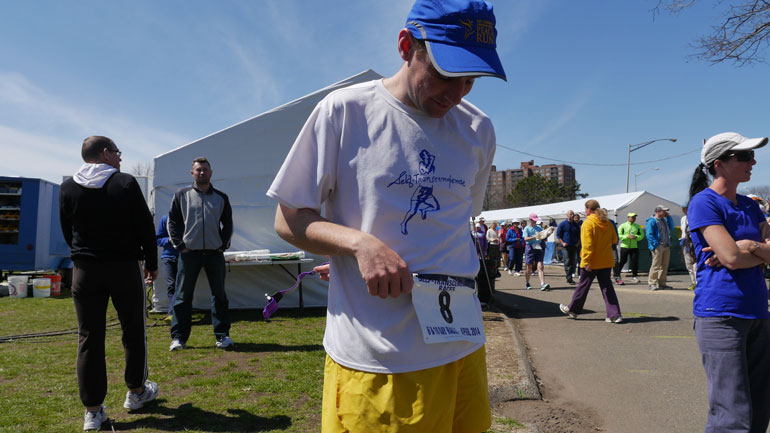 "I am a Kiwi but I am living in Brisbane."  Subala was here last year and here and returned to run again, but this time she has brought a crew member.  Also known as her son Lakshmana.  Last year she ran 227 miles for 6 days.  She says, "I am transcending myself by moving up to the 10 day."
"It has always been something that is close to my heart, because it is so close to Sri Chinmoy.  That has always been really important to me.  I have been at this race since I was about 15.  It is something that I have always wanted to come back to.  The whole feeling is like one big family."
Of his mom, Lakshmana says, "she might be really good at this."  He tells me his is also going to be a big help to her over 10 days.
"I think last year my expectations were too high.  When I got injured after the first couple of days.  I was really disappointed at the way things were going.  I have kind of learned to just surrender to what is going to happen.  I am not worried about miles."
When referring to the presence of her son with her, she adds, "It is going to be a lot more fun."
Click to Play Interview:
Sarvagata reading the most important literature on the course.
As an introduction Hubert Beck says that he is 56, from Germany, and still crazy, and getting ready for the 10 day race.  For the past 3 months he has been preparing for the race every day.
Hubert has published 2 books on running, the first on marathon running.  "It is a best seller in Europe in the German language.  Now my second book since last year is ultra marathon running.  This is my heart now."
He feels that if you can run a marathon then you can also run an ultra.  "My mission is to explain how to do that."  There is plan that you need follow, step by step.  He says that he has been in the ultra world for the past 18 years.  He says that his first experience in a longer race, 100 km did not go as he hoped.  He decided at that point that he should go back for a time at least and focus on the marathon instead.  "I ran between 2:50 and 2:58 for my marathon times, which he did 20 of them.
"There is a mentality of the people who are doing this.  The Sri Chinmoy marathon team is so friendly.  It is a spiritual run and it is not an adventure race.  What I mostly did before was adventure races in the hills and in the jungles.  Now here you are going in a one mile circle.  This is totally different and more difficult mentally."
Here in the next 10 days.  "I know there will be many many things that are uncontrollable.  New things and many problems will come up.  This is a challenge.  You never know what happens."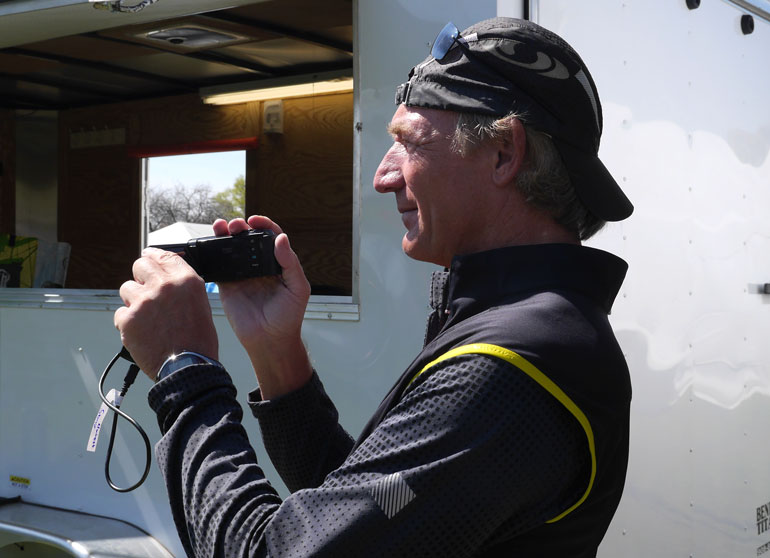 He tells me that self transcendence is something that he has already experienced.  "It comes up after about 15 hours of endurance running.  Then you get your spirit and your mind.  You get out of your body and you see everything in a different way.  This is a very very good experience.  In 10 days you have a lot of time to think about yourself, about your whole life, about real things.  After coming out from all that you are like reborn.  Very clean in your mind.  You are happy about every little thing, what you have and what you get.  It is very very good.  It is something everybody should have."
Click to Play Interview:
Andrei Somov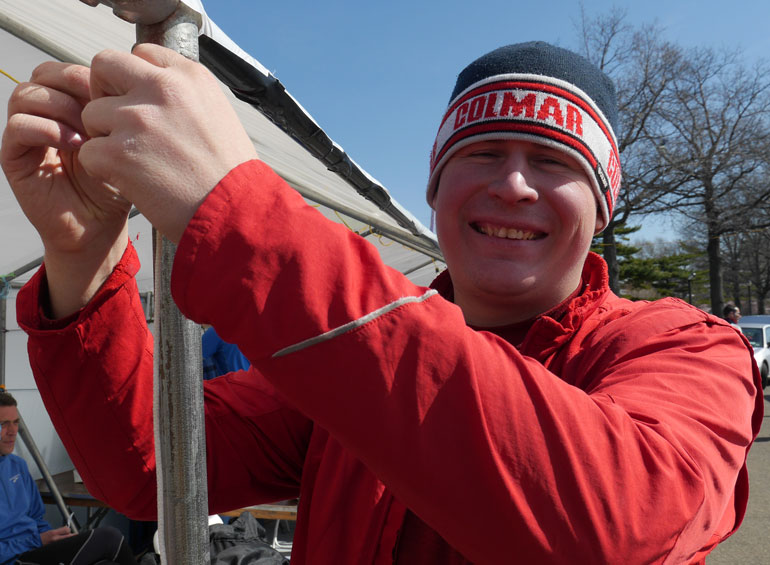 Ilvaka and crew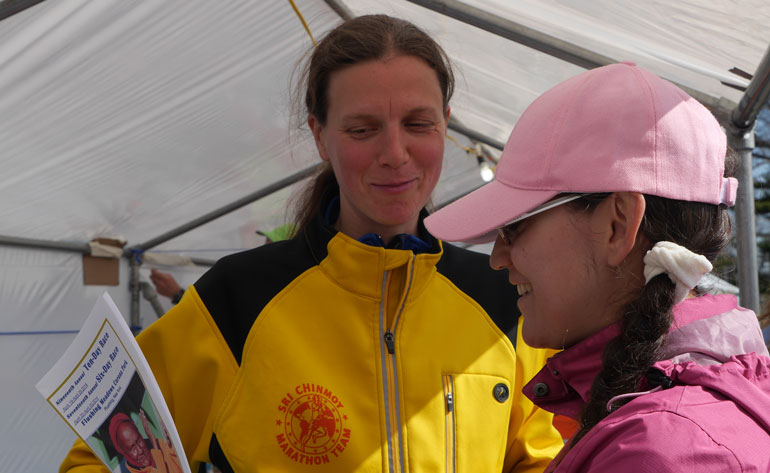 No more caution….The race is about to start.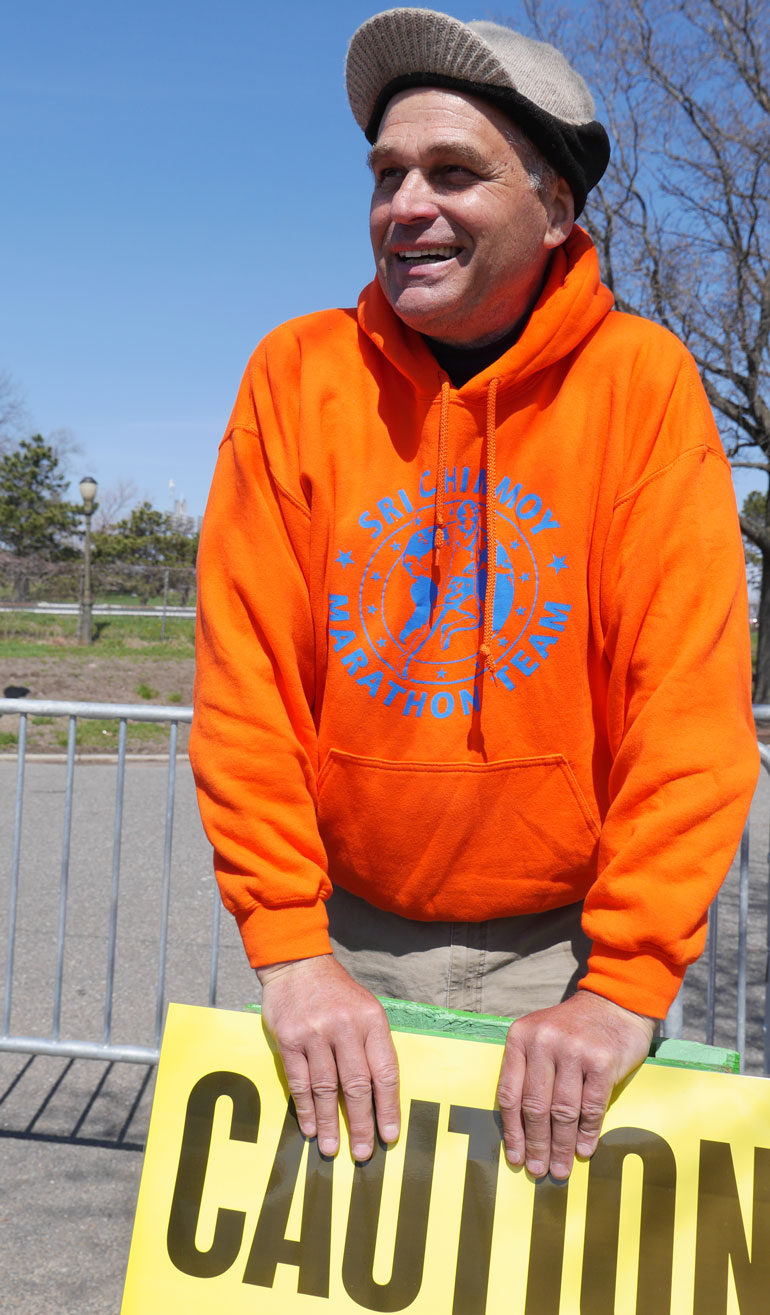 The banner is up.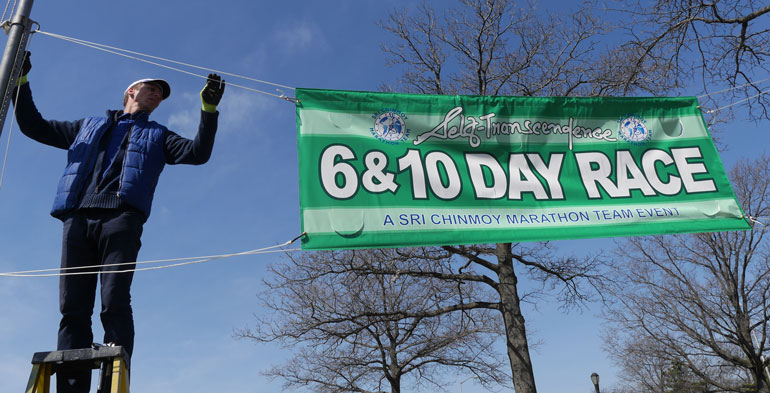 Click to Hear Start of Race:
Then it is like this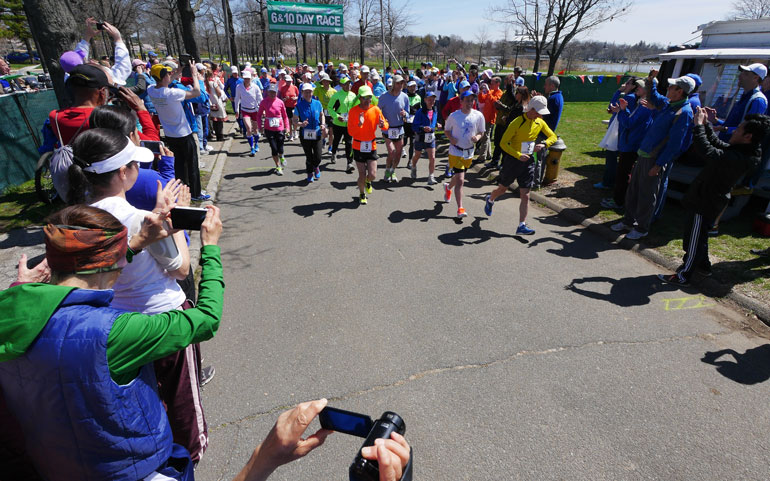 Ashprihanal leads the early laps.
Hubert now running.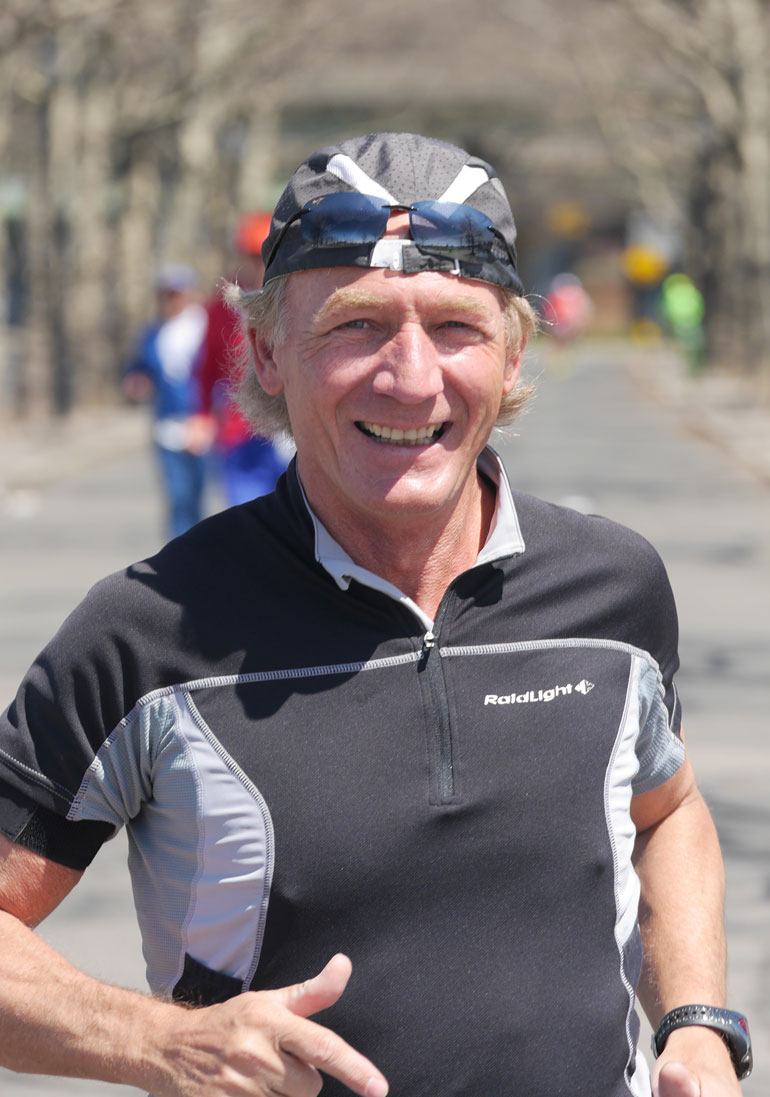 The great kaneenika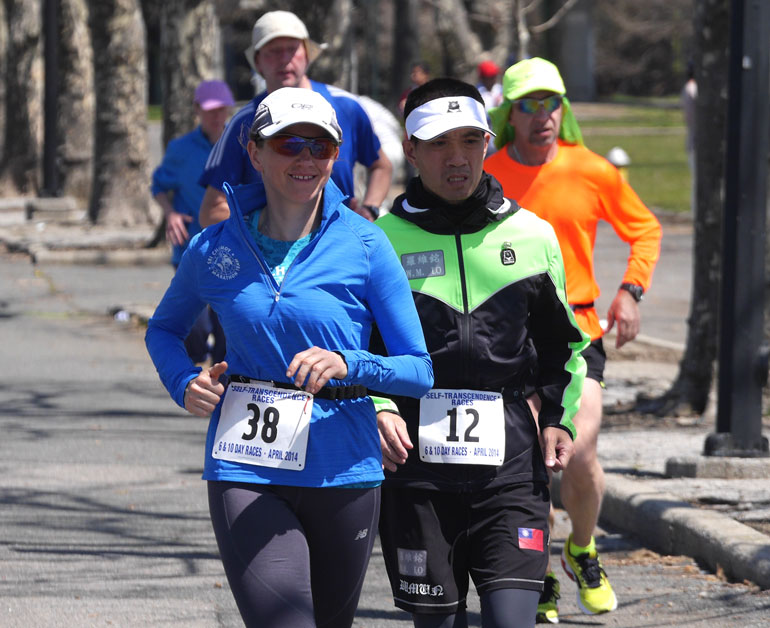 Karin back after 15 years

Scenic views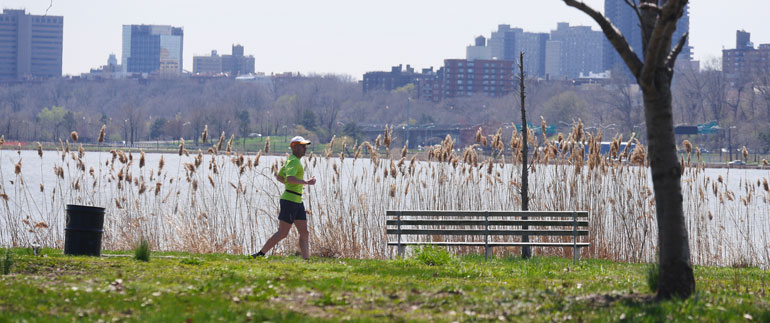 Ladies of the 10 day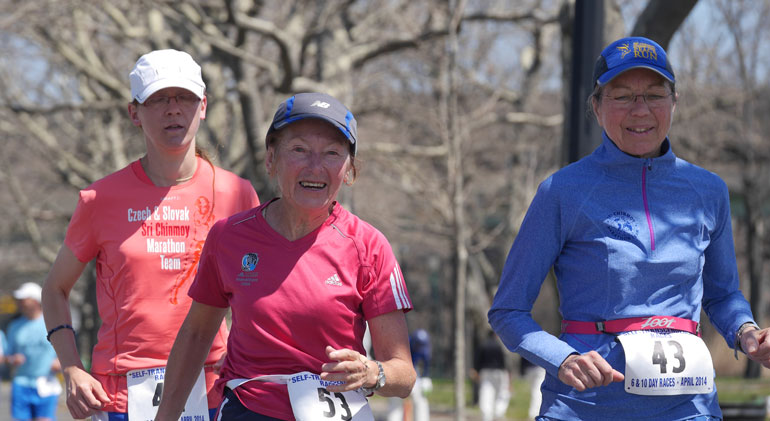 Kodanda and his one man band.
While Mom runs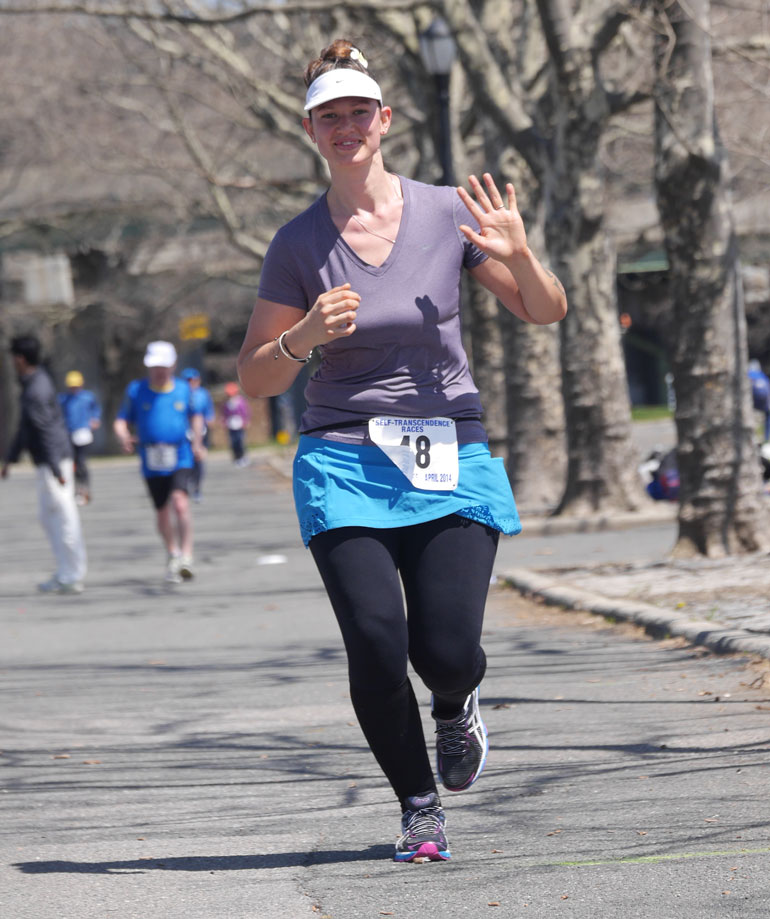 Lakshmana has found a job
It is hard to get away from technology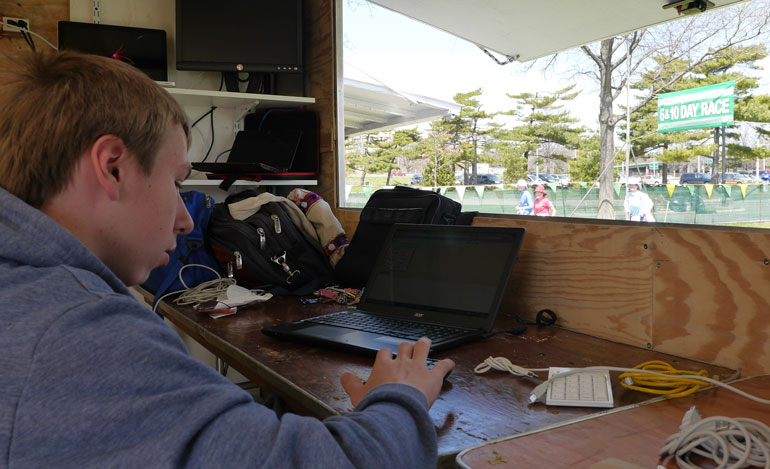 But there are lots of old fashioned jobs as well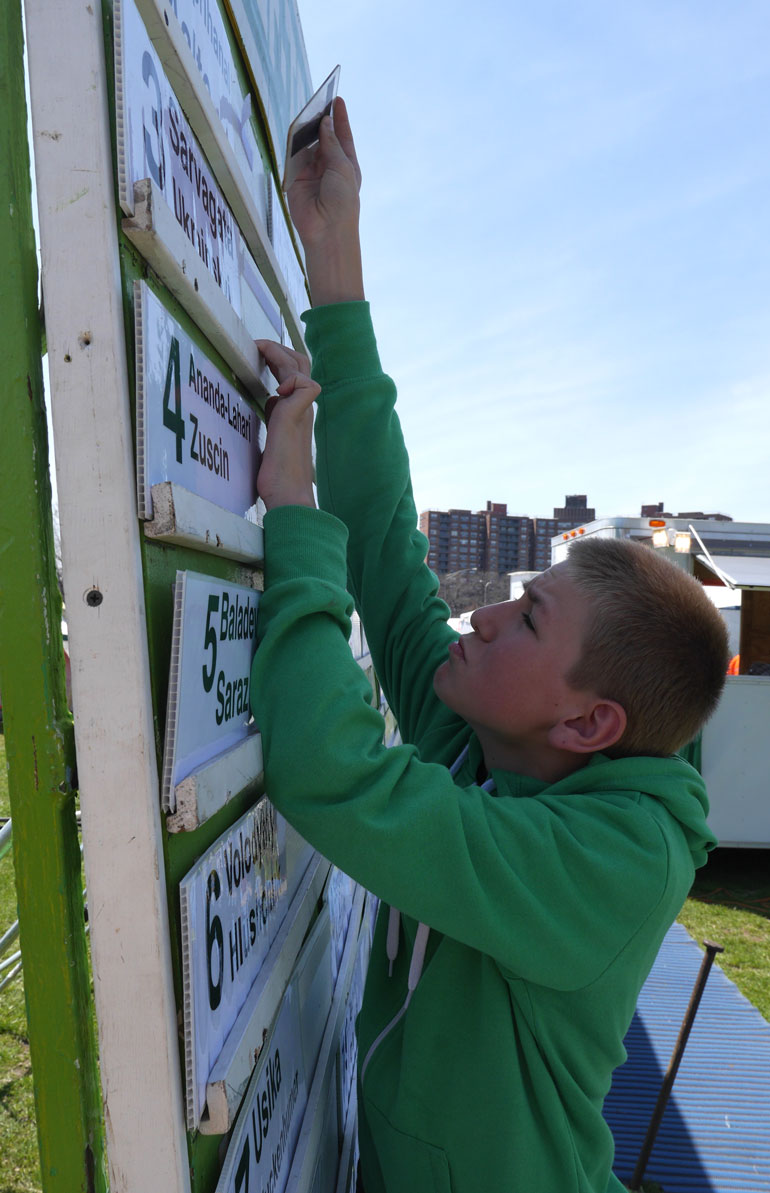 Volodymyr and Nirbhasa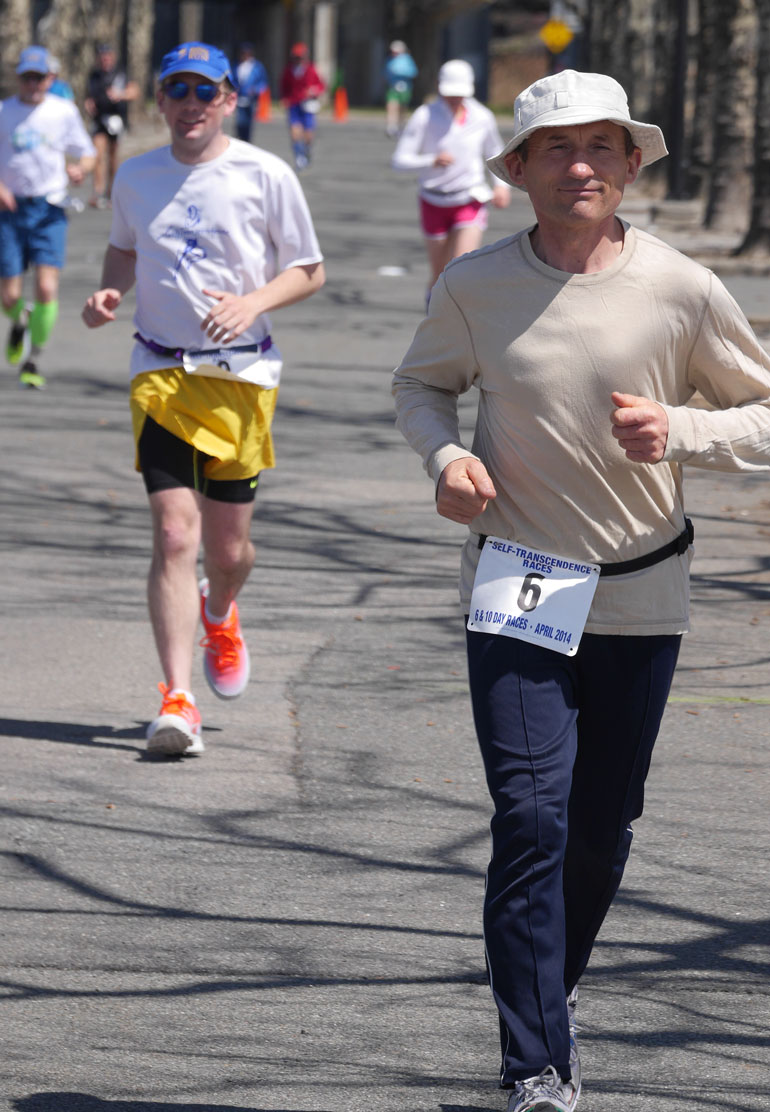 Uparaka
Everybody moves at their own pace.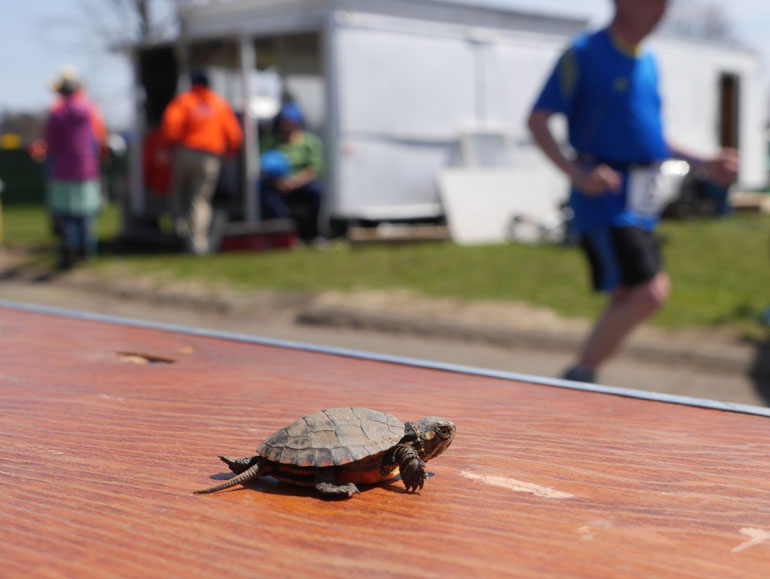 Patanga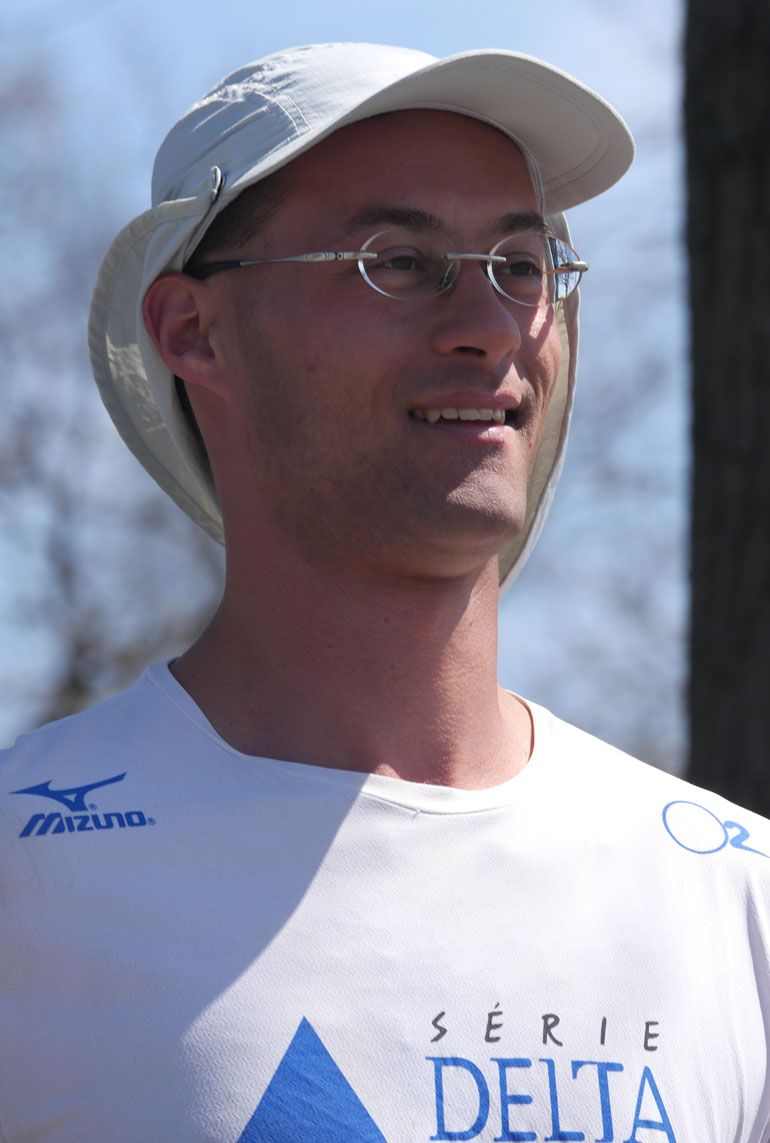 Pati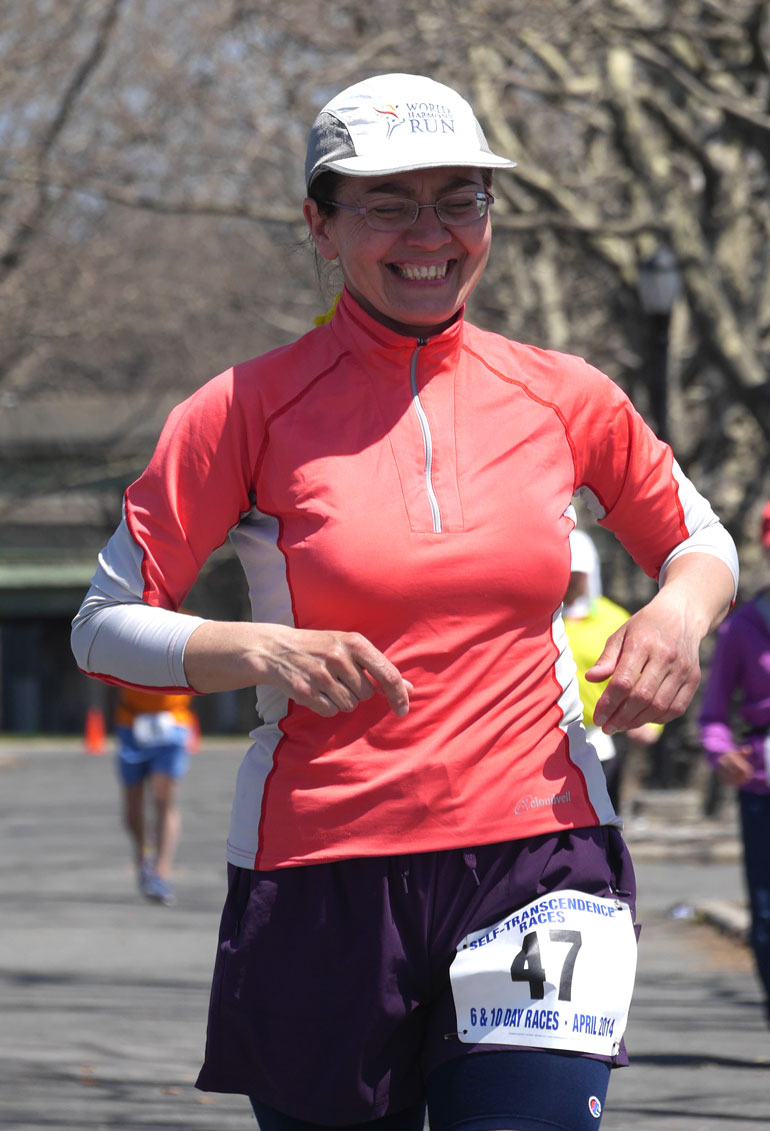 Gino
Some singers on the course.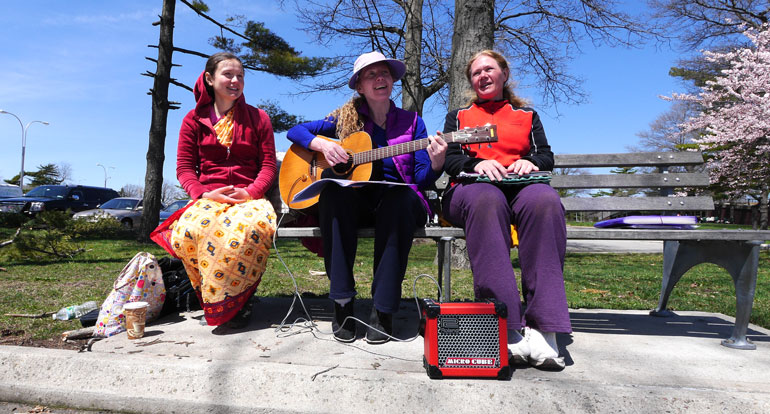 Ananda-Lahari
The finish line will be enjoyed by all many many times
Silence runs
Along Eternity's Road.
Sri Chinmoy, Seventy-Seven Thousand Service-Trees, Part 36, Agni Press, 2004