For 355 days a year this little piece of Flushing Meadow Park doesn't look like very much.  But for 10 days, and perhaps just a little more, each April it becomes something quite wonderful.  All that planes that soar in and out of LaGuardia airport close by, just might see out of the ordinary, is a momentary puzzling flash of blue and white plastic tarpaulin as they cross over this fragment of a New York City park.
Depending on how kindly you look down upon it, there is a wide assortment of landscaping here even at the best of times.  Some tired patches of dirt, crumpled roadway, great swaths of lawn, and trees spreading their towering canopies across the pathways.   Depending upon where you sit in a plane that crosses over, you just might catch a brief glimpse of it all.
But how is it possible, when you are soaring past, can you really tell at all what it is that you are seeing just beneath your window, and more importantly, know at all about the marvelous things that happen here over those 10 sweet hard days each Spring.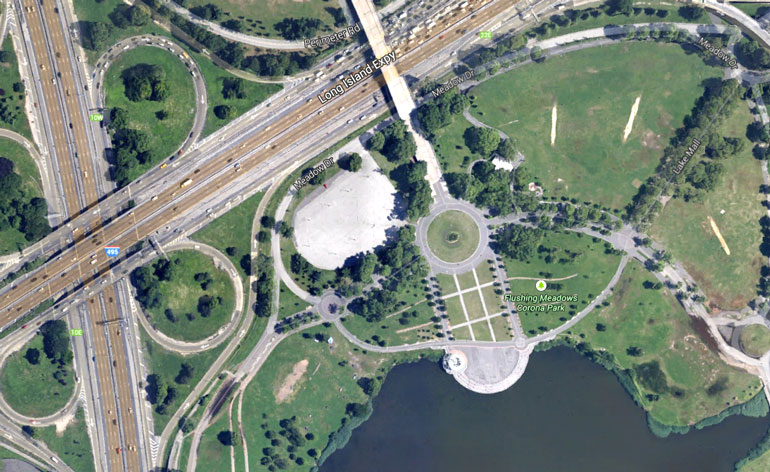 A few days ago the construction of the 6 and 10 day village began in earnest
To see how it all comes together is a miracle in and of itself… Bipin is the main manager of the building and Rupantar the Captain of the Sri Chinmoy marathon team.
In the beginning it is hard to visualize just how it all will look
There is so many things that have to be done it is hard to imagine how it all can get done in time.
On one night it rained and snowed.  There was lots of evidence that this happened.
Rupantar spent the night there guarding the equipment.  At some point the heater of his car stopped working… He said he did not feel cold.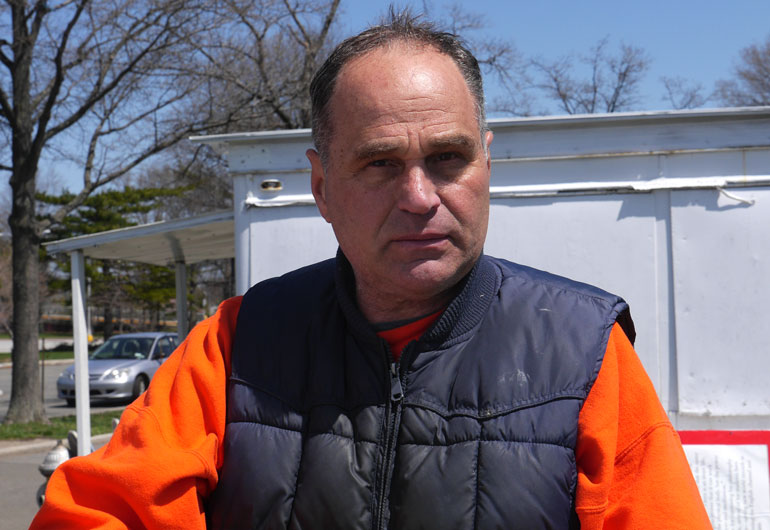 Within hours things start to take real shape.
There are plans to follow
Still always lots of good old fashioned hard work.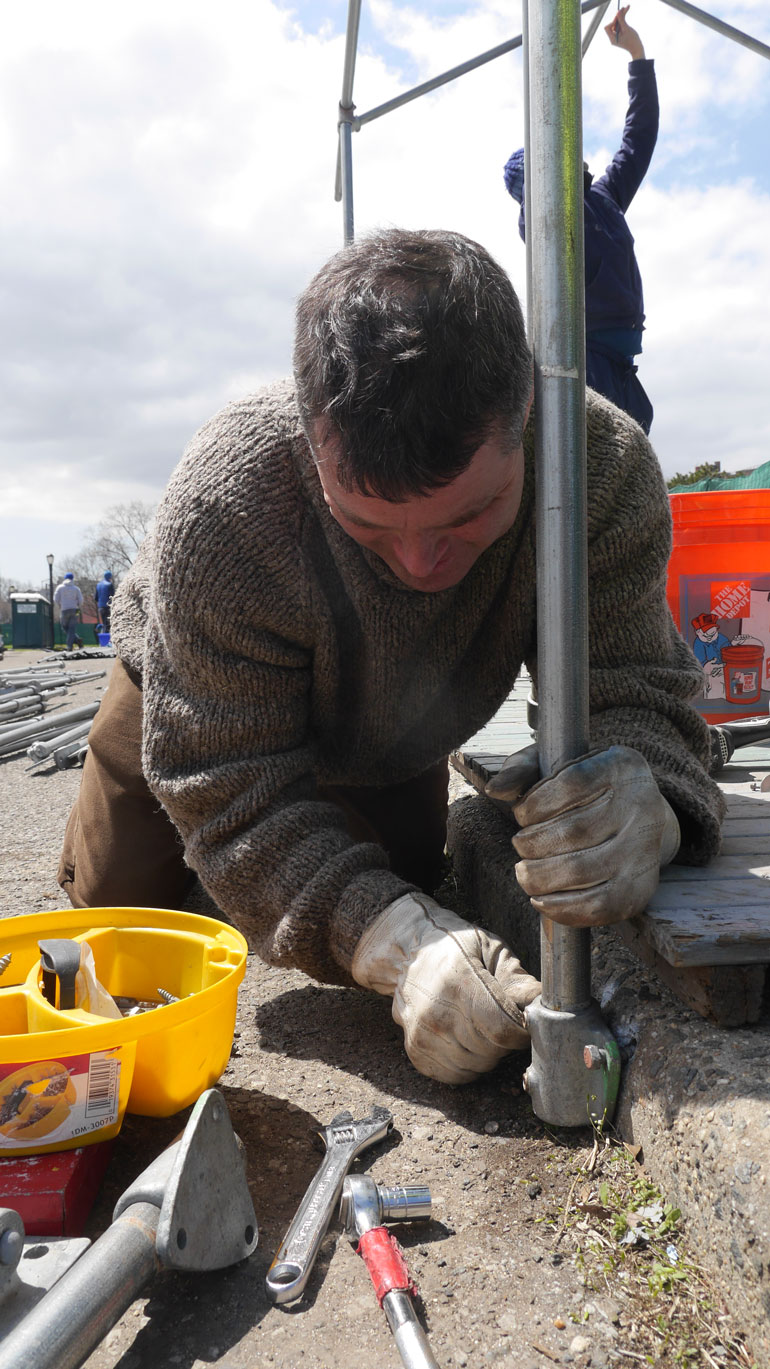 The runners slowly start to appear, to set up their tents.  Kaneenika will be part of the 10 day race.
But many things have to be taken care of to make the village work, and thus the race.
Fred Davis lll is definitely here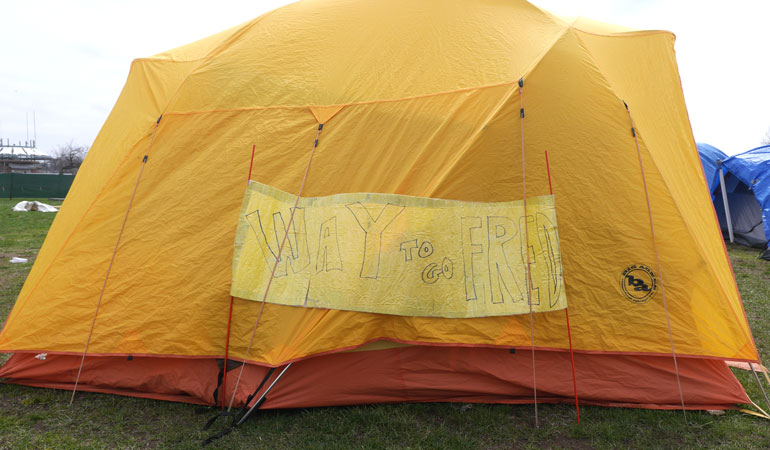 There is a fence around it all.
As each hour passes more tents go up.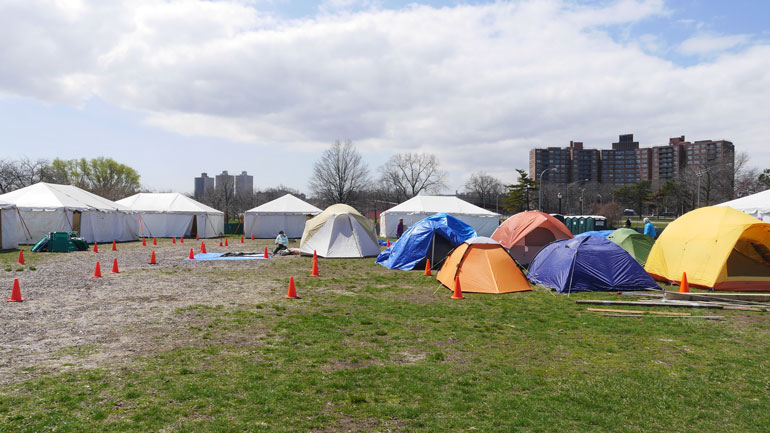 The dormitories will fill up.
Lots of details, big and small.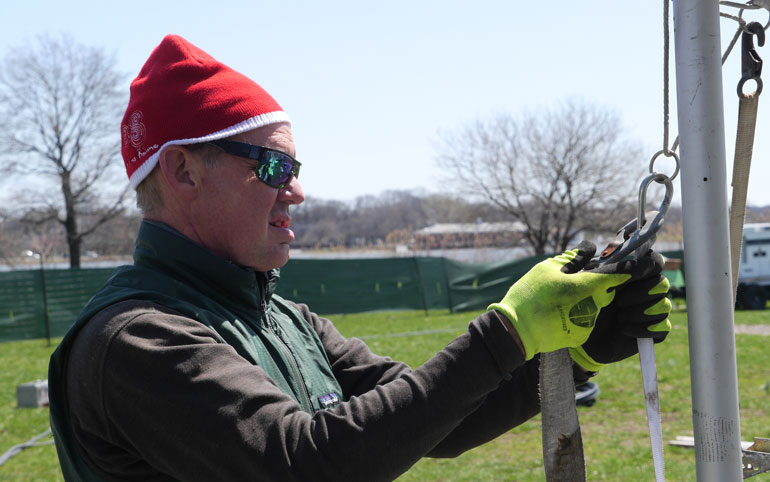 The kitchen is an important place
Then in one day it looks like a place one can have a cup of tea
Nipura is responsible for all the food at the race.  "This year I am endeavoring to make sure that the runners get to have hot food all of the time.  We are also providing lunch this time for everybody on the first day."  She is not certain of the total figures just yet, but in her mind, she is catering for 143 people."
It is at this moment 24 hours before the 10 day race starts.  "We have the most awesome team.  Everybody is  just doing their thing.  It is great.  We are all restaurant workers."
She tells me that she has no set menu but basically improvises her menu and food selection as each day comes and goes.  Tomorrow, if you are interested, lunch will consist of macaroni and cheese along with a Greek salad.
When asked if any of this scares her.  She says, "I don't really think about it to be honest.  I plan it all right from when the race ends.  I am thinking about it the whole year."
Click To Play Interview:
Girl power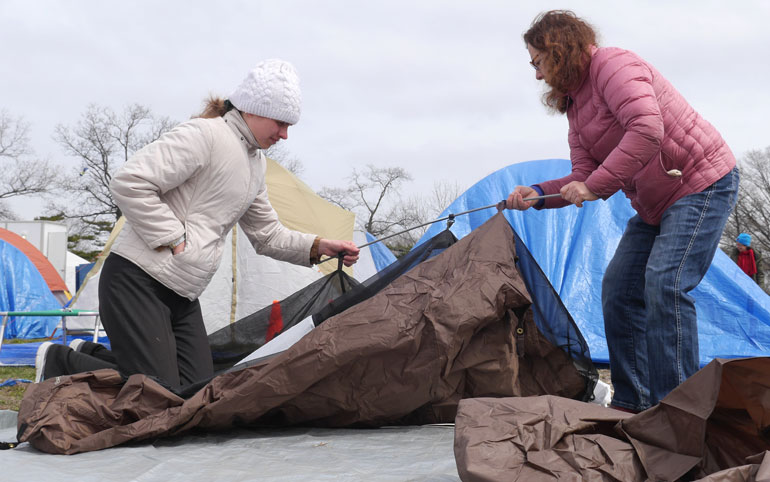 The other side of the fence
Getting Board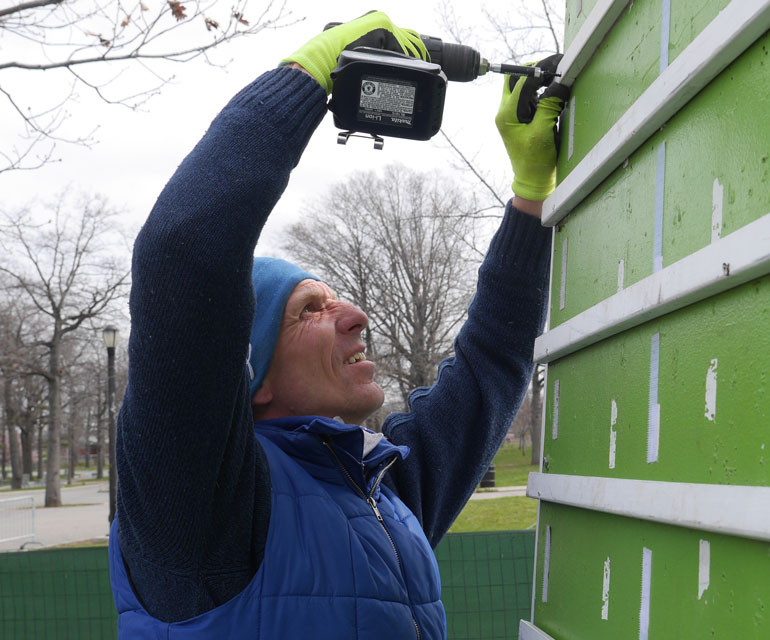 Karnayati making a sign for her table.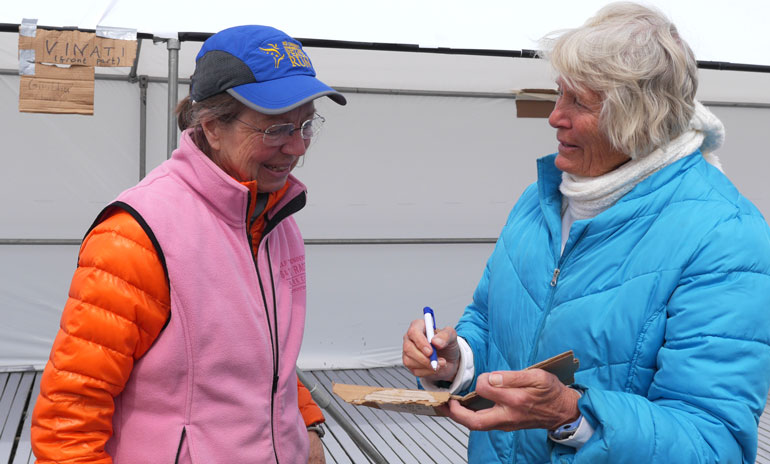 Sign of the times
Kumar from Nepal is back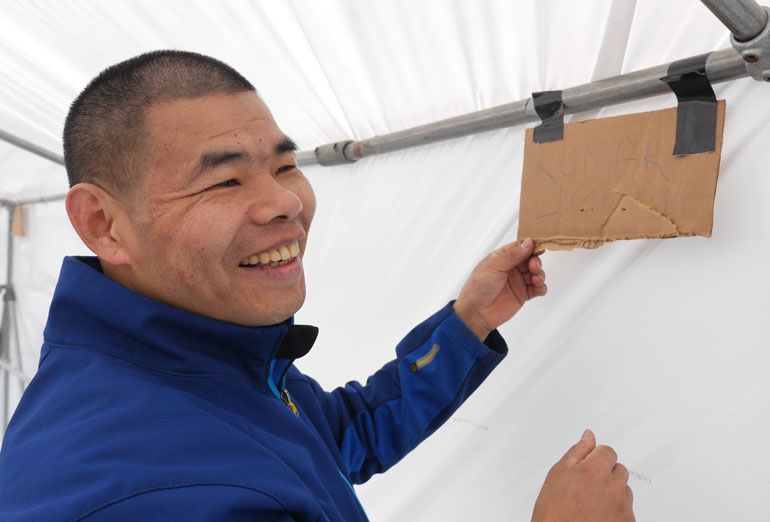 Adrian is her for the first time to run the 10 day race….Also it is his first time in America.
Patanga from Brazil is running for the 2nd time.  He tells me that before last years race he felt that his health had not been good.  Despite this he was inspired to come and ran 360 miles over 10 days.  In the end he felt better and more healthy then when he started.
Adrian has grand plans for his 10 day race.  His goal is to run 100km a day and  end up with 1 million meters over all.
"Stay happy all the time," is the advice Patanga offers Adrian  "Really enjoy it.   That is why you came here.  To find yourself and to find happiness within yourself.  The rest will somehow work out." When asked if anything surprised him when he ran last year.  "I would say I had a surprise every half hour or so.  All the time there is something changing.  There is something good happening and something difficult happening.  Everything is part of the race."
I ask Patanga why he didn't use the word 'bad.'  He describes that after a while he didn't look at things that way.  "You start to assimilate and look at things as challenges."
Adrain says about coming.  "I tried not to come with any preconceptions.  I want to experience it for myself.  It is early days, I haven't been here 24 hours yet.  My experience right here is that there is a good community feel.  People are looking out for each other.  I am looking forward to it."
"I think every one is here to challenge themselves.  To find their limits.  To go beyond those limits if possible.  But like this gentleman here.  You want to have fun.  That is why you do it.  This is what we train for.  Just to enjoy the experience.  It is a once in a lifetime opportunity."
Karteek says, "People told me about this race and said it was a great experience.  You should do it.  It was in the back of mind.  Maybe one day I will do it.  On January the 1st I woke up and said….O maybe I should do that.  Then the whole thing just took over.  So I started training.  I am hoping it will be a good experience.  I would love to be able to do 50 miles a day for 6 days."
I ask Adrian if there is anything he needs to do between and now and the start tomorrow.  "I feel very relaxed.  I think meeting you guys and helping me put my tent up and welcoming me has put me at ease."
Click To Play Interview:
Only one competition
I appreciate, admire and adore,
And that competition
Is my daily self-transcendence
In God's own Way.
Sri Chinmoy, Ten Thousand Flower-Flames, Part 29, Agni Press, 1982