"I was inspired to run faster."  Yesterday Vasu did something here at the race, that when you see it on the result sheets, you have to wonder just how it was possible.  To watch Vasu in real time you really couldn't tell.  For all outer appearances he appeared to be doing exactly what he has done now since the beginning.  But in fact he did something astonishing that only the clipboards can show.  He ran 133 laps yesterday or 72 plus miles.   A number that is only surpassed by his first day on the course 45 days earlier.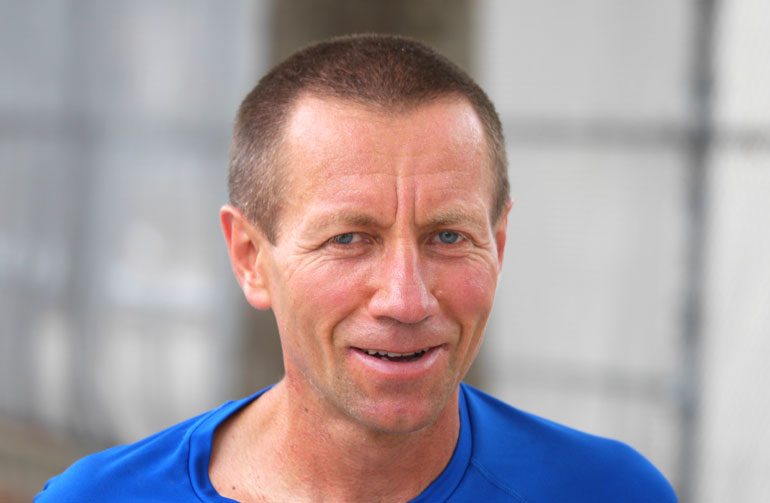 Obviously his appreciation of the finish line is no longer just imaginary.  Not just an ethereal concept floating in some distant realm of his imagination.  Instead it is very real and very close.  He started the day yesterday with just 170 more miles to go.  He is going to finish on Friday.  Yet somehow after already running 3000 miles he found a new gear, a new strength, or most definitely simply more inspiration.
I try and ask him about this using some traditional metaphors.  If you have ever competed in any race than you have no doubt heard the expressions, "leave nothing in the tank," leave it all on the track." Expressions that suggest that we as athletes can make a conscious decision to commit more of ourselves to the last few miles or meters of a race.
But no matter how I try and explain them to Vasu he doesn't understand.  Then it becomes my turn to comprehend.  He doesn't grasp these words, these hypothetical concepts, because within his vision and within his experience he has already surrendered himself entirely.  It is not for him to decide anything.  He is so immersed within the great flow of the race that he need do nothing more than what he has been doing since the beginning.  By doing his best every day and every moment he will simply arrive, at just the right time, at the finish line.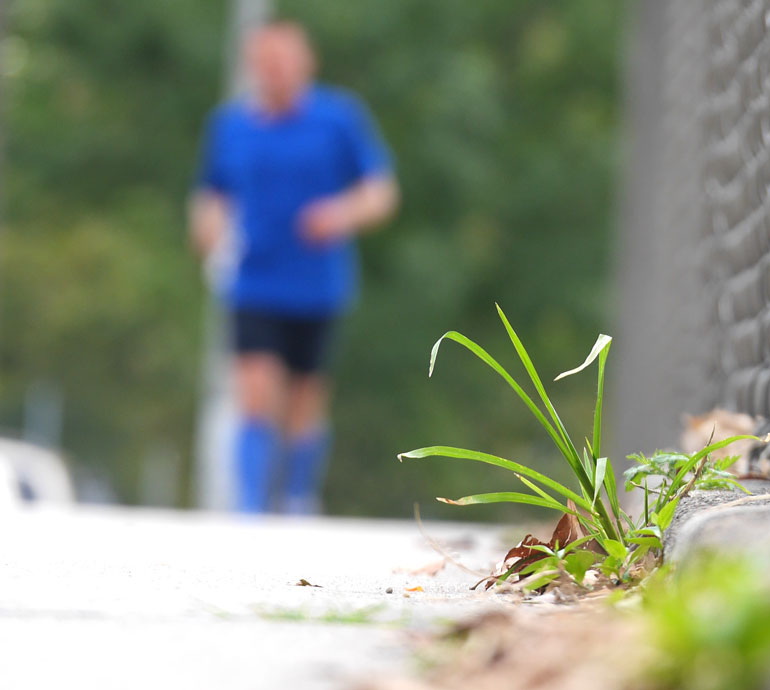 He says, "Your goal and Guru come to you.  You just have to be happy and be grateful, for everything."
"I don't feel as though I am pushing harder.  I am just trying to be happy."
The ticking of the life-clock
Encourages and inspires
     The brave souls
To run faster than the fastest
Towards their destined Goal.
Sri Chinmoy, Seventy-Seven Thousand Service-Trees, Part 18, Agni Press, 2000
It is 5:48 and Pranjal is just a little late this morning.
Atmavir had a tough day as did Yuri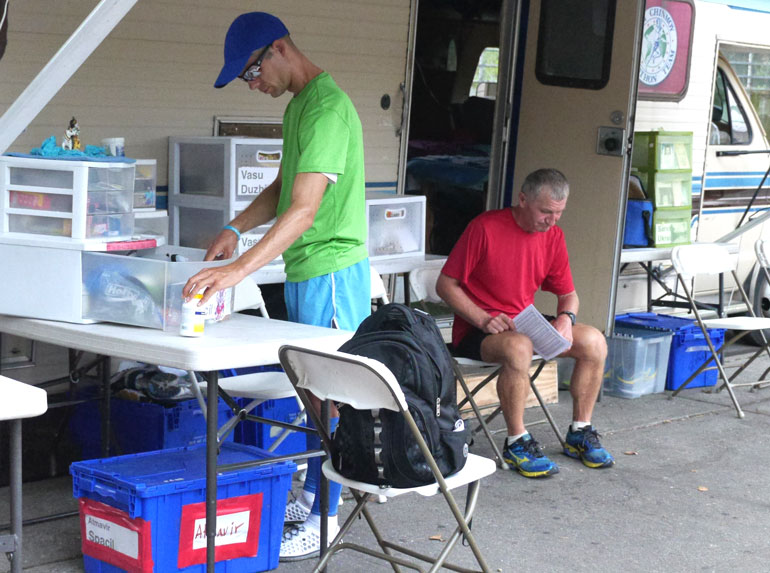 But Surasa also had a miracle day as well.
It is going to be a wet day.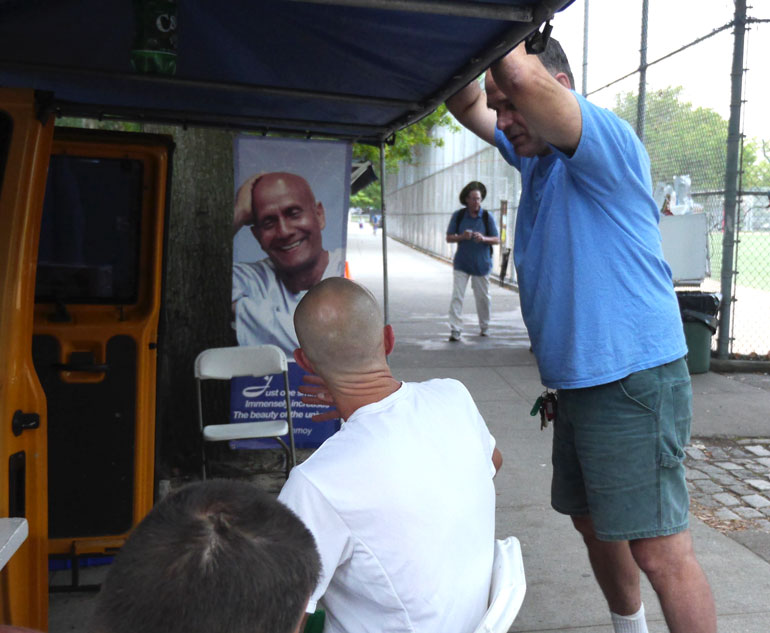 The board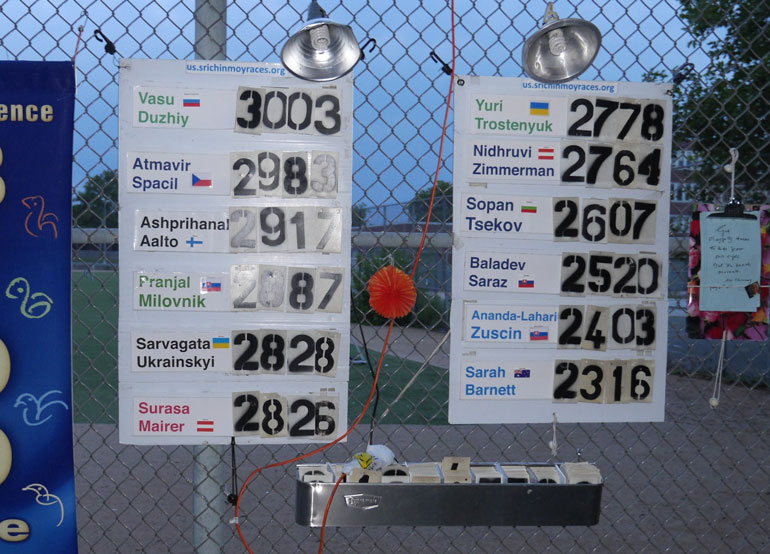 The start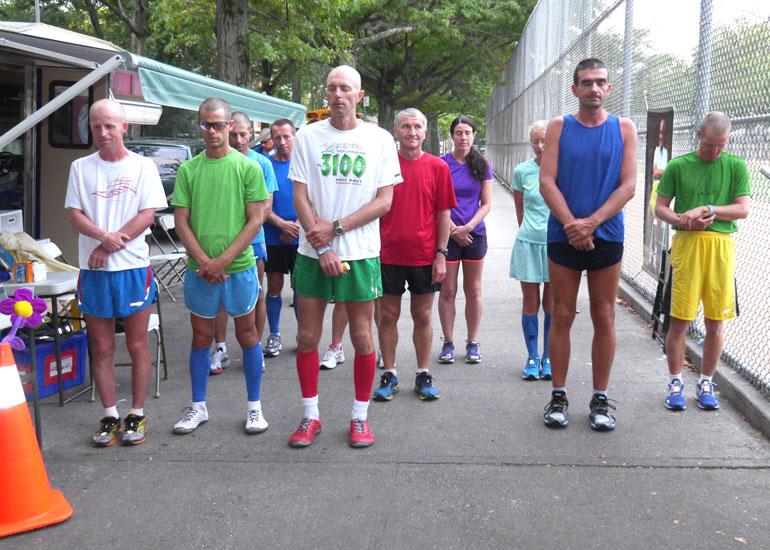 The morning at least starts off so beautifully.
Surasa had a day like she has not seen since the very earliest days of the race.
I ask Surasa this morning how she was able to run 116 laps.  "I also don't understand."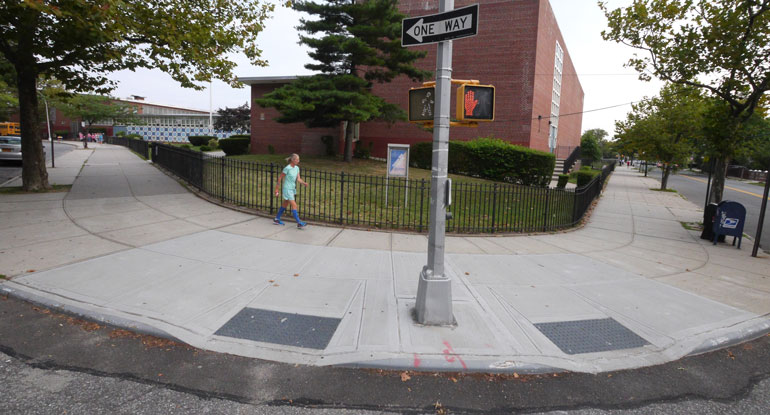 "The power came and when the power comes you cannot resist."
"It was just flying…..effortless."
I ask her if it was the weather or something else.  "Something else.  The power came within and it was so strong.  You just have a feeling of flying.  I was so grateful to have the feeling.  I can run for eternity.  It was so wonderful.  You feel nothing.  You are just flying around.  But when you are in this flow it is just wonderful."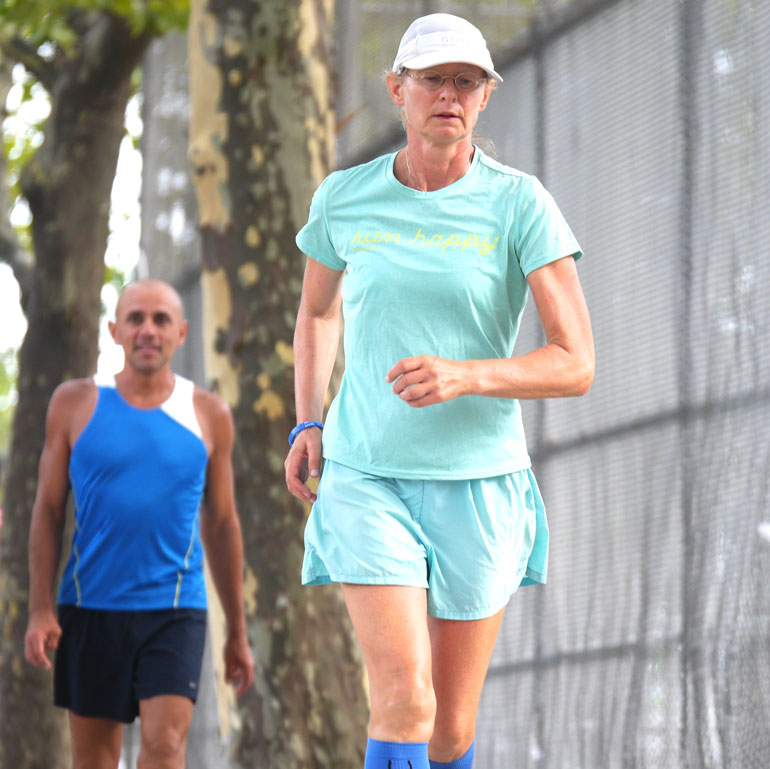 Who knows why these happens.  So many mysteries yet to be revealed.
The by now very familiar legs of Nidhruvi
She did 112 laps but her finish draws closer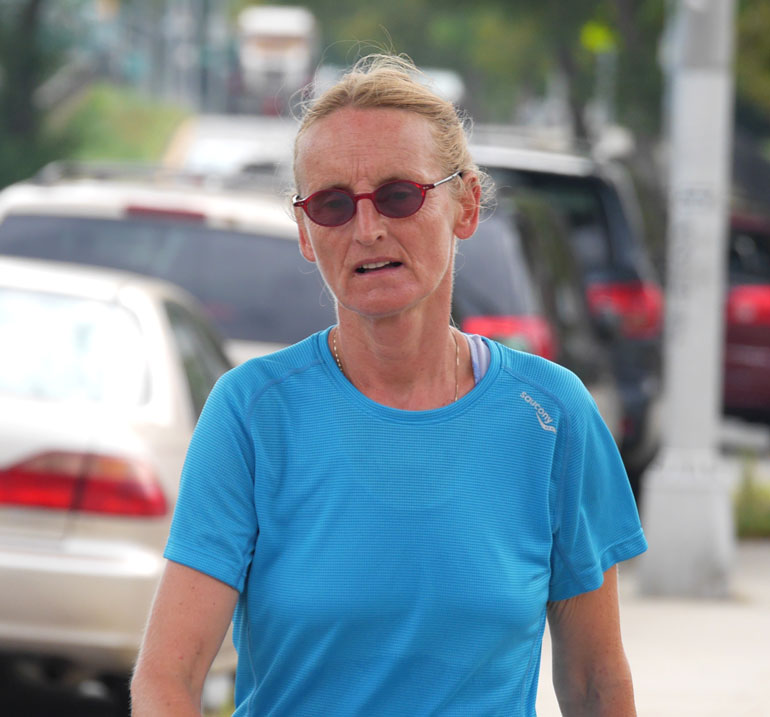 Sarah is running well this morning.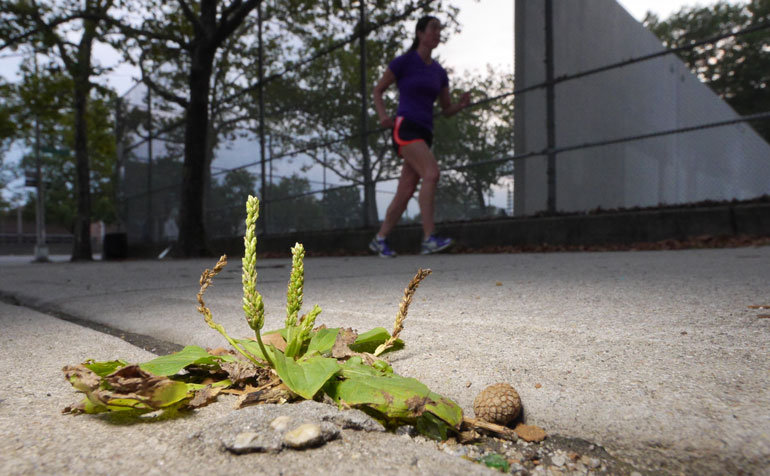 For a brief time her pace matches Nidhruvi
There are just 6 days more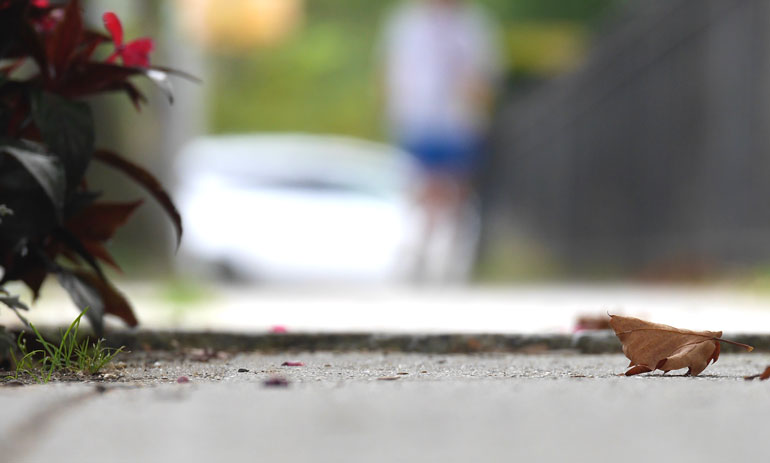 Ananda_Lahari cherishing every moment and every lap.
Still a lot of time and a lot of distance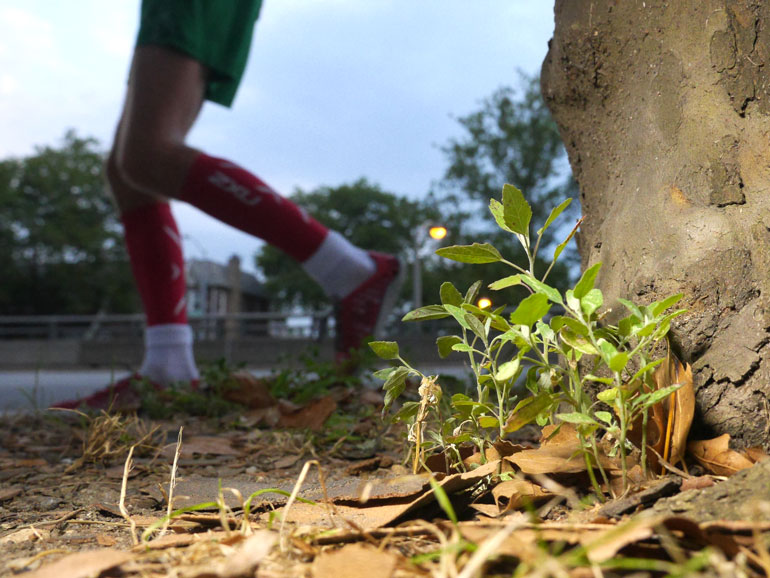 A lot more experiences still for Baladev
The Swami is on the course this morning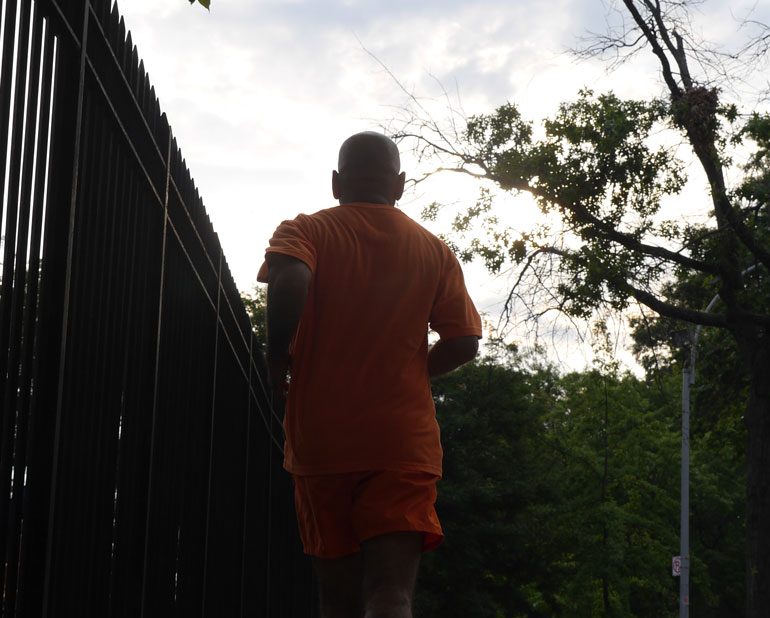 How do we tell which is more beautiful one from another.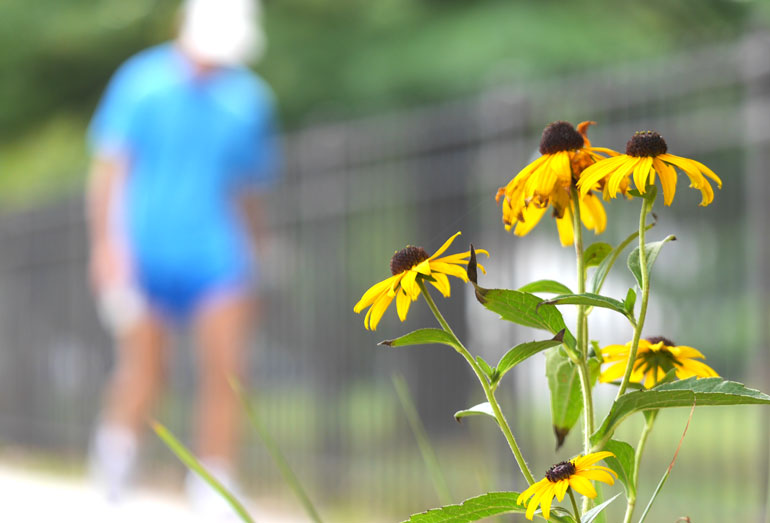 Sopan starts the day with 2607 miles
This morning he and Ashprihanal perform one of their best plays.
They actually give a copy of the script to the Enthusiasm Awakeners for them to recite instead.
Ashprihanal:  Did you hear about the Enthusiasm Awakeners performance yesterday?
Sopan: About their premier at the Royal Edison Hall. (Thomas Edison High School)
Ashprihanal: Yes, they sang for the first time ever a Bengali song. And it was a great success.  And today, they are doing the skit.
Sopan: That is real self transcendence.
Ashprihanal: Do you know who takes care of all Bengali instruments?
Sopan: No?
Ashprihanal: A baby Sitar……(sitter)
Sopan: Why did it take so long for the singers to get home last night?
Ashprihanal: They were off key
"The end."
Play audio:
Yuri's day was a little slower.  But many had not great days.
He takes one of his remedies.
He ran 107 laps.
His powerful legs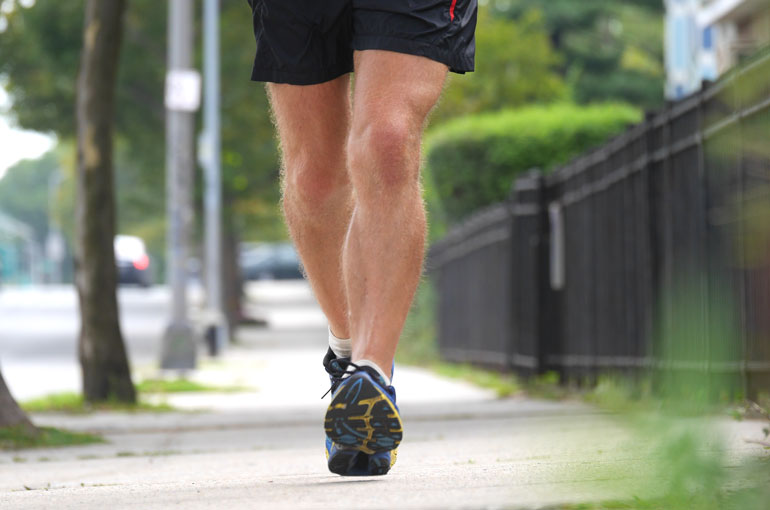 Sarvagata is not lost in the crowd
He did 86 laps yesterday and has 272 miles to go.
Pranjal had a tough day for him.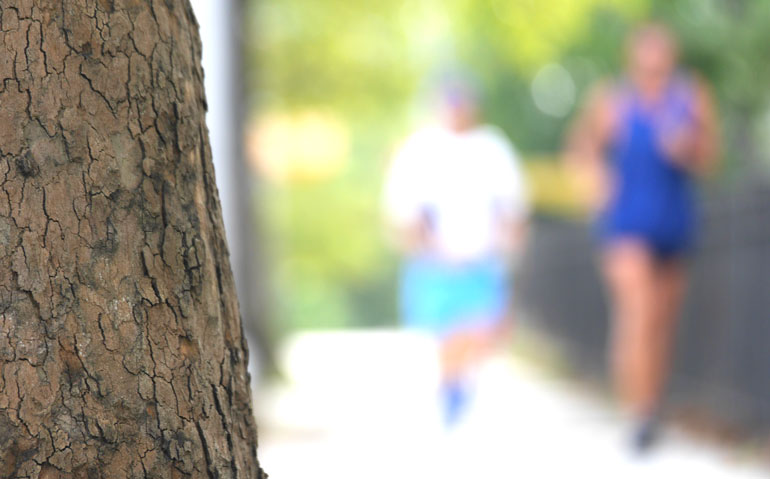 He still did 112 laps and is about 110 miles behind his pace from last year.
No barriers ever
Those in the camp are getting the point
Ashprihanal had a 100 lap day.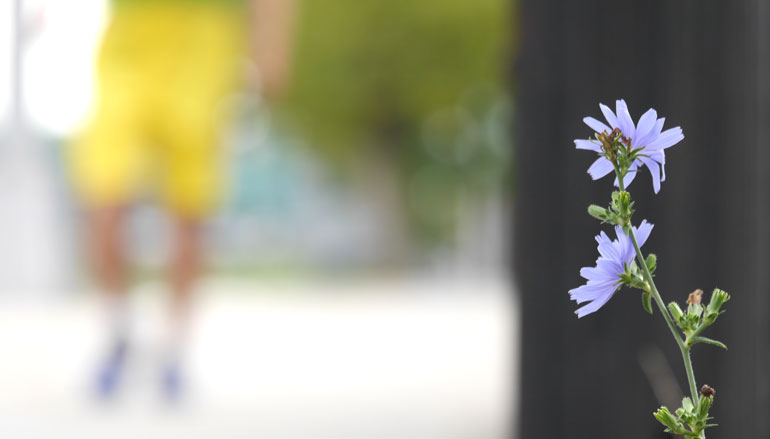 It took him some time yesterday to write the play.
It gave him joy and was a big success.
He tells Pranjal the story this morning of how he got his laundry back and it had not been cleaned.  He jokes that it looked so clean and neat that whowever was supposed to wash thought it had already been done.
For Ashprihanal now everything is good.  He has 2917 miles.
Atmavir should finish late on Friday.
He starts the day 2983 miles.  He did 110 laps yesterday
He will definitely do a personal best.  He is 110 miles ahead of last year.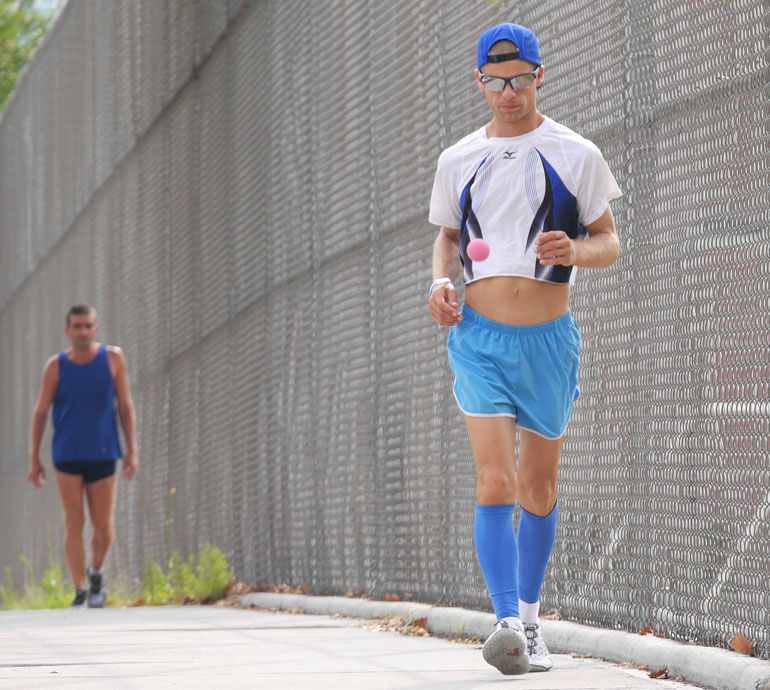 There is just a little more to be said about Vasu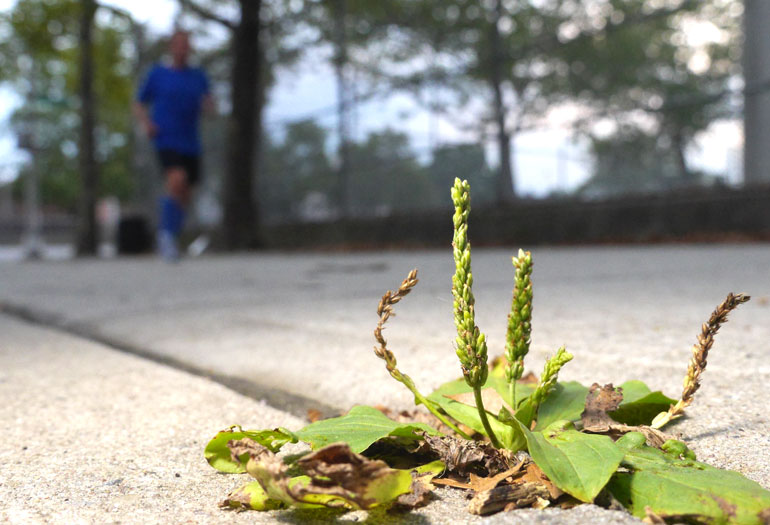 Just to see how much care Nicolay offers serving Vasu.
How much love and attention he puts into helping Vasu with even the smallest of things.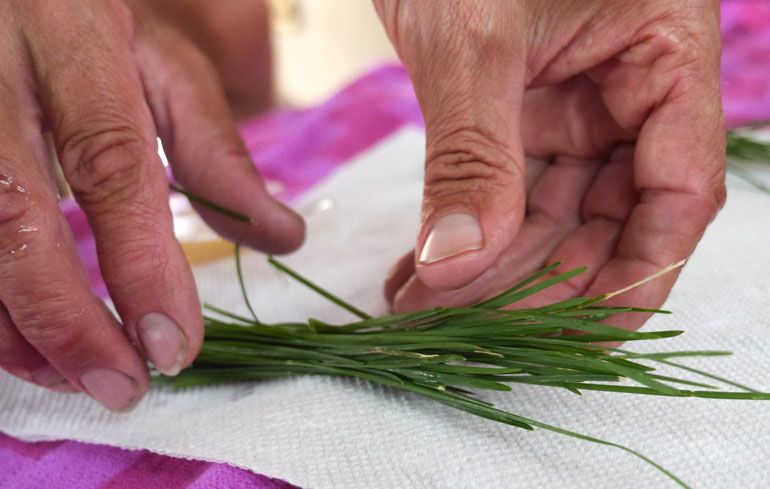 Vasu has been collecting stories of peoples personal experiences with Sri Chinmoy. He tells me that someone told him yesterday, that whenever Sri Chinmoy  gave concerts he would plant a seed within the hearts of those in the audience.  Seeds that would eventually grow and blossom one day, in a way that would bring inspiration into the life of that person.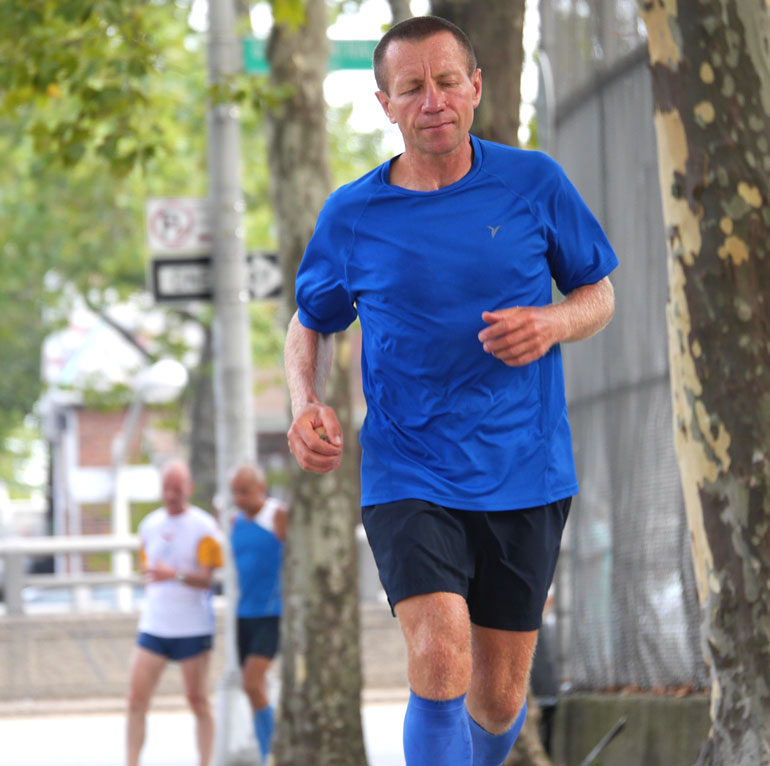 Prayer of the Day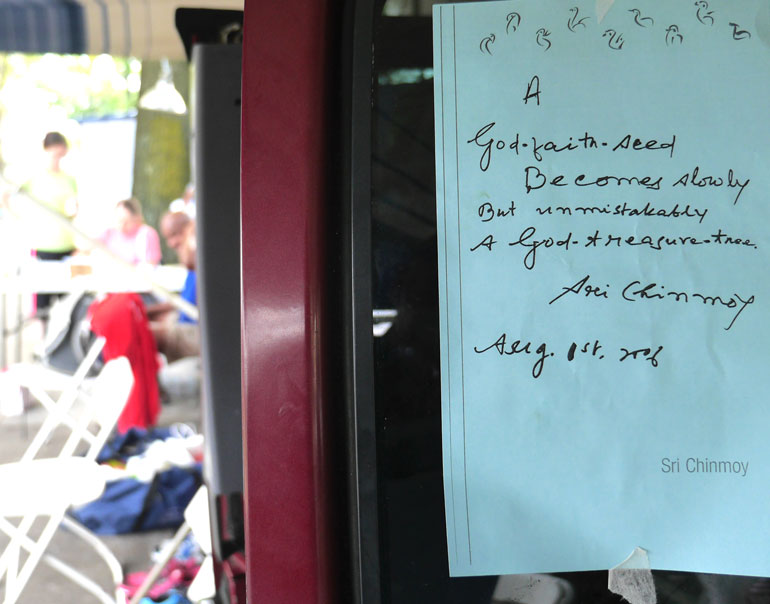 Recited by Ashprihanal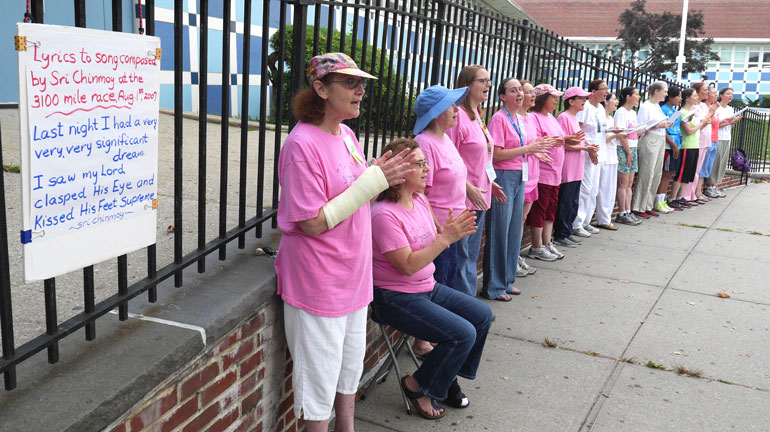 parvati
When inspiration
Comes into existence,
We run faster than the fastest
Towards our destined Goal.
Sri Chinmoy, Seventy-Seven Thousand Service-Trees, Part 30, Agni Press, 2002