I remember once hearing my Dad say that he was too old to change.  If there was something in particular troubling him, or whether it was simply life in general vexing him, in the way it exhausts most of us mortals, I cannot remember now.  At the time I thought he was incorrect but I was not going to be the one to tell him so.  For certainly when our troubles mount up around us finding another way of dealing with them often looks just like adding another problem to the already considerable pile.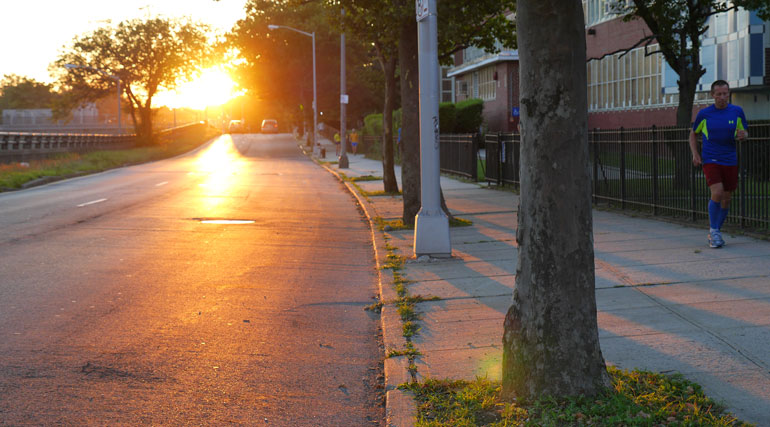 Sri Chinmoy's philosophy has everything to do with change and transformation.  The very word self transcendence cannot ever be removed from the very core meaning of what everyone is trying to accomplish here at the 3100.  Admittedly as someone who is now getting closer to the age when my Father said those words I know how easy it is to resist the great divine forces that really want to lift us up to our own perfection.  The first step surely has to be just to release and let go of the things that do not illumine and inspire us.  Not always easy.
At the 3100 though nothing is ever static.  Now as the race is drawing quickly to its conclusion you can sense a gathering surge of even more energy and movement.  Like a great tide that is carrying all who part of the race to some new destination.  Bodies which over the course of 40 plus days and thousands of miles have found amazing ways of adapting to this physically impossible task.   Not to speak of the mental and emotional burdens as well.  But despite all this you can see clearly how each runner is now being pushed to their absolute limits and then some.  Still they are adapting and changing to deal with the problems even when there seems like there is no solution.
But the Supreme did not bring us into this world to be stopped dead in our tracks.  Change only appears to be painful and impossible if we don't honestly and soulfully try.
If you sleeplessly aspire,
You will not remain a prisoner
Of the failure-past.
Sri Chinmoy, Twenty-Seven Thousand Aspiration-Plants, Part 130, Agni Press, 1990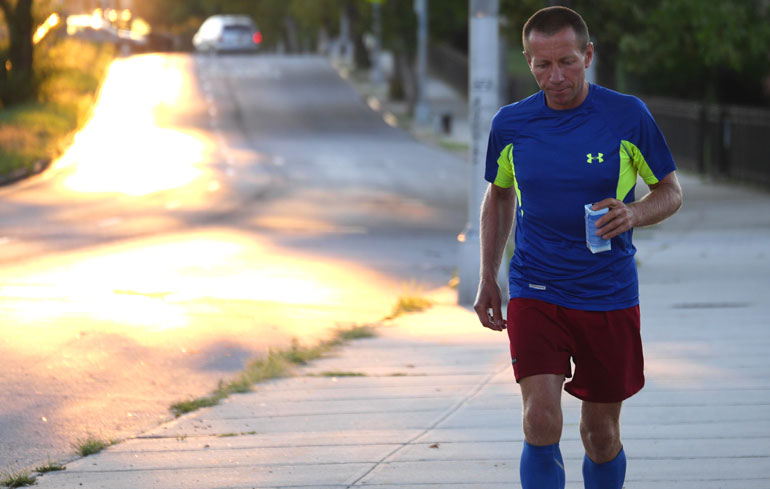 This morning Vasu starts the day just 4 miles behind Atmavir who did not have a good day yesterday.  I ask him what this new situation means to him.  "Many people have inspired me to run faster.  But I think I can do only what I can do.  Yesterday I got a letter from home and they told me that they were inspired to see that I was in the top 3.  They were very happy.  But I think I need to only do my best.  It is only God's will who will be first and second and who will finish."
Some changes are happening at one of the Enterprises on Parsons Blvd for those who know it.  The Smile of the Beyond is being renovated.
A changed man
Is a changed world.
A changed world
Is a changed God.
A changed God
Is a changed Dream.
A changed Dream
Is a changed Silence.
Sri Chinmoy, The Dance Of Life, Part 13, Agni Press, 1973
It is going to be a good day with low humidity.
Sarvagata looking for solutions to get going
Rupantar makes some announcements about the finish next Tuesday, just 8 days more
Ashprihanal had a good day yesterday.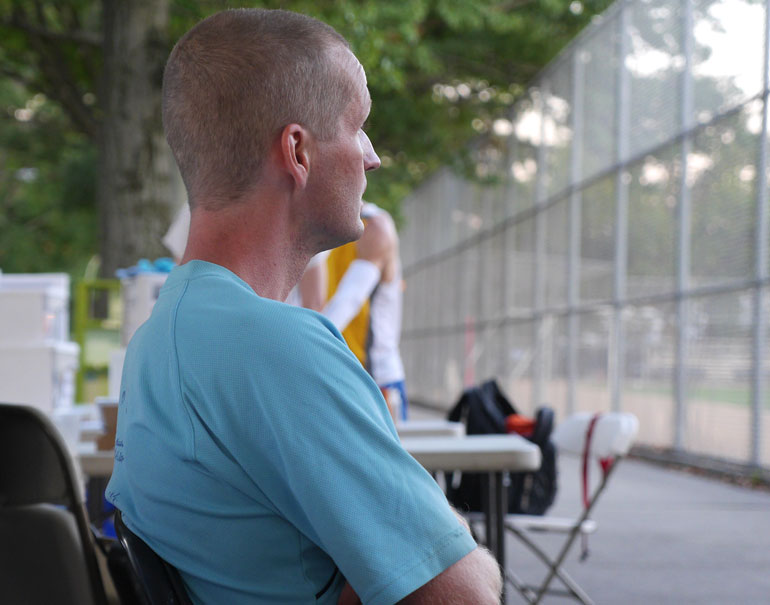 Atmavir trying to get a few things sorted out.
Sarah had her best day yesterday since ………30 days ago.
Start
The board
Sarah had an extraordinarily good day she ran 105 laps or 57 miles.
She starts the day having completed 2212 miles.  How she uses the next 8 days will be not an easy challenge for her.
The course is about as beautiful as it can possible be this morning
Everything is touched with beauty.
Ananda-Lahari did 84 laps yesterday but he would love to have more days in front of him not less.
Baladev wrote a poem yesterday.
Who am I?  Peace.
Who am I? I am a light.
Who am I? I am joy.
Who am I? I am happiness.
Who am I? I am faith.
Who am I? I am forgiveness.
Who am I? I am harmony.
Who am I?  I am love.
Who am I? I am a light blue bird flying in the infinite sky forever……(Baladev)
I ask him where his poems come from.  "Everything exists.  I only say this."
As each day passes now he feels that each new day simply becomes better and more fulfilling.  "It is a very nice feeling.  Because when you feel this, it is like problems don't exist.  Because everything feels like you are part and parcel of a river going on its way.  Nobody can stop this river because this river is very strong.  It is a very natural feeling.  I think everyone has this feeling sometimes.  I hope so."
Sopan had a great day yesterday
He did 101 laps.  He has 2511 miles but sees that his goal of 3000 miles will probably be out of reach
A short play
"I have this huge mental blister it really hurts me." Sopan
"I know you have pushed really hard for the 3100 and all those painful blisters.  But when you finish people sing your name song, and there is this big party with cake.
But remember we value inner progress much more than outer success.  But if your mental blister is the problem my hand is the answer."  Ashprihanal
Nidhruvi despite having a fun day yesterday completed her necessary miles.  She did 109 laps or 59 miles
She starts the day with 459 miles to go.  Which means she just has to do 57 miles a day now to finish in time.
Technically it is announced that when she finishes next Tuesday so will the race as well.
Hopefully she will continue to soar the rest of the way.
And stay hydrated.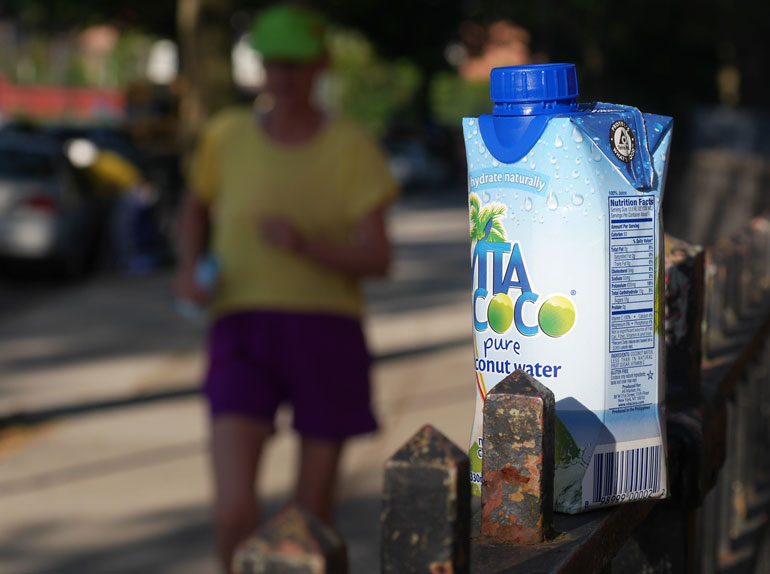 Yuri seems to have back all his strength.  He did 112 laps yesterday.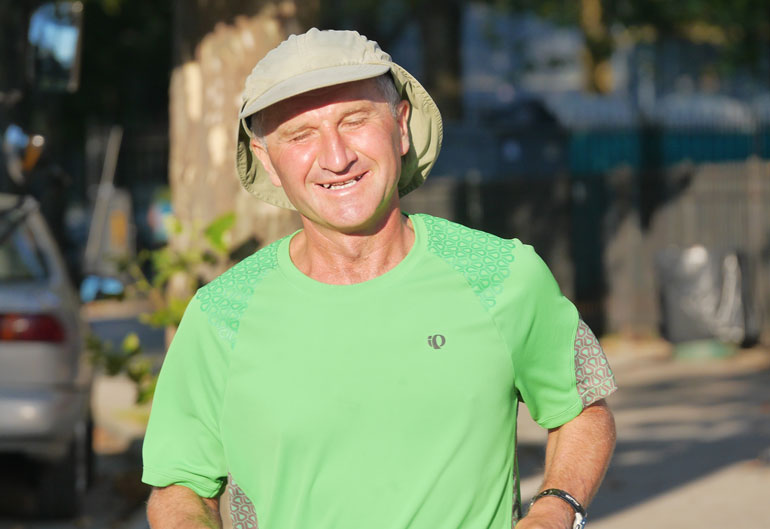 He has finished 2658 miles.
He should finish on Tuesday next week
Kodanda plays upon his flute
Surasa is simply splendid again today.  She did 111 laps.
She has time for friends
She starts the day with 2700 miles on the board.
Sarvagata did 92 laps yesterday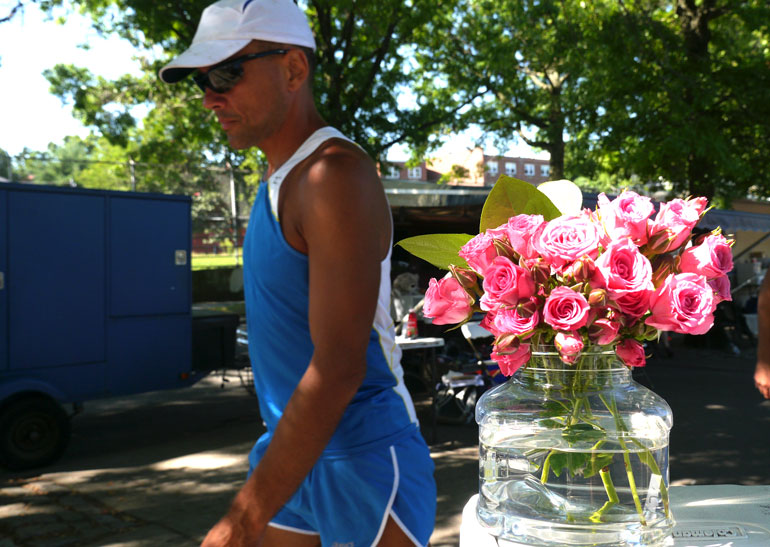 He starts the day with 2724 miles on the board.
Pranjal had a good day with 114 laps.
He has a way of standing out in traffic.
Well not quite this big
A little more like this
He was given this vase by friends of the race.  He is very happy with it.
The camp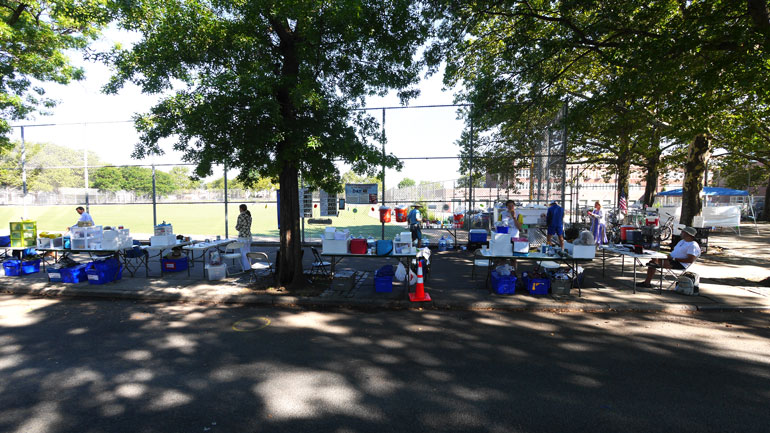 One of the faces we don't often see is Bipin who is here talking to Ashprihanal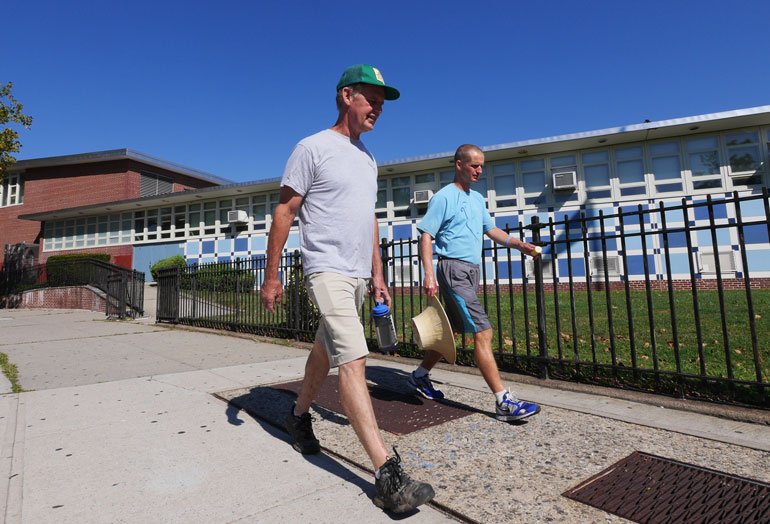 Ashprihanal had his best day in a long time.  He did 113 laps.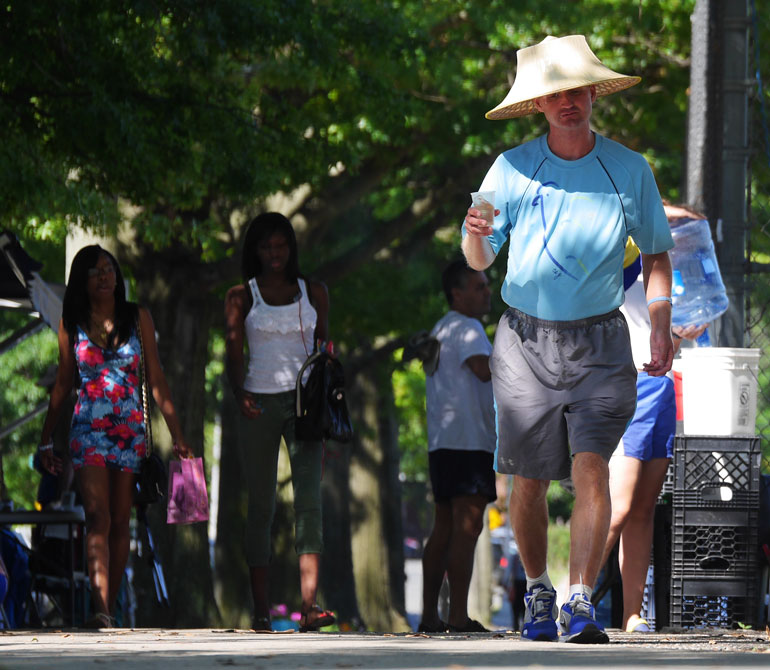 Ashprihanal is just 300 miles from the finish line.
ATmavir has had an exceptional race on this his 7th year.
He is 120 miles ahead of his previous best but he ran 92 laps yesterday.  This morning he is having problems and Vasu passes him for now.
But Vasu is 180 miles ahead of last year and ran 118 laps.
Vasu comes with some awesome strength this year.
He has also a very strong and willing helper in Nicolay.
For  a moment the board shows the simple truth, that Atmavir and Vasu are briefly equal.  Then Vasu continues.
His most important strength though are in these words.
"If we offer it to Guru, he can run in and through us……and make miracles."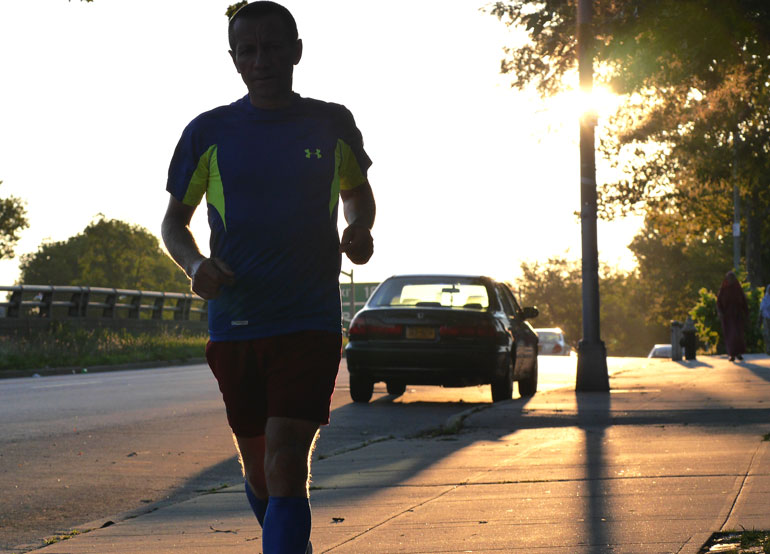 Prayer of the day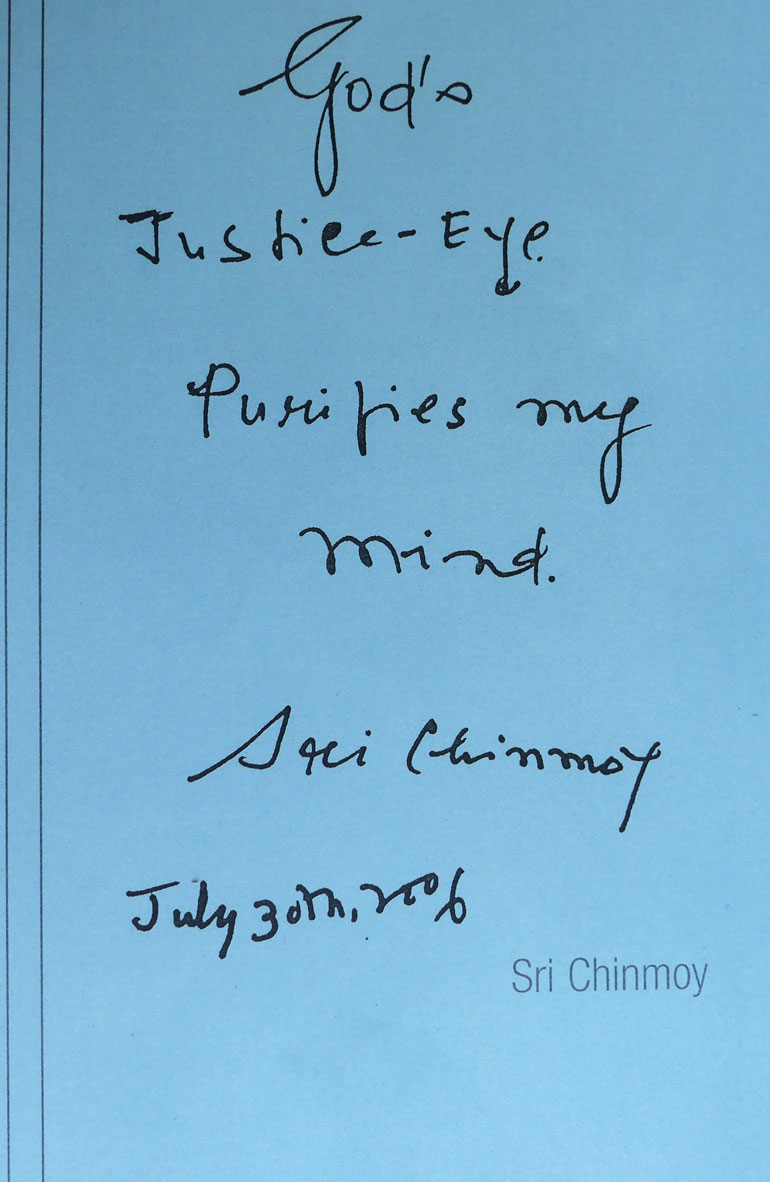 Recited by Vasu in English and Russian
Some familiar faces from a different angle
Enthusiasm Awakeners
Change! Change!
If not, you will suffer.
Change! Change!
You will prosper.
Brave, brave the old!
If not, you will die.
Brave, brave the new!
You will fly.
Sri Chinmoy, The Dance Of Life, Part 12, Agni Press, 1973