I know that what is happening here is inspiring many people around the world.  Besides those living in the neighborhood there are a few lucky ones who are within commuting range of Queens and can make their regular treks out to the race throughout the long hot summer.  These fortunate ones live in the far off reaches of Connecticut or New Jersey and on the distant edges of Long Island. But many many more live just too far off to ever come and experience it in person.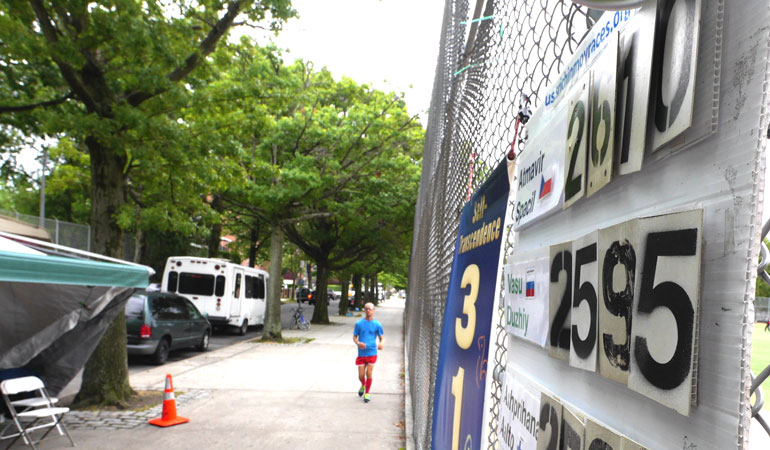 The only way then to connect to the immensity of the race is to somehow weave together all the little fragments of information, bits of data, and frozen images into something that becomes real.  Not just an abstract meaningless event taking place in NY, not just an incoherent whisper in your imagination, but something fruitful and meaningful  and very real instead inside your heart.
Of course it is easier to understand it all if you come and experience it for yourself.  But for most people it is simply not possible.  What happens instead for many is that somehow an inner connection is made with the race's most powerful and sacred message of self transcendence.  It is an act that does not require a plane ride, a car full of gas, or a good pair of running shoes. It requires only an open mind and a receptive heart, and that most incomprehensible and yet necessary thing, a yearning for perfection.  Once you have those things than the rest will all take care of itself.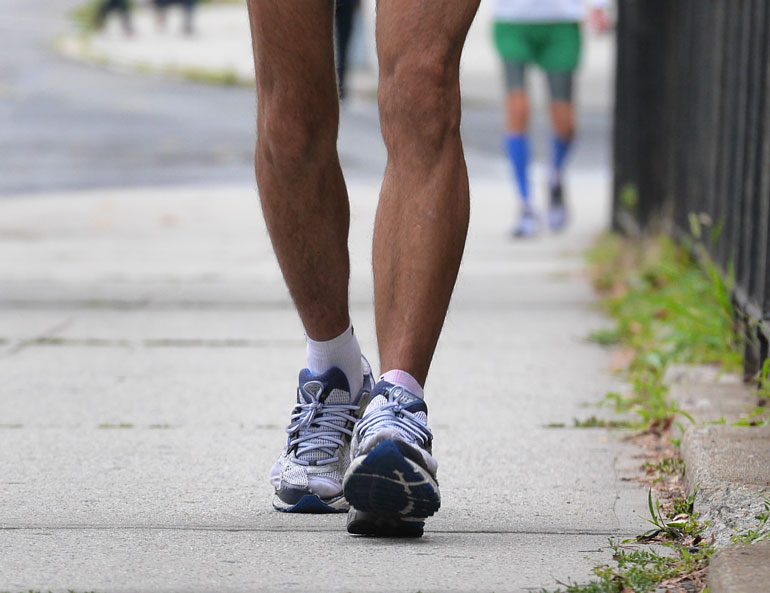 Every day the race receives mail from its friends and admirers.  Sahishnu treks out to the race every morning and every evening with many letters from those who want to encourage a friend of theirs who is running.  Occasionally as well they also want to share in some way how they too have made some some deep inner connection with the race. Tell how it has inspired them as well.
Sahishnu showed me a letter from Victor in Tokyo, which is just about as far away from here as it is possible to be.  Yet Victor is a runner who is trying to become a better runner.  He wanted to let the runners here know that at the end of June he actually ran up Mount Fuji.  It was an act, which was for him and the thousands who have done so, usually at a slower pace, a pilgrimage.  One that has been continuously going on now for over a 1,000 years.
He says, "The 31000 Mile Race is also clearly much more than just a very, very long race.  The sacredness and spirituality of what you are all doing was an inspiration while I was running up Mt Fuji, it's an inspiration during my normal every day runs, and it's a real inspiration, not just in running but in every day life, too."
"So I offer my gratitude to you for the inspiration your effort gives us, and everyone from Tokyo wishes you the best."
My Lord,
You want me to run every day.
Do You ever run?
"My child,
I run not only every day,
But also at every moment.
Do you know why?
I run constantly
From one end of My Creation
To the other end.
If I do not run ceaselessly,
My Creation will become inactive,
Inert and uselessly idle.
At every moment I run
To awaken and energise
My entire Creation."
Sri Chinmoy, My Race-Prayers, Agni Press, 2006
The weather is great this morning.  As Laura noted jackets are necessary at least for the early hours of the day.
Atmavir had a good day yesterday and ran the most miles. He ran 121 laps
Pedro full of smiles, wisdom, and encouragement
Start
Mornings have become so much darker now.  The summer is slipping away
The board
Atmavir is running in this his 7th year with real confidence in this the final stretch
There is in front of him now just 500 more miles.
Yet that still is such a long way
Vasu is just 20 miles back.  But he ran 111 laps and is focusing only on his own inner race.
Things will become clearer in the days ahead
Ashprihanal is never to be taken lightly. He is moving much better now
You can see it in his face
He did 106 laps yesterday and starts the day 34 miles behind Vasu.  Who knows what is yet in store for him.
Sarvagata had a good day yesterday
He ran 111 laps but it doesn't look like today is going too easily for him.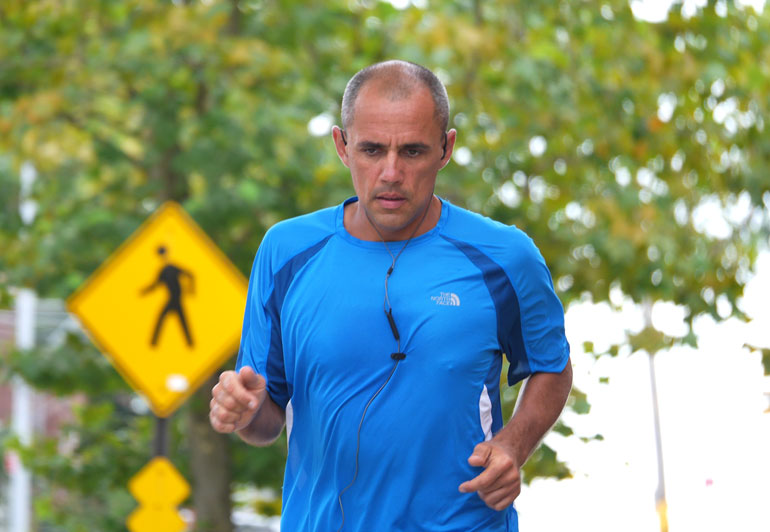 Only he knows what is going inside.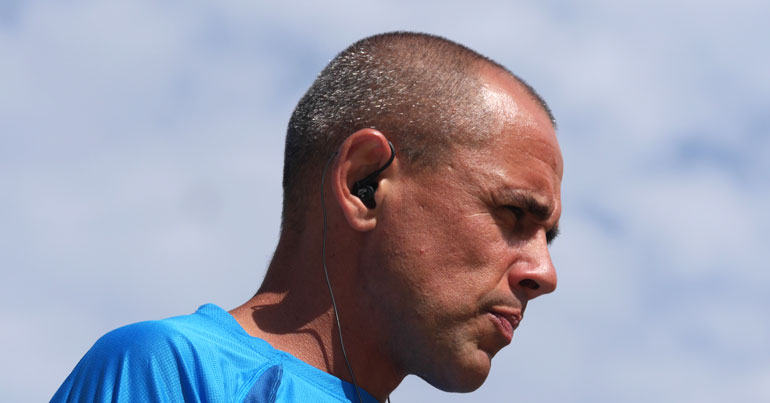 Everything can and will change so quickly now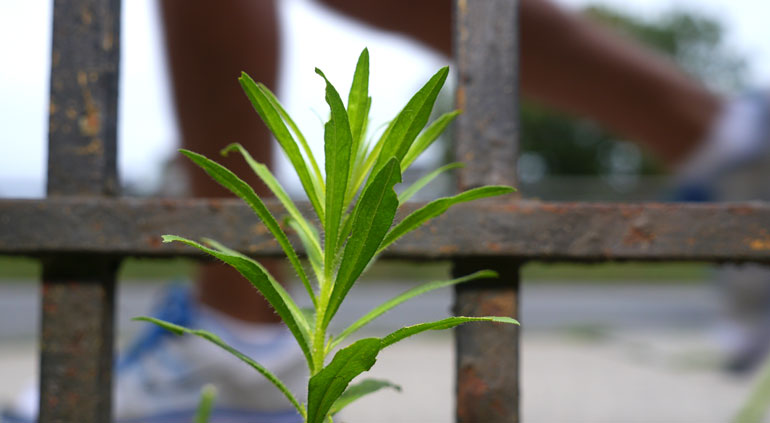 Rupantar has been playing with an app on his phone that translates languages.  He has been playing with it every day now.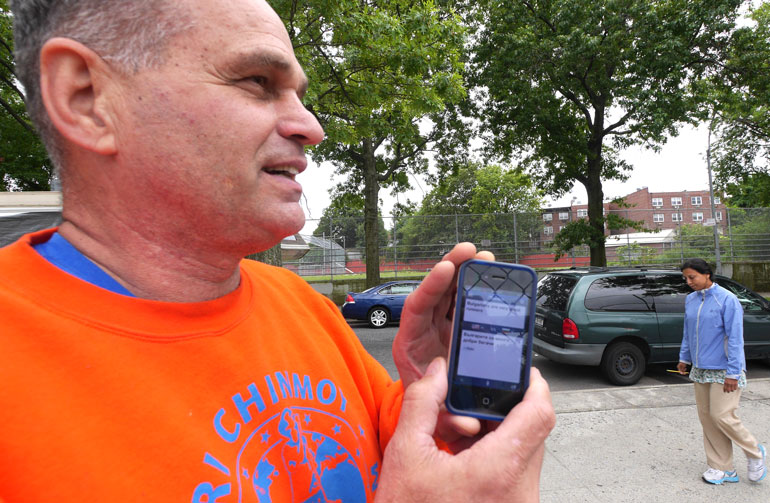 It has translated for him, "Bulgarians are good runners." It actually works……There is no 3100 app
Sopan is a good runner and he ran 106 laps yesterday.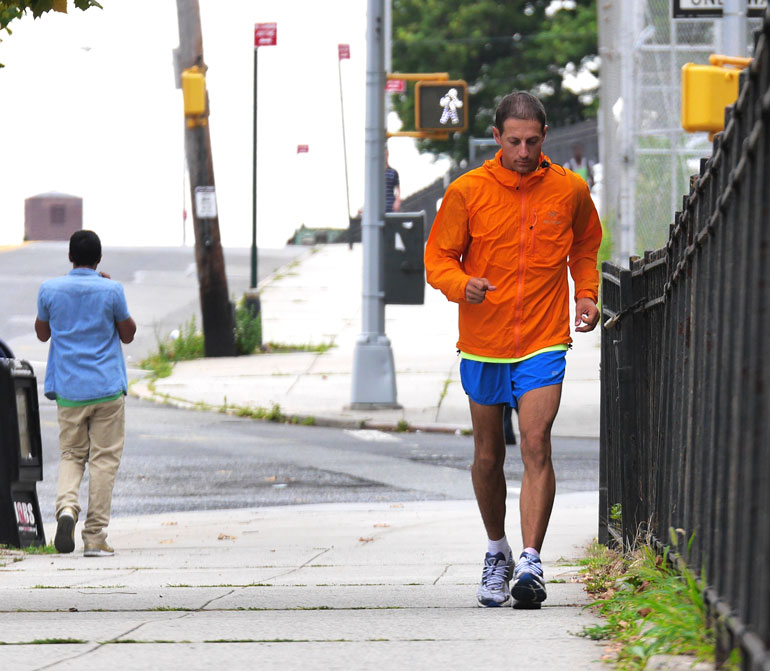 But they are really all so good.
"Everything that happens here, I mean 100% is God's will."  Baladev feels very strongly about this and wants to share it with me.  "When a runner has an injury or some bad thing, everything is God's will.  It is not good and bad.  Everything is experience.   We have the highest protection here.  Of course we must pray for this protection."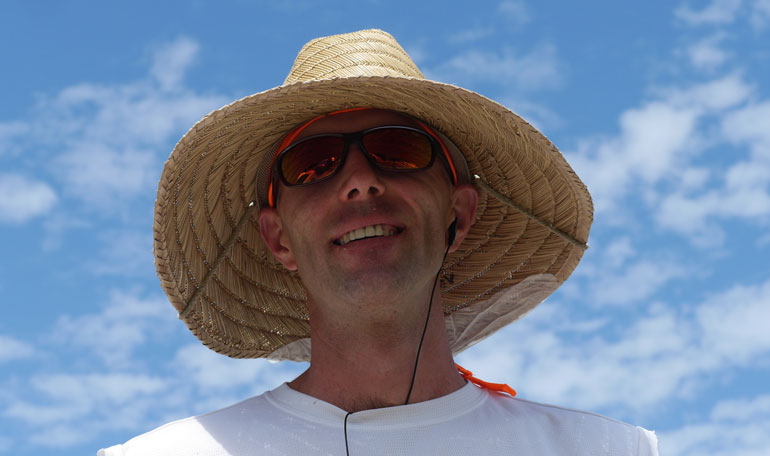 "When something happens we must offer gratitude because the Supreme is using us for this experience.  I think it is funny for others who are not here.  Because they think this happens, and o that happens.  This is bad and this is good."
Forget about being an early bird and catching a worm……"I want to see this."
And just before jumping in a car and heading back to Ottawa Brahmata and her accompanist have a song
There are just 12 days left
Sarah completed 2000 miles last night.  Who knows what is yet in store for her
So many more opportunities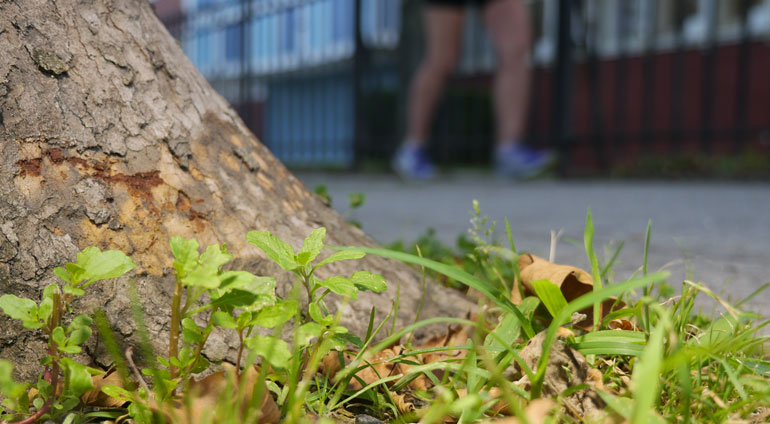 Ananda-Lahari knows the way very well.
No one is lost, many things new yet to discover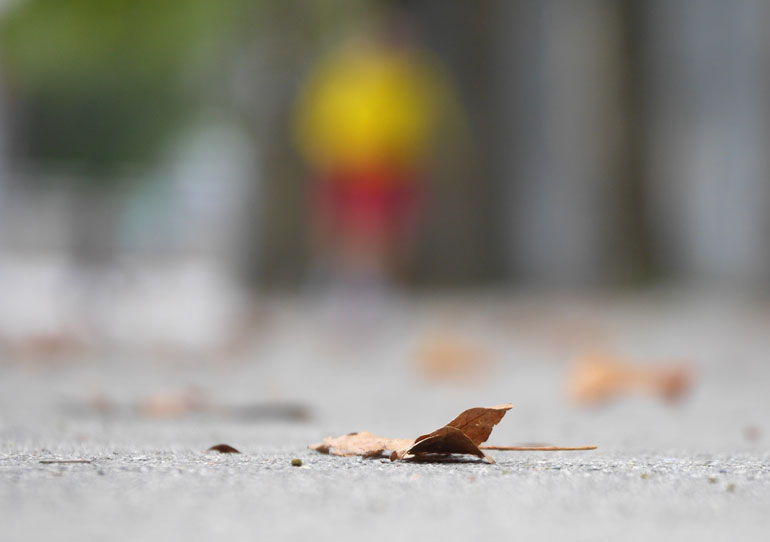 Surasa told Pranjal yesterday during the unusually cool weather, "it is a very strange feeling to run and be dry.  Because for the past 40 days here we have been sweating.  This is the first day that we have not suffered from this kind of thing"  He had 112 laps yesterday.
Pratibha attending to the magic garden
Just a closer look
Also a closer look at the lady who ran 110 laps yesterday
She is getting lots of help
Today there is just 700 miles to go.
Growth in everything
Wisdom and foot and delight
And just in case Uddipan gets this far in the post this pic is in by special request just for him.  Nipura and friend are doing quite well and hope all back in NZ are doing well too.  See you in a few weeks…..without the dog.
Have you come for lunch?  There is also lots to see here too.
There seems to be no obstacles now in front of Yuri
Yuri is monitoring himself quite often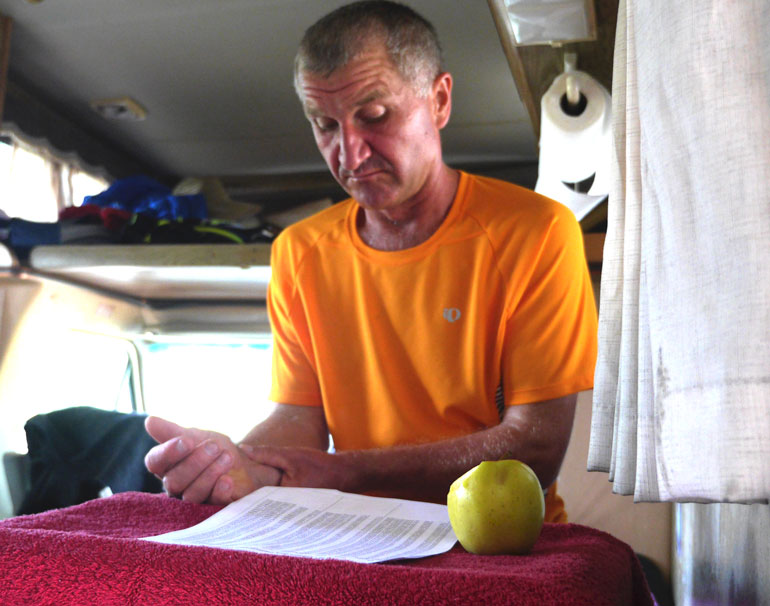 He is drinking lots of water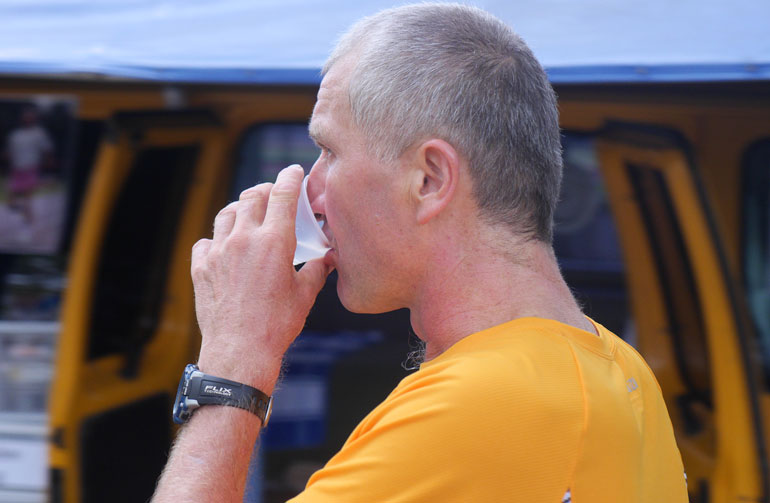 He is just 690 miles from the finish line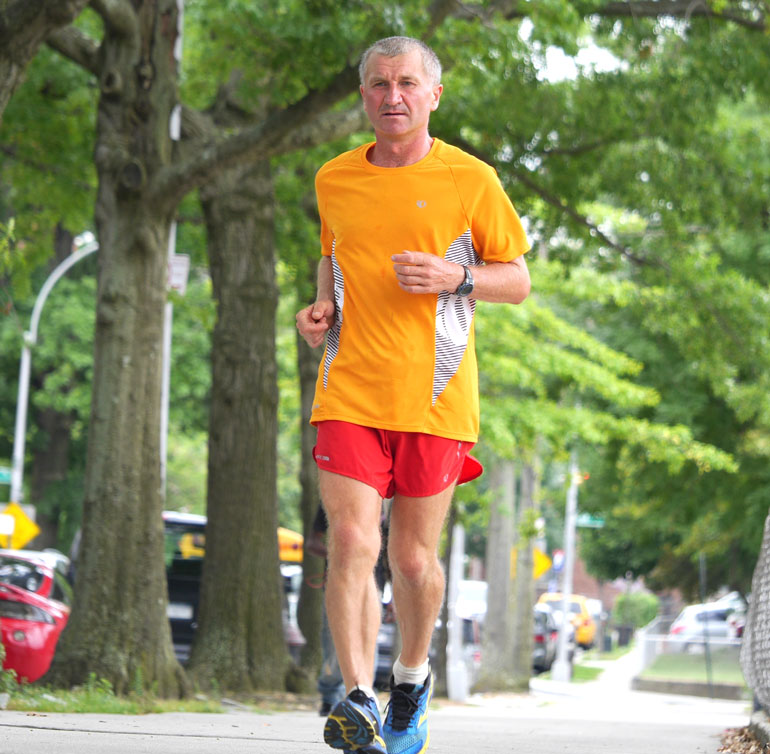 Mahatapa keeping the board up to date.
Nicolay customizing a very expensive pair of running shoes.
Irena and silvy stopping just for a moment, but not stopping smiling.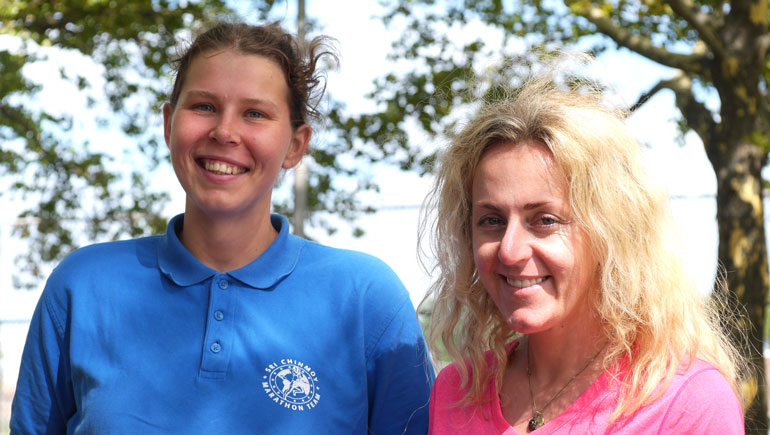 Surasa seems to  have had a bit of a tough day yesterday
She did 105 laps.  Her lowest mileage of the race.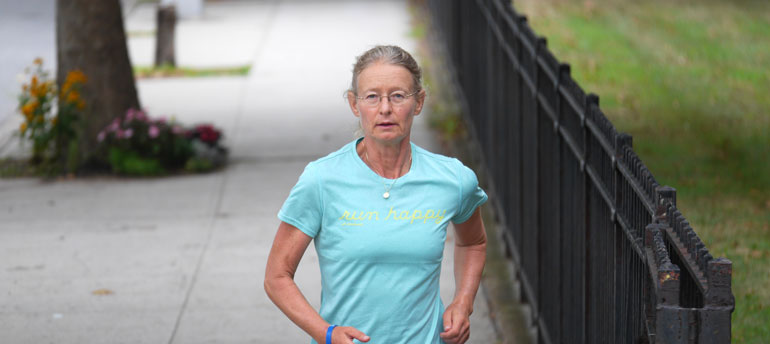 But she never stops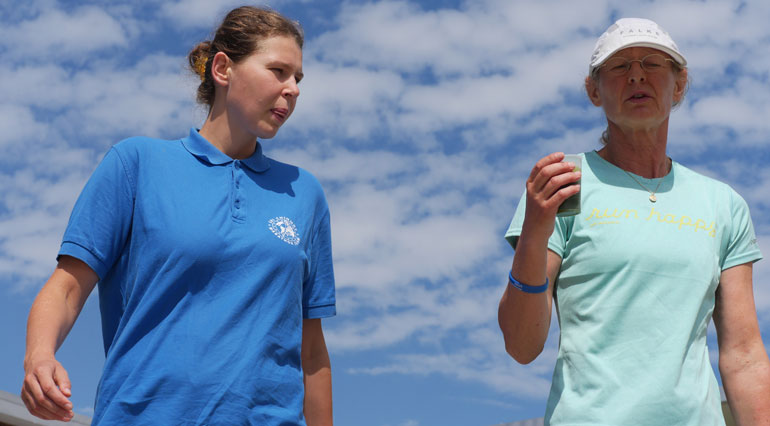 Gannika is training to help Nidhruvi.  She and Surasa recite today's prayer
Enthusiasm Awakeners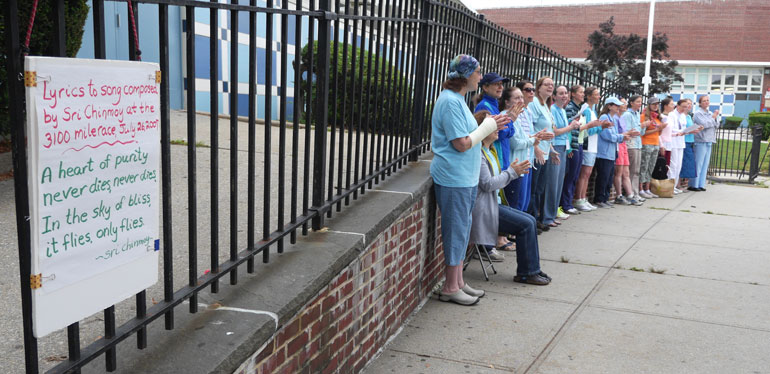 If you are determined to run every day
An unfaltering life-race,
Then soulfully multiply
Your heart's mounting flames.
Sri Chinmoy, Twenty-Seven Thousand Aspiration-Plants, Part 146, Agni Press, 1991