Early this morning, Dr. Mitch Proffman rode his bike over towards Flushing Meadow from his apartment nearbye.  On most days he runs into the park and when he doesn't he generally goes for a ride there instead.  He is a chiropractor and has a busy practice so getting a little exercise before his day starts is something he really enjoys.  This morning he was especially looking forward to what he would see once he crossed over the little bridge that arches over the bumper to bumper traffic of the Grand central parkway.
To be honest he wasn't feeling particularly great this morning.  The heaviness and weight of the events from a few days earlier in Boston continued to linger.  An experience that he is not alone with, for it has touched and troubled many others, particularly those whose worlds have embraced the sport of distance running.   For something had come from out of the darkness and snatched away many peoples peace and for an unfortunate few it stole much much more.
Yet when Mitch got to the crest of that bridge he saw before him this humble little temporary village nestled by the lake and his mood was immediately lifted and transformed.  For this little cluster of plywood buildings covered in sheets of plastic is much more than what it immediately appears to be.    It is a unique little universe that each year at this same time, springs miraculously to life like a great blossoming promise.  For it is the home of the yearly Self Transcendence 6 and 10 day race.
He took this picture and told me he called it an 'Oasis of Hope'.  He didn't have to say much more than that, for I knew exactly what he meant.  Mitch of course is not only one of the races' biggest fans he also works many long hours there on his free time giving adjustments to the runners in the medical tent.  A few hours after this picture was taken the first of the 2 races began under the glorious brilliant embrace of a perfect spring day.  38 runners began their 10 day non stop journeys to the distant realms of their own self transcendence.  Began hopeful efforts that would lead them further on the roads of their own life experience, breaking personal records, reaching new goals in the punishing realm of physical challenge, and perhaps reach up into new lofty realms of their own consciousness.
The events of the world around us will always attempt to reach out and to ensnare us with their stark reality.  As humans we are never immune or completely detached from this.  But here at this little oasis in Flushing Meadow 38 runners have set off to a place in which the falling shadows never obscure the brightness and hope towards which each runner here ultimately seeks.  Where many also come to help them on their way, both in simple and sacred ways.  Feeding them, counting their laps, and making sure their bodies stay strong.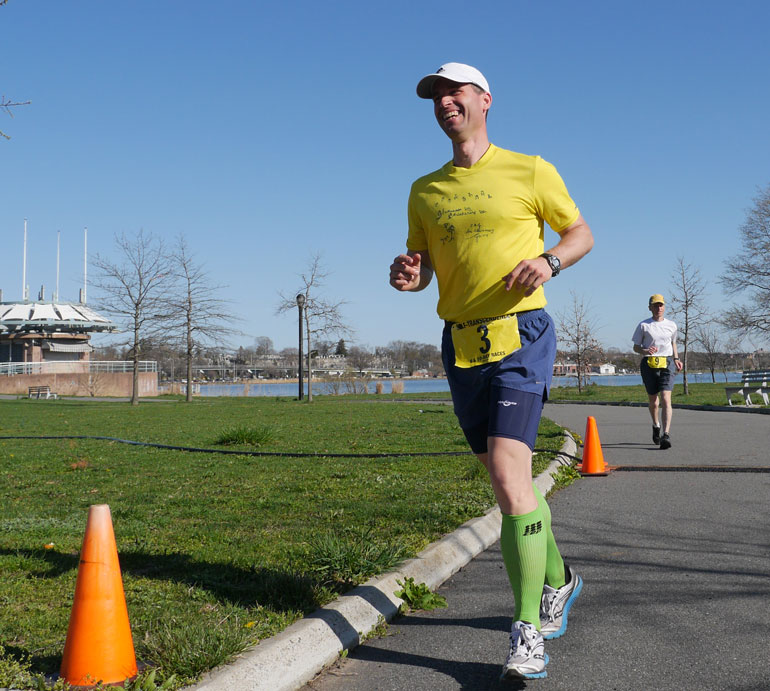 Their hopes and dreams will of course be tested.  But not by the obscure painful truths that stomp and stride with bombast and futility in far off places.  But by the niggling doubts and worries that are buried within themselves. Ultimately the inner brightness in ways great and small always finds a way to reveal itself to all who come here and challenge themselves.  And from this little oasis of hope perhaps even just a little of this illumination spills outward and continues to flow down crowded highways, across oceans fields and forests, and into the hearts of all those who want this world of ours to become a more perfect place.
By 4:30 in the afternoon when I arrive a lot of running has gone on
Martin Fryer and Ilvaka Nemcova are the early front runners.
"It is my first 10 day race and multi day race."  Prabala has had much experience at distance running but this is the first time he has tried a race this difficult.  Though he has tested himself very much in distance running in other ways.  "In 2011 I did 80 marathons in 9 months.  Some were a little difficult and I had one injury.  In the beginning I did a few runs in between them.  But then there were periods when I was running on Sunday, Monday, and Tuesday, and taking rest on the other days when I was working."
"I always thought of running the multi days but never had the opportunity, but everything came together so that I could run this year.  I just came here for self transcendence.  I know the course but to be here for 10 days is something different."  He says for now he plans to run during the day and at night to rest.  "To have the same rhythm as those who run the 3100 mile race."  He laughs and adds, "maybe it will be totally different."
When asked if he has trained differently for this he says he has done some long runs but is relying on what he has done before.  "What is coming is newness, newness.  A new thing to do and to see how I can increase my capacity.  I hope I can do a good 10 days."
Some are still getting ready for the 6 day race.
Fred Davis and Mark Dorion are familiar sites at the race.
She is very familiar with the world of multi day running but it has been a long time since Samita has run one.  "I did the multi day races the 700 and the 1000 mile race.  A long time ago, 20 years."
When ever I see her she seems to be always smiling and running very strongly.  When asked why she has come back after such a long time her smile only expands and she points directly upwards towards the sky.  "It is just great to run for God, to feel God, and to feel nature.  To come closer to the source.  And for the things that are not important to leave them behind.  This is actually what I long for in this race.  To have a good consciousness and be happy, and fulfill God's will."
When I suggest that she is having a good time she tactfully reminds me,  "It is the first day.  It is easy to smile now.  I hope I can keep it for the next stage."  When asked if this kind of experience could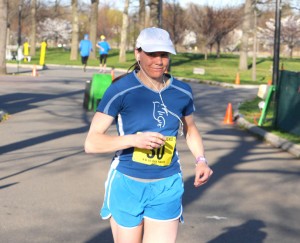 not be found by playing music or meditating she says that it is because you are here for so many days that you can have this kind of experience.  She feels that because the race is non stop you then have the potential to feel grace without interruption.  "A very special thing."
She admits that she is not concerned about the mileage she will make and also says that she did not train much differently in order to prepare for this race.  "I just did my normal thing and here everything will be done through a special energy through a special grace.  My way is try and calm down all thoughts, and then become a channel."  She feels very strongly that each runner has to explore and experience the race in their own unique ways.  "And even if you talk to each other you should not try and copy.  We should try to find our own way, what God wants us to experience in this race."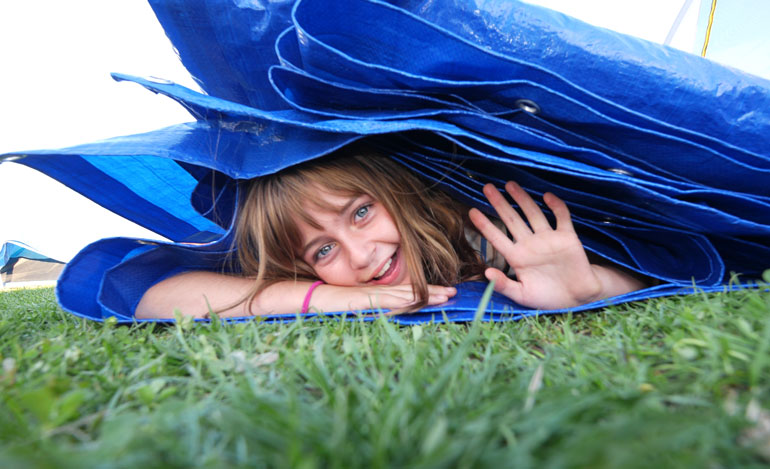 You never know what you will find in the village.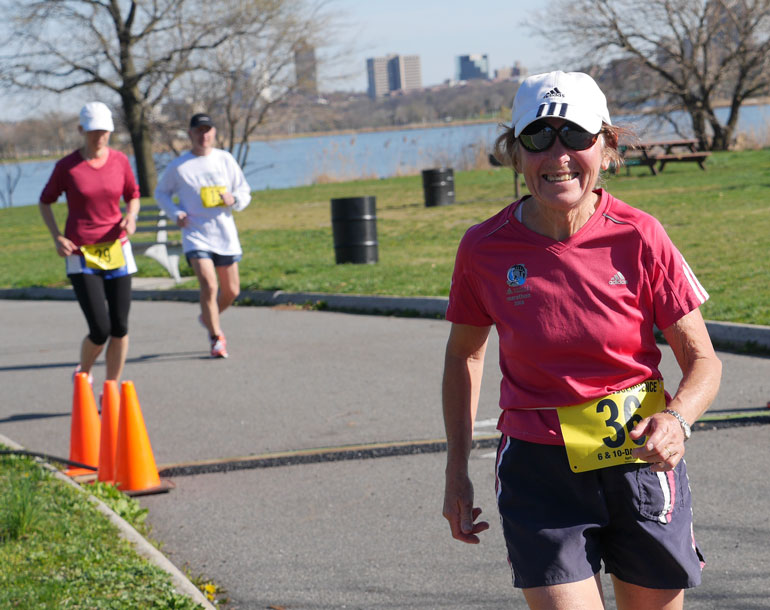 Lots and lots of smiling faces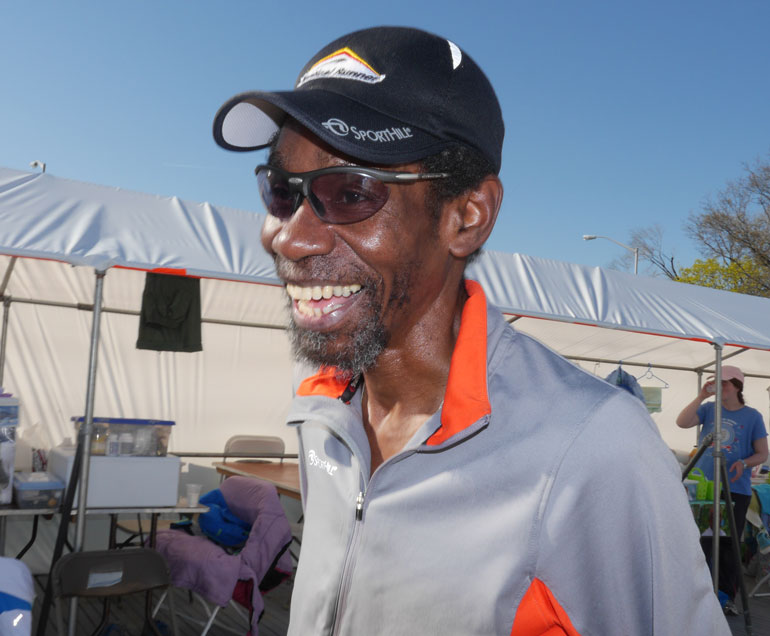 Sahishnu has been at the start of all the races and this afternoon he has taken a clear vantage point to identify for the counters the runners continually coming past them.   He usually gives a speech at the start but says that today in order to get things off on schedule and give a proper introduction of all the runners there was no time to really give one.  "In as few words as possible and as animated as possible I read the names of all the runners.  Then it was time for a silent meditation remembering Sri Chinmoy the founder of our marathon team."
"Right after the start I offered a rememberance for Daria a former 2 time runner of the race who passed away last year at the unfortunate young age of only 25 due to an accident in mountain climbing."
When asked what he would have said had there been more time he suggests that he would have mentioned that this will be the largest multi day that the group has ever put on.  "When the 6 day starts we will have a total of 85 people.  38 started today and 47 will start the 6 day."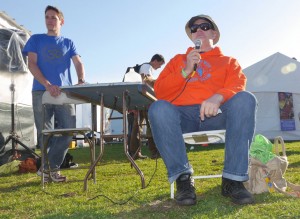 "I am watching to see how Martin Fryer does.  He came an won the 6 day 2 years ago with 487 miles.  He is over 50 and was a 4 time ultra marathoner of the year in Australia.  He set record down there and just in November he set a world age group record on a 24 hour race on the track.  He is in super good shape.  He is also being handled by a world renowned handler named Allen Young."
There is so much life and energy here.
Joy and hope in plentiful supply.
And of course bountiful determination to self transcend.
No matter what your age or capacity.
"It was a wonderful experience.  I think I said the first day that it was like coming to join somebody's party."  I am speaking to Allan Young who is never uncomfortable telling colorful stories but he is interrupted by the sudden appearance of the runner he is handling in this race, Martin Fryer.  A year ago he first came here with another fellow Scottish runner named Willem Sichel but through a set of remarkable circumstances has found himself quite happily being able to help Martin.  At this moment he is offering Martin who has paused only briefly a drink and a supplement.  He is also organizing a meal break that should come when he returns after making another loop on the mile course.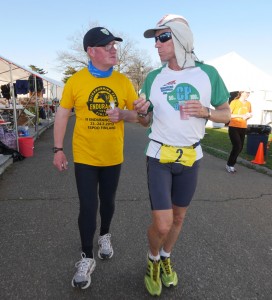 Fate somehow brought their lives together a race that took place this past fall.  He was helping one runner who was not doing well and at the next table was Martin who was doing well but without any helper.  Allan's runner suggested that he instead help Martin who then went on to do the 2nd best time for an Australian.  "Needless to say Martin was under the illusion that it was down to me."  This is now the 3rd race that they have worked together.
He says that as a handler you learn all the time.  "I think the trick is that you have got to know the individual.  There is no set plan.  Once you have done it once or twice you almost learn to read their mind."  He believes the best in the world is Helmut Schicka who he observed at a race a few years earlier when he crewed for Madhupran.  He saw how they intuitively worked so closely together that he hopes to emulate that particular method with Martin.
He says his advice to Martin so far is, "it is a 10 day race.  Start off nice and slow.  Don't get excited the first 3 or 4 days."
Chief cook and apparently bottle washer…Pot that is.
And do not forget the counters.
Everyone gets a new perspective of the world.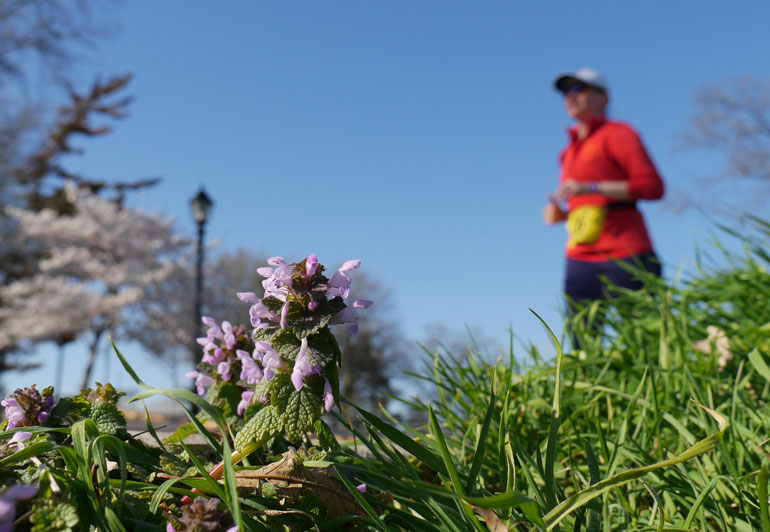 HOPE
Hope
Is kind.
Therefore
I mix with hope.
Hope
Is swift.
Therefore
I run with hope.
Hope
Is brave.
Therefore
I collect boundless strength
From hope.
Hope
Is sincere.
Therefore
I invite hope
To accompany me
To the Golden Shore.
Sri Chinmoy, The Dance Of Life, Part 16, Agni Press, 1973