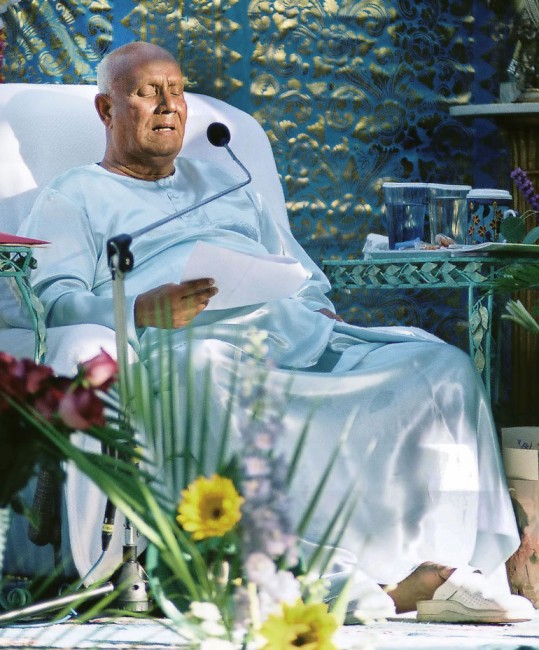 When a singer sings spiritual songs, if he lives the song that he sings, then God will be a living Reality at every second. Otherwise, God will remain in the infinite blue sky and the singer will have to remain down on earth. Then there will be a yawning gulf between God's Feet and the singer's head.
In the spiritual life, we are trying to raise our head to the point where God's Feet will come and touch it. Our head and God's Feet must be together. Our head means what?
Our head means our song. And God's Feet means God the Singer. So when the Supreme Singer sees that a song is aspiring to the Highest, then He feels His fulfillment in His creation. And what is the creation? The creation is the unfoldment of the Singer Supreme.
Sri Chinmoy, God The Supreme Musician, Agni Press, 1976.
There is no way to fully comprehend the lofty impact and powerful significance of  the music that Sri Chinmoy continually created over the course of his life.  In retrospect it is now an almost unimaginably vast wave of almost 20,000 original songs, that continues to flow outward across the landscape of aspiring humanity.
For those who are his students, both practicing and listening to his recordings is an almost a fundamental part of their spiritual lives. One that most could  not imagine to be absent from their daily routine.  Taking a sacred place in their day on the very doorstep of practicing meditation itself.  For most the capacity to meditate for long periods may be difficult and yet singing Sri Chinmoy's songs has a unique and powerful way of offering a precious trans-formative spiritual experience that few other activities can even come close to offering.
For some it is a matter of singing a regular catalog of songs and for others it may be a continuous exploration through a sun bright garden of his music.  One that is filled with thousands of enchanting melodies that each offer their own unique and precious glimpse and entry into the highest regions of our own unhorizoned spiritual dimensions.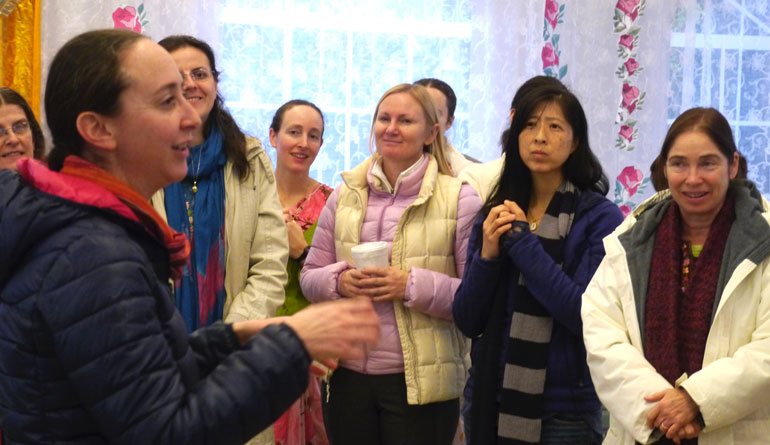 For some time now Paree has coaxed, cajoled, and simply spread wide the door to Sri Chinmoys music to many many people.  Almost in the tradition of her late master himself she has found new ways to reintroduce his music, both to singers of modest capacity and to others who are not bound by a limited ability to sing.  Twice a year for the past 5 years she has assembled a large group of local New York area students and directed them in a multi faceted musical composition that is based on songs that are part of Sri Chinmoys vast library of music.  It is always an engaging and powerful performance.  One that has never failed to inspire, both the audience and singers and performers who take part.
The performances have traditionally taken place, both in April and then again in August.  This Fall she felt inspired to try something completely new and different.  To assemble a select group of local singers and practice with them a unique concert of Sri Chinmoy's music that would fit nicely into the holiday tradition of musical performances.  The Christ Lutheran Church in Fresh Meadows was chosen as the venue and over the course of several weeks she worked with a large group of dedicated singers in order to create something unique.   Something that was obviously soulful and uplifting but also a performance that would delight an audience unacquainted with the lofty possibilities of Sri Chinmoy's inspirational music.
At her last rehearsal she spent a little time talking with me about the project.  After weeks of juggling and managing details large and small she confesses that she is, "exhausted."  She laughs and adds, "I am really happy that the concert is tonight."  To direct and manage a concert of this scale is a new challenge for Paree.  For now one of her most pressing problems is a sore throat.  "I am just praying that I have a singing voice through the end of this evening.  Anything can happen."  For all appearances the mini concert performed the night before went smoothly and on cue.  Today's rehearsal is simply to sort out the blocking of the performers moving on and off the small area at the front of the church.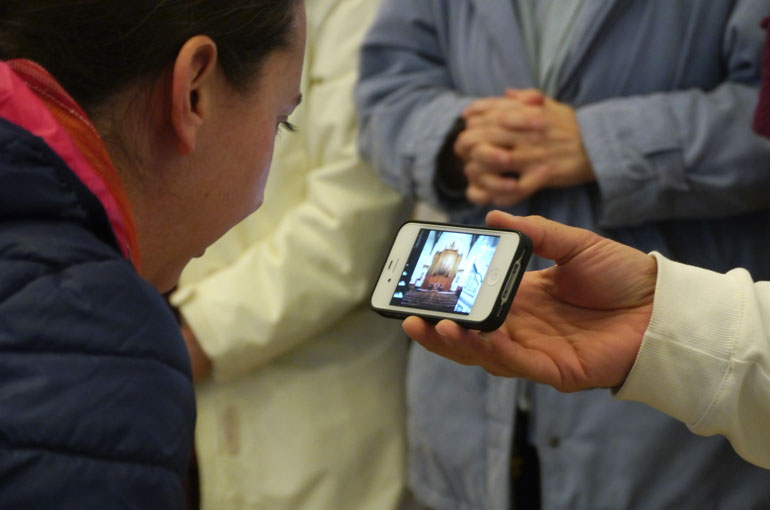 By all appearances everything seems to be going smoothly.  She admits that it is however a little stressful, mainly because with this event she has had to contend with a whole array of new tasks and issues.  Comparing it to her previous concerts she say of tonight's concert, "This is totally different. This entails a whole slew of details that I have never been involved with before.  From finding a concert venue, that was the first hurdle, designing the concert flyer, creating a choir, inviting people to be part of it.  Then gathering as many arrangements as possible."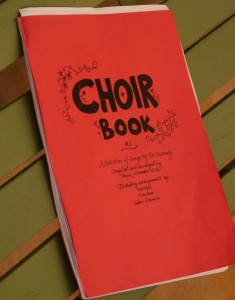 Once she selected the material she then had to create a choir book that each member of group could study with, both on their own and in the frequent rehearsals leading up to the concert.  This is of course a common practice for most fully formed choirs but she was surprised that many in her new group were not used to practicing in this way.  Her own small group was very used to this method of learning and rehearsing, but for some it was a new experience to learn arrangements, sing in harmony and also to properly warm up their voices.
On top of all that of course was then the logistics of publicizing the event.  She says she tried to look at every possible way to promote the concert, which then tumbled into a brand new area for her, fund raising.  She goes through a list of what she calls all the little details.   "It has been a constant focus for me for at least 6 weeks."
She says that many projects usually focus on Manhattan.  "A lot of people in Queens have never heard of Guru, and they lived closest to where Guru decided to live.  I liked the opportunity to plaster Guru's face and name all over Queens."
Of course I am curious what inspired her to adventure into such a large and intricate challenge such as this.  She says, "I am turning 40 in 2 days.  I always wanted to do something to manifest Guru's music, but quote, "I never had the time.  I have never taken on a project that reaches out to the public myself."  She is regularly involved in many activities within her group but now seemed like a really good time to do something new.
The coincidence that her birthday and that Sri Chinmoy encouraged her to create arrangements of his music and that choral performances are traditional at this time of year is a perfect and almost unavoidable confluence of opportunities and capacity.  When you listen to the long challenging list of details it seems particularly daunting and I ask if she had known in advance that it would be this way would she have declined to take up the task.  Unequivocally she says, "NO."
"When I dream up something I have to be really careful what I dream up because before I know it I am working so passionately to fulfill a vision that I have had.  I am not satisfied until I am achieving something."  It is one thing to have a vision for yourself but in the case of Paree's performances it requires the commitment of many others.  Not surprisingly she says, "I find that people really love this kind of thing.  I decided at its inception that it would not be something that I would not chase after people to be a part of."  In this case she invited only those that she knew would be most comfortable at committing themselves to being part of the choir.  "I am actually pleasantly surprised at the numbers of singers that have joined."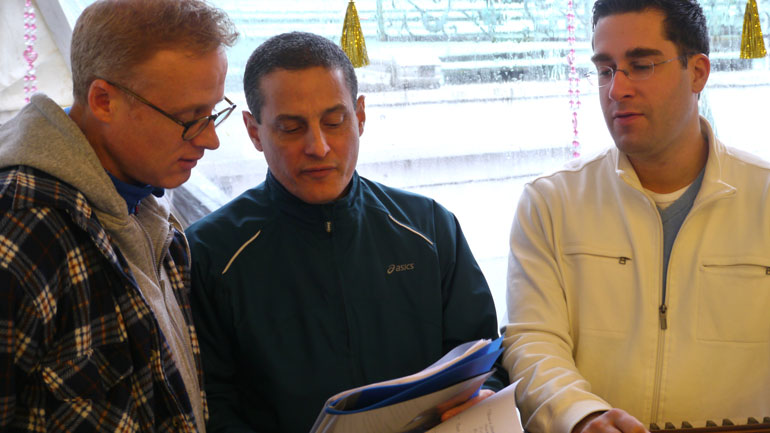 Of these she says, "they are fully committed."  For the girls she says it required 2 rehearsals a week with each rehearsal lasting an hour and a half.  For the boys it meant rehearsing once a week.  This schedule had to ultimately to be adjusted as more preparation and work was needed.  To her delight many of her choir members  enjoyed the experience  so much that making the commitment was easy.
After speaking with Paree I had a chance to ask a few of the others just what they liked about rehearsing for this brand new undertaking.  Anjali said, "I enjoyed it.  There are so many points of view.  We worked really really hard and it just so great to spend so much time with all the disciples.  To work with Paree and Guru's songs, what could be better."
Govinda said, "I have had a really great experience.  It has been a challenge.  In all my years being in Paree's group this has definitely been the hardest thing.  It is hard because she has a high standard."
Anjali adds, "It does continue what Guru set out for us.  Because he definitely wants us to continue transcending."  On one of the practice cd's Paree that gave the group was a recording of when one of the songs when it had actually been performed for Sri Chinmoy.  At the end of which he could be heard to praise the group.  She says, "that is what we are aiming for."
Deepmala was part of that original performance and adds, "he really wanted us to be powerful with our singing."
Anjali: "Bringing this music to the public is such a privilege.  To bring Guru's consciousness, Guru's joy, Guru's inspiration, and enthusiasm for life.  That is so important for all of us."
Click to play interview:
Paree tells me that she wrote this new arrangement for the concert.
The words are those of the Christ but Sri Chinmoy created the melody for them.  "The reason I wrote this new arrangement was that in rehearsals, all of the pieces we were performing with the full choir had a similar quality.  I wanted something that resembled 'Joy to the World.'  I knew the feeling that I wanted, so it was a matter of finding the song that fit the feeling."
She also attempts to explain for me, someone who has little grasp of music just how her creative process works.  "It is like somebody who builds furniture who is also very artistic.  It is a creative process and you want to create something beautiful, but there are a lot of technicalities, that you need to know.  You know where you want it to go.  Then it is a matter of mechanically putting the pieces together."
With a concert of this magnitude there are many facets besides the compositions themselves that need a lot of attention.  "My favourite part is watching the singers go from a state of not knowing to knowing and then achieving.  Then being proud of themselves that they have achieved it, and watching the joy on their faces.  To create something beautiful that perhaps they did not know they had the capacity to do."
"The teaching process I really really love.  Over the course of weeks watching the whole performance improve and watching them feel satisfied with what they have learned."
Click to Play First Song:
Peace- God's Beauty In His Oneness Home
"When Guru was on earth his songs were like the sound track to his life."  Aparajita is one of the enthusiastic members of this group, and like many others performed regularly for Sri Chinmoy.  "He asked us to sing for him constantly.  So his songs and singing his spiritual soulful songs are such a big part of our spiritual life.  He felt that singing brought forward our inner divinity, more than when we played instruments.  In his case he said it did bring forward his own inner divinity more when he sang than when he played instruments."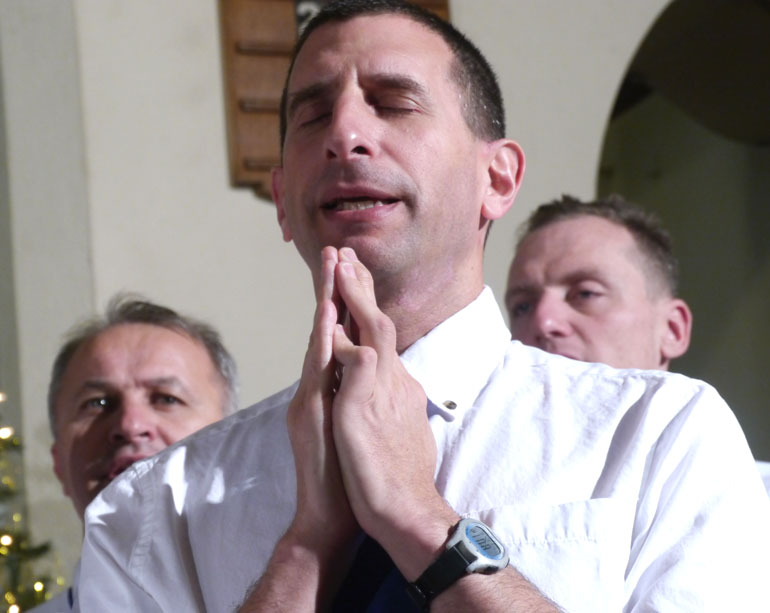 "So I am really happy we are getting the opportunity to present Guru's songs to the public.  Because he is for everyone, and everyone can get inspiration from his music, his art, his poetry, his athletics.  There is something for everyone. These arrangements are very powerful and very beautiful."
Click to play Aparajita interview
Click to Play Second Song:
Click to Play Third Song: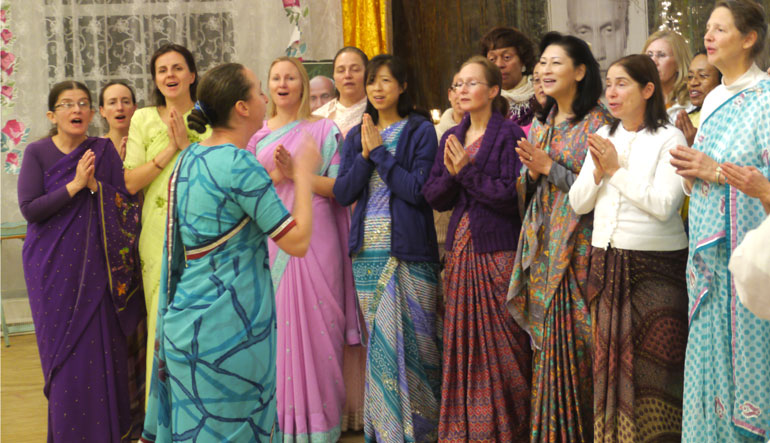 Click to Play 4th Selection:
Click to Play Namiche Aj Ananda
Click to Play Silent Night

"It was beautiful.  I was out at the 3100 mile race this summer and I hadn't been to anything in a while.  Seeing this thing tonight was a surprise to remember how much meaning I can find in a lot of things.  Things resonate with me, whether it is the running or singing there is something tying it all together that is really beautiful."
comment from an audience member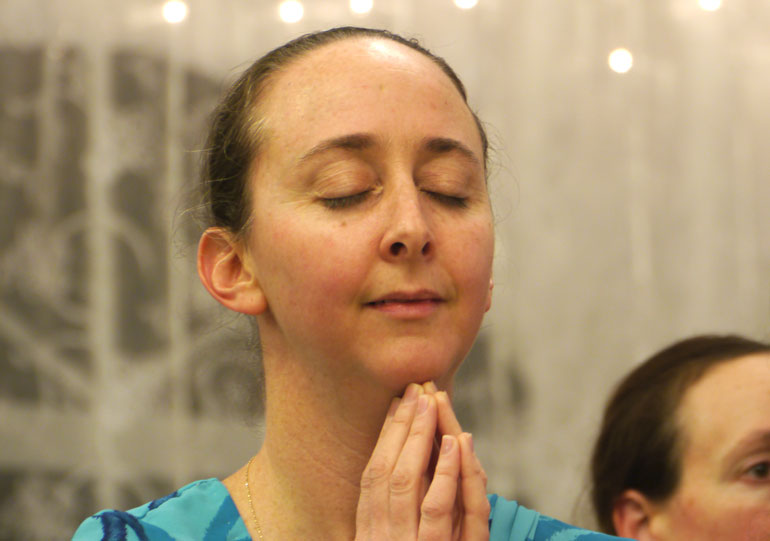 "I never really think of what happens next.  Four months ago I never would have thought of this.  I would never have thought that what has happened over the past 4 or 5 years has led to this.  It didn't occur to me mentally at all.  This came more as an inspiration and I don't know where the next inspiration will come from or where it will lead, if this is a beginning or just a bridge to something else.  I have no idea."
"I think newness is contagious and it is true that different people have different things to offer.  Everybody has their own skills and inspirations.  Maybe it is true that this newness can catch on.  If we are creating something new here maybe somebody somewhere else can create something new there."
Click to Play full Paree interview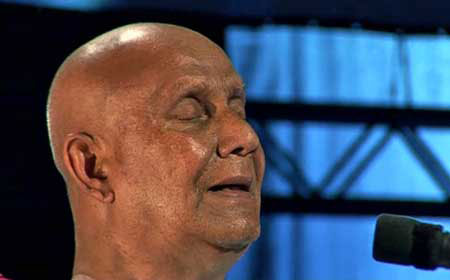 Music can do much for the Supreme. It is a way to reach humanity and bring spirituality to humanity. The shopkeeper gives something to the customer and the customer appreciates it. Then, when the customer begins to have faith in that particular shopkeeper, the shopkeeper says, "You have appreciated my mango, but now I have something else for you; I have a guava also. This will also satisfy you and nourish you." Because the customer has faith in the shopkeeper, he will taste the new fruit and be satisfied.
The time has come for musical people to say, "We can give you something else. It is called spirituality. Try it." When a musician leads a spiritual life, it is very easy for him to help thousands of people at a time, because they appreciate his music and the kind of life he leads. Spiritual Masters can only approach humanity if people come to them with real aspiration, whereas musicians have the means to approach humanity with their art. A musician's biography is written wherever he performs; everybody hears what he is playing. But for spiritual people it is not like that. In the case of spiritual people, their whole biography is written inside, and not all will be able to see it.
When I sing, I am a runner, running and running like an expert runner.
When I compose music, I am a driver, driving and driving like an expert driver.
Running is my life-preparation. Driving is my life-examination.
My life-preparation and my life-examination eventually see the face of God the Supreme Musician.
Sri Chinmoy, God The Supreme Musician, Agni Press, 1976.