So often we feel that we have innumerable options and opportunities available to us.  That we stand poised before so many open doors.   Each one  leading to greater satisfaction and fulfilling possibilities in our life.  Whenever we hesitate or doubt whatever lies waiting for us just beyond, the doors then simply vanish, an opportunity gone forever.
Whenever one truly and fully enters the spiritual life then the selection of paths in front of us changes.  It becomes more obvious which doors lead to the unsatisfactory basement of our desire and expectation.  A spiritual seeker looks always for the path they hope will lead them upwards to a more divine life.  At the same time asking for the strength and guidance to make the right choices and fulfill and complete all the needed steps to go beyond.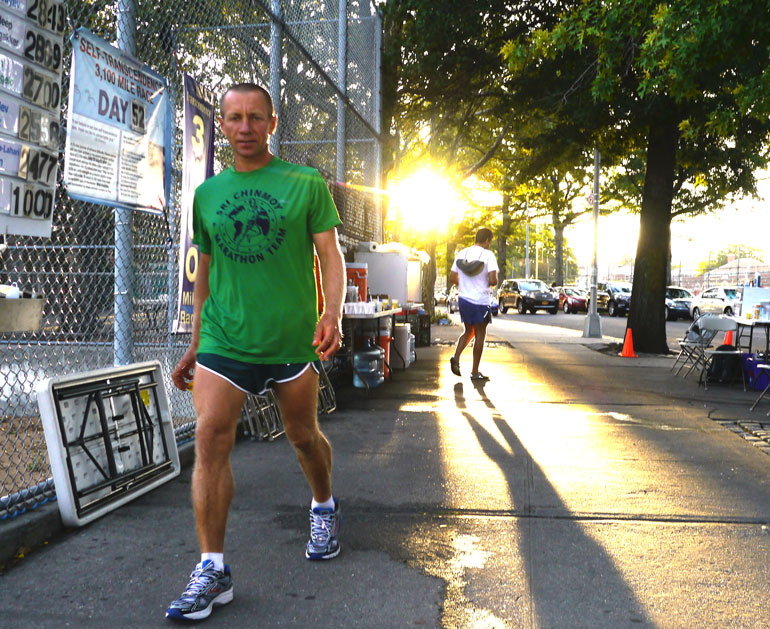 A spiritual journey is not an easy thing.  The material world we live in is lacking in guidance and aspiration for a higher life.  The transformation of mankind is a slow yet inevitable process.  To have a spiritual teacher for many is the ultimate answer in moving forwards towards a more divine and spiritual life.  Yet to accept a teacher is to understand that once this takes place the infinite doorways of opportunity that we thought were in front of us now no longer exist.  The spiritual teacher instead already knows the way and it his job to guide and lead us as quickly and as directly as possible to the goal.
51 days ago a 47 year old Russian named Vasu did not just walk, but ran through a doorway of an incredibly difficult journey.  To ask him if there were any other options he would say no.  To ask him if he had doubts that he had done the wrong thing, despite days of torment and pain he would say no.  He has been acting with unwavering faith, with steadfast  courage, and tireless optimism for the entire length and breadth of his 3100 mile journey.  If any time you asked him, he would say it was his spiritual teacher acting in and through him.  He has said this clearly with his words and even more powerfully with his actions.  This evening he has completed this race and offers the result to his late spiritual teacher Sri Chinmoy.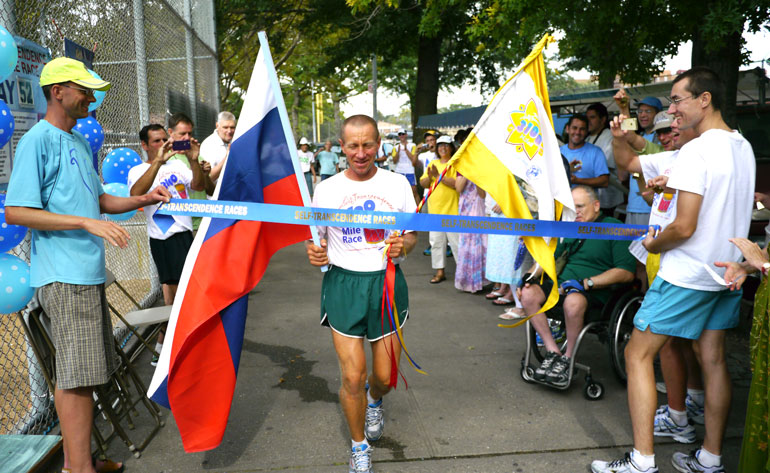 Whenever someone tries to explain just about anything about technology to me my brains starts to ache. I have little interest and cannot understand.   Explaining spirituality and spiritual teachers to anyone who is not a seeker is also usually an exercise in futility.  It is simply something you have to feel and realize within.  For Vasu, and all those who ran here this summer, and over the years of the race, something within  called them here, and in ways great and small, this same bright force acted in and through them.
Just across the road from where Vasu has completed his 3100 mile race, another race was held in August, just about 33 years ago.  The 47 mile race first started the year before, in 1978, and has taken place each August 27th ever since.  What happened on that night in 1979 is that 47 year old Sri Chinmoy (who turned 48 at midnight) would run and complete his own race for the first time.
His path of spirituality was not something theoretical or academic.  He clearly demonstrated this through all his accomplishments, in so many diverse fields.  His was a life  dedicated to serving, inspiring, and illumining all of humanity.   Whatever he attempted he gave his fullest.  Whatever he accomplished he then proceeded to transcend that achievement.  When one became his student they soon realized that they had entered a revolutionary new way of making true spiritual progress.  A way that uniquely combines both the inner and outer life.  It is a path that continues to blossom and reveal itself.  Just as it has done so this past 52 days, in real and trans-formative ways for all those who took part in the longest race in the world.
And for all those who seek out their own Self Transcendence journey, who want only one doorway to their own perfection.  Who want to proceed along a sunlit path of the heart, he continues to be a willing companion, and a guide who inwardly leads the way.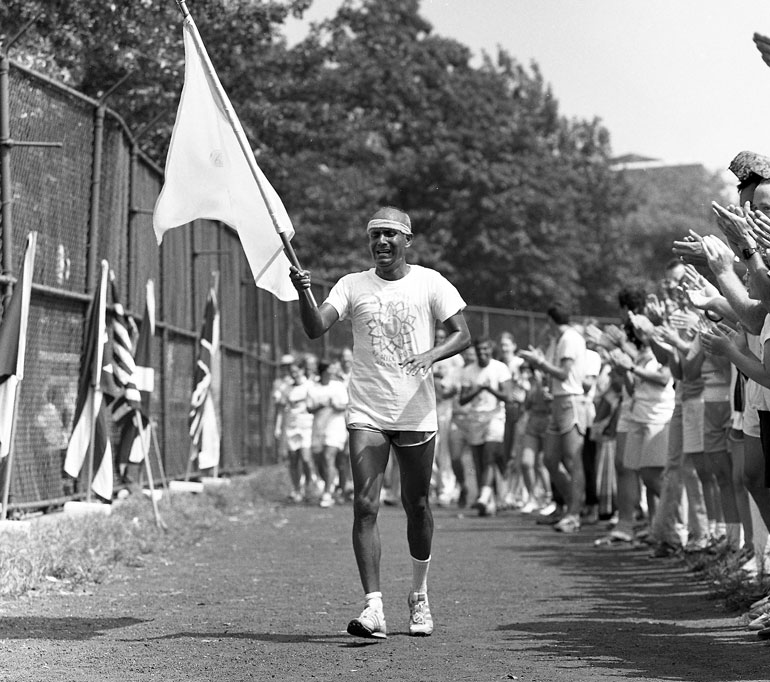 God wants me to be a murmuring, running river flowing from the inner Source and carrying that Source to the outer reality. If I want to be an expression of the Source, then I cannot separate my inner and outer existence. The main thing is to bring to the fore the limitless potentialities that I have deep within. From this point of view, even to speak of three million birds is binding.
Spirituality is not something abnormal or unnatural. Spirituality is more normal and natural than anything else. God is limitless, infinite, immortal, and I want to become consciously part and parcel of His Existence so that I can serve Him in His own Way. At the same time, the One who is infinite, eternal and immortal is trying to express Himself in and through my limitations.
He says, "Now I want to express Myself in and through your artistic life. I want to express Myself in and through your poetic life, your sports life." But He can do it only according to my receptivity.
Sri Chinmoy, Sri Chinmoy Answers, Part 3, Agni Press, 1995.
This will be my last post for this years race.  Thank you for all your support and encouragement.  It has been an honor and a privilege to serve this great experience in this small way. Utpal
Stutisheel has his birthday girl with him all day.  Alakananda turns 21 today.  It has been a home for them both since 2004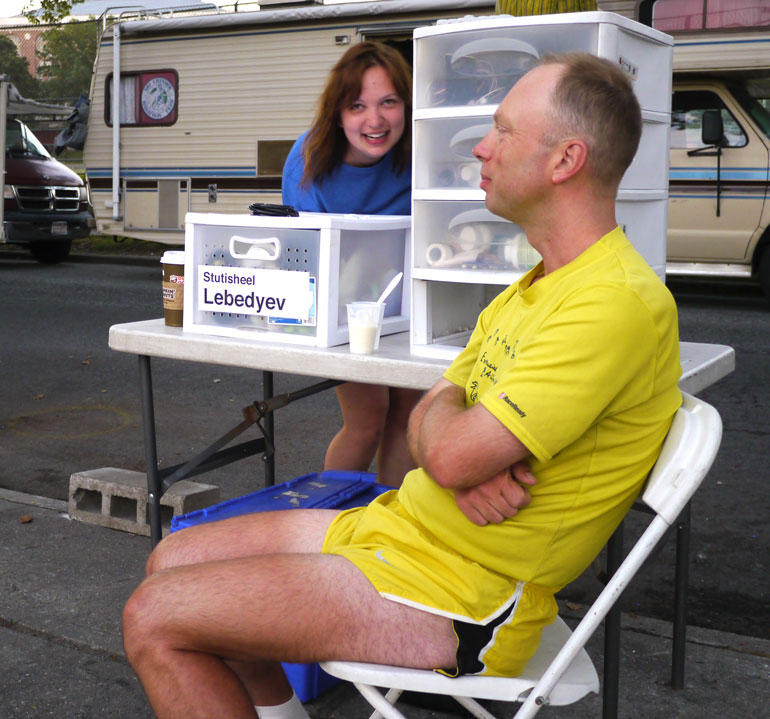 For Vasu there are now just 41 miles ahead.
Start Day 52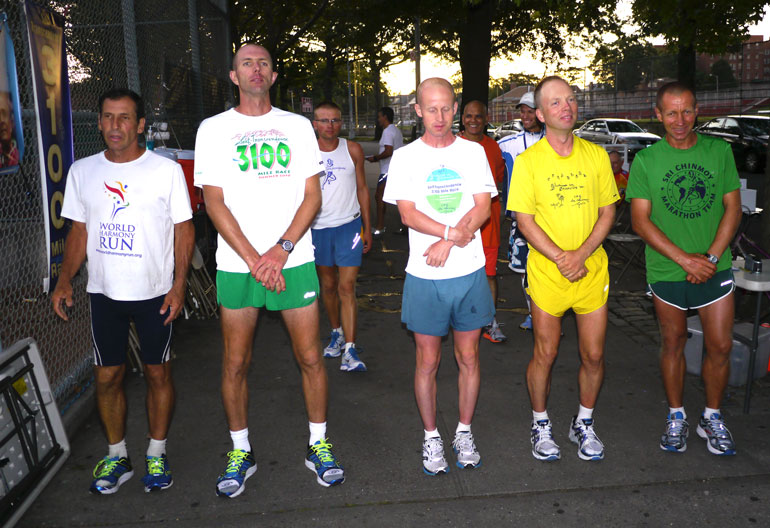 On the first leg his brothers are at his side.  He will be the last to complete the full  length of this journey.  Each path though leads within.
Vasu will finish hours earlier than expected.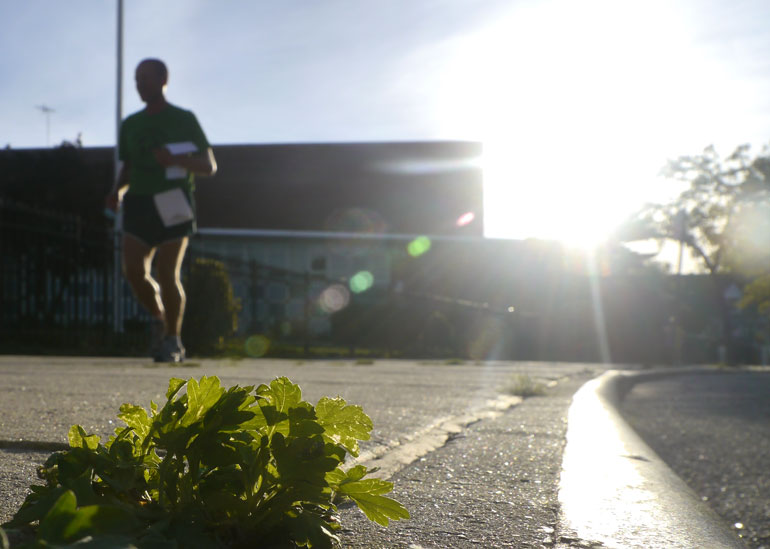 "One thing I wanted to avoid was serious injuries.  So I couldn't have predicted that, but it happened.  Everyone has their own experience here.  It is almost a microcosm or condensed version of life, and your own personality and under pressure.  We are all pretty nice people but when you are under pressure you have to face up to certain realities, whether physical, psychological, spiritual.  And you have to handle it in a way that will advance your progress.  Give you more character."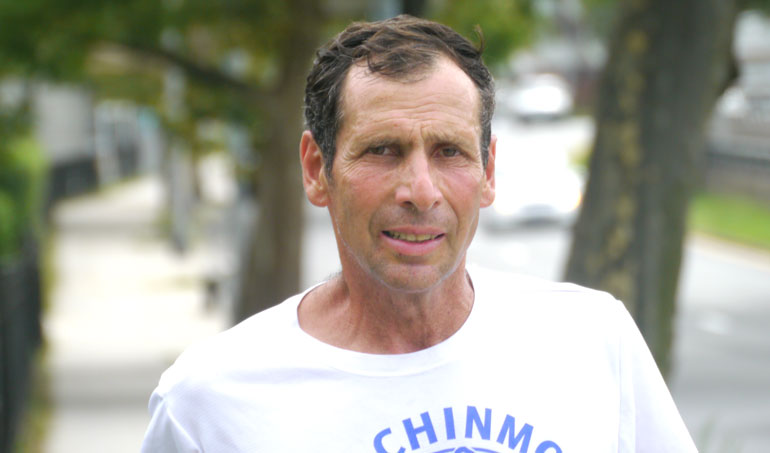 "So for some reason I had to…..I don't know why it happened, but I think with my own lack of awareness of my body I had one injury after another.  The first one I handled, which was a shock.  At first I wasn't very happy but then I handled it.  I knew how to do it from last time.(2004)  But then when I started running again, somehow other injuries developed.  So then I got slammed 2 more times, over a period of 4 weeks.  Then I was walking for 3 weeks, and also stopping to rest more.  My mileage went down and then I realized that it was not about the miles but how you handle yourself under the pressure of having to strive for a high goal.  And when things are not going the way you want to, towards your expectation."
"So it either you give up, or you are always depressed, or you find ways to come out of it, psychologically and spiritually, and in some ways I found a way.  Arpan means self offering, and only if you identify with that and live it, you actually become it.  And Sri Chinmoy's example is something that inspires us.  Believing, having faith, and actually practicing it in real life.  That is what this is.  It is a real life."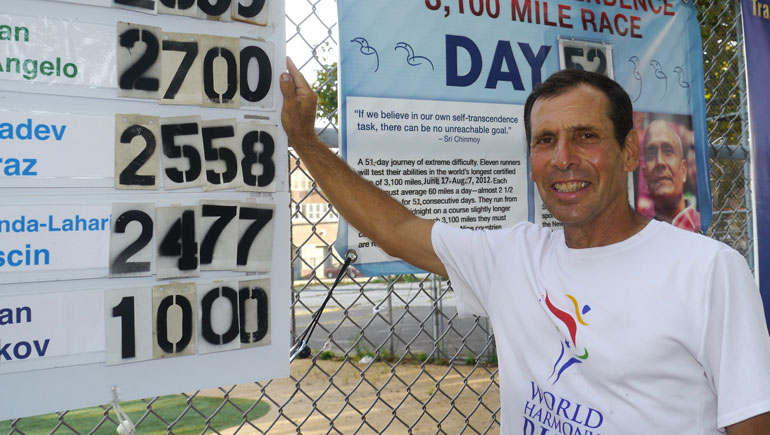 "But the pressure, you can be relaxed and happy under the pressure.  Life is like that.  If you are responsible and have high goals but you have to handle the pressure with a certain amount of poise and cheerfulness like Sri Chinmoy did.  With all the responsibilities that he had."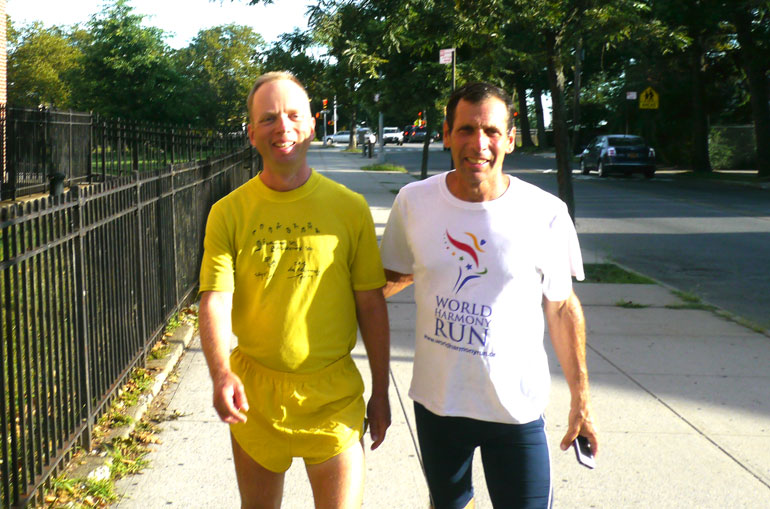 "It is the last day and I am running well."  We go by the board which shows that he completed 2700 miles just before leaving here last night.  "It was a goal that motivated me after I came out of my injuries.  I had to work hard to get to it.  Then I worked a little harder than I thought and I got to it a little early.  That number is significant because 2 other very good multi day runners in the past have tried this race, that were 60 or older.  2700 was the farthest that one of them went.  So for me, I don't know how official it is but it is a nice record to have."
"I wanted to be the first 60 year old 3100 mile finisher but that wasn't my real goal.  That was just a personal ambition.  The real goal is to be in the race, to get through the race, no matter what happens and to finish.  And along the way I did accomplish the age record."
Click to Play Interview
He comes from St.Petersburg but he belongs to all of Oneness Dream Boat Shore
"I said, never give up and I am trying.  Many runners felt that when Grahak finished the race was done.  It is more like an inner feeling.  At the moment of Grahak's finish that we all finished."
"Of course you know from past races that the race is quite unpredictable.  So I am expecting the unexpected.  In some ways it was a surprise, especially the shinsplints after 9 years of running 3100, and after running 2000 miles here it is very rare, unique.  But it happened."
We come across the Enthusiasm Awakeners who are celebrating Alakanda's birthday.
"I feel absolutely happy.  Surprisingly also.  No matter how many miles I am lacking from making 3100, I feel quite good."
Click to Play Interview
Hats off to the Enthusiasm Awakeners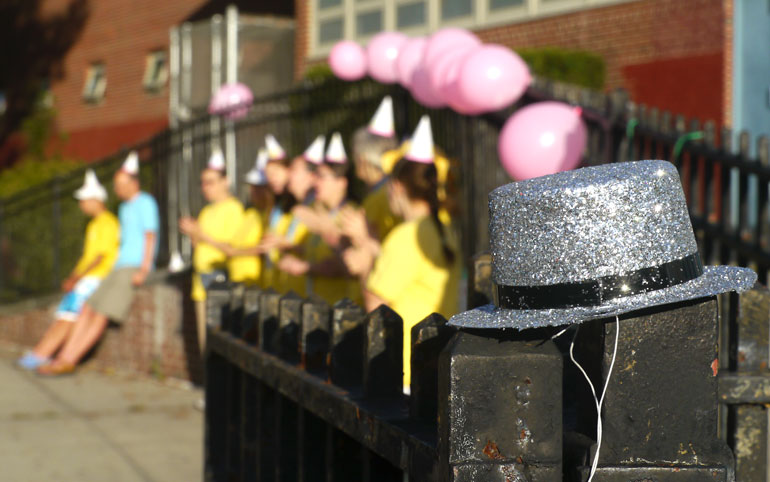 "The first time I came to the race I was 13.  My 14th birthday was the first one I had here.  It is 8 years."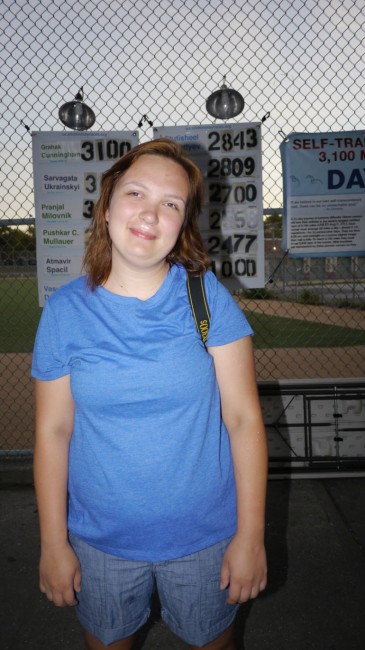 "My Dad didn't think he was going to come this year either.  At some point during the winter, I think it was February, I spoke to him and he said, O by the way.  I am running the 3100.  And I was okay fine.  I wasn't going to help him this year but I still wanted to come for at least a little bit.  I just feel that I belong here and I should be here.  Even for a little bit of time.  Just being here is part of what I do in my life.  I have to be here."
"It is a different experience from previous years.  I have never had my Dad running on my actual birthday, because he usually finished always before it.  This year it is different.  A new experience.  He is going to be here all day, and that is interesting.  So we will see how that goes.  I have already had so much partying this morning that it is more than enough for the whole day."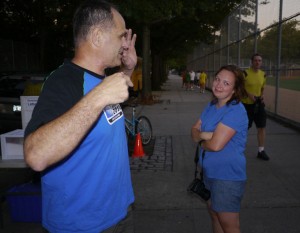 Click to Play Interview
So much beauty
So much support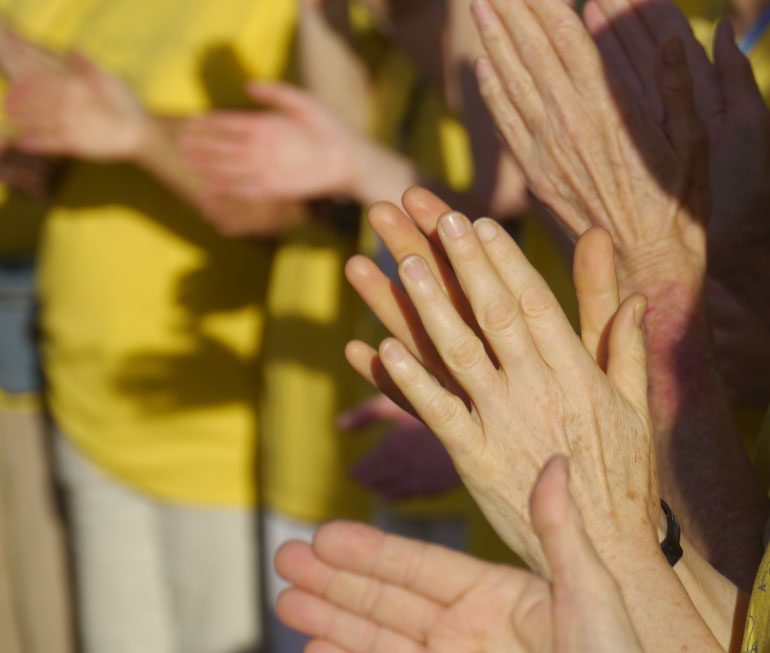 By feet alone
And O yes….smiles too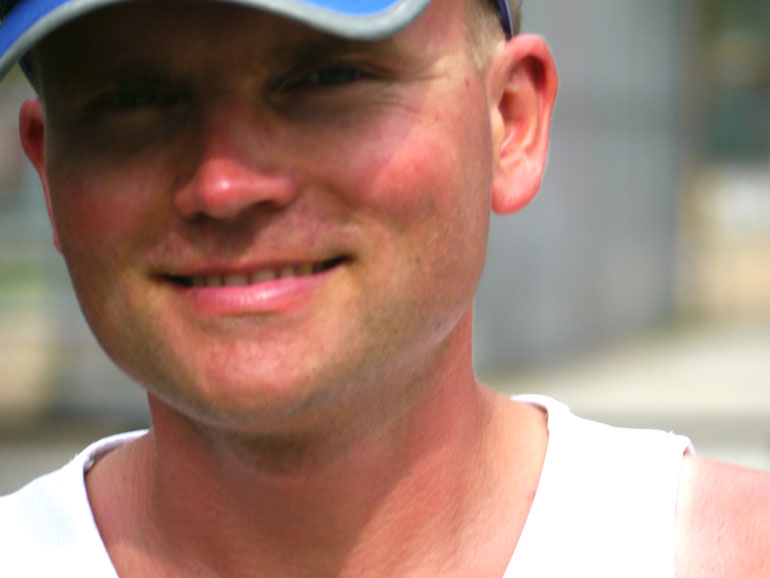 The way always clear
A few great yogis along the way
"Life is a process.  We see success or failure, but maybe there is no such thing.  There is only progress.  For some people fast and for some people slow.  Like in life maybe it is also with this race.  It is a journey, and we just have to do our best and be happy."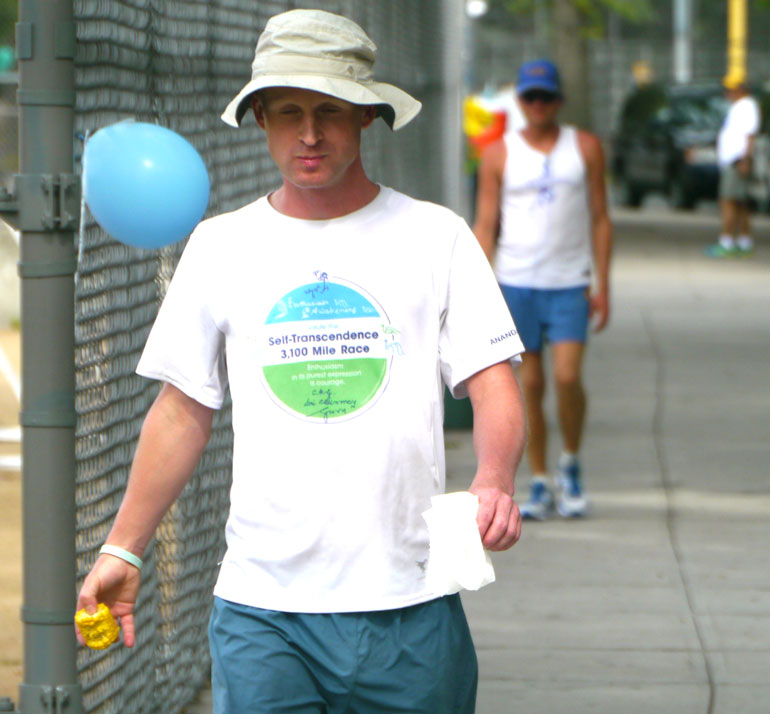 Click to Play interview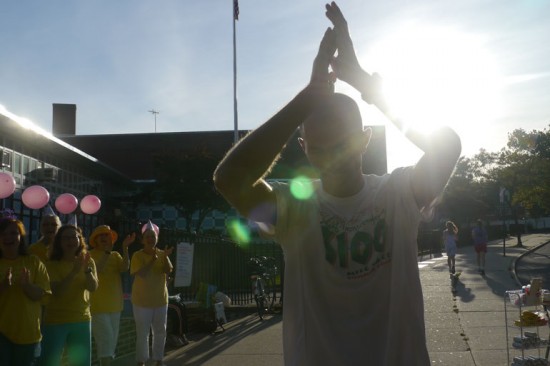 2 poems by Baladef:
What is our next race.
Saturday the Self Transcendence 2 mile race.
The second:
Thankyou for everything
Our Rupantar, Bipin, Sahishnu,Sandhani, and others.
You are Guru's love
Click to Play poems
The morning turns to afternoon.  The people come.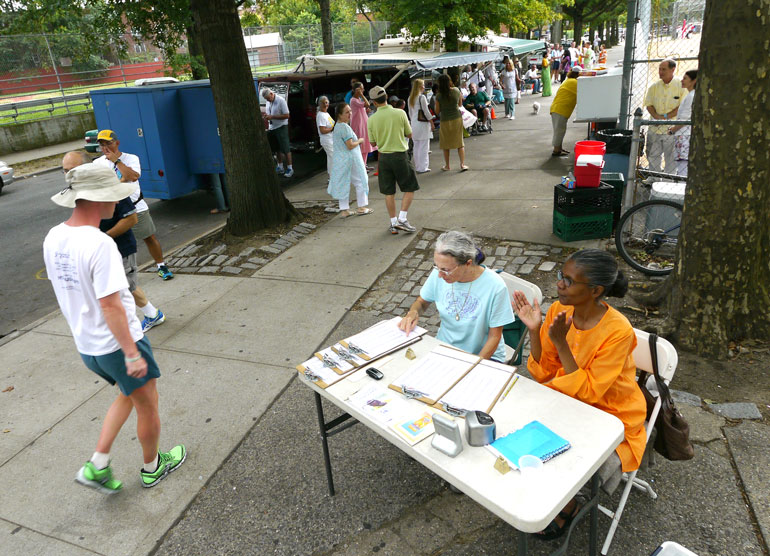 The board is changed one last time.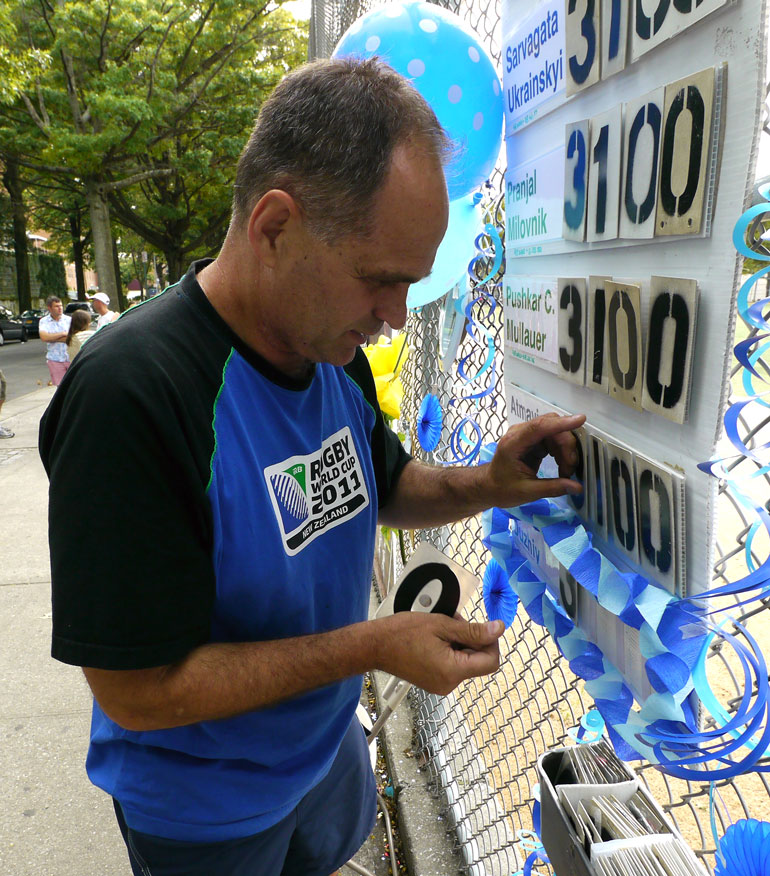 Now the journey complete and a victory for all.
"Ladies and Gentlemen finishing 6th, in his first attempt.  Becoming the first Russian to ever complete the distance.  He is the 32n person to complete the distance in the allotted time.  His is the 115th performance all time of the 16 years we have had the race.  He is ranked now 26 by running 3100 miles in 51 days, 10 hours, 47 minutes, and 39 seconds.  Which is an average of 60.25 miles per day or 96.97 km.  The new Russian champion Vasu Duzhiy.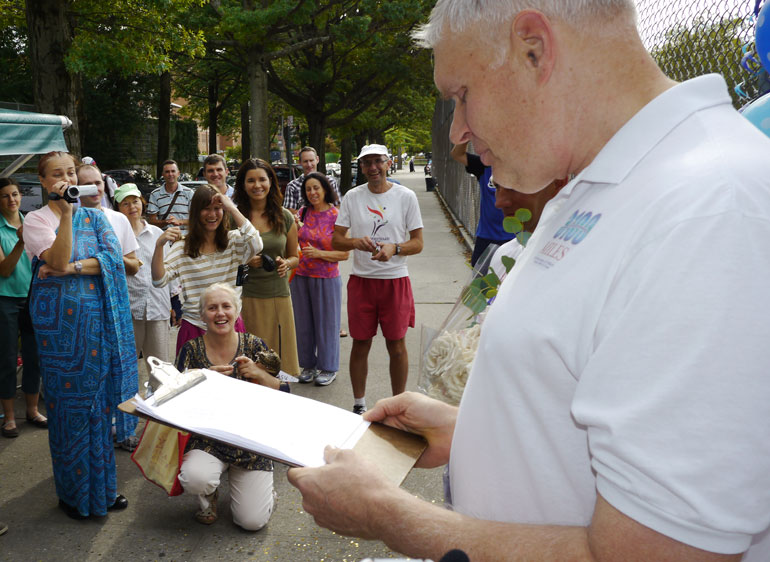 At last now there is rest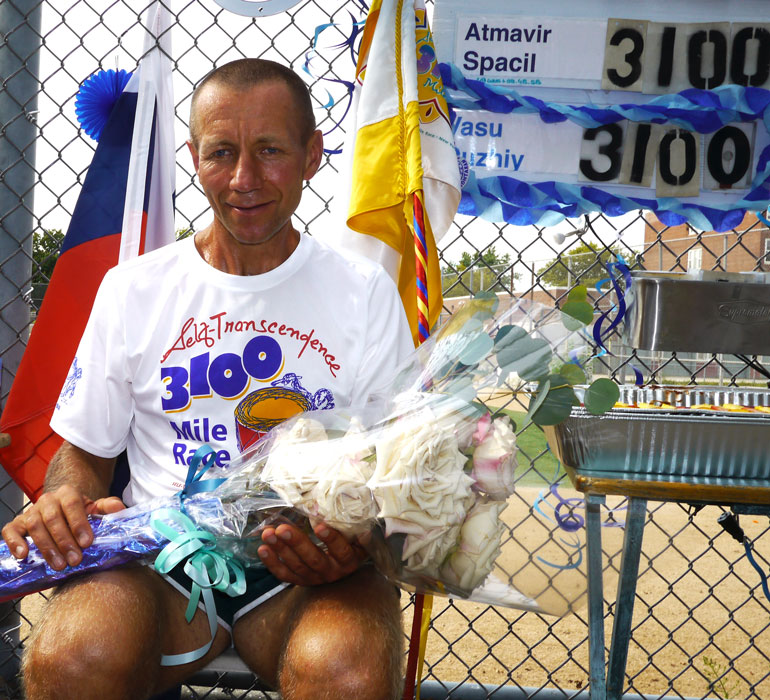 Most important to Vasu is that he represent and held in his heart and was supported by all of Oneness Dream Boat Shore
Click to Play finish, speeches, and song.
One last lap together
Priyala recites the Poem of the Day
| | |
| --- | --- |
| | |
|   | Enthusiasm Awakeners….Click to Play….parvati 3 |
Is man omnipotent? No, man is not omnipotent. But God's unconditional Grace operating in and through man can do things that are absolutely unimaginable. Needless to say, man as such is not the doer of these unimaginable deeds. The omnipotent God is using man as an instrument. His own Omnipotence He can manifest through man's pure and humble receptivity.
Sri Chinmoy, World-Destruction: Never, Impossible! Part 2, Agni Press, 1994.