"I have got a present for you, it is from Australia."
2 nights ago while Grahak was running on the far side of the course a friend of his came by on a bicycle and told him this.
At this point he had been on the course for close to 14 hours and run about 60 miles in that time.  For the past 40 days his world has been focused entirely on nothing but the confined dimensions of this New York City block.
At hearing this news he gets excited……"O, it is licorice!"
"No.  It's a lot better than that."
"O, it is chocolate."
"No.  It's a lot better than that."
"I got up to the counting area and my Brother was there.  And it was just so nice to see him.  I had no idea.  I shed a tear.  I hugged him like I never have before.  Some people said I was pretty low key.   But I was pretty emotional.  It was such a nice surprise.  So good having him here.  He is an excellent helper and he gives Satyakarma a break."
The sudden surprise appearance of Ian will always be a wonderful memory for Grahak as he looks back at this race in the days, months, and years to come.  He has of course 10 other brothers who may not share his looks or his DNA but they are brothers just the same.
Their lives and dreams so intimately connected.  Their singular collective pursuit of an impossible goal.  A journey they share and take together.  One that may not have a finish line for each who runs here but no matter.  There will be a divine victory nonetheless for each  and every ceaselessly moving member of this Self Transcendence family.
"We all feel like we are one out here.  We all have this common goal, and we all want to get to the finish of the distance.  When one gets there it is inspiring for everyone."…Grahak
The ancient dream of cooperation is not just a human dream that has nothing to do with reality. This ancient dream is not a dream at all, but a faultless and divine vision – an unhorizoned vision that is slowly, steadily and unerringly shaping our individual and collective destiny as humanity marches towards its supreme goal of universal oneness and transcendental newness.
In ways both great and small the runners lives are intertwined.  A bit of tape,  some kind words of encouragement, or just a smile.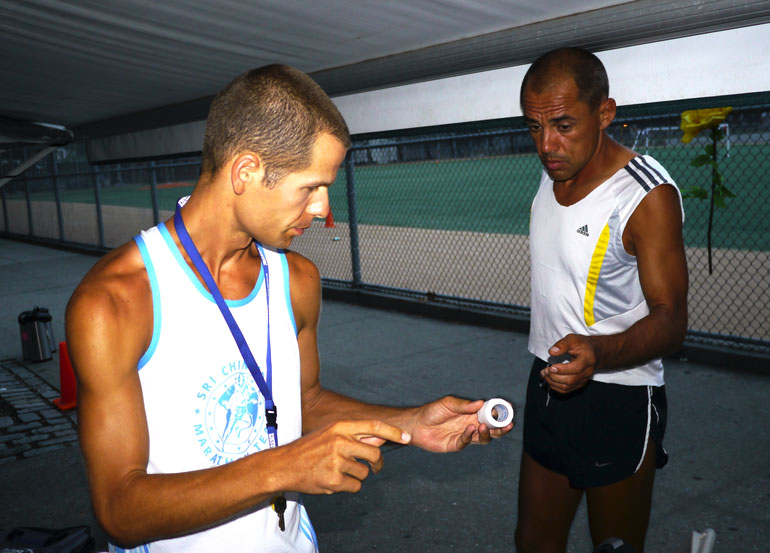 Sometimes it feels as though the pain will never leave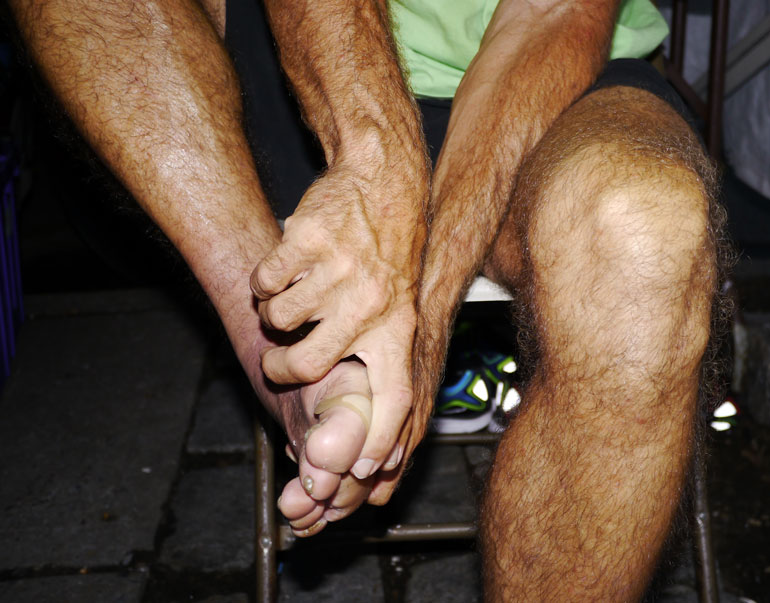 Sarvagata just needs enough shoe power to go 340 more miles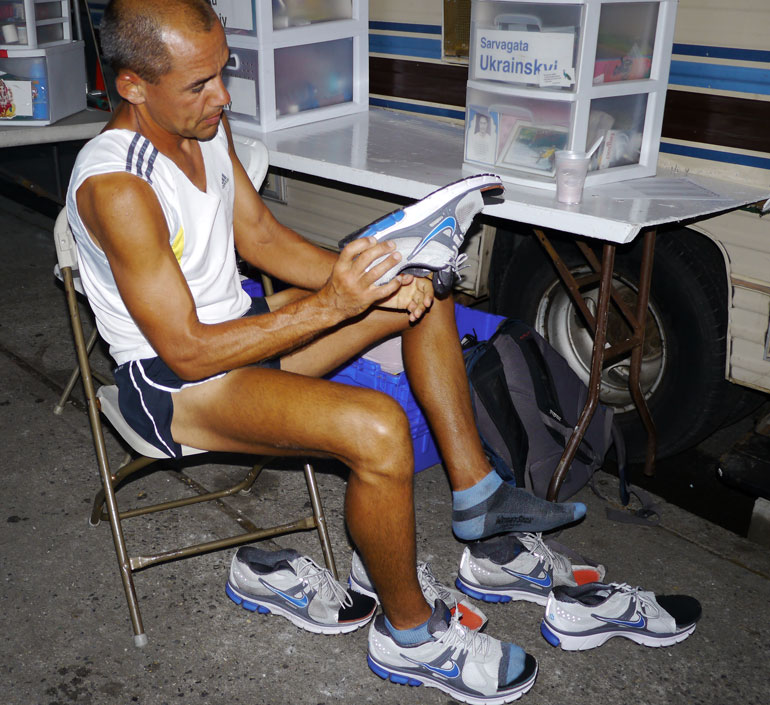 Pradeep will get his own special visitor in just 2 days time
Start Day 42
Stutisheel had a good day yesterday.  It has been a long time coming for this great champion.
Baladev calls me over to him this morning and wants to tell me a poem that he has composed.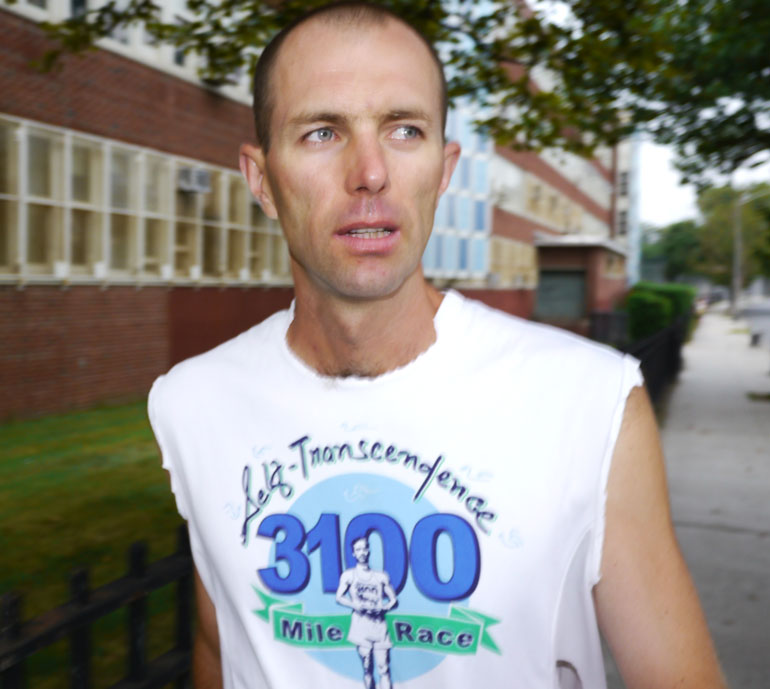 Every morning they come and sing for us.
They are like singing angels. 
Guru's pride, Parvati's singing group. ….Baladev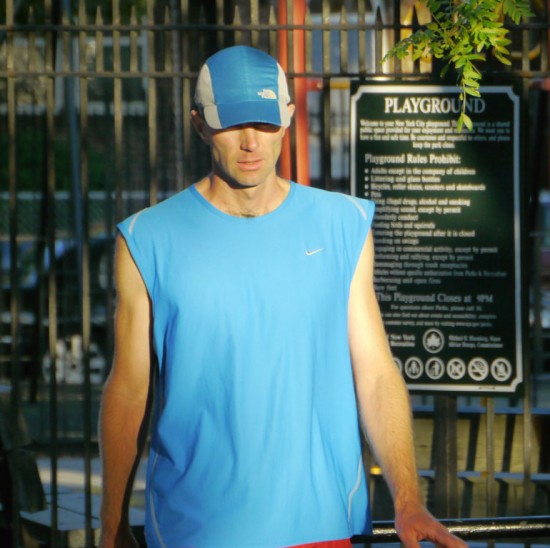 "I was walking on that side going down hill.  A guy came along and he had a shirt and on it was 'PEACE."  For me it was very nice and significant.  For me it meant that the only we need is peace.
"Then after lunch one guy came in the opposite direction and he had a t shirt that said, 'Simply Believe.'
Then in the evening a guy was walking down hill and on his shirt was, 'Come To Me Bro.'  It meant to me that the Supreme was telling me to come to him.  Like a brother like a very good friend.  Come to me brother and not like……come to me my child."
"It was very funny for me.  Because I had seen the 2 shirts and then when I saw the 3rd coming towards me…..it was very nice."
"Today I would also like to see something significant maybe."
I mention that my shirt isn't much help because it simply has Australia on it.   "No……that is good.  Monday Australia will have a finisher, the winner.  Everything is something.  It is good.  I am good……the best.  I think I feel the best not that I am the best.  I feel like I have never felt before.  This is something."
Click to Play Interview
Between a rock and infinity's place
The 2 mile race brings visitors and inspiration every week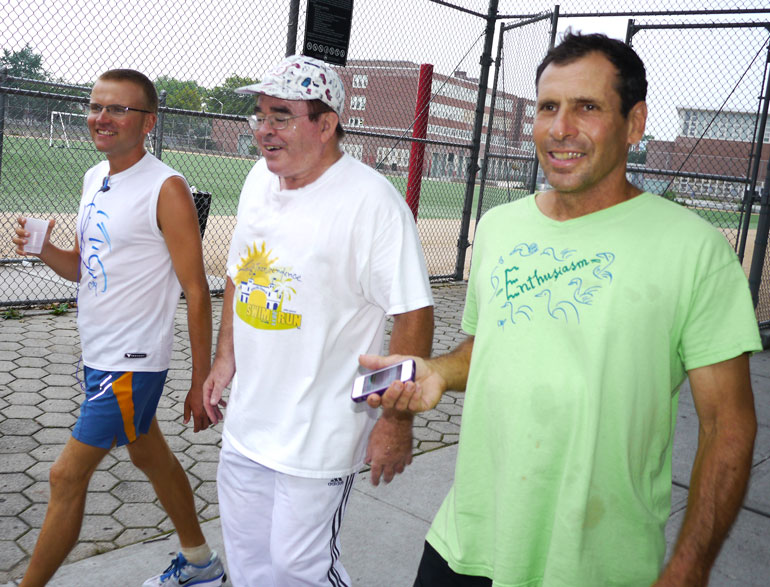 "Every day I follow the race."  Utsahi is visiting New York right now for the first time this summer.  "I was in Nepal, I was in India, I was in Germany, I was all over the place.  I get up at one or two in the morning local time here and look at the results and look at the blog and at the photos and it tells me a little bit about what is going on.  Then I pray for them.  I am with them in my own way."
"We can follow this from any place in the world.  It is quite amazing.  Here you have shivers.  I cry almost all the time because it is so impressive to see them.  One step is difficult.  One lap is a challenge.  Then you see them lap after lap after lap.  After a couple of hours of sleep.  My God I don't know how they do it.  Sri Chinmoy's vision for the race is just so incredible.  It is the impossible come true."
Click to Play Interview
Concerned looks.
"This is my last full day in this direction."  With less than 200 miles to go he surely has to feel that it lies just ahead of him now.  "I am just happy that I can run every morning.  Because you see guys still getting problems, so I am really grateful that I can still move forward.  The finish is coming up and I still try and not think about it too much, but it is hard.  There are still a couple of hundred kilometers.  Further than that actually."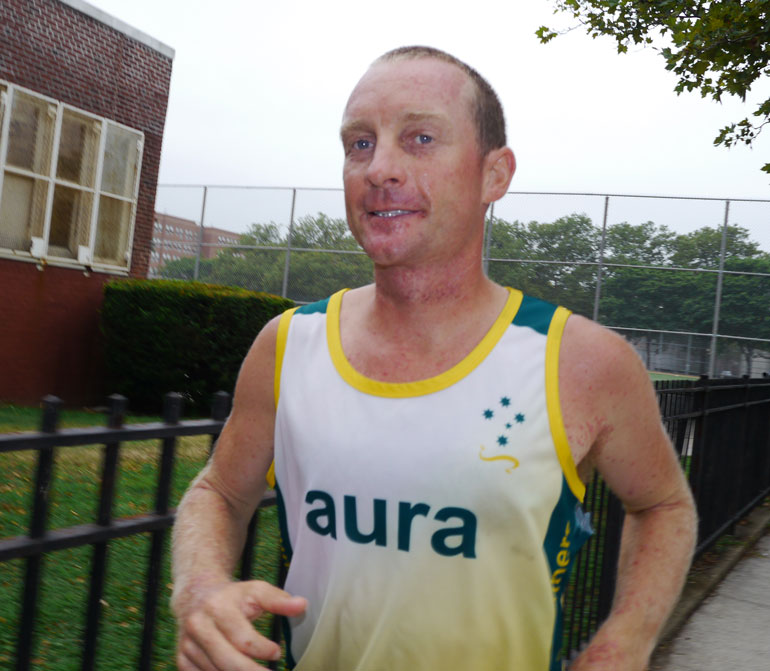 "If I have a reasonable day today and tomorrow than God willing, I should finish on Monday."
"Most commonly I get a phone call on Wednesday night and Sunday night Australia time.  I might get a couple of calls on the same nights.  Which is really nice because it picks you up.  You hear what is happening at home.  It is great."
"I think I am getting tired, it is harder.  When I look at my mileage it looks like I went out too fast.  I am kind of just holding myself together.  I have a few problems and so forth."
Asked what the presence of Sarvagata meant.  "It was inspiring me to do further than normal.  I think Sarvagata is inspired when there is someone in front of him, and it was keeping me on my toes.  It was good for the race I think."
"If I finish on Monday it will be a personal record.  I think it will be the 3rd best overall time for the race.  I am not really sure."
"You really make progress here.  All the finishes I have been at have not been anti climatic.  They have all been really fantastic.  I have always seen other people finish in front of me and it has been nice to see other people finish."
Click to Play Interview
Pranjal takes a turn for the better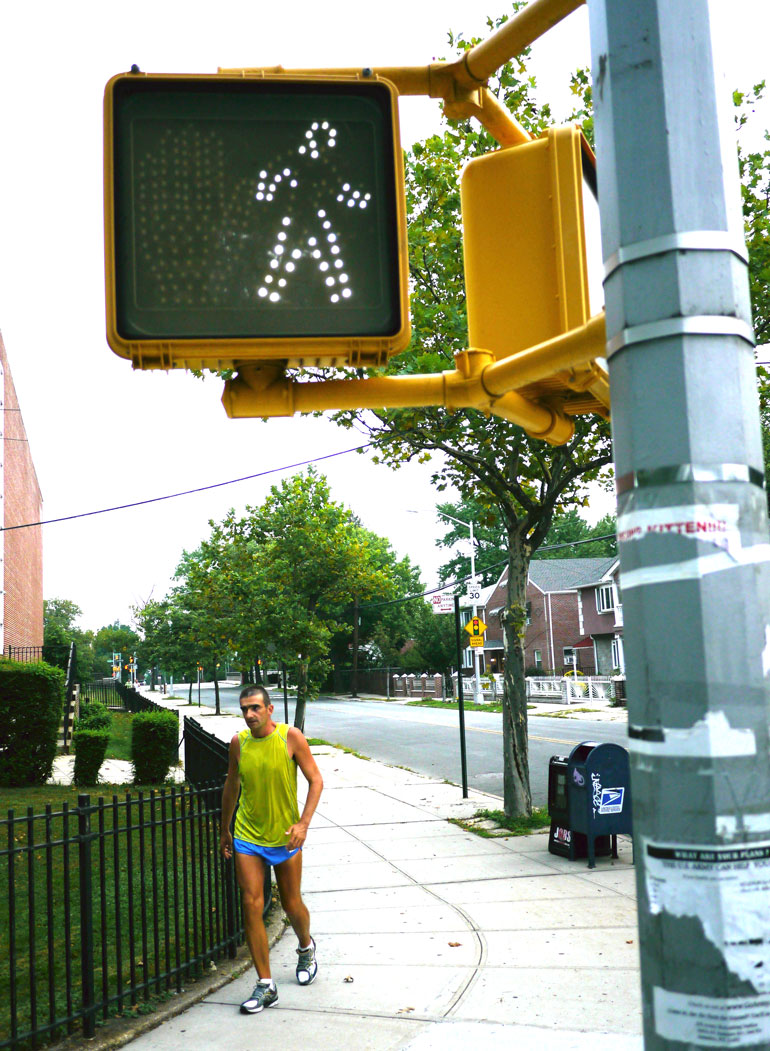 Vasu shares a special morning smile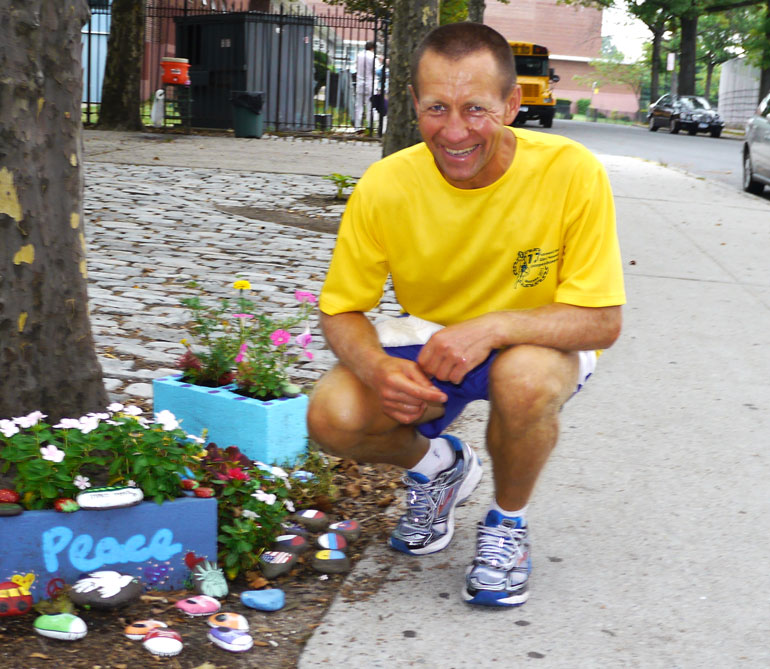 "It is one of my favorite activities."  Jacqueline was counting last Sunday and she shared her thoughts and feelings about the race.  She first started coming to help at the race 9 years ago.  "When I first became a seeker this was the event that I attended.  It really filled me with joy. I knew that there was a power greater than the runners allowing them to do the race.  It was my beginning on the path.  I knew that these runners had a gift.  That gift was Sri Chinmoy so I wanted to learn more about him.  It was amazing grace.  So it my greatest joy to be out here."
"It is a real lesson in grace.  You get to see the transcendence in action.  No matter what you know they are getting great inner joy, satisfaction, all the attributes that you can describe. You know they are getting it from a helper, and we know who that helper really is."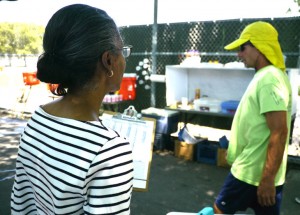 "We feel so enthusiastic when you see the runners.  They give you such calmness, such inner peace."
She will be here 4 hours this morning and I ask if she will be tired.  "No, you get so much energy.  You let go.  It is my opportunity to be out of my mind, and just be in the moment, and have the oneness of the experience.  You just filled with so much more energy."
Click to Play Interview
Utsahi recites the Poem of the Day
| | |
| --- | --- |
| | |
|   | Enthusiasm Awakeners…..Click to Play…..parvati |
There will come a time when this world of ours will be flooded with peace. Who will bring about this radical change? It will be you – you and your sisters and brothers. You and your oneness-heart will spread peace throughout the length and breadth of the world.