"You suffer so little in comparison to what you gain inwardly, which is unimaginably big."…Pushkar
Today is the beginning of the 40th day for all the runners here.  The number itself is a bold milestone on the long road that is now stretching across nearly all off the full wide bright face of summer.  Over this period all of us have had moments of stress and maybe some pain.
For the most part we mortals do not seek out the hard, the difficult, or the painful unless we are absolutely certain something ultimately greater is to be gained by it all.  On the superficial level it just might be a sky high momentary excitement.  Something that sparkles for an instant and than the glow is immediately engulfed by darkness.
But real goals do not come often and are not easily arrived at.  Those true Himalayan goals that are more about creating a lasting thrill within the heart and not just quickening of the pulse.  The goals of transcendence and transformation are lifetime journeys.  Leading slowly and inexorably to destinations that only gather brightness and are never timid in the face of darkness.
A friend reminded me recently that there is nothing about this race that will accept compromise or falseness.  It is a shockingly revealing experience in which  procrastinating or pretending is not tolerated. In my life there are little dull corners in which I can make, for a time at least, a casual acquaintance with lethargy and indulgence.  Here if you are a runner at the 3100 it is not possible to act in this manner or to find such places to stop and hide from the world or yourself.  As well the simple mathematics of adding up all the numbers to make 3100 cannot be fudged or falsified.
Somehow, no matter how far we  step back or no matter how hard we search for the perfect vantage point in order to comprehend the totality of what their true inner and outer experience here it is not possible.  No software no mental reasoning and no magic can gather it all up into one tidy concise package.  We can count laps, treat injuries and try to gather up data on all the tears and smiles.  No image, no equation, and no clarity can come of it all.
The human in Pushkar  we may understand just a little. When his knee suddenly spasms with pain and refuses to unlock, the frailties and foibles of the body we understand.  The marvel is that he cannot go home, like most of us would if this happened to us in our own world.  Instead he has to go on.  In front of him lies the unconscionable enormity of a 1000 more miles still to go.   His body is uncertain how it will make it even half way round the block.  Yet  he somehow he finds a way through this labyrinth of pain.  Listening only briefly to the loud nagging argument his body is screaming at him.
Somehow instead he is able to devote his attention to another voice, one that is not sharp and shrill but instead is calm and clear.  His own inner voice does not doubt and does not dither.  It tells him to simply keep moving on and let loose the fragments of his imperfection that he has brought to this race.  To cast away whatever ignorance he no longer wants to carry, and be transformed, not by outer human pain but by his willingness to surrender to his own inner divinity.
In the life-game, each soul is running consciously or unconsciously toward the goal of inner perfection. There is not a single individual who has not left the starting point. Now, one individual may be behind another in the Godward race, but all are making progress and running toward the same goal.
Sri Chinmoy, The Outer Running And The Inner Running, Agni Press, 1974.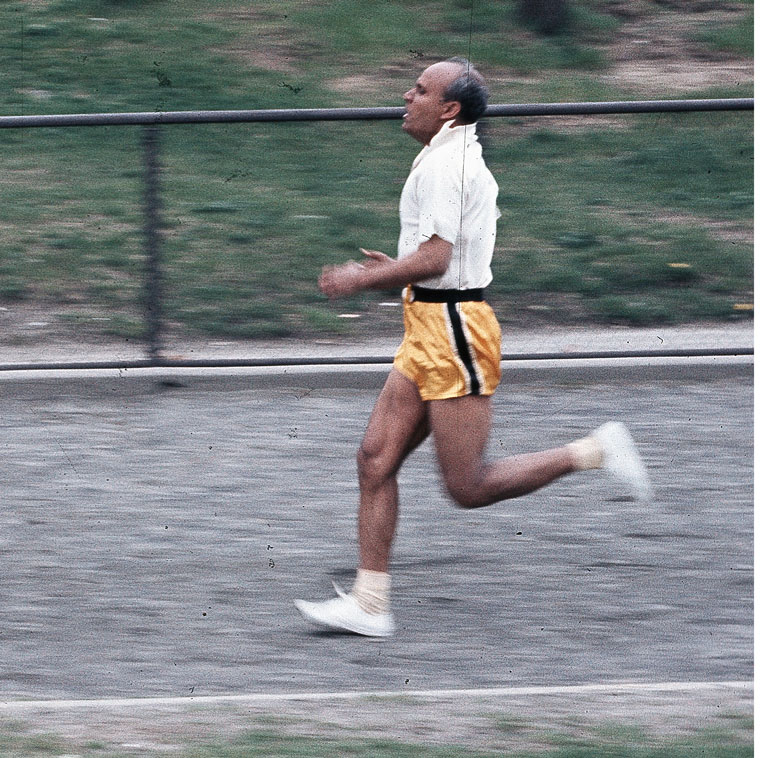 Some early morning lap sheet discussion
Start Day 40
Some happy moments
Sarvagata with less than 500 miles to go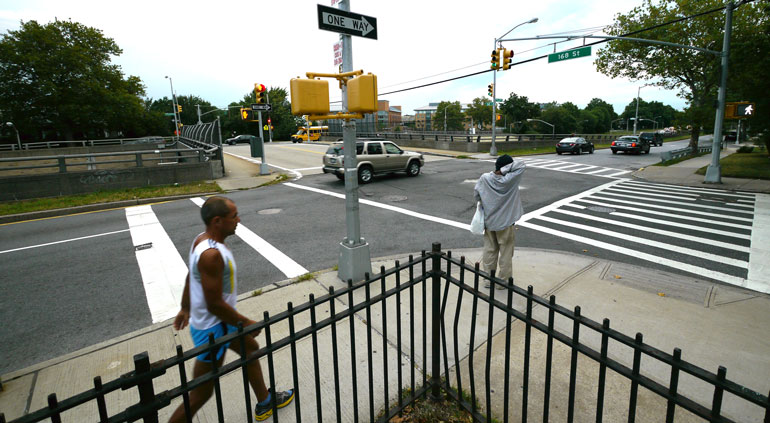 Vasu consistent the goal within reach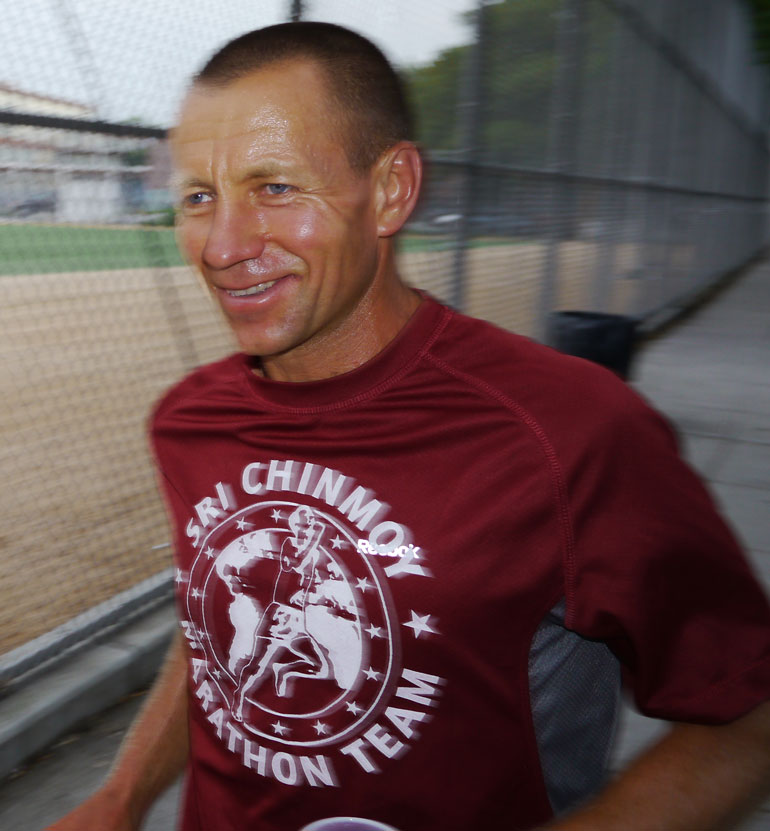 No passengers allowed on this trip
Grahak on target for Monday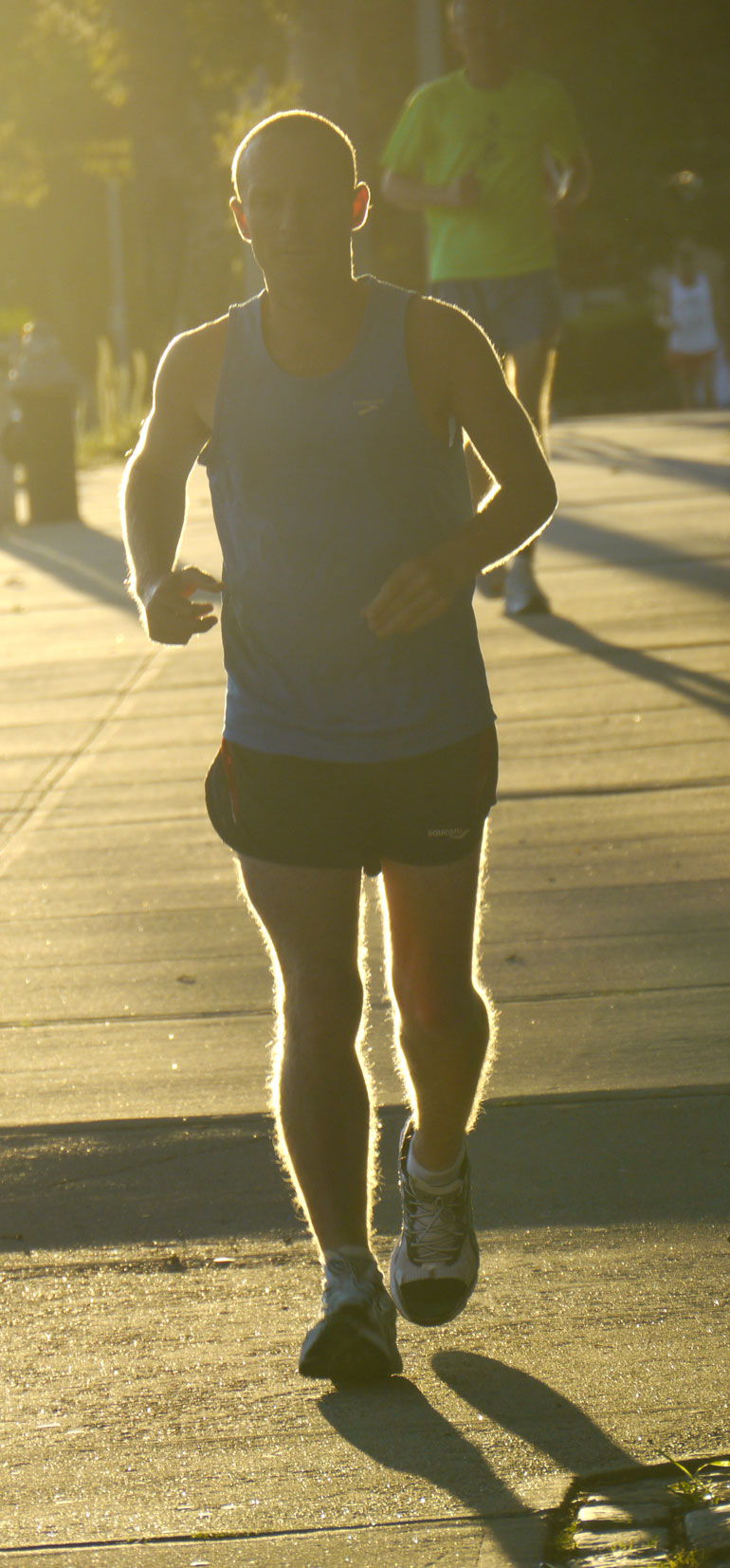 Stutisheel hoping to escape from pain
"I am pretty happy with that." I mention to Pushkar that he had completed 124 laps yesterday.  Earlier he had been having a real problem with his right knee.  "It was created a little by using unsupported shoes.  I tried for the past 2 years to train with bare feet or neutral shoes.  The distance here is a little bit too long, that I can keep it.  Usually I don't know what shoes I like.  This one is good and then it gets problems somewhere, and then I change.  I am always struggling with the models of shoes I am using.   I ended up with a neutral one and it hit me quite hard.  I had a little bit of knee pain before.  But it was under control there was no big deal about it.  But this one was really severe."
"Memories of my first multi day race came (2003).  Then each step was really like a dagger into my knee.  So I changed to another pair of course when I realized it was the same pain.  It was really painful.  It was pretty intense.  I had to take more breaks and try to do something with my knee.  I had the confidence that it was connected with the shoe.  So it should just be able to go away.  The shoe creates this pain.  So I change the shoe and slowly and steadily the pain will decrease and go away.  It was also a little bit connected with my mind.  I was in a valley. (low long hard spell)
"The knee pain increased and at one point I could not even walk.  I had to keep my knee straight.  It locked all of a sudden.  That day it got better and better.  But then boom.  I was a little bit on the edge, that I might crack, and surrender to the pain.  Then came the 3rd day and it was kind of similar"
On this 3rd day he received the same inspiration from 2 different sources.   One runner told him that he looked down.  "At one point I realized I had lost my deeper smile, and I couldn't change it somehow.  Everything felt like I was in a desert.  No joy at all.  Somehow I went really deep within and I brought forward my 2000 miles."  What he means by this is that he remembered how comfortable and strong he felt during this part in the race and tried to visualize himself being in that same zone again.  "Be cheerful.  Everything relaxed.  So I imagined that."
"To imagine in the here and now this is what I want to have.  This is what I want to get back.  So I started to pick up the pace.  I decided to not surrender to the pain."  Kausal had also suggested that also from his medical experience the pain was coming from Pushkar's own mind. " The knee is okay."
"So I brought my prayer forward to surrender to the absolute Supreme, and not to the pain.  So I changed by using my imagination strongly.  So I got nicely into the divine flow again."
"I am trying to stay focused.  I am trying to stay relaxed.  I will definitely go for it.  It feels as though I am supposed to achieve something.  If I can't reach it I will also be happy. "
"Having my sister here was a great experience.  It also strengthened our bond and connection to each other.  It was a very nice experience I am so happy that she could come.  She felt the energy here.   She was absolutely delighted.  She also already wrote me a message that she is absolutely grateful that she came.  The people at home have told her that she has changed.  So she knows that she did the right decision."
"It was very easy for me to have my sister as a helper.  She really did a great job.  But now I am in a little trouble.  Because she isn't here any more.  Now it is a little difficult to me to go back to not having a helper.  I am really grateful she did a great job."
Click to Play Interview
Audio clip: Adobe Flash Player (version 9 or above) is required to play this audio clip. Download the latest version here. You also need to have JavaScript enabled in your browser.
Svetlana recites the Poem of the Day
Audio clip: Adobe Flash Player (version 9 or above) is required to play this audio clip. Download the latest version here. You also need to have JavaScript enabled in your browser.
 
Enthusiasm Awakeners….Click to Play….

Audio clip: Adobe Flash Player (version 9 or above) is required to play this audio clip. Download the latest version here. You also need to have JavaScript enabled in your browser.
IF YOU FLOW WITH THE STREAM
Work! Wallow not
In the pleasures of lethargy.
Even if you work
Carelessly and occasionally,
You will be appreciated
In the world of confusion-sea.
And if you flow
With the stream of energy divine,
You will be admired,
Adored
And
Loved
In the world of Perfection-sky.