"Watching all the other people joining in on the running. They encourage other people.  I find that so exciting."
Larry Washington knows this little block in Queens just about better than anybody else.  He has been a caretaker at Thomas Edison High School for 25 years and most mornings he is out around the school grounds cleaning up trash.  He is methodical about his job and takes pains to make sure all the garbage is cleaned up every day.  Proud to make his little bit of this world that he is personally responsible for neat and tidy, though most certainly by tomorrow surely more will come and take its place.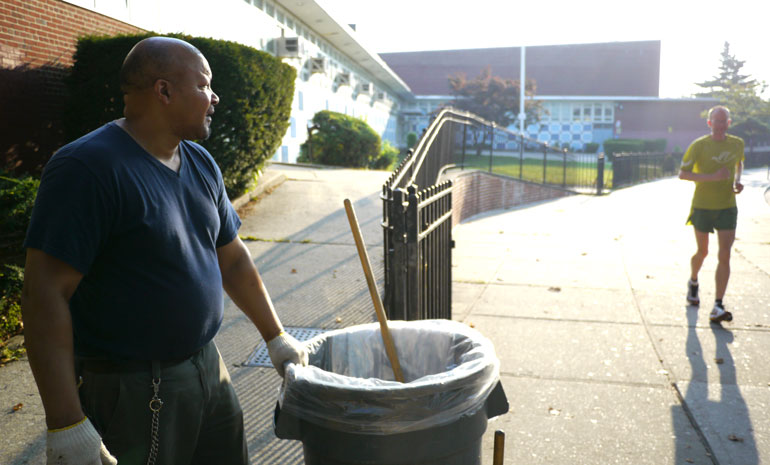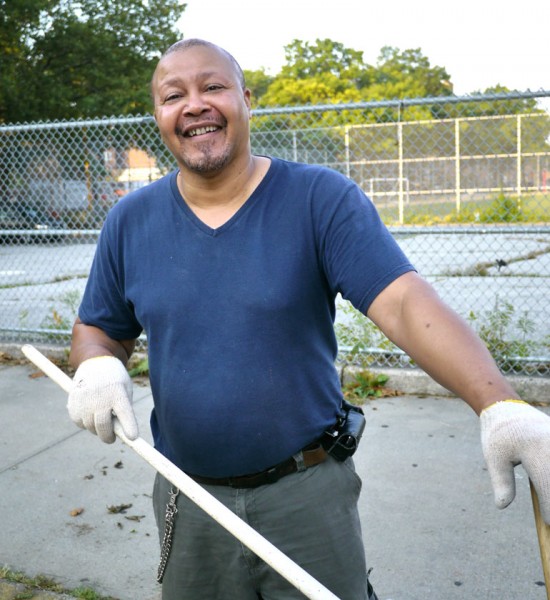 For 16 years Larry has had a front row seat on this little miracle, the Self Transcendence 3100 mile race.  A vantage point that very few others have and so because this race inhabits a big chunk of his universe he has noticed a lot, and more importantly, been impressed by what takes place here for 52 days each summer.
What he notices is how people from around the neighborhood are drawn to the block and exercise as well here.
"You can see them when they come out.  They don't run as long as diligent and as dedicated as the runners who are running out there.  But watching them, and watching the others who may just come around and run once or twice, and the elderly who walk at the same time.  I find that very encouraging.  Because that gives people the inner strength that they can do it."
When asked what he thought of it all when it first started.  He confesses, "I was not viewing it in a correct light.  (laughs) Because it wouldn't be me.  Then I started growing a little bit, and I started equating it with when I was in the Service.  We had to run 5 miles before we started our regular duties.  So I said, these are diligent people.  They are really dedicated to their work.  Of trying to accomplish what ever it is, whether it is their health, or if it is spiritual, what ever it is that they are trying to do.  I can see that they are dedicated to it. "
"I see their determination and the extra will that goes along with it.  Trying to see themselves through that long journey, and I find that very encouraging.  You can see the human spirit pushing forward when they know they can't.  And they are saying , O yes I can, and they overcome it.  I find it to be a good thing."
Click to play interview
Audio clip: Adobe Flash Player (version 9 or above) is required to play this audio clip. Download the latest version here. You also need to have JavaScript enabled in your browser.
The heart knows
Not only how to encourage
But also how to help the mind
To lead a better life.
.
.
.
Atmavir had his best day in more than 2 weeks of running
Pradeep has good news to read about this morning.  He had his best day here with 65 miles.  Only bettered by his first day.
Start Day 38
.
.
For the 56 runners taking part in the marathon, which was 26.2 miles long it was something else again.   The marathon was not a new event in Olympic competition,  but this year for the first time it became officially 26.2 miles long.  A distance just a little further than it had ever been run before and it was for a matter of completing the final 385 yards that Olympic history was made.
.
Dorando Pietri was just 22 years old and barely over 5 feet tall.  He was called by the press a pastry chef but as a runner from Italy he was quickly becoming known across all of Europe as a real champion at long distance running.  He started the race slowly that day and gradually over the course of the race began to move upwards in placing.  At 32km(20 miles) he was just 4 minutes behind the South African runner who had taken the lead.  Charles Hefferon was having trouble.
.
Knowing that he could possibly catch him he picked up his speed in order to overtake him which he did at the 24 mile mark.  Now with full confidence he let loose all his strength and  sped as fast as he could towards the finish line in White City.  When he entered the stadium a mighty roar went up and he felt its power so strongly he said later it was almost as though it was pushing him backwards.  By mistake he made a wrong turn and then collapsed to the track.  There was anxious debate by the officials over what to do.  Thousands of people were on hand including royalty in order to see this historic event.
.
.
Click to Play Video
.
Running 26.2 miles here is just getting your day started.
Grahak should be finishing now on Monday
As long as he doesn't make any wrong turns.
Daily mileage reports courtesy of the ever vigilant Medur Wilson
.
I mention that despite all these new problems he is still completing a lot of miles every day.  "I don't have any other choice.  That is why I am here. "
.
.
He has also noticed more other outside people running on the course.  "You know morning runners….evening runners….walkers…neighborhood.  All interesting."
.
"This is a race of acceptance of the world.  The last race was me, God, and cosmic glory.  Maybe a little bit of physical suffering.  This time it is me….world….God.  The world is the most difficult part.  (laughs)
.
Click to play interview
Just 600 miles more to go
Pranjal in 3rd place has 680 more miles
Poems on fences
Grass is always greener
Yesterday was great.  Today I am starting out real slow.  Doesn't seem like my body wants to run any more.  My goal now is to just stay in the race. "
Click to Play interview
Baladev wrote a special poem for Arpan
.
.
"He has inspired me from the very start.  When I heard that he was going to run it was something for me.  It is amazing.  It is a big inspiration for me and I think for everyone."
.
Click to Play interview
.
.
Dimitry reads the Poem of the Day