As someone who has never run further than 50 miles  at any one time I know there will always be aspects of the race that I will never fully comprehend or appreciate.  I count myself as one of its true fans and am a sincere admirer of all that goes on here but there are certain inner experiences and most definitely the entire spectrum of its outer reality in which I will never have any admittance to or knowledge of.  Membership and comprehension belongs only to those who committed and sacrificed themselves fully on this ground and that group numbers barely more than 100 souls.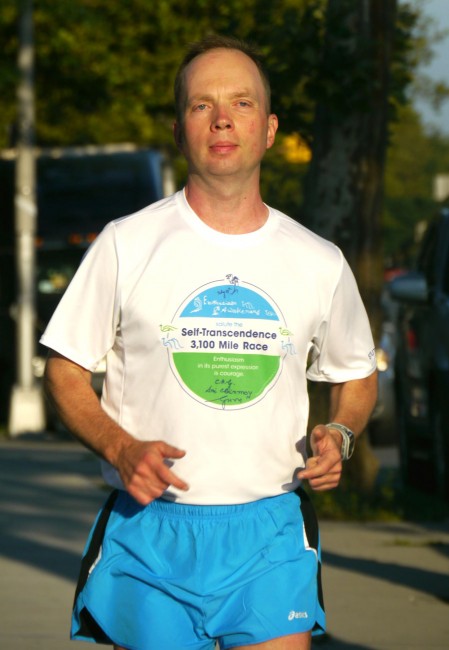 In 2004 Arpan and Stutisheel paid their dues here for the first time and found entry into this elite world of self transcendence running.   They would complete the 3100 miles barely a day apart.  Ultimately the difference between the 2 however could hardly be more striking.  Over the past 8 years Arpan went onto fill his summers with almost full time World Harmony running and did not return here again until this year.  Hopefully he will eventually become the oldest competitor to finish the race sometime after turning  60 later next month.
Stutisheel on the other hand seems to heave never left and for all intent and purpose made this sacred place here in Queens the home of his heart.  For him it is a steadfast and secure world even though it be one, which on the surface at least, is routinely buffeted by the gripes and groans of the usual human frailties.  Despite this he has continued to peel back the mysteries of his life and perhaps seen the trajectory of his inner life rise to heights he never dreamed that was possible in the last 8 years.
The calculus of all the numbers he generates each new day he sets foot on the course after so many years here is mind boggling.  Suprabha and Ashprihanal of course are the only others to surpass his statistical overall mileage accumulation. But from a simple human perspective, how can we even begin to understand what it is like to spend, more than a year of your life, more than 400 full days and counting right here relentlessly running in circles. There is no clear identifiable reward in any of this.  No fame and certainly no fortune.
If any of us were to attempt to gather up all of his hard earned miles and all the time he spent here, and then pile it all neatly up on clip boards, stop watches, and note pads.  None of it would make much sense at all.
But for Stutisheel who is a man in endless motion and in a real way maintaining endless progress in his inner life he is simply listening to a clear inner command to go on.  One that only 12 are truly and Supremely able to hear here.
My captain commands, "Go on! Go on! Go on!" The captain is the Lord Supreme within us. The captain has commanded, "Children, go on, go on."  Sri Chinmoy, Reality-Dream, Agni Press, 1976.
Later on today the heat will crack apart at last when great grey thunderstorms roll into the area.  Grahak seemed to find some immunity to yesterdays heat and ran the most mileage with 70.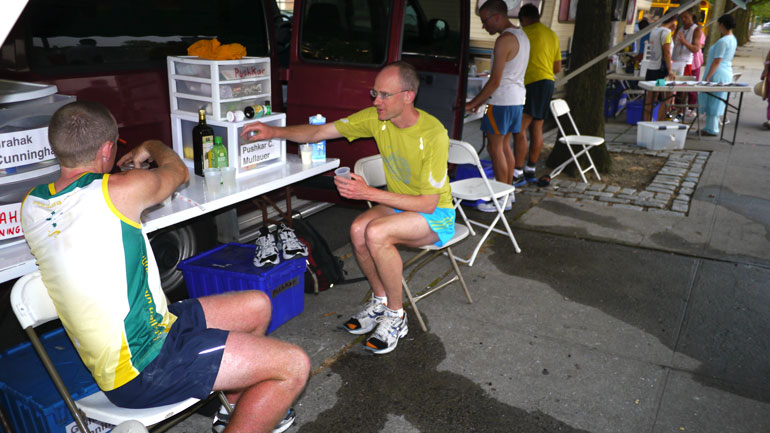 Vasu steadily remains on top of the board and Pradeep found a few extra laps yesterday.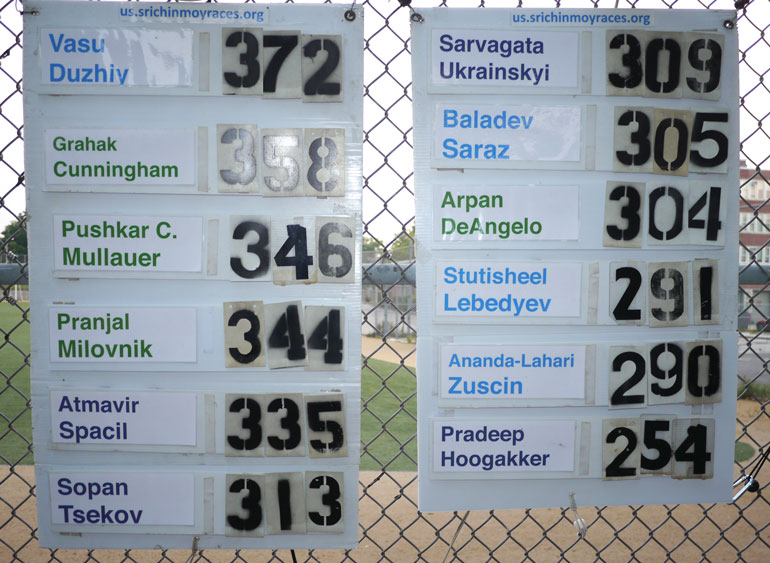 You can see something new here every day
Start Day 6
"Morning is beautiful.  That is how I am doing."  Not just for Stutisheel but for anyone out on the course at this time and in being basked in this exquisite morning light it is hard to imagine a more spectacular place to be.  Eventually it will get hotter but than the rains will come and break open the day to reveal another reality.  Of the heat over the past few days he says, "of course it is difficult to run and 2 days ago I was just shocked by the heat, and then I had some other problems with digestion.   Which usually comes altogether with the heat."
"But yesterday i was running and was very happy.  50 something miles.   It seems as though my body is adapting, and it is good."
I mention how both he and Arpan ran the race for the first time 8 years ago.  "We did this for the first time together in 2004.  But I knew already during the race then, that I would come many many times back here.  So for me it was no question of 8 years.  This is just my project.  That's it."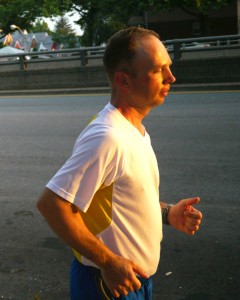 Vasu had mentioned how Stutisheel had inspired him to come here.  I ask him what he saw in Vasu.  "He always had potential.  During the short races like the 6 and 10 day, he was almost all the time injured.  So he could not blossom fully.  Here is the place to blossom totally.  He has good speed, good endurance, and he is a very very soulful guy.  This combination is unique."
I ask what are the ideal qualities a runner should have if they want to come here and run the 3100 mile race.  "If you start thinking about it then there are millions of ingredients.  If you look inside and see God's grace then that is the only ingredient you really need to make everything happen."
For a while rumors circulated that Stutisheel was most definitely not going to return for the 9th time.  "Actually I was almost sure that I would not run again this year.  I thought I would skip it and take a rest for one year.  I was pretty sure about this until November.  But then what happened.  Utpal released a slow motion video about the 3100, and when I got the link immediately all the spirit.  100% 3100 mile spirit came to me.  So that was a very good experience actually.  Very inspiring."
Click to play:    I Simply Do
Also in the fall of last year an exhibition of Sri Chinmoy's bird paintings came to his home town of Kiev in the Ukraine.
"One particular original attracted me like anything.  The bird had many wings, and it was headed downward to earth.  This bird knows pretty well that in heaven there is bliss, there is peace there is everything.  It could enjoy it in full measure, and yet nevertheless.  It was heading to earth to serve people and bring about God manifestation.
I was standing inf front of this drawing and I was asking myself what is wrong with you.  Of course if you don't run this year you could do many other things.  Do many other projects, go to the mountains with Ashprihanal.  But in spite of all the difficulties I can do this.  This is my project."
"These 2 things in a twinkling of an eye…..yes I will run."
So far he says, "my body to a great extent has adapted, and I feel pretty good, especially on a beautiful morning.  It is brand new.  The start was today.  When times get difficult, during the heat, or during the evening hours when the legs cannot run any more.  You of course experience some agonies, but the bird is still singing inside.  Yes, still singing."
click to play interview
Click to hear Kodanda
Abhejali is here this morning to enjoy the start of the race.  Tomorrow she will enter the annual swim around Manhattan and last year swam the English channel.  I recall however that once upon a time she was also a pretty good runner.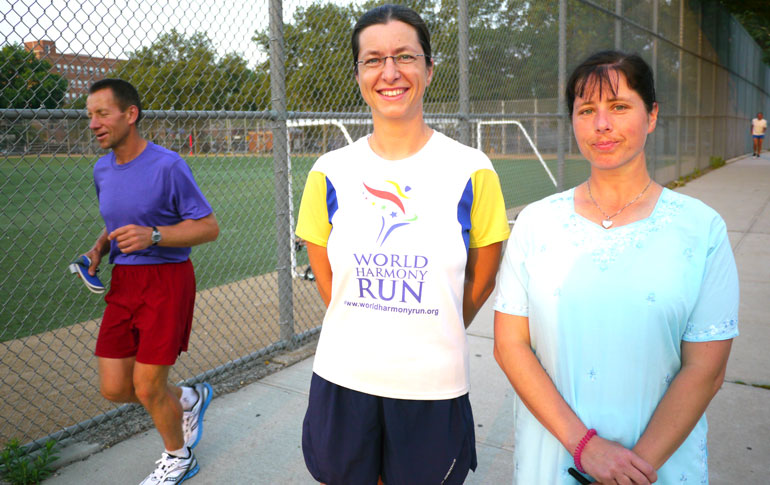 "Yes I did some ultra races.  When I was a kid I used to swim till I was about 12 maybe.  Then when I became a disciple everybody was running, so I started running."  Eventually she learned that there also other disciples who were actually not only training to swim the channel but also regularly doing it.  Inspired by this she eventually took part in some relay swims in Lake Zurich.  A friend who had been planning on swimming the channel than changed her mind and formed a relay team and invited her, "I was hooked up for swimming."
I ask her if she was happy or scared to take part in channel swimming.  "I think it was both because the decision to change from a solo to a relay was only 2 months before the actual date.  So we didn't have much time to acclimatize to cold water.  So when we got there we all had to try real hard just to stay in the water.  (laughter)  Because you had to stay in the water for at least 2 hours."
Last year she actually did the swim on her on.  She jokes and says that after the relay she told her friends, "If I ever decide to do this myself, just tell me not to do it.  Because it is so cold.  Then somehow I had the feeling I should do it.  Then I did Zurich Lake solo, and I didn't train much for that.  So I thought, if I can do Zurich lake without much training.  Then if I train I should be able to do the English channel."
Tomorrow there is a race called the Manhattan marathon swim.  It is around the island of Manhattan.  It is 28.5 miles.  There are about 40 swimmers plus some relays, and the time limit is 9 and a half hours."  She has a crew who will be with her for the day and adds, "it should be an exciting day."
At this moment the runners start coming by.  "They are my heroes.  People say to me that it is great that I swam the channel for me this is something really unbelievable.  In this hot weather every day.  Not so much sleep, everything, so I get inspiration.  So when things get tough in life I think about them and think… it is not so tough."
Click to play interview
Niriha recites the poem of the day
Click to play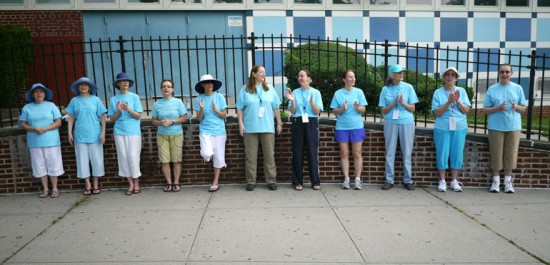 Enthusiasm Awakeners
Click to play
Again and again, I wish to tell you that here we are all seekers. A seeker is not a human being who is half animal. He is more than that.
A seeker is one who has glimpsed the light. Otherwise, he could not have become a seeker.
This light is more than eager to expand itself into boundless, infinite Light provided we follow the inner call.
If we don't follow it, if we don't have faith in it, then our inner light gets hidden or extinguished by the desire forces, the suspicion forces, the doubt forces, the temptation forces, the frustration forces and all the other negative forces.
Sri Chinmoy, Reality-Dream, Agni Press, 1976.