Few first time visitors to New York would ever consider visiting a soggy windswept Flushing meadow park a priority, for even a minute, little alone spending 6 days here .  Yet starting from today, a 58 year old Scottish runner named William Sichel and his friend /support crew Allan, just might be carving out a new piece of Scottish sporting history here.  William is an enormously gifted and experienced  multi day runner.  His list of records is impressive and yet there is one record, the Sottish 6 day record that has remained tangibly illusive to him.
One should always be challenged to break records and as a rule they all, no matter how grand, are expected to fall to each new generation.  The Scottish 6 day record however has proven to be so far out of reach, beyond  more than most could ever have imagined.  In fact it is now the longest standing Scottish sporting record in that nations history, and as a matter of fact, it was set right here in New York city.  It turns out that in 1882 pedestrianism was an enormously popular sport.  At that time a Scottish man named George Cameron, who called himself Noremac (Cameron backwards), was doing well at races both in the UK and America.  It was at a race at Madison Square Garden in October of that year that he established his historical record of 567 miles.
William has gotten o so painfully close with his own personal best of 518 miles road (532 miles track) but it has stubbornly refused to willing fall beneath his relentless running feet.  His respect for the record runs deep and it is not impossible to imagine that he has done everything humanly possible to make his own new mark.
Yesterday both he and  Allan went into Manhattan yesterday to visit where the old Madison Square Garden once stood and bid their respects to the sacred ground where Scottish sporting history reached a new peak.
The winds have picked up today here at Flushing Meadow and the rain comes in bursts and whips around the course.  It really looks very much like a Scottish day of course.  It may not be a great day for starting a 6 day race but at least it is conditions that William is used to.
He looks calm and relaxed and his friend Allan is taking away all the burdens of the little details that can slow an athlete down a step.  All William has to do is run his very best and just maybe make his own new mark for other Scottish runners to look up to.  Set it just out of reach down the road, and then they can catch it for themselves, when their legs and hearts are really ready for it.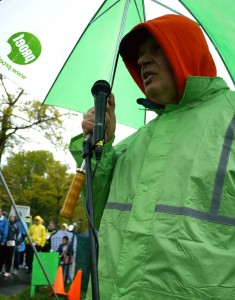 Nobody has forgotten the 10 day runners, but for a busy hour or so they had to dodge and weave their way around the new kids to the neighborhood.  Sahishnu introduced all the runners and gave words of encouragement for all who are going to work so hard here for the next 6 days.
Click to Play Intros 1 & 2
[audio:http://perfectionjourney.org/wp-content/uploads/2012/04/Intros.mp3|titles=Intros] [audio:http://perfectionjourney.org/wp-content/uploads/2012/04/Intros-2.mp3|titles=Intros 2]
"I can't believe I am here.  I was just thinking that this was my 33rd multi day, and I must have started a lot of them in the rain, so I am trying to go back there and look at the positive."Dipali Laughs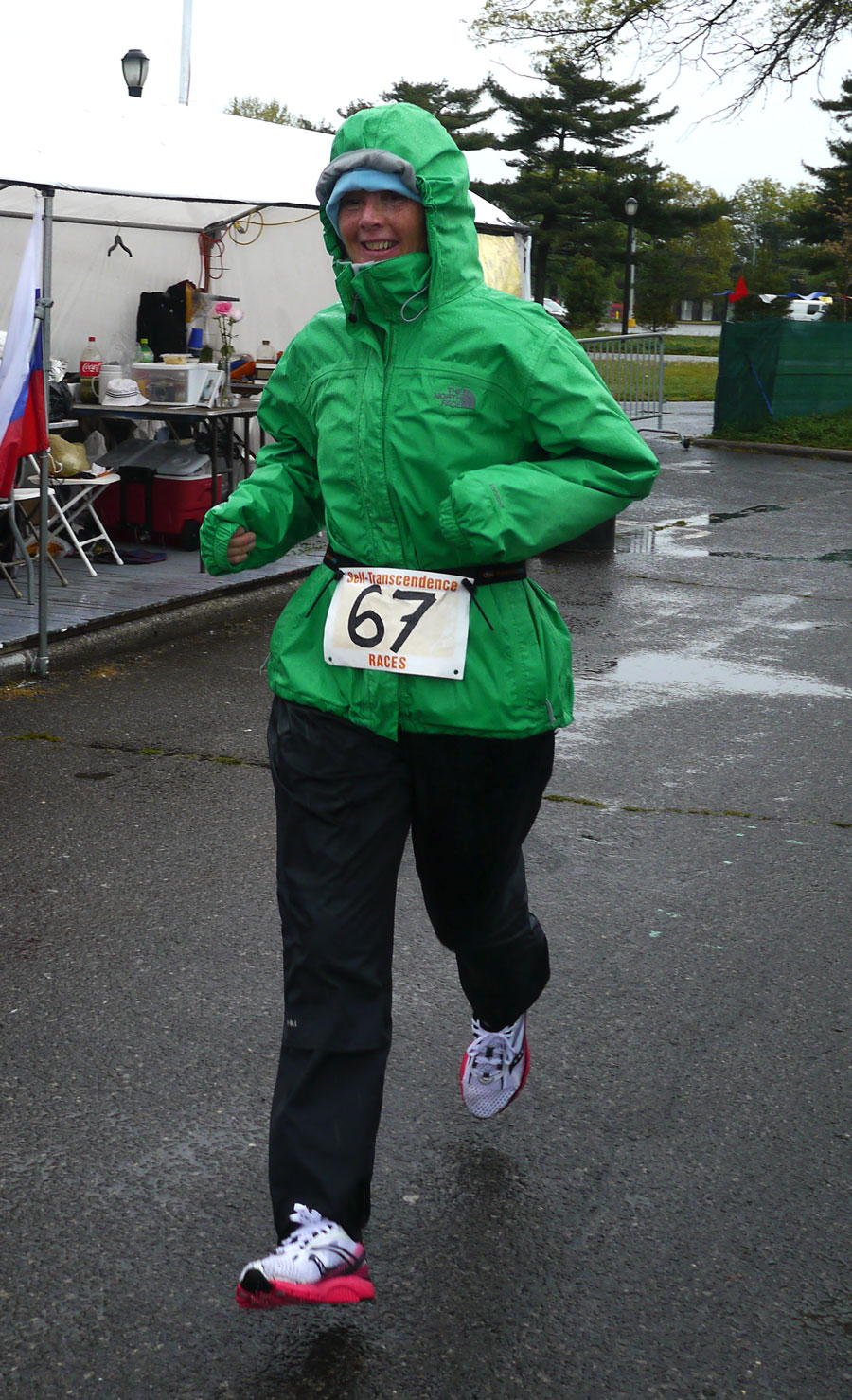 There is a very deep field in the race this year in both the men and the women, and I ask if she is affected by this.  "You have to do your own race.  At the same time the men's race is going to be really exciting.  I really look forward to it.  I really feel that if the standard is high, than everybody pulls each other.  It is hard to explain multi day to everybody.  We are competing but you really just have to do your own event.  I really do see some really great runners out here today."
"Ashprihanal and I have a friendly little game out here.  We are like real brother and sister, I must say.  Last year he beat me by a mile, that rascal.  In the last hour he passed me and he enjoyed that very much.  I was kind of laughing.  Multi day is competitive but there is a lot of friendship out here.  There is a lot of camaraderie.  We are all trying to do our best."
"I am really inspired by that board.  I think those men are going to give us a great race, and I am going to be in there with them, because I think it is going to be fun."
Click to play interview
[audio:http://perfectionjourney.org/wp-content/uploads/2012/04/Dipali.mp3|titles=Dipali]
In one of those amazing coincidences of the race, 3 first time runners have found their tables besides one of the most experienced in the field, William Sichel.  They all feel greatly honored and hope to pick up a few tips, if not from William, who won't be there much but certainly from his helper Allan.
I ask Francesco how he is feeling.  "I am wondering too what is going on.  Actually I am kind of scared because I feel Okay.  I don't realize really what is going on.  Definitely that is good somehow."
Last time I saw Satyamurthi he was just finishing the 47 mile race.  He says, "the distance is different but the spirit is the same  To be part of something greater than us."
Roger is a 56 year old runner from Wickham Quebec, "I am grateful to be with guys who have the same inspiration as me.  I am so lucky to be near William Sichel.  I am happy to be with all the guys trying to do their best."
Click to play interview
[audio:http://perfectionjourney.org/wp-content/uploads/2012/04/3-new-guys.mp3|titles=3 new guys]
It is just starting to get busy in medical.
Occupancy at the food tent just gone up 100% but Nipura and her crew have easily made the adjustment.  She is keeping a close watch on the weather in order to adjust her menu for optimum performance.
Rajpal will be fixing continually things until they all have to be put away again until next year.
A whole new crew has started counting just the 6 day runners.
Bigalita has been here a while but Daria has started just today.
Bigalita has 155 miles after 4 days on the course.  Daria ran 522 miles in the 10 day last year so the 6 day is a new event for her.
"Most years I go either to crew or help."  Allan has a long history with ultra running and as well the 24 hour race held each year held in Tooting Bec.  "When I ran in 93 it was in October, it was cold and it was lovely."
"William comes from a very small island in Scotland, the Orkneys.  I ran until 1996.  Had a back injury and stopped running.  Advised to rest for a year.  My bosses suggest I concentrate on proper career not on my running career.  So I did nothing in the sport until 2004."  At which time he first found himself helping crew for William in a 46 mile race.
"I didn't know how serious he was. "  By 2005 William asked him again and because he had taken an early retirement from his job he was more than ready to help.  "I never thought I would make a spectator.  But I enjoyed the preparation, I enjoyed the spread sheets, the planning, keeping the data. "
"I have to make his food, I have to make his drinks.  You have to give him data.  You must have a plan. "
"We were at Madison Square Garden yesterday because in 1882 at the peds, a Scotsman came in 2nd and set the Scottish record.  Which still stands, 913 km. He got $2,000, that is 7.5 million dollars today.  The joke is that I do this for.  (rubs forefingers.)  I am in for 15% of the prize money."
"I don't do it for money that is the joke. "
Click to play interview
[audio:http://perfectionjourney.org/wp-content/uploads/2012/04/Alan.mp3|titles=Alan]
"This was my pilgrimage to pay my respects to George Noremac." As William relates his experience of visiting what was once the site where the Scotish 6 day record 130 years ago was set,  you can see clearly what it means to him.
"First time in New York, first for everything.  I was really inspired by what happened there all those years ago, and feel part of history.  Hopefully I am part of that history.  I am very interested in the history of the sport.  Where we came from and how we came to be here. "
"My basic plan is to gain from the experience when I started these races in 2006, and that is to have a repeatable pattern.  That is the way I tend to get the best out of myself, in these very long races."
"I would say that although I have the organized approach.  On top of that I have a layer of spirituality.  Because I know it all comes down to what is in the mind and in the heart, in these races.  I can have my plan but it is very much dependent upon what is in the heart.  That is the overriding thing for me."
"
In a way you can't avoid it.  For even if you didn't know about that, if you weren't expecting that it comes on to you.  because 144 hours on your own, trudging around something is going to happen. "
"The best I have done on the road is 518 so 519 would look quite nice.  Then there is always the 567 from 1882."
Click to play interview
[audio:http://perfectionjourney.org/wp-content/uploads/2012/04/william.mp3|titles=william]
The higher we go, the greater is our responsibility,
The clearer is our vision and the closer we are to the Reality.