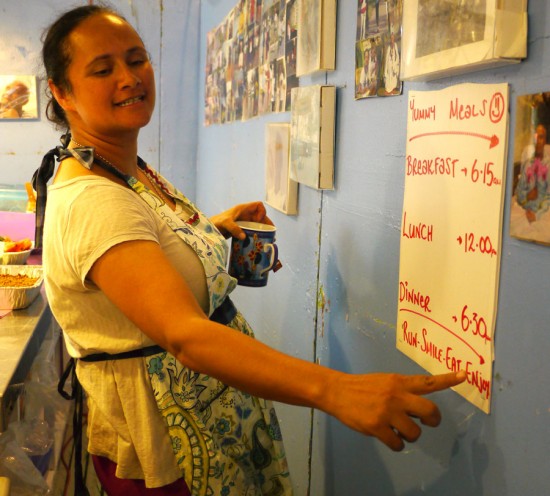 "I came for the food."  It is a statement I have heard many times over the years at the 6 &10 day race.  It of course may not be literally true, but for each runner who is being shadowed by doubt, or fatigue, or suffering from a unrelenting case of the the 'blahs' a trip through the food tent just may be the perfect antidote for all that ails you.
When you are relentlessly churning out the miles there is no doubt a simple equation that expresses the number of calories needed per mile.  Eat enough and your tank has enough to burn for several hours.  But none of these runners are machines and most are journeying into the farthest most reaches of their capacities.
Utilizing all your available physical strength and summoning endurance that you may never before asked of yourself is just part of the overall formula.  One must be choosy as to which emotional friends you wish to accompany you.  Doubt and fear are always looking for rides and of course never want to ever go forward.  Ultimately the inner exploration will always keep revealing some new mystery and perhaps unveil some wonder that you never knew existed within your own heart.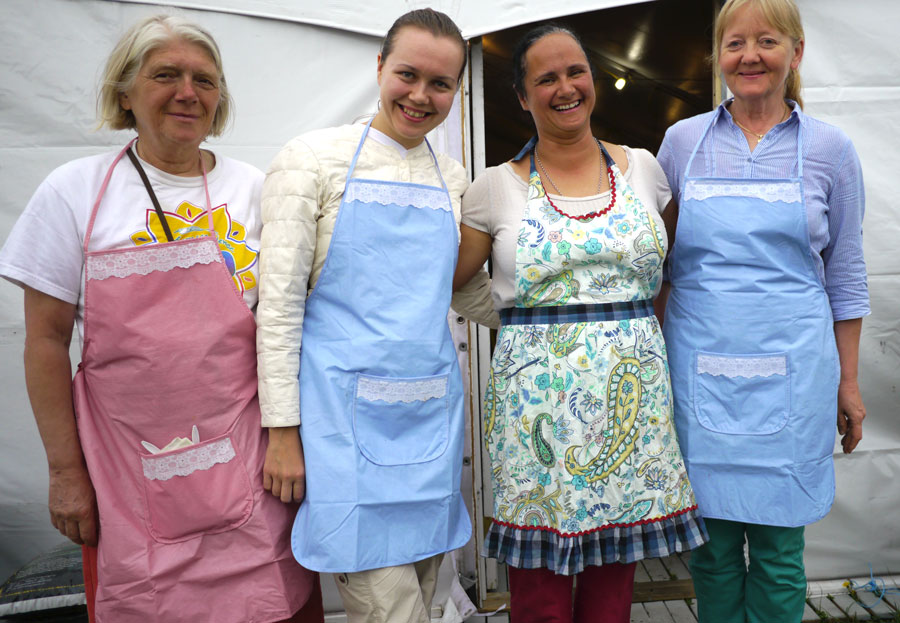 Good food which is made with love like Niupura's cooking crew is creating day in and day out is not the answer for everything but it does go a long way in making each runners journey just that much better.  When your hunger goes beyond just carbs, then you will easily see the joy and love that permeates each and every delicious morsel here in the runners kitchen.  It is with this subtle sweet goodness that each runner just might  find an extra step in legs that are unwilling to go on.   Than when you have released that reluctant step, it just might lead in turn to an extra lap, and then the top of the mountain just got a little bit closer.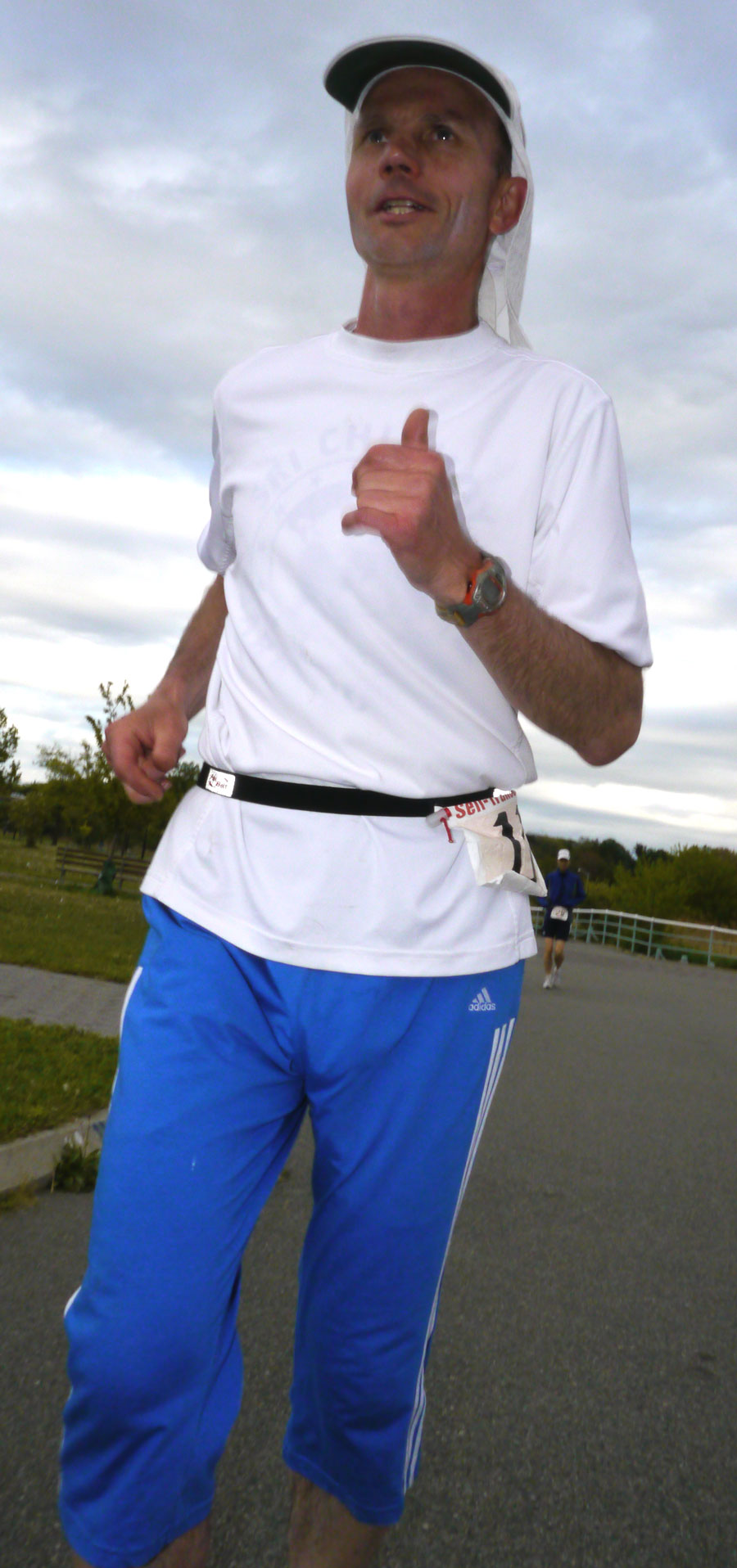 "I don't even look at the board."  Shashanka Karlen if he were inclined to do so just might see some good news for himself right now if he were to look at the board.  This 51 year old Swiss restaurateur is off to a phenomenal start in the 10 day race.
Instead his strategy he says is, "to do my pace, and to do as good as I can.  To be in each moment, each step."  For many, focusing simply upon yourself is a good plan.  For some even a glance at the mileage board is a distraction and an invitation to enter a mental world that is grudgingly stingy about giving up any encouragement whatsoever.
He started off his first day with 81 miles.  Surprisingly he says, "I didn't really want it, but it was ideal conditions, and it was almost effortless.  But then of course I paid for it.  Yesterday afternoon was really difficult.  Basically the legs were gone.  I didn't have any strength to really run.  It was just kind of a shuffle.  Then fortunately this morning it was much better.  Now it is kind of okay, I am just tired."
"I have decent training but I don't have the training like Vasu or some of the girls.  They are really well trained.  I had a few weeks of 60, 70 miles.  Then I had one week of more than 100 miles.  I had long runs but not the very very long ones.  (He did one 60 mile run around the 3100 mile course)   At this point we near the board and a voice calls out, "Shashanka, 150 miles."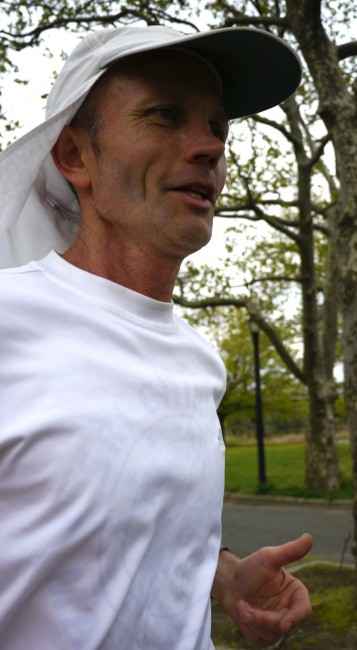 He says that last year in the 6 day race he had not really trained but clearly this year he is running well and with confidence.  "I have all kinds of goals.  Inner goals and outer goals.  It would be great to do 60 miles a day, but I don't know.  I can feel my limitations.  I am trying to make up with my fighting spirit.  You are trying to optimize the moment.  Right now I am a little low."
Each runner eventually has to confront the mysteries of their sometimes uncertain performances.  When you are flying along at top speed you can safely leave self analysis beside the track.  When you are struggling to even keep the engine idling than sometimes trying to unravel the puzzle of the human body's performance is hard.
"It is a very very spiritual experience here.  Running is a part but there is so much happening.  I must say that in the last 2 days I have had a lot of really beautiful experiences.  The first one was on the first day when I had about 8 to 10 miles when I was like in a trance state.  It was just flowing, no effort, all beautiful.  It was almost ecstasy.  Yesterday I had a moment where I really felt the creator.  It was just a short moment.  That is something you don't have every day."
"There are moments when you really wonder why you are doing it.  And you say, how am I going to survive these 10 days.  Then things change."  He then describes a typical experience that took place a few laps ago.  He was running with one of the Russians who suggested that he should change his form.  Be more upright, look forward, and most importantly, smile.  "For me it made sense."
Click to play interview
[audio:http://perfectionjourney.org/wp-content/uploads/2012/04/shashanka1.mp3|titles=shashanka]
Teekshanam explaining a little bit about his running performance.  One of Kaneenika's helpers does some of the important behind the scenes work.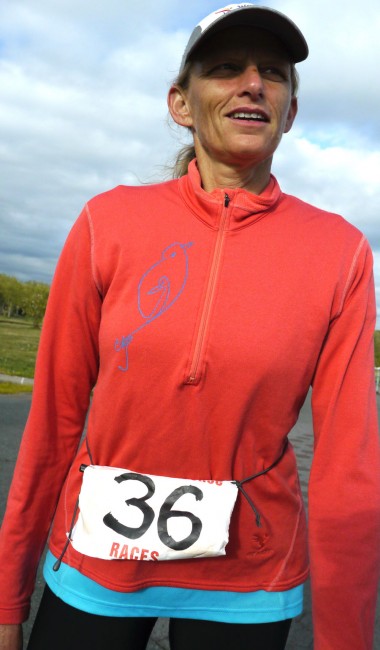 "Today has just been messy.  Like when you try and get into a rhythm, and you don't."  Nishima at the moment I joined her was simply not fully into a flow.   It happens to everyone out here and some times it is best to let time and the miles sort things out.
She is now well into her 3rd day and it may be because she wore too big a shoe on her first day and got blisters that she is now paying an unwanted price.  "It was a new learning experience.  A new one to add to the list."
It has been 2 years since she was last here so in terms of multi day experience this 53 year old Kiwi is still new to the event.  At her earlier race she thinks she wore too small a shoe on her first day."  She tells me that everyone's feet expand after a day or so into the race.  Her first day total matches the 68 miles she did in her earlier race.  She received some advice about some nagging injuries which has proven successful.  Simply walk the injury away.  "On the second day, I was able to run straight away, they had gone."
"I am on target for what I want to do, but it is just a difficult day."  The ultimate solution.  "It is learning to go into your heart.  That is what I have to work a little harder on.  As soon as you struggle with something, usually it is your mind, somebody can pull you out of it just by coming around.  Suddenly you are immediately out of it.  Then everything becomes easier."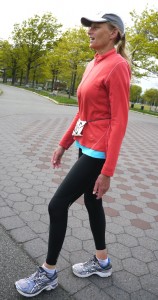 "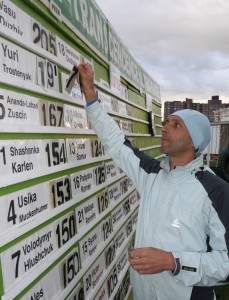 I am very much aware that if I can't get to 60 each day that I shouldn't push it."  If she is able to maintain that number she would easily surpass the 521 she ran last time.  "It would definitely be transcendence.  If I could do that I would be very very grateful."
Click to play interview
[audio:http://perfectionjourney.org/wp-content/uploads/2012/04/nishima.mp3|titles=nishima]
"We have got a really amazing team of workers."  Nipura for the first time is organizing the camp kitchen and she and her group are really doing a terrific job.  How they manage to prepare and serve such superb items in a temporarily constructed kitchen is nothing short of miraculous.  "We are catering for the 6 and 10 day race.  We have been cooking up a storm."  She then recites a lengthy list of food items served not only at different times of the day but also in response to various weather conditions.
Her own day starts a little after 7 each morning here and concludes sometime each night.  She was not specific but one could only imagine that it was late.  "It is a really beautiful thing."
"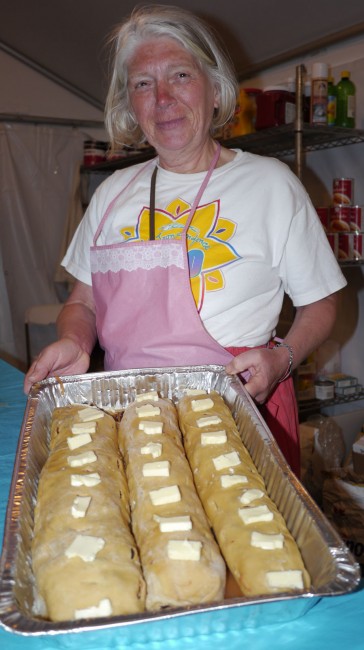 Catering for runners is so different because they are aspiring humanity.  Honestly they are just amazing.  They go for hours and hours and what we do is so small really in comparison.  I have to say that the 10 day race has been manageable.  Now I am getting ready for the 6 day start."
Her crew consists of 3 girls from Europe.  Maria from Hamburg poses with her world famous strudel.  "It started 3 years ago at the 3100 mile race when I was asked to do something special from Germany."
Harikanta next to her is from Moscow.  Nipura exclaims, "she has made the most beautiful borscht today, and it has been super popular.  "The most amazing thing is that it became popular not with the Russians but with the other people."
Eva from Slovakia is the final member of the group and Nipura continues with her praise.  Eva describes an experience once when she was cooking in Halifax.  A customer came into the kitchen there and told her how much that she appreciated not just her food but also the joy and love that she had added to it as well.  "It was a very very nice experience for me."
Harikanta concludes with, "I want to thank Nipura.  She is a great leader of this kitchen.  She is so kind, so compassionate, so tolerant.  That is why we are happy."
Nipura adds, "these girls are wonderful.   They are the dream team from heaven."
Click to play Kitchen tour
[audio:http://perfectionjourney.org/wp-content/uploads/2012/04/Nipura.mp3|titles=Nipura]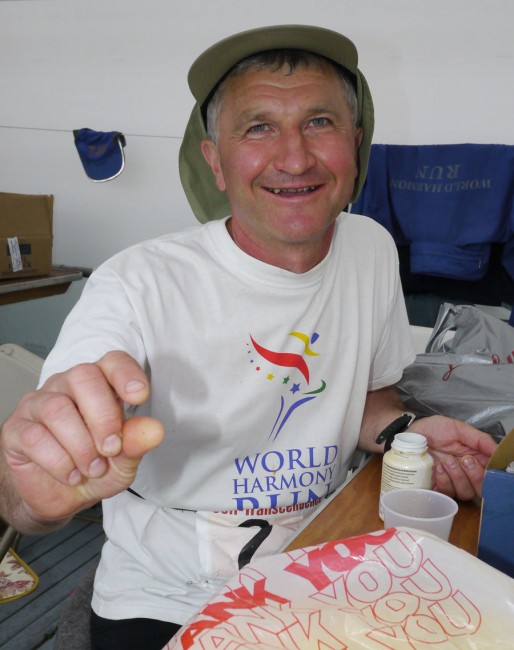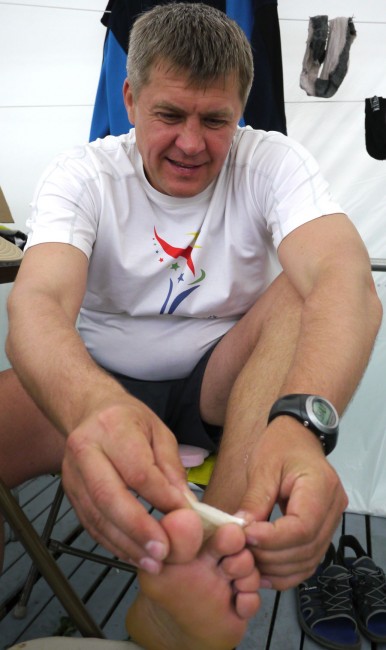 Yuri shows me that he is taking a short break.
This is Andrey Andreev's 6th multi day race.  His break involves some foot maintenance.  He is currently in 10 place amongst the men.  He finished last year this same race with 577 miles.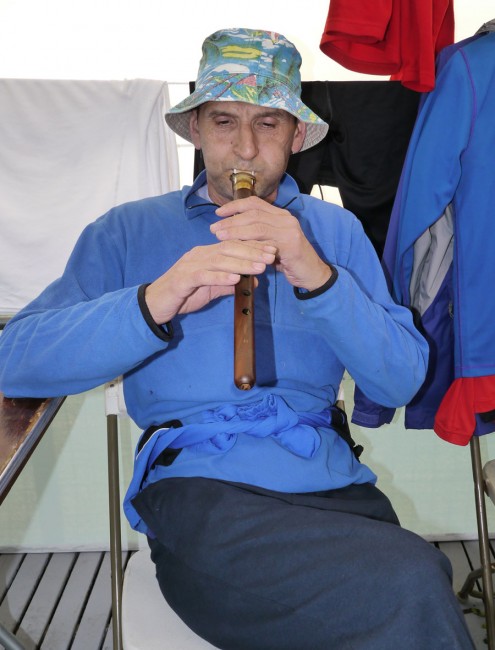 The medical tent is just beginning to find some clients.  As more and more hard miles come the stream of bodies to the beds there will increase.  It will be those looking for massage and comfort.  Yesterday Renat spent more time playing his flute than fixing bodies.  Today it is a different story.
Click to play music
[audio:http://perfectionjourney.org/wp-content/uploads/2012/04/musi.mp3|titles=musi]
Just 10 miles back Sarah continues to press Kaneenika for the lead.  Both girls are having an extraordinary race, and are respectfully 3rd and 4th overall.
Nirbili just spent part of a lap with Sarah and is having her own terrific race as always.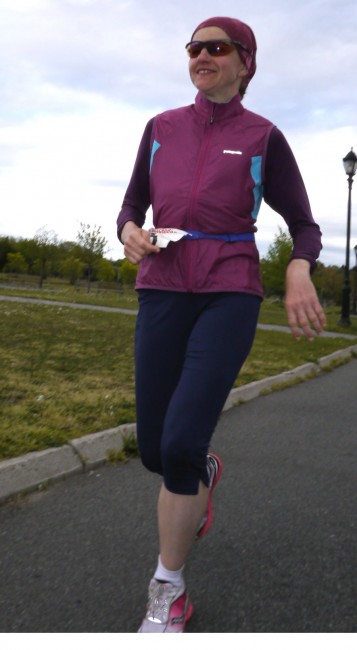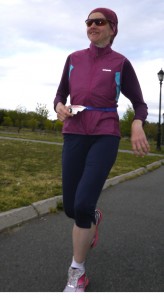 Kaneenika is running extraordinarily well.  She has a 2 day total of 167 miles.
4 years ago Malya Rongits a 34 year old runner from Budapest ran 277 miles in the 6 day race here.   Asked why now the 10 day race, "self transcendence should be attempted." His 2 day total is 112 miles but right now he is trying to sort out an upset stomach.
About the race he says, "It is everything.  It is tough, it is spiritual.  Your body wants to rest but you do not let your body rest.  You force the body to walk on and on.  It is a real challenge."
Of his previous race, "afterwards I lived in so much peace, purity, and light inwardly.  It was a real spiritual adventure.  It was a real spiritual transformation.  It was a challenge for willpower and for the spirit within ourselves.  We have to conquer our weaknesses, our negative mind."  He confesses that sometimes it simply feels boring, or too hard and too long.  "Then spontaneously we get so much joy and it makes sense again."
Right now he is really tired.  It appears as though he has been on the track for something like 14 hours."
Click to play interview
[audio:http://perfectionjourney.org/wp-content/uploads/2012/04/malaya.mp3|titles=malaya]
The mountain-top wisdom-light
Is never to be found
Inside the human mind.
It is found only
Inside the divine heart.