I
try my best most days to get it right.  To somehow with my reporting to capture the distinct mood and perhaps, dare I say it, consciousness of each day.  Things can, and often do, change rapidly.  As an early morning person as well I generally only get to observe a very unique and tiny portion of a much much longer day.
The threads of these 10 lives will spin countless stories and experiences, right up until midnight, and really until they all can drift off into a brief slumber.
I also attempt to tell all of their stories as best I can.  It isn't easy but when compared to what they are doing I really haven't much to complain about.  It is easy to tell most mornings who just really wants to talk, and who hasn't woken up yet, or maybe simply just wants to be left in their own private world.  This isn't reality tv, exploitation of their lives is not the story I am interested in.  What they are accomplishing as seeker athletes however is.  There are many shades and textures to each of their experiences here in this very visible bubble.  My job is to locate the glowing available fragments that are inspiring to all who identify with what is happening here and are profoundly moved by it.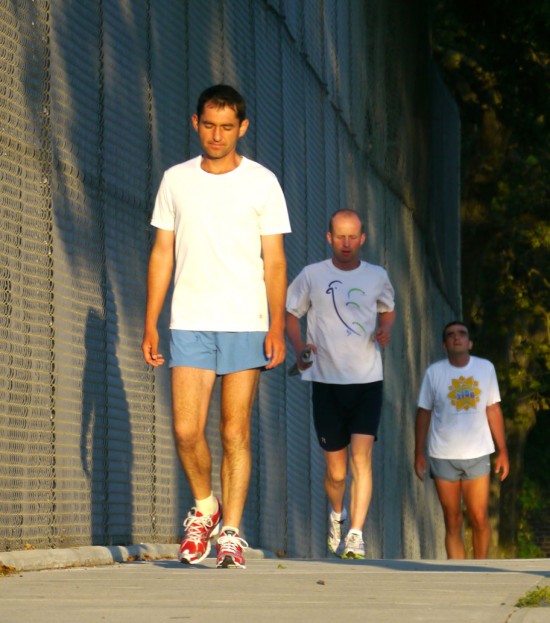 Occasionally I just get it wrong.  Perhaps intrude on a divine moment, that prior to my question, was blissfully silent.  Also simply start to bump into the runner's experiences when they simply want to hold on to them in their own hearts and not necessarily share it with the world.  There are also simply moments when a runner is enjoying the moment and not really thinking at all about what is happening in and around them.  They may have done so out of pure bliss or as a survival mechanism to shut down all unnecessary mental chatter and simply make it around the course.
This morning Surasa was my well intentioned subject.  I have a deep respect for how well she is doing and in fact her long and distinguished career as a multi day athlete.  We talked at length but clearly she might have preferred the tranquility of a rare quiet Sunday morning in Queens alone.  I asked her a difficult question, and could clearly see she that she was struggling with giving me back an answer.  I asked her what she felt her strongest qualities were, that helped her run here.   "Not to think too much.  I am just running running," was her reply.  "You are living from one break to the other.  If you can do it, I think it is the best way.  Not to think how many days more."  For her at that moment, the next break was almost 4 hours away.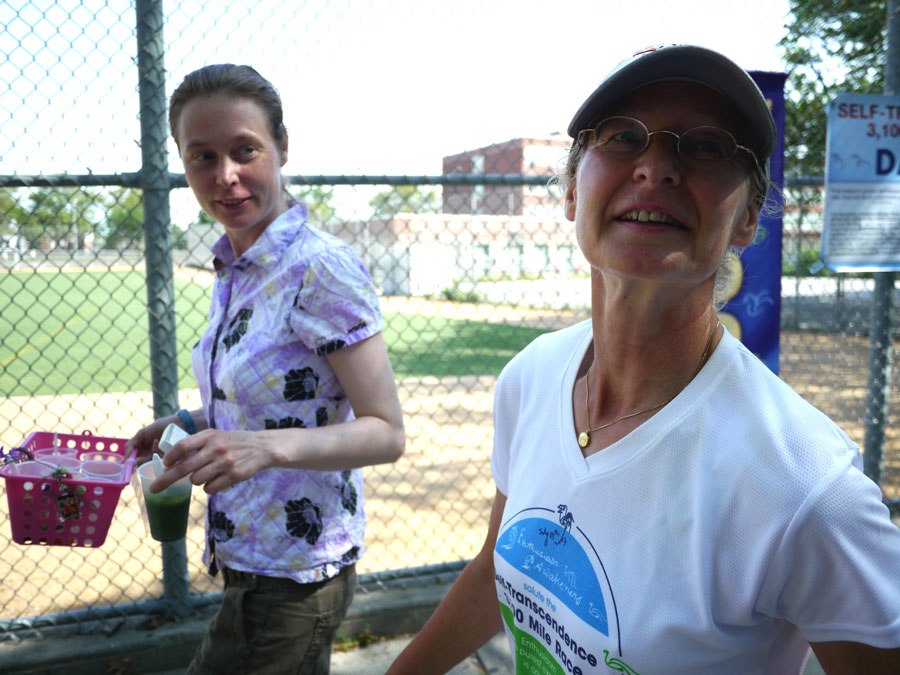 Fortunately I came back several hours later.  When I returned she was just coming through the camp with one of her helpers, Vasavi.  She became very excited when she saw that I had come back, and with real joy and intensity she told me that she now had the real answer to my question.  Clearly she had been pondering it for a while and in the process her deep and heartfelt love of the race was stirred up to the fore.  Her answer, "it is all grace." As concise and as all embracing an answer as anyone could reveal who is trying to conquer the impossible.  Using only the strength and vision of the one who set the goal for them in the first place.
Yesterday, once again Sarvagata recorded the most miles, just over 71. He is less than 50 miles behind first place Ashprihanal.  The really good news yesterday is that Purna Samarpan is getting stronger every day now.  He is just 30 miles behind last years mark.
It will be a great day to run.  The weather is ideal
A familiar figure, Suprabha will run a bit with Surasa this morning.
Start
Day 15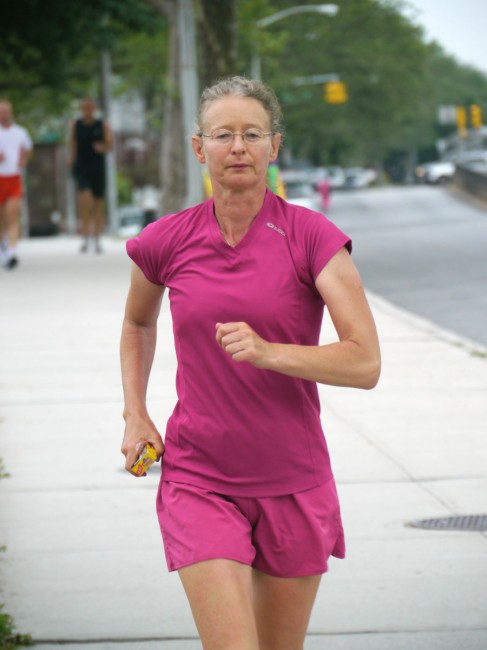 "I am very pleased.  Everything is fine."  I find it difficult not to be an enthusiastic fan of what Surasa, at age 52 in trying to accomplish here. Also, how after 2 weeks, she is performing with such superb regularity and is on pace to accomplish her goal.
When asked if she came into it with confidence she says, It is difficult to say.  It is such a long race.  You never know what happens.  Now it is just the beginning.  Of course it is very nice.  And also it is good for the mind if you have a good start."
"I hope that I can do it, but if not, what can you do.  You just have to learn to accept whatever is coming."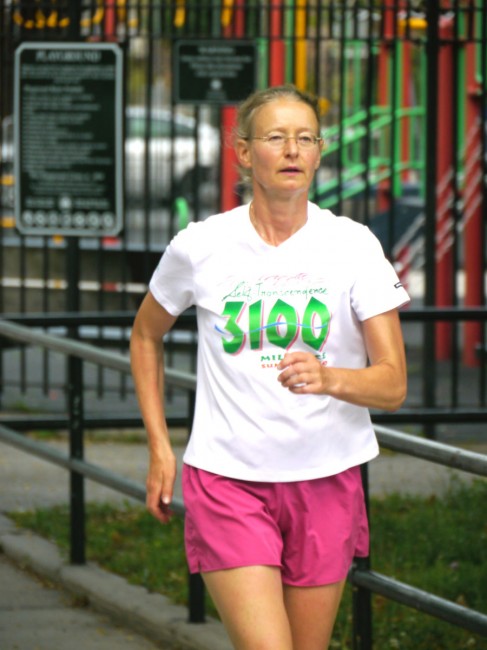 She had just run a lap with Suprabha, and she tells me that she always used to follow her progress as she ran this race herself, for many years.  "I was admiring her all the time very much.  But I didn't think that I would do it.  It was always so beyond to do this."
She made her decision to come very late.  "I know it was the right decision.  This is always such a nice feeling."
I ask her if the 3 new runners add something to her own race experience.  "The new boys are amazing.  They are so good, so great.  So focused and determined, to do the miles.  Not wasting time.  They are just great.  New people have to come.  There are many many more, I am sure.  Many more have the capacity to do it.  They only have to have a bit more courage maybe."
click to play interview
[audio:http://perfectionjourney.org/wp-content/uploads/2011/06/surasa1.mp3|titles=surasa]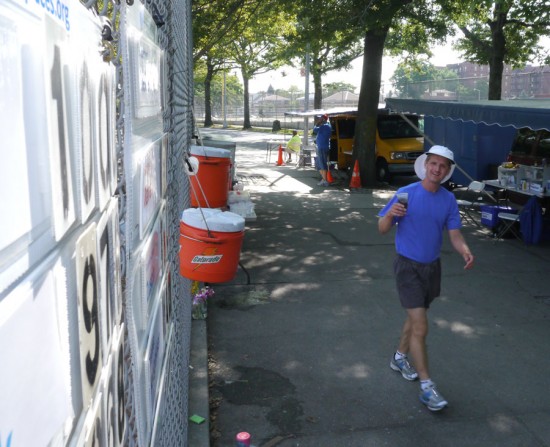 Just a few hours into the day Ashprihanal is the first to crack the 1000 mile mark.  Almost certainly 3 others will accomplish this as well today.
Atmavir had a phenomenal first week of running here.  In his second week he seemed to not have found his rhythm.  Of his first 7 days he says, " I liked it, I enjoyed it."  Of the second he philosophically answers, "it was different."
"I was just trying to accept it because I knew on day 7, in the evening, I had a fever in the night.   It felt similar to last year.  I was thinking that if it came again, I would be happy and just accept it, and I would just be happy to continue the race.  Like I said, it is just the beginning."
"You cannot guess what will happen next.  It is like a box of candies.  You never know what you will get.  Last year was like big jumps.  Ups and downs.  I prefer it to be steady.  Somehow I cannot keep it.  I am just trying to find the right attitude."
"It is like climbing the tree.  You fall down.  Now you are trying to go back up again.  As long as I am running I am very happy."
When it comes to the new runners this year, he says, "they set a new standard.  They are faster than Ashprihanal and me.  It is very good for the race.  I am very happy that they are here.  It really brings something truly new to the race."
click to play
[audio:http://perfectionjourney.org/wp-content/uploads/2011/06/Atmavir-interview.mp3|titles=Atmavir interview]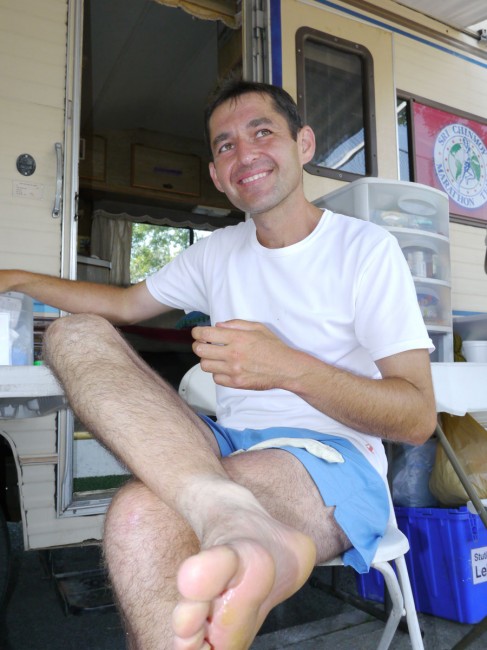 Igor takes a very short foot break.  He is running extremely well.  If he continues at this pace he very well might move up from 3rd to 2nd place.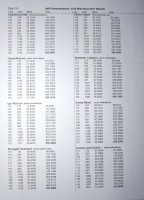 Day 14 lap sheet
right click to make it or any picture large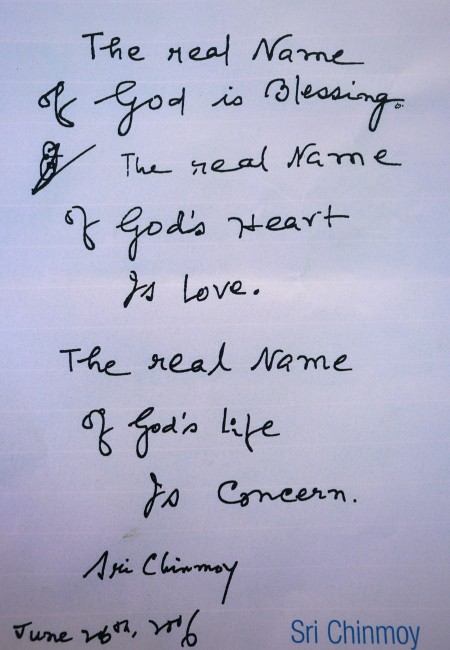 Poem of the Day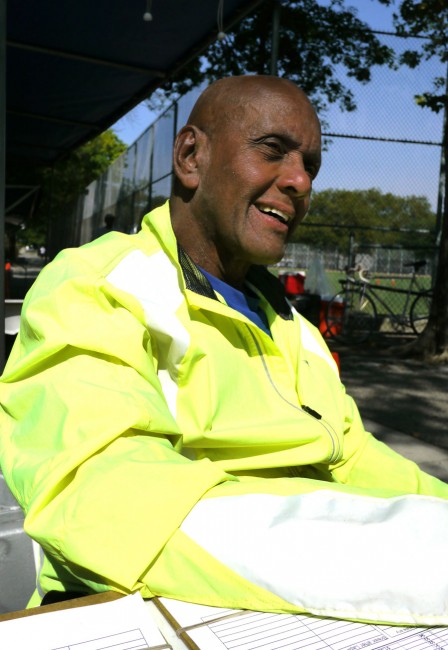 Vajra recites the poem and offers these comments.
"God takes many different forms in each individual's mind and life.  Depending upon they live his or her life."
"In my life I try and see God in everything.  In some things more than others.  In the morning when I first breathe in the air when I get up.  I see and feel God.  When I see him in all his universal glory, I see God as life.  I see his concern for all human beings.  I see the worst of it."
"Some of us are beggars and some of us are homeless, and yet I see they are living and there is breath in them.  I realize they are only there because, out of the good Lord's concern.  Otherwise they would be dead.  So I see God as concern.  And when I see him in a beautiful flower.  I see God's love.  And when I see people who are doing well.  I realize that there wellness and there happiness is due to none other than God's absolute concern.  Love.  For me that goes beyond everything.  Everything in my life.  God and God alone."
Click to play Vajra comments
[audio:http://perfectionjourney.org/wp-content/uploads/2011/06/vajra.mp3|titles=vajra]
Enthusiasm Awakeners
click to play
[audio:http://perfectionjourney.org/wp-content/uploads/2011/06/Enthusiasm-Awakeners1.mp3|titles=Enthusiasm Awakeners]
Faith is the wisdom
That has said its prayers.
Surrender is the wisdom
That has fulfilled its life.
Love is the wisdom
That has done its duty.
God is the Wisdom
Who has opened His Heart.
Sri Chinmoy, The Dance Of Life, Part 11, Agni Press, 1973.