I think I know what draws me out of bed before dawn each day and come to the race.  Over the years it has become ever more clearer to me that I can receive and experience something here that is available for just 52 days, and only right here.  As the race enters its 12th day it is also becoming obvious that gradually more and more people are slowly being drawn here.  Not just in the early morning but also through out the day as well.  People who may not know exactly what it is that happening here but still feel an irresistible tug from within to show up on the course.  To walk the route, to bring gifts, to even feel that they are in some way a small part of this unique journey.
A schoolteacher on her way to class this morning dropped off this pot of sunflowers.  She had been deeply touched by the singers who perform in front of the school and also appreciated all the flowers that have been planted around the course.
Glenn who typically supervises the small park at the west end of the loop came by this morning just to say hello.  He is at another park this summer and misses seeing the runners coming around and around all day as he cleans the Joe Austen park.
Then there are those who cannot resist the urge to run here as well.  The number has multiplied in just the past few days.  At one point Surasa dashes by me and right behind her came a lady wearing a Punjabi suit.  No running shoes, no exercise clothes, she appeared to be someone who simply saw another woman doing something challenging and fulfilling, and maybe felt that it just might be good and inspiring for her as well.  She couldn't of course keep up with Surasa but she did keep going.  When she was finished she stopped by the counting area and asked for a cup of water and then returned to her world.  For a short time, and certainly for at least one mile, this was her world as well.
I
t is almost as though Ashprihanal has slipped into high gear.  His voice is a little raspy but somehow he continues to come up with 70 plus mile days.  Surasa meanwhile is really performing unbelievably well.  She has 87 miles over her last year numbers.
Start
Day 12
Sutisheel literally has to travel just a few meters in order to complete his 700th mile.
All of us occasionally reach into our pockets or bags and find something forgotten.  Something tucked away, out of sight and out of mind.  In rare instances it seems to be waiting there for just the right moment to give you a pleasant surprise or even something even a little grander.  This morning Purna Samarpan reached into a jacket pocket and found lap sheets from the 2009 race.  When I come across him this morning he is going over his totals from 2 years ago and seems to be getting real inspiration.
Compared to then he is 100 miles ahead of his mark for 11 days that year.  According to today's  lap sheet he is ahead of last year by 34 miles  To be frank his current pace is just a little too slow to make the cut off.  But just by a squeaky small margin.
He has a raspy voice this morning as do a couple of the others, and yet he made 57 miles yesterday.  "It looks as though we are in the middle of the ocean."  The morning is foggy and a little mysterious.  "You cannot even see across the track, and also if you are on the other side of the course you cannot even see the counting station, which is kind of odd."
"The main thing in the first race was that  from day 2 my foot pain. Then the back pain went on top of it later.  I couldn't run properly because my feet were painful.  Also my running style wasn't that good.  So it all added up."
He recognizes that compared with his past performances he is improving, "which I am very happy with.  This is the up side.  The down side is I am a little bit behind schedule to finish.  But as Arpan said to me yesterday, don't worry about the miles.  Just smile and be happy.  This is true, because the race is so long.  I do feel my legs are really getting strong and relaxed, even though I can't use them because I can't get enough air into my lungs.  Because of the coughing."
"Yesterday night was so humid, I had to change clothes at a certain point, it was just so wet."  He thinks that this possibly brought on the flu like symptoms.  "I have tried everything to get over it as soon as possible."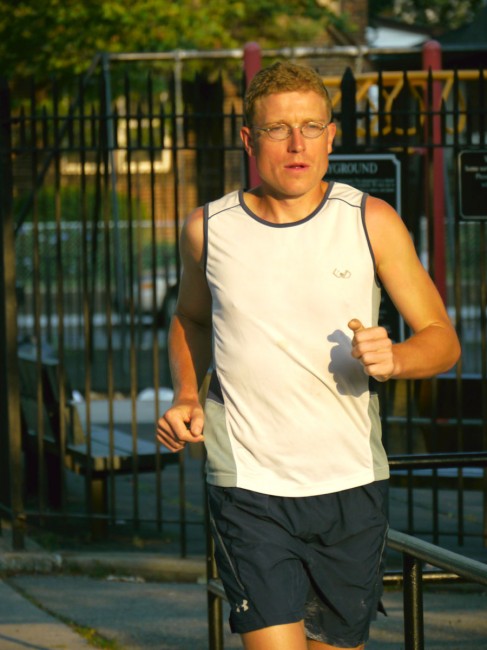 "This race really shows you your strong sides and also your weak points.  It is like a chain.  It shows you  the weakest link.  Then in order to better your performance, you have to work on that weakest link.  I realized from that first race that something was not right with my posture.  Continuous running without stopping made me realize that I had to work on my posture.  That's when I discovered Chi running.  Because in Chi running it is all about proper alignment of the body, good posture, and relaxation while running.  It took me some time to get really into it."
He has also spent more time doing Vikram yoga.  "To increase my flexibility, this also helped me a lot."  Last year he used the Chi running and felt it helped to relax him a lot.  "You use less effort in the legs.  I realized that there is something still in my back that is not 100%, but it is something the chiropractors cannot really fix.  So I started doing yoga."
"So I had an experience, just before this race.  I was doing a yoga posture.  Already when I started doing it an old injury in my foot went away.  And a week before the race I felt something going away in my back. It is quite amazing.  I feel much more in balance."  The race has added so many obvious benefits to his life, some expected and some not so.  One of the most unusual benefits that he had never anticipated is that because of his real interest in Chi running he now has become a teacher of it.  "Yeah, it is amazing."
Click to play interview
[audio:http://perfectionjourney.org/wp-content/uploads/2011/06/purnasamarpan.mp3|titles=purnasamarpan]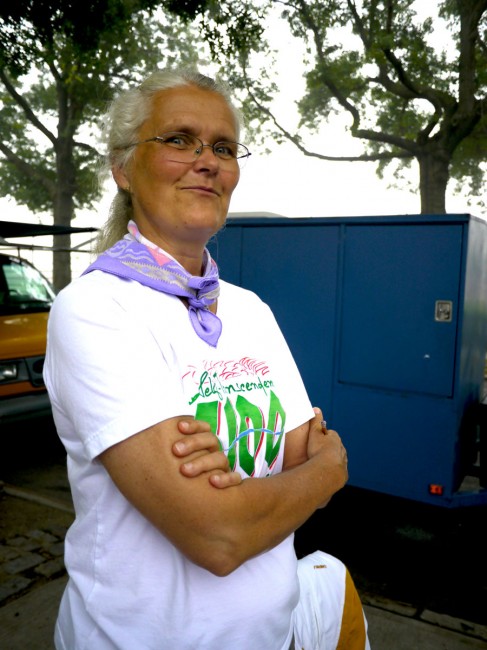 Niharika back in 2009 was a crucial part of keeping Suprabha going so that she could complete the 3100 mile race for the 13th time.  She is a physical therapist back in Finland and she seemed to have just the right formula to make things work out perfectly.  She continues to come back to the race every year though this morning she finds herself counting, perhaps a job of equal importance to the race.
She is also a keen supporter of Ashprihanal.  A couple of days ago she was able to send him a slice of pizza first thing in the morning which he really enjoyed.  He went on to run 75 miles that day though there may not be any obvious connection to pizza and miles.
"He is like a bird.  It is like he is flying."  Just like all of us she has never seen anybody with quite the same running technique that Ashprihanal uses.  "Everybody has their own way of moving.  I think he does it to keep his body quite loose.  It looks a little funny but it is his way."
I ask her why there are so many great Finnish athletes.  "I don't know if it is our long winters and darkness.  This time of year is the lightest time.  The sun almost doesn't go down.  So it is light the whole night."
"It must be a little bit in the nature.   Sri Chinmoy wrote a song:
Finland, Finland, Finland,
O flying Finns triumphant
Patience within Speed without
Smile glories always proud.
Click to play interview
[audio:http://perfectionjourney.org/wp-content/uploads/2011/06/niharika-2.mp3|titles=niharika 2]
click to play
[audio:http://perfectionjourney.org/wp-content/uploads/2011/06/poem1.mp3|titles=poem]
Enthusiasm Awakeners
Click to play
[audio:http://perfectionjourney.org/wp-content/uploads/2011/06/parvati9.mp3|titles=parvati]
God will love you more,
If you smile.
God will use you more,
If you smile.
God will please you more,
If you smile.
Smile!
Lo, God is running towards you.
Smile!
Lo, God is at your command.
Smile!
Lo, God is the slave of your life.
Sri Chinmoy, The Dance Of Life, Part 20, Agni Press, 1973.