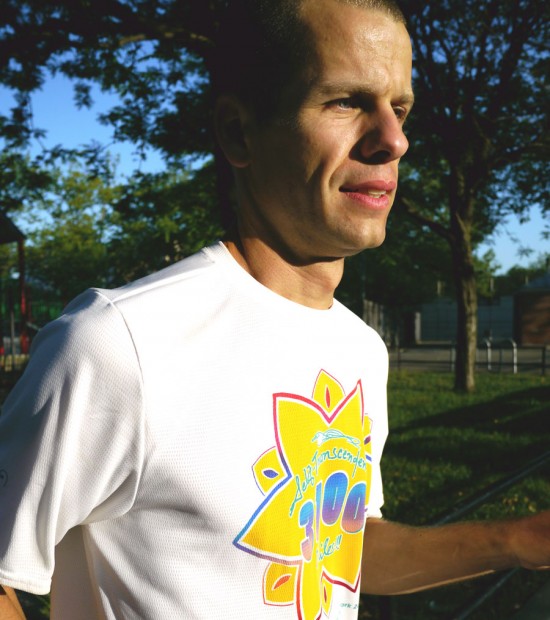 When one decides to run the 3100 mile race it quickly becomes apparent that from the moment you take your very first step here that suddenly you are entering a very public arena.  You may have trained for months alone on soft mountain trails and felt the sweet stillness of nature comforting you with its beauty.  Perhaps you ran care free without any problem intruding into your life and felt contentment and peace in abundant measure.  This world is available here as well on the concrete loop here in Queens but it is an aspect of the race that does not come to all and never to all, all the time.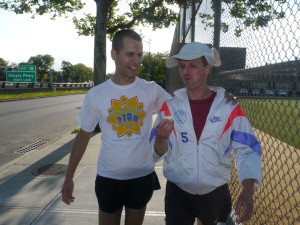 Here you are visible at nearly all times.   There is practically not a moment of any kind of  privacy for 18 hours each and every day.  If your race is going well and you have settled into a comfortable zone than it can be heaven on earth.  Sometimes however the runners experience and learn the most here when they are confronted by real monumental struggle and with extreme adversity.  A battle must be waged to win each and ever lap. In the end perhaps the greatest adversary a runner must deal with is not gathering up all the miles but simply confronting a part of their being that resists being transformed.
The foes within can be identified by many names.  Whether it be unwillingness or lethargy, or even a deep stubbornness that resists all sweet enticements to surrender and instead must be pushed ever forward, lap by lap, into eventual submission. Self transcendence is ultimately more about what we become within and not what we accomplish on the outside.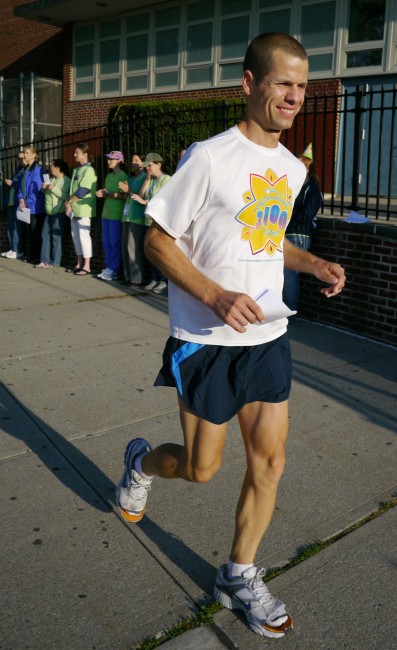 Atmavir is for me an extraordinary gifted athlete and he is incredibly dedicated to this event.  Last year however was a monumental struggle for him practically from day one until he finished the race 49 days latter.  It was the 4th time he had run the race and prior to last year he had gotten faster each and every time he ran.  Last year of course was extremely hot and he rarely looked comfortable and yet he never gave up.
He said at the time, "
"I was wondering why I was suffering so much this year, while some people were really quite smooth.  On those really hot days.  My feeling is that everybody has a different role in this race, and we have to accept these roles."  He explains that it is also in the task of cheerfully accepting the different results, no matter whether it is success or failure, that is perhaps one of the key accomplishments for those who run here.  That you must work extremely hard to do your best and than as well be grateful for whatever the outcome might be.
"Definitely I am quite happy that it will be over.  It was my toughest year here.  It was my hardest race ever.  On the other hand the inner progress that we are doing here.  If you are putting yourself through more pressure maybe something deeper will appear."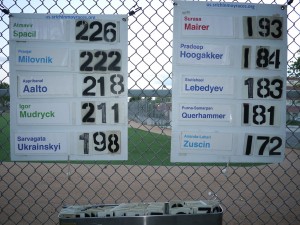 Atmavir is running extremely well well this year and the weather conditions for him and the others are ideal.  For the last 2 days he has run the most daily miles.  Surasa is also 4 miles up on her mileage from last year.
It is apparent early that today is anextra special one for all the runners.  Purna- Samarpan is celebrating his birthday today.  All the runners will be wearing party hats at the starting line.
Ashprihanl meanwhile has a toe problem which actually looks better today.
Pranjal looks good every day.
Start
Day 4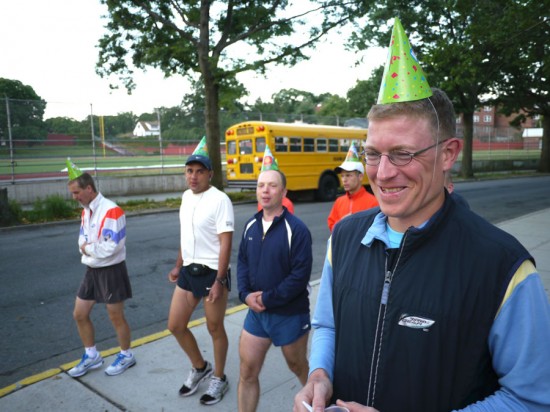 On every runners birthday they receive special appreciation from their fellow runners.  This little family shares so much over this long hard summer in Queens.  For a moment they honor one of their own, before a long day of running begins.
Click to play Happy Birthday
[audio:http://perfectionjourney.org/wp-content/uploads/2011/06/start-of-race.mp3|titles=start of race]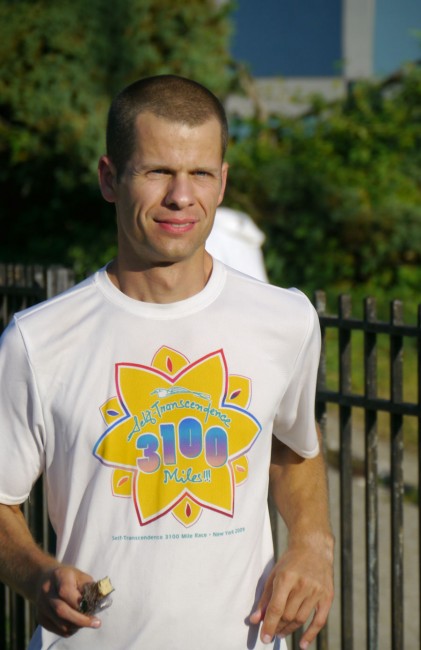 Atmavir is running well.  He seems almost a different person than was here last year.  I ask him if a different Atmavir has shown up here, and he says, "I hope so."
"I was not very satisfied.  It was hard for everybody.  But still when there are hard outer circumstances still you can remain silent and calm.  I couldn't accept it.  I was really fighting all the time.  It was a good lesson, definitely for me, inwardly."
"It came at the right time."  He says that for much of the past winter his life has been buffeted by inner and outer battles.  In these experiences he feels as though he has gained more discipline in his life, and the need to be more sincere to himself.
He adds, "to accept others as they are.  Not to expect too much.  I mean from myself as well as others.  It was a really good lesson for me.  Outwardly it was not a good result for me, I really suffered.  It was probably my worst race here ever.  But I learned from it.  It was a great opportunity."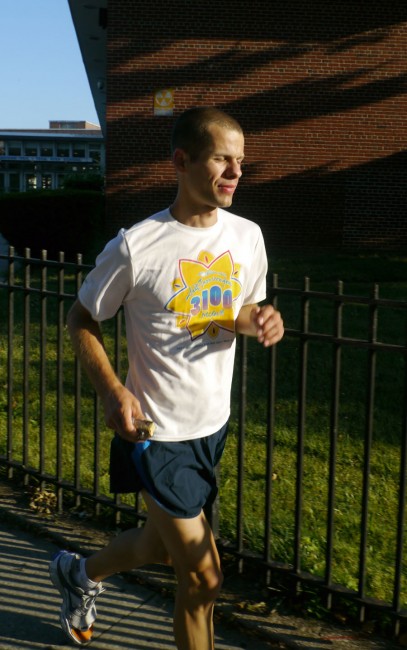 I ask him if the race last year was so difficult and his winter was also a tough one did he ever not plan on returning.  He says he no doubts about returning.
He says that from his perspective what he needed to do was to simply change his attitude.   He says that in addition he physically trained harder this Spring.
"I am always happy to come here, because you are meeting here like a family."  He is inspired by the fact as well that there are 3 new enthusiastic runners in the race this year.  The goal he he hopes to accomplish in the weeks and miles to come, is to remain sincere to himself.  "To have a good attitude to others, accept circumstances,  and I'd be happy.  I am not really fixed on an outer result.  I am just happy to complete the race, and enjoy the atmosphere of the race because it is very precious to me."
Click to play interview
[audio:http://perfectionjourney.org/wp-content/uploads/2011/06/atmavir.mp3|titles=atmavir]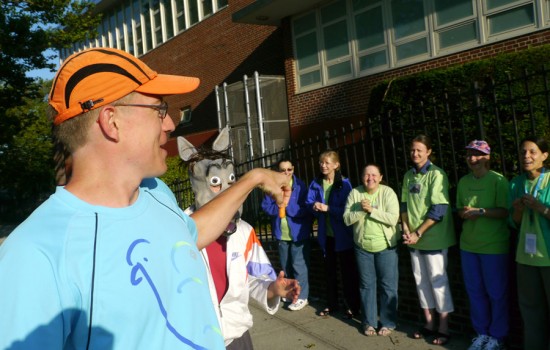 The first of the little plays was performed this morning.  Purna-Samarpan played the straight role and the comedic portion was provided by Ashprinal, who with the help of a donkey mask got into his role.  Motivation was provided by the use of a carrot.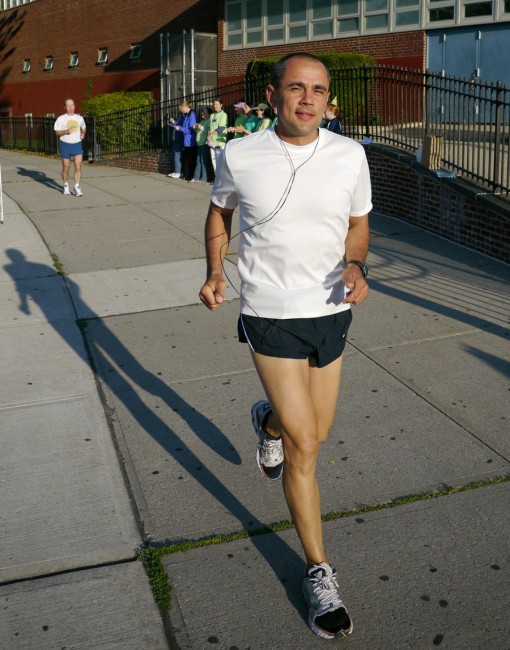 One of Sri Chinmoy's race prayers was offered this morning.  Sarvagata kindly consented to recite it.
Click to play poem
[audio:http://perfectionjourney.org/wp-content/uploads/2011/06/poem.mp3|titles=poem]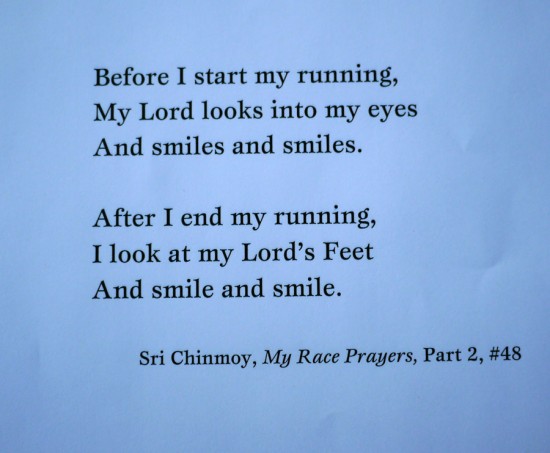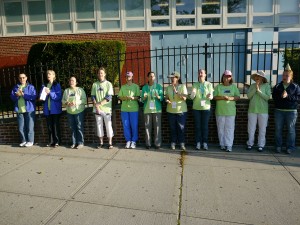 Enthusiasm Awakeners
Click to play
[audio:http://perfectionjourney.org/wp-content/uploads/2011/06/parvati1.mp3|titles=parvati]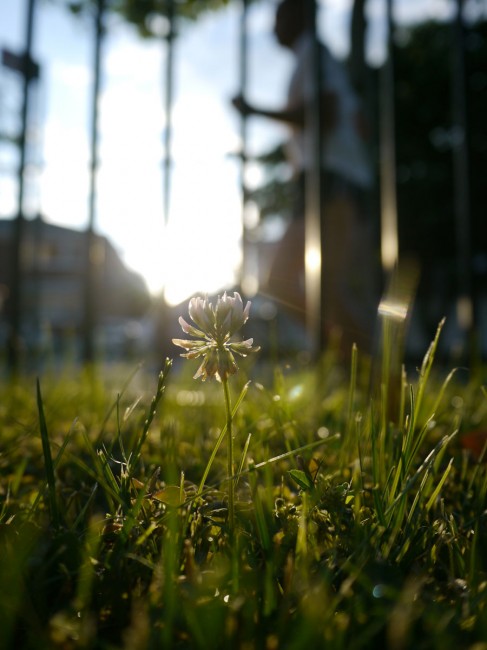 Every morning we must long for
Something deep, deeper, deepest
And
Something high, higher, highest.
Sri Chinmoy, Seventy-Seven Thousand Service-Trees, Part 25, Agni Press, 2002.