Little by little
I must change my life only
in God's own Way.
Poem of the Day
Written by Sri Chinmoy
July 31st,2007
With but a few exceptions, none of the runners here is running so quickly that most people, even in pretty average condition, could not keep up with them for the length of at least one city block.  There are times of the day when they might pick it up, but for the most part every body here runs pretty slow.  When dealing with time nothing moves quickly.  Though as the final days slip away into oblivion our perception of time can be skewed.  The striking enormity of the distance they are running and the super human effort to accomplish it however never changes.
What is miraculous is how much that can be accomplished and transformed in ourselves simply by being diligent and persevering.  Harnessing ourselves to a, never give up attitude, and trying to eliminate the distractions in our lives that serve no genuine purpose.   Instead, imagine how better we would feel and be if we just started focusing on the tasks that will give us inner satisfaction and fulfillment.
Over the summer I have heard lots of stories from others who have found inspiration from what the 11 runners have done here this summer.  For some it is simply reevaluating their priorities.  Get more exercise, eat less and better, and maybe just trying to reexamine their goals, both outwardly and within. Finding out what taking little steps can do to improve our own lives.
"Yeah, step by step." Purna-Samarpan. "Don't overstretch." Pushkar.  I had asked Pushkar and Purna-Samarpan to recite the above poem and before you know it they offered some commentary on it.  "Yeah, one step at a time, and also accept whatever is given to you.  Be patient."
When I mention that there are very few days left, Purna-Samarpan jokes.  "Yeah, we paid for 52 days so we are staying until the end." He adds more seriously that while Pushkar will finish likely in 2 days,  he himself has almost 200 more miles to go in order to reach 2700.  "It sounds little in comparison to what we have run already but still, it won't come easy.  It is coming to an end and it is a good feeling."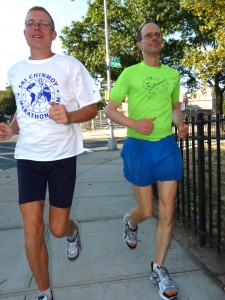 Pushkar jokes, that now they will need to become really spiritual in the last few days.  "No joking and kidding any more," and laughs hilariously.  "I have a crying eye and a smiling eye.  Crying eye, is that it will be over, and no more running.  No more divine progress running.  Smiling eye, is that you have reached the finish line and you can get a little rest.  You are so happy delighted."
Purna-Samarpan describes that for him as soon as the race is over, that life afterward takes some adjustment getting used to it again.  "In the beginning it is a little bit plain, also a little bit dull or something.  It changes obviously.  It is not so easy to readjust.  It takes some time to get back into your rhythm."
"Here you run because you run."
"Tonight we will finish 7 weeks of running."
Pushkar, "just after Asprihanal finished, I got a very happy feeling, that I am still not finished.  That I can still continue running.  I got such joy that I can continue to run. I got the feeling, that I would love to run for eternity.  Up to the moon and back, whatever.  This was quite special.  Running for eternity, eternity, and eternity.
Pushkar and Purna-Samarpan Interview
Galya puts in his first early morning appearance at the race since he finished.  He had mentioned how much he wanted to be able to listen to an entire performance by the Enthusiasm Awakeners.  He got that and then some this morning.  At the end of their singing program the girls turned and sang the 3100 song just for him.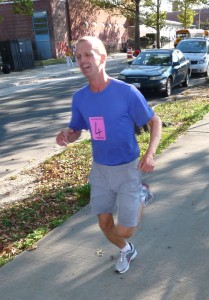 For the other 2 guys who also just finished, they have still got a little bit more racing left in them.  Both Asprihanal and Pranjal ran in the 2 mile race.  Asprihanal was actually 2nd in 13:06.
We can't say for sure where the next generation of distance runners will come from.  This little guy (Chameli's grand son) was running in the 2 miler and didn't seem as though he wanted to stop.  While some folks are not in a hurry whatsoever.
In the category of little things meaning a lot.  Atmavir found his MP3 player which had slipped under the motor home.
And if you ever need a good fruit smoothy come early and come often.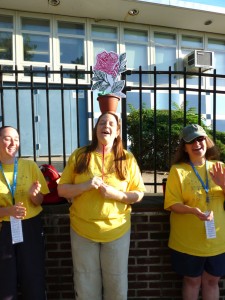 The flowers around the course are still looking pretty good.
The score boards are starting to have their own special charm and offer up a different kind of beauty.
Start Day 49
"This is like the 5th year I think." Swami Parameshanandaji (Monk of Bhavat Sevashram Sangha) has been putting in many appearances in his his bright ochre colored running clothes on the course in the early mornings.  Almost as often as the sun has dawned bright and hot in the sky.  "Every year it is getting better."
"It is something to look forward to when the disciples are here, and not only that.  Before and after they are here I utilize the same strength that I get.  The memories of them being here running.  I see how they are fully into it.  That memory, that feeling, that power that comes from this whole atmosphere.  I utilize it for the whole year."
We talk a bit about how involved the runners here are in the complete running experience, both outwardly and inwardly.  "I can't get the full experience say like Asprihanal is getting finishing.  Even taking one day off.  And then the struggle that he went through.  That struggle that he went through is what is helping him towards his liberation.  Because when we are running on this course.  After a while the mind has no place, in our existence.  Because how much can you think about the same thing.  Then the power of the Guru takes you out of the painfulness of mind, mind, mind.  After a while you beat the mind.  The mind is ripped."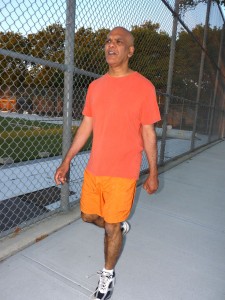 "The mind is something that is non existent, when you go deeper in the spiritual life.  So we come to that non existent state of mind and all that happens is the purity of consciousness, starts gradually to take its hold.  And the further you go that consciousness, is the bliss of the whole exercise.  So that is why I choose to be here.  I make a point that purposefully during this time I am not away too long.  Because I will miss it."
"This morning here the sun is coming up and I am here to greet it.  To greet God in the form of sun.  I do my prayers, and then I look up into the sky and there is the moon.  This is a reminder of all nature.  This is a reminder of all God creation, and when you are conscious of God in all of his creation.  Then you are moving towards your liberation, self realization."
"This is a beautiful opportunity.  You don't have to go to far for a pilgrimage.  This is like a pilgrimage for me.  To be here.  To be with like minded spiritual people.  Even with the people who are serving.  You can see how they are serving with dedication and devotion.  So thanks to Sri Chinmoy he has created an atmosphere."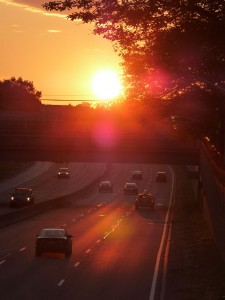 "Even the children who are attending Thomas Edison High school, by us running around their school, we are vibrating high positive energy.  That even they unconsciously are being benefited by the peace.  In this way they can do studies better.  They don't know this."  He describes how the consciousness is being transmitted from this location as clearly as how voice is transmitted over cellphones.  How it can carry from one ear to the next on the far side of the world.  "That is why the whole neighborhood is so peaceful."
"We have to let people know about this and let people know the benefit of it.  Many people say, what is the need of running 3100 miles?  In the hot sun, and taking all this pain.  But it is not just running.  These are people who just see life on the base level, on the mundane level.   But for all great souls, they have to go through some kind of austerity, before the purification can come.  So we have to let people know."
"
Even disciples of Sri Chinmoy we have to let them know the benefit of this kind of a run.  The greatest task that is accomplished is within the runners, and the people who are serving them.  So I am very very happy.  I am very pleased and very inspired, and I am benefiting so tremendously to be here with them.  To see the joy of Asprihanal finishing yesterday.  And year after year all the runners doing the same thing.  Coming and finishing or whether they finish or not, but it is the effort.  I look forward to it.  I will be here every year that it is here.  The beauty of it, whether it is hot or cold.    I will be here."
Swami Parameshanandaji complete interview
To be very close to God,
to be very close,
each God-lover needs
a heart-beauty rose.
Song of the Day composed by Sri Chinmoy
July 31st 2007
When we take the golden opportunity
To run the fastest,
We see that spirituality
Is for Eternity.
Excerpt from Seventy-Seven Thousand Service-Trees, Part 19 by Sri Chinmoy