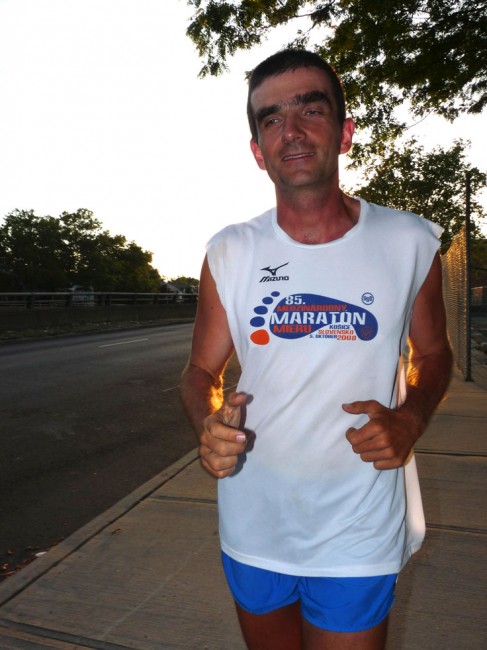 To Surrender to God's will
is to become God's all.
Written by Sri Chinmoy July 9th 2007
This morning I asked Pranjal to read the poem of the day.  Like all the poems Sri Chinmoy wrote the summer of 2007 to inspire the runners, they are short, simple, and direct.  On occasion I have asked some of the runners to interpret what it means to them and perhaps how they feel about it.  It can sometimes lead to enlightening responses but most often the runners are just too tired to do much more than recite it.   Their life energy, frankly, is better  channeled into much more pressing necessities, like staying upright and moving forward, than to delving into the esoteric.
Out of curiosity I asked Pranjal about the poem's meaning.  When I ask him if he is surrendering to God's will he said, "you have to." My next question was intrusive and prying.  Are you succeeding?  "I don't know.  It is hard to say. I really don't know if I am succeeding."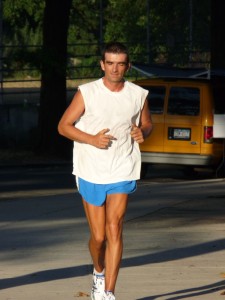 Pranjal has run the world's longest race already 5 times.  In this his 6th time here he is currently just 10 miles out of first place and has not seemed to have had a bad day since the start.  He never complains, never feels sorry for himself, comes before everybody else and stays until the last possible time has elapsed to squeeze in as many laps as he possibly can.  He never calls for attention to himself and simply focuses on pushing out his laps day in day out.  His life here at the 3100 mile race is reduced to the most minimal and simple of life's elements: running, eating, and sleeping.
For the rest of the planet we are faced with a myriad of choices practically at every moment.  The selections in front of us don't often require great moral or ethical debate but sometimes they do.  Selecting lunch or picking out clothes will never create any inner dilemma with any great karmic consequences.  But there are times when we are faced with choices that are either right or wrong.  How we choose, and what we ultimately do, or don't do, can have enormous consequences in our lives. Sri Chinmoy once wrote, "if we do not fulfill God's Will, then we enter into ignorance and we delay our progress."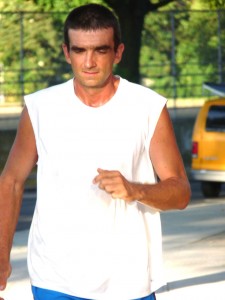 For all those who have answered the inner call to come and run here you have to salute their courage to face up to this task and then ultimately bear the enormous burden for such a long time.  There may be nothing more physically challenging in life to do than to try and run 3100 miles around a hot hard Queens block.  Their decisions to do this and then to carry on, and complete the journey may also be the sweetest blessing on their lives that they will ever receive.  If earth cannot recognize or appreciate them, than certainly the highest realms of delight will treasure their sacrifice and life's selfless offering to Self-transcendence.
*there will be no new reports here for the next 7 days…apologies to all*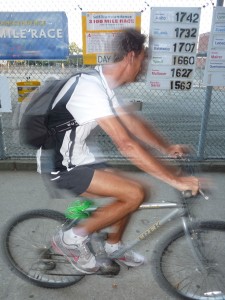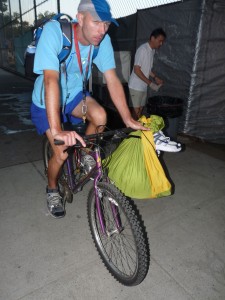 Dhabhasana arrives this morning after doing a spectacular 64 miles yesterday.  He had said yesterday that it was so humid that he could just has easily swum here as run.  He has good reason to check the board.  Baladev is just 5 miles ahead.  The runners will have cooler conditions over the weekend but not by much.
Every day there is paperwork and taking care of the flowers along the course.
Start Day 27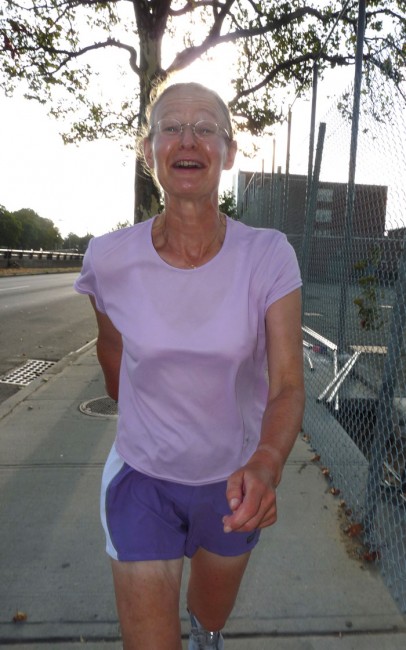 Until this race, the longest number of days of running she has had to do before this was a little more than 18.  She is now into her 27th straight day of running. Most certainly she will continue on, until the last possible moment, 25 days from  now.
When asked how the severe weather has affected her she answers, "For me the heat is not so bad.  Most of the time during the day I go up.  When the sun disappears my power disappears."
The conditions have been so far, the worst on record.   Certainly it has not been anywhere near comfortable for her or any of the runners.  Even without exerting any effort it has been impossible not to sweat.   She mentions that she has been wet much of the time. "Almost day and night. But I am surprised that I deal so good with the heat."
She tells me that her energy seems to drop by the time night comes and speculates that because she has expended so much effort during the day, in dealing with the heat, that there is simply little left to offer.  "In the evening you have lost your power."
Last night she crossed over the half way point for her in the race.  She says, "it was nice because now you can feel like you are going home.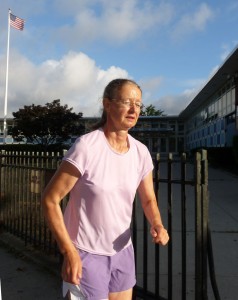 We discuss some of the problems that have befallen some of her fellow runners and she says, "you can feel grateful that you can still run.  As long as you can run you are grateful."  She reminds me about the shin splints she had at the beginning when she was forced to walk.  She describes for me, that in her perspective, just to be able to move forward, in whatever fashion is an opportunity to express her gratitude to the race.
When asked about the heavenly experiences she had at the very beginning she laughs and says, "I am still on earth.  I am not yet in heaven."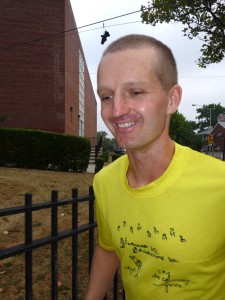 Asprihanal, the man who was forced to receive intravenous on one day and came back yesterday and ran nearly 65 miles.
Ananda-Lahari at peace but is also perched precariously on a sliver of hope to complete the distance before the cut off.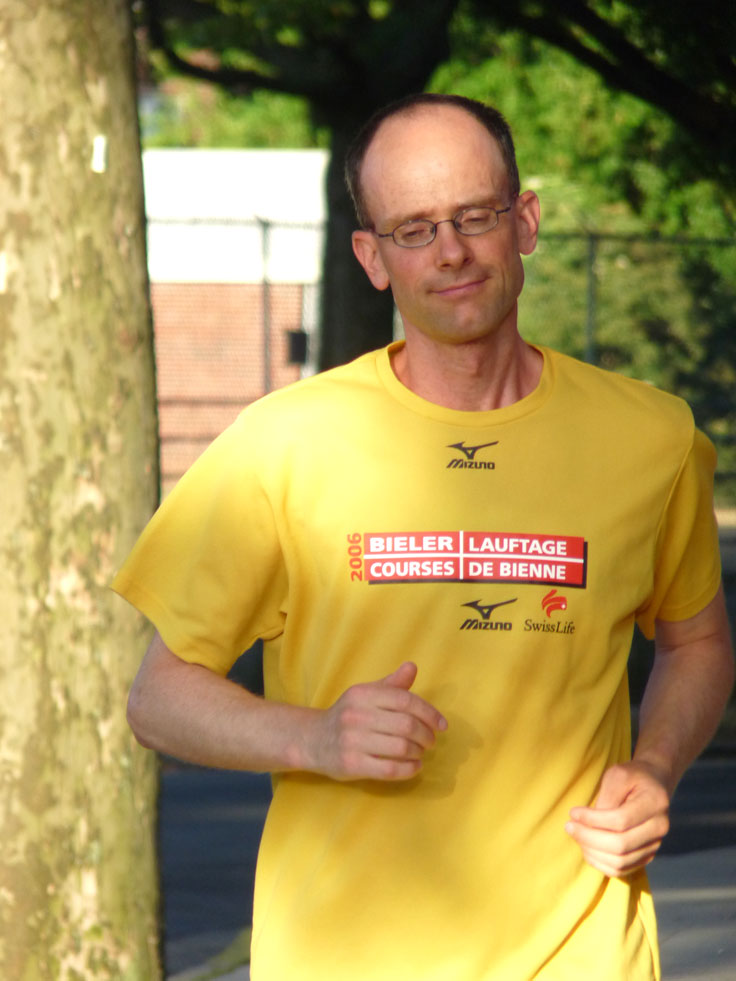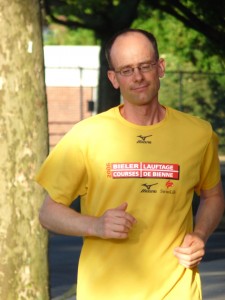 Atmavir since his visit to the Doctor and receiving his spiritual name is running with strength and consistency.  He ran the most miles, just over 65 yesterday in the humidity.
Pushkar ran almost 61.  Purna Samarpan has back problems and came late.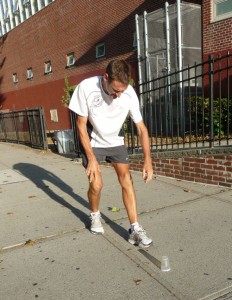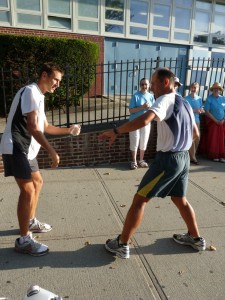 Galya created some theatrics this morning and enlisted Dharbhasana.  In the skit Dharbhasana finds a magic lamp on the course and wishes the genie to take him swiftly to the end of the race.
We start, we start, we start
with self-giving.
We end, we end, we end
In God-becoming.
Song composed this day 2007 by Sri Chinmoy
Performed by Enthusiasm Awakeners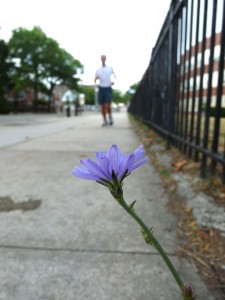 Yield to God's Will.
A difficult task, no doubt,
But not an impossible task!
If you yield to God's Will,
God's Compassion will think of you powerfully
And God's Satisfaction will direct you
In many surprising ways.
Excerpt from Ten Thousand Flower-Flames, Part 47 by Sri Chinmoy