She has been to the race many times before.  Today however Niharika is returning to her home in Finland.  She is here this morning cheering for fellow Finn, Asprihanal and of course all the other runners.  She is smiling and calling out to them as they pass by but it is clear that she looks just a little bit sad, because soon she will have to leave to catch her flight.
She is a Massage therapist, and over the years, she has been tireless in helping Suprabha through many of her long hard struggles here at the 3100 mile race.  Last year in particular when Suprabha was teetering on the verge of dropping out of her 13th consecutive race for the first time, Niharika got on a plane and made a special trip to New York just to help her.  She was a powerful factor in allowing Suprabha to bear through her incredible ordeal and eventually finish the race in 61 grueling days.
"I love this race.  It is very concrete that you can see the self transcendence."  She says that the inner reality of the race is not always perceived by people who pass by.  They notice only slow joggers and may wonder why they are not running quickly.  Without any real discernment they perhaps might think the race is easy.  She describes how the runners complete more than 2 marathons a day for 40 or 50 days.  "It is unbelievable.  Your mind can't really take it, and they keep going."
What she feels distinguished Suprabha was simply, "not giving up."  I ask her about coming back a second time last summer to help Suprabha.  She says that Suprabha's team of course did a lot for her.  She says that mentally for Suprabha her return helped her as much as the therapy that she was able to provide.  "O, if she is returning I have to finish this too.  I will do my best."  She feels that her own efforts were not anything special, "but maybe that little bit extra."
Niharika is one of those special people, who even though they live far away, are still intimately connected to what is really happening here.  They are the ones that you cannot see, but if you look within, you can still feel their presence.  They are not, and most likely will never ever be one of the 11 runners. Instead those who love this race from afar, are part of the boundless inner dimension of the race.
With an indefatigable oneness they identify with the belief that human life can and must be transformed into the divine.  In this untiring acceptance of the inner goal one also  can become a champion.  You don't have to run here for your heart to identify with the races message of self transcendence.  That somehow, in ways that we cannot comprehend, the boundless heights of the inner world are being summited at every moment, right here on this slab of Queens concrete.
Niharika tells me, with emotion that surprises her, "I will miss this race."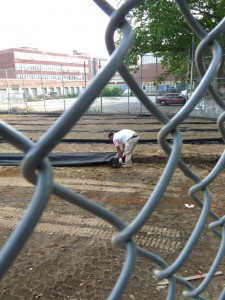 It is now official, the name Galya has been installed on the board permanently.
Next door, the dust coming from the construction site was terrible yesterday and barriers were put up around the camp area.
Start Day 17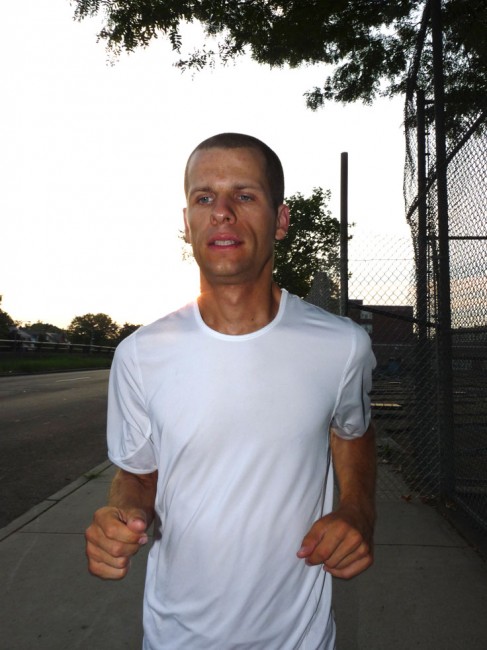 "People were showing me compassion in boundless measure."  There is no easy way to describe what happened to Petr yesterday.  For 2 weeks and a day he was running with incredible speed and consistency. For a while he was on Asprihanal's shoulder and then suddenly yesterday the bottom fell out of his race.
It is a race with multiple bottoms and also countless peaks.  Ones that are easy to see are miles that go up on the board or in Petr's case yesterday, do not go up.  The weather appears to be the victor in the battle with Petr.  The heat and humidity knocked him down and he was surprised at just how much love and support was out there for him when he fell.
He had an experience that was gruesome and yet is just what really makes this race tough.  The enemy are numerous.  If it is not the weather, it can be your body, and the most tricky adversary of all, your own mind.
In Petr's case it looks as though the many days of pushing in the savage weather, eventually asked to be paid its pound of flesh.  Yesterday was one in which Petr ran most likely the least number of miles that he has ever run here, 42 miles or 77 laps.  He was so beat up by the day that he even left early for the first time last night, and yet he is here again today.   Here to try and find the crack, that will allow him slip through into another day, and find his way back into top running form.
"I burned out yesterday," is how he describes it.  "Too hot for me.  It was like the 3rd hot day in a row.  My body was completely exhausted.  I don't usually have trouble with hot weather but somehow this year my body has had trouble to adapt."  Today he is still somewhat baffled as to what really happened.  What took the life out of his legs yesterday.  There are many potential factors, that by themselves, or in combination did him in.
As the day got hotter yesterday he had the feeling that it was going to be really tough.  "After a few minutes, I couldn't run any more and I started walking, and then walking was even too hard for me.  I was falling asleep."  Even with breaks he couldn't get his strength back and spent most of the day walking.  He left about 10:40 last night and feels the extra rest did not help.  "I do not feel refreshed today."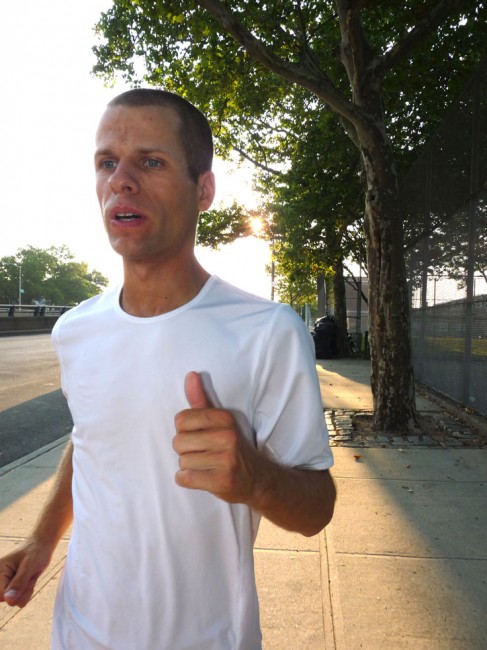 He believes that one or two days of 30 degree weather may not be so bad, but when it comes each and every day consistently, then it became too much for him.  He also has been pushing very hard since the start of the race.  Operating on the threshold of what ever his capacity has to expend, over the long course of the race.
He feels now that he is once again at the starting line.
Where yesterday, "there was completely nothing." Today he is forging a new tactic to simply keep going and try and find his way.  His plan for now is to simply try to run easy.
In these sleepy early minutes he seems to be moving well.  "It is the only thing that I can do.  I gave everything yesterday.  I will try and stay positive.  Today is another day.  New hope is coming."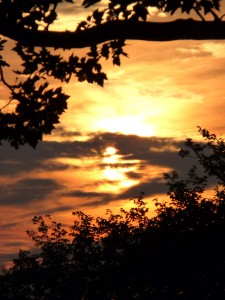 Poem of the day
"There are so many ways to please God.
The easiest way is to smile at God."
by Sri Chinmoy on this day in 2007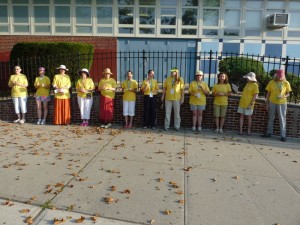 "My hope is silver.
My faith is gold.
My promise is diamond."
song composed by Sri Chinmoy
Performed by Enthusiasm Awakeners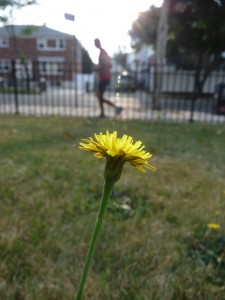 God-discovery
Is nothing other than
A matter of not giving up
The game.
Excerpt from Twenty-Seven Thousand Aspiration-Plants, Part 89 by Sri Chinmoy