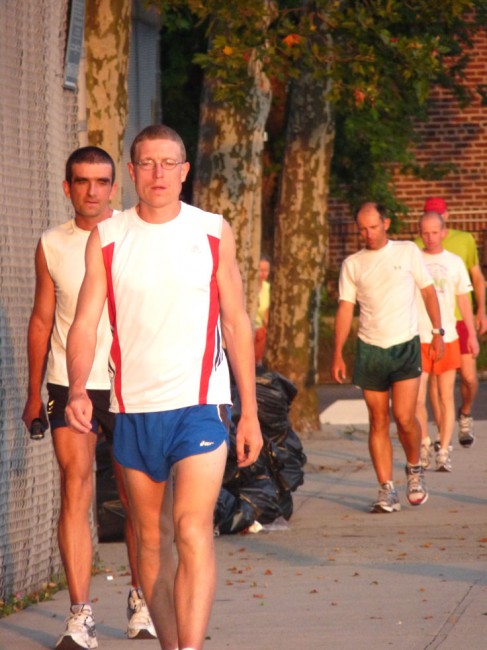 The runners have barely even stumbled and staggered through the first lap of the day and already most are sweating.  Not just a moist sheen on the brow kind of perspiration.  Instead visualize the sticky clammy free flow of moisture bursting out from within kind.   The molecular geyser sort that gushes out out onto the surface of one's body, in order to do the only thing nature has shown it what to do, in order to try and keep us cool. The crazy thing is, that it is not even really very hot, at least not yet anyway.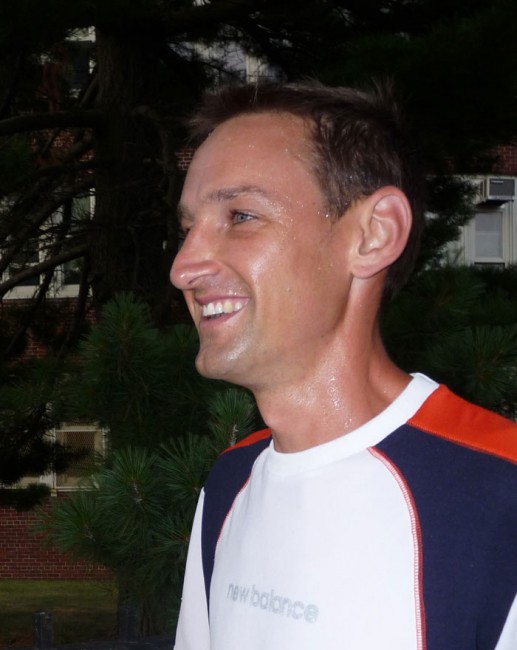 Dharbasana tells me that the temperature at the race yesterday was measured at 95F(35C). The gadgets and paraphernalia that does this thing may not be approved by the national weather surface but they are likely not too far off the mark. When you gaze out at the vast concrete farm that is the course you can well see how it becomes a perfect collector for all the mega joules of heat energy being bombarded upon it all day long.
The temperatures today may not get quite up there today, but what is already sky high, like it has been for days, is the humidity.  The glove tight kind of air, that for now is as thick and still as a muddy swamp.
There is always fresh gallons of water to drink at the race.  It is pure and there are plenty of cups just waiting to be grabbed and then thrown back.
It is not very far to make your way around the loop, but the question comes down to, how much moisture can you loose along the way. Then how much should you drink to replace what you are loosing in unknown trickling quantities.
Pranjal, has the unenviable distinction of being a poster boy for all the world class prespirers out there.  He tells me that he drinks for sure nearly every single lap.
He shows me some wrist bands that he has brought to the race today.  His arms are so wet they look as though he has just stepped out of the shower.  He tells me that yesterday so much perspiration flowed down his arms that he developed a bad case of puffy dish water hands.
He says that in the 2 weeks that he has been running he has dropped nearly 8 kg due to the heat.  And if you were to ask, is he really affected by this all, you would only have to look at the board and see that still he ran 68 miles yesterday.  The second biggest total of the day and he also finished his first 1000 miles.  Today he is focusing on and tending to the business  of completing the next 1000.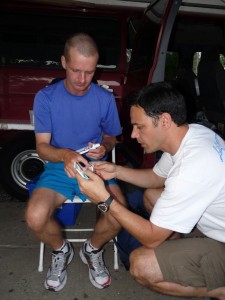 Asprihanal was the first of 4 runners to cross over into the 1000 mile world.  He ran a remarkable 71 miles in yesterdays heat but today is bothered by a blister.  He is looking for some antibiotic cream that is also a pain killer.  This is not the first time that he has had it.  This is after all his 10th summer here on the course.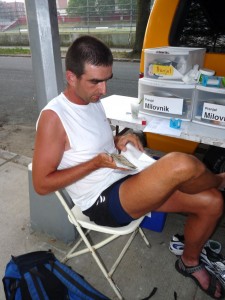 Pranjal receives an unexpected donation of cash to be used by all the Czech and Slovak runners.
Raoul, the caretaker at the school says he has never seen this many leaves falling this early in the year.  He thinks it was the wind.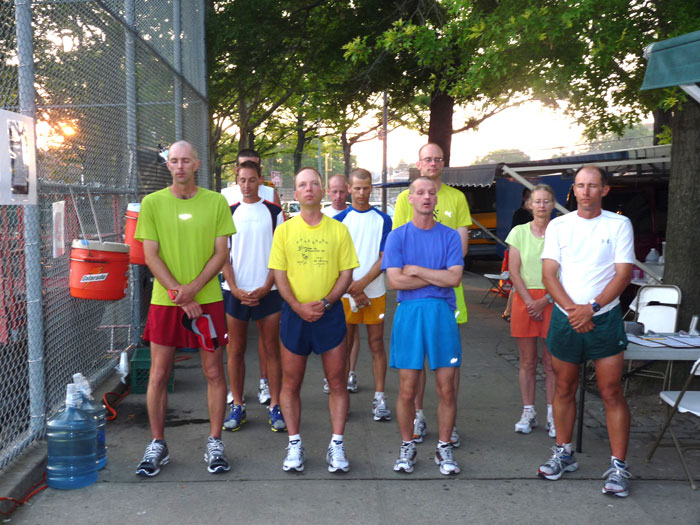 Start Day 16
Some very significant editing was done to the score board last night.  One name was removed and replaced by another.  It is still the same person there, or at least on the surface he appears the same.  The good news is that Vladimir Balatskyy received his spiritual name and will henceforth by known as Galya.
Sunday will be a day that this Ukrainian runner will long remember.  He managed to pass the 1000 mile threshold, run his usual 66 miles, and now look upon his spiritual identity in a whole new way.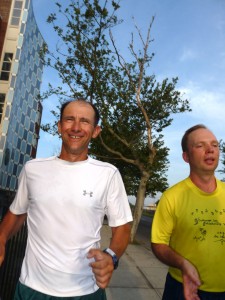 The circumstances were completely a surprise to him and to everyone else.  He says he was stretching when he was passed the race phone. On the line was a friend in Austria with the news.  "For me it was a nice experience because I was at the race."  He says that now he will have 2 birthdays at the race.  His physical birthday is approaching in just a few weeks.
Stutisheel is running close by and says, "Now he is connected forever to the race."
He tells me that his name means, "he who God has redeemed, forgiven, renewed, and transformed from the absolute."
It has profoundly affected him.  For him, he feels like the name is almost constantly chanting now within him.  "I am very happy that it happened during the race."
"My heart has only one task
love God at every moment"
Poem of the day by Sri Chinmoy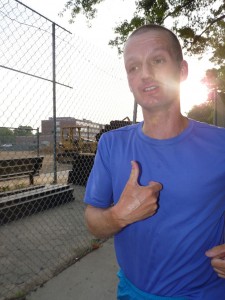 "It is so nice for all of us."  Asprihanal is genuinely pleased that one of his fellow runners has received a name.
"I had major toe pain last night.  I had even trouble sleeping."  The creams he had looked at earlier were for sore muscles he says.  What he was looking for was an antibiotic ointment that also had a mile pain killer in it as well.  It is a cut around his big toe.  "It is a little inflamed that is why it hurts."  He says he has had the same thing happen many times before.  "It is no problem.  I just have to put this pain relieving ointment on it and tape it every day.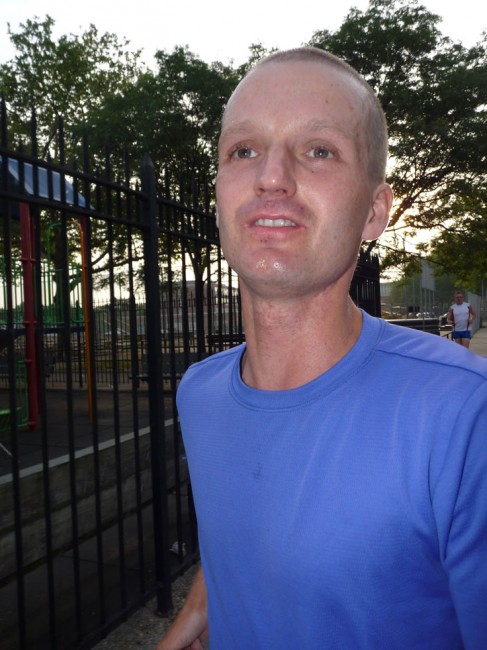 It normally doesn't go away because of the banging. I have cut the shoe around the big toe.  So it is not a new thing.  It is not a big problem.  It was just that last night it was painful, because it started yesterday."
The big news yesterday for him was that Mahashamrat Bill Pearl returned to the course again and happened to be here when he finished his 1000 miles.  He told him, "that after I run this race I will have run the race 10 times, which is 31000 miles around this block.  He was so nice.  It was like a highlight for me."
He also received his first hair cut at the race and says, "Now we are all running in good style.  Because style is also important," and then he laughs.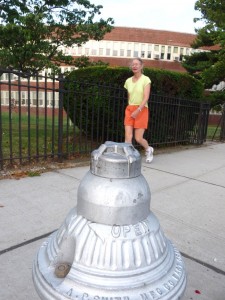 At one point as we are nearing the corner by 168th st. Asprihanal asks me jokingly if I want to know about the secret prayer wheel.  As we near the fire hydrant on the corner he lightly spins the top and says, "no blisters today."  When Surasa follows soon after she has seen the little ritual and echoes gleefully, "No blisters today."
Once he made his way through his first wobbly week of running here, Dharbhasana Lynn has been solid and consistent.  In fact despite yesterday's heat he ran a very respectable 63 miles.
In terms of nutrition his diet is something new at the race this year.  His wife Nandana is preparing all his food which consists of mostly raw food.  In stark contrast, as I come upon him while he is running with Pranjal who, to put it delicately, is eating somewhere on the far end of the food spectrum in comparison.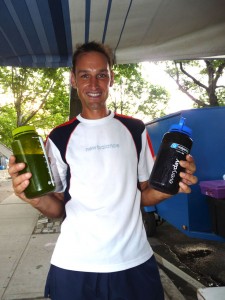 "My diet is vegan, no dairy, no cheese, no gluten, and sugar free.  And predominantly raw.  So I eat very little processed foods.  And I am trying to maintain it as much as possible fresh crisp whole foods.  Nandana (his wife) is doing all my food, so I have just got to focus on running.  She prepares everything.  And I eat a lot of super foods as well.  So instead of having all the vitamins and minerals I rely on the foods,to give me all the vitamins and minerals that I need.  So far so good."
There is a of course a table laden with food in the counting area.  There are treats there of all kinds plus all manner of drinks.  Not excluding the coke that Asprihanal and Pranjal enjoy so much.  For Dharbhasana a treat is a cup of fresh blue berries or some other raw treat.  "It is like little spoonfuls of crisp goodness.  Sugars tend to give you a spike.  So your energy goes up and then you fall down.  So as long as I am eating enough and getting enough of this into me than my energy remains relatively constant.  And I don't seem to be having spikes and falls."
When asked about his weight he says that he came into the race already light, 65kg.  "That is about as light as I have been in a long time.  Normally I am around 70.  After 6 days I lost 2kg more.  So I have been hovering around 62.5 and 63 kg.  And then I have been having a problem, which I normally have of not drinking enough water.  So I have been really heavily dehydrated.  So yesterday I started plowing lots of liquids back in with salt.  So to try and balance it all out again.   I weighed myself and I am back up to 65.  So I am the same weight as when I came in."
As we pass by one of the great lovers of Snickers candy bars, Dharbhasana admits that he believes his diet is not meant for everybody.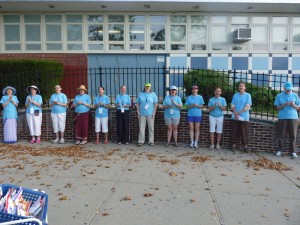 "My Lord, give me the strength
to be strong and valiant
Day and night I long to sing
Your victory Songs."
Song composed by Sri Chinmoy
Performed by Enthusiasm Awakeners.
Believe me, O seeker,
When you give a soulful smile to God,
You get the strength of ten lions,
Roaring and roaring to devour
Your depression-frustration.
Excerpt from Seventy-Seven Thousand Service-Trees, Part 5 by Sri Chinmoy