There are 4 sharp corners on the course of the 3100 mile race.  To most, this aspect might also seem to be an additional cruel torment, added on to an already formidable list of less than desirable qualities of the loop.  This little block in Queens already has a slim to none chance that it will ever be listed in any NY  guide books as a must see place to visit when vacationing in the Big Apple.
Yet 11 runners are here on the course even now, on this the race's 14th summer.  For them and the revolving crew who looks after them, the place is a virtual home.  One in which the runners have to circumambulate each day around it for something like 18 hours.  To have to make a radical pivot several times a lap, and then God knows how many times a day could be perceived as a torture, that could be potentially listed in the Geneva convention.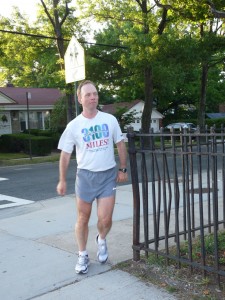 The surface of the loop itself  is already is as unforgiving and formidable as a concrete jungle.  Many voices have been heard who clamor about the monotony of innumerable turns, and wonder aloud at how great it would be to set up the race as a point to point event.  One in which the scenery is constantly changing, from one dreamy pastoral landscape to the next.  Others envision a idyllic park, buried in some cool corner of Queens which perhaps would also be more inviting.  Logistics aside, the Self-Transcendence race is not about sight seeing and personal enjoyment.  For those whose criteria demands these conditions, the 3100 will never be the race for you.
In this its 14th year the runners have described the course in many ways.  On each and every occasion, the term used most often is, 'the sacred loop.'  Those who come back again and again, clearly recognize that the inspiration that calls them here is as significant as any holy pilgrimage.   There are no prostrations, no ceremony of any kind, it is instead an all encompassing dedication of the complete being; body, mind, and heart, to a much higher purpose, than can be seen with our mental vision.
The runners of course may look quite ordinary at times. On the surface you might be lulled into perceiving that nothing much special is happening here.  Rules of fashion and style are not applicable.   The unbelievable exposure to the elements, to your own body's crying fatigue, and yes the twists that mark the unforgiving corners of the course mean that most often no one looks very pretty or fashionable.
The only way of making a true comparison of the Self Transcendence race is to imagine it, less as a sporting event, than as a pilgrimage.  Imagine taking a holy trek around the 14km distance at the base of Arunachala in India.  Doing it with devotion, but also with dynamism, and courage.  Letting go of all the things in your life that stop you from being the best that you can be.
Here the 11 runners, and many more over the years, have attempted to constantly to stay in tune with their inner joyousness, while simultaneously being as dedicated to their goals as one seeker can possibly be.  Aspiring for something just beyond the barrier of impossibility and perhaps just around the next turn.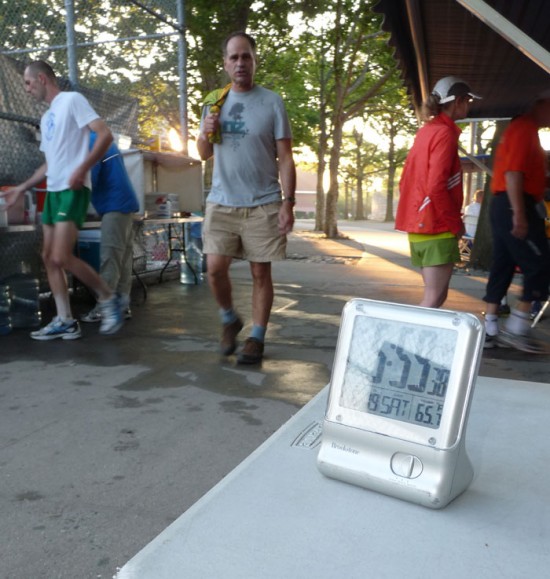 The time bandits stealth-fully attempted some mischief this morning before the start of day 7.  As a rule the time till the start of the race is called out aloud in decreasing increments.
Rupantar, the race director, usually booms out clearly and unmistakably the count down to the start.  As the time diminishes the activity level gradually peaks with intensity until there is an almost sudden stillness.  A mood of quietness pervades as the runners stop momentarily to offer a brief meditation.
Only rarely does the start go off in a ragged fashion like today.  For those who did not make the first push off the line they stopped for a moment anyway to offer gratitude that they can once again set off on their long journeys.
Start Day 7
The conversation with Pavol this morning starts with a World Cup prediction about how his Slovakian team will do against Paraguay first thing on Sunday morning.  He is a tremendously talented athlete in many sports.  As a young boy his first love was for football and only late in life, after he turned 24 did he dedicate himself to running. (by the way) His early guesstimate is a 2-1 win for his Country.
This is his 3rd time at the race, and he says, "every year is different."  He has improved dramatically in this time, and from failing to finish the distance in his first attempt he was able to complete the distance last year.
Now he is averaging a formidable 64 miles a day and is looking strong and consistent after nearly one week of running.  He feels that the improvement he is experiencing this year comes simply from being here before, learning more each time, and getting stronger because of it.
He says that he did not train this year as much as he did last year, "but physically and mentally this year I am in better condition."
He describes that he went through a hard winter back home and came to the realization, that simply put, he had to concentrate on more spiritual things in his daily life.  He describes spending more time mediating and singing spiritual songs.  "These 2 things I think help me more.  It is simple because mediation is for everyone." He feels that it is only through meditation that one can become aware and in tune with their inner power.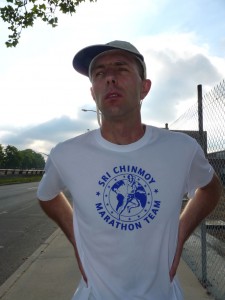 "I think everyone who starts meditating, their lives will change."  He feels that once one does this than they are capable of doing anything and everything, if it is God's will. He adds, "I know that I am here because it is God's will."  He has also spoken on many occasions previously on how deep his connection is with the race and how he hopes to come back every year if it is possible. For him every moment that he is here he accepts and enjoys.  "Every day is the best part. Hard day or hardest day, we don't have an easy day.  I really think it is good."
"This race is all experience.  Every second, every moment is an unbelievable experience." He says that it is impossible for anyone other than the runners to fully understand what takes place, both within and without, while running here.  He said that when he first imagined coming here he could not fully understand what it would take, and what it was like to run the distance.  "But now it is possible.  Because everything is really only about experiences."
He says that during the time he is not here he thinks about it every day.
On previous years he would sometimes write short poems during the day.  He says that they were an inspiration for him and helped focus the experience a little more clearly for him.  This year he says that he suspects that none will come, at least none have so far.
Instead he finds himself focusing on God's grace and compassion. He says that when he examines himself, in the context of his life's meaning, he realizes that his life is entirely built upon these 2 things.  It is under the extreme conditions of running 3100 miles that this realization becomes crystal clear and self evident for him.
Audio clip: Adobe Flash Player (version 9 or above) is required to play this audio clip. Download the latest version here. You also need to have JavaScript enabled in your browser.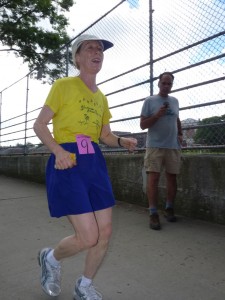 A week ago she was here at the start and today once again the great champion Suprabha has returned to the 3100.  At one moment she is giving advice to the new girl Surasa and in the next she busies herself by planting more flowers in the small plots of bare earth around the trees on the course.
At 8am she starts a quite different race across the street.  She runs the Self-Transcendence 2 mile race which is held every Saturday around the school across the street from the 3100.  It is one in which it also has its own turns.
"I love my Lord. I love my Lord, therefore I cry and cry.  I need my Lord, I need my Lord therefore I try and try "
Song composed by Sri Chinmoy
Performed by Enthusiasm Awakeners.
Audio clip: Adobe Flash Player (version 9 or above) is required to play this audio clip. Download the latest version here. You also need to have JavaScript enabled in your browser.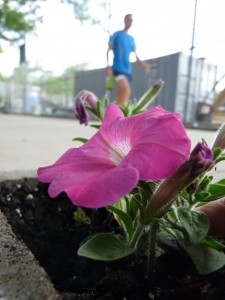 A life of God-surrender
Has a sunflower-heart
That turns and gazes always
At the all-illumining God-Sun.
Excerpt from Twenty-Seven Thousand Aspiration-Plants, Part 230 by Sri Chinmoy
Photo Credit