There are times when you just know that something special is happening.  The Self-Transcendence 6 and 10 day race is just a few hours old and already 36 year old Igor Mudryk from Vinnitsa Ukraine seems to be doing something above and beyond everyone else in the field.  The bow has been barely untied from this years running and yet, in just the few hours I was there, I felt I was witnessing from him, the early stages of a remarkable performance.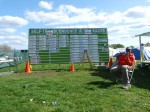 Last year he ran 712 miles which was a huge increase over his previous best, something in the order of 179 miles more.   Today the weather Gods are smiling on Flushing Meadow and perhaps the whole east coast of America.  The temperature is balmy and the winds are mild so at this point in the race everyone looks great.  There are no great struggles going on and the jabs of pain and the shackles of groaning fatigue have yet to be felt by anyone.  Unless perhaps it is the crew who have worked here for close to 5 days to make sure that all the bits of the great jig saw puzzle were neatly in place.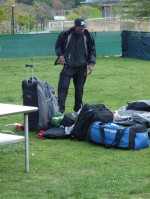 Yesterday I last saw Fred Davis trying to sort out an enormous pile of bags and camping gear.  He was in great spirits but it certainly must have taken him some hours to sort out and get all his equipment in order.
Fred is running this year without his usual support crew, which is his Mrs. .  He looked great this afternoon, like just about everyone else.
Bigalita Egger is 69 years old and having the time of her life.  Last year she entered the 10 day race and completed 357 miles.  She enjoyed every mile, every day, and seemingly every single moment she was there.  She is a perfect case when one wants to know what they accomplish when they just surrender whole heartedly to the experience.
Today she is all beaming smiles and long swift strides.  When the 10 days was up she said, "what it is over, I can't extend it?  I am looking forward to being here next year again." Clearly she is happy to be here.  For her of course it is less about the distance she covers on her feet than perhaps the journey she can inwardly bridge within herself.
She describes that for her, the joy she experiences here is, "to be in your heart and feel all the beauty around you."  It doesn't hurt of course that this race is unique in that a positive atmosphere seems to permeate the whole site.  She says that she had not been thinking that much about the race in the past year, it was simply, that she just knew that she would return.  Her philosophy clear, "Miles are not important.  It is the satisfaction of being here and being happy and having enthusiasm is what counts."
The race of course has a lot to do about friendships.  People coming together for a few days each year and being able to share this unique experience with someone who really knows what it is like being out there.  On the road together for miles and days.  Sometimes just finding purpose in going around and around mile after mile in which the terrain never changes.  Only the weather and the crews who are helping changes.
The one constant is the person in front of you and as well the one moving up from behind.  As you draw closer their unique stride and silhouette etched almost indelibly in your mind.  The clop of their shoes the rhythm and  cadence of their stride when you can barely see them on a dark night.  And then perhaps that special warm greeting you exchange when you draw alongside.
Today for several miles I find veterans Don Winkley and Mark Dorion.  They both share a lot more than many miles under their belts.  Both are also from Texas.  I happen to tell Don that a few days earlier I had been telling someone his unique strategy for toughening up ones feet.  He said that he first used to make the soles of his feet hard by walking on gravel and then graduating to walking on walnut shells.  The useful benefit of using walnuts, was at least he got to eat them.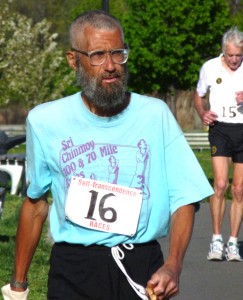 Mark describes how they earlier had run the first mile together.  He says how some of the runners had taken off quickly while both he and Don started conservatively.  They are both of course serious runners.  In fact Mark has for the first time entered the 10 day race.  Usually he takes part in the 6 day.  He calls this race, " It is a new frontier.  Every step over 400 miles will be the longest race I have ever been in."  He really wants to transcend himself he adds.
He tells me that some friends of his had suggested to him that he definitely demonstrated that he had the capacity to run further than 6 days.  When Don is asked the miles he would like to run he says, "I fantasize about going beyond 500"    He confesses that the weather for him will also be an important factor.
.
| | | |
| --- | --- | --- |
| | The friendships that happen here are like no other.  So much is shared.  So much is offered from one to another.  The goal not just one persons alone, but is shared collectively by everyone. | |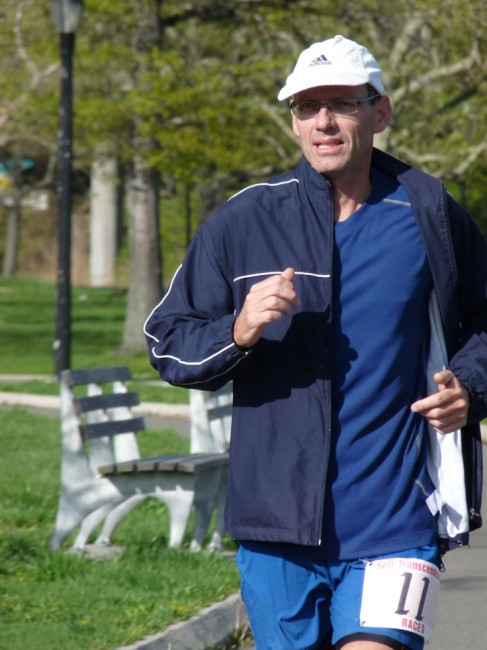 "I swore I would never come back," confesses 45 year old Barney McBryde from Auckland New Zealand.  He has run both the 10 twice before and the 6 day twice before.  When he was last here, two years ago running the 10 day he ran 516 miles, which is very good mileage, but for him it was simply a tough experience.  When asked why the experience was hard the answer is not an easy one.  He admits it was a personal best.  "I found it difficult, but over the years I have had some second thoughts.  So I thought I would give it another try."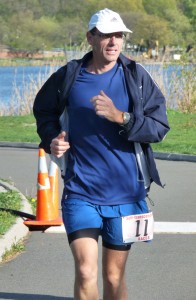 I ask him what he has done this time in order to not repeat what happened before.  He tells me that he has increased his training.  But also he admits, "Inwardly I am in a better state.  I am in better condition for trying this again."  He says that whenever he comes to the race there is always a feeling, "that I have come to the right place.  It is almost like coming home again.  You definitely feel something here that you don't feel anywhere else."
His goal he says this time is more than miles.  "This time one of my aims is just to have a happy time.  I would like to enjoy myself more."  His philosophy about the event has transformed for him in many ways.  He says, "I am approaching it more as a spiritual exercise than a physical exercise."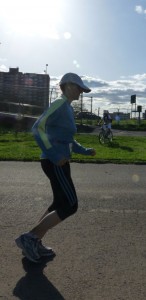 MORE THAN THEY DESERVE
God loves my soul
More than it rightly deserves.
I love my body
More than it dares deserve.
My dream loves me
More than I possibly deserve.
I love my reality
More than it ever deserves.
Excerpt from The Goal Is Won by Sri Chinmoy