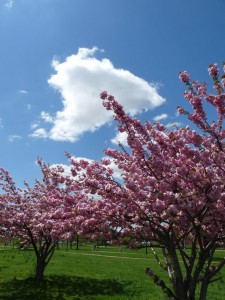 The skies are fresh, bright, and clear over Flushing Meadow today.  Below, by the rippling waters of Meadow Lake, the walkers and the gawkers are out and about enjoying an usually  early spring.  One in which the flowers have emerged much ahead of schedule.  It seems that almost overnight that the dull veil of winter has been swiftly eclipsed by the usual bright carnival of nature,which is so typical of an often spectacular New York Spring.
It is not just that the colors of nature are so vibrant here and there around the lake.  There is also an exotic blend of rhythms, smells, and sounds permeating the whole expanse of the park.
Picnics are springing up here and there celebrating birthdays, and anniversaries, and perhaps just a great feasting sigh of relief that the end of a very long hard winter has at last arrived.  Each has its own particular tangy aromas wafting up from open grills.  The smells are often enhanced  by blaring sound systems broadcasting colorful music from every continent under the sun.  Close by, on this exotic Sunday morning one cannot help but feel the rhythmic thump and whack of these conga players.  The percussion permeates over a great distance in the park but of course there is another event going on nearby that is creating its own symphony of sounds and attracting a much different crowd.
.
| | | |
| --- | --- | --- |
| | The telltale signs are unmistakable.  For 5 days now Flushing Meadow has been witness to one of its now classic Spring rituals.  The arrival of the 6 and 10 day race, which is now just a few hours, hammer thumps, screw gun twirls, and paint splatters away. | |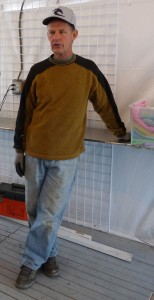 Bipin and a large crew have been working almost non stop for the past 5 days to make something functional out of an enormous pile of boards, a jumble of plastic pipes, miles of wires, tubes, and thing-ah- majigs.  How he manages to take this bric a brac  and coalesce it into something sturdy, totally efficient, and and at the same time beautiful is miraculous.  And yet this miracle he has been accomplishing for decades, creating a fully operational temporary village that will house and support more than 80 plus runners and helpers.
The crew is unique this year in that there are many of the familiar old faces as well as a new cast.  One that is in large part stranded here, unable to return to homes back in Europe because of the eruptions in Iceland.
| | | |
| --- | --- | --- |
| Pushkar, who is not unfamiliar to multi day running  knows that because of the Icelandic dust cloud he cannot return to Switzerland before Wednesday.  He would be happy if there were to suddenly be a 24 hour race.  Viharin who is also stranded here cannot return just yet to the Czech republic.  All the stranded Europeans are making the best of this unique and unexpected opportunity. | | |
Just for now the village looks a little empty, but gradually the signs of life are appearing.  In less than 24 hours it will be not only be a complete little community but also it will be buzzing with activity.  Runners will stop at this dugout to grab a cup of water, to snatch a jacket, to change shoes, to do the little things that will make the big picture of their self-transcendence emerge over each hard earned lap.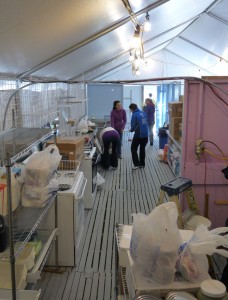 In just a few hours the kitchen will be preparing a non stop assembly line of meals.

No one has yet to stumble off the track and take a rest on one of these simple wooden bunks, but soon tired runners will find new energy here and come back out and run some more.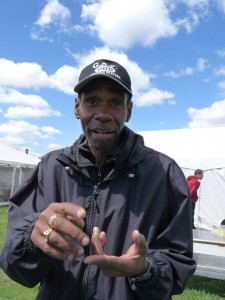 | | | |
| --- | --- | --- |
| | With each new hour the community grows.  Fred Davis is back to run again for 10 Days.  It should come as no surprise that there is a surprising number of New Zealanders both on the track and behind the scenes making things run smoothly. | |
| | | |
| --- | --- | --- |
| Rajpal who is also Kiwi and one of the tireless crew helps out a familiar runner to the race and himself Niribili who is his wife. | | |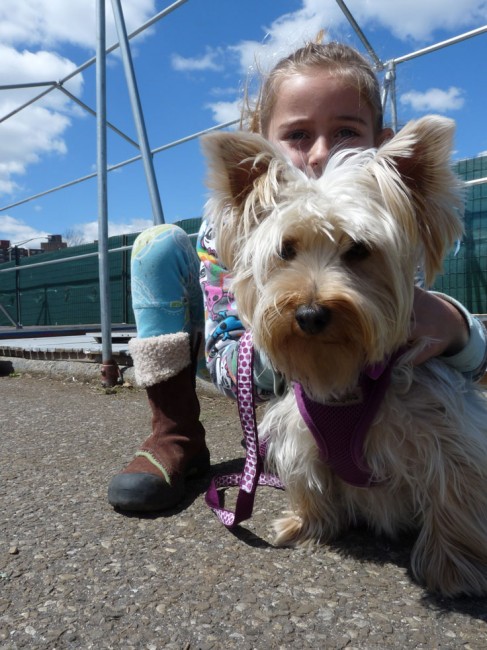 Of course it is not always about work.  There is lots of fun to be found in and around this little community.  Shakti will be helping both her Mom and Dad over the next 10 days.  And yes making new friends.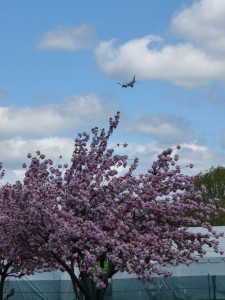 So at least for today the skies are clear.  Planes are flying all the time overhead but at least not for now to Europe.
I know, I know,
Because I love God
The clouds of confusion
Will disappear today.
I know, I know,
Because I obey God
The skies of adversity
Will clear tomorrow.
Excerpt from Ten Thousand Flower-Flames, Part 23 by Sri Chinmoy