At one time, in the early 1950's, Jim Peters was the best marathon runner in the world.  This English distance great broke the world record for the marathon 4 times.  He was the first to run under 2 hours and 20 minutes.  In this race he ran 2:17 which was his personal best.  He was well known for giving all that he had in each and every race that he ran.
Most athletes understand this attitude.  Holding nothing back in competition is what all the finest sports figures do.  In distance running however the consequences of this can be devastating.  In the commonwealth games marathon in Vancouver in 1954 Jim Peters collapsed from heat stroke just before the finish line.  At the time he was leading the next competitor by 17 minutes. Some years later, when the Commonwealth games returned to Vancouver, he was invited back to complete his historic last lap of the track.
Today Pranab's journey on the sacred loop has come to a close.  His skin rash, which he has been battling along with the miles has become just too much.  The treatment he was taking was not keeping it under control and yesterday it became much worse.  All who know this fine young runner from Slovakia are saddened by this.
For the last 6 days he has run more than 60 miles each day.  He was not bothered, that in many ways his race had become an act of catching up.  He had already lost 2 days to the condition earlier in the race.  He was, as of today 170 miles behind the distance he had run last year. At this moment he says, " I am between 2 worlds."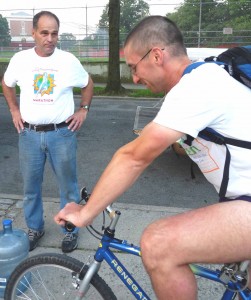 The truth is that the spectre of hot sunny weather began to makes its presence known yesterday.  The rain and cool temperatures were clearly about to give way to the bright relentless presence of a New York summer.  This being precisely the conditions that can only make his condition worse.
Rupantar and Pranab had discussed at length what needed to be done should the rash become worse.  It was mutually understood, that for the sake of his health and well being he would accept retiring from the race should this condition arise.  Today it is clear that it has.  With the same bravery that allowed him to start and complete the race 4 times before he has, as of this morning, withdrawn from the race.  It is not easy and in many ways his decision to, not go on, is much more difficult to do, than ever agreeing to come in here the first place and run 3100 miles.  Everyone who knows him is saddened by this turn of events.
The race of course asks so much of those who run here.  The experiences it bestows upon those who come into its orbit are many and multi faceted.  On the physical level the race makes demands upon the runners that defy description, just as on the inner level the heights of self-transcendence are incomparable and second to none.  Yet just as none can foretell foretell the future in our lives, no one knows what experiences we all must endure on our life's journey.  We can only hope that in all our courageous acts and in all our self sacrifice eventually we will arrive upon a greater truth.  In today's sorrow will one day loom an even brighter victory.  All hope Pranab can cure this condition and come back stronger than ever next year.
As the runners start off this morning, not all will know of the dramatic change in the race that has just taken place.  It is after all a family and all want the best for Pranab.  They will in turn, offer him good cheer, support, and love.  None think it is the last that they have seen of him.
Vladimir Balatsky is having what can only be described as a phenomenal first race.  After 12 days of running he has completed 743 miles and seems to be gaining strength with each lap.  Yesterday he ran 65 miles his best since the first day.  He tells me, "I am trying my best.  I feel very good.  I am not injured and I am staying happy."
He tells me that Sahishnu, the evening race director told him, "Vlady, stay healthy."  He laughs as he repeats this.  He is clearly
having a rich and deep experience here.  In his eyes he feels that everyone here is happy.  When I ask if he thinks the race is as he thought it would be he agrees.  "This is different than I thought it would be……it is better."
"In the morning I feel so powerful and so beautiful.  I am having beautiful meditations that I never expected."  He tells me that the greatest previous distance he had ever run is 660 miles in a 10 day race.  This number he surpassed 2 days ago now.  He says, "for me every day now is new.  Every day is transcendence.  I feel stronger.  I feel lighter.  Every day there is something new here.  I tell you it is so beautiful.  I think these things can only happen here.  This is the best place to be."
Pushkar Mullauer was unable to complete the race last year.  After running for 48 days he withdrew after running more than 2200 miles.  This year he is a much different runner and has been consistent from day one.
Yesterday he ran 65 miles and is currently in 4th place.  He says, "I am much more relaxed this year."  He feels that he came into the race last year a little too confident.  He describes his attitude as, "Probably a little proud.  Yeah I can do this."  Of course confidence and focus are crucial elements that each runner must bring to bear but the race makes extraordinary demands of all who come and must be respected greatly or else one suffers the consequences.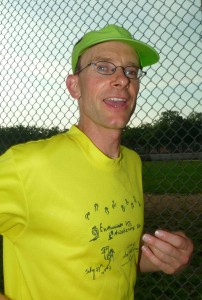 He feels that the attitude he brought last year never allowed him t0 be fully engaged in its proper flow.  "The seriousness I never got.  I had very easy time.  Everything was just too smooth.  I took breaks that were too long."  He feels that a part of him just eventually gave up.
This year however he felt right from the beginning that both inwardly and outwardly he wants to complete the race.  "I have absolute confidence in myself.  Right from the first day I feel this.  I am taking it seriously and also staying out here longer. I am taking nothing for granted.  I am trying to keep it very very simple.  I feel very priviledged to be able to come back here.  Until now it has worked out well."   Pushkar interview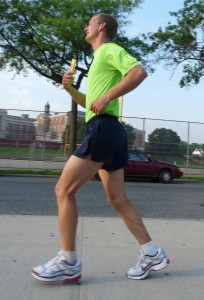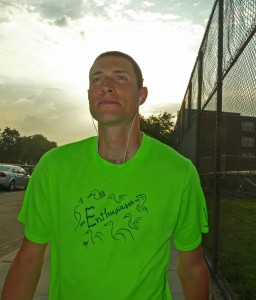 "The surface that you run on is solid concrete. I cannot even walk on it. When you are running around, after an hour or two hours or a few days, this solid thing that you feel you are striking against starts striking your mind. You start thinking, "This is so bad. Every day I have to do sixty miles," this and that. But who counts the mileage? It is the mind. The mind is saying, "Oh my God, today I have to do sixty miles, and I have not yet done twenty miles!" Then you are finished! The mind, your worst enemy, is coming to torture you.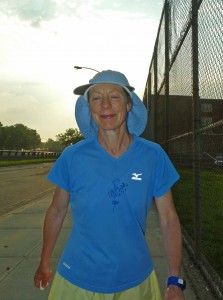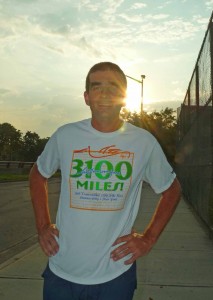 But the heart is not counting the mileage. The heart is only running, running, running. Then at the end of that session, the heart says, "Now let me see how many miles I have done." By that time, perhaps you have done forty miles already. The heart does not calculate. The mind calculates from one to two, two to three, three to four and so on. The mind tries to go to the destination by cutting, cutting, cutting. But the heart tries to see and feel the starting point and the end at the same time. For the heart the destination is not somewhere else. Only for the mind is the destination somewhere else.
The heart will simply say, "Please take me to my destination." Yesterday in the prayer I gave before lifting up 1,300 pounds, I said to the Supreme, "Take me to my destination. It is a very long journey." While I was giving the prayer, it was my heart that was talking. How soulfully I was saying it! So inside the heart the starting point and the finish line are together."
Excerpt from Run And Smile, Smile And Run by Sri Chinmoy.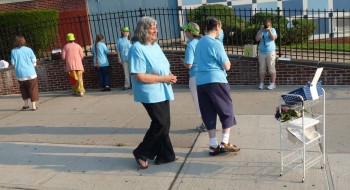 A man approaches me as I am taking photographs.  He is returning his son's school books.  He says to me out of the blue, "America is the best country in the world."  I reply, "Sir, this is the best race in the world."
The outer run intimidates my body.
The inner run liberates my body.
The outer run tells me
When to start and when to stop.
The inner run tells me
Once I start I can never stop.
Excerpt from Ten Thousand Flower-Flames, Part 30 by Sri Chinmoy.