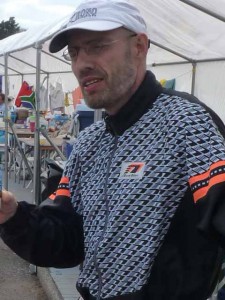 I arrive at the race this evening and hear some shocking news.  Madhupran is talking with Dipali who is still a few days away from starting her race.  He says, "My race is over."  He points to his knee and indicates that there is a problem there. What makes this news even more surprising is that through his first 24 hours he had run 136 miles.  It was a pace that could easily have pushed him comfortably towards his goal of 1000 miles in 10 days.  Since that time however he has done just an additional 9 miles.
For a man who has just had such a dramatic turn of events occur, Madhupran appears amazingly calm.  I think it prudent to not to ask too much at this time.  Later I will see him back on the course and walking instead of running.
"I wasn't thinking of the race at all, and I mean at all."  Tirtha is laughing as she tells me this.  This is her second time at this 10 day race and she amazed everyone last year when she came and ran the, never having run further than 24 hours prior to it.  Ultimately she ran extremely well last year and completed 503 miles.
When I first ran up to her she said "Are you surprised to see me?"  Of course I am not surprised at all to see her because when I watched her last year, her focus and self disciipline during the race were amazing.  She appeared to be someone who was ultimately suited to this kind of event.
She tells me that it wasn't until January when 2 of the race directors approached her that she really considered whether or not she would run again.  They expressed to her how beautiful it was to have her.  Her reply at the time, "forget it, you don't know the pain."  Yet as we continue on around the course she shares with me the beauty of her experience that occurred in the 2 weeks after the race.  "There was a deep inner happiness," she says, "and peace and bliss.  It was unbelievable."
She says it was not the experience of the race that most moved her but what occurred after and says that because of the profound experience she understood fully why people would challenge themselves with multi day running.  She was not able to train as much as she would have liked during the winter because road conditions were too icy to train properly in Munich.  But in March she was able to do a 6 hour training run and this gave her confidence.
At the start yesterday she says that she was not nervous at all.  "I was so secure about everything.  Everything felt smooth, right, easy."  Last year of course was a much different story she adds.  I ask her if she has any goals she would like to achieve.  She says, "you always have to have a goal."  Tirtha mentions talking with Suprabha who has competed in the 3100 mile race for the past 12 years.  She said that suprabha was surprised that the runners did not run at least 60 miles a day.  This inspired Tirtha a lot and seemed to make sense since the 3100 mile runners do this regularly and have to stop running over night.  So I say to her, "this must mean 600 miles is your goal."  She smiles and nods yes.  We have at last come up to the little hut in which Sri Chinmoy used to sit when he came to the race.  She grows silent and looks in that direction.  She touches her heart and runs off.
"It's great, it's a new experience for me."  Muslim is standing in front of the counting hut and calling out names of the runners as they approach.  It is one of the many jobs that is so crucial to making sure the event goes smoothly.  He tells me that the longest race he had ever worked on prior to this is a 24 hour race back in his home town of Aukland New Zealand.  He says, "It is really amazing being around people who are really pushing themselves and trying to transcend.  It really reflects on Sri Chinmoy's philosophy of never giving up and self-transcendence.  He adds that he is so inspired he just might one day try and run it himself.
Kaneenika has had a good first day, she has run over 100 miles.   She leads the other women runners by more than 10 miles.  She tells me, "I trained as much as I could and I have done everything that I thought would help me in the race.  We will see if I have done the right thing.  I have been preparing almost the whole year."
She holds 3 Slovakian national records.
700 miles for 10 days
424 miles for 6 days
1000 miles in 15 days 10 hours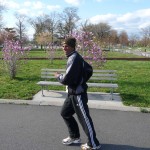 "It was very hard conditions for me."  Arun Bhardwaj is a 40 year old runner from New Delhi India and he is telling me the shock he experienced when he came and ran the 6 day race in 2003.  How leaving India and 42C weather and arriving just a few hours before the start of the race and having to adjust to 4C New York climate.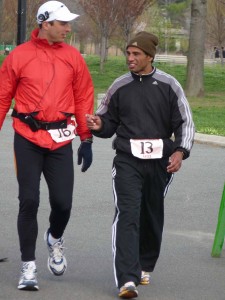 He tells me that in India there are no ultra distance runners.  He felt that by running in very challenging races he would inspire his children to become world class runners.  He says, "I do it so that they will have some icon for them.  I think it is good that there own father is an example for them.  This is the reason I am doing these ultra distance runs."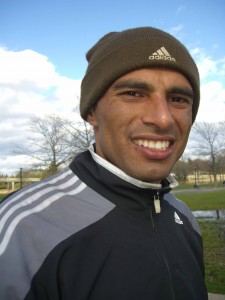 In the race in 2003 he became the first Indian to complete more than 500km in a race.  I asked him why he would come here for such an event when there must be races closer to his home in India.  He says, " I heard that the Sri Chinmoy Marathon team puts on the best races in the world, and I saw that also when I came here last time."
He also was able to meet with Sri Chinmoy and says, "If you have a good heart you can understand him.  He was doing great deeds for human kind.  He says of this years race, which is 4 days longer than he has ever done before, "this is my race, I can do this."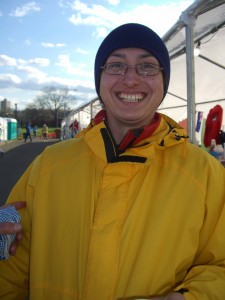 "The organization is perfect,"  says Daniella Miliev who is translating for her dad Radi.  She has come t0 help her father run the 10 day race and both Father and Daughter seem to be having a great time.  Radi is 60 years old and has run nearly 20 multi day races and this is his first time running in a Sri Chinmoy Marathon team event.
Before he leaves to go back on the course he proudly points to a badge on his shirt that says 1200km.  Daniella explains that her Dad completed this recently in a non stop cycling event.  He is currently in 3r place with 103 miles.
The dugout is a place for brief and necessary breaks.  Tirtha is getting some help with her shins.
Pratishruti is 65 and comes from Smolensk Russia.  She has completed more than 80 miles.
Thomas is from Hungary and has run this race himself 7 times.  He is a new position this time because he is helping instead of running.  He has taken on the task of being in Medical and massaging runners.  He enjoys the atmosphere here and being able to help the race run smoothly.  He tells me, "it is hard to go home, to leave everything behind."  He tells me that it inspires him to help the runners because they see in him someone who can really help him through their difficulties.  This gives him strength and inspiration in turn.  "Their belief in me makes me happy," he says.  Already today he has worked on 5 runners.
He describes how all the runners get a better consciousness by participating and that all who help can experience this as well.  He says, "I am part of this race too."
Iris, from Christchurch NZ is running her second multi day race.  She has never run further than 248 miles and has already completed 60 here.
Pradeep is from the Netherlands and ran 481 miles here last year.  He has run 86 miles so far.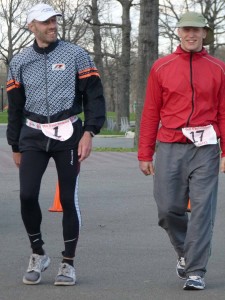 Yogi Beara, an iconic figure in American sports, once said, "It's not over till its over."   All the time I am at the race Madhupran continues to move.  He is walking swiftly and determindly.  I cannot help but wonder what will happen with him in the days to follow.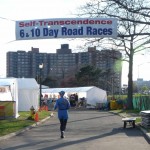 Give up giving up!
Study regularly and devotedly
The divine course that is offered
By your heart's soul-light.
Excerpt from Twenty-Seven Thousand Aspiration-Plants, Part 104 by Sri Chinmoy.