"Three years ago I had a dream, and in that dream I saw that the distance for this race would be longer in the future."
Click to Play Sound of Atmavir's finish:
Audio clip: Adobe Flash Player (version 9 or above) is required to play this audio clip. Download the latest version here. You also need to have JavaScript enabled in your browser.
For Atmavir this morning the finish line is just 41 miles away.  When he crosses it for the 9th time late this afternoon it will be the 9th time that he has done so.  A distance, should you be so curious to know is 27,900 miles.
He talks about how fast the race went.  Which in turn spins the perspective back onto us.   A reminder of just how challenging, fulfilling, or frivolous we all spent our past 47 days.
What accomplishments and challenges did we so gracefully and powerfully succeed in like he and all the other members of the very small 3100 mile family.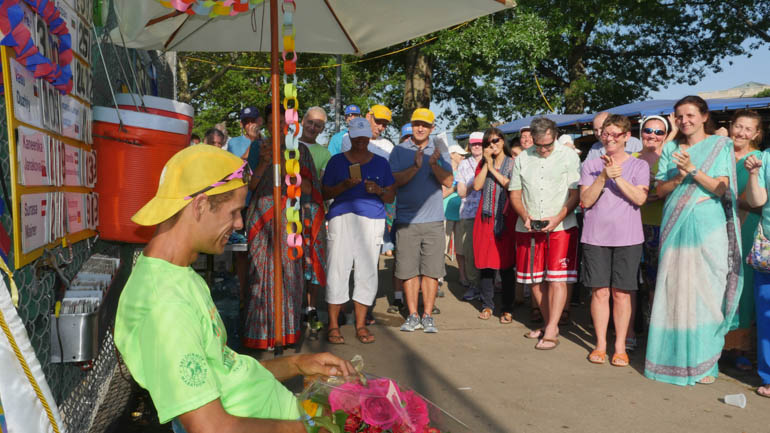 "I am sure it was not just me that noticed this.  I am sure all the runners did and also people who are watching."
"So I am praying for a new goal.  It is really giving me great joy.  I am a dreamer and dreamers are walking above the earth."
"I have strong faith.  This year I felt during the race that the capacity is already there.  It is just a matter of time.  A few more years, and it will come.
"For me this race was the best so far.  I feel that they are going up every year.  Not just outwardly but inwardly.  They are getting richer every single year."
47 Days: 11 Hours: 32 Minutes: 00 Seconds
Click to Play Sahishnu's Speech:
Audio clip: Adobe Flash Player (version 9 or above) is required to play this audio clip. Download the latest version here. You also need to have JavaScript enabled in your browser.
To-day's Victory
We Celebrate
Only to invoke
A new Goal
Sri Chinmoy, My blessingful and pride-flooded dedication to the indomitable runners of the 3100-mile Self-Transcendence Race, 2006, Agni Press, 2006
*Click Below to Read Rest of Report*