"I think I felt it last week.  There was a point when I was able to do 100 laps."
That point of course was when at last Kaneenika was able to see that she would be able to complete all 3100 miles of the race.  She is rightfully cautious as she expresses this optimism.  There is still the very real job of taking on the last 421 miles over the course of the final 8 days.
But last night she did 55 miles when she only needed to do 52.  Many, many, of Kaneenika's friends and supporters are taking deep calm breaths now, though likely their fingers are still crossed and held behind their backs.
"When I could do over 100 laps my confidence came back.  I feel better now."
"It is still not over.  There are still a lot of prayers to say and miles to run."
"The first part of the race seemed easy.  It was easy sailing.  So then after that it changed a lot.  I had to go more deep within.  I had to get more strength from inside.  It wasn't as though I wasn't getting it earlier."
I then ask Kaneenika what it was like when she realized last year that she would not be able to complete the distance.
"It took me a while to accept it."
She then relates a very powerful experience she had at that time last year when she saw right in front of her what looked like a movie of her life.  Scenes that all came, starting from the very moment she had become a student of Sri Chinmoy right up to that point in the race.
It was not in her imagination she says, but was projected right out in front of her.
She says that the experience reaffirmed her belief in what she was doing.  "The movie showed me the real meaning of this race."
"I am trying to be more tolerant… more compassionate….. more humble.  How to have more gratitude and also how to have more peace in my life.  I can't say that I know how to do all these things by now.  I feel as though I am making progress."
I then ask for her thoughts on Surasa.  "I think that it is just the experience that we all are having.  I think this years race is harder for everybody, in some ways.   Surasa has always been an inspiration for me."
"I used to watch her before I started doing these races.  I also did a few races with her and I experienced her doing her world record in the 1300 mile race.  I always admired her determination and her childlike consciousness and surrender."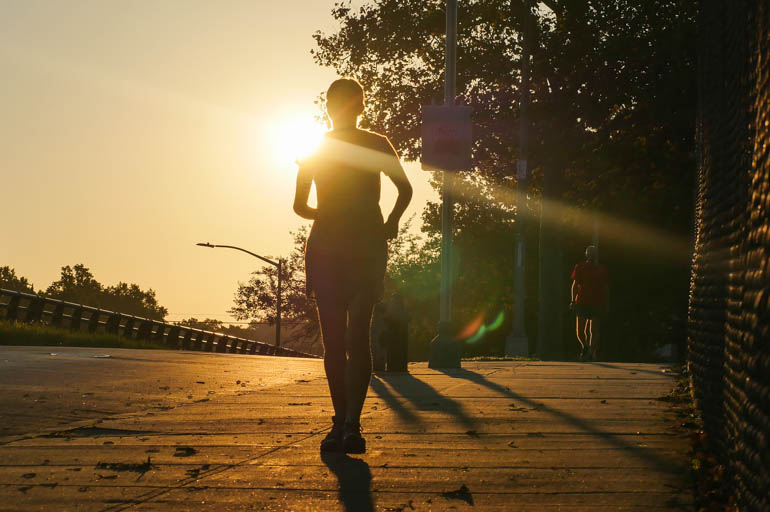 Then Kaneenika describes an experience she had before she got to the half way mark.  She was running along the course across from Jamaica High school.
"All of a sudden I felt this peace descending.  It was so strong for me.  I don't think I have experienced anything like that before."
"So this peace is descending on me and I then I felt so much peace inside but also at the same time so much power and confidence.  That was very striking for me."
You can make the fastest progress
If you can say,
"I came into the world
To love God, only God.
I came into the world
To serve God, only God.
I came into the world
To manifest God,
Only God."