Last night Vasu was into his final laps before completing the Self-Transcendence 3100 race for the 6th time.  He was into the very depths of his 47th day here.  His shirt was covered in sweat and he needed to make 67 miles before midnight.
As he passes by me along the dark sidewalk a student of Sri Chinmoy shouts out, "Jai Guru."  Vasu without hesitation responds, "Jai Guru."
He did not say this loudly but instead with quiet soulful conviction.  It was like music to my ears, just as I suppose his constant dedication to this race his spiritual teacher created has been sustaining him at every moment.  Not just for 47 days but even over the past 6 years he has run this race and beyond.
In his speech of congratulations Sahishnu said, "Ladies and gentlemen this was Vasu's second victory and his 6th straight finish at 3100 miles.  He finished in 46 days, 17 hours, and 38 minutes.  Which is an average of 66.35 miles a day (106.7 km)"
"This was his 2nd best finish.  He is still 5th ranked all time.  Out of 145 performances now this is the 33rd best performance."  Sahishnu then goes on to tell the story of Vasu's serious back injury 8 months earlier.  So severe that he could barely stand little alone train.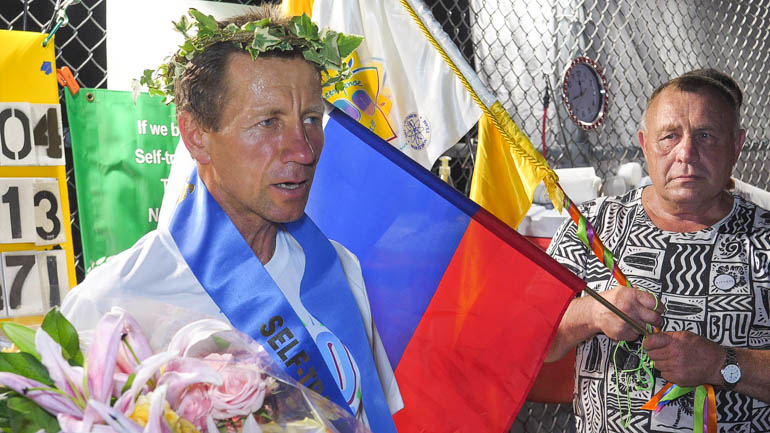 "Miracles do happen, and this man proved that will power and grace from above can really work together.  His athletic talent is undeniable.  He is one of only 5 men in history to have averaged 70 miles a day."
The next day he comes back to start the race one last time and run 13 laps in order to complete 5,000km. I join him on his last lap and the rain is falling heavily about us.
"I love this race.  I don't know why I love it.  I just love it and do it.  I am happy here and I am able to do self transcendence. I hope that I can inspire some people to be better citizens of the world.  They inspire me and I inspire them."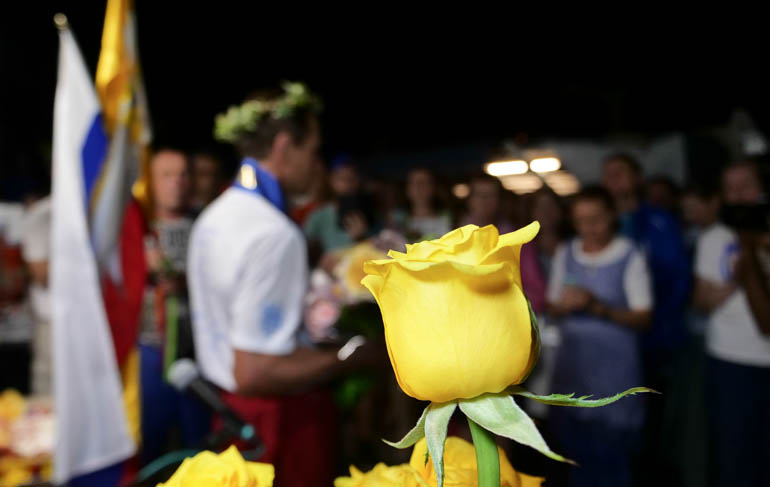 "I do this for my beautiful Guru and for Victory Supreme."
To become better citizens
Of the world,
We must scatter happiness
Here, there and all-where.