Late this morning Sergey will reach the half way point in the 3100 mile race.  It is a tremendous achievement and were it not for the fact that he is about 2 days behind schedule we would all look at this moment with perhaps more joy than a lingering sense of regret for him (which he personally does not feel).
The more important thing today, as on most days, is that Sergey is both happy and grateful to be a part of this impossible dream now made more real with each passing mile and day.
He is part of a unique family that was formed 27 days ago and now as they spin in ever continuing orbits around the block they all become stronger, both individually and as the very real family that they have become.
Yes there are injuries and pain and a cry for rest that is relentless but the greater picture is not one defined by hardship and broken expectations.  It is founded upon a vision of transcendence that is created from within and reaches out to touch and illumine all who circle around this city block and to all whose hearts who find moments in their day to join in with them.
"Every day it is a new feeling here.  Even though I have some injuries I still feel happiness.  This happiness comes because every day I have the opportunity to learn something new.  Every day so many different interesting things happen here.  Most of all I am being inspired by examples of the other participants in this race.  They are all so strong."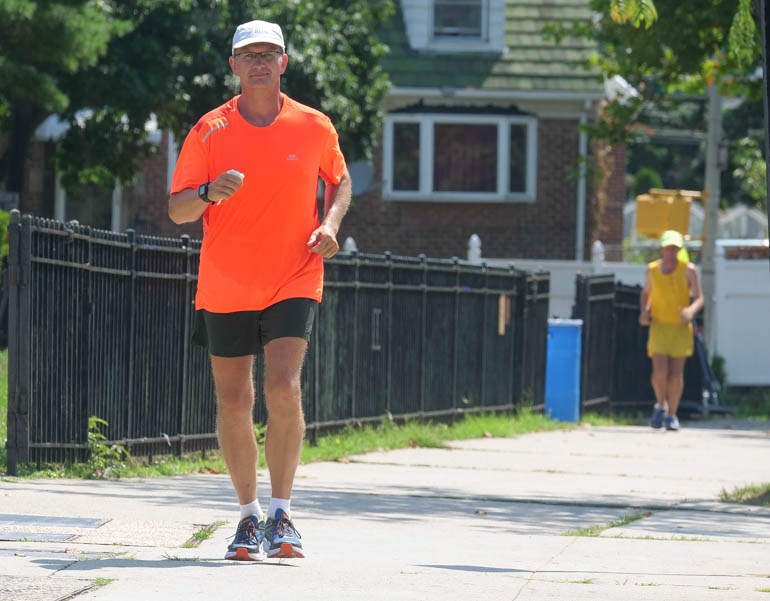 "I am learning strong qualities from each and every on of them."
"For example from Harita I am learning how to be very light.  She is running like a butterfly that is flying.  Even though she has so many difficulties that she is going through."
"From Kaneenika I am learning about endless patience and softness.  She is running this race for the 3rd time and the hardship that she is going through could have made her more rough and hard.  But she still remains so soft and so strong.  In the evening when she runs with such speed I always find it shocking how fast she runs and how strong she runs."
"From Nidhruvi I am learning about caring.  She cares so much and always asks me.  How are you feeling?  How is your leg? How is everything?  I think if Nidhruvi had been a Doctor she would have cured everyone.  She battles through each lap.  Even though she battles through each lap she approaches them with such ease.  Such warriors can only be women."
"From Yolanda I can learn determination and focus.  They may seem like masculine characteristics and any man would be happy to have them.  But even though she has these qualities she still remains so feminine.  Even when she goes ahead of me she does it in such a tactful way.
"From Smarana I am learning calmness and surety.  He is so strong and a true warrior.  It feels as though he has no barriers in front of him and he will overcome everything."
"From Ananda-Lahari I am learning wisdom.  He knows Russian and sometimes when I come to him and we talk I receive such energy that it will last until the end of the race."
"From Vasu I am learning about force.  When strength is combined with speed you get force.  This is how Vasu runs.  Also Vasu has a huge heart.  For him this is his 6th race and he is already a veteran.  He cares deeply about every single runner here.  Every day he comes to each runner and offers invaluable recommendations."
"He doesn't just think about his own progress, how to be faster and how to finish.  He cares about every single person.  This trait is very very strong."
"From Andrey I learn about a sense of humor.  When it gets very hard for him he just begins to joke around.  He amuses everyone with his humor.  To be able to joke around in such a hard situation only very strong people can do."
"But mostly I want to learn from Nirbhasa.  From him I see endless infinite self giving during this race.  For me it is still a mystery how every day he can always give 100%.  He can forget to eat.  He can forget to drink.  Nevertheless each morning he comes out to the start and does everything to the maximum once again.  For me this is the biggest mystery, the biggest secret."
"This is why every day you learn something new from each one of these runners.  I am very grateful that my fate and my destiny has brought me together with these people.  I am so happy and grateful to touch the feet of any one of these runners every day."
Newness-feeling in our lives
Comes not from without
But from within.