It was the closes finish ever at the 3100 mile  race.  Last night at midnight both Yuri and Ashprihanal had put in an astonishing day of running.  Demonstrating unquestionably what it really means to dig deep, try harder, and for all of us mortals on the sideline, what appeared to be transcending themselves in a way that has not been witnessed on this little block in Queens ever.
*cover photo Jowan……translation Lyalya….*
It can get confusing when you try and track down the whys and wherefores of this sprint to the finish.  Keep in mind the distance between the 2 had been less than a sliver for days.  But yesterday with nothing to loose each took their performances to a level that had to be their absolute ultimate.  Yuri ran 79 miles and Ashprihanal 86 miles.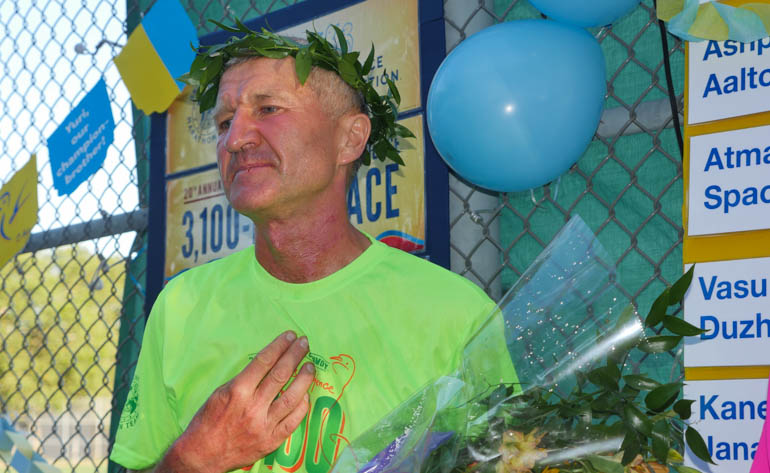 They went home at midnight with just 8 miles separating them.  A gap, that with an extra day added would have been evaporated by Ashprihanal.  But no, the race was not to be won by its record holder from last year.  Yuri just had to run 5 more miles.  He was to be the champion this year.
"Do you think this is my victory? No this is the victory of the Supreme."
"This is the victory of our teacher.  This is the victory of heaven.  This is the victory of earth.  The victory of humanity.  This is the victory of each and every one of you."
"It wasn't a simple race.  You can't understand it with the mind.  You can only feel it with the heart."
"With me my teacher was always present.  One that loves me, and one that I love so much."
"A samurai warrior has come to me and shared with me his strength.  All of you here are my friends.  Without your support it would not have been possible."
"We are not just running on a concrete sidewalk.  We are not on a path that leads to wealth and fame.  This path leads us to the depths of our hearts.  The place where God lives within us.  Where it is his home.  I was there.  There is everything there in order to be happy."
"Happiness, joy, oneness.  All of this I want to share with you."
"I am happy, so happy.  Guru is in my heart.  The whole world is in my heart.  You are all in my heart.  It will be like this always."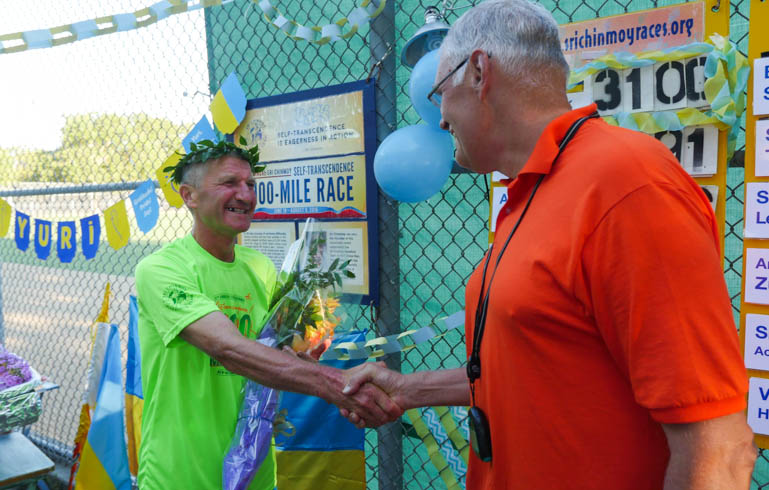 Click to Play the sound of Yuri's finish:…46 Days, 01 hour, 10 minutes, 25 seconds

Audio clip: Adobe Flash Player (version 9 or above) is required to play this audio clip. Download the latest version here. You also need to have JavaScript enabled in your browser.
A heart of gratitude
Finds divine Blessings
And divine Love
All along its way.