"All I can say is that this race you don't do alone.  You are never alone out there on the course.  You have so many hopes and dreams and inspirations of everybody, who is following the race.  It is just amazing how even though you are not really in contact with humanity.  You are not in contact with newspapers and whatever.  You really feel how the race is somehow percolating out there, and inspiring people."
The sound of Nirbhasa's Finish:
Audio clip: Adobe Flash Player (version 9 or above) is required to play this audio clip. Download the latest version here. You also need to have JavaScript enabled in your browser.
"Life is hard for everybody.  Everybody is running their own version of the 3100 mile race.  Everybody has their own difficulties.  Definitely I felt that if I could inspire even one person to stick it out one more day.  To never give up.  To just push your way through the tunnel.  Than that is somehow really worth it.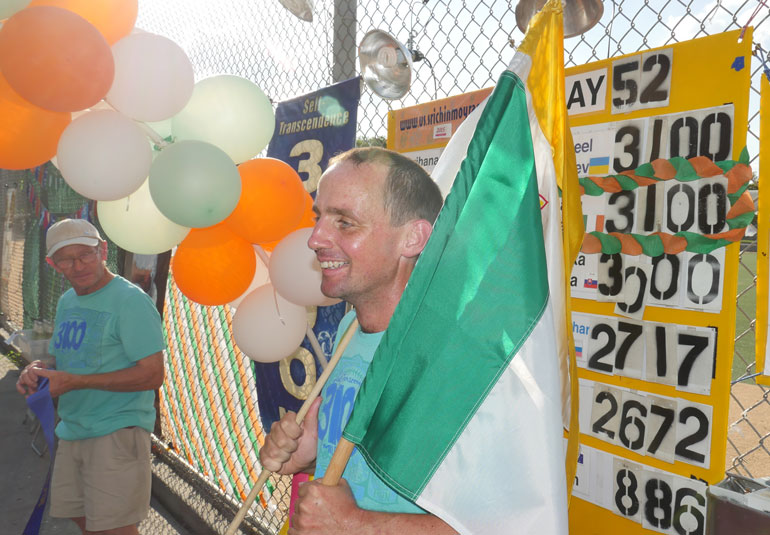 "Nirbhasa you did something remarkable, you finished the race on your first attempt.  You have become the first Irishman to ever finish the race."
"I think the race is really Sri Chinmoy's philosophy in action.  The mind can't really comprehend the distance. It can't comprehend the enormity.  It can't even comprehend doing a full day, never mind, it is just trying to get to the next break.  That is about as far as the mind can handle.  It is only when you live in the heart, and only when you have tremendous eagerness.  A tremendous feeling of being in the moment, and just being happy, and letting it happen."
Click to Play Nirbhasa's Speech:
Audio clip: Adobe Flash Player (version 9 or above) is required to play this audio clip. Download the latest version here. You also need to have JavaScript enabled in your browser.
Sahishnu announces Nirbhasa's time and data.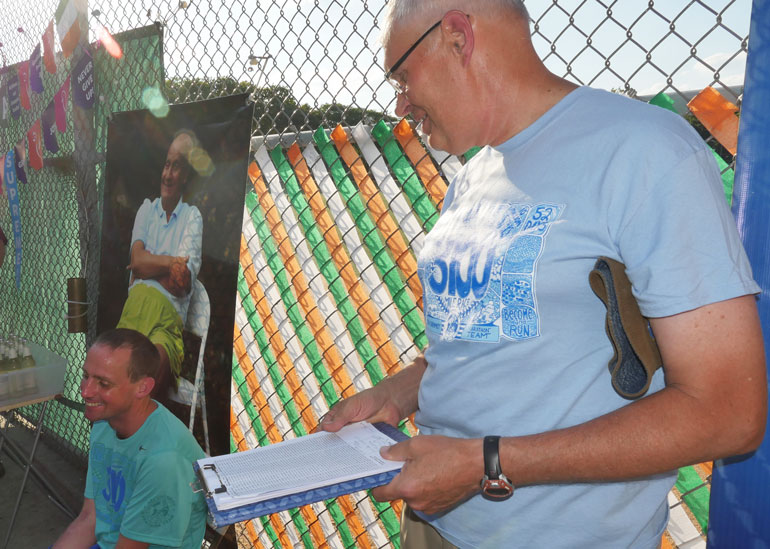 "Finishing in 8th place in a time of 51 days, 12 hours, 12 minutes which is an average of 60.1 miles a day or 96.8 km.  He is now ranked 32nd on the list of 38 finishers."
"We are so proud of you.  It is so hard to do this race."
Click to Play Speech:
Audio clip: Adobe Flash Player (version 9 or above) is required to play this audio clip. Download the latest version here. You also need to have JavaScript enabled in your browser.
*It is with the deepest respect and gratitude that I thank all those who have followed the race here along with me these past 52 days. 
No matter whether your visits were long and rambling or that you came for just a quick click now and then.  I hope you have felt even an iota of the enormous blessing that this race is to me.    That you are drawn even one step closer to your own perfect perfection……..Utpal